Well, hello Darlings, have you missed me? Welcome to my new home The House of Dee!
If you are my old follower from Food n Thought Peddler and receiving this post by email, your subscription was successfully transferred to my new blog. If you're experiencing any problems, please contact me at Diana@thehouseofdee.com . Please also save this email if you need to contact me in the future (this email address also appears on my About page and in the right widget area on the blog next to my short introduction).
I hope you get a chance to go to the actual blog page and check it out. The new URL is www.thehouseofdee.com . There are some new features displayed that were not on the old blog, such as my latest Instagram pictures (please follow me @thehouseofdee), you can also see the grid for the latest posts right on the front page without having to scroll down for each one, and the most exciting one is the Recipe plugin in each post that allows for recipe part display/printing/email and other relevant information. I'm still working on a few minor adjustments in the widget area so you may see some additions in the future. My blog is using a custom-created Clean Food Theme template, designed specifically for food bloggers by www.cre8d-design.com, so shout out to Rachel and Stephen for making my blog transition a smooth one!
I'm excited about this new chapter in my blogging life and of course welcome any of your feedback and comments! Join me on this new journey!
What's Cooking This Week
The last Peddler post was about cake, so, I thought this first recipe on the new blog should be cake too, but today's cake is not of a dessert variety but rather like a celebratory sandwich disguised as a cake. Basically, we're talking about an appetizer cake, which is all the rage right now. This cake is made from bread slices (mine are gluten free of course) and fillings of salmon roe, eggs, cucumbers, plus a delicious "frosting" made of goat cheese and beets. You may use other filling choices as you wish but I do encourage you to try this combination. It is simply delicious! You may notice that pictures still bear the Peddler name, that's because I created this recipe while still on the old blog but didn't have a chance to post it until now. Enjoy it and make my little cakes!
Salmon Roe and Beets Appetizer Cakes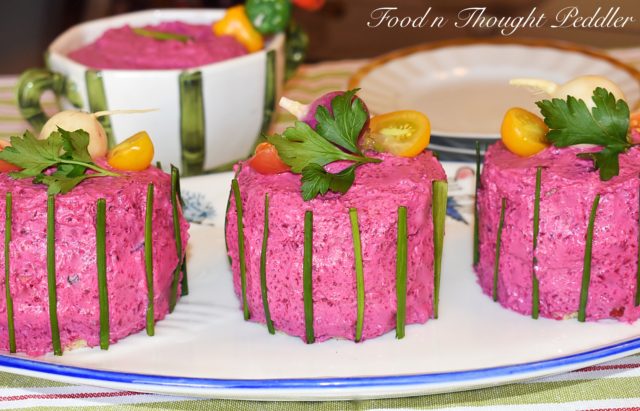 This appetizer is so festive and it's a fun way to start a meal! It's just like a stacked sandwich that you can also have as your lunch choice. All the ingredients are simple or you can adjust the fillings to your preferences. Continue reading…