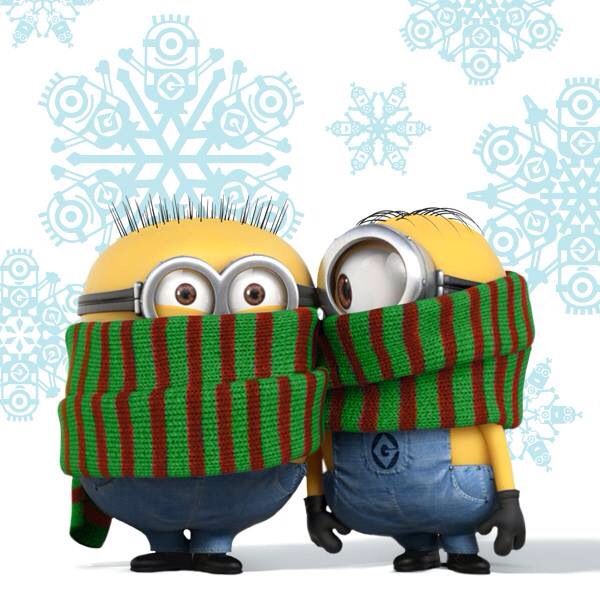 Welcome to 2018! I hope its chilly reception is not an indication of how the year will go. We need some good things to come!
In a mean while, it's definitely winter throughout the whole country. Even Florida got some taste of snow.
Here is New York, we've been in a deep freeze for over a week and it still continues, plus the snow. And, don't go by the actual temperature reading. It may show 15 or even 25 degrees, but, with a chilly ocean wind, it generally feels like below zero. Those of you who've been to New York, know what I'm talking about. So, yeah, I'm not a winter lover. I don't like when the temperature outside is much lower than inside my refrigerator.
I was night parties hopping all last week and this frigid weather was really getting to me at the end. You know how we operate here in the city, we walk everywhere. There are trains and buses of course, but, the fastest way to get to some places is by walking. 'Tis no fun when it's freezing outside! And, no, I do not have any special Russian genes to help me deal with cold weather. I generally start to freeze when it goes below 70 or overheat when it's above 85, so, there's a very small margin when I feel comfortable. Actually, there's very little on Earth that brings me comfort (except food, food is good!). I told you I'm not from here!
So, I came up with a recipe that brings warmth, comfort and strength to endure this brutal winter weather. You must try it. It's simple and simply delicious!
What's Cooking This Week
Today's recipe is an indulgent dessert drink that tastes delicious on its own and doesn't need any other sweets to accompany it to feel completely satisfied. Drinking chocolate is generally a rich melted chocolate shot that highlights just its deep taste in itself. It's not a hot cocoa, which comes from mixing cocoa powder with milk, this is an actual dark chocolate melted and combined with liquid. My recipe uses red wine as a base for it to add extra flavor and a touch of warming alcohol to deal with chilly winter weather. A sprinkle of cinnamon and cardamom and boiling a star anise bring in a bit of spice to balance out deep chocolate taste. If you use dessert or sweeter red wine, it'll produce a better balance I think. With a drier wine, just increase the amount of sugar a bit.
Red Wine Drinking Chocolate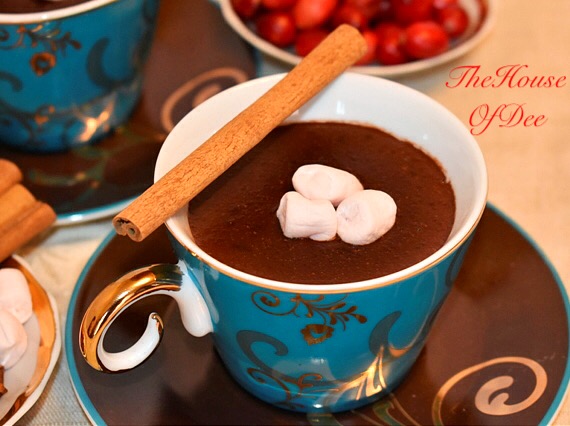 The recipe and ingredients are rather simple. Make sure you're using a good quality dark chocolate. You can either use heavy cream or dairy creamer or non-dairy creamer to make it vegan.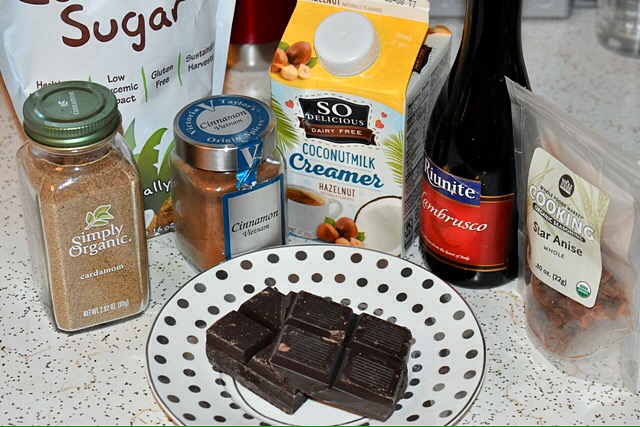 In a pot, combine wine and cream/creamer, add 1 star anise,heat on a low flame until warm (be careful as not to boil it so the alcohol won't evaporate).
Stir in pieces of chocolate and sugar, continue stirring continuously until all chocolate melts and the mixture is creamy.
Remove star anise and stir in cinnamon and cardamom.
Pour into cups and add marshmallows if desired.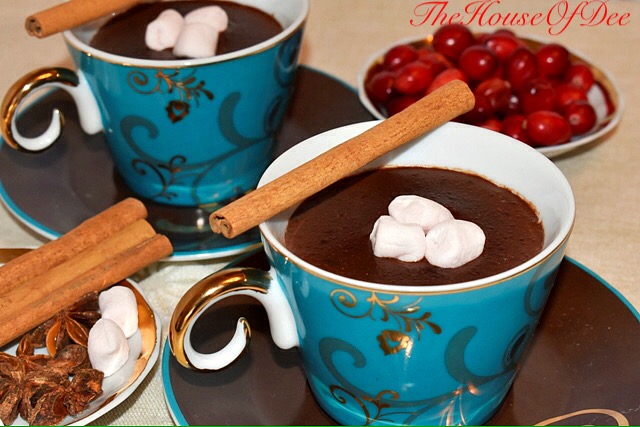 The drink is rich in chocolate taste and the warmth of alcohol hits just right in this cold weather.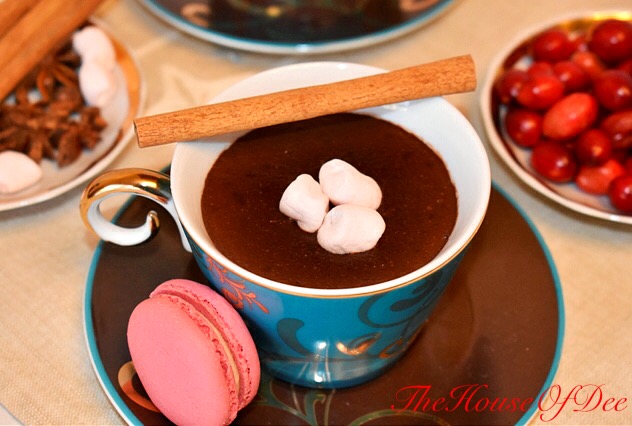 Say cheers and share your drink.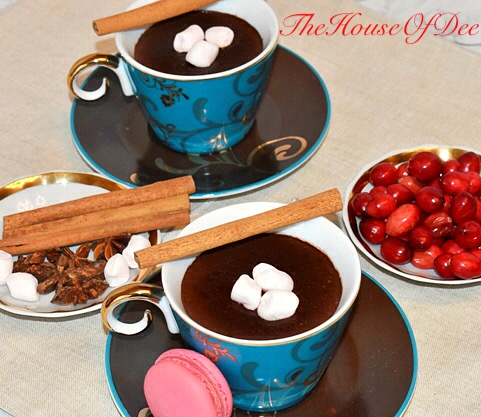 Red Wine Drinking Chocolate
Rich creamy chocolate made with red wine and infused with spices.
Ingredients
6 oz of red wine
¼ cup of heavy cream or creamer (dairy or non-dairy)
4 oz of dark chocolate
1 Tbsp of coconut sugar
1 star anise
½ tsp of cinnamon
¼ tsp of cardamom
small pinch of salt
mini marshmallows for garnish
Instructions
In a pot, combine wine, cream/creamer and star anise, heat on a low heat, don't over-boil wine, until it's warm.
Add chocolate, salt and sugar and stir continuously until chocolate is melted and creamy.
Remove star anise and stir in cardamom and cinnamon.
Top with marshmallows.
Notes
Sweeter dessert wine brings better flavor balance, add a bit more sugar if using dry red wine.