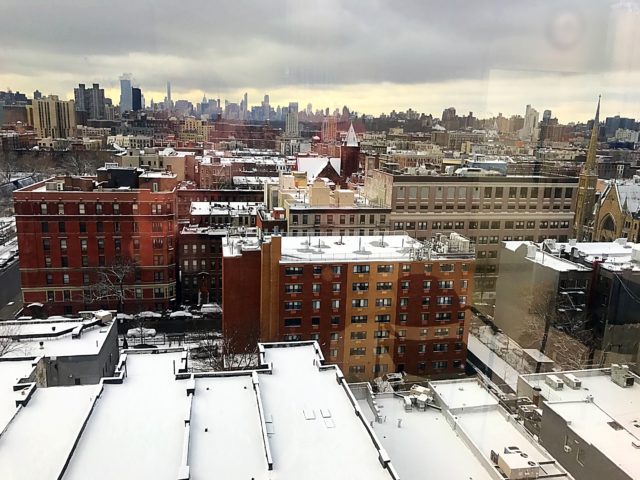 It snowed this morning, second time this season so far. Not a huge snowstorm so I was still able to get to Upper Manhattan where I'm working today but it did cover the rooftops and made the city look peaceful and extra pretty.
Do you see the Midtown skyscrapers in the distance? I'm almost 100 blocks north of that in Harlem near the Apollo Theater. And, by the time I started writing this post, the snow already ended and the sun was peaking out in the sky. So, it's pretty much slush and damp chill outside right now but it's still better than yesterday when the city was whiplashed with an icy cold wind and subfreezing temperature. Me no likey when it's too cold!
What's the weather like where you live? Do you think you'll have a white Christmas? Even Florida has seen some snow so we'll see here what happens in New York.
I'm quickly jumping to the recipe today as I want you to definitely try making it! This was an experiment done right and, even though it requires a few extra steps, it's totally worth it! I also suggest doubling the curd recipe and keeping extra in the fridge because it's just so good! Or at least make extra cranberry puree as you'll also need it for the next recipe I'm planning to post soon.
This deliciously rich tart will help you combat any snow or freezing cold you may have these days! And, for the lazy people who don't want to click the Read More button, I'm including the entire post at once so you can see the pictures and get excited about trying this recipe. And, by the way, there's vodka is this crust, which is always a good thing, right? 🙂 In case you're wondering why, any liquid helps the dough pull together, but, because alcohol evaporates during cooking, and vodka doesn't really have any taste, you're left with a buttery flakey crust that melts in your mouth. I advise substitute water in any pie or tart recipe requiring liquid and see the results for yourself!
What's Cooking This Week
Today's recipe is a buttery tart flavored with ginger and cardamom filled with more buttery cranberry curd. It's simply delicious! Yes, it's definitely not a diet-minded dessert, but, it's the holidays and a great time to indulge in something rich and satisfying. Cranberry curd may require extra steps to make it but it's still pretty easy and the result is a unique Christmas tart with a nice combination of sugar and spice.
Ginger-Cardamom Tart with Cranberry and Orange Curd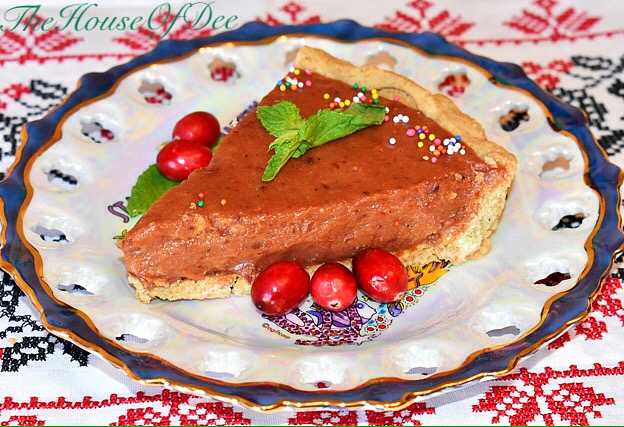 You can make cranberry puree and cranberry curd a few hours before or even  a couple days ahead and keep them in the fridge. Or, better yet, make extras of both because you'll want to keep some in the fridge to indulge in later. Plus, you'll need more cranberry puree for the recipe that's coming up on the blog soon, so, you might as well do it now.
To make cranberry puree, combine cranberries with water, sugar, orange zest and cook on a low flame stirring often until berries pop and the mixture becomes thick and soft, about 15 minutes, cool and pulse in a food processor to make a puree.
While cranberries are cooking, make the tart crust. Combine flour, ginger powder, cardamom, salt and sugar. Pulse flour mix and butter in a food processor till soft crumbs develop, add an egg, pulse again, gradually add vodka, you may need a bit more or less than specified. The dough needs to be soft and sticky.
Roll out the dough to fit the tart pan. I used this very handy pie crust pouch. All you need to do is to put the dough in, zip it and roll it around with a rolling pin, then open and transfer to a pan. So easy and mess-free! There's one in a larger size for a pizza crust too.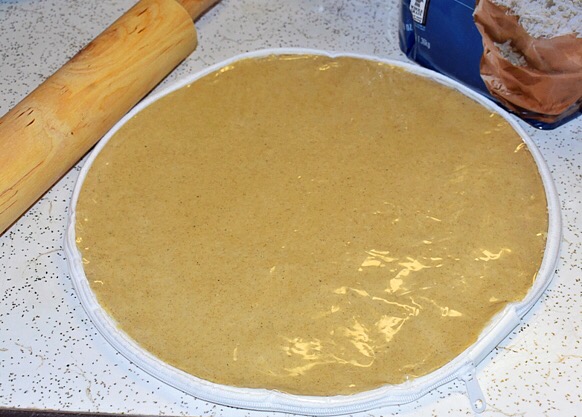 Bake in a pre-heated oven at 35 degrees for about 20-25 minutes. Make sure the crust doesn't bubble, use one of these handy pie baking inserts.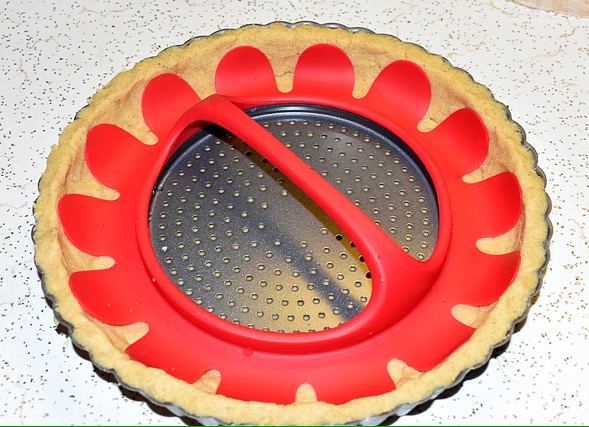 To make cranberry curd, set a heat safe bowl over a pot of boiling water (don't let the bowl touch the water), combine cranberry puree, eggs and egg yolks, salt, sugar, juice, cinnamon and cardamom and cook stirring often until the curd thickens, about 10 minutes, then cool it till just warm.
Transfer a bowl with curd to a mixer stand, add butter and whip until everything is blended well.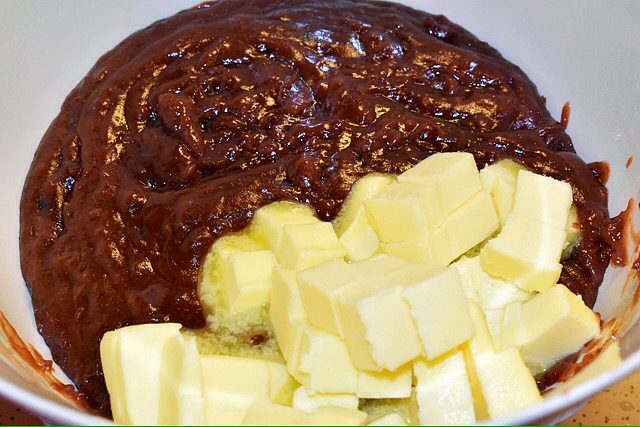 Pour filling into tart crust and chill for at least 2-3 hours before cutting it.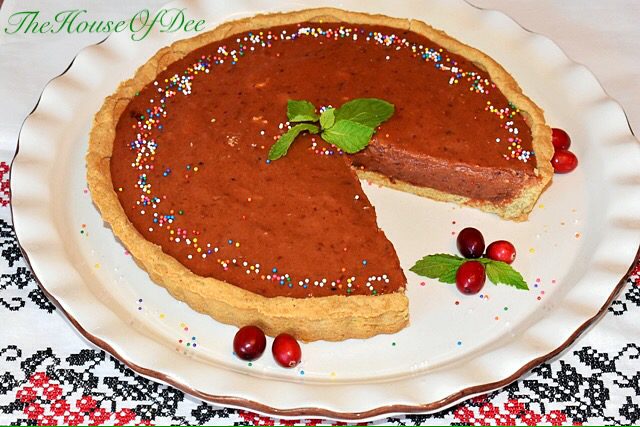 You can add whipped cream on top, but I thought this tart is rich enough on its own. Crushed mint makes a nice touch though if you like it.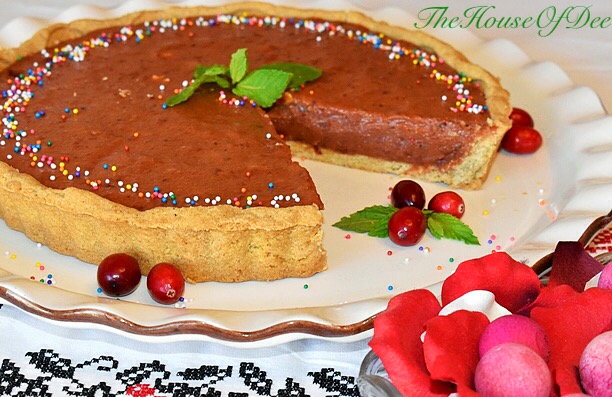 This unusual holiday dessert is buttery and not overly sweet with a nice balance of added spices from ginger and cardamom.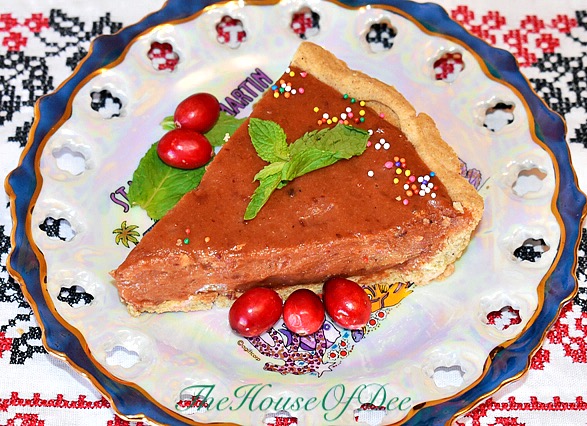 Definitely try to make it and impress your guests with your creativity and baking skills!
Ginger-Cardamom Tart with Cranberry and Orange Curd
Soft, buttery tart with a rich cranberry curd filling and a touch of spices.
Ingredients
Tart crust:
1¼ cup of flour (I used Kind Arthur gluten free)
1 stick of butter, cold, cut in pieces
1 egg
2-3 Tbsps of vodka
a pinch of salt
2 Tbsps of brown sugar
2½ tsps. of ginger powder
1 tsp of cardamom
Cranberry curd filling:
1 12 oz package of cranberries
1 + ½ cup of sugar
zest from 1 medium orange
¼ cup of water
3 eggs
2 egg yolks
½ cup of orange juice
½ tsp of cinnamon
½ tsp of cardamom
⅛ tsp of salt
¾ cup of butter, soft, cut into pieces
Instructions
Combine cranberries, 1 cup of sugar, orange zest, water and cook until berries burst and soft, 15 minutes.
Cool and blend in a food processor to make a puree.
To make a crust, combine flour with ginger, cardamom, salt, sugar and pulse with cold butter to make crumbs.
Add an egg and pulse again
Gradually add vodka until the dough becomes soft and sticky.
Roll the crust out to fit into a tart pan.
Bake in a pre-heated oven at 350 degrees for 20 minutes.
To make the curd, combine cranberry puree, with eggs, egg yolks, the rest of sugar, juice, cardamom, cinnamon in a bowl set over a pot with boiling water and cook, stirring often, until curd develops, 10 minutes.
Combine cooled off curd with butter and whip until blended.
Pour into tart crust and chill for 2-3 hours.