Senza Gluten and Gnoccheria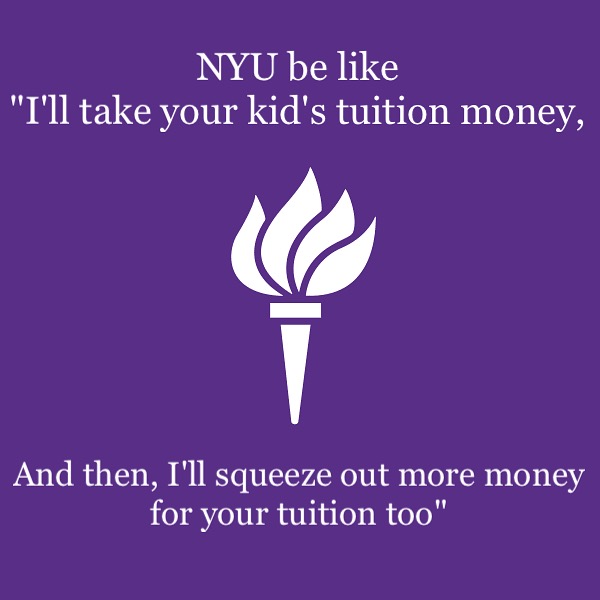 As my kid just started working on his college finals, I received an acceptance letter to a post-graduate program myself. Apparently I'm full of masochistic tendencies as a hospital job, a private practice, this little cooking hobby and a blog, plus the rest of my life is not enough, I need to go to school too. But, before you start panicking that I'm changing careers or going for another degree, no, I've finished college and graduate school long time ago and have spent numerous other hours at professional education classes too. It's just a snotty certificate program for senior clinicians who know nothing about life but love to give directions to others and who want to gather around even more persnickety professors and sharpen their sociopathic tendencies and learn new skills how to manipulate people.
Would you think NYU gives some discount for sucking out money for two tuitions?! No!!
My kid is slightly freaking out about it. Wouldn't it be like every child's nightmare that your parent suddenly goes to the same school?! But I tried to reassure him that there's no way shrinks would be anywhere around engineers, especially if we're talking about a post-graduate program mixing with college kids. It's not even separate buildings, it's like different planets. He still gave me a warning "do not approach me" speech. Okay, kid, not like I want to hang out with you anyway!
Just to digress here for a second, because that's just what I I do, I told him all about my senior research project that he kept messing up (yeah, I had a small kid, a 3-day internship and a full schedule of graduate classes at that time, so, pulling all nighters studying was a regular thing that I may just have to revive yet again with my busy life).   Anyway, I had a cool research thesis where I hypothesized that, even though men are considered (allegedly) superior to women in spatial orientation, women outperform men in mirror-image orientation and relevant fine motor skills tasks. But, of course, me, striving to be different as always, I decided to test it in a particular way so, I constructed a mirror image apparatus where participants had to draw a circle in between two circles printed close together but only looking in a mirror. The hypothesis was that women would do it without any issues as we do this task every day when putting make up on. I know, I was a clever smartass! 😊 But, I hypothesized even further, that even women who don't wear make up, would still outperform men, just because we're superior creatures like that! So, I tested three groups, men, women who wear make up and women who don't, first, on computer generated spatial orientation psych tests and then on my mirror image apparatus. Guess, who completely proved her hypothesis and earned an "A" as I remember? OMG, men, you totally flopped! You should've seen those pathetic ass-drawn circles you did looking through a mirror that you tried to fit, failing miserably, in-between two printed circles! Even women who didn't wear make up made very few mistakes. So, back to my kid, he kept messing the mirror apparatus when I was building it. I know, he was a complete nuisance even then, a typical man you can say!
What does any of this have anything to do with today's post you might ask? We have a review post today, something I haven't done in a while. Not that I haven't gone out or been to many cool places on a regular basis, but I don't always drag camera with me to places to eat (and, a phone camera does not always do the job), and sometimes you just want to eat and chat and not bother with pictures and notes taking. So, one of the restaurants I'm reviewing today, Senza Gluten, is right in the NYU area, just a few blocks from the main squire.
Senza (meaning, without, in Italian) Gluten is 100% gluten free Italian restaurant located in the heart of Greenwich Village in NYC http://senzaglutennyc.com , just an FYI though, they only take Amex or cash, so, don't plan for one of those "for everything else, there's Master Card" moments, be prepared. And, I'd suggest come during the day, as I was barely able to read the menu the light was so low. I actually hate that! Supposed romantic vibe overload, screw that, I want to see my food. That also messes up with pictures taking, so, please forgive the quality of any restaurant shots as I usually try to manage the settings and a flash as much as I can given the circumstances.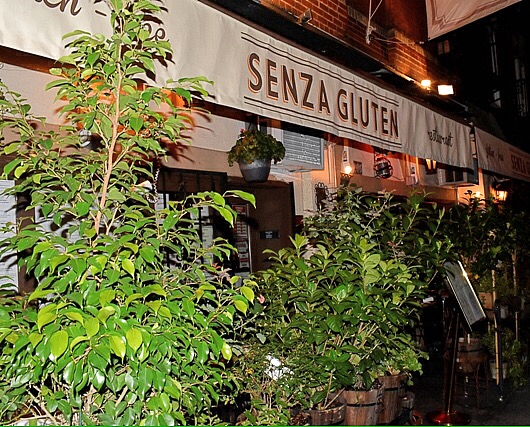 Senza Gluten has some rustic looking décor with a main dining room (that's rather small) and another semi-private adjacent room that can sit a large family.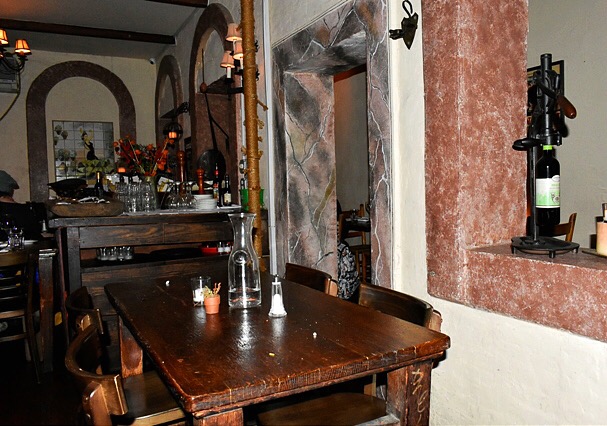 They also have an outdoor dining space, which is definitely better used during the warm weather months.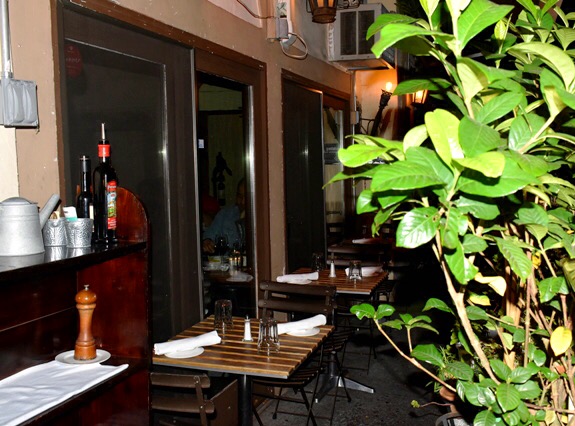 When I come to any restaurant with a goal of doing a review, I generally inform the waiters that I'm a food blogger and will be sampling some foods for a review, and I always ask if flash photography is allowed (usually it is unless it disturbs other diners, that's why I try to go during off hours). Sometimes I get little perks as they want a good review, other times, they can't be bothered, which is fine too. I always provide honest reviews as it's my goal. I look at the quality and creativity of dishes and also how attentive a particular restaurant is to gluten free needs and allergy awareness in general. Senza Gluten wait staff were attentive and did ask if there were any other allergy needs. Of course, this being a 100% gluten free restaurant, I didn't have to worry about gluten. We sampled some red wines and most were pretty good.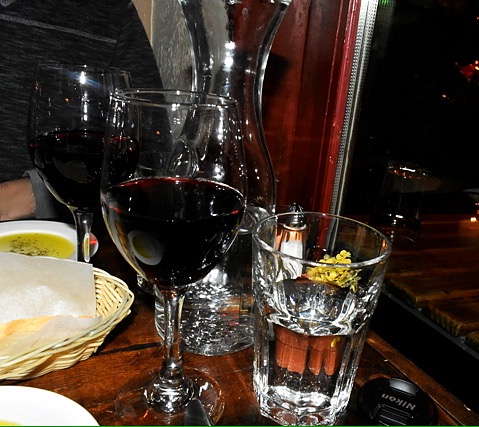 An extra perk of being in a gluten free place is that we were offered fresh bread and dipping oil, which I generally don't get in a regular restaurant.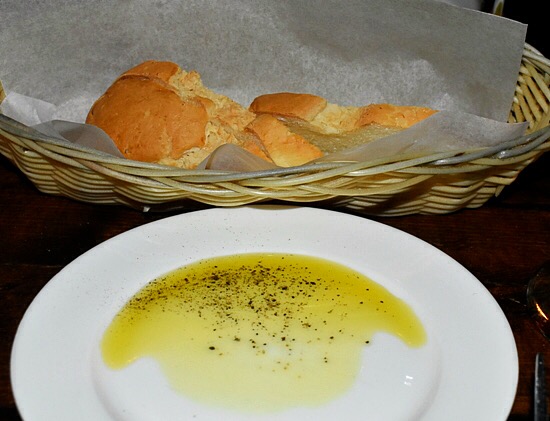 For an appetizer, we had traditional bruschetta with tomatoes and basil. I think the same bread was used for a toast, which was fine, however, tomato topping lacked seasoning, a drizzle of balsamic glaze would do the trick though. Plus, the actual tomato was slightly under-ripen. I know it's winter and tomatoes are not in season, but I think you can still find some adequate ones, especially for a dish where tomatoes are supposed to stand out.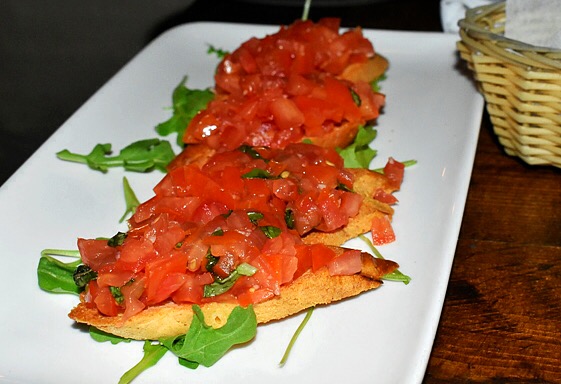 Next came out vegetable lasagna: lasagna sheets layered with roasted eggplant and zucchini slices, topped with sauce and ricotta and drizzled with pesto. This dish had definite standout points but also a few misses. Overall, it was a great lighter version of a traditional lasagna, the actual sauce had a nice balance of acidity and sweetness and lasagna sheets were perfectly cooked. However, even though the sauce tasted good, it was grossly under-seasoned, and, roasted zucchini needed to be cooked just a tad longer. But, I did still enjoy it and thought it was a great choice.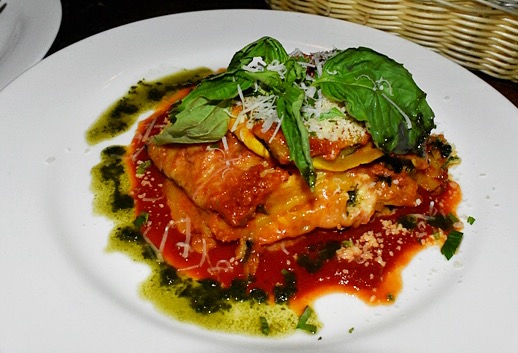 Then came out "chef's choice" of lobster tail and shrimp stuffed mushrooms with white beans on top of toast. Oh, boy, where do I start? First, toasted bread is a total overkill and unnecessary, unless you somehow want to justify the price of $31 but not with bread then. Shrimp was cold, in supposedly hot dish,  and it tasted like it was previously cooked and frozen, plus I was almost certain lobsters weren't fresh either. And, the biggest flop was a mess of big white beans topping it all as the neither taste, nor texture worked for this dish. Now, if the same beans were pureed and seasoned, that perhaps could've saved it, but not in the way this whole dish was presented. I understand that certain choices may not be overly popular among other Italian foods, then remove it from the menu or find another way to use shrimp and lobster, and serve fresh! A big fat "F" for this dish!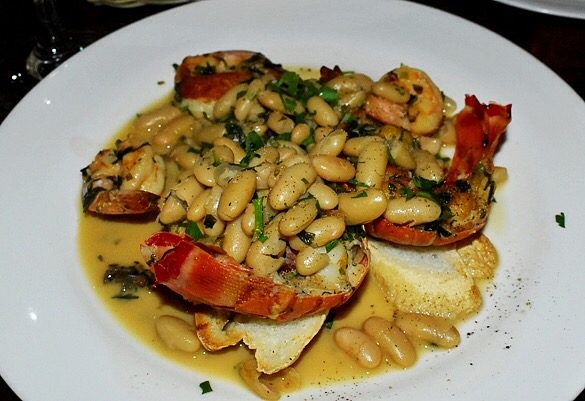 We chose Italian meringue cookies for dessert, which were light and perfect little bites of sugar to balance out rich coffee taste.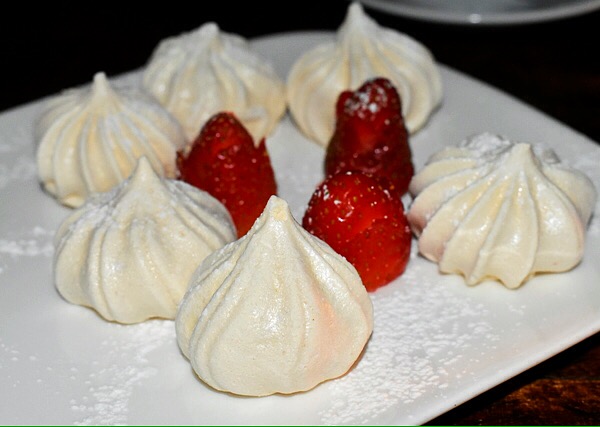 Espresso was good too and properly brewed, so, it was a nice ending to this meal.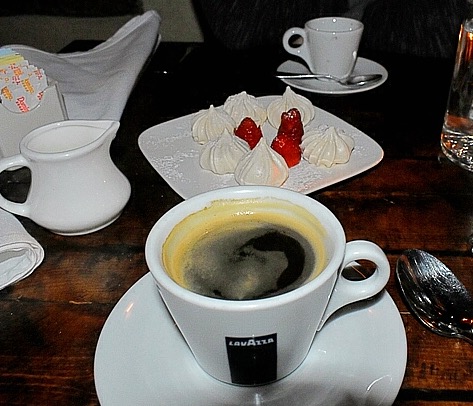 Overall, I think Senza Gluten deserves a "B". I know the lobster dish was an absolute flop and other dishes needed a bit more seasoning, but it's a definite solid choice for gluten free diners and I think I'll try them again for some of their traditional dishes.
My next review is about a new but very popular Italian place specializing in gnocchi. So popular might I say that reservations need to be made weeks in advance. Gnoccheria By Luzzo's http://www.gnoccheriabyluzzos.com/ is a tiny place with a modern look in Alphabet City in Manhattan, tiny and completely over-stuffed with tables, both traditional size and bar style with high chairs.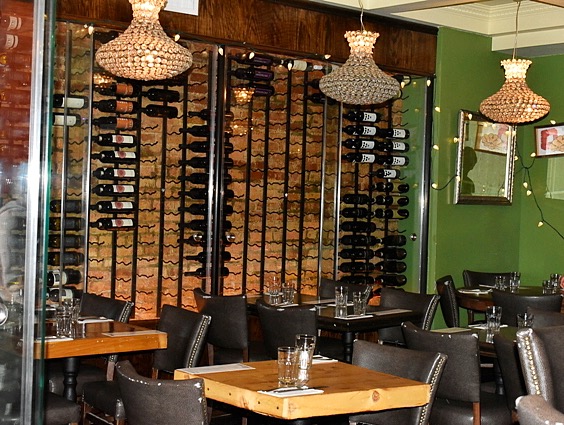 They also have a small outside seating area, which was empty of course due to the weather.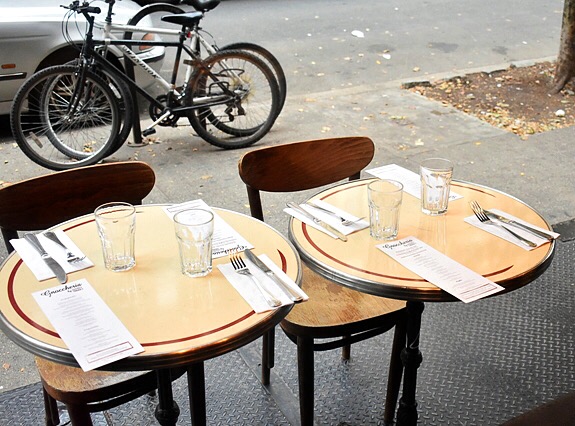 A menu is small as their concentration is on gnocchi but they do have a large variety of it and several different sauces to choose from.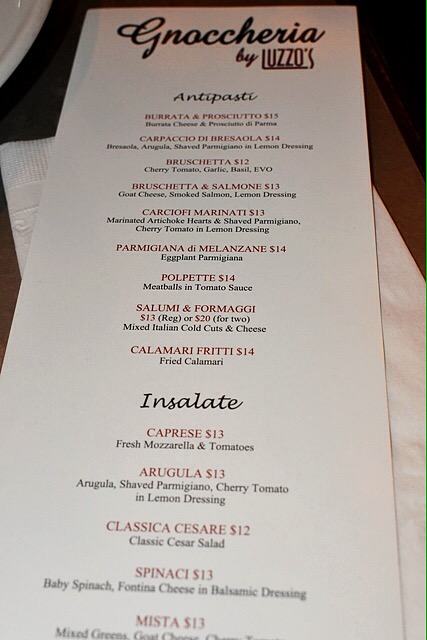 The wait staff seemed to be knowledgeable regarding gluten issues but generally not very attentive to their customers. As the restaurant filled with diners, they were visibly overwhelmed despite the fact that they were adequately staffed. Their wine choices were plentiful and delicious though.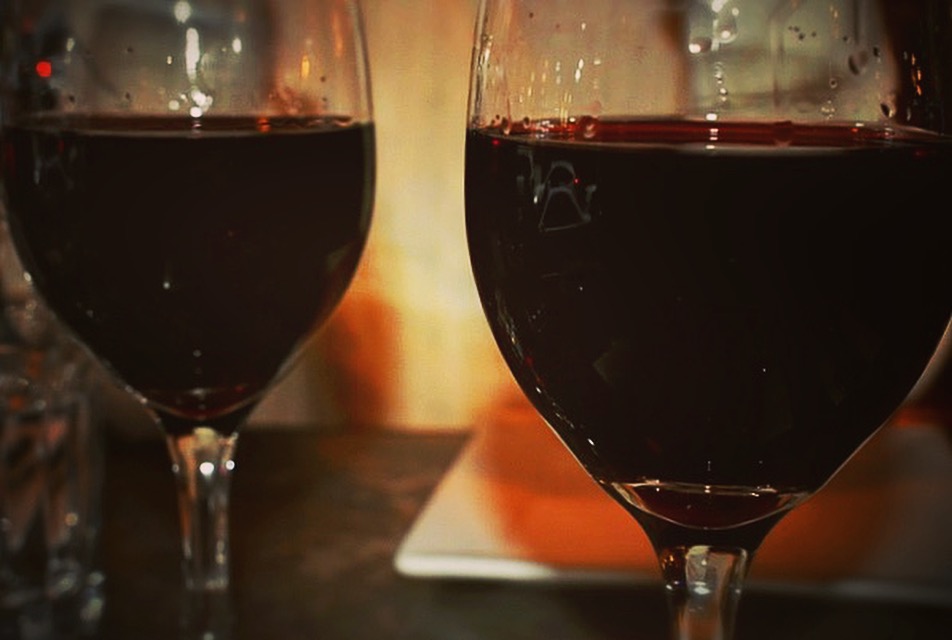 For an appetizer, we had Carpaccio di Bresaola with parmigiano and lemon dressing.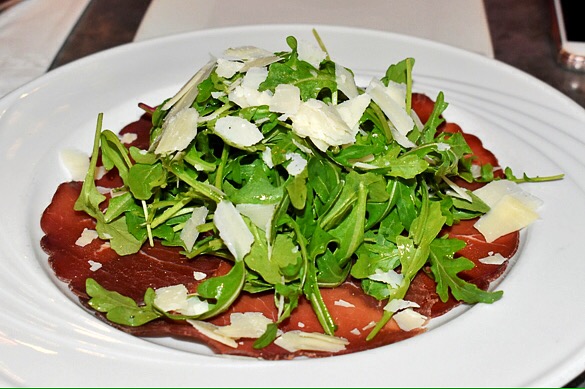 It was tasty and the meat was nicely dried.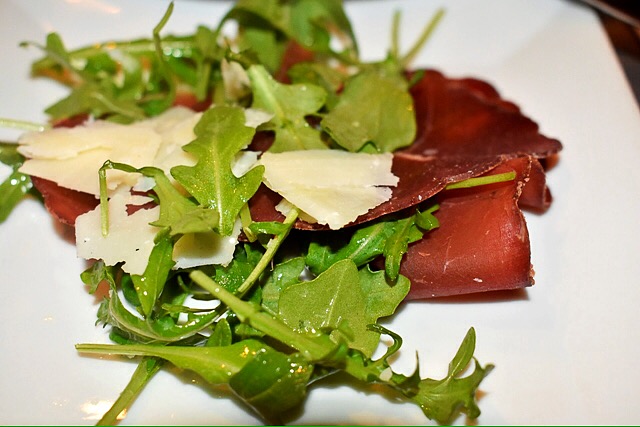 We were also offered Caesar salad, which I didn't have for the obvious reasons, croutons. But, by the look of it, it was just okayish.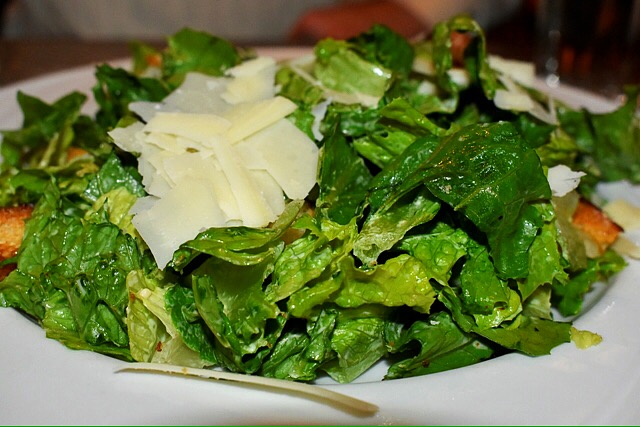 They have different types of traditional and stuffed gnocchi but the gluten free version only comes in traditional style. You do have a variety of sauces to pair it with though. I chose Norma, which is eggplant, tomatoes, basil and dry ricotta.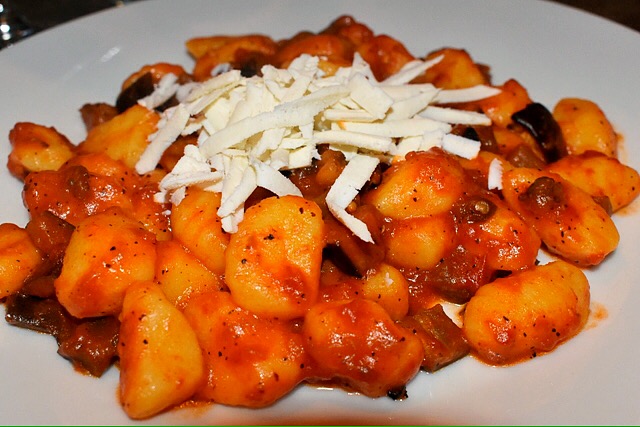 It was delicious and the sauce itself was nicely seasoned and balanced, dry ricotta added a tasty touch too.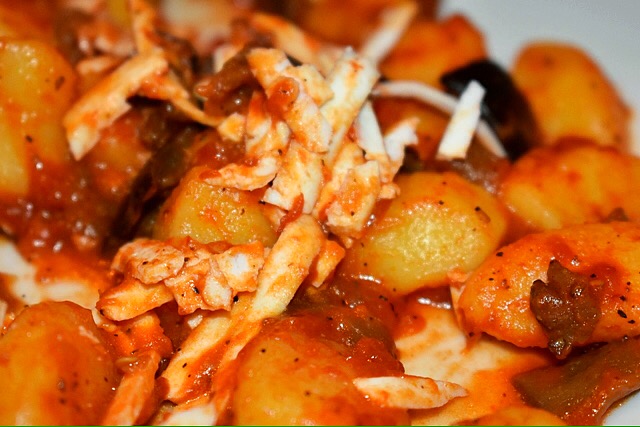 Regular stuffed gnocchi with mushrooms, as I was told, was pretty good too.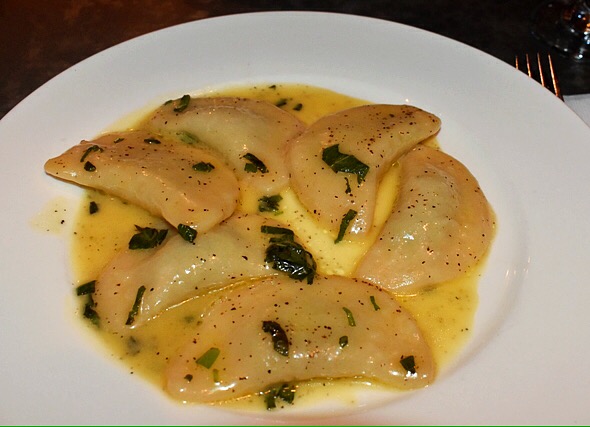 The stuffing was minced mushrooms with herbs and cheese.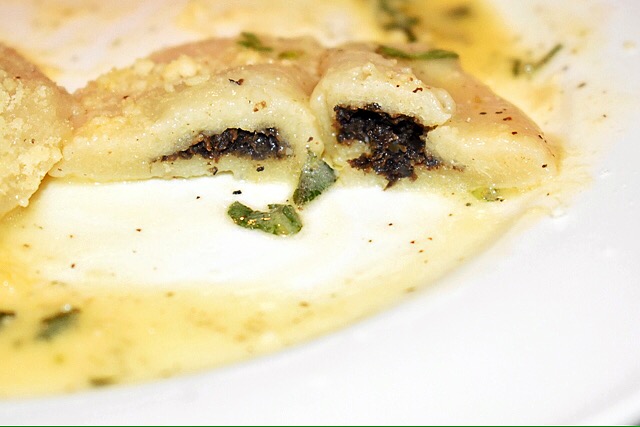 The amount of food and price value was on the traditional gnocchi side though. Just look at the difference in the amount of pasta between traditional gnocchi and stuffed one! If you want to go there and just be satisfied with one dish without spending extra money on appetizers, you should definitely stick with a plate of traditional gnocchi and pair it with sauce.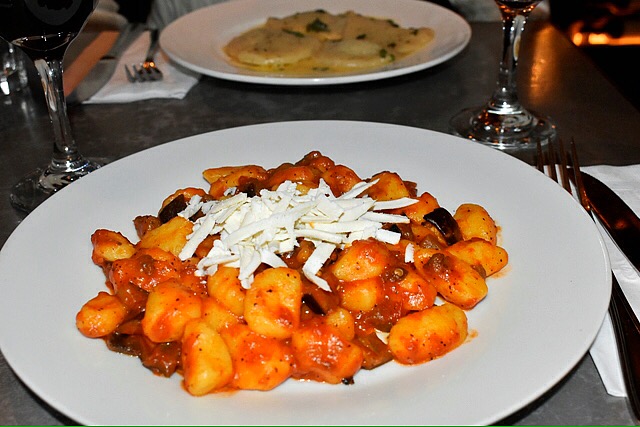 So, the verdict on Gnoccheria is stick with just gnocchi and order a couple of plates to share rather than an appetizer. That will also cut the need to call the waiter many times as they weren't very helpful. They did not even offer us dessert menu (an obvious oversight and losing the extra money). Or, you can always have something sweet at numerous other places NYC has to offer, which is exactly what we ended up doing that night. Gnoccheria gets a solid "B" too for great gnocchi and wine but save your money and don't order anything else there.