Today we have an unusual post, a first of its kind in a way. We have a guest blogger and it's none other than my own kid. 🙂
I'm happy to say that he's been into cooking lately and has been doing a pretty good job with creating and implementing his recipes. Some of them, we've done together and some other ones, he's made by himself. Of course, being a typical 20 year-old guy, he's very much into meat dishes but loves pasta and is not a complete stranger to cooking complete meals. In fact, he is in charge of making a Thanksgiving turkey this year. He said, he's smoking it on the BBQ. (I just hope the house still stands.) His Christmas list boasts an array of expensive butcher knifes (we'll see about that). But, on an overall level, there's nothing better than sharing a hobby with your own child and spending time together creating family meals!
So, let me introduce you to Gus, also sometimes known as the biggest PITA of my life. He is sporting his own version of lumbersexual beard (because I told him he needs to trim it, he'd do the opposite and grow it longer of course).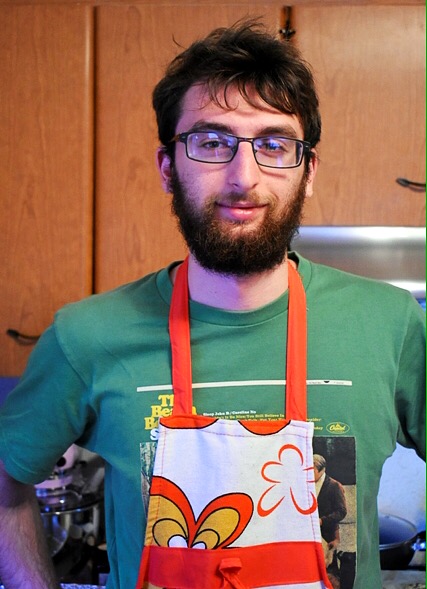 Hello followers and readers of my mom's cooking blog. I am Augustus, and I will be writing this post. I, like many people, enjoy good food and socializing. Other than that, I am a 20 year-old full-time student studying electrical engineering. My main hobbies are radio equipment, videogames and music (listening, not playing). I've been cooking the "basics" for several years now, steak and pasta was what I did (and I did it damn good). This summer, I took a trip to Italy and got to experience an amazing amount of wonderful food. This sparked my interest in taking my cooking to the next level. Coming back from a trip, focusing on Italian food, would have been the expected path, but living in New York City, there is no shortage of good Italian food. I wanted to cook food that is hard to come by in NYC. I recalled another trip I took where I spent a weekend in Arkansas. It's worth mentioning that that trip included a "meal plan" of homemade barbeque for the entire weekend. A good offering of traditional southern barbeque is not that common in NYC but it's absolutely delicious, so, the path was now clear. When it comes to barbeque recipes and techniques online, there is no better resource out there than AmazingRibs.com, where this recipe draws inspiration from.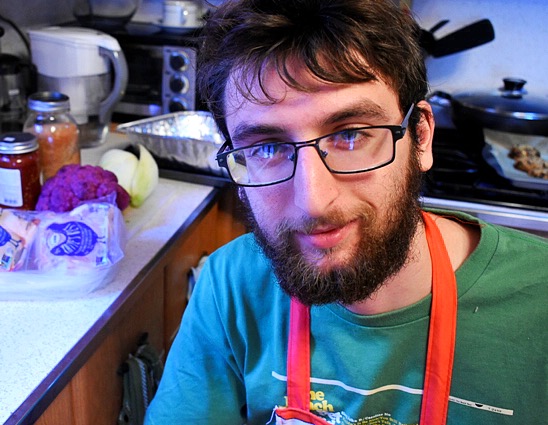 What's Cooking This Week
You can't talk about barbeque without talking about sauce. In the north, the common understanding of barbeque sauce is the "Kansas City" style, a thick, sweet, ketchup-y sauce. But, there are far more out there. For this recipe, I chose a Western Carolina style "Lexington Dip". It is a thin, peppery, and tomato-y vinegar based sauce. The sauce goes great on top of any meat but add some vegetables to it, and you've got a complete meal. I'm using an oven-method here but you can throw separate meat pieces on the BBQ too.
"Lexington Dip" BBQ Chicken with Purple Cauliflower and Fennel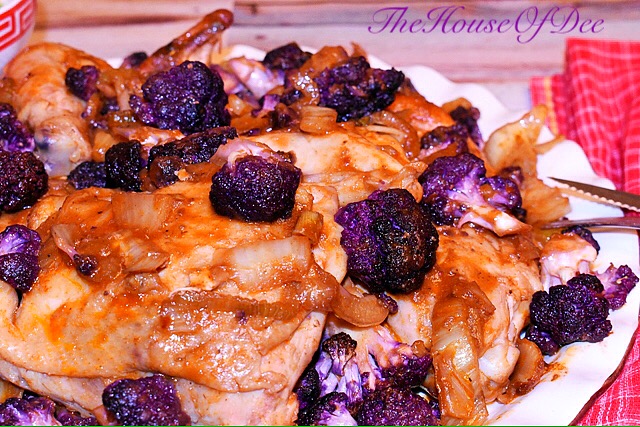 This is a Western Carolina BBQ chicken with fennel and cauliflower that brings up the favor and heat of southern style cuisine.
You can make the sauce a few days before or keep it in the fridge for up to 10 days. The more it sits, the more vinegar-y it becomes. Combine all the sauce ingredients, blend well and chill before you're ready to use it.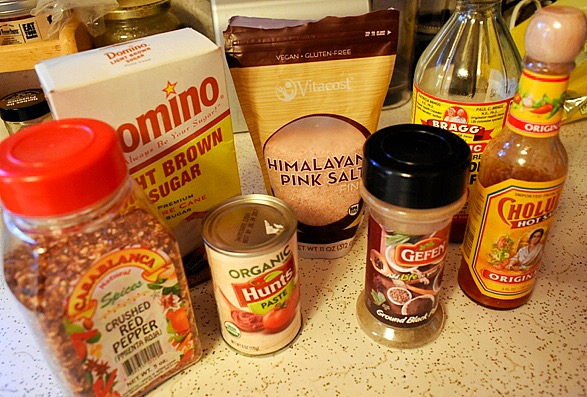 Make sure it's room temperature though before using it for the recipe.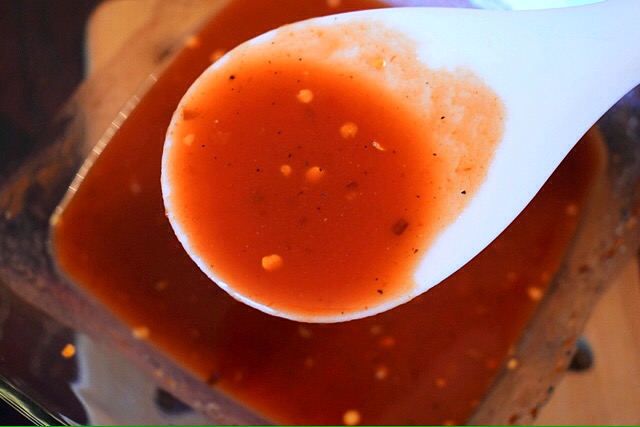 You can use any chicken parts for this dish but I have a whole cut-up chicken here. If you can't find a purple cauliflower, use a small one white one, the taste is similar, but purple does definitely make the color pop.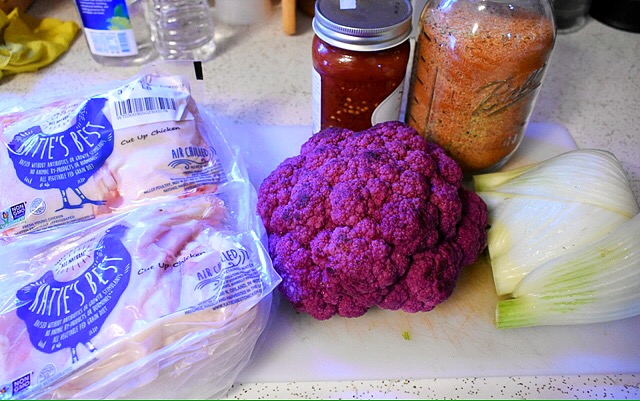 You can play with your food for a bit too if you feel like you need to stop and take a break.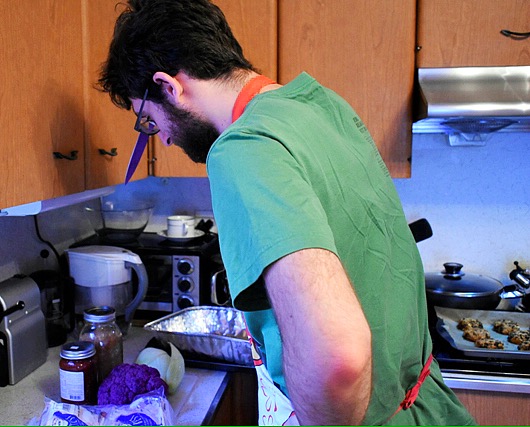 Cut up cauliflower and fennel bulbs too and place it all on a baking tray. Rub some spices mix on top of chicken and veggies and place the tray in the oven at a low flame of 225F degrees.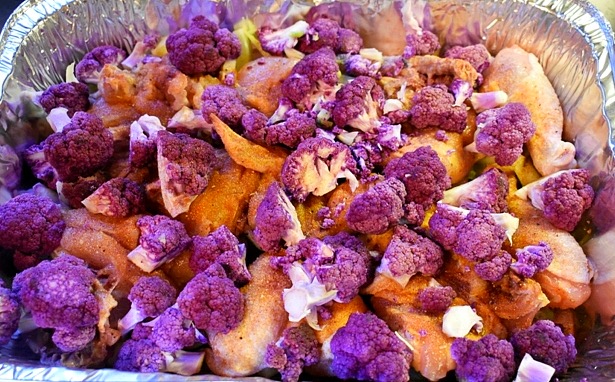 Low temperature really gets those juices flowing. You'll need at least an hour or so, depending on the chicken cut, to cook it through.
Heat up a large stovetop skillet, cast iron one will work the best here. Brush the sauce on top of chicken and vegetables and sear each piece on the skillet to seal the sauce in.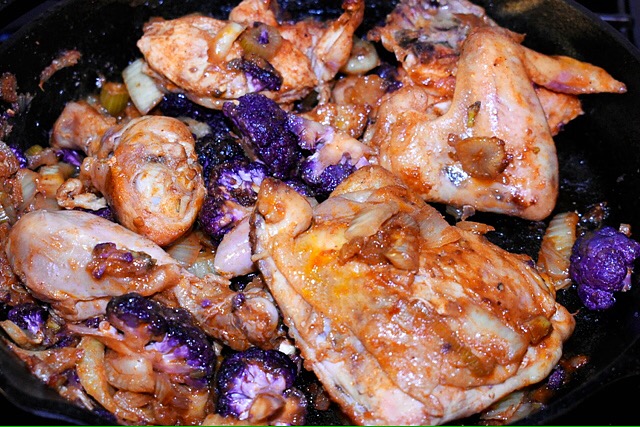 This dish is delicious and full of flavor and heat.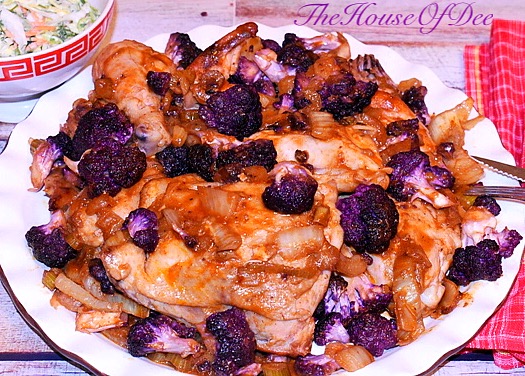 Serve it with homemade coleslaw for a great southern meal.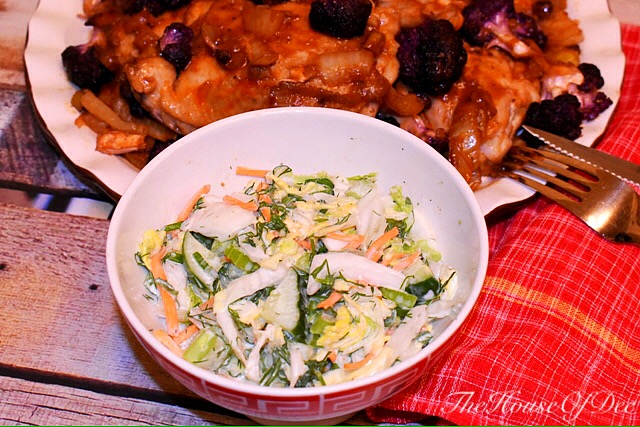 Hope you enjoyed this recipe and make it at home for yourselves.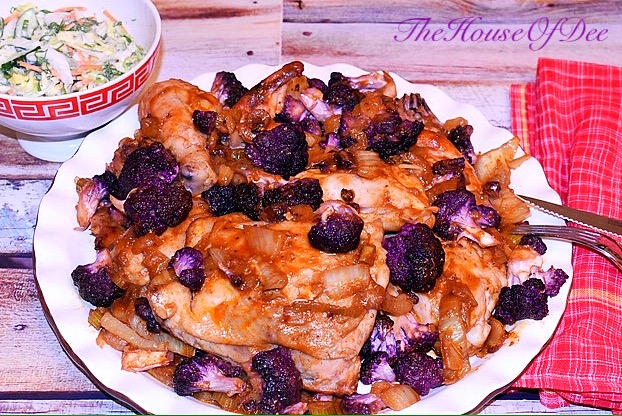 We also made these oatmeal cookies with cherries and blueberries but you'd have to ask my mom for the recipe.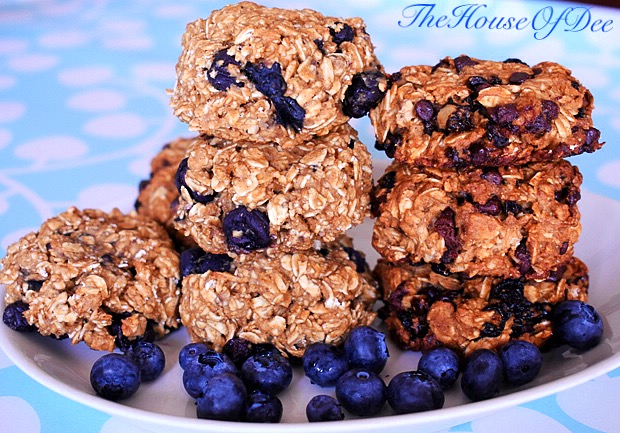 "Lexington Dip" BBQ Chicken with Fennel and Purple Cauliflower
A great southern style dish of Western Carolina BBQ chicken with fennel and purple cauliflower
Ingredients
BBQ Sauce, makes 1.5 cups:
1 cup apple cider vinegar
¼ cup tomato paste
¼ cup apple juice
1 teaspoon hot sauce
3 tablespoons light brown sugar
½ tablespoon gay pink salt
1 teaspoon crushed red pepper
1 teaspoon finely ground black pepper
Main dish:
I whole chicken, cut up
1 medium purple cauliflower, cut
1-2 fennel bulbs, cut
5-6 garlic cloves, whole
2 tsps smoked paprika
½ tsp ground cumin
½ tsp dried oregano
1 tsps. salt
½ tsp black pepper
Instructions
Combine all sauce ingredients at least 3-4 hours or a few days ahead, chill if not using it the same day.
Rub chicken pieces, cauliflower and fennel with combined spices and lay all out on a baking tray, place whole garlic cloves around the chicken.
Bake in a pre-heated oven at 225F degrees for at least an hour or till all juices run clear.
Heat up a large skillet.
Brush BBQ sauce on chicken, cauliflower and fennel pieces.
Sear each piece on high heat to caramelize the sauce.
Serve alongside with a fresh salad or homemade coleslaw.
Notes
Use meat instead of chicken or serve the same BBQ sauce for dipping raw vegetables or toasted bread.