The Day of Earth and A Soup of Greens
Happy Earth Day! How are you celebrating it? I'm going out with my kid to shoot some scenic NYC views. We're bringing two cameras and making it a day, especially since it's like the only day without rain these past few days. Dinner and a jazz concert at a historic Brooklyn church are also on a menu today. My kid is starting his finals and end of the year projects in a week, so, todays is a quiet spot before all the craziness begins. And, there's more for me to reflect on and reminiscent in his company. He is turning 20 in 2 weeks, so, you can say, his official childhood is coming to an end, he won't be a teenager anymore. Not like he'd suddenly turn into a full-functioning adult of course, I'm not naïve, it's more like a marking of the time passage than a full-fledged entrance into adulthood. I'm not even sure if I'm fully adulting myself. There are days when I refuse to adult, and other days, I go to my mom to be fed and fussed about. 🙂
We both badly needed to be outside today and doing some fun things. It's been a difficult time for both the kid and I (different things, different complexity for each of us, but hard nevertheless). This past week has been one of the most weird ones in a while, how has it been for you? It's Mercury retrograde now, yes, again, so things are definitely wonky. I've had a fair share of technology glitches, travel delays and communication fallouts because of it; and we have another 2 weeks of it still, so hang tight!
Yep, I need a big drink, and some sun outside, and nice music, and, definitely, I need some delicious food!
What's Cooking This Week
It's Earth Day, so we need to cook something green today, and nourishing of course. That doesn't mean we have to compromise on the comfort level. You can always adjust things to make it both healthy and comforting. Today's recipe is a definite powerhouse of greens and nutrients with an added touch of creaminess and spice. It's still early Spring so a warm soup feels good as a great lunch option. Have it with some bread or crackers for a delicious afternoon meal.
Vegan Cream of Asparagus and Broccoli Soup with Caramelized Onions and Rainbow Chard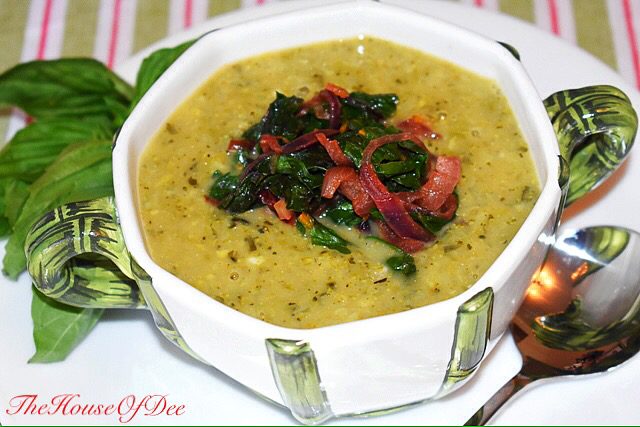 This soup is literally like a green smoothie in a bowl. With so many vegetables and greens in it, it's full of vitamins and nutrients.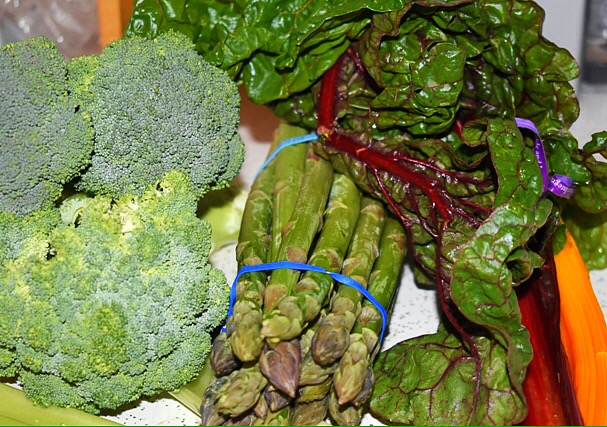 Jalapeno Havarti cheese adds some heat to the soup. I'm using a dairy free version by Daiya, you can add regular cheese if you use dairy, and substitute it for mozzarella shreds if you don't want it spicy.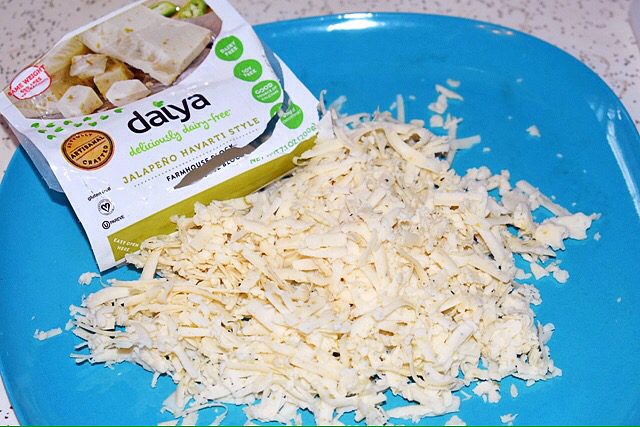 You can make the soup base by either cooking the vegetables and then blend them, or, if you, like me, like some chunks in it, process raw vegetables and fresh herbs in a food processor till only small pieces remain, add vegetable broth and spices and cook until everything is tender and smooth.
While the soup is cooking, sauté onions until well-caramelized, add chopped rainbow chard at the end and a pinch of salt and pepper to finish cooking.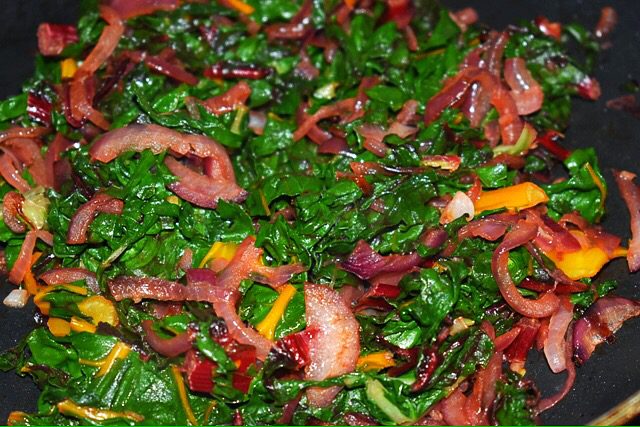 Once vegetables cooked through, lower the heat, add coconut milk, stir in shredded cheese and whisk in arrowroot starch diluted in a bit of water. Continue stirring until everything is combined and creamy.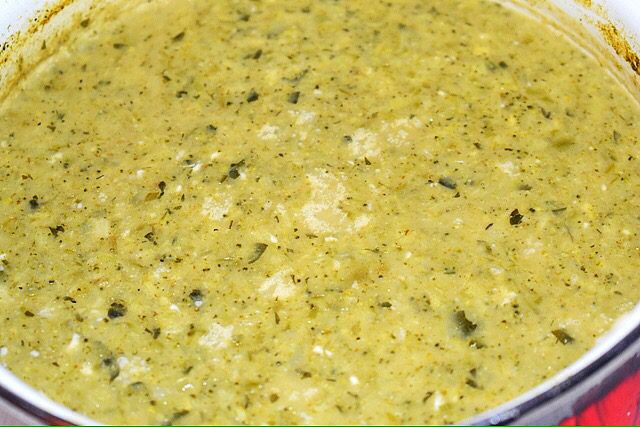 Pour soup into bowls or cups, top each with some onions and chard.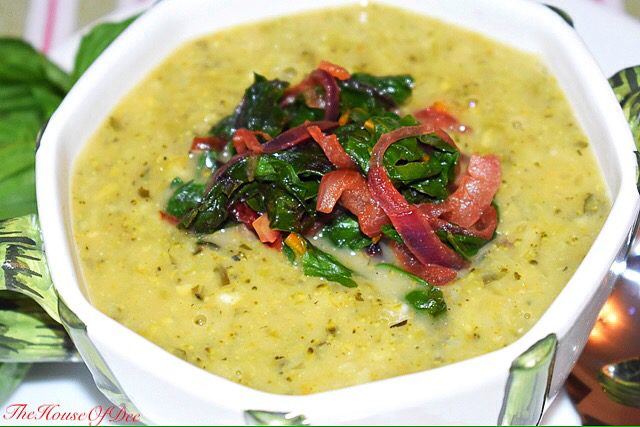 This is a healthy yet hearty soup that brings in nutrients and comfort in one bowl.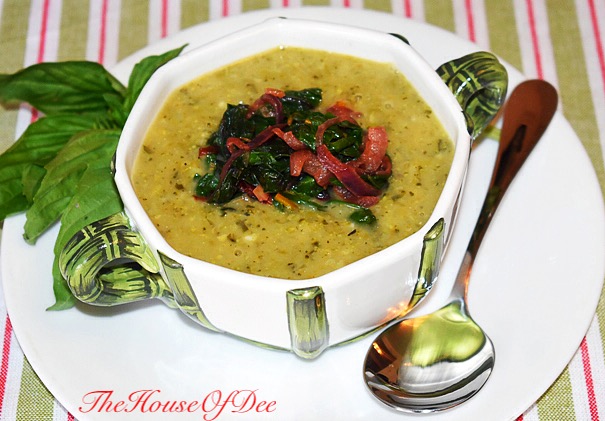 Serve this soup with crackers or crusty bread to make it a complete lunch. It is so good!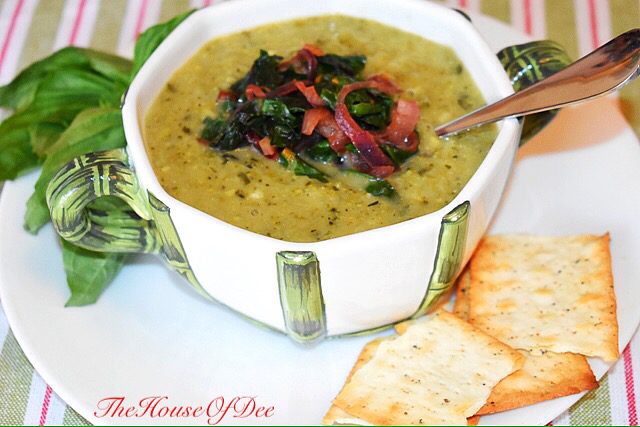 Vegan Cream of Asparagus and Broccoli Soup with Caramelized Onions and Rainbow Chard
A green smoothie in a bowl with a subtle heat from jalapeno cheese. This soup is creamy and satisfying without any dairy or flour.
Ingredients
1 bunch of asparagus
1 small head of broccoli
2 celery stalks
2 oz of fresh basil
2 oz of fresh parsley
32 oz of vegetable broth
½ cup of coconut milk
½ cup of shredded jalapeno Havarti (Daiya)
3 Tbsps of arrowroot starch + 4-5 Tbsps of cold water
2 tsps. of garlic powder
1½ tsp of Italian seasoning blend
2 tsps. of salt
1 tsp of pepper
1 large red onion
3 large leaves of rainbow chard
olive oil
Instructions
Cut broccoli, asparagus, celery and fresh herbs into smaller chunks and process in a food processor until only small pieces remain.
Place vegetables in a large soup pot, add vegetable broth and spices, cover and cook, stirring often, until everything is soft.
Chopped the onion and chard into heat some olive oil, sauté onions till they are well-caramelized, then add chard and sprinkle some salt and pepper, cook another minute.
Once the soup is cooked through, reduce the heat, add coconut milk, simmer for a minute, stir in shredded cheese and then arrowroot starch mixed with cold water, cook for 4-5 minutes, stirring continuously.
Pout soup into bowls and top with caramelized onions and chard.
Notes
You can substitute other green leaves, like kale or spinach, for chard. You can make this soup all broccoli or all asparagus.