Psychedelic Jobs and Colorful Easter Cake
So, have you seen this latest hashtag trend, #badlyexplainyourjob? It's a good one! If you don't know what I'm talking about, google it or, better yet, go on Twitter and read the comments, they made my day! Basically, it's a convoluted description of your job, right up my alley! I was a bit apprehensive to post mine on Twitter, as I'm there in my professional capacity, so, this would probably traumatize all my current and future patients. 🙂 But, I fully unleashed it on Facebook, here it is:
#badlyexplainyourjob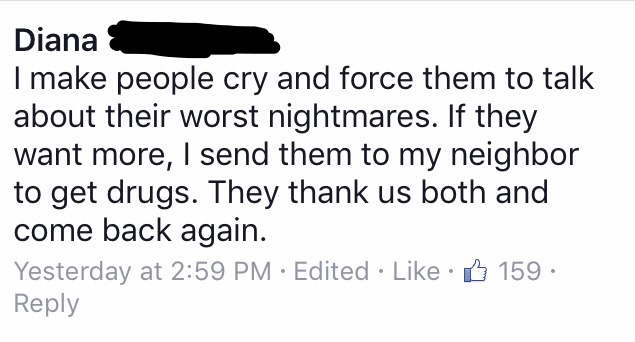 I know, I'm horrible! I need to have more hashtags like this. So, here's another one I just made up:
#spillyourjobsecrets
The next door "drug dealer" who I share an office suite with in my private practice keeps our fridge stocked with beer, wine, Red Bull cans and frozen Milky Ways. Hey, #lifeistoughforshrinks. On Wednesday, I made 3 people cry and he dispensed $25K worth of drugs. We celebrated with wine and candy bars afterwards. #worstpsychofficeever
The drug dealer has the most horrible taste in music but neither his nor my patients are allowed to change the station in a waiting room, so, I spend the first 10 minutes of each therapy session mitigating the effects of traumatic music experience for every patient. I hope the psych doctor has the best liability insurance because all my patients are now scarred by his music. I think I should up my insurance just in case I'll be sued too. #offensebycheesy70smusic #iwanttokillmyneighbor
The number one question I always get asked in any social situations is "so, do you psychoanalyze me right now?". The answer is always "no". #idontworkforfree because I don't have to, #iseeyourshitfromthefirsthello #psychpeepsarethebestsociopaths
There's another psych office across the main entrance that's bigger and has 5 therapists. Sometimes, if we have breaks between patients at the same time, we gather up in the kitchen and play darts, but we tell the patients who are waiting that we have peer consultations. #pentupenergyhastogosomewhere #weneedbreakstodosillystuff so we can exist in the #shrinkworld and help all of you. 🙂
What are your twisted job descriptions and behind the scenes secrets?
What's Cooking This Week
Last week, we had a Passover dish so, this week, it's all about Easter. And, of course, Easter is full of candy and all the spring colors. So, today's recipe is one colorful Easter cake layered with two different creams and topped with candy. You can't do better than that! Oh, and in case you're wondering who got the honors to eat it all, the cake was personally delivered by the chef, aka truly yours, to my kid and his college friends. I was told they had a blast!
 Easter Cake with Whipped Lemon Mascarpone Cream and Vanilla Frosting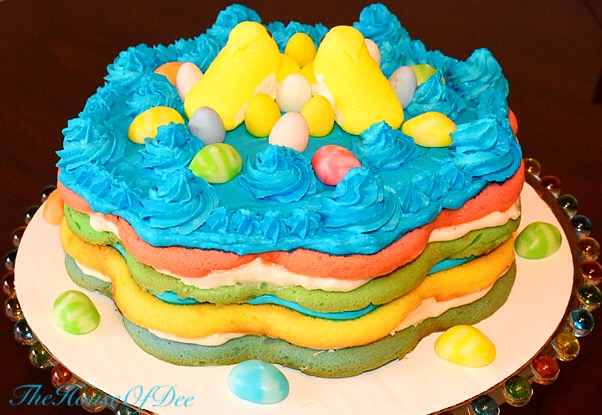 For this cake, I'm using a regular two-layer recipe for a 9-inch cake, but I've divided it into 4 flower pans. So, if you want to do just two layers (or more layers), separate the batter accordingly. Follow the recipe directions to first combine the dry ingredients, then whip up the wet ingredients and gradually incorporate them together. Divide the batter into the number of layers you'll be making. I think the best way to do it is to use the same size bowls.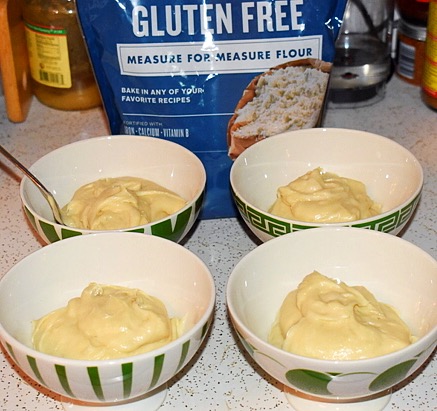 Add food dyes to color each layer, use about 5-7 drops for each depending on the color intensity you want each layer to be. Fill the cake pans with batter.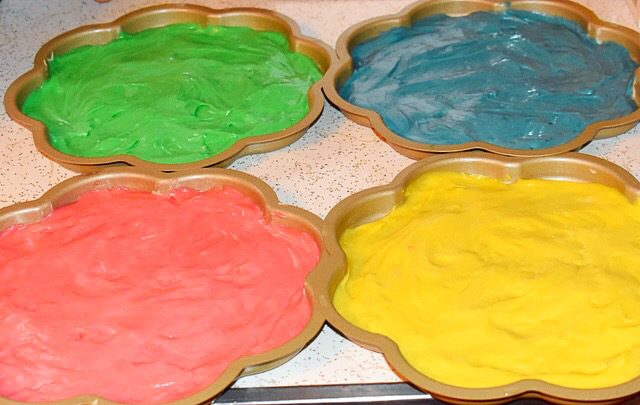 Bake at 350 for about 10-12 minutes (watch the layers carefully as not to burn), add more minutes if you're only doing 2-3 layers to bake through. Cool cakes completely before frosting.
To make whipped lemon mascarpone cream, beat mascarpone until soft, gradually add heavy cream while continuing beating. When soft peaks are formed, add lemon flavor, lemon zest and powdered sugar, finish whipping until hard peaks develop. Take the bottom cake layer and spread some of the cream on.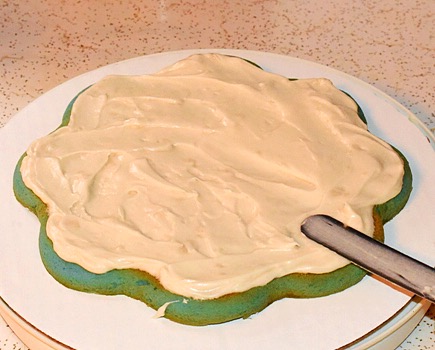 To make vanilla frosting, cream butter and shortening together, add vanilla and then powdered sugar, beat to combine it, add food coloring if you want it blue. Take the next cake layer, place it over mascarpone cream and then spread vanilla frosting on top of this cake layer.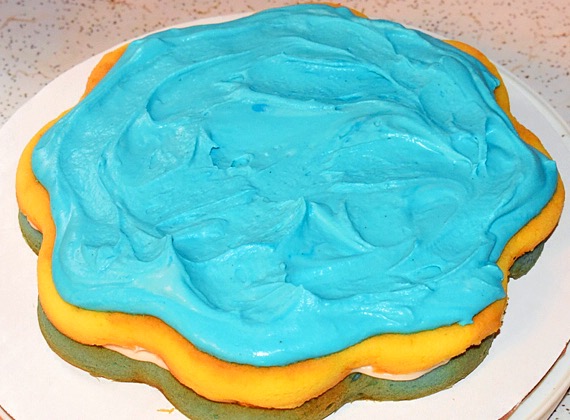 Cover it with third layer and more lemon  mascarpone cream, then add the top cake layer and spread vanilla frosting. Pipe and decorate as desired using various Easter candy.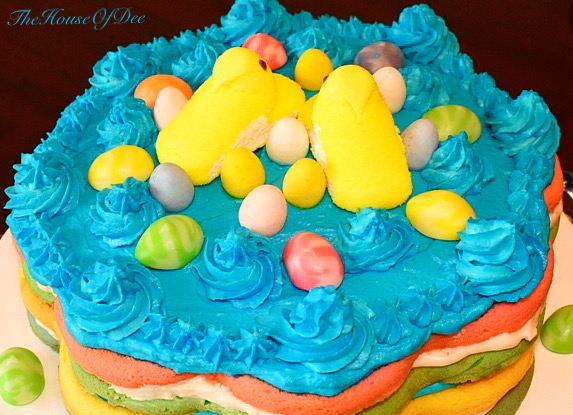 Look how nice and colorful those layers are! They are almost too pretty to eat! Almost…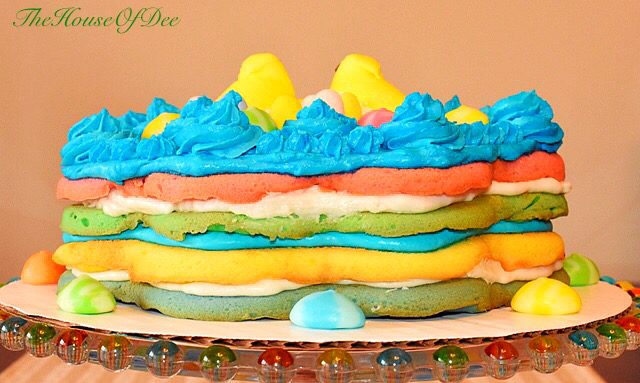 This is a sweet and creamy Easter dessert, full of colors, vanilla and lemon flavors and topped with candy. Who wants to try it?!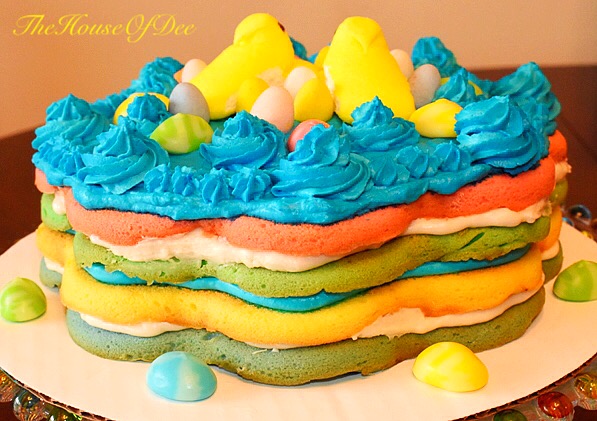 Easter Cake with Whipped Lemon Mascarpone Cream and Vanilla Frosting
An induldent Easter dessert full of Spring colors and candy.
Ingredients
Makes 4 thin cake layers:
2½ cups of flour (I used King Arthur gluten free)
1¾ cups of sugar
6 eggs, room temperature
½ cup of unsalted butter, melted
½ cup of milk (I used almond milk)
2 tsps of baking powder
1 tsp of vanilla
¼ tsp of salt
5-7 drops of food dyes(red, green,blue, yellow)
Whipped lemon mascarpone cream:
6 oz of mascarpone cheese
1 cup of heavy whipping cream
2½ cups of powdered sugar
2 tsps of lemon extract
2 tsps of lemon zest
a pinch of salt
Vanilla frosting:
2 sticks of unsalted butter, softened
¼ cup of shortening (I used organic Spectrum)
3 cups of powdered sugar
2 tsps of vanilla
optional: blue food dye
Decorations: various Easter candy
Instructions
To make cake layers, grease cake pans and set them aside.
Beat together sugar and eggs until foamy, add vanilla and melted butter and beat again, alternate adding flour mixed with salt and baking powder and adding milk, combine all together.
Divide batter into four bowls and mix in food dyes.
Bake at 350 degrees for 10-12 minutes (or longer if you're only doing two layers).
Cool cakes completely before frosting.
To make whipped lemon cream, start by beating mascarpone and then gradually add heavy cream, continue beating, add lemon extract and zest, then gradually incorporate powdered sugar.
To make vanilla frosting, cream together butter and shortening, then add vanilla and gradually add powdered sugar. Add food dye if using it.
Place the bottom cake layer on a cake board and spread some lemon cream, top it with another layer and spread vanilla frosting, add the third layer and lemon cream, place the top layer and vanilla frosting.
Decorate the top with more vanilla frosting and Easter candy.