Some Change is Good and New Matzo Ball Soup
(My apologies for a little error in my yesterday's post, if you even noticed it. By accident, my web designer's name got attached and displayed as the post's author. I'm the one and so far the only author who posts anything on this site. So, consider it as a small unintentional April Fools joke yesterday. Now, on to today's post).
Any time a change needs to be implemented, the adjustment period is never easy. The emotions are always mixed as you have to grieve the old way and the old circumstances, even knowing that the new way may be more beneficial to you, and find some outlets that let you implement the new changes in a workable manner. My best friend's youngest daughter just got diagnosed with celiac, and it's tough for a 12 year-old to wrap her head around that some things are off limits now, or have to be adjusted and carefully monitored. That's exactly what I was going through about 11 years ago when I first suspected that gluten may an issue contributing to the health problems that kept piling up. Yes, that was prior to cancer diagnosis that happened a year later, which I didn't know was already inside me, but some health issues I was experiencing at the time were definitely gluten related. I remember that the first time I got off gluten, it was for about 3-4 months. And, I remember feeling so lost about food choices thinking that there was nothing I could eat (which is not true of course). I managed to stay off gluten for a few months, felt better and decided I could go back to eating it again (stupid, I know). After some months, the symptoms returned of course, but, by then, I was already diagnosed with cancer and had to concentrate on that. At least that's the thinking process I had at that time, that I couldn't concentrate on my gluten issue as I had a much bigger problem to fight, and maybe it was temporary anyway. I was in denial of course. Most of 2007 was spent on surgery and chemotherapy treatments, and I had another surgery in 2008. I was also undergoing difficult personal changes so I was telling myself gluten was not a priority. But, when 2009 rolled in and life and my health settled down a bit, I couldn't deny anymore that to continue eating gluten is to continue literally poisoning myself. That was the year when I went 100% gluten free and have been ever since.
I can't say it was easy. There was a definite grieving period I went through mourning the "easy lifestyle" where you just grab whatever food is available or indulge in every possible gluten-filled goodness you crave at the moment. But, I was determined to stay the course of my new lifestyle knowing that my body will thank me for refusing to feed it poison every day. What followed was a lot of research and some testing, which actually turned out to be null: I did not know at the time that you were supposed to do the celiac test while you still consume gluten (an equivalent of about 3-4 slices of bread each day) for it to be positive, so, naturally, my test came back inconclusive as, by that time, it was already several months into my complete gluten free journey. I did do some various alternative tests and they showed gluten intolerance, so, it just confirmed my gut feeling that I was on the right path. Technically, you were also supposed to check celiac diagnosis with an intestinal biopsy, but, I decided not to do it as the result was apparent even without it – I cannot in any way consume gluten, it makes me sick and, in a long run, brings out a number of symptoms and health problems.
That was also the time when I started experimenting more in the kitchen. Prior to that, I was a good cook but certain things, especially baked goods, I felt I didn't want to bother with as they could be easily bought at a store. So, like I said, that easy-go lifestyle went out the window. 9-10 years ago, gluten free marker was not that widely developed as it is now. Even in NYC, there were only a couple of dedicated gluten free bakeries and very few stores carried a large number of gluten free products. Plus, after trying some gluten free desserts, I can't say I was completely satisfied with their quality. Yes, they were good, but, as some people were saying, there were good for being gluten free. That was just not satisfactory to me! I had to have quality desserts and other baked goods that were just good, period, being gluten free was an added advantage. That desire and a spirit of competition you can say, "I have to have it better than commercial bakeries" (Scorpios do not give up unless they lose interest! 🙂 ), what brought me into the kitchen and started the whole cooking journey, which later transformed into this blog. I went back to my childhood roots when I was growing up in the former Soviet Union where most store shelves were empty besides some very basic ingredients, and, if you don't make everything from scratch, you just don't eat it. All those hours spent in the kitchen with my mom and her close girlfriends came back to me in the best possible way. I started to cook and bake my own gluten free treats or just regular dishes but using only natural and healthier ingredients. My spirit was ignited with a desire to create more and more and I was all too eager to feed it with each new successful dish.
Fast forward to today. My blog has just celebrated its 5th anniversary and I have this new site to call home. My family and friends do not care at all that all my baked goods are gluten free. Why? Because they are good! Not for being gluten free good, but just delicious, period. If you've ever sampled my goodies, I think you'd agree. My friends do care very much though when they miss some dessert that they didn't get to eat (oh, and I get an earful about it). I have accomplished my major goal that I set for myself 9 years ago. Do I have some cooking flops and disappointments? Absolutely! Who doesn't? But, if this is something I really want to perfect, I'll go back to the drawing board and work on it, and hope that next time, it'll be much better.
Going back to the actual gluten intolerance, I strongly suspect that it runs in my family. My mom, in her early 70s now, after years of complaining about various symptoms that were getting worse by the minute, has finally gone gluten free. And, surprise (insert my eye roll and a sarcastic smirk), her symptoms are gradually getting better. I'm almost certain my grandma is gluten intolerant too as some of her symptoms are very similar to what I and my mom had, but, she is almost 95 now, and any kind of a dietary restriction would be hard to maintain for her and most likely, the necessity of it would not be fully understood. I'm also yet to test my son despite him being almost 20. If you listen to him though, he declared he is eating gluten no matter what, he is not giving up his bread. (And, in a mean while, he is happily consuming my gluten free breakfast and dessert treats, or really any other gluten free foods that I prepare). I still hope the gluten issue skipped a generation in his case.
So, now you know how my gluten free journey transpired and how this blog came to be. The very things that started as a necessity became a point of exploration and inspiration. And, I would not have it any other way!
What's Cooking This Week
When you have to eat gluten free, certain things are off limits. Or so you think. In reality, it doesn't have to be this way. My favorite motto that I adopted after going gluten free is "don't stew, substitute". Sometimes you really do have to sub some items and other times, you can have exactly what you want (if you're willing to put an extra effort in and make it yourself). And, there are those times when a substitution is a good thing as it brings in something new and delicious. With Passover week approaching, matzo ball soup will be on a menu. But, what to do if you need it gluten free? Use gluten free matzo meal of course. I'm going a bit further on my substitution route though and replacing the quintessential chicken soup with a delicious all veggie-based version. Who said that matzo ball soup absolutely has to be with chicken?! I actually like my version much better. The sweetness of carrots and butternut combined with creamy cauliflower compliment the lightness of matzo balls in a great way. And, you can swap real eggs in the recipe for flax eggs and make this meal completely vegan. It's a win-win substitution in my book! And, of course, you can make this soup with regular matzo meal too.
Gluten Free Matzo Balls with Carrot-Cauliflower-Butternut Soup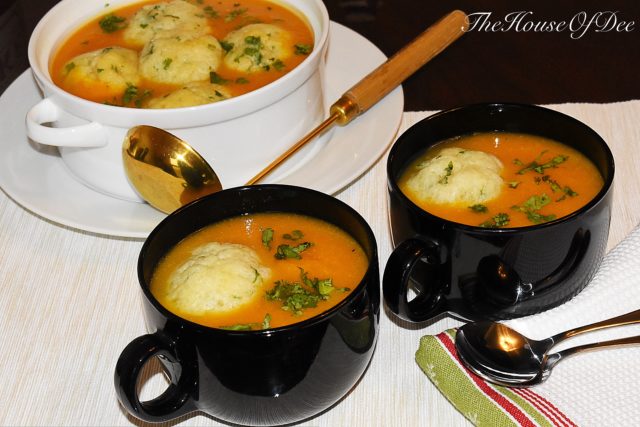 You can work on making matzo balls and soup at the same time as both require a bit of prep and cook time, or you can prepare the matzo balls mix and let it sit in the fridge till you're ready to make them. Either method works just fine. And, if you don't have a pre-made gluten free matzo meal, just pulse gluten free matzo squires in a food processor. The rest of the ingredients are not that complicated. You can use whatever starch you have at home (except corn starch), potato, arrowroot or tapioca starches will work here.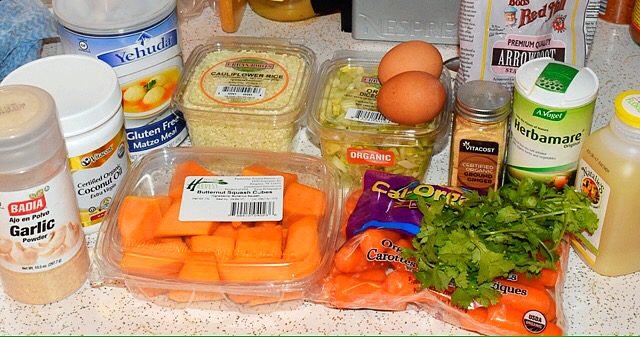 I made my soup in Instant Pot, it took about 20 minutes to cook it through, but, you can follow the regular stovetop directions, and that will work just as well. To make the soup, cut all the veggies into smaller chunks, you can also use riced cauliflower, add water so it just about covers it all, add garlic powder, salt, pepper, spices. Cook it using either method until everything is soft. Use an immersion blender or transfer soup to a standing blender and blend to make it creamy and smooth. If you need to adjust water ratio or add more salt and spices, taste it and add a bit more.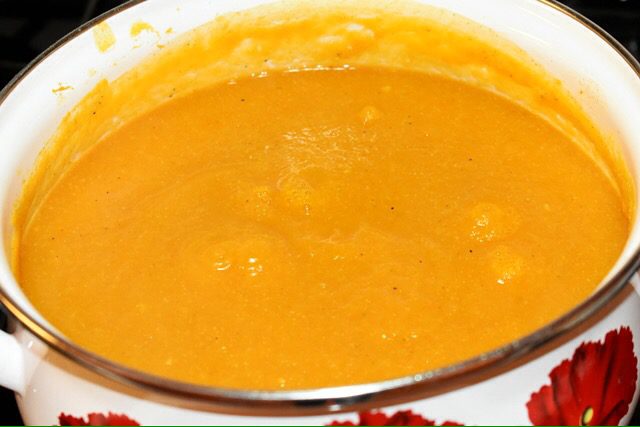 While the soup is cooking, make matzo balls. Combine wet and dry ingredients separately.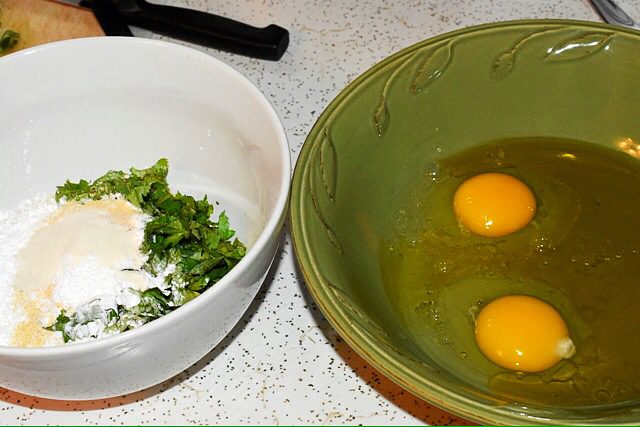 Then mix them together thoroughly, cover the bowl and place it in the fridge for about 10-15 minutes to chill. Bring a pot of lightly salted water to boil. While the water is boiling, wet your hands with cold water, form matzo balls and carefully place them in the pot. Cook for about 20 minutes or until soft but be careful as not to over-boil.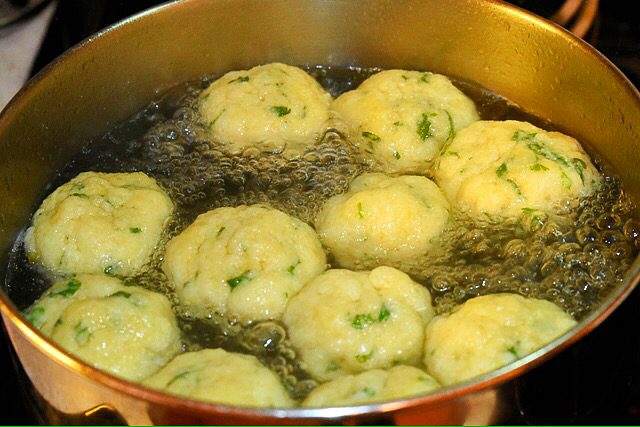 Once they are cooked, drain and carefully transfer to a pot with soup. Garnish with more chopped fresh herbs.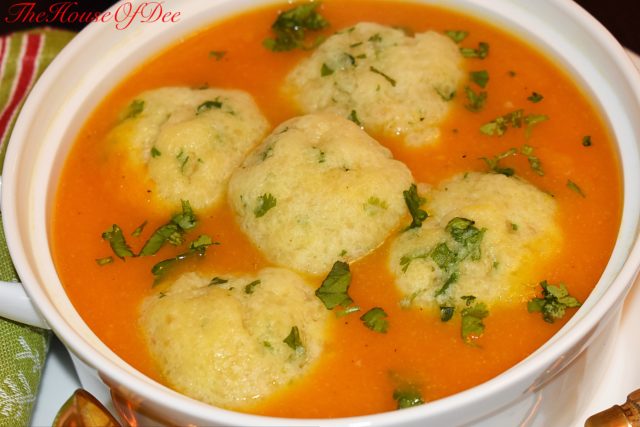 Serve it right away to prevent matzo balls from becoming too soggy. I'm pretty sure you'd want to have them immediately anyway. 🙂
This soup is so tasty and filling, you'd not miss chicken at all. I actually like this version much better.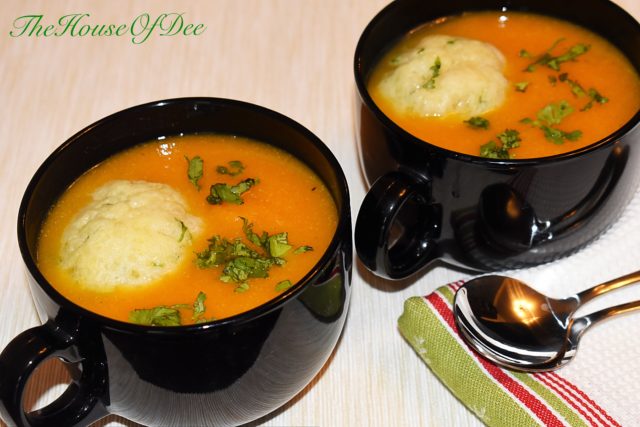 If you're lucky, you may have a second helping, just don't fight over it, make a double portion then.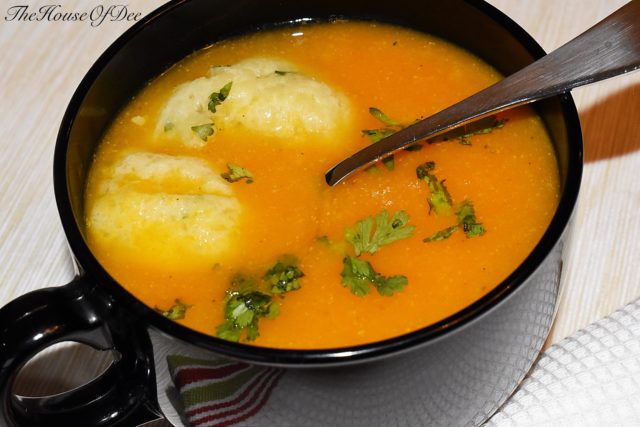 Gluten Free Matzo Balls with Carrot-Cauliflower-Butternut Soup
An updated version of a classic Passover dish that is gluten free and packs in a load of nutrients.
Ingredients
Makes 6 large matzo balls:
⅔ cup of matzo meal
2 large eggs, room temperature
2 Tbsps of oil (I used coconut)
¼ cup of water
¼ cup of starch (potato, arrowroot or tapioca)
¼ tsp of xanthan gum
3-4 Tbsps of fresh herbs, chopped (parsley or cilantro)
1 tsp of salt
½ tsp of baking powder
¼ tsp of pepper
Soup:
1 lb of carrots, chopped
1 lb of butternut, cut
2.5-3 cups of riced cauliflower
1 cup of celery, chopped
1 Tbsp of lemon juice
2 tsps. of garlic powder
1 tsp of ground ginger
2 tsps. of seasoning salt
1 tsp of dried herbal blend
fresh herbs to garnish, chopped
Instructions
Cut and prep all vegetables for soup. Use either pressure cooker or stovetop directions. Place all vegetables and seasonings in a large pot, cover everything with water just over the tops, cook for about 20 minutes in pressure cooker or until vegetables are soft if making it on the stovetop.
Once the soup is cooked, blend all until smooth either using an immersion blender or in a large standing blender. Adjust seasoning if necessary and add a bit more water if the soup is too thick.
Prepare matzo balls mix while the soup is cooking. Combine wet and dry ingredients separately and then mix them together. Cover the bowl and place it in the fridge for 10-15 minutes to chill.
To cook matzo balls, bring a pot of slightly salted water to a boil. Wet your hands with cold water, form large matzo balls and carefully place them into boiling water. Cook for about 20 minutes or until they are soft.
Transfer cooked matzo balls to prepared soup pot and garnish with chopped fresh herbs.
Serve right away to prevent matzo balls from being soggy.
Notes
You can substitute eggs for flax eggs to make this dish vegan.