Hello again! Just a few reminders today. And no April Fools jokes. 😊
The blog is completely finished and all beautifications have successfully been installed. If you haven't had a chance to check out the actual site, I encourage you to do so, it's much prettier than just an email post. Or, even if you did see it at the initial opening a week ago, please go and check it out again as there have been some new additions. I have my pretty awards badges in the right widget area, and, what do you think of my signature in the sidebar short bio section? Pretty cool, right? And, there's a nice functional addition too: now, when you go to the Recipe page, there's a drop down menu leading to the corresponding page with a different meal category so you don't have to scroll down to find what you want.
Please note the site's URL, as there have been some questions, for the times you need to come back for a recipe or read some posts: www.thehouseofdee.com. It's spelled the same way as the blog's name The House of Dee, so, don't forget the "The" when typing in the URL, and it's dot com. You can reach me at Diana@thehouseofdee.com if you have any questions about the recipes or need help navigating your gluten free journey. If you want to follow me on Instagram, find me @thehouseofdee. Also, social media buttons at the top right of the Home page, will link you to my Twitter and Facebook pages. Got it? Now you can always come back and stay for some cake and chat. 😊
While you were busy with whatever you did this week, The Daily Meal, where I belong to their community of bloggers, has shared my Chestnut and Almond Flour Blackcurrant Muffins recipe in their slide show of healthy breakfasts on the go.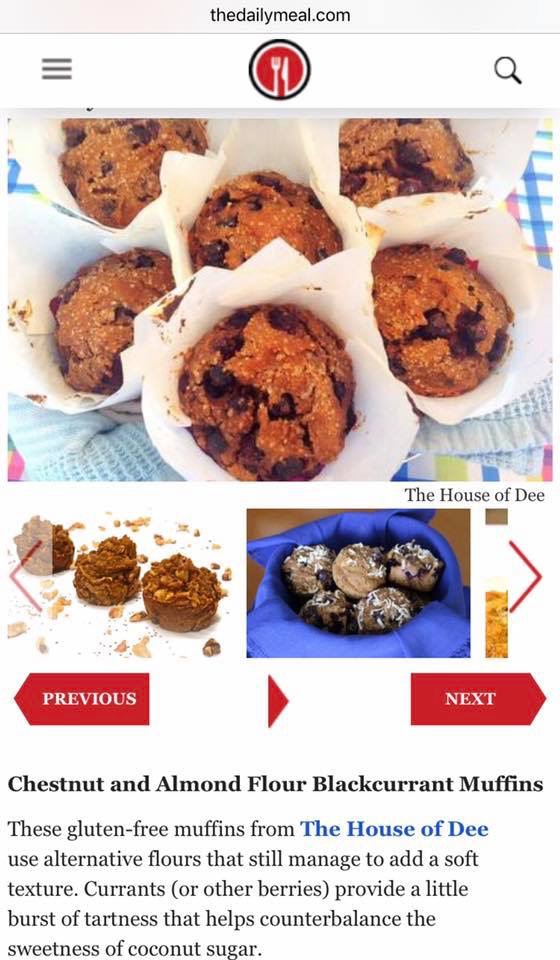 Go to my Breakfast Recipe page to find out how to make these delicious muffins at home. And, do check the rest of the recipes on The Daily Meal site. http://www.thedailymeal.com/cook/16-more-muffin-recipes-healthy-tasty-breakfasts-go  TDM and MSN Food have shared several of my recipes in the past several months, so, check their sites for everything food and drink related as those pages are great resources for some inspiration.
And, do of course come back to my House often, there will be a great recipe post going out tomorrow.