The 5th Hello and a Sweet Goodbye
This week marked the 5th anniversary of Food n Thought Peddler. And what a splendid 5-year run it has been!
Something that I thought would be just a small platform for me to file the recipes along with my thoughts, has grown into the blog as it's now: a serious hobby of writing and cooking projects and an integral part of my life. I can look back at some posts and read about whatever occupied my mind some years back. The blog is now a testament to my life and a keeper of my memories.
I thought this 5th anniversary would be the best time to say goodbye to Peddler and welcome the blog into a new venture. Today is the last recipe post that will appear on Peddler. It is time to start working on my new blog The House of Dee. If you somehow missed my earlier announcement, or, if you're a new follower, this prior post outlines all the upcoming changes.
In no way, I'm leaving the blogging world. I'm just having too much fun! I'm leaving the WordPress platform though and will be migrating to a self-hosting site. The new blog The House of Dee will continue all the same content and features that Peddler had, so you're not going to lose anything, but, it'll also have a cleaner food-oriented design and new exciting cooking releted features.
The blog will operate on a basis of email subscription, rather than WordPress followers, and you'll all have a chance to still get all my recipes, inspirational posts and know what else is happening in my life if you sign up. Please come back and subscribe to my new blog once everything is set up and operational. I'll post all the additional information and links when available.
Thank you for this amazing 5-year run! I'll see you all at The House of Dee!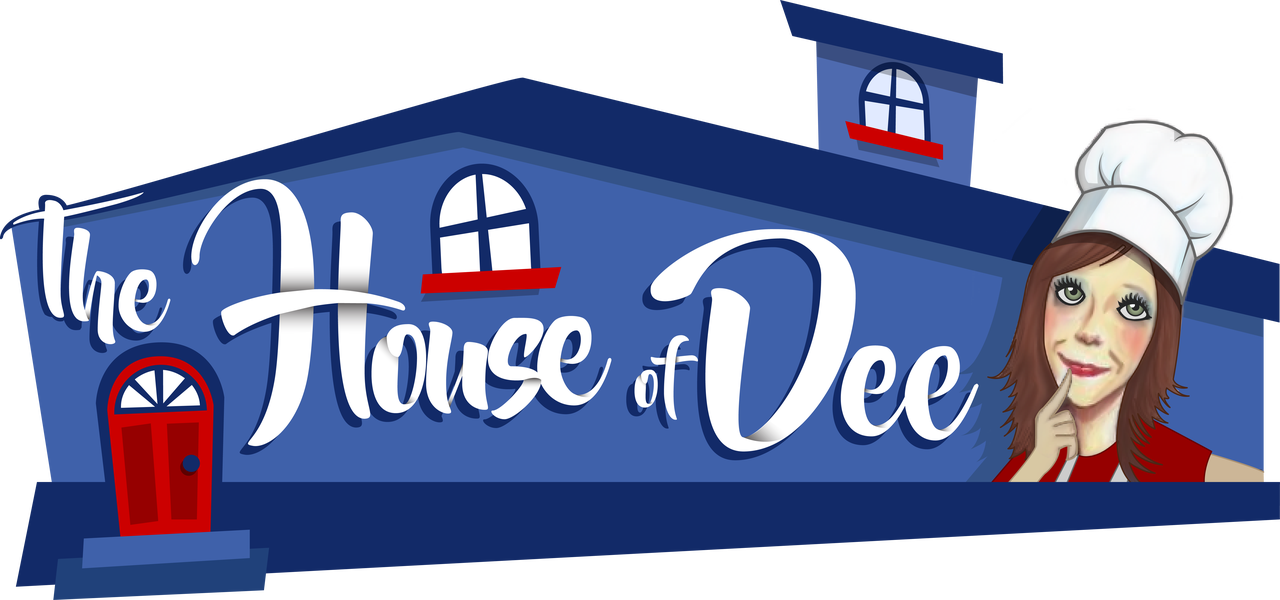 What's Cooking This Week
With the 5th anniversary to celebrate and a sweet goodbye that needs to be acknowledged, the only appropriate recipe would be to make a cake.  Today's recipe is a light sponge cake with jam, fresh berries and whipped cream. Most traditional sponge cake recipes call for some butter in it. Mine is a Russian sponge cake that is made with just eggs, sugar and flour, plus a bit of baking powder. It produces very light and airy cake that's perfect for holding the shape without being soaked with fruit juices and frosting.  You can substitute any other fruits and jam you want. I hope you will try making it, it's very easy yet sinfully delicious!
Russain Sponge Cake (Biskvit) with Blueberry Jam, Fresh Berries and Whipped Mascarpone Cream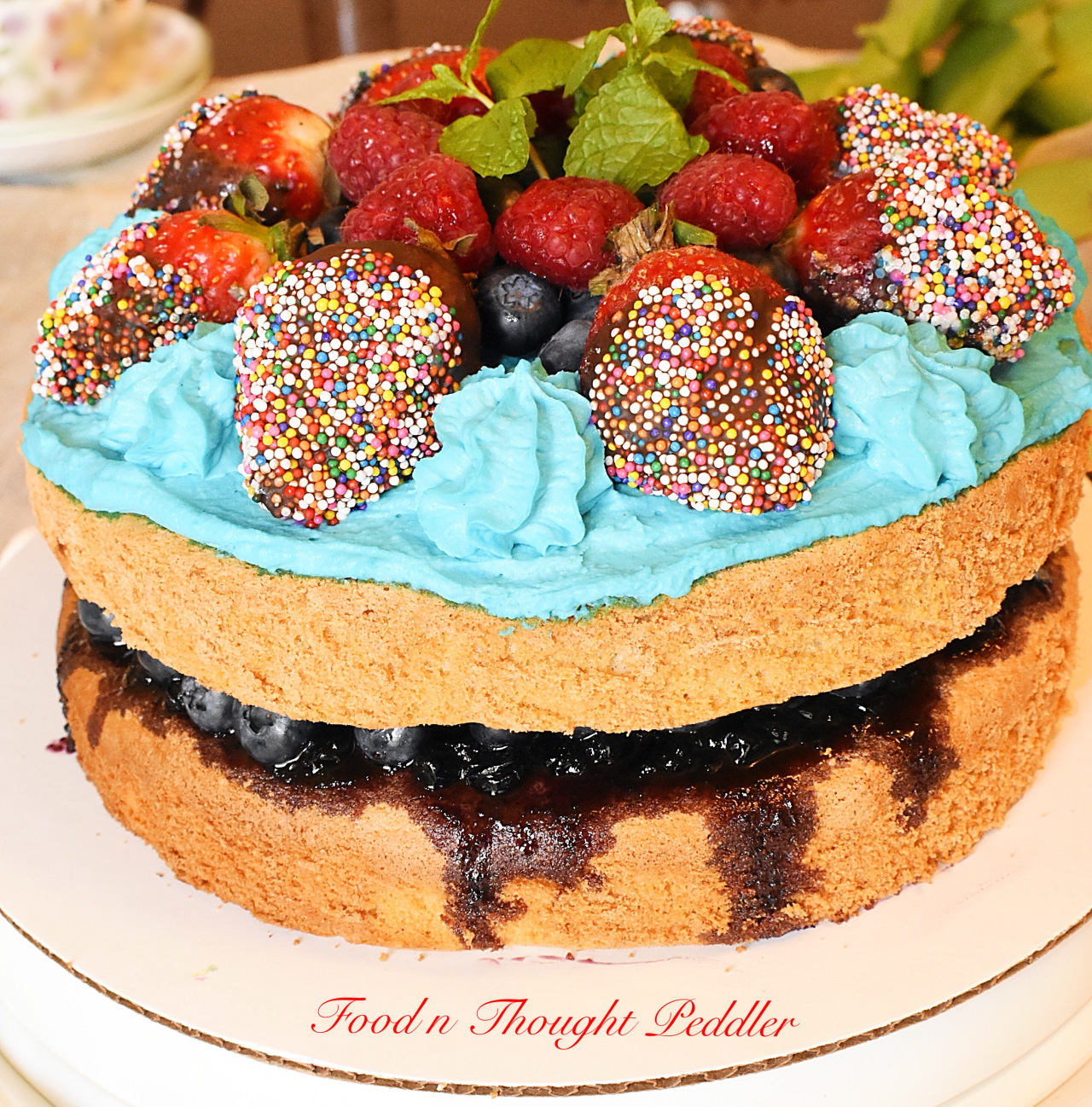 1 cup of flour (I used King Arthur gluten free)
1 cup of sugar
6 eggs, room temperature
1/2 tsp of baking powder
1 pint of fresh blueberries
8 large strawberries
7-8 large raspberries
1/2 cup of blueberry jam
3 oz of dark chocolate
6 oz of mascarpone
3/4 cup of heavy cream
1/2 cup of powdered sugar
optional: sprinkles, fresh mint, blue food dye.
Pre-heat the oven to 350 degrees. In a bowl of a mixer, combine sugar and eggs and start whipping on high till the mixture is bubbly and light, for about 5-7 minutes.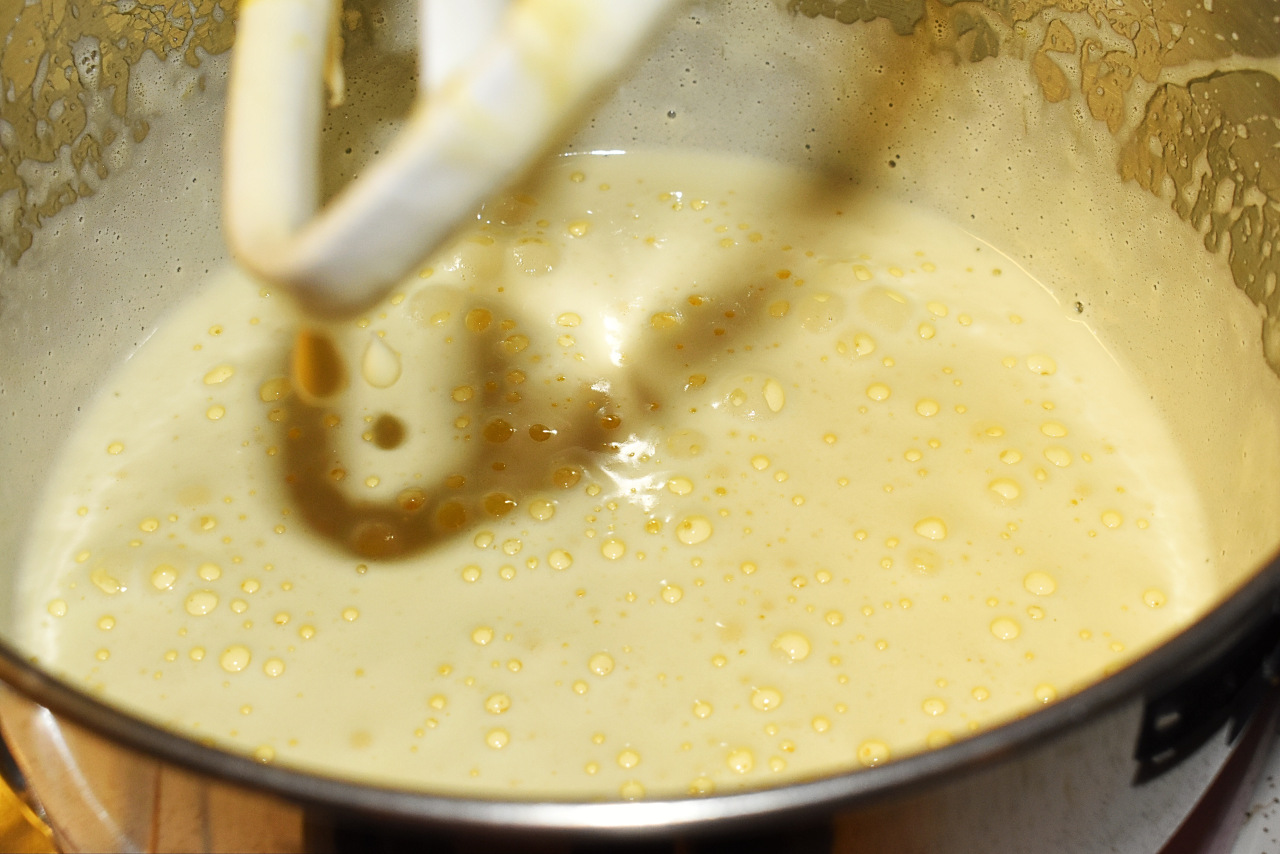 While eggs are being whipped, make chocolate strawberries. Melt some dark chocolate, dip each strawberry into it and then cover with sprinkles if using them. Put strawberries in the fridge for the chocolate to harden till you're ready to assemble the cake.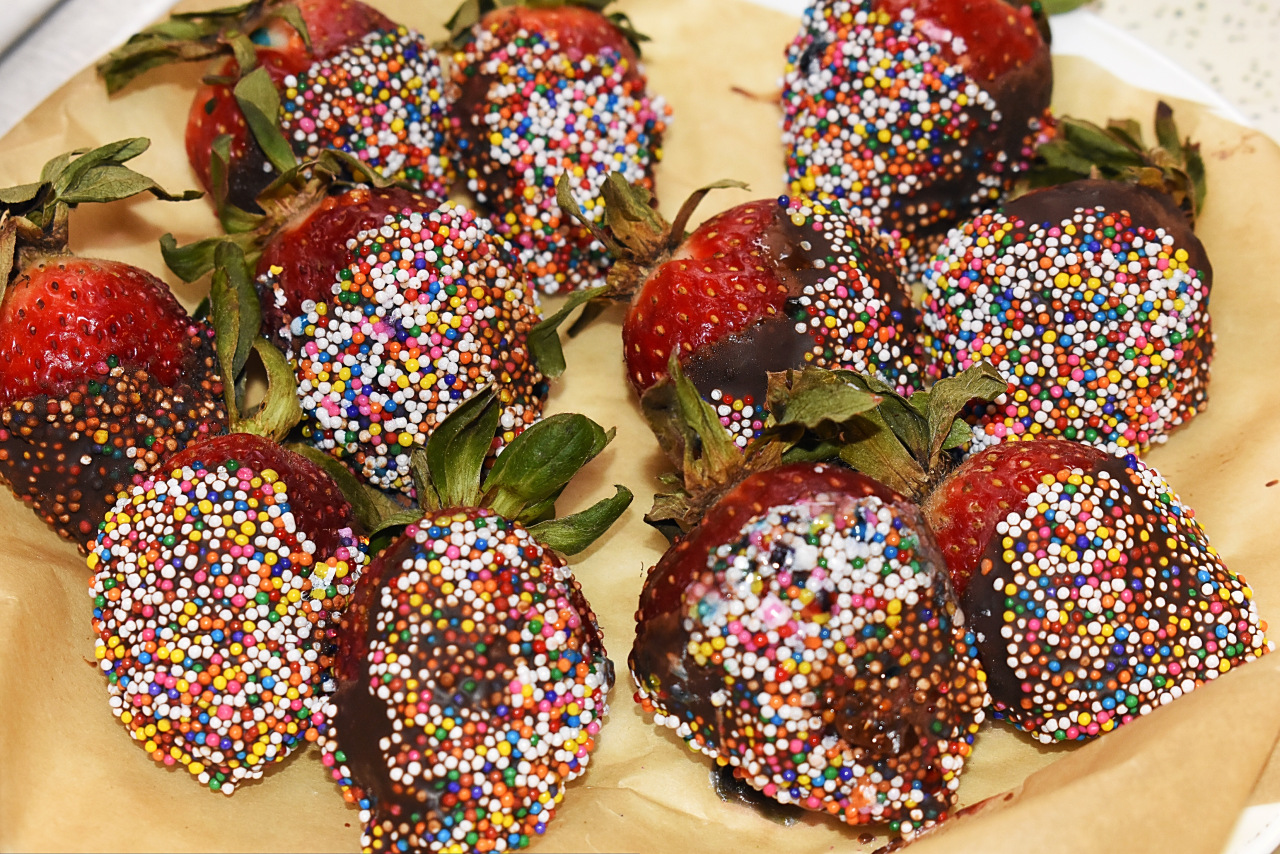 Mix together flour and baking powder, gradually add into whipped eggs mixture and stir just to combine. Do not over mix. Line two 9-inch pans with parchment paper and butter just the bottoms, don't butter the sides. Divide batter between two pans.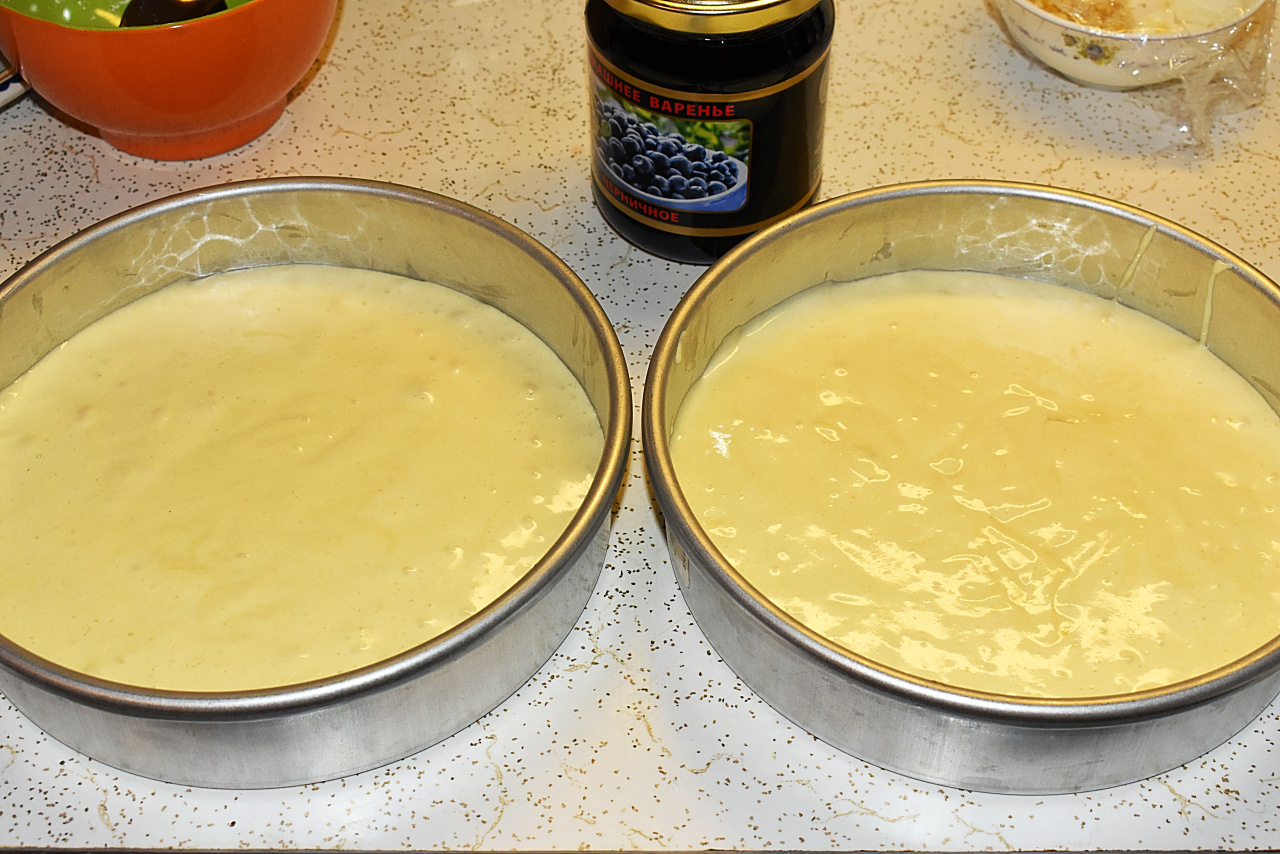 Bake for about 25 minutes, remove from pans and cool completely. To make the cream, start whipping mascarpone, then gradually add heavy cream, while still whipping, continue till the soft peaks are formed, add powdered sugar and finished whipping. Add 1-2 drops of blue dye if you're using it and mix through.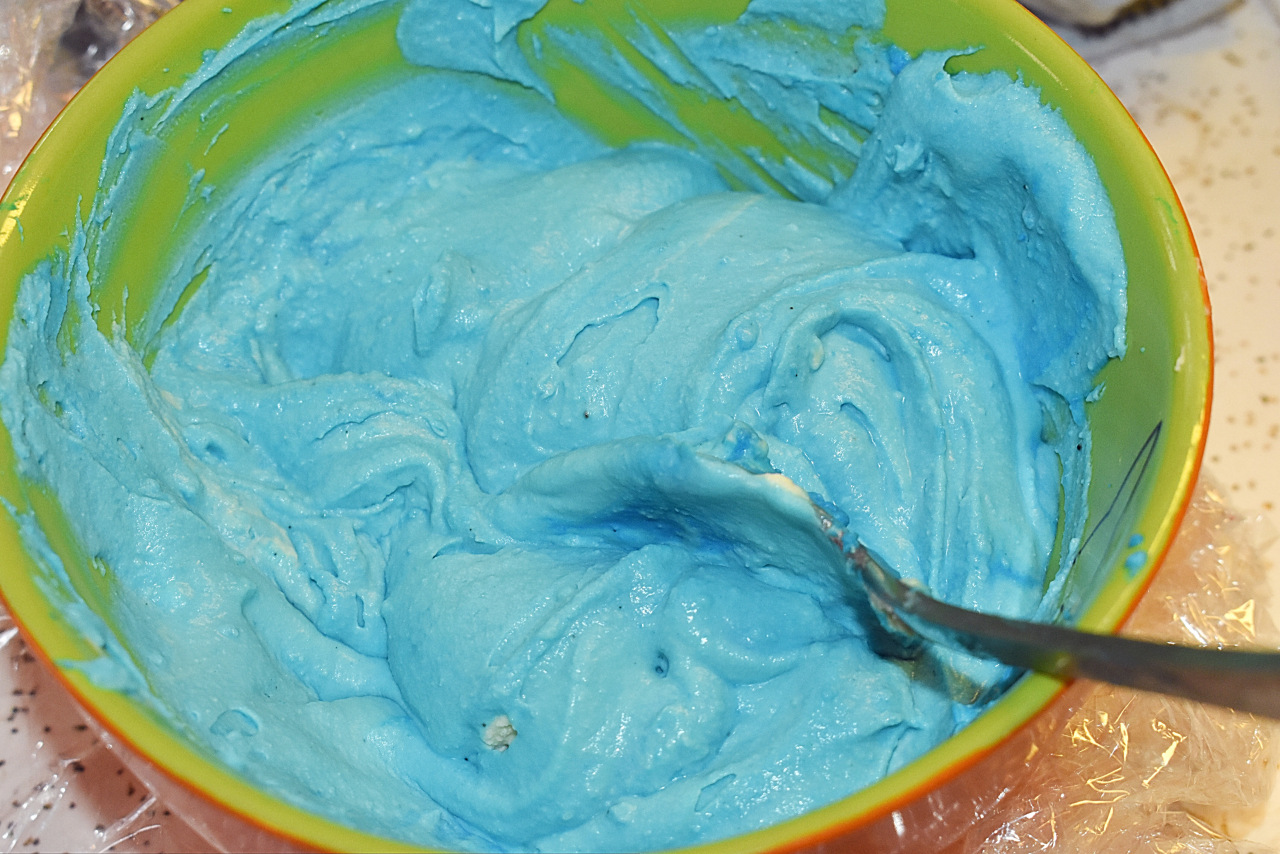 To assemble the cake, spread the bottom half with blueberry jam and top with fresh blueberries.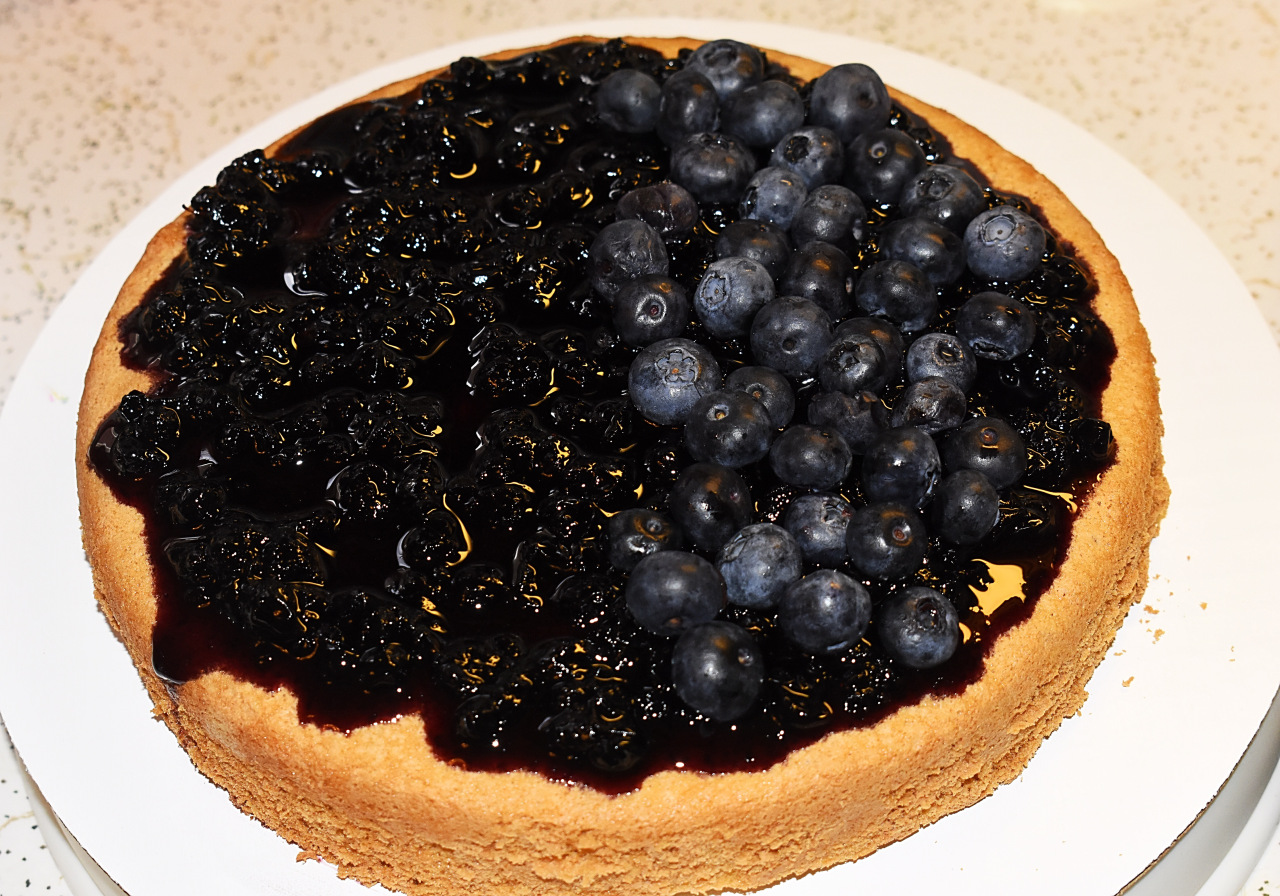 Cover with the top layer and spread whipped cream on top. Place chocolate strawberries around the edge, add blueberries, raspberries and fresh mint in the middle. Decorate with more whipped cream if needed.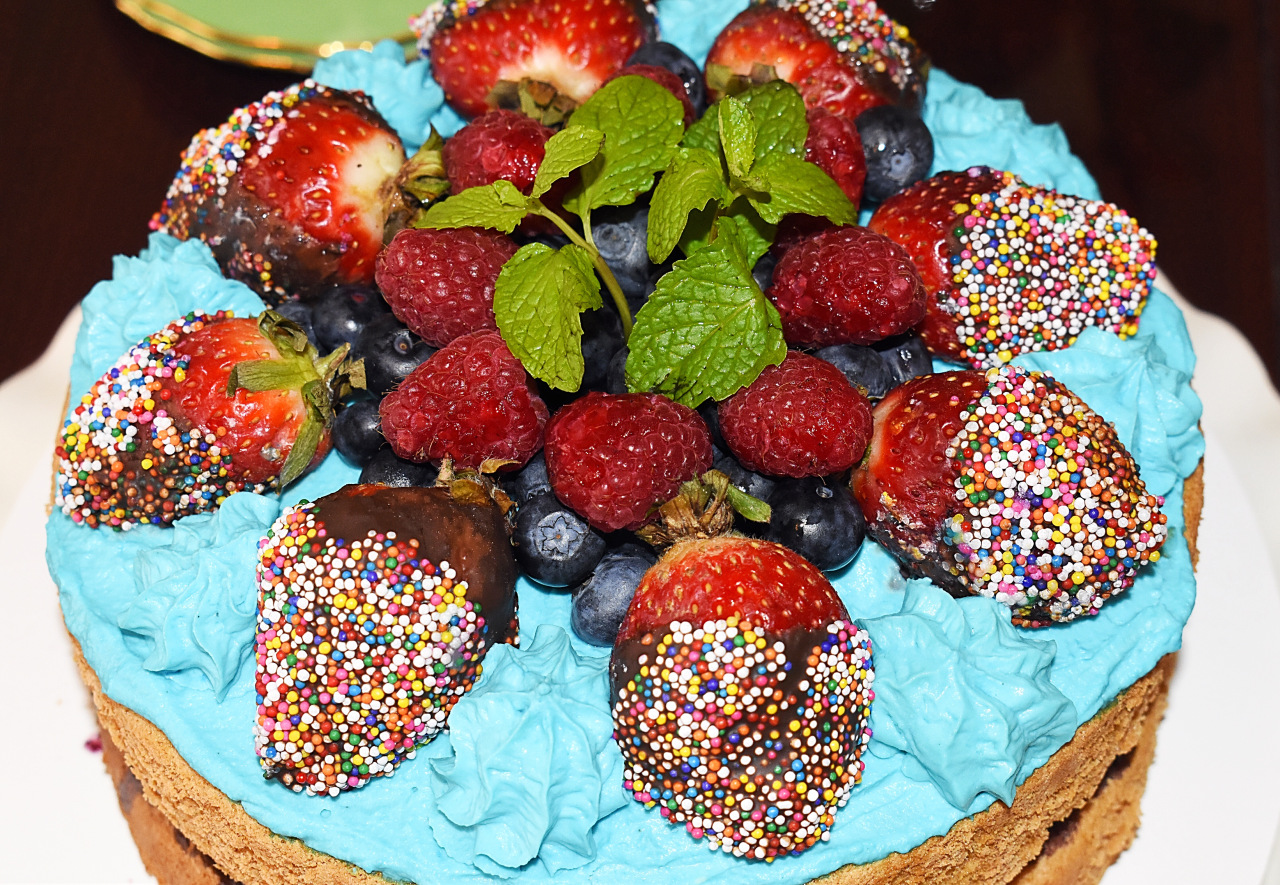 The bottom layer is full of juicy blueberries and jam and the top layer is bursting with whipped cream, more berries and chocolate.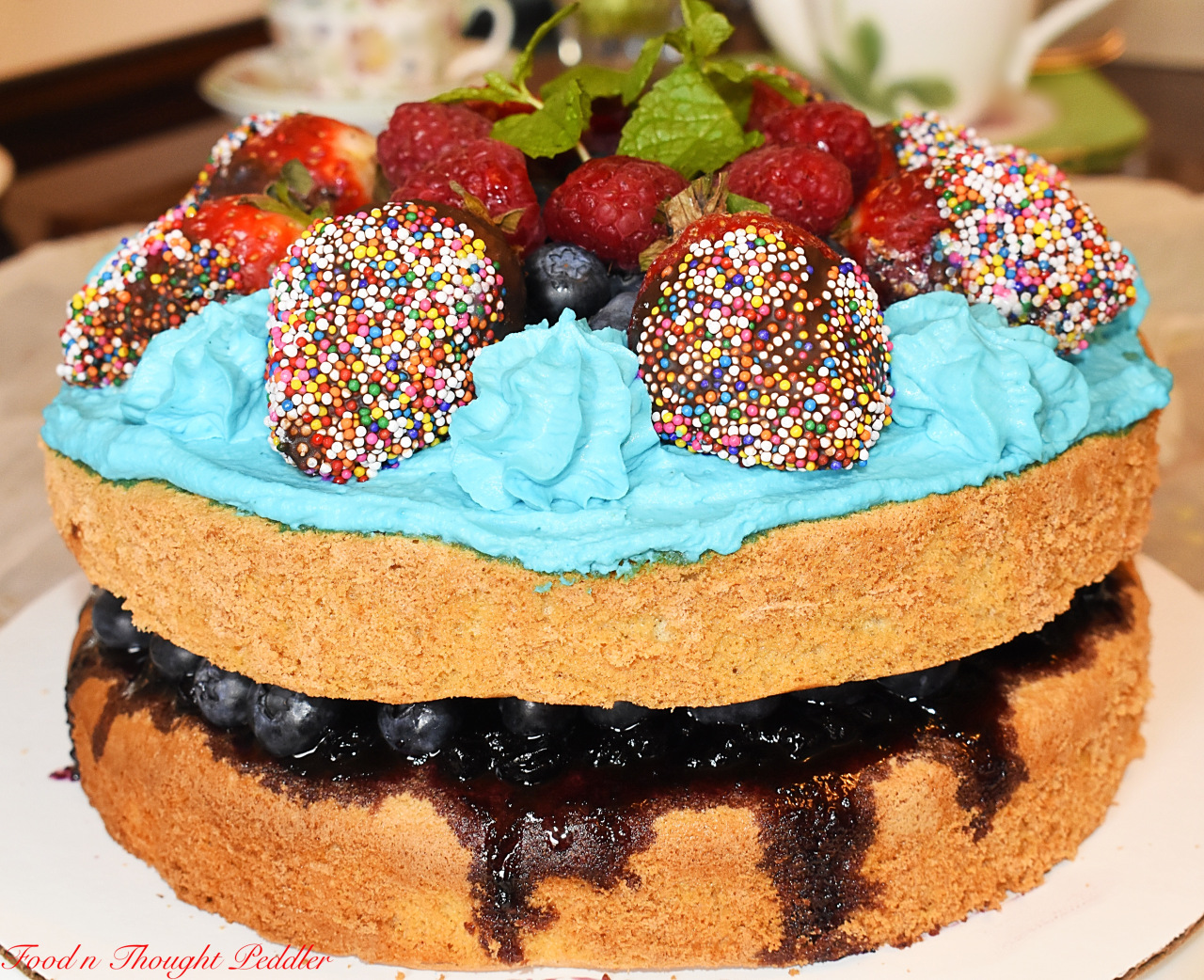 This cake is very easy to make yet it looks like it comes from a fancy bakery.
The inside is light and airy, it's full of berry goodness.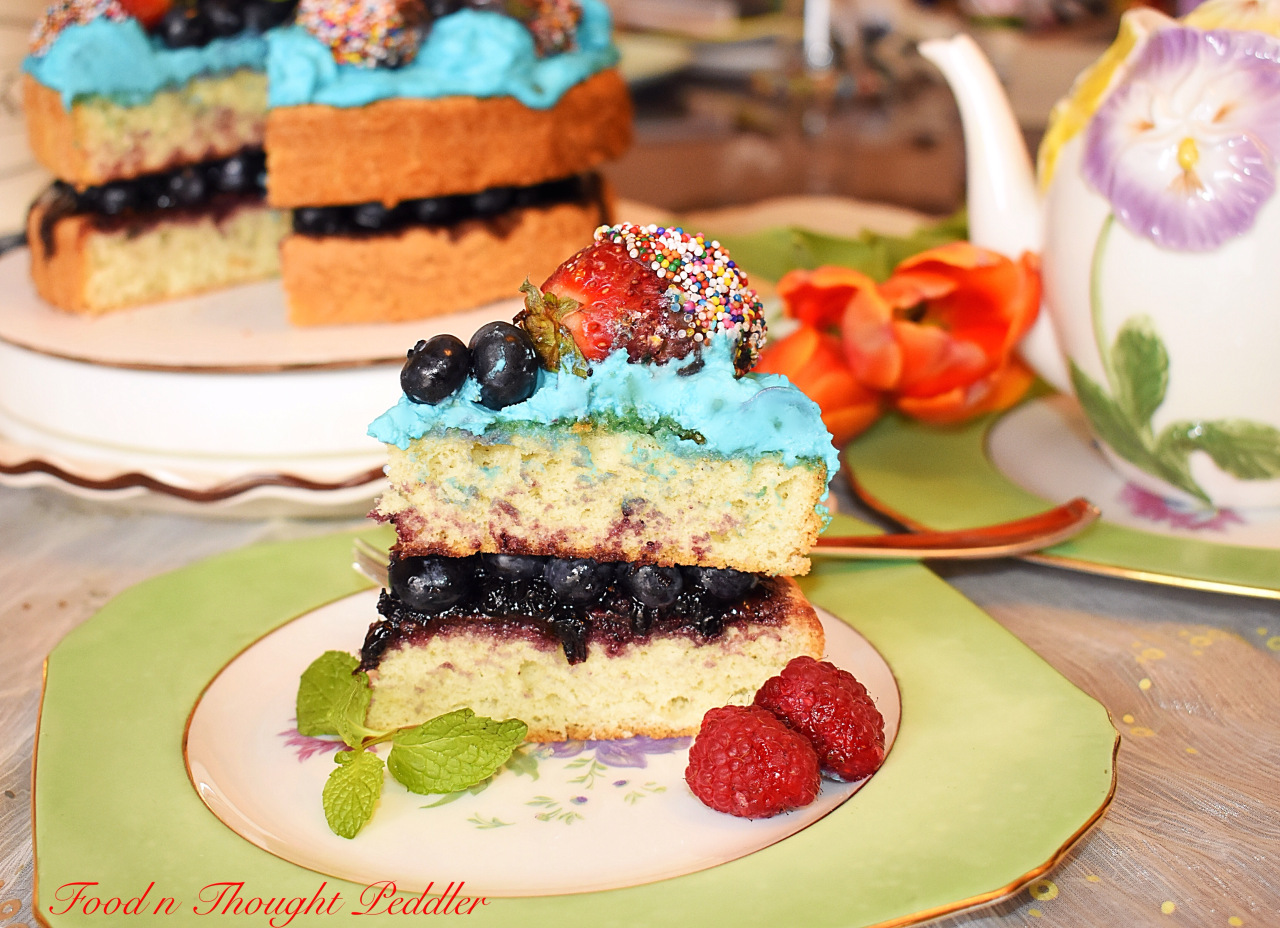 So, come to get a slice and follow me to The House of Dee.