So how's your weekend going? What's the weather like by you? I know, it's been all over here also. It's cold and nasty today though and I didn't feel like going anywhere. Not that I'd probably make it too far; my body was not in a moving mode today. I'm on day three "feeling green and no drugs can knock it down" of a horrendous migraine. Can I get "oh, poor Diana " here?!
But, seriously, if you've never had a migraine, I don't recommend it, it's a total party pooper. I've had them since my early 20s, and some stretches could last for days or even weeks. With the weather like we've had jumping up and down, I'm not surprised my head is violently protesting all this instability.
So, sit down and chat with me, will you? I need some distraction, and tell me something good. I'll be making this recipe and you just sit there and talk about all the things happening with you. I'll pour you a drink too. ?
Who's getting ready for St. Patrick's Day? I thought today would be just the day to whip up some St. Paddy's recipe. Yep, it's totally twisted to make food for the boozy holiday when you're dying from a migraine, but, I guess that's the point. We're fighting the beast with the heaviest sword ever! Granted, yesterday, I was in such a bad shape, I couldn't even open my eyes, let alone cook, with alcohol for sure. Today I was more successful in standing upright and ignore the pain stars shooting out of my eyes. I was on a mission and no damn migraine was going to stop me!
Forget green eggs and ham, make my green ravioli instead!
So, make today's recipe with me, you won't regret it. But, if you'd rather have mine, just come over. Be quick though, I only boiled a few and saved the rest for a party next weekend. We'll have a mini party here too: you chat with me, and I'll feed you dessert after. I'm sure you'll love it! ?
What's Cooking This Week
Ravioli is not something that comes to mind when you think of dessert. But I'm going to prove you wrong. Ravioli can be anything you want them to be, a green dessert including. It could be sweet and boozy and full of white chocolate. Kiwi is what will color the ravioli green and adding walnuts and cognac will counterbalance the sweetness of chocolate. You can make them in advance and keep covered in the fridge until you're ready to boil them. They freeze well too, but, somehow, I doubt you'll have any leftovers. The dough is made in a food processor so it can be ready in a snap. Please be mindful how much juice the kiwis you have produce; you may have to adjust the amount of flour accordingly; it should be soft and elastic like play dough. Don't roll them out too thin to prevent chocolate from leaking out during cooking. And just enjoy this unusual but oh so tasty dessert!
Dessert Kiwi Ravioli with Walnuts and White Chocolate Filling and Cognac Sugar Drizzle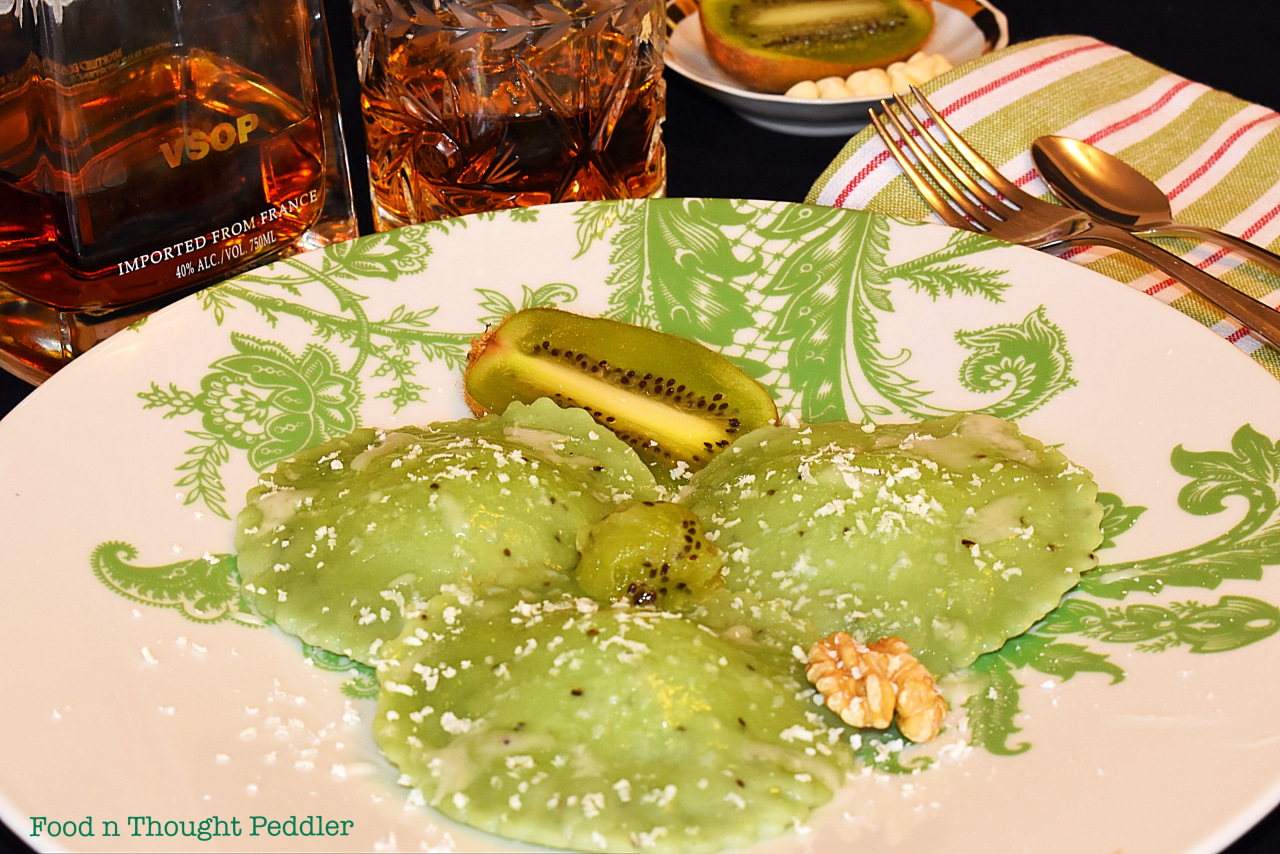 Makes about 18 large ravioli:
4 ripe kiwis
1 1/2 cup of flour (I used King Arthur gluten free)
1/2 cup of arrowroot starch
2 eggs
1 Tbsp of olive oil
zest from 1/2 of lemon
1/4 tsp of salt
Filling:
1/3 cup of cut walnuts
1/4 cup of white chocolate chips
1 Tbsp of cognac
1/2 tsp of cardamom
Drizzle:
1/2 cup of powdered sugar
1/2 Tbsp of cognac
white chocolate shavings (optional)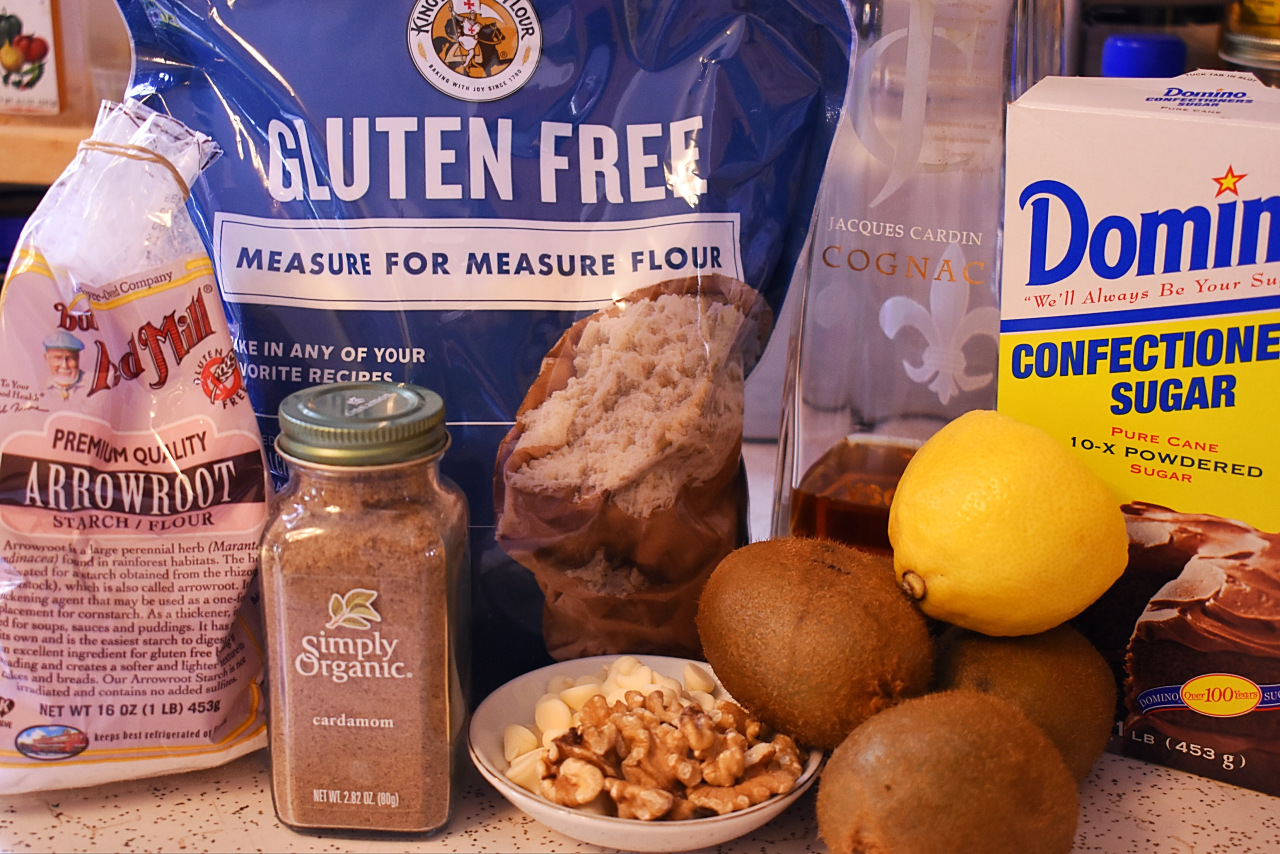 In a food processor, blend kiwis with lemon zest, eggs, oil and salt. Then gradually add arrowroot and then flour by 1/4 cup (watch the consistency as you may have to adjust the amount of flour). Transfer the dough to a lightly floured surface.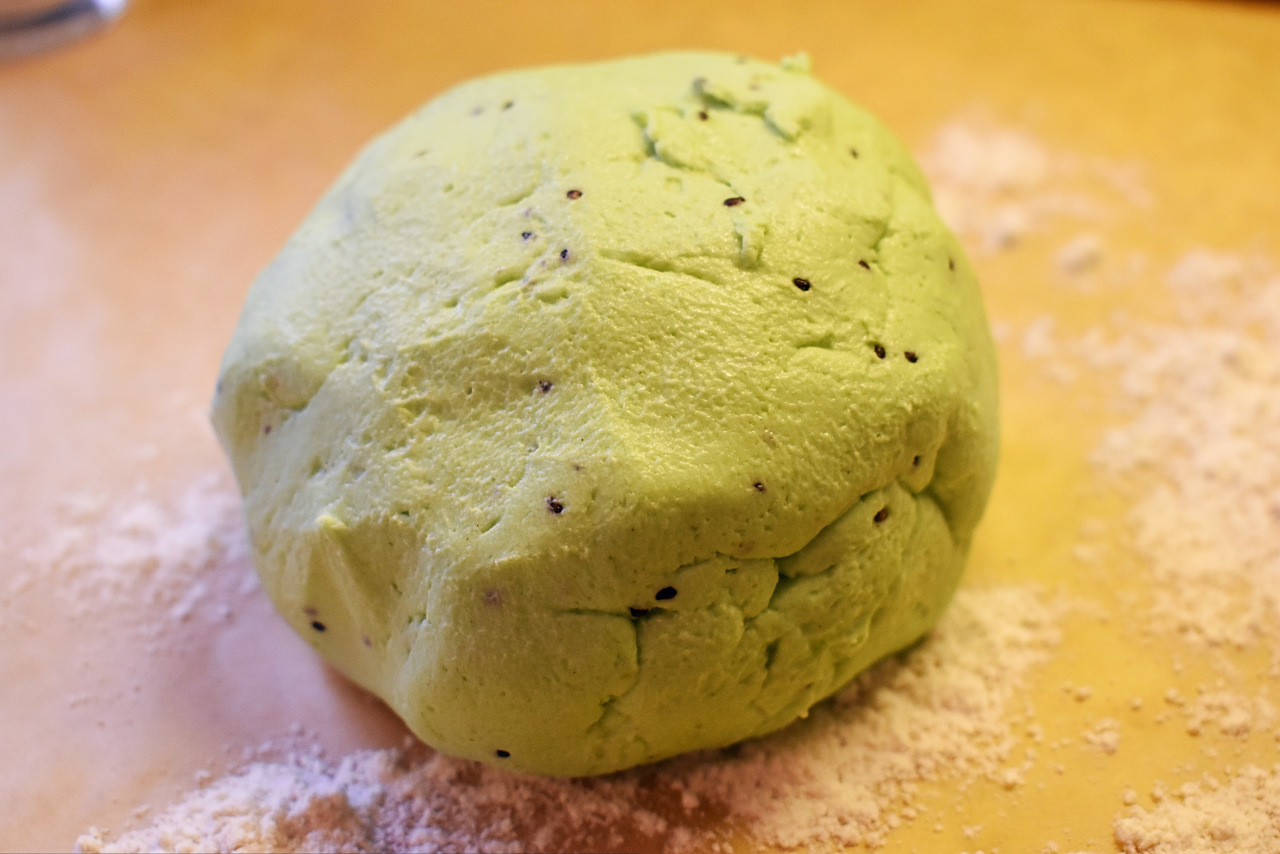 In the same food processor, pulse together walnuts, white chocolate, cognac and cardamom. Don't blend it completely, you'd need some courser pieces to prevent chocolate from leaking outside of ravioli, but they do need to stick together, so add a bit more cognac if need to.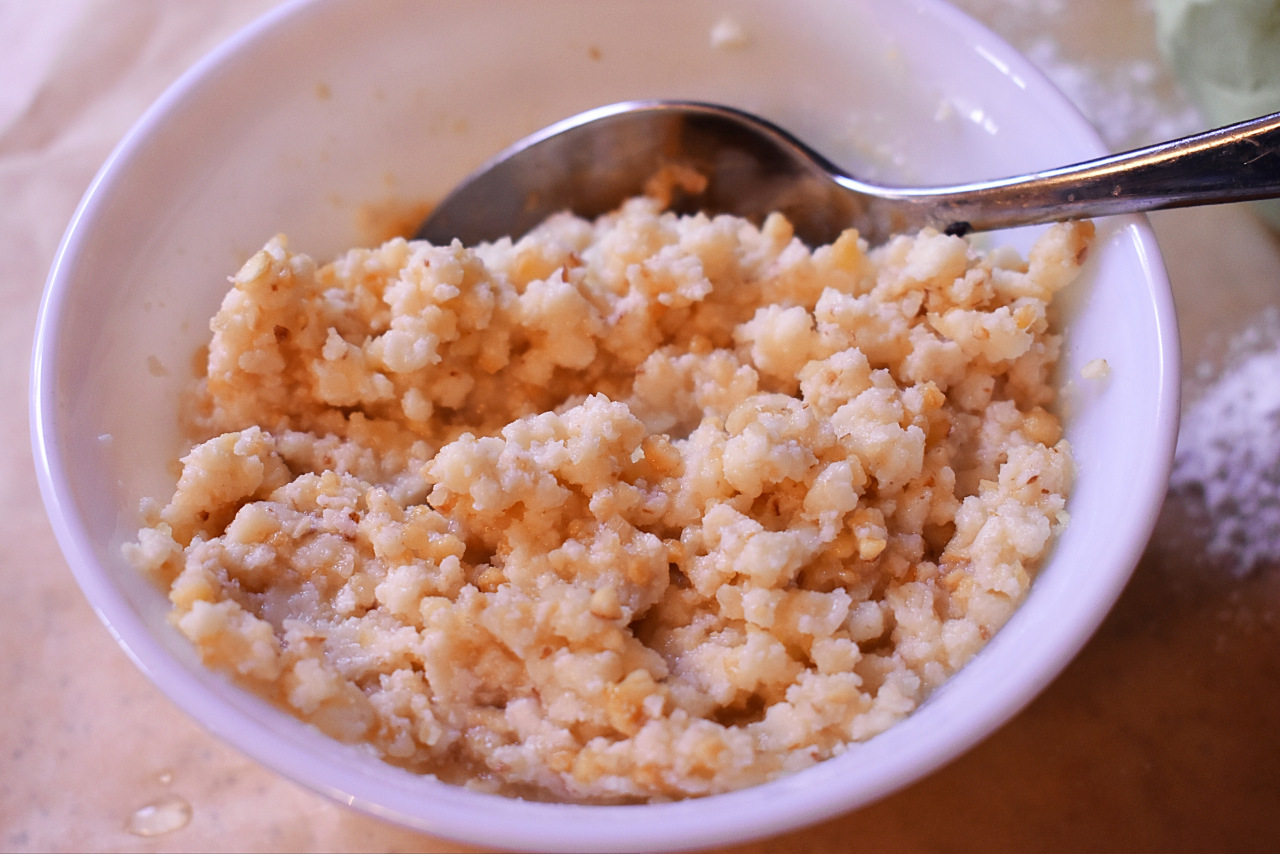 Cut the dough in quarters and roll out each part (but not too thin). Stamp out ravioli halves, place about 1 Tbsp of filling in the middle.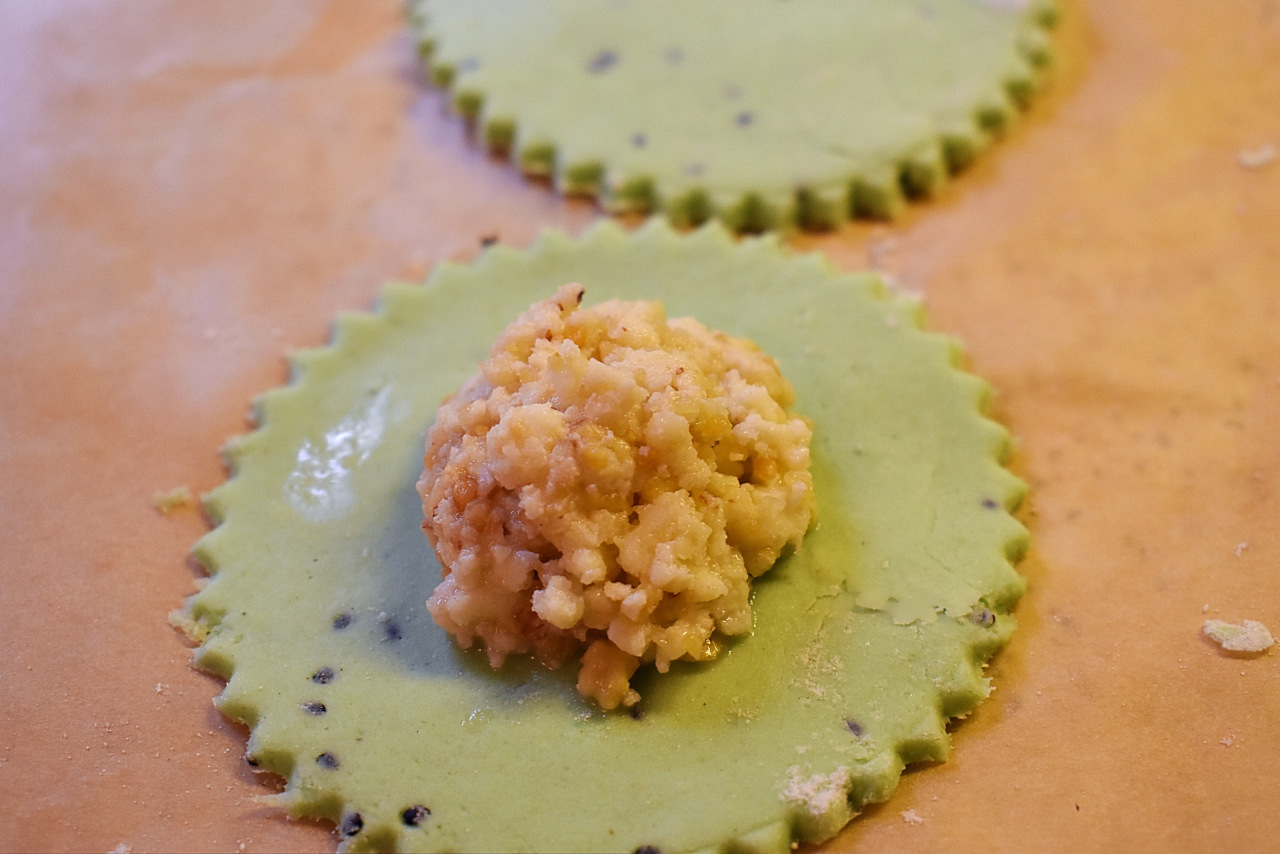 Top with the other half and press the sides with flour. Transfer made ravioli to a parchment lined baking sheet sprinkled with flour. If you're keeping them in the fridge for future use, make sure to cover tightly. Otherwise, boil as you would regular ravioli.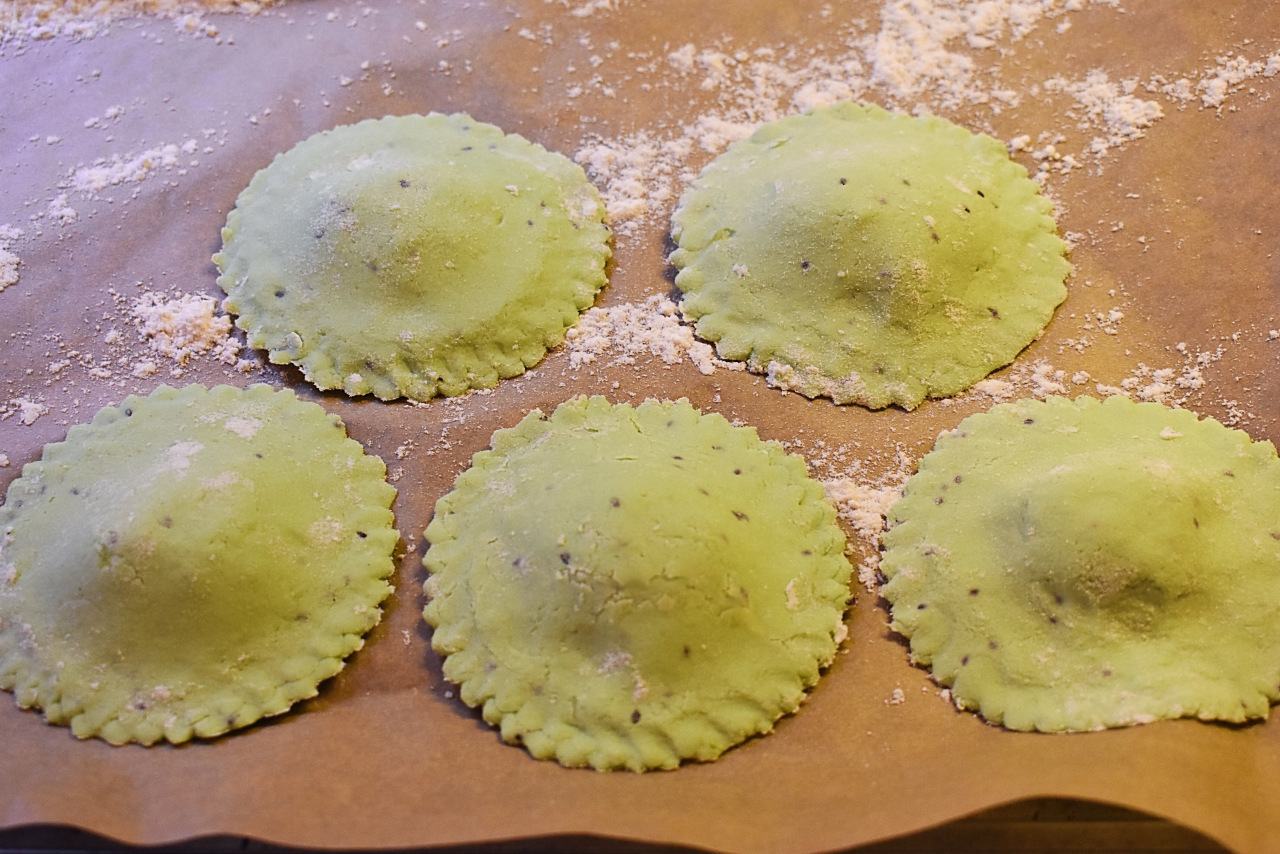 Drain well once boiled, sprinkle with cognac-sugar drizzle and chocolate shavings. Serve right away.
When you cut into these ravioli, warm chocolate filling will pour out. And a tiny zing of cognac glaze brings just the balance you need. Oh so good!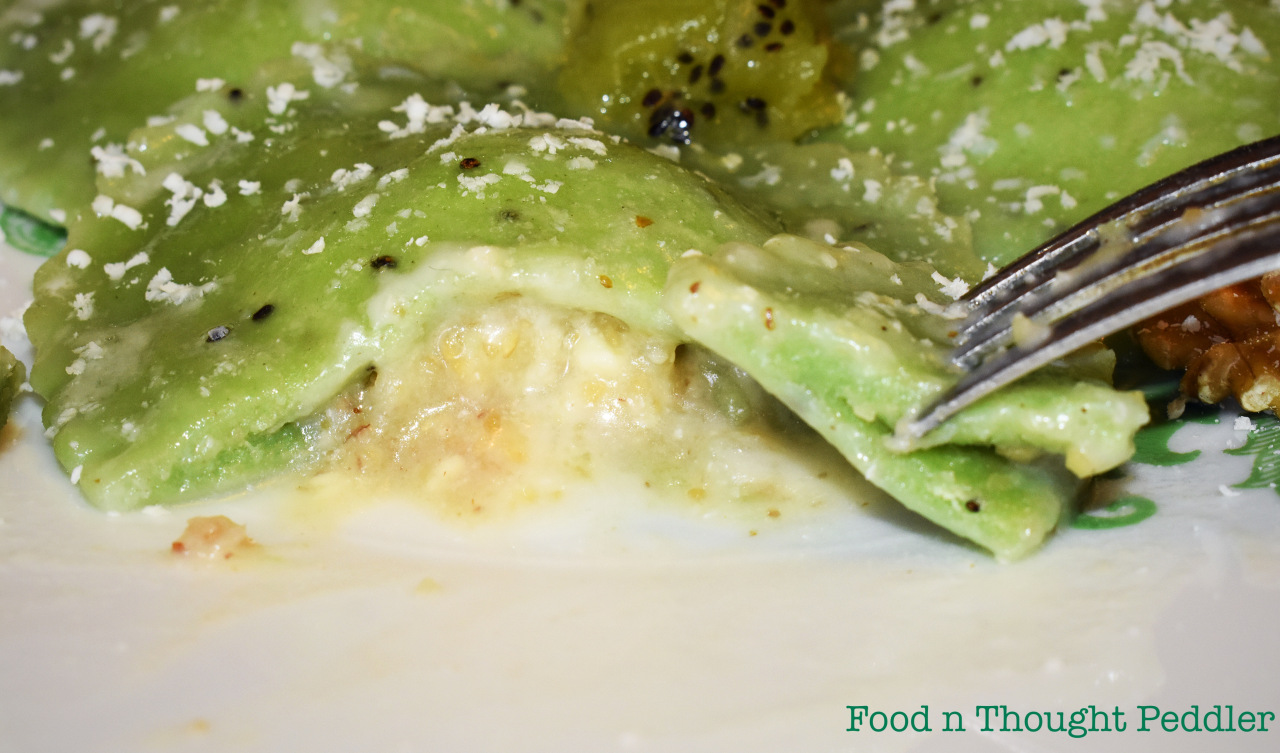 And I wouldn't blame you if you decide to pour another drink on a side to wash it all down. That's what St. Patrick's Day is all about!