Did you read my last post? We're still talking about apples in this one too. The actual ones and the Apple of My Eyes (also known as the PITA of my life, also known as my kid). One of the gifts he received this past Christmas was a bonsai tree, complete with a pagoda and a statue of three wise men. Boy, I should've recorded his expression: one of those very rare times nowadays when mom totally scores! He was so happy and immediately texted the picture to his two roommates. Apparently, they were looking to get one for their apartment, but those trees don't come cheap, the one I got was over $200, so, naturally, all three kids were uber happy to get it.
When kid was little, we had a couple of bonsai trees, but they turned to be rather capricious and did not survive for long. This past summer, when we roamed the alleys of Chicago Botanical Garden, the kid kept coming back to their bonsai trees exhibit, he was completely enthralled. He's seen other bonsai trees exhibits before, but, somehow, this time he was totally into them.
So, the tree has survived this past month and is being driven to kids' college apartment tomorrow. Let's just hope they won't kill it. If it's still breathing when summer comes, maybe the kid will be ready for a goldfish next school year. I say, in about 10 years then, he may graduate to having actual humans. I need at least 10 years to get used to the idea I'll be a grandmother one day.
What's Cooking This Week 
Apples are generally something you'd make dessert with, or breakfast, or have it as it is, but it's not a usual ingredient in a pasta dish. I say, break all the molds, apples do belong in pasta! They actually make the sauce sweeter, without an added sugar, and extra juicy, bringing out the contrast of tart tomatoes. Today's recipe is vegan and gluten free yet a completely  satisfying comfort food. It's also a quick meal and could be prepared in 30 minutes or less. Bolognese is a typical Italian sauce that contains tomatoes, onions and some type of ground meat, either beef or turkey. I'm using vegetables and apples to make the sauce, plus buckwheat pasta to bring some extra protein. The dish is then topped with another sauce, cheesy vegan béchamel, which is also called white sauce in Italian cuisine. I'm using coconut oil and gluten free flour to make the basic roux and then mix in unsweetened almond creamer and daiya shreds to finish béchamel. A touch of nutmeg brings this sauce to a complete yumminess. You can, of course, use dairy and regular pasta in this dish, however, I encourage you to try the recipe as I made it. It's totally delicious!
Buckwheat Tortiglioni with Eggplant-Apple Bolognese and Cheesy Vegan Béchamel Sauce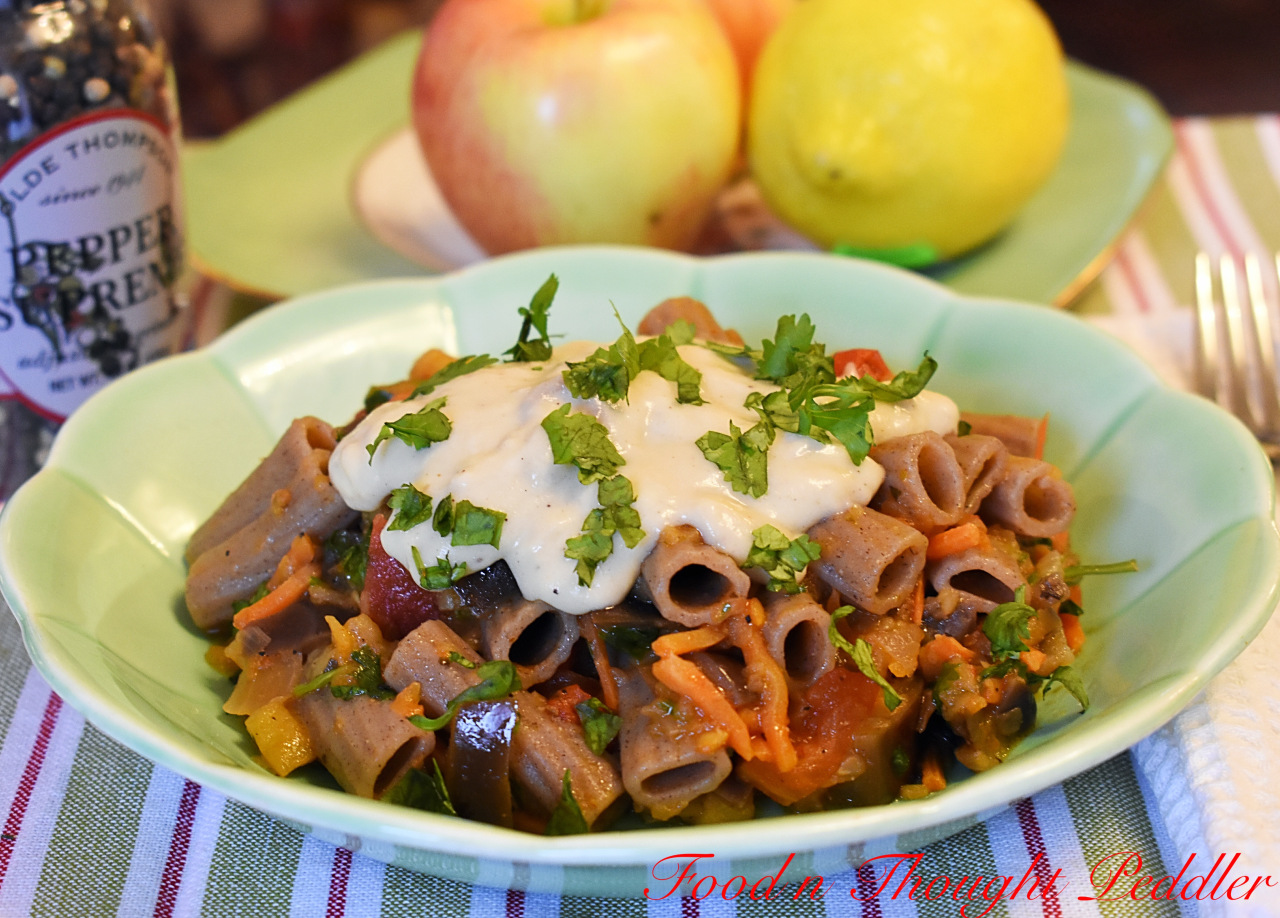 Makes 6 portions:
8-9 oz of buckwheat pasta
1 large eggplant, cubed
2 medium apples, peeled, cored and grated
1-2 medium onions, diced
1 cup of carrots, grated
4-5 medium tomatoes, diced
1 tsp garlic powder
1 1/2 tsp Italian seasoning blend
2 Tbsps of fresh cilantro or parsley, chopped
salt, pepper, olive oil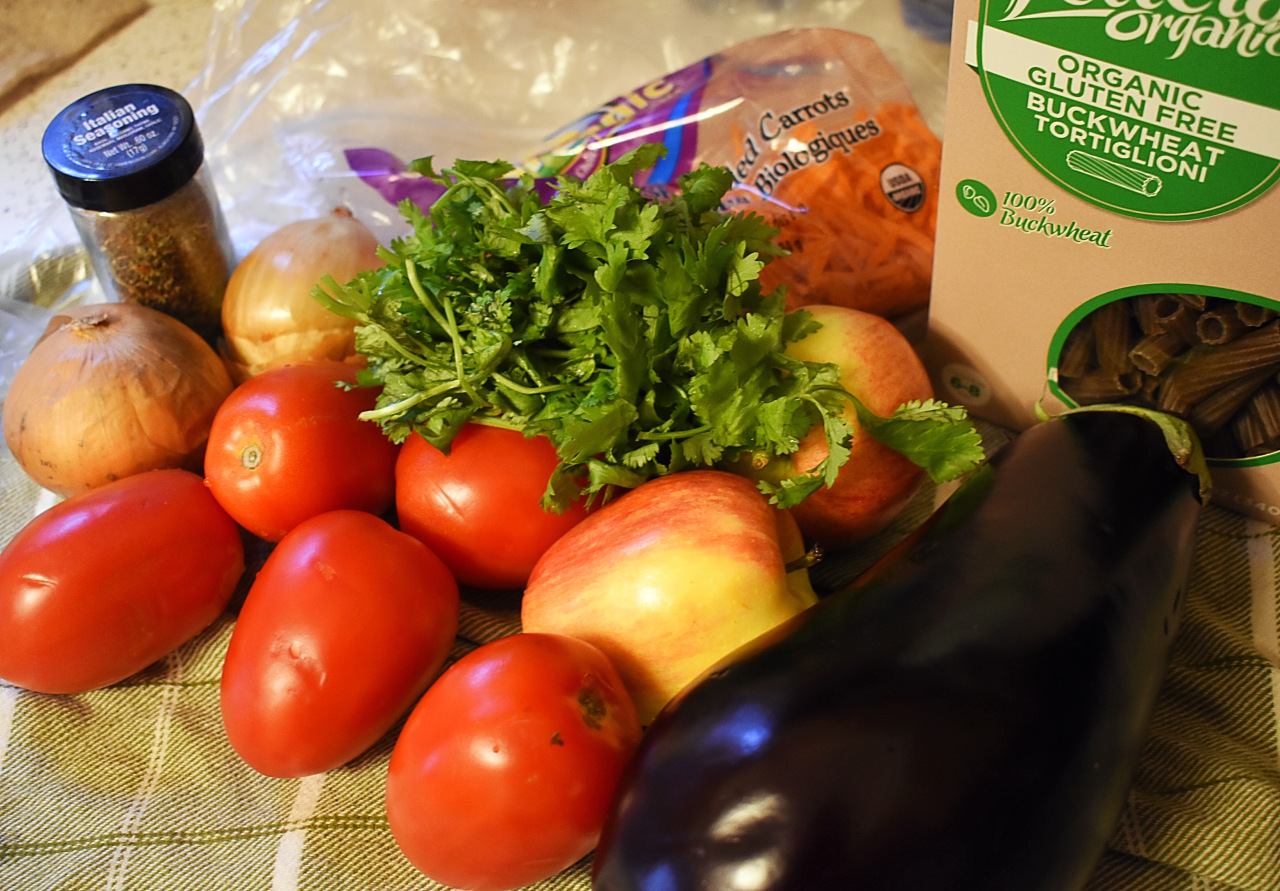 Béchamel:
1 Tbsp of flour (I used King Arthur gluten free)
1 Tbsp of coconut oil
1 cup of unsweetened almond/coconut milk creamer or milk
1 cup of shredded mozzarella style daiya cheese
1 Tbsp of nutritional yeast
1/2 tsp of nutmeg
a pinch of salt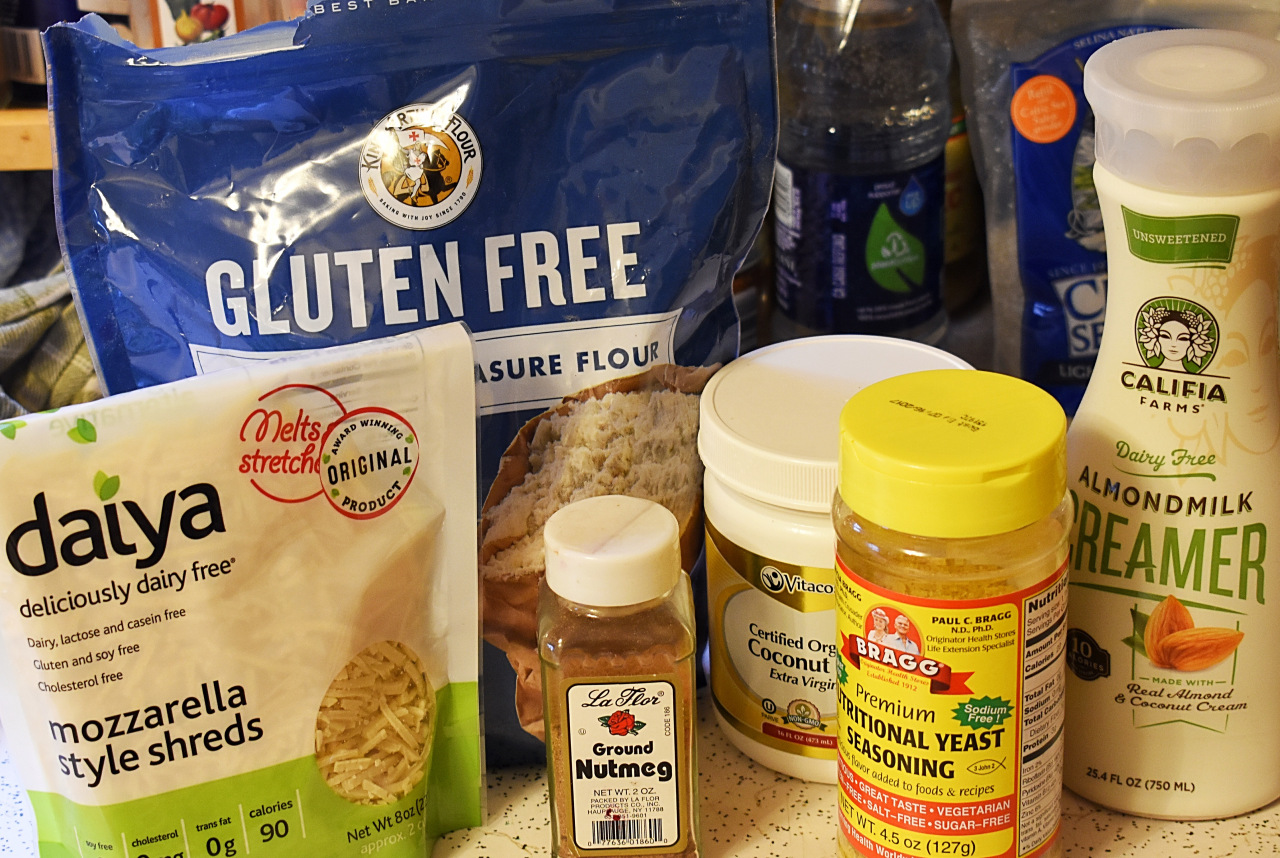 In a deep frying pan, heat up some olive oil, sauté chopped onions till translucent golden, add eggplant and carrots, some salt, pepper and spices and sauté for a couple minutes. Add grated apples and chopped tomatoes, reduce the heat, cover and let it simmer, stirring it occasionally.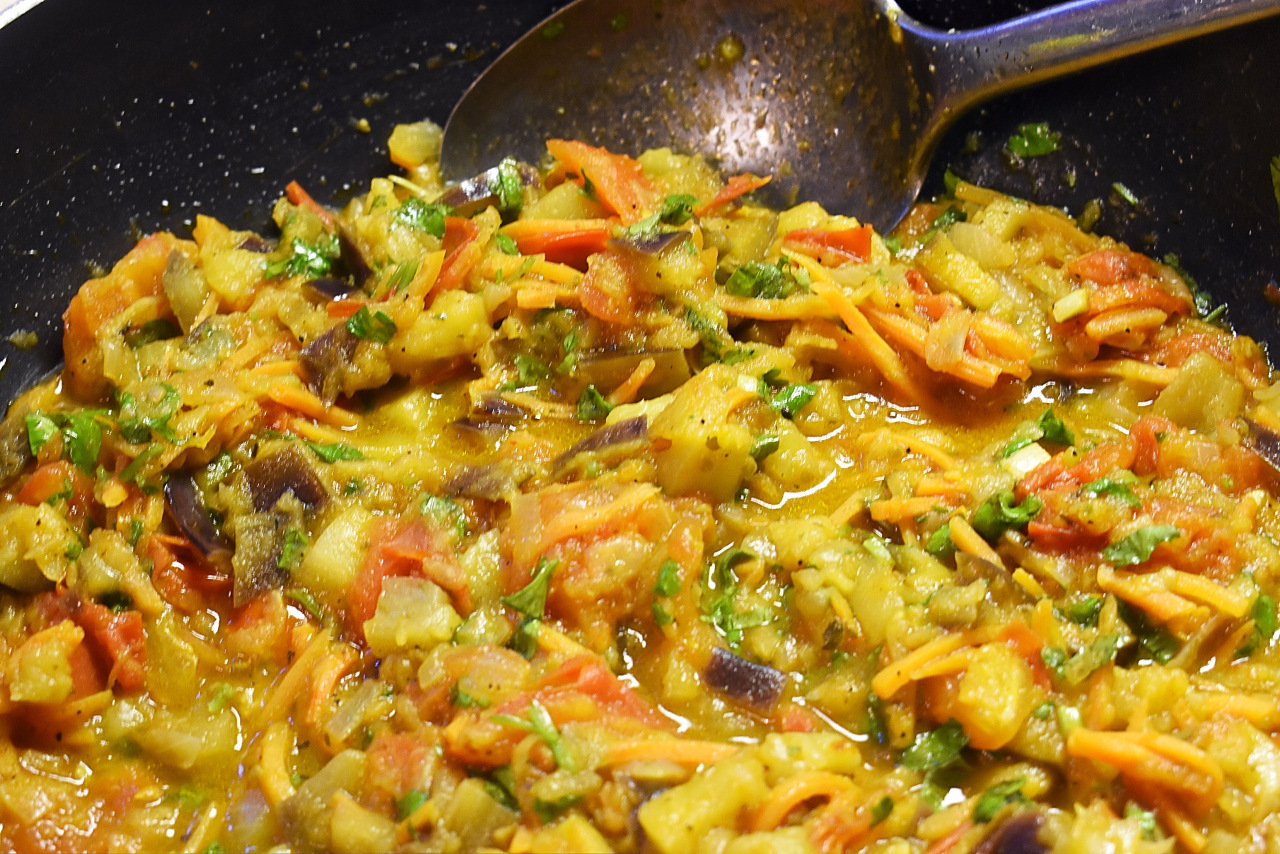 In a mean while, boil the pasta and also make béchamel. In a small pan, combine melted coconut oil with flour and whisk together till thick roux develops. Slowly add milk/creamer, continue whisking, then stir in daiya, salt and nutritional yeast, cook until all is incorporated, add nutmeg at the end.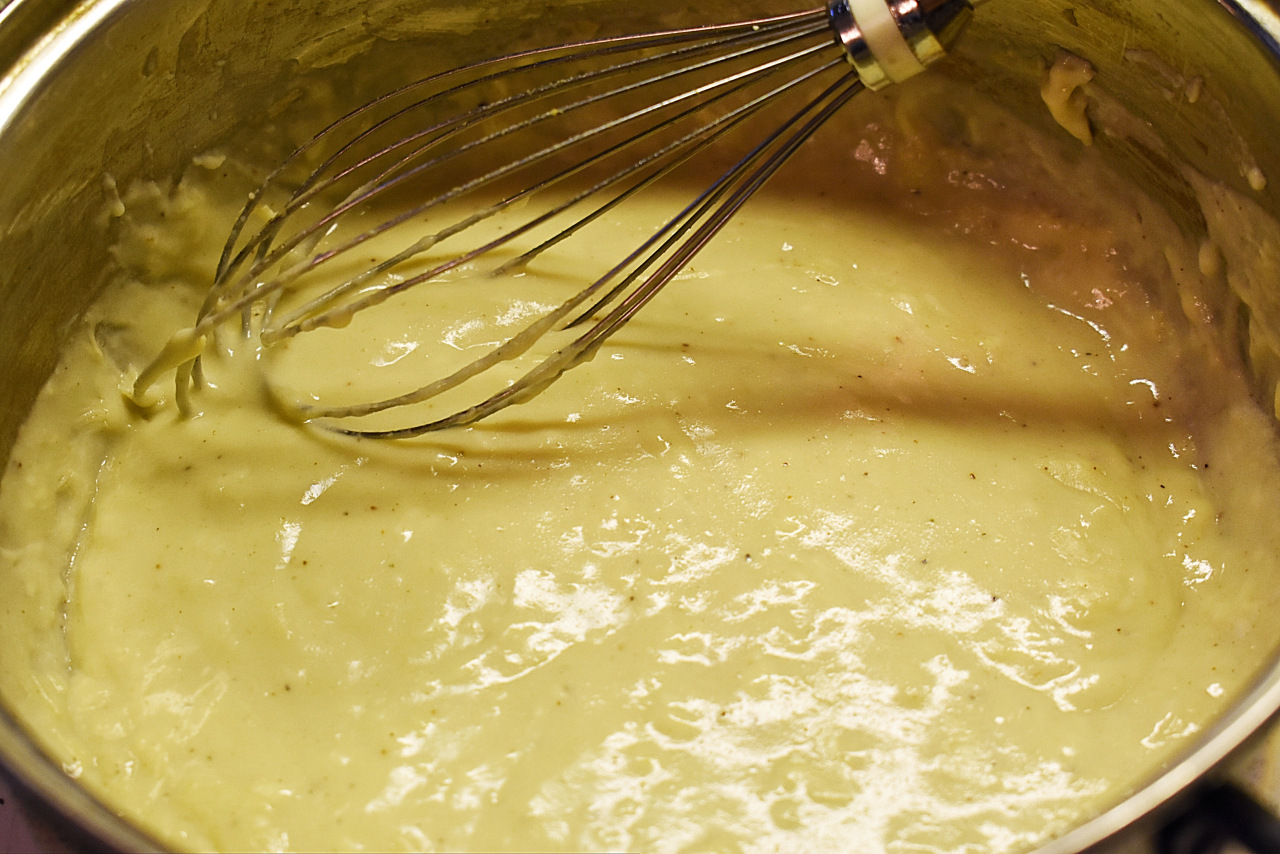 Drain the pasta and combine with vegetable bolognese, top with fresh herbs.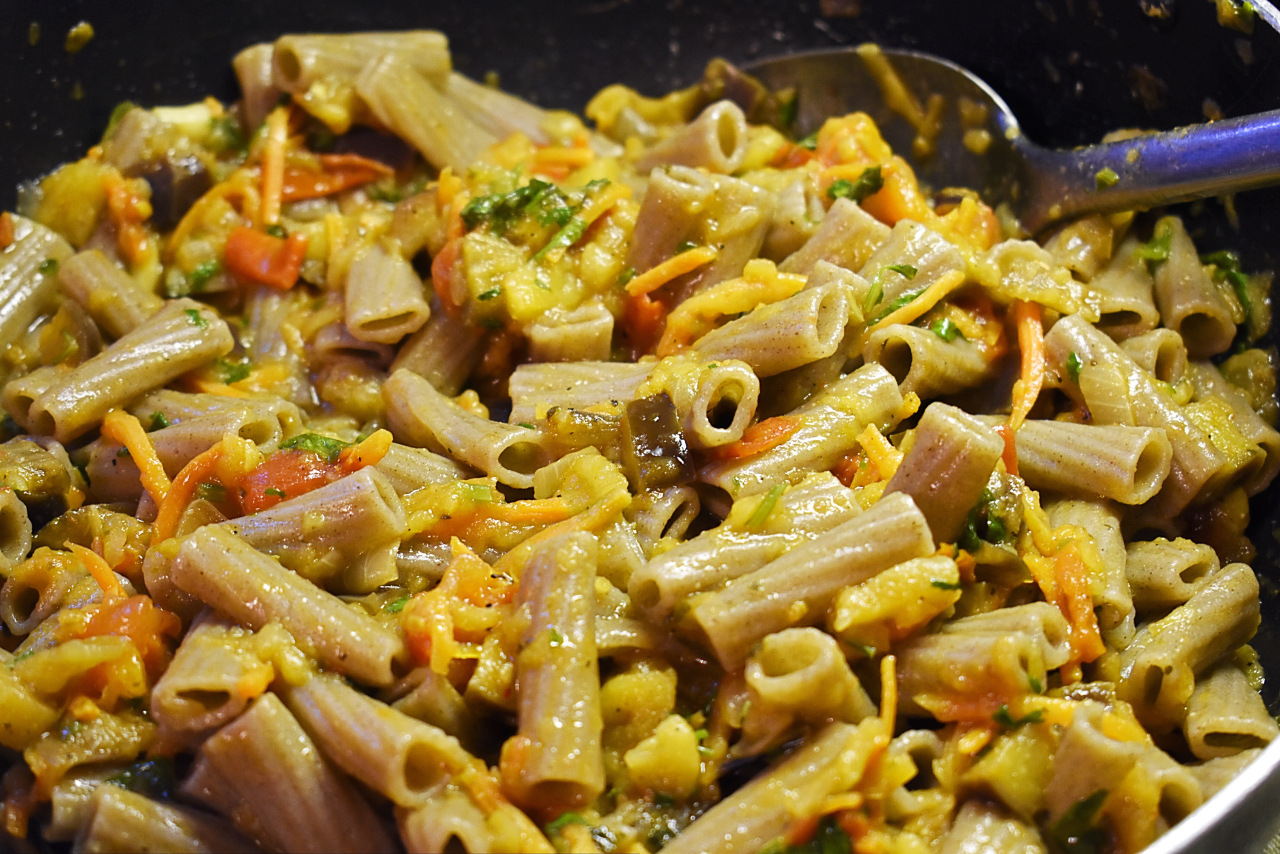 To serve, place some pasta with vegetables and spoon béchamel on top, sprinkle more fresh herbs and freshly ground pepper.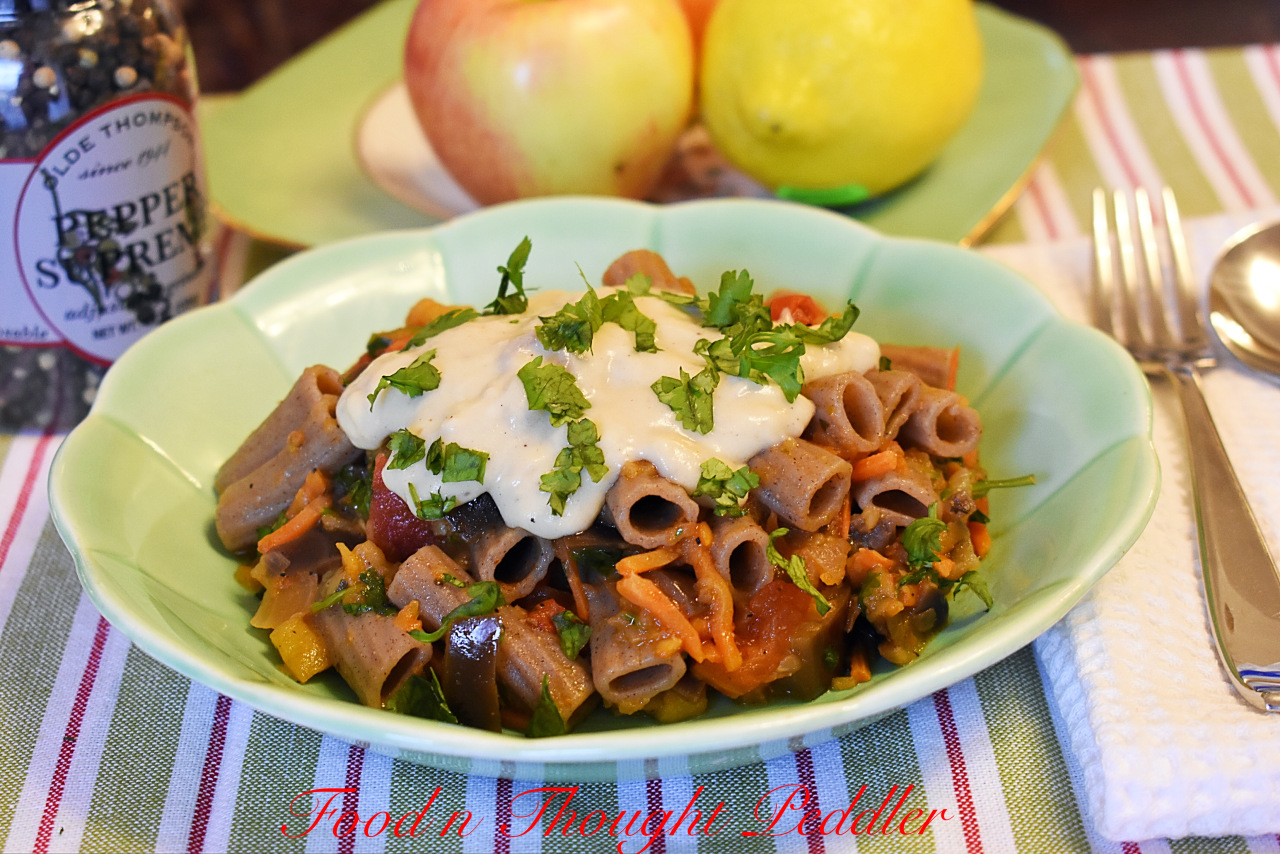 It's creamy, cheesy, full of nutrients and good for you Italian dish with a spin!