How was your weekend? I hope you were off today too and had a chance to either rest or play, whatever was your preference. I did a bit of both, if you of course consider cooking as playing because I sure do, the kitchen is my playground. Did you actually expect any other answer?
But Saturday was the epitome of the most perfect mix of rest and play: it was a spa day! Three of my best girls and my mom joined me for several hours of pure bliss at one of the spas in Manhattan. We were pampered and indulged and both drinks and the conversations were flowing freely. There were plenty of snacks there too of course. So, basically the five Russains monopolized the whole spa, but, luckily, they told us we were welcome to come back. The only annoyance that plagued me was the fact that I was on my second day of a raging migraine that would not cooperate with any meds (it's apparently a stubborn one as I'm still feeling it on day four). But, I behaved like a trooper and was determined to have a good time no matter what.
The plan was to go out for dinner after the spa, but they all declared we should rather continue the night at one of my friend's place. My mom went home as it was getting late but the four of us partied on till "I don't remember what time it was but I got home at pre-dawn". Now that the realization settled in, those little bitches made me miss a good restaurant experience where I'd be served gluten free pasta and Italian bread that was made and served by SOMEONE ELSE! They're going to pay fo it dearly! And take me out for dinner.
Anyway, I hope you had fun this weekend and did something creative or indulged in something fabulous. Speaking of fabulous and creative, we've got a great recipe today that I had so much fun making, it literally felt like being a kid and playing with play dough. But, if you want to stick to adult world, it'd make an awesome Valentine's Day meal in case you're inclined to start planning ahead.
What's Cooking This Week 
Gnocchi are small Italian dumplings that are generally made with soft dough, potatoes and some cheese. I wanted to bring in a healthier spin with more vegetables plus play with the natural color of beets. So, out come beet gnocchi with goat ricotta, instead of the traditional cows one, and I'm using beet greens here as well. Beets provide not just the red color but a mildly sweet taste also that's perfectly paired with rich honey-balsamic drizzle in the greens. I'm encouraging you to buy organic beets since you'd be using the whole produce here, tops and the roots, and organic beets are much sweeter and more tender than the traditional ones. One word of caution, don't do like I did after blending beets with goat cheese (forgetting that there's a raw egg in it too), resist the temptation to taste it. I assure you it tastes great, but, let's just hope, since I always buy organic eggs, that those didn't have Salmonella in them. Just be patient and boil gnocchi first. 🙂 They also keep in the fridge or freeze well if you're only boiling 1-2 portions.
Beet Gnocchi with Goat Ricotta and Honey-Balsamic Beet Greens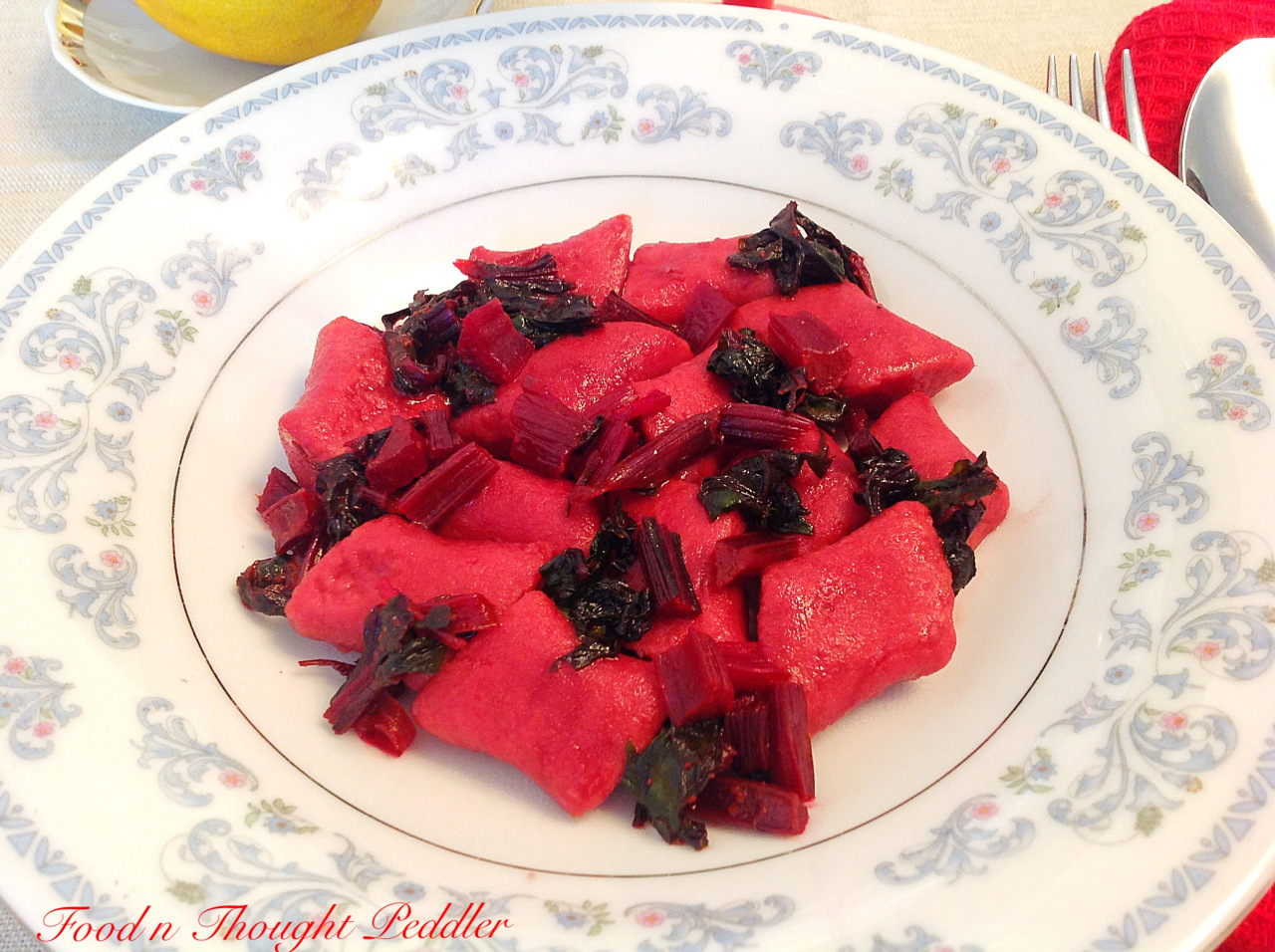 Makes 6-8 gnocchi portions:
2 medium size beets, unpeeled
1 1/2 cup of flour (I used King Arthur gluten free)
1/2 cup of goat ricotta (or other soft cheese)
1 egg
1 1/2 tsp of garlic powder
1 tsp of salt
1/2 tsp of nutmeg
Beet greens, makes 2-3 portions:
2-2 1/2 cups of cut greens (from 2 beets)
1 Tbsp of honey
1/2 Tbsp of balsamic vinegar (I used elderberry vinegar)
1 tsp of coconut oil (or butter)
1/2 tsp of salt
1/4 tsp of sweet paprika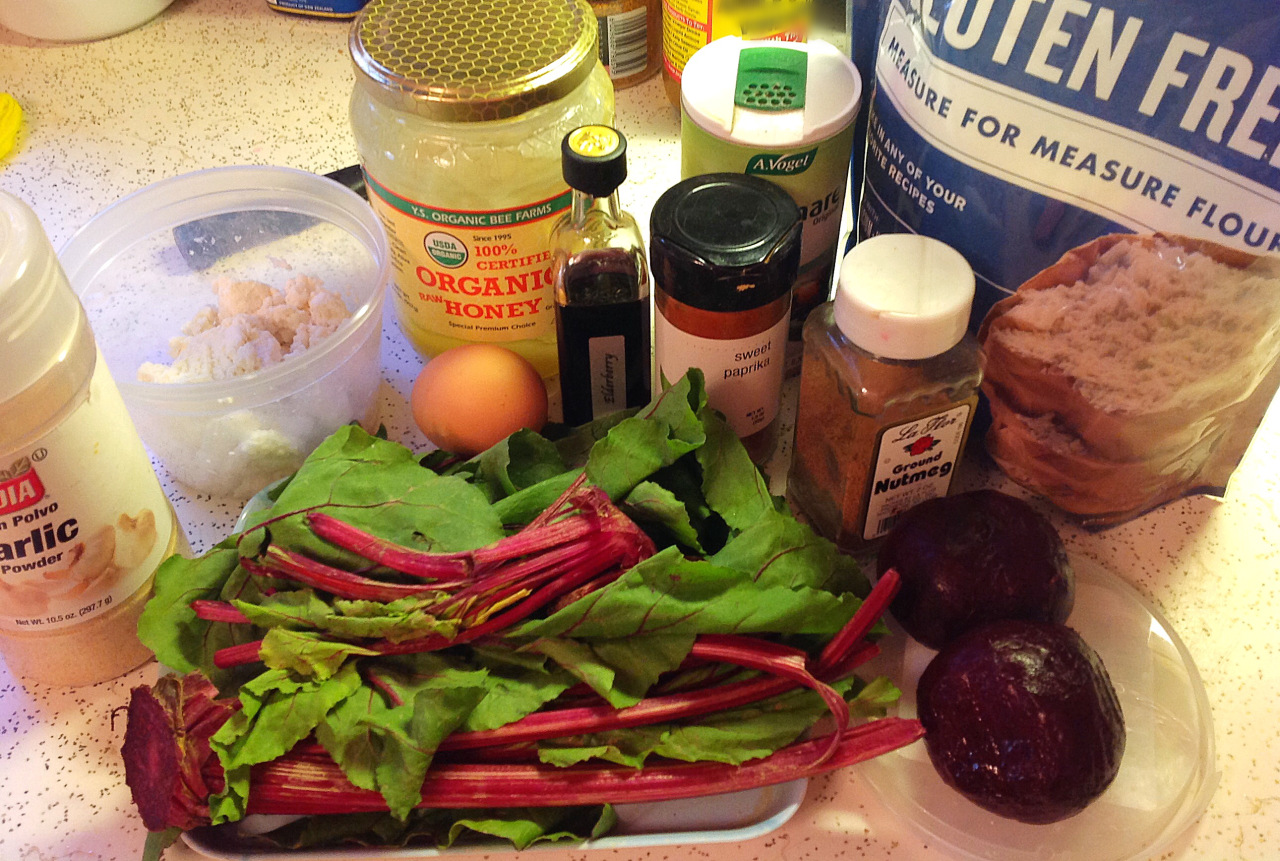 Trim beet greens, wash and cut, then set them aside.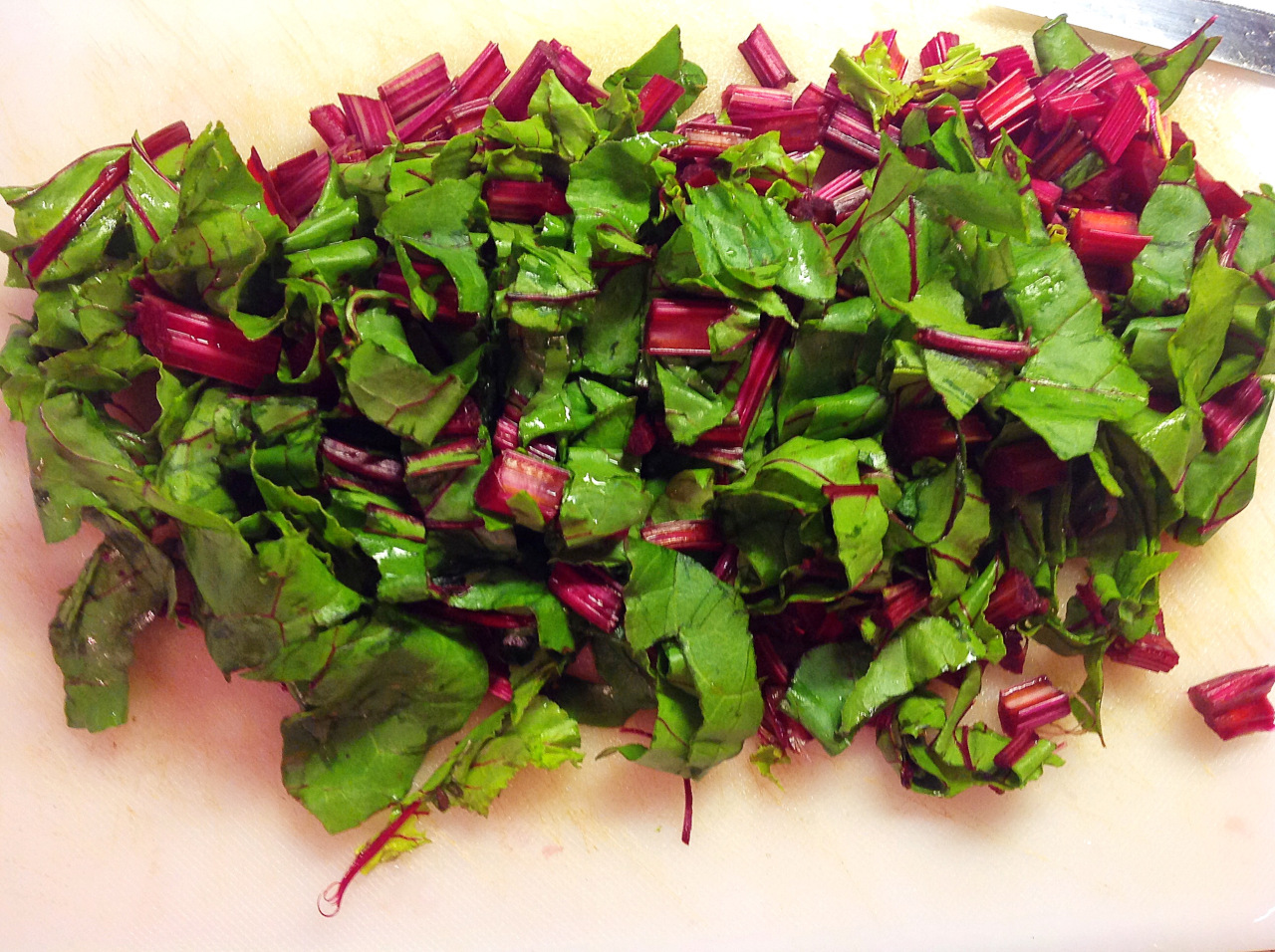 Rub beets with some oil, skin intact, roast at 400 degrees for about 30-35 minutes or until soft. Cool off a bit, peel and, in a blender, combine cut beets, ricotta, egg and all spices, blend until all is soft and incorporated, then add flour and blend until a dough forms.
Sprinkle some flour on a surface and knead the dough a few times. Cut into several pieces and roll each piece into about 1 inch rope, then cut each rope into gnocchi.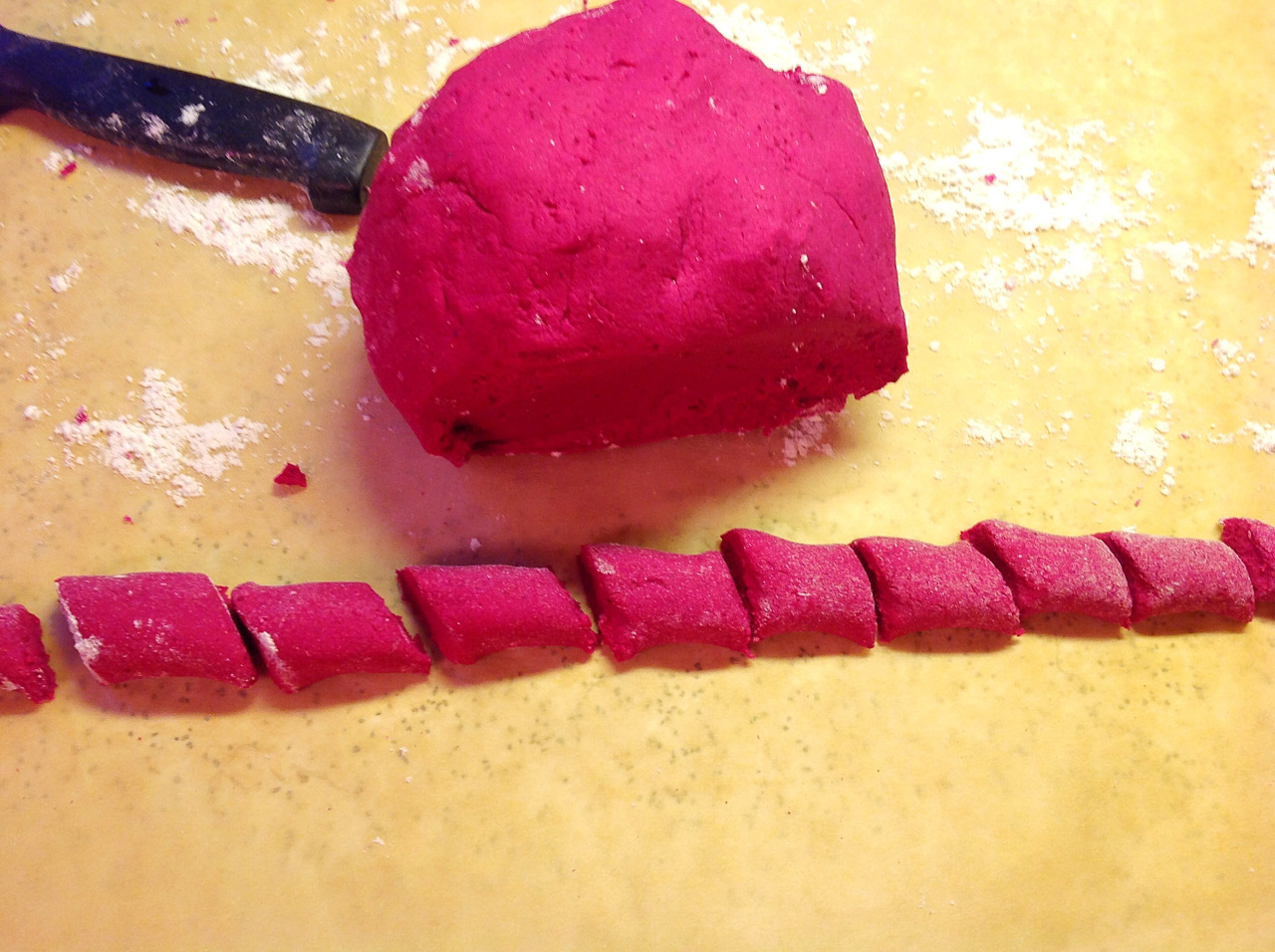 Transfer cut gnocchi onto a lightly floured parchment lined baking sheet. You can then set aside whatever you'd be boiling right away and transfer the rest to parchment lined sealed containers for either freezer or fridge.
To make 2-3 portions, bring to a boil 6-7 cups of water, add some salt and, on a medium heat, boil 20-25 gnocchi for about 7-8 minutes, drain well.
In a mean while, heat 1 tsp of coconut oil, or butter, add greens and lightly sauté till just wilted, add spices and sauté another minute. Stir in honey and balsamic vinegar and toss around to incorporate.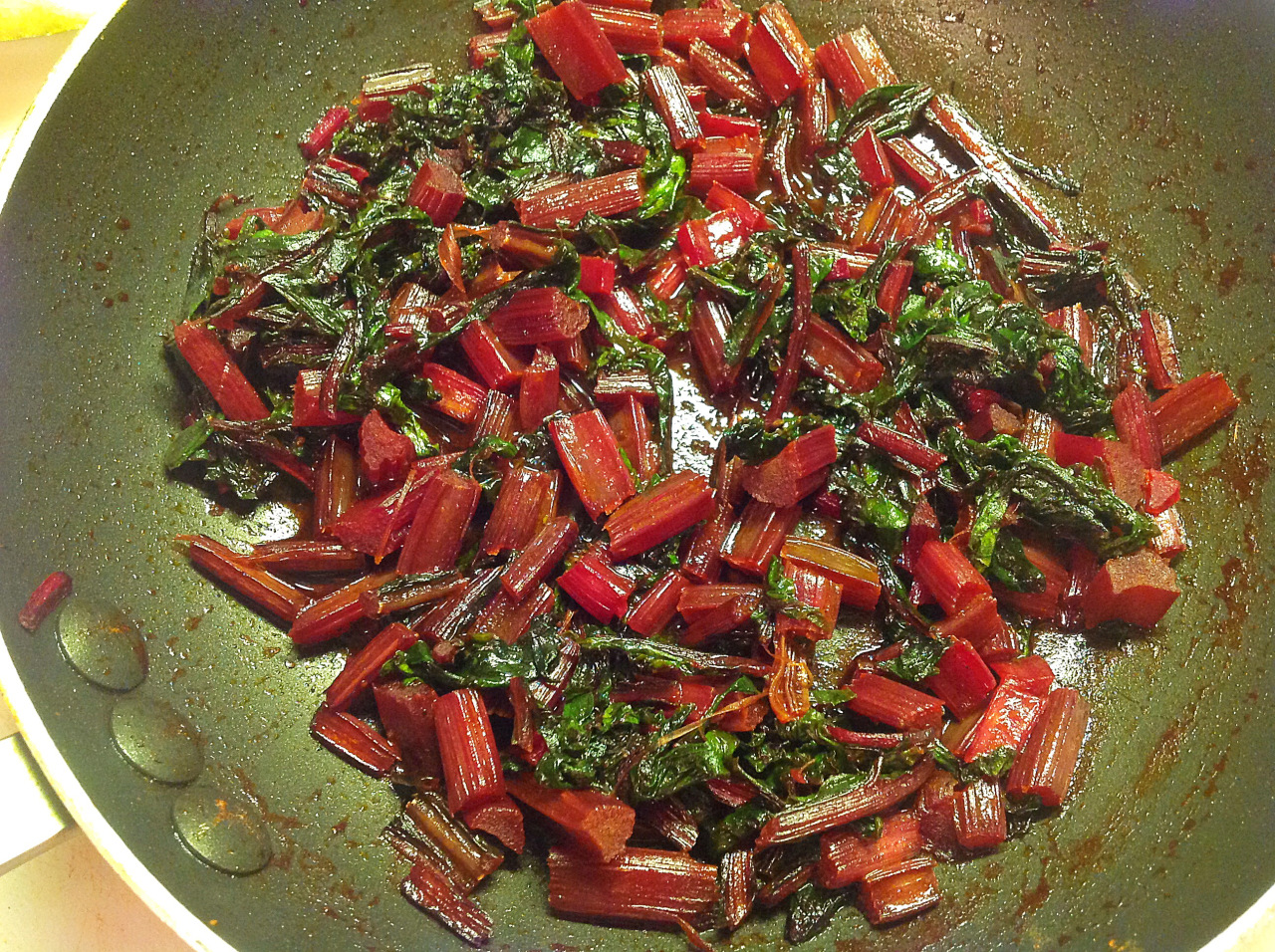 Mix gnocchi with beet greens to coat evenly in balsamic glaze. Portion onto plates.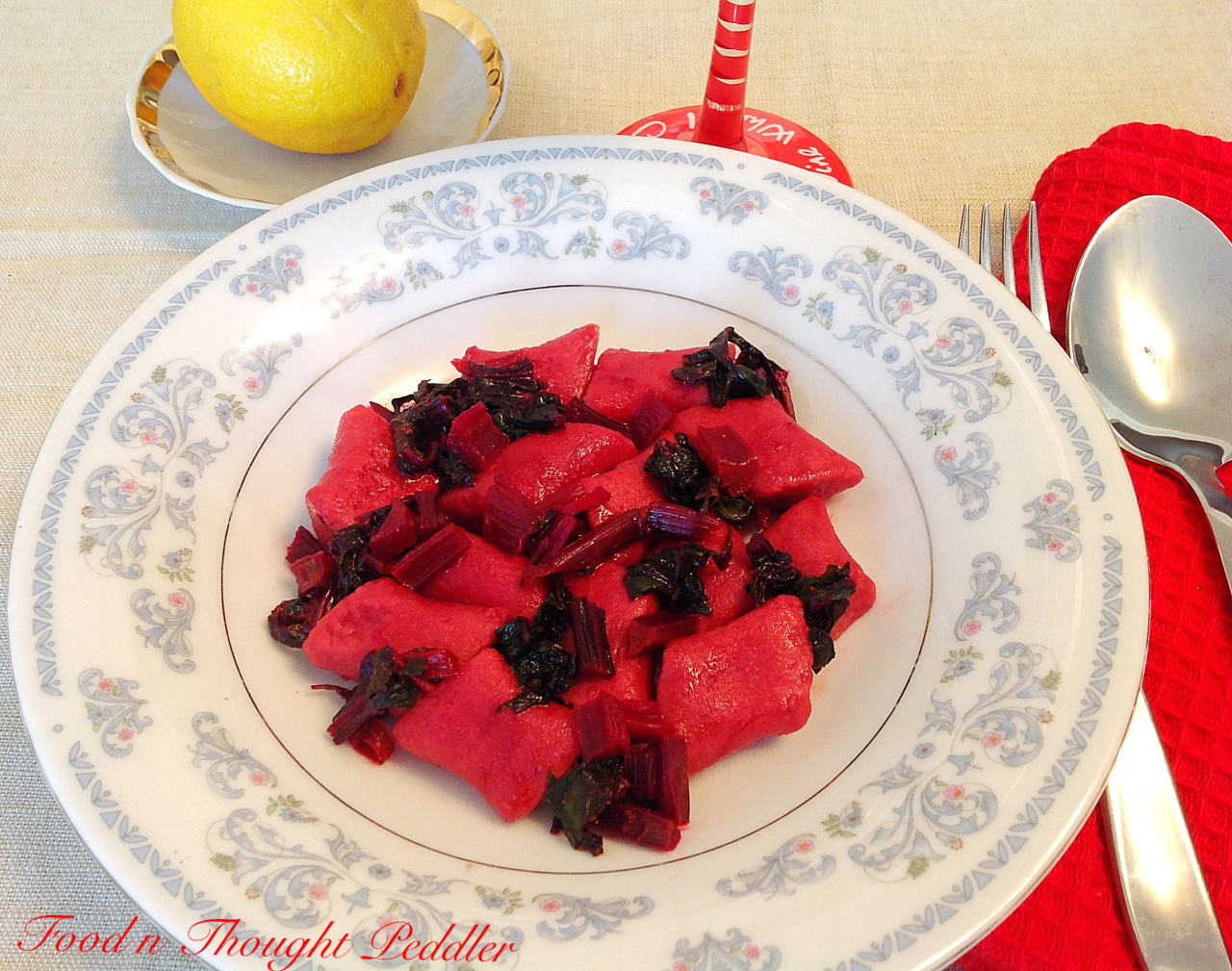 Whether you're eating alone or entertaining a crowd, make every meal a joyous experience and enjoy every bite.