Happy New Year 2017! The holidays are officially over, unless you're Russian; we have 2 more holiday weekends to go. I mean these 6 weeks of holiday fun requires stamina. It's definitely not for the weak. We, Russians, start our training early, in kindergarten where they train us the military style on apple juice and keeping up till 2 am.
I'm kidding (kind of)!
But, seriously, don't you feel done like half way through the holiday season?! I think a whole month of parties is just way too much. Even me, the biggest foodie in the world, is way over-stuffed and tired of all the holiday fair. Alas, a big party is coming this Saturday. So, I have to get ready. I need to train myself the military style to I survive it (and then another big outing on January 14th). We're talking serious business here!
Therefore, I need to be very Zen these next 2 weeks so I can actually enjoy all the fun. And it usually is pretty festive. By January, nobody wants to cook and host anymore, so we generally go out to a nice restaurant, with music and all the works. Did I say, partayyy! So, I need to train. If you're Russian, the holiday season (or your whole life) is a marathon; you can't survive it without a proper stamina.
What's Cooking This Week
So, how do you survive a party marathon? By having some lighter yet still comforting meals. Grain bowls have been very popular lately with their perfect combos of carbs, protein and all the great veggies. Most grain bowls are rice or quinoa based though and other delicious grains sometimes are overlooked. Today's recipe is my go-to quick meal after a busy day. Or rather, it's any time of the day meal because the bowl is oatmeal based. Oats are not just for breakfast; it's very tasty when cooked as a savory meal. I'm using steel cut oats and dairy-free nutritional yeast to make my dish look and taste like creamy risotto. You can sub it with regular oatmeal and parmesan or pecorino cheese of course. I'm topping my grain bowl with a fried egg that's nested inside spiced zucchini noodles. You're getting a quick yet balanced meal in this bowl that is also creamy and soothing on a cold winter day.
Savory Oatmeal with Zucchini Noodles Egg Nest and Roasted Tomatoes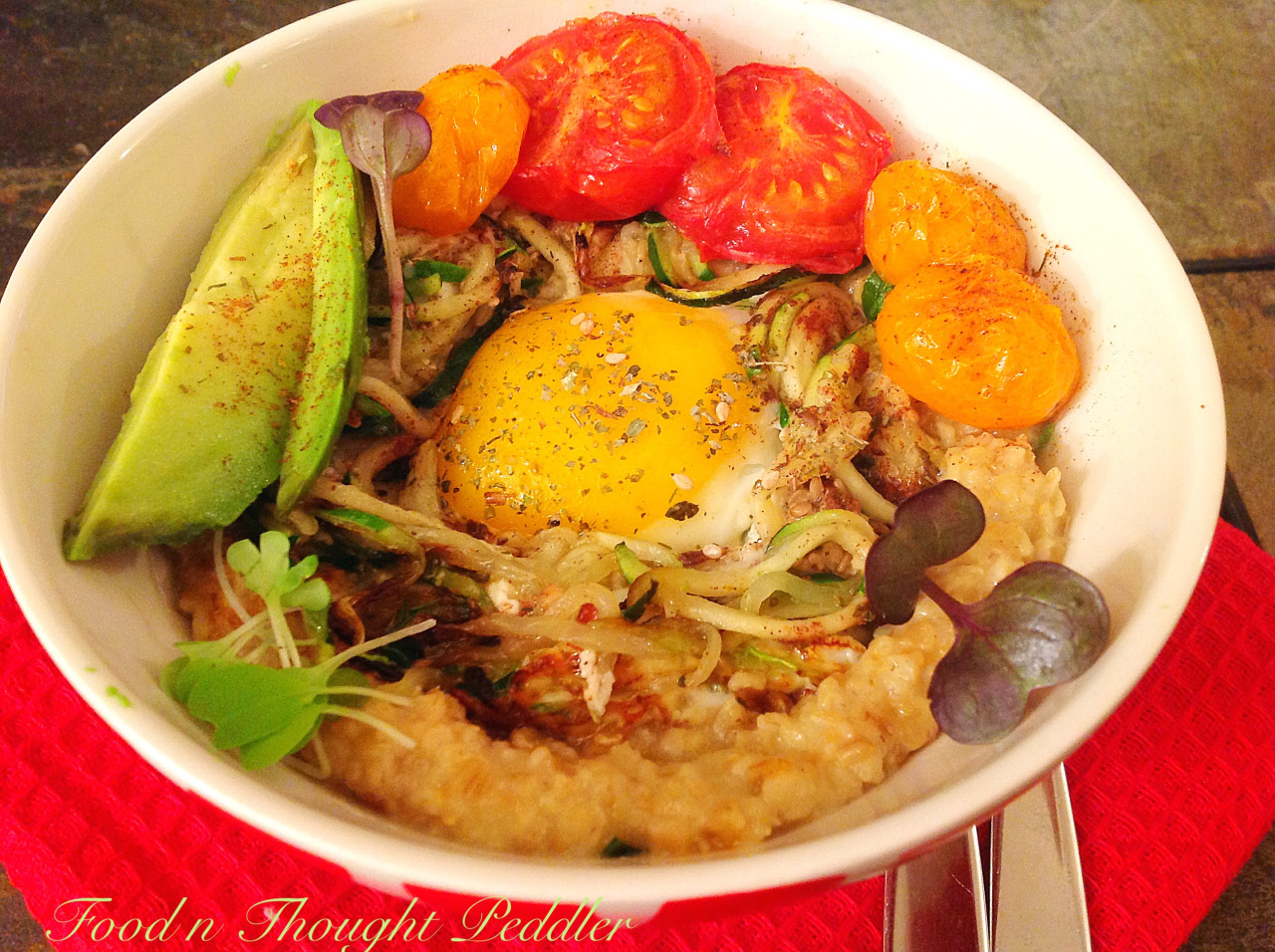 1/3 cup of steel cut oats
3/4 cup of broth (or water)
2 Tbsps of nutritional yeast (or cheese)
1 egg
1/3 cup of zucchini noodles
5-6 cherry or grape tomatoes
1/4 tsp of sweet paprika
1/2 tsp of dry oregano and marjoram
salt, pepper, oil or butter
avocado slices, sesame seeds  and micro greens for garnish
fresh spinach or kale leaves (optional)
Toss tomatoes with olive oil, some salt and pepper and place on a tray to roast at 400 degrees for about 7-10 minutes.
In a small pot, combine broth (or water) with oats and some salt and cook on a low heat stirring often. When it's almost done, stir in oregano, marjoram and nutritional yeast and finish cooking.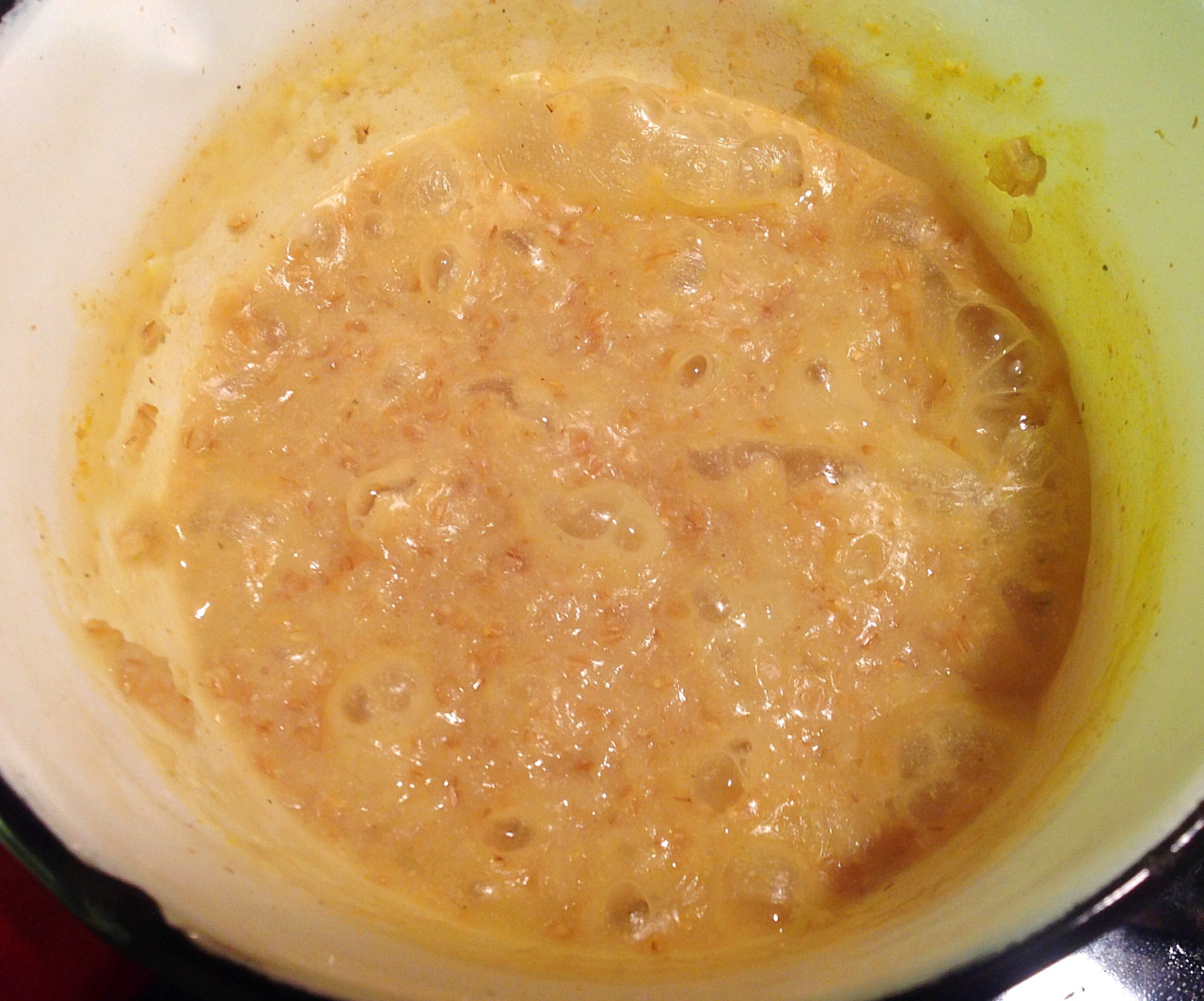 While the oatmeal is finishing, in a small frying pan, melt some butter or oil, place zucchini noodles and arrange them like a nest, sprinkle paprika around the top layer, then crack and carefully place the egg on top, sprinkle salt and pepper all around, add sesame seeds if you want. Cook until the egg is done, don't overcook zucchini noodles, they still need to be a bit crunchy.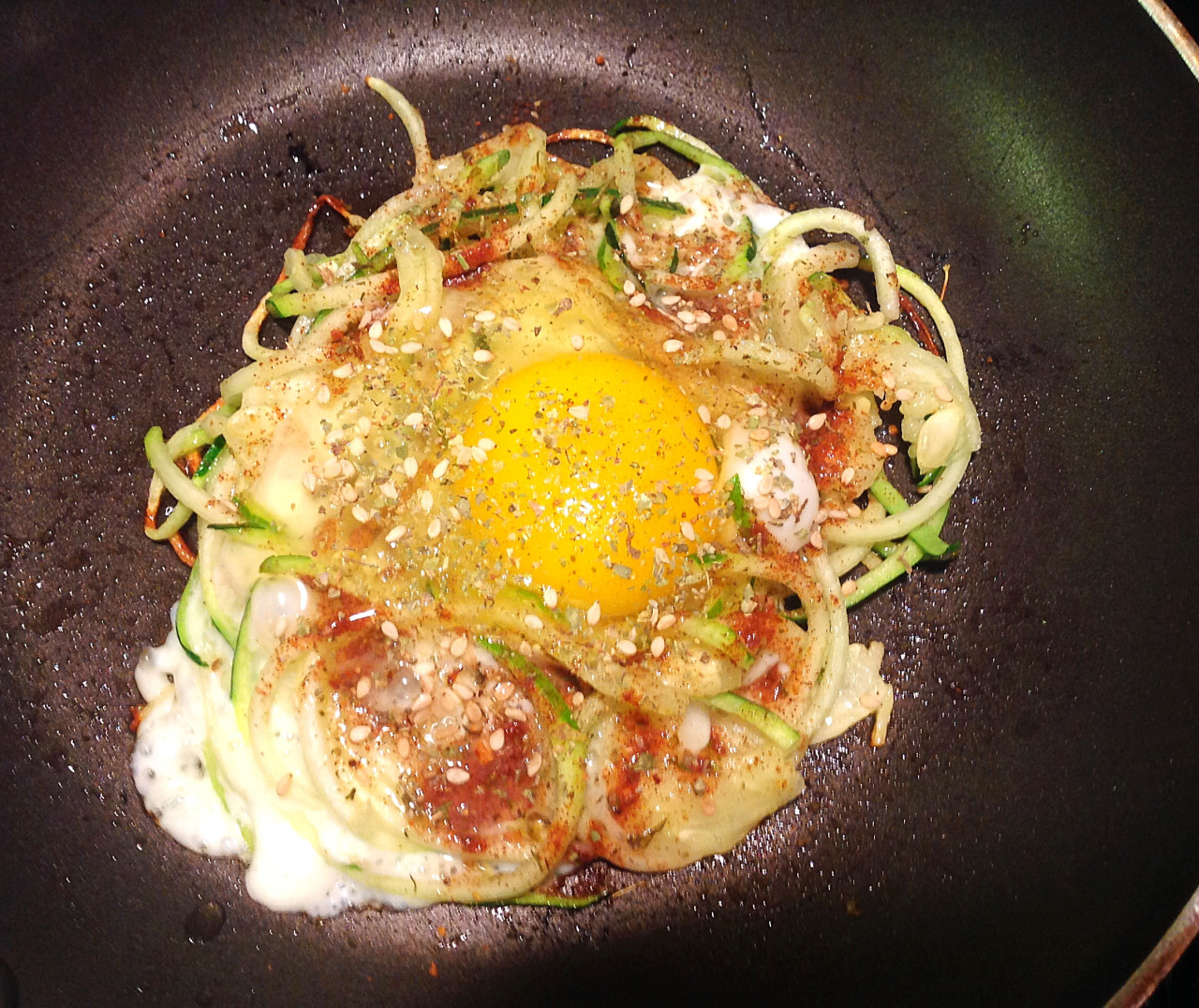 Once everything is cooked, assemble your grain bowl. Place some spinach or kale at the bottom, if you're adding any. Then pour oats over it and carefully place a zucchini nest egg on top. Garnish with roasted tomatoes, micro greens and avocado, use a pepper mill to add coarse black pepper.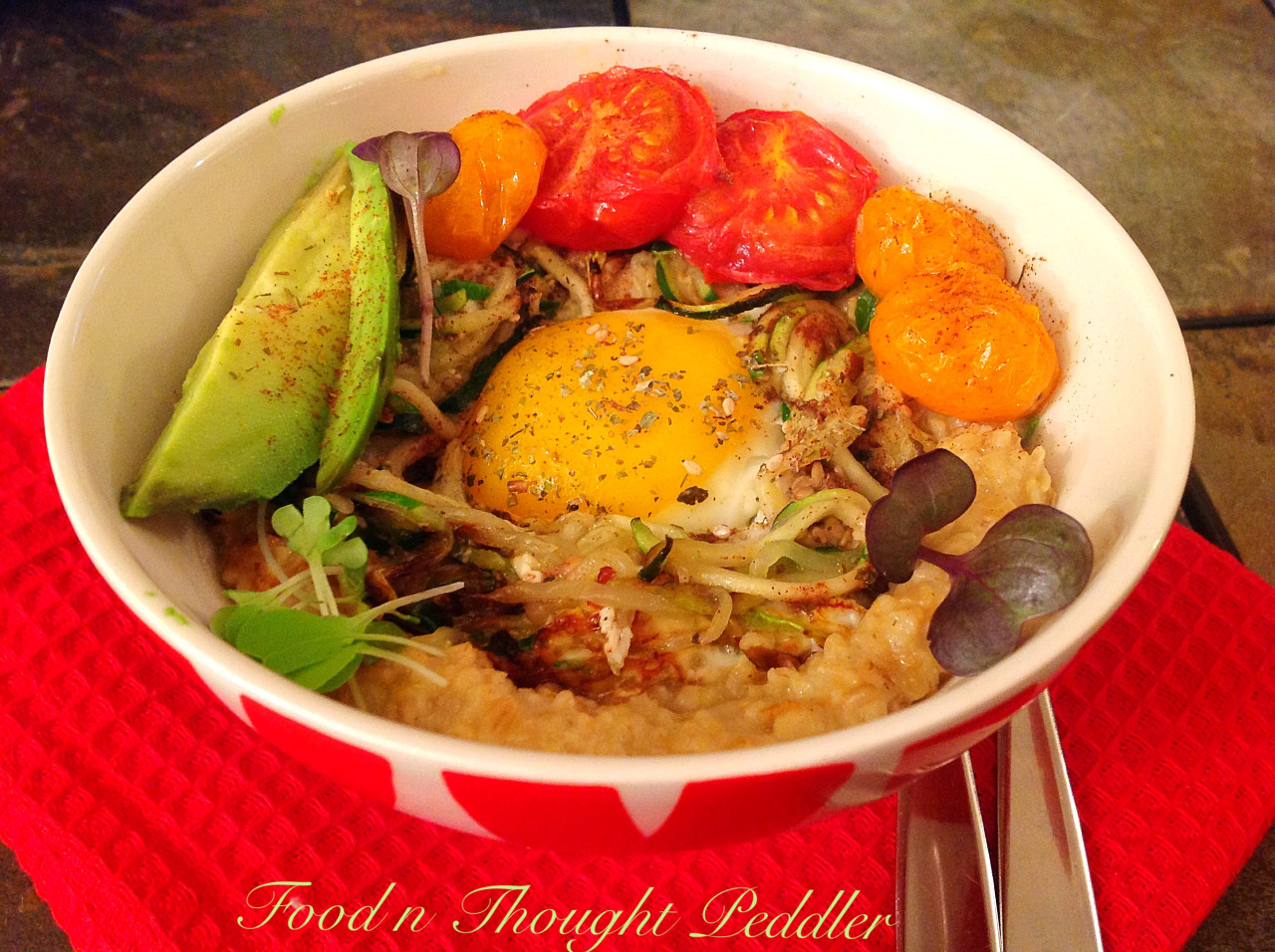 You can be proper and use a fork, but, to me, a spoon is so much better. Just dig in!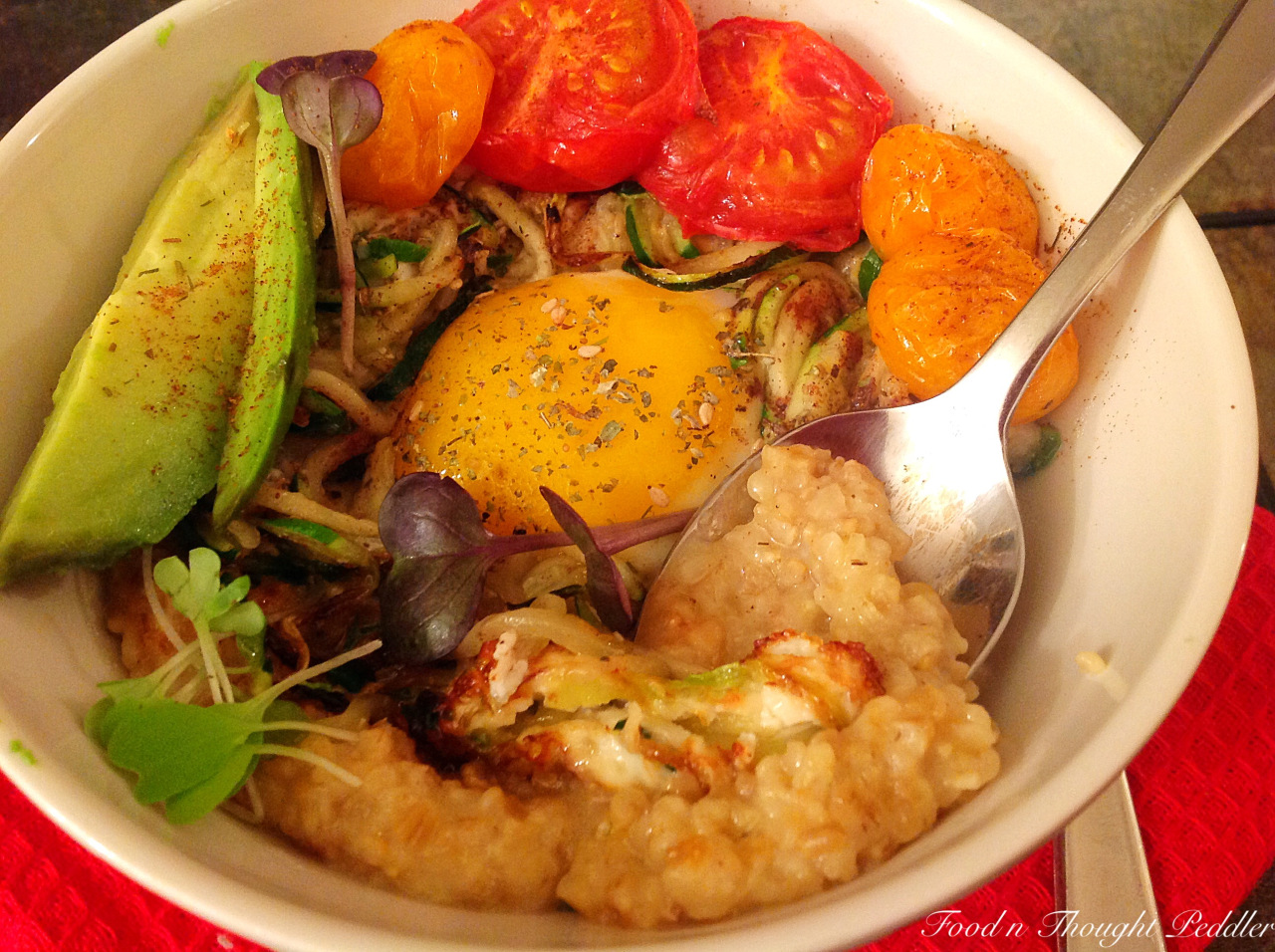 It's light and creamy and totally satisfying. I'm now very Zen and ready for the next party!