After such a nice family outing on the weekend, I've been laying in bed with chest pains for the past two days. I have them sometimes, or other times my heart decides to do some disco moves and just not working properly. I think my heart is still mad at me for being poisoned with chemo nine years ago, and I may have some small inborn defect that was still cooperating until last year. I don't want to do surgery, at least not now. I don't even want to go to ER, which is what my cardiologist wants me do when chest pains start, but, he knows me well by now that I won't go unless it's really bad, so, he usually just yells at me a bit for being stubborn and does the usual testing in-office.
If I get really silent one day, that means I went to Heaven so watch out for strange things happening at your home as I'd definitely be haunting you. It's just my way to remind you how much I love you! 🙂
What's Cooking This Week
We have a quick recipe post today as I wanted to make sure you get it in time before you start planning your Thanksgiving menu.  It's not your typical Thanksgiving dish, it's much lighter in both calories and teste but it's definitely full of seasonal flavors. Plus, I'm sure you'll have plenty of other traditional side dishes so my recipe would serve as a nice balance to some heavier sides you generally find on any holiday table. I'm using a lovely citrus colored cauliflower but you can use regular one if you can't  find it. And, cherries are full of antioxidants and anti inflammatory substances that are good for heart health.
Roasted Cauliflower with Almond-Raisin Cherry Chutney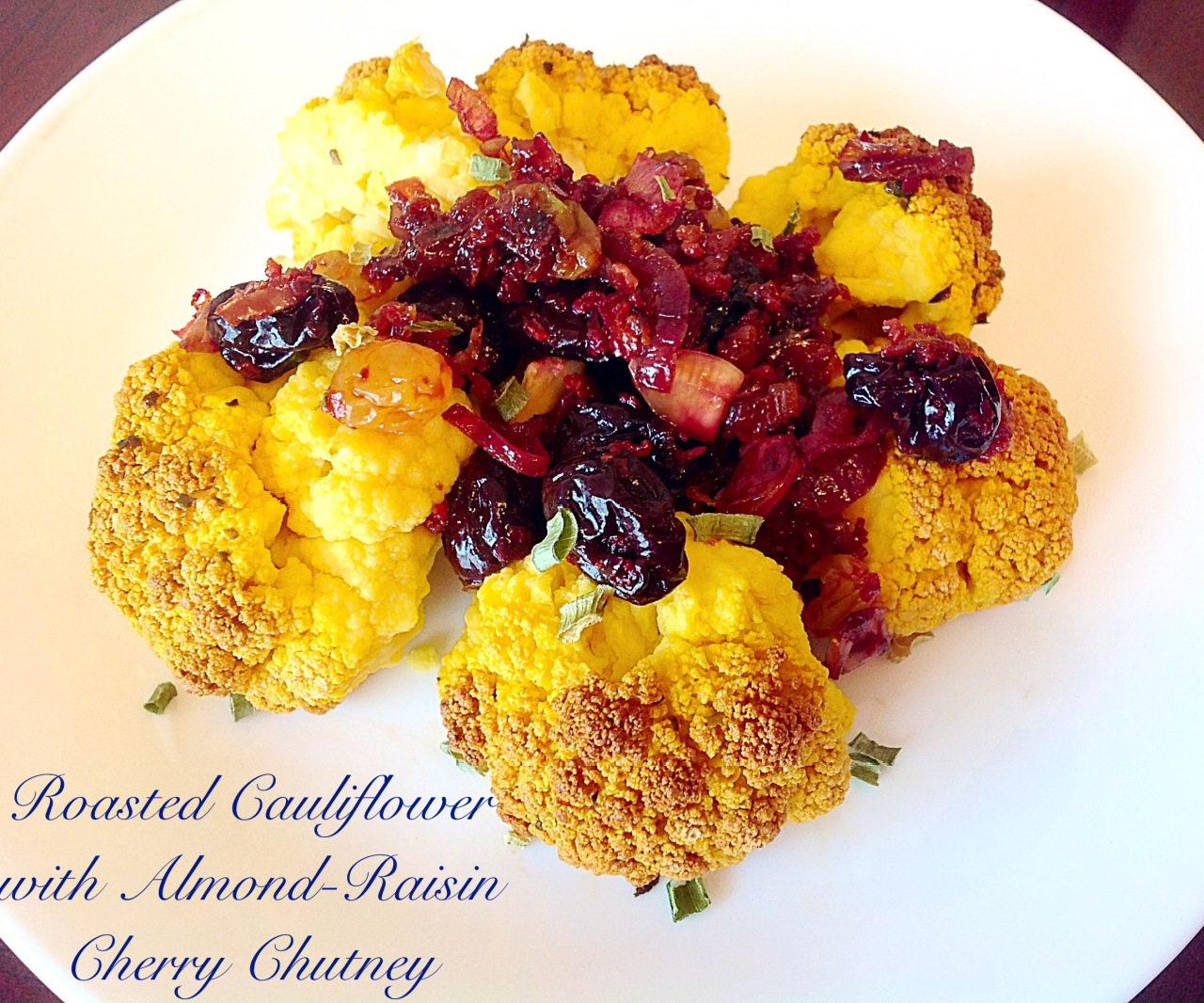 1 small cauliflower, cut
1 cup of cherries, drained
1/3 cup of golden raisins
1/4 cup of almonds, chopped or slivered
3 Tbsps of bourbon
1 Tbsp of honey
1/2 Tbsp of coconut oil
2 shallots, chopped
1 1/2 tsp of crushed red pepper flakes
1 tsp of curry powder
1/2 tsp of coriander
1/4 tsp of nutmeg
salt, pepper, olive oil spray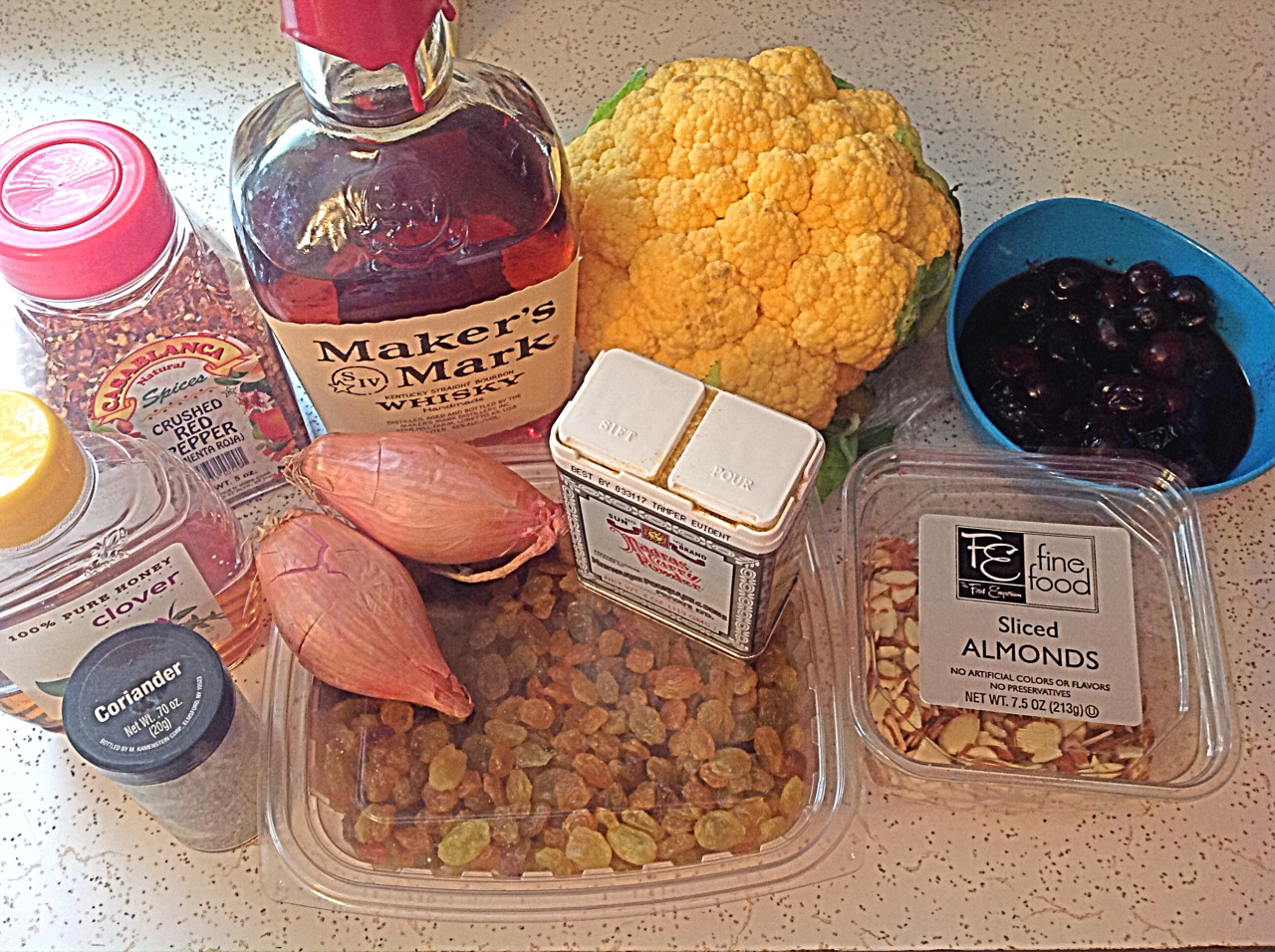 Lightly coat cauliflower chunks with oil spray, salt, pepper and roast at 400F degrees turning often till it's all done, about 25-30 minutes.
In a mean while, make the chutney. Heat up coconut oil and sauté shallots till translucent golden, then add drained cherries and cook for a few minutes about half way through. Then add raisins, bourbon and spices, a pinch of salt as not to overpower the sweet taste and cook for 1-2 minutes to let the alcohol evaporate. Add almonds and coat chutney in honey, toss around till everything is cooked.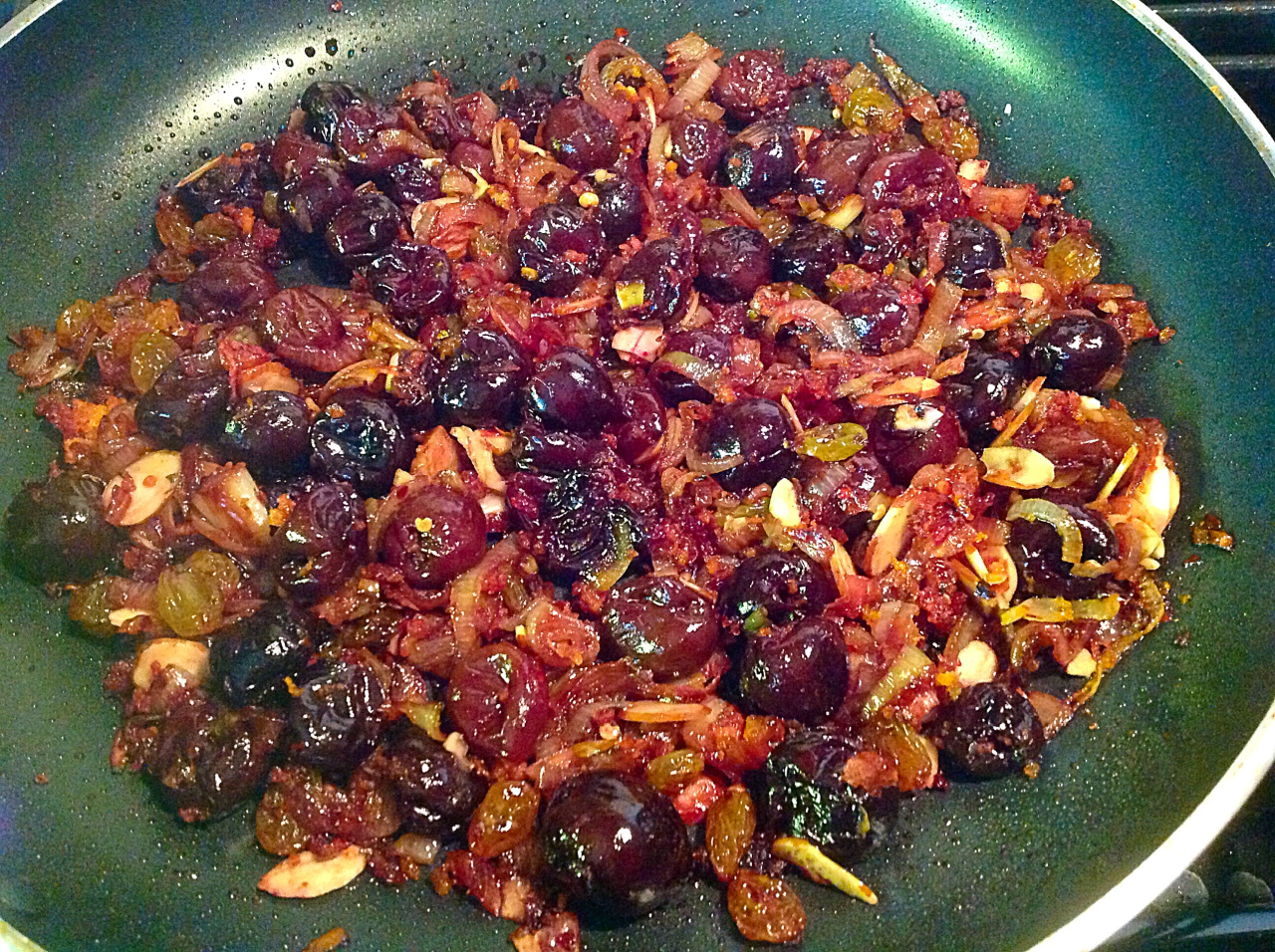 Serve chutney on top of freshly roasted cauliflower. The sweetness of vegetable is nicely balanced by sweet and spicy chutney, which makes it a great addition to your holiday table and can be served alongside with turkey or any other meat roast.