We had a cold and rainy weekend in New York. It's definitely Fall already as the nights are pretty chilly now. Not that it takes a lot to make me shiver to begin with. Once it goes below 70, I feel it, and I don't like hot weather either so there's a very small margin when I actually feel comfortable – #princess.
Sunday was just a complete washout so I scratched my outing plans and decided to stay home. The intention was to organize the closets, a very noble plan indeed that didn't happen either. And what do you think I did instead? Yep, you guessed it, I cooked. Hey, it's warm in the kitchen so this is where I'd gravitate! I was cooking and canning apple and pear chia jam. It came out mighty delicious so the recipe will be on the blog soon.
And, along with stirring jam, I was also stirring my memories all weekend long. Sometimes you need days like this, where you reflect and review a lot of things that happened in your life, think about people who appeared in your life and the impact they created and the imprint that I left on them too. You just always hope that I fulfilled whatever mission my appearance was intended to bring into their life but also knowing it'd be up to them to carry on the spark of it inside their heart and soul.
And, there's no doubt how much I've taken in and grown from all the people and circumstances I was dealt with in my life but some growing pains are still in process both tormenting me and pushing for yet another layer of evolving and transformation. As much as I want to be on "the other side" of this wave already, you can only go as fast as you can and as life itself unfolds in front of you. Some pain and deep emotions have to remain for a while so you feel it completely and what's really behind it all and then, hopefully, this layer will fall off as a shriveled skin of an animal that no longer needs it.
So it may not have been a very productive weekend and the closets still weren't cleaned but sometimes the reflective work is the one that needs to be done when your soul calls for it. There were ghosts and memories roaming freely in my house those days, some were welcomed and others were painful but none are forgotten in my life.
What's Cooking This Week 
The Halloween season is upon us with all its scare, celebration and sweet indulgences. Today's recipe brings indulgence factor to the next level. It's simply not something you're going to have on a regular basis, but, hey, it's Halloween time, enjoy it to the fullest! These cupcakes have just about everything: chocolate, cookies, candy, pumpkin – you don't really have to choose among the treats, you can have it all. And just so you're not worried I'm now in a sugar coma, I only ate one, the rest were sent off with my college kid and some left for a friend to share.
"R.I.P. Diet" Cookies and Chocolate Cupcakes with Pumpkin Frosting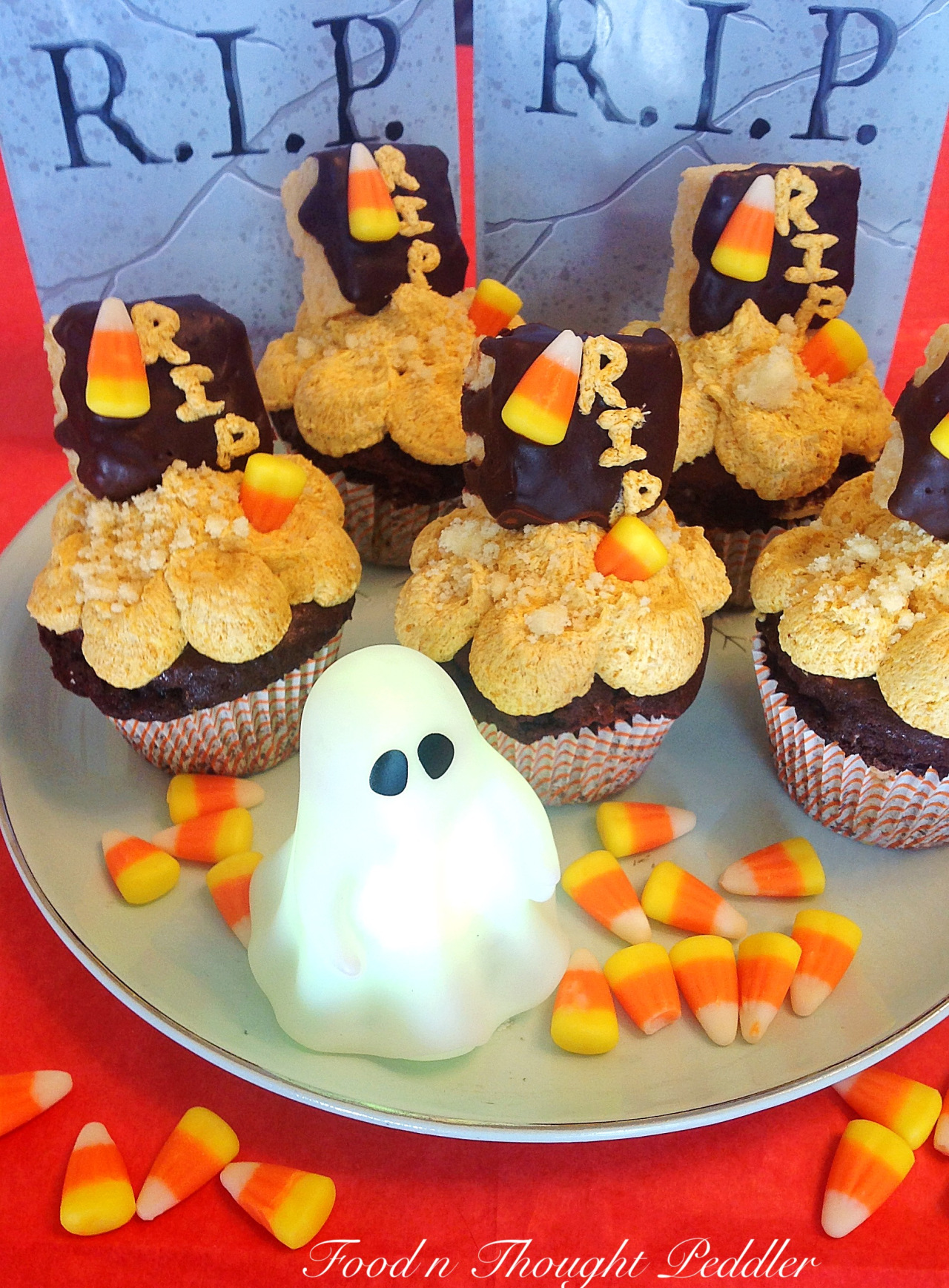 Cupcakes (makes 12):
3/4 cup of flour (I used Cup4Cup gluten free mix)
1/2 cup of sour cream
3/4 cup of cocoa powder
1 cup of sugar
3 eggs
3/4 cup of unsalted butter, softened and cut
1/2 tspoon of baking powder
1 tspoon of vanilla
1/4 tspoon of salt
2-3 sugar cookies, crumbled (I used shortbread gluten free ones)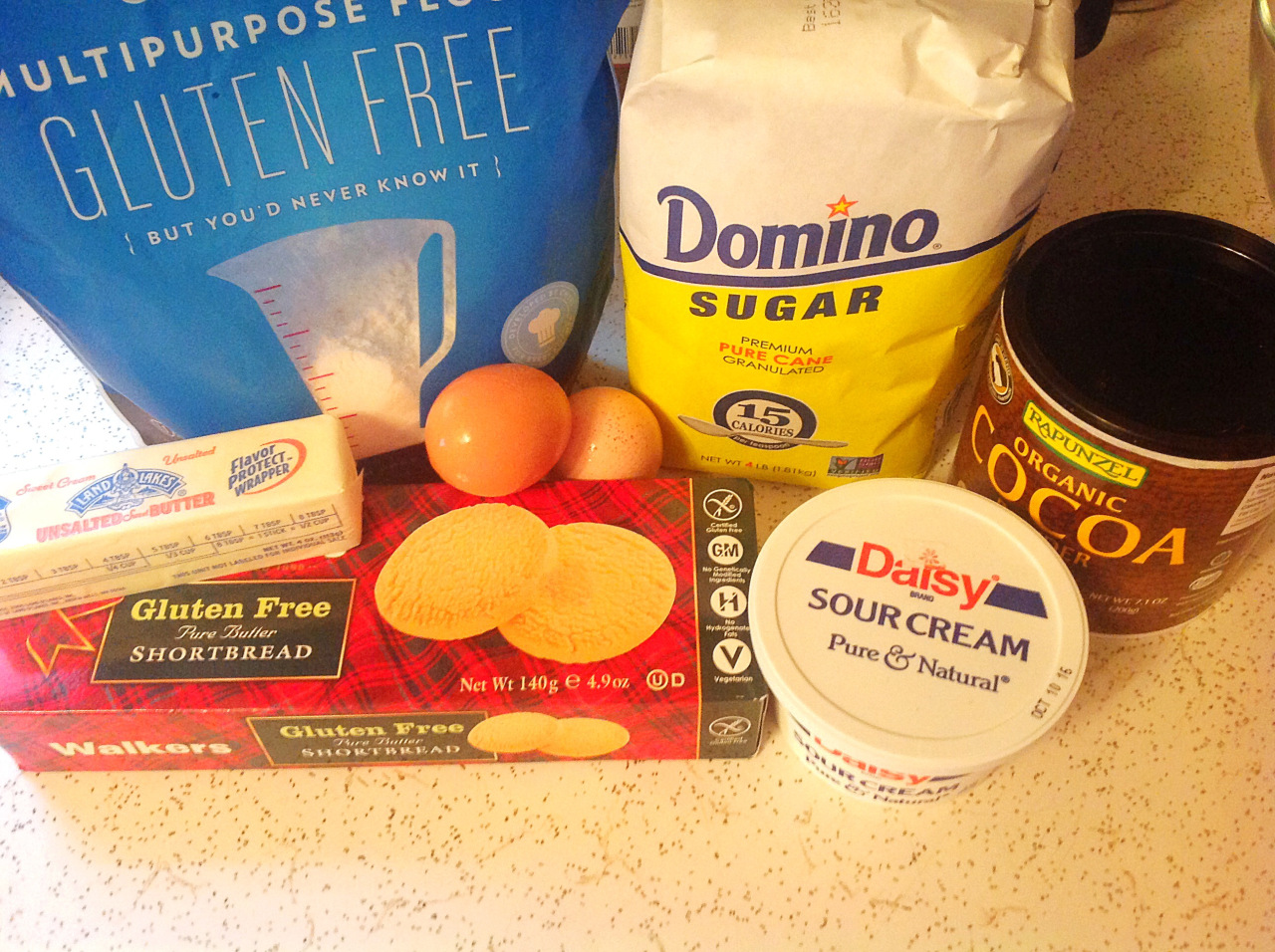 Frosting and decorations:
1 15 oz can of pumpkin
2 sticks + 1 Tbs of butter, softened
3-4 cups of powdered sugar
2 tsps of cinnamon
1/2 tsp each allspice and nutmeg
1/4 tsp of ground ginger
3-4 oz of dark chocolate
12 mini rice  krispies plus toothpicks
candy corn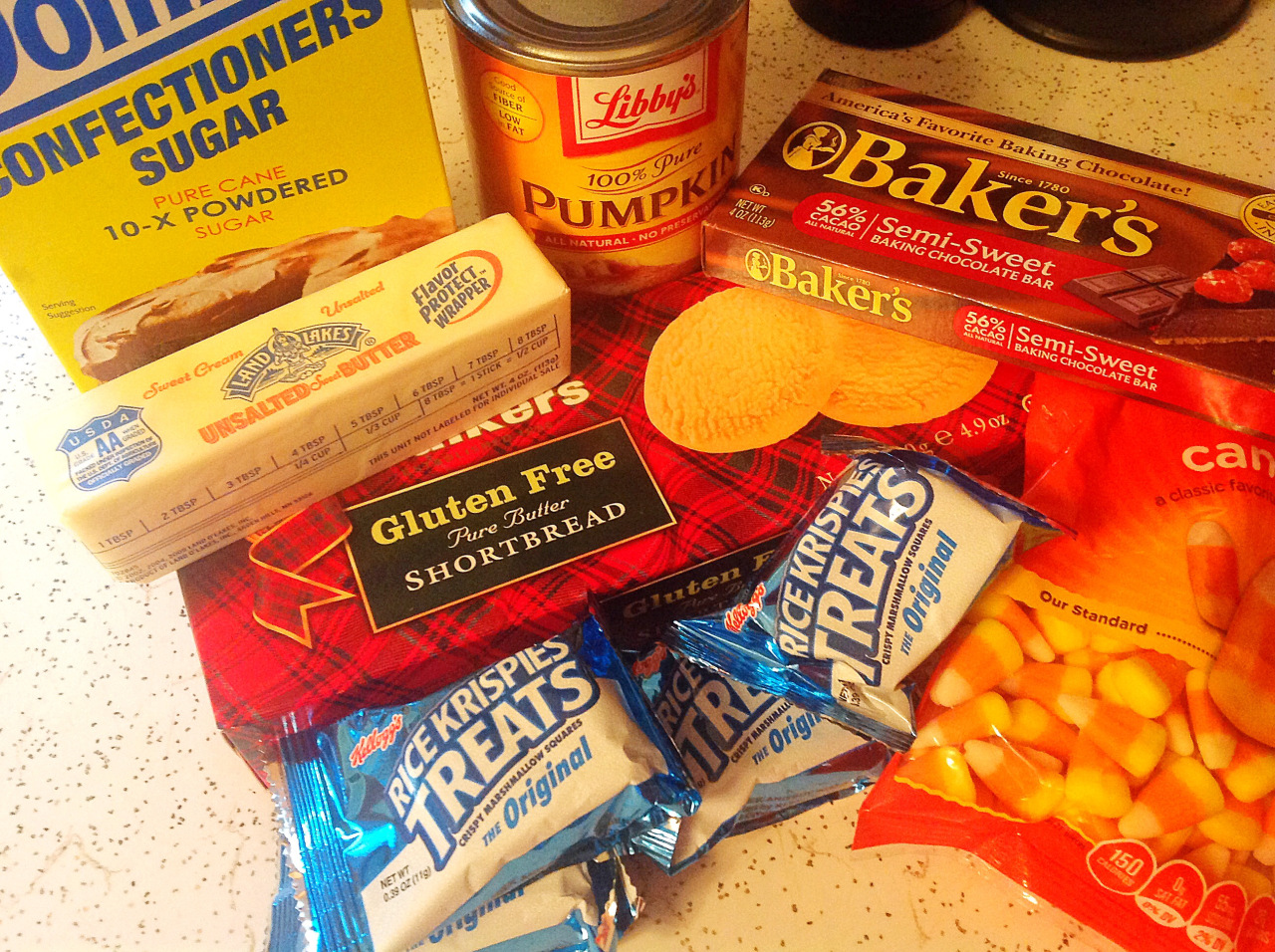 To make the cupcakes, beat together butter and sugar, then add sour cream and then eggs one at a time. In a bowl, combine flour with all dry ingredients and gradually mix into wet ingredients, then mix in cookie crumbles.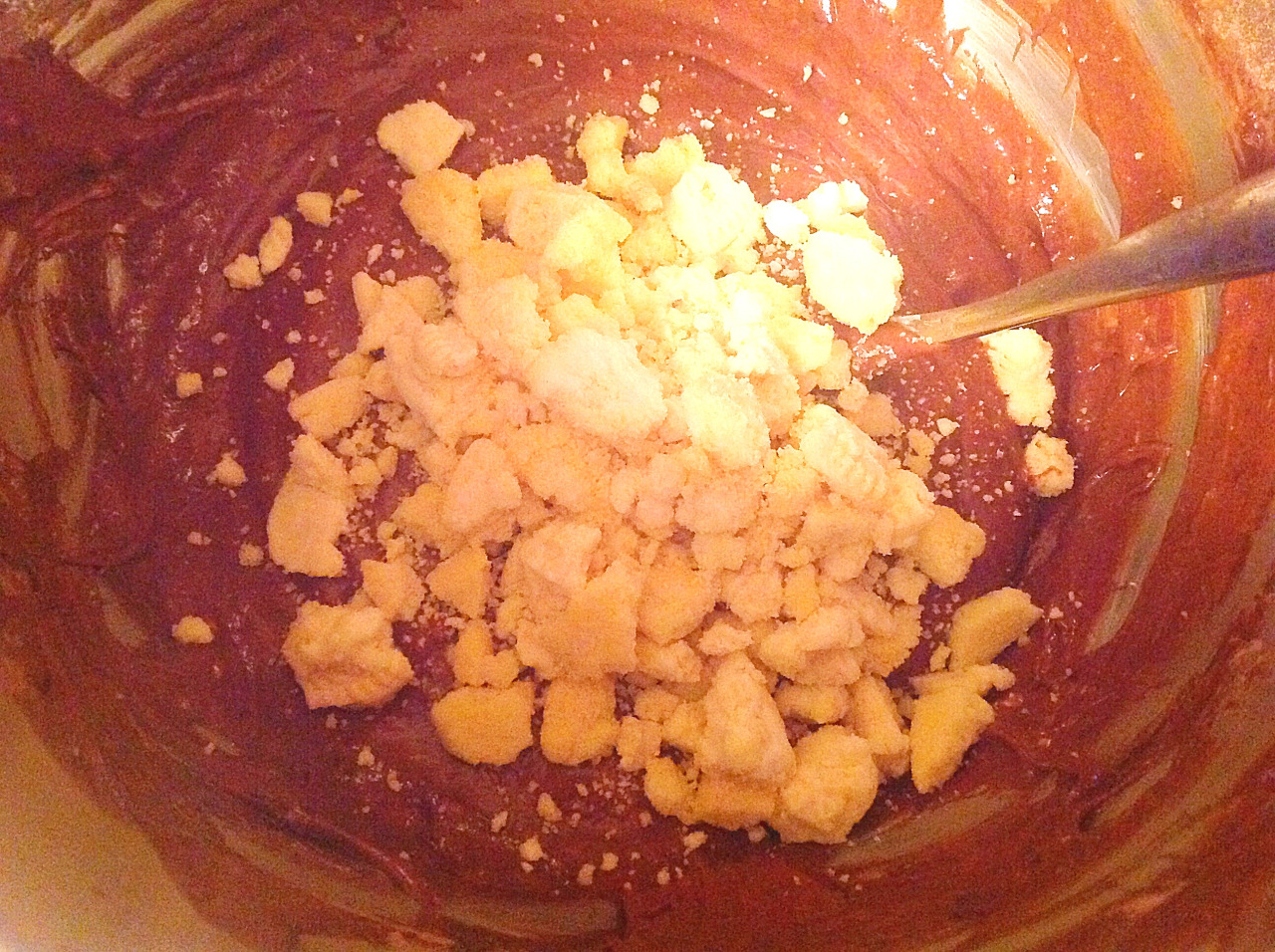 Divide batter between 12 cupcake holders and bake in a pre-heated oven at 350 degrees for about 18-20 minutes, cool off before frosting.
To make the frosting, beat together softened butter, pumpkin and spices, then gradually add powdered sugar till it's all well incorporated.
Insert tooth picks into rice krispies. Melt together chocolate and 1 Tbsp of butter, dip the front side of each rice krispies into chocolate, top with 1-2 candy corns and lay it on a sheet. Place them into the fridge for 30-40 minutes to harden. Use a small writing tip to write on top of the chocolate.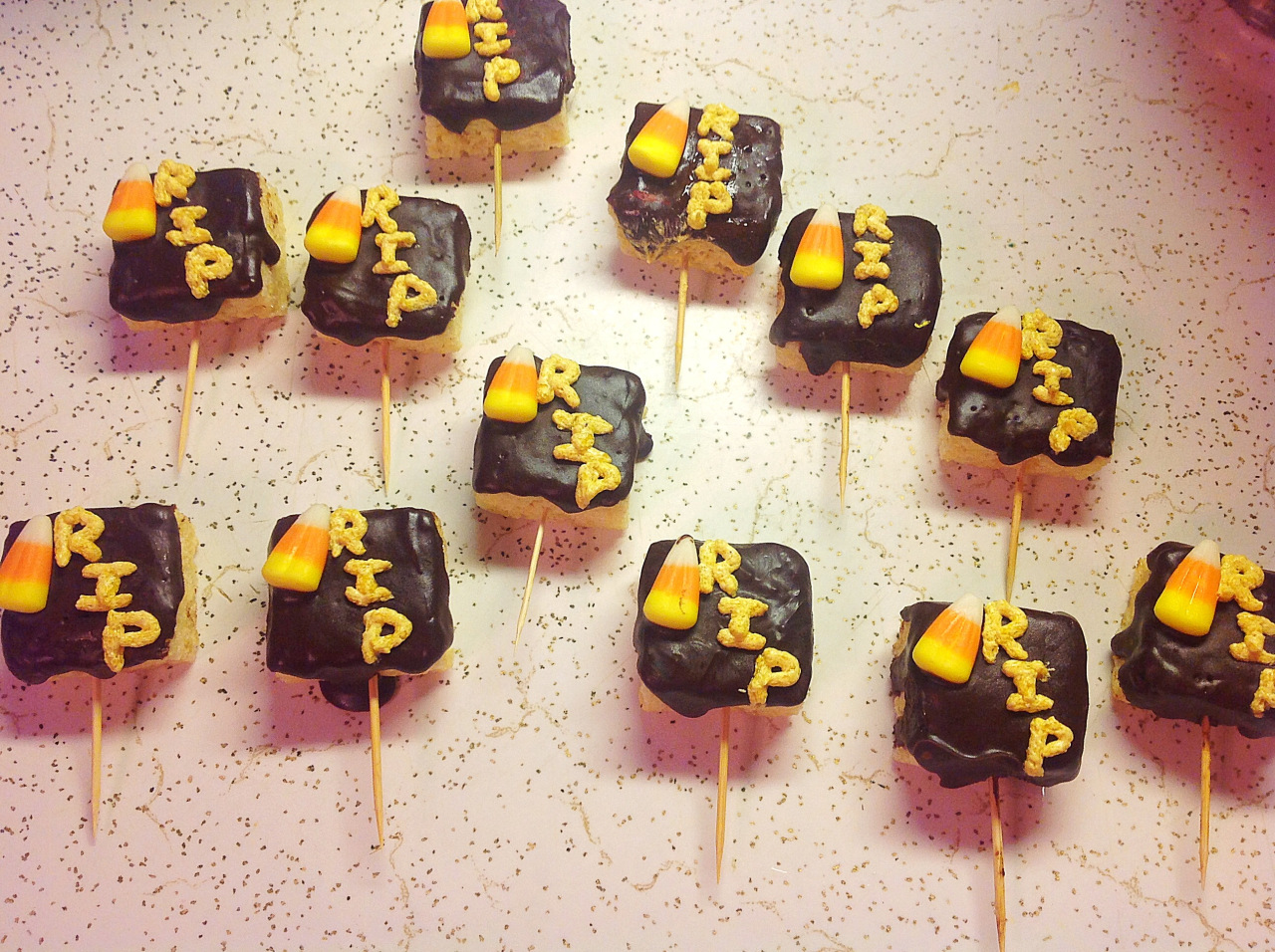 Pipe the frosting on top of cupcakes, insert rice krispies and decorate with more cookie crumbles and candy corn.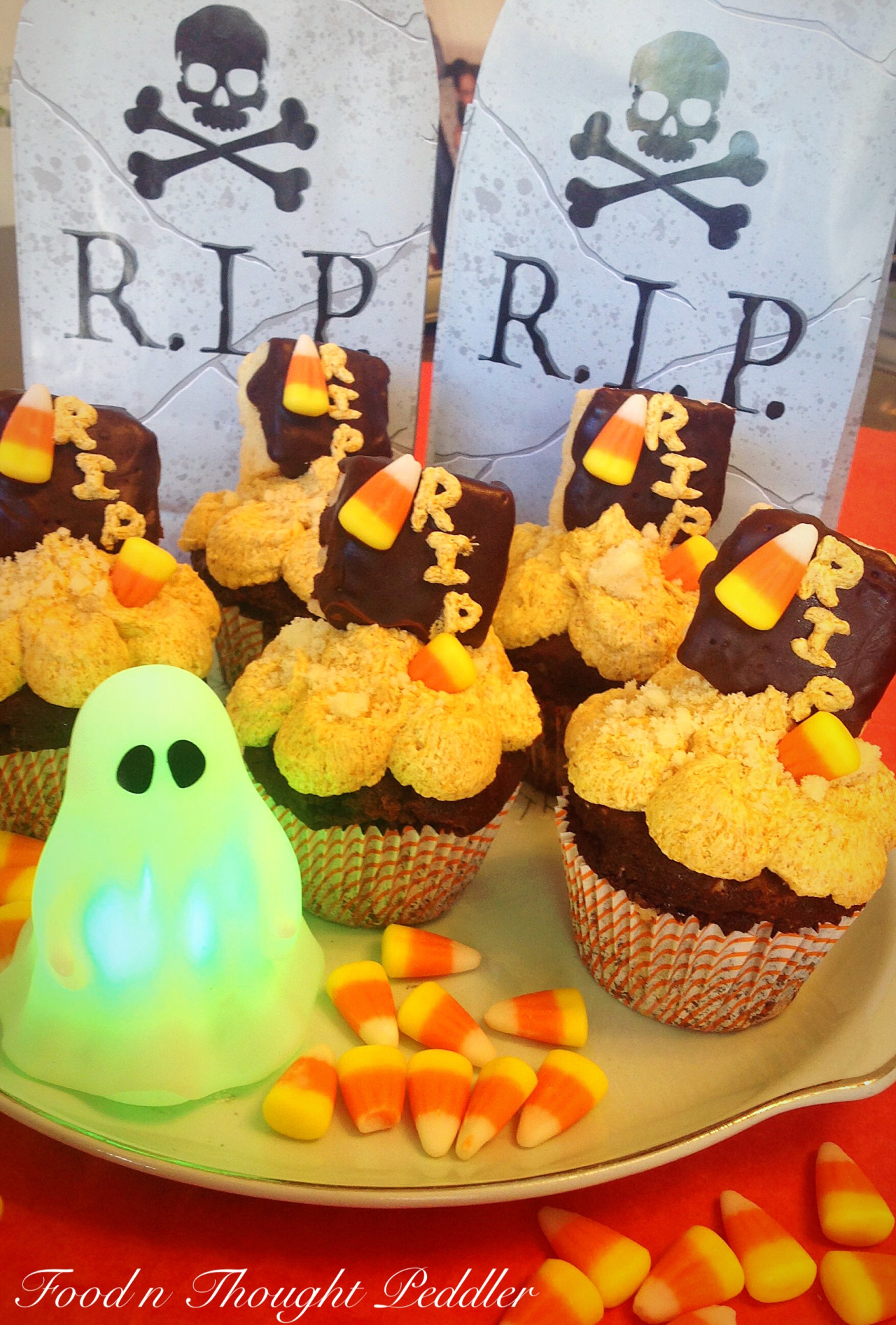 When you bite into this cupcake, you're hit with a definite sugar rush and all the goodness of cookies, candy and chocolate topped with a soft pumpkin buttercream. Hope you try making these delicious Halloween treats at home.