Are you sick and tired of me yet? I know, I posted a lot this week but I had all the reasons to chat, cook and celebrate. Tomorrow is another holiday, Rosh Hashanah. If you are celebrating, Ah Gut Gebentched Yohr (a good and blessed year)! That's in Yiddish (very similar to German), because that's what most European Jews spoke, not Hebrew. Though as far as I know my lineage on material side, the family originated somewhere in Germany. When I was little and my great-grandmother was still alive, I used to understand a bit of Yiddish, but the language was lost as it was dangerous to speak it during the Soviet time.
And, today is an Eastern Orthodox holiday of who we know as the Holy Mother in Western Christianity. The holiday is traditionally celebrated by prayers to Holy Mother asking for her protection over the winter months. It's also a time to mark the beginning of Fall and a preparation of harvests for the cold weather. Russian peasants used to brew root beer and consume it with apples and honey as a celebration.
And, what other holiday has you eating apples, honey and other sweets? Yep, exactly, Rosh Hashanah!
I come from a mixed family so we celebrate all holidays, major Jewish and Orthodox and all Western American ones of course – because why would you ever pass on an extra excuse to eat and drink?! So tomorrow is dinner at my mom's house for Rosh Hashanah and all other apple and honey holidays. My son is coming from college again. It's been a 3rd or 4th weekend in a row that's he's doing it for all the birthdays and other family occasions. I told him that after this weekend, he's off the hook till Thanksgiving. I failed to warn him though that he'd better come home for my birthday. Let's see if he actually remembers. 🙂
So today was a show taping day in the morning and now it's apple dessert making time. I'm making a mix-of-holidays Ukrainian apple pie that's perfect for covering both occasions. Join me in this adventure!
What's Cooking This Week
A lot of Slavic pie and other rolled dough recipes use farmers cheese as its base. Farmers cheese is a dry variety of cottage cheese that make any dough moist and easy to work with. Traditional American pie is round and is using diced apples. A lot of Slavic pies are actually square or rectangular in shape and are stuffed with larger chunks of fruits. Today's recipe is a pie with apple halves and raisins. It's a great combo to celebrate both holidays.
Ukrainian Apple Pie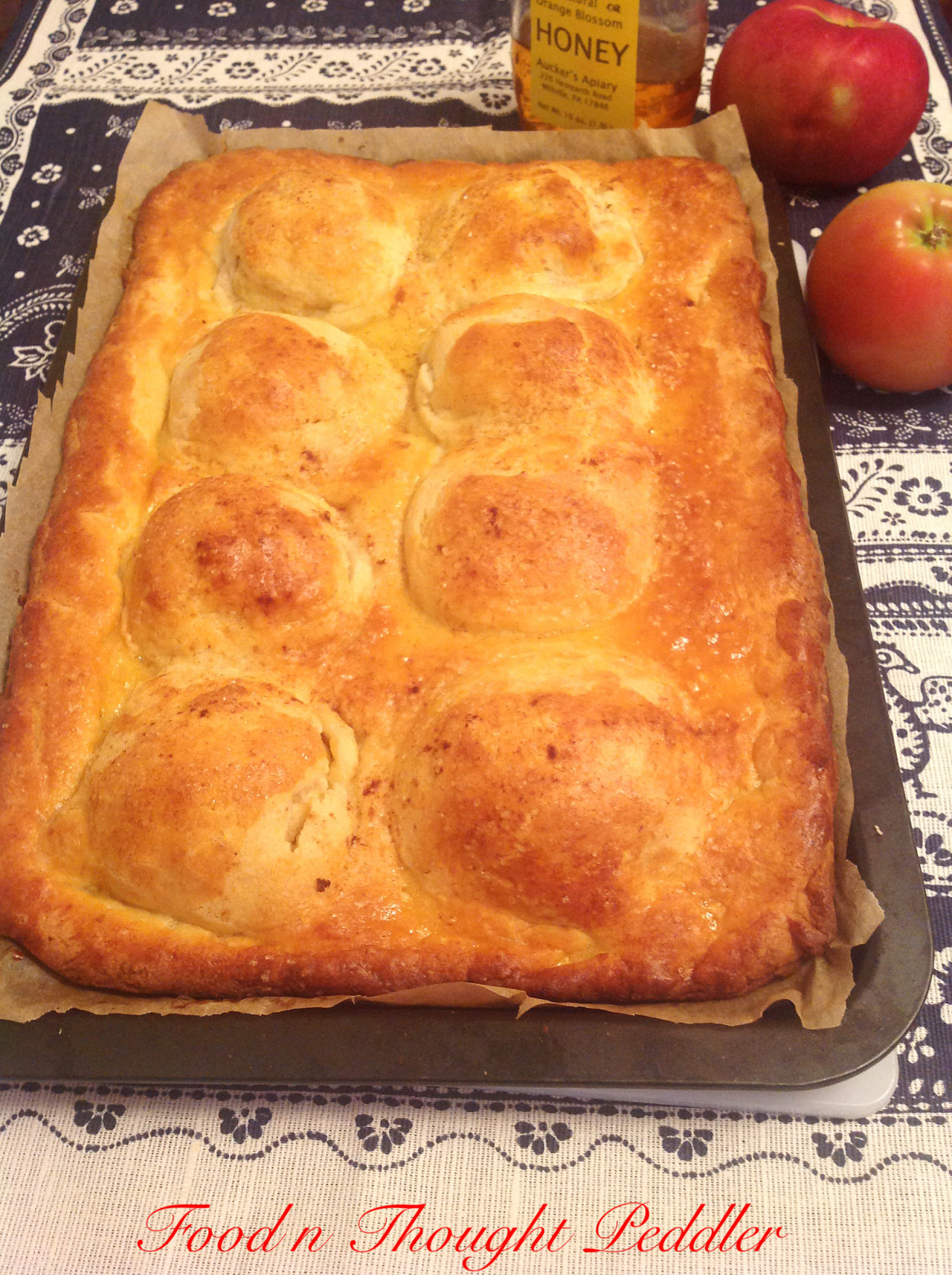 2 cups of flour (I used Cup4Cup gluten free mix)
2 sticks of butter, soften
8 oz of farmers cheese, unsalted
4 medium apples, skin removed and halved
2/3 cup of sugar
1 tsp of vanilla
1 tsp of baking powder
1/2 tsp of nutmeg
egg wash
raisins
cinnamon and sugar for topping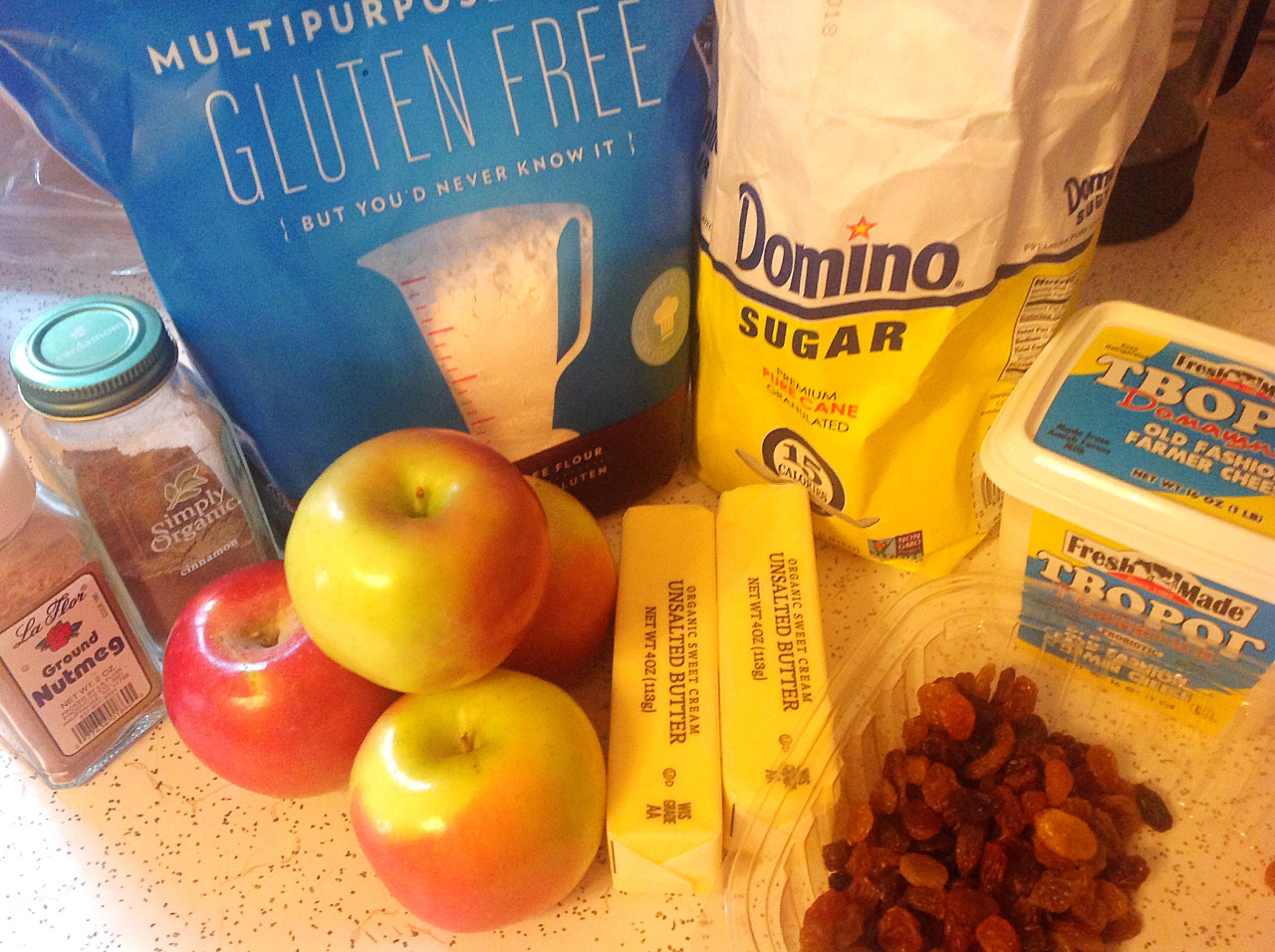 Cream together butter and sugar, then add farmers cheese. Combine flour with vanilla, baking powder and nutmeg and gradually add to the wet ingredients. Continue mixing the dough till it's soft.
Transfer to a lightly floured surface, divide it in half and roll out the bottom half first. Stuff each apple half with raisins and lay it face down on top of dough leaving some space between the apples. Sprinkle cinnamon on top.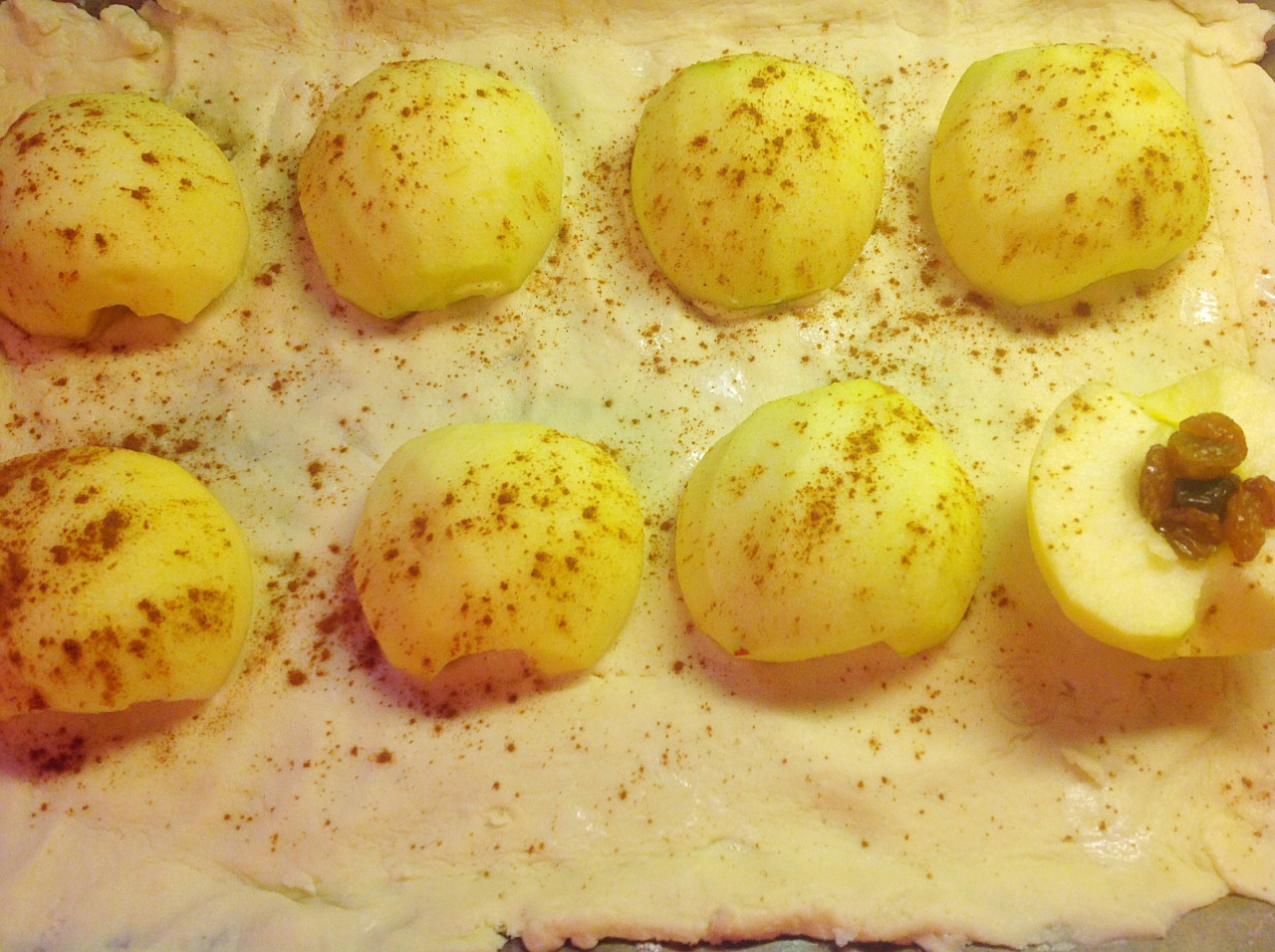 Roll out the rest of the dough and cover the pie pinching its sides together to seal it in. Brush with egg wash and sprinkle sugar and cinnamon on top.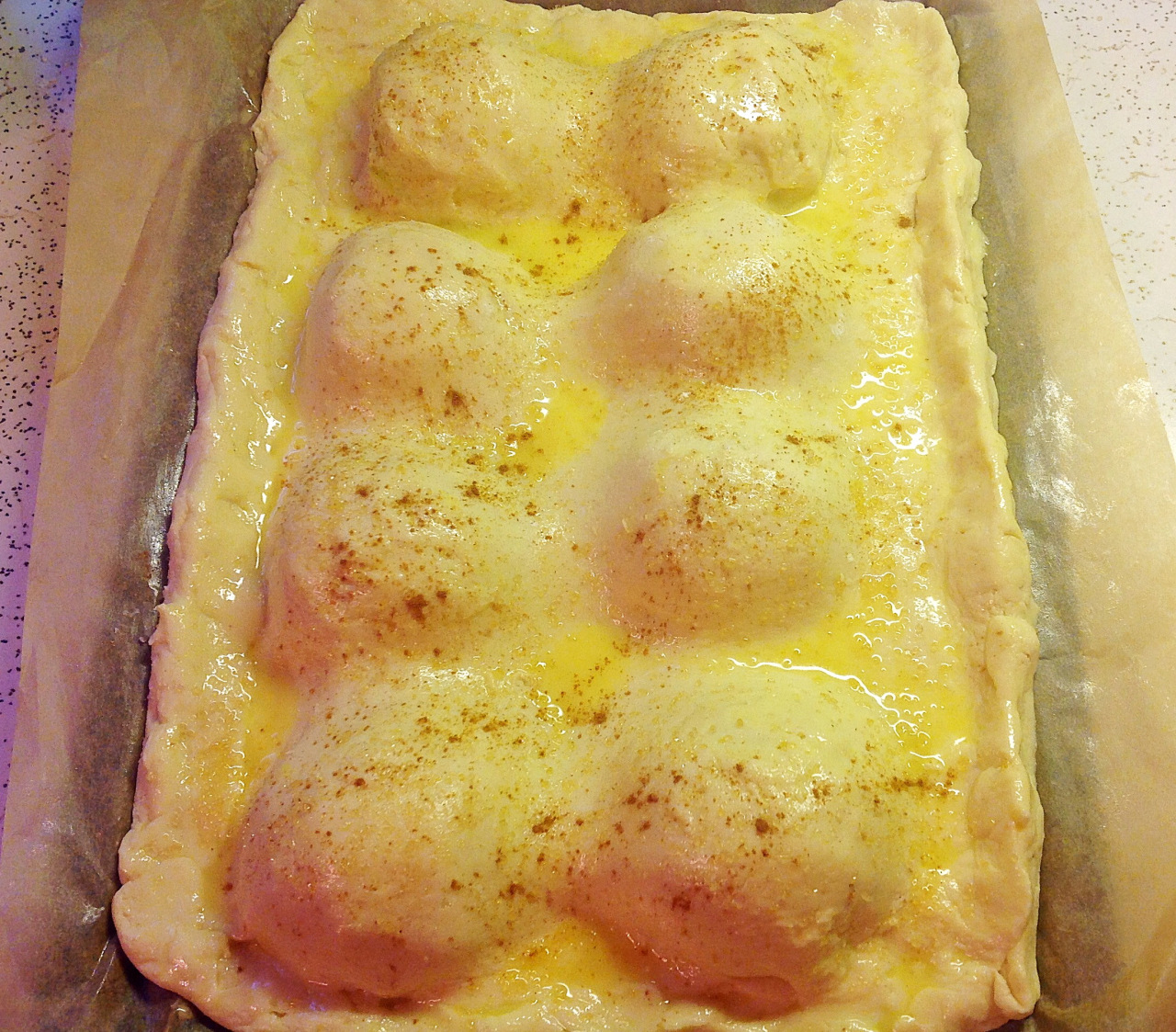 Bake in a pre-heated oven at 350F degrees for 40-45 minutes till the top is deep golden.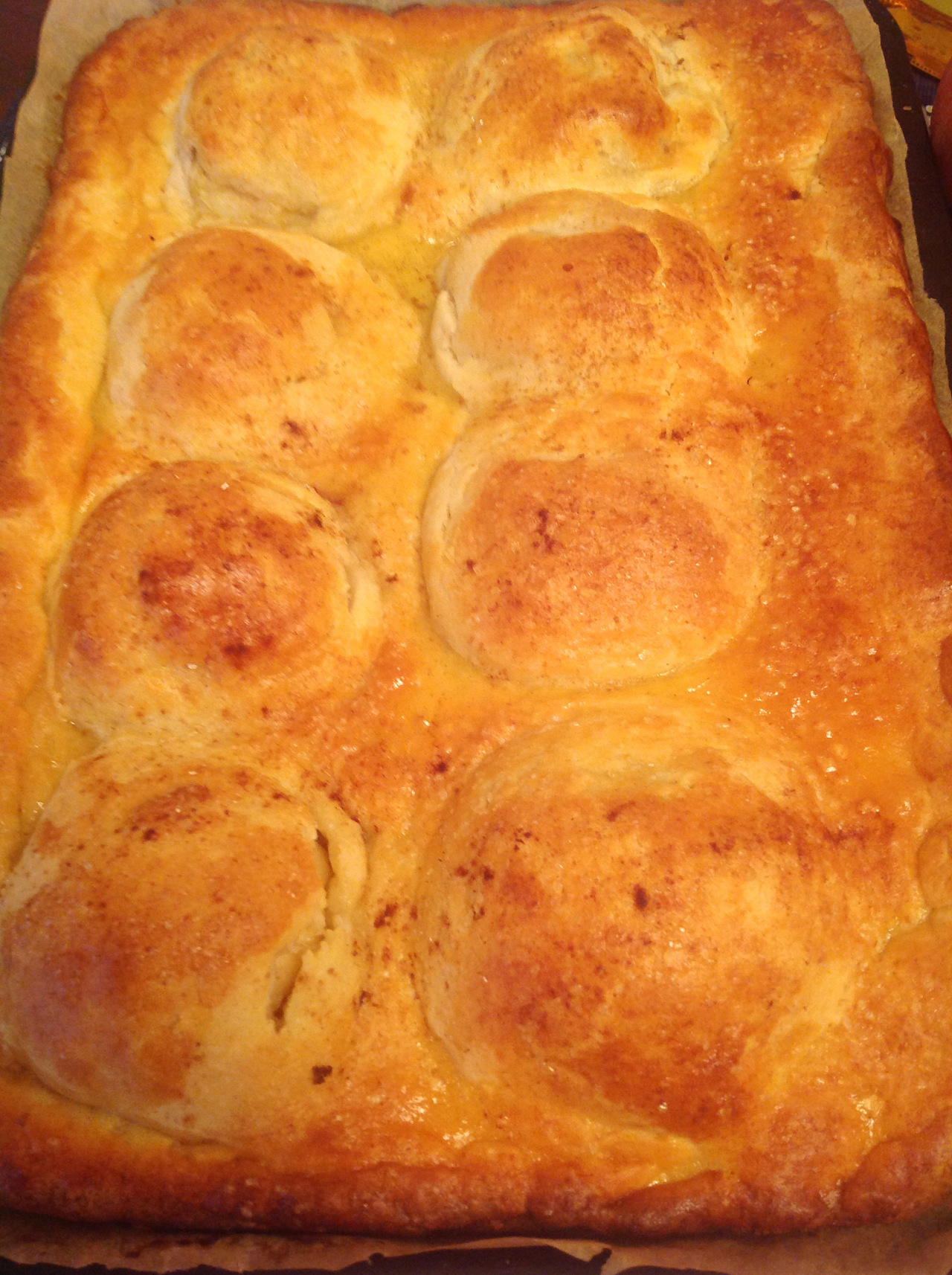 I haven't cut the pie yet as you can see since we're eating it tomorrow but the inside is soft and flaky and full of apple with cinnamon flavor.
My house smells amazing! Hope yours will be too when you bake this Ukrainian pie.