Eggs in the Basket and Other Stories
This week we're talking about schools and learning, right? It's very timely, classes are back in session so all big kids and little kids have started studying again. My son is a college sophomore now. It seems a bit bizarre as I look at him and remember his young kid days when it seemed that time would never end (and I'd never get a full night sleep again and his "perpetual motion" body would never stop moving). And now I have a bearded dude walking around… Where is my blond baby boy?!
But back to school stories. The very last assignment he had in high school was the physics class annual "Egg Drop" contest. The premise is that each participating student has to build a contraption, using only matches and glue, that would allow for an egg to remain intact while being dropped from the second story window. I know, pretty wild idea, but, trust me, it can be done!
I wish I had any pictures left, but kid and friend spent weeks building their contraption that resembled a tiered wedding cake. Something like this but where each "cake" layer is built from matches in a crisscross pattern.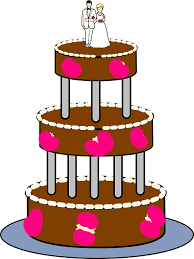 The egg is nestled inside the top layer (yes, secured with just matches and glue) so when the whole thing is dropped from the second floor window, most of the force of impact is absorbed by the biggest bottom layer and the contraption becomes kind of like an accelerated spaceship (in reverse) where layers would break once each hits the ground leaving the smallest top layer with the egg intact. 🙂  All of you math and science lovers can insert whatever appropriate physics formulas would explain the process.
So kid and friend successfully dropped the egg and did not break it in the process, thus earning themselves a glorious spot of winners in the school's history. I still have a picture of their grinning faces (cannot post it here as it obviously involves other people who didn't give a consent to post) but it's a sight to remember!
So now when he tries to complain about hard science and calculus classes, I say "please, you dropped the egg and let it live, you can do it"!
What's Cooking This Week 
I have an interesting story today, don't you think? With a post like this, a recipe needs to be with a little twist too. Just like the contraption, today's meal securely holds the eggs in producing an unusual look but a wonderful taste for this breakfast sandwich. It's grain and dairy free yet full of protein and very filling. It definitely makes a great conversation topic in itself.
"Eggs in the Basket" Breakfast Sandwich: Grain-Free Sweet Potato Bread and Cauliflower-Pancetta Chutney.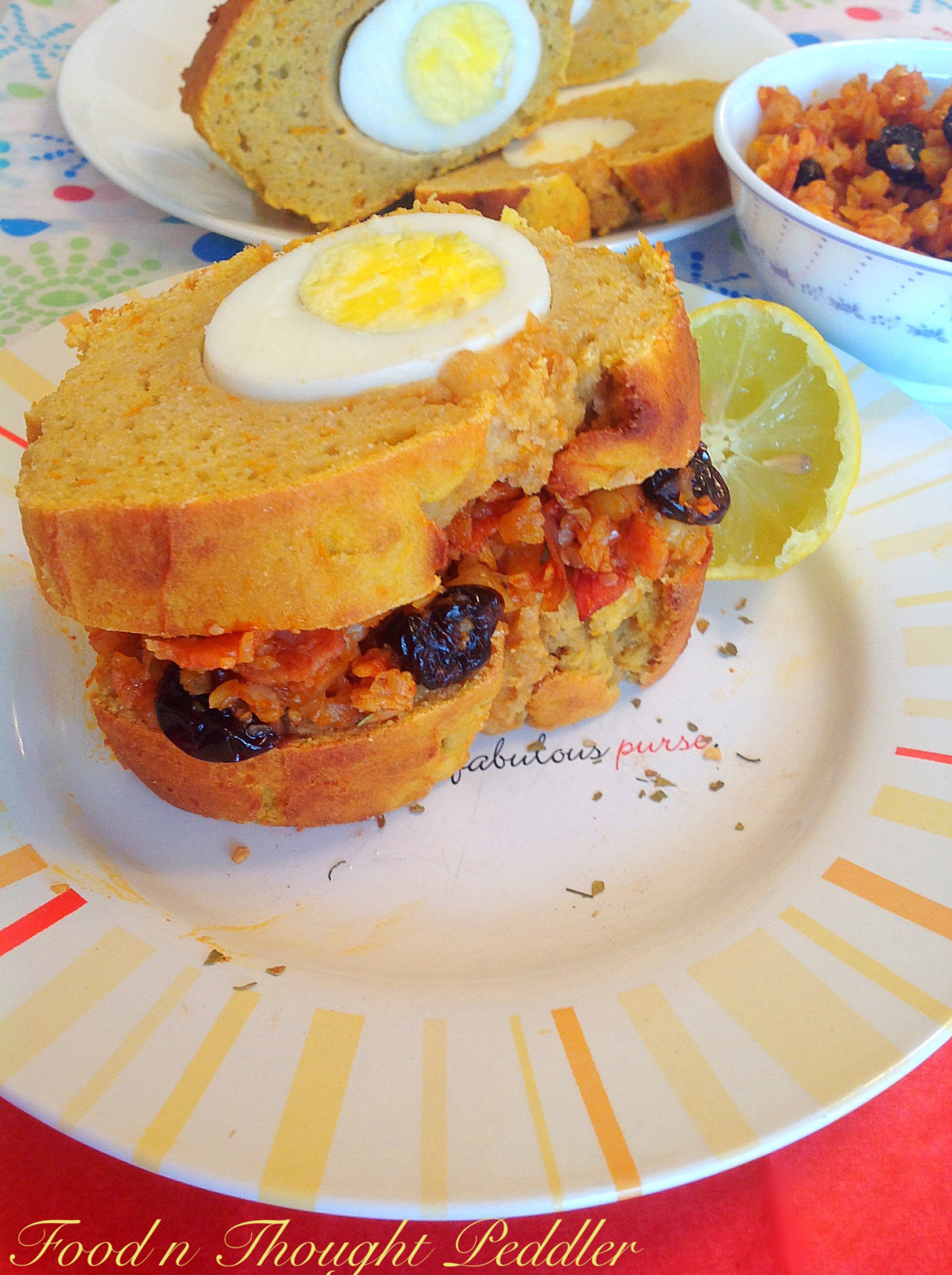 Makes 4 sandwiches
Sweet potato bread:
5 eggs
4 hard-boiled eggs
1/2 cup of coconut flour
1/2 cup of arrowroot starch
1/2 cup of mashed sweet potato
1 Tbsp of sugar
1 tsp of baking powder
1/4 tsp of salt
1/4 tsp of nutmeg
1/2 tsp of cinnamon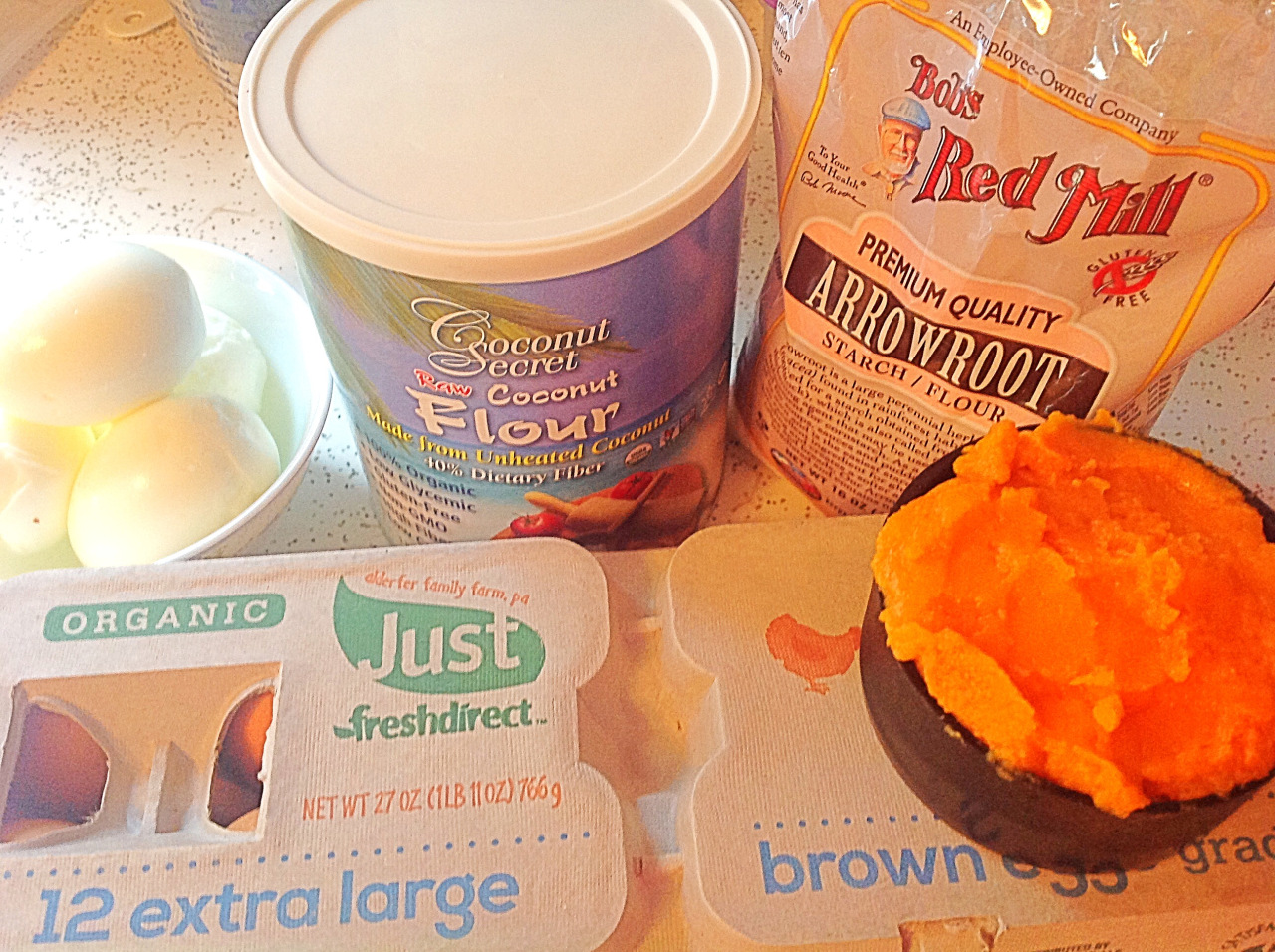 Cauliflour-pancetta chutney:
1/4 head of cauliflower
1/4 lb of pancetta, cut
1 shallot, chopped
3 Tbps of dried cherries
2 Tbps of tomato paste
1 Tbsp of coconut oil
2 tsps of brown sugar
1 1/2 tsps of curry powder
1/2 tsp of bayberry
1/4 tsp of nutmeg
salt, pepper, lemon juice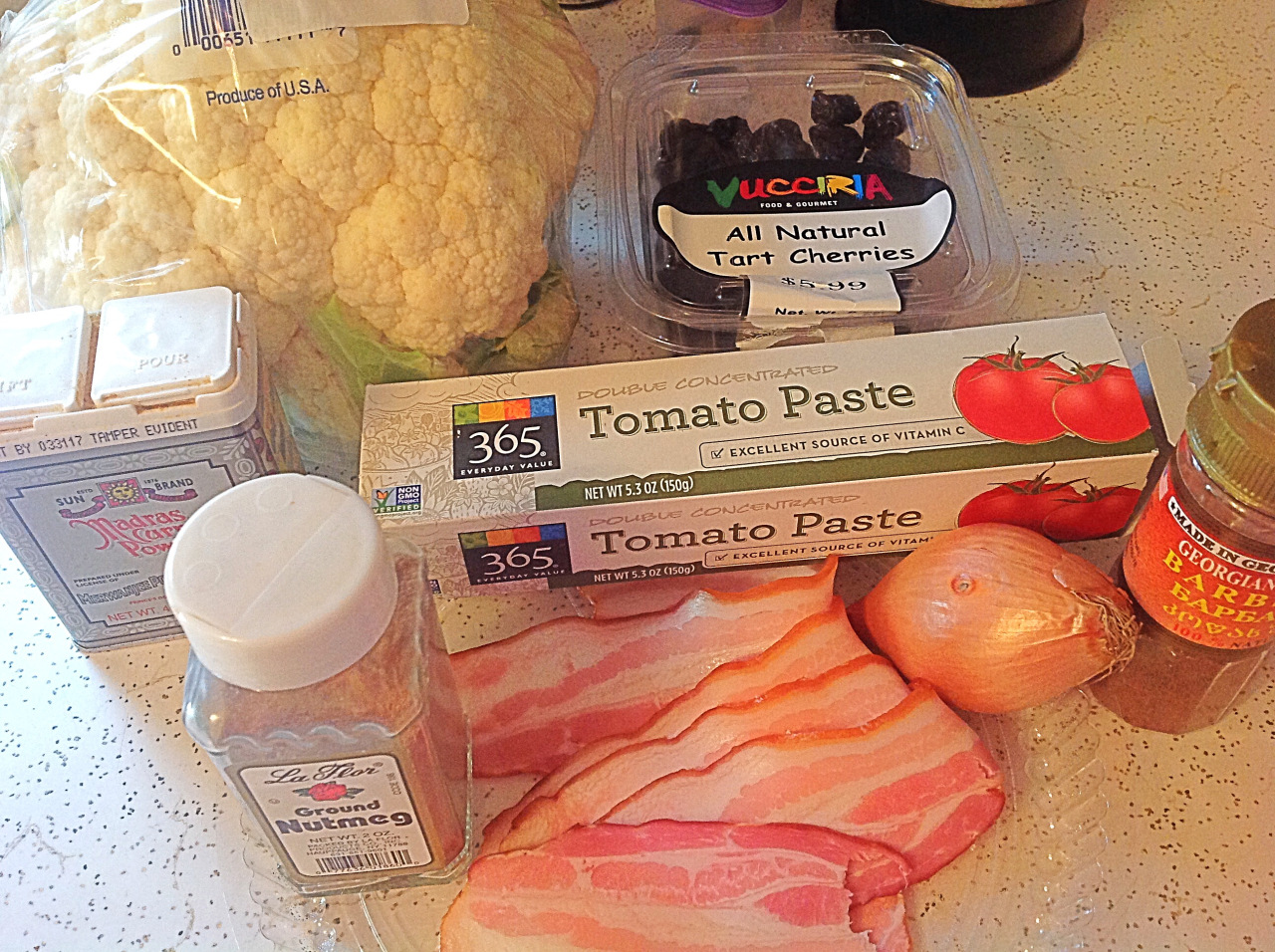 First boil 4 eggs to make the bread. It can be assembled the night before and baked in the morning while you cook the chutney. For the bread, mix all dry and wet ingredients separately and then thoroughly mix together. Line a loaf pan with parchment and press some dough on the bottom, then lay boiled eggs next to each other.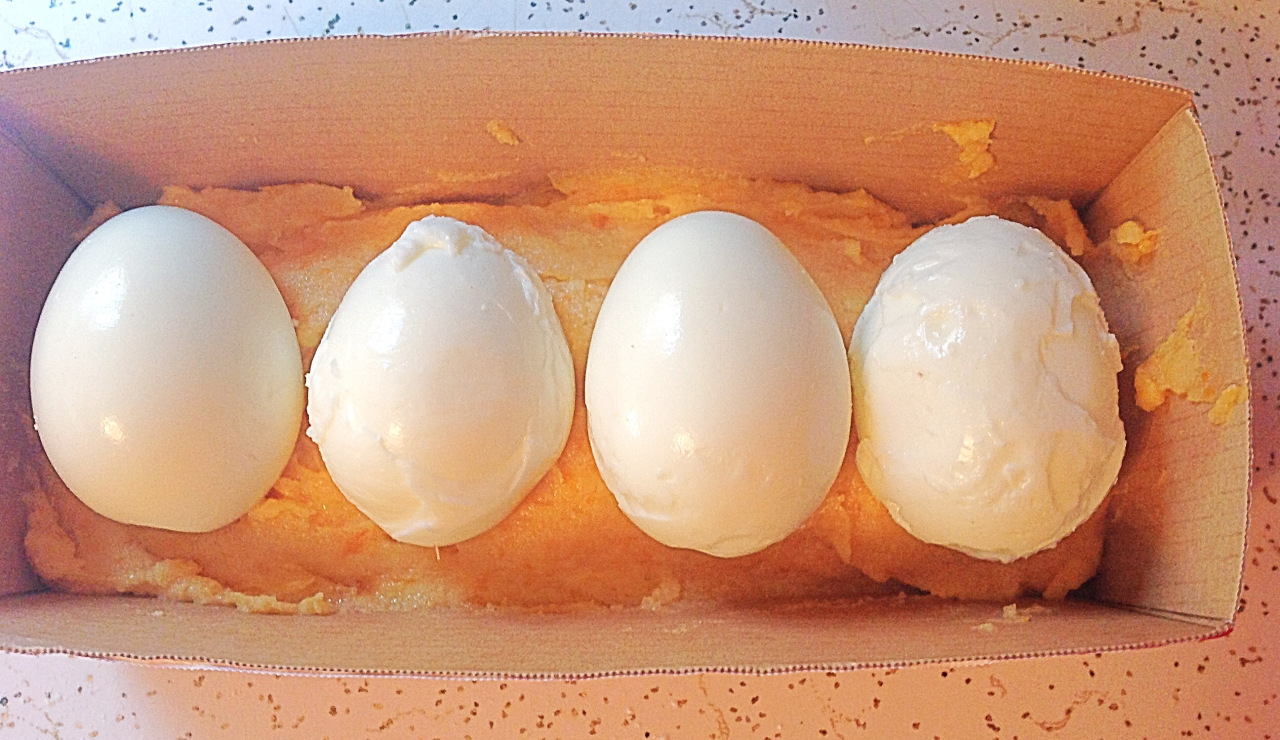 Top with the remaining dough and press down around the eggs. Bake in a pre-heated oven at 350F degrees for 35-40 minutes or until the top is deep golden and the inside is baked through. Carefully remove from the pan and cut in thick slices. When you cut across the loaf, you'll get a nice slice of egg too. 🙂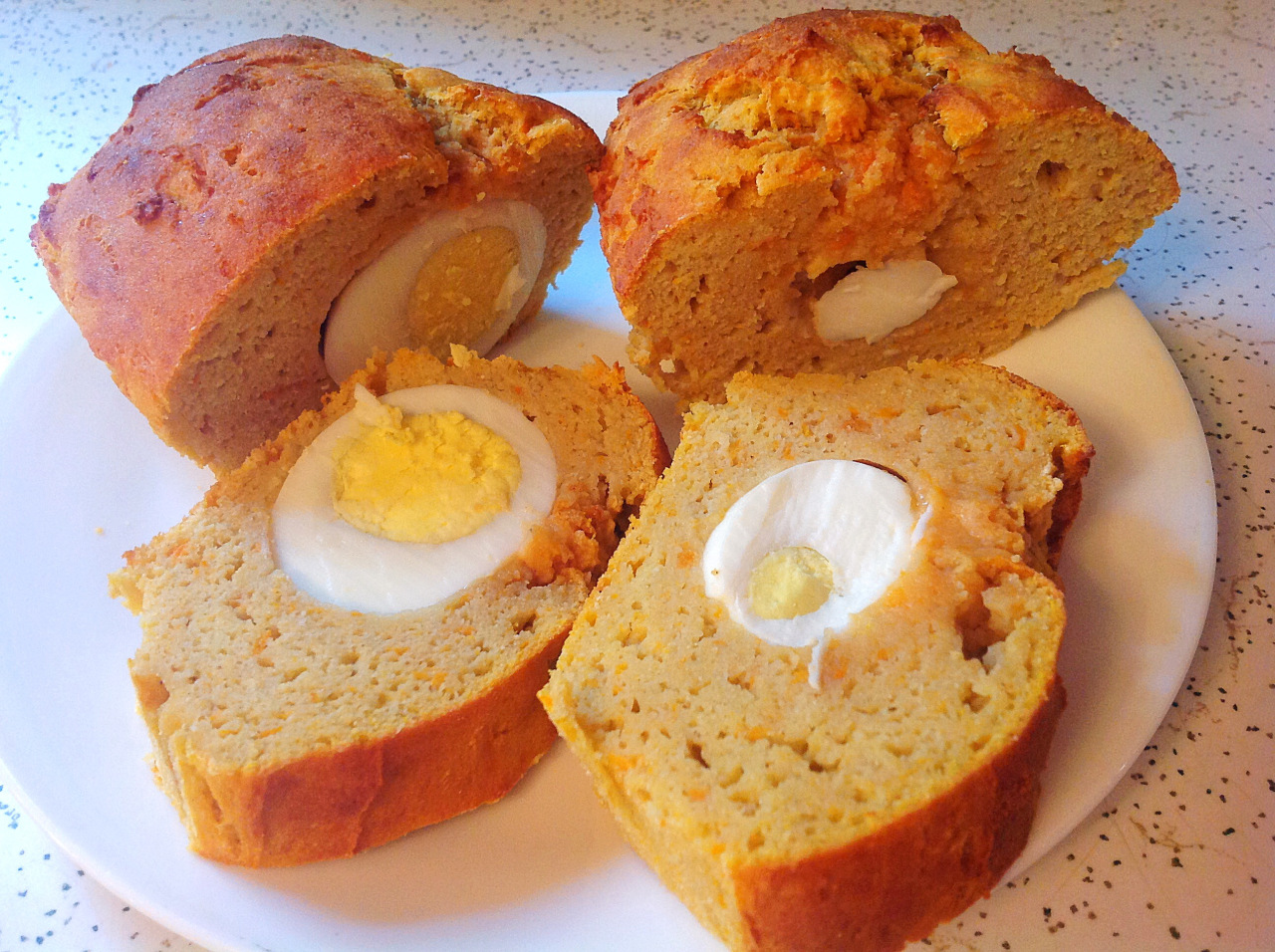 While bread is making, cook the chutney. Pulse cauliflower in a food processor to make slightly bigger chunks than cauliflower rice.
In a large skillet, heat coconut oil and sauté shallot and pancetta till golden, then add cauliflower and spices, cook another 1-2 minutes.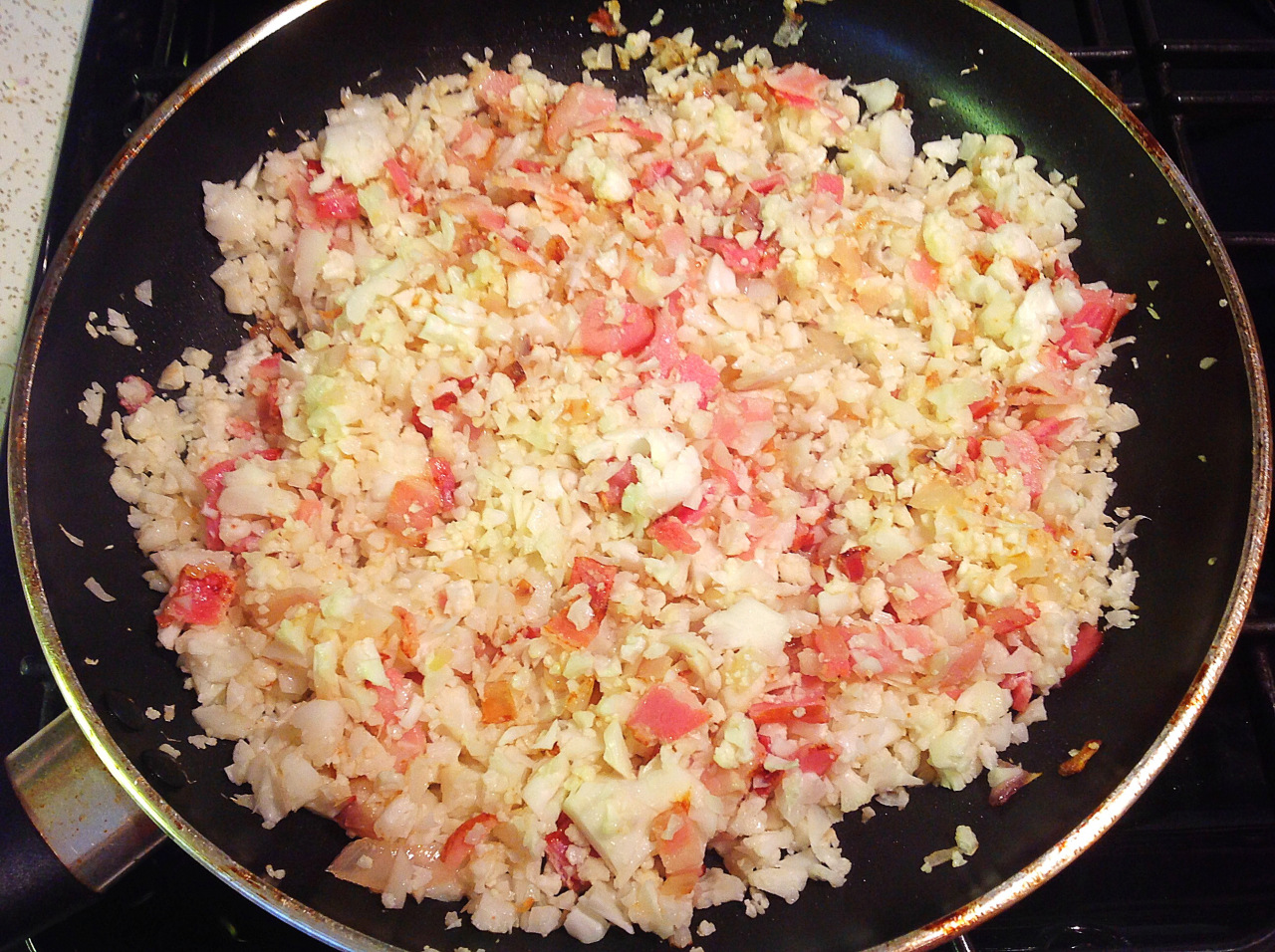 Mix in tomato paste, cherries and brown sugar, sprinkle some fresh lemon juice. It tastes delicious on its own too.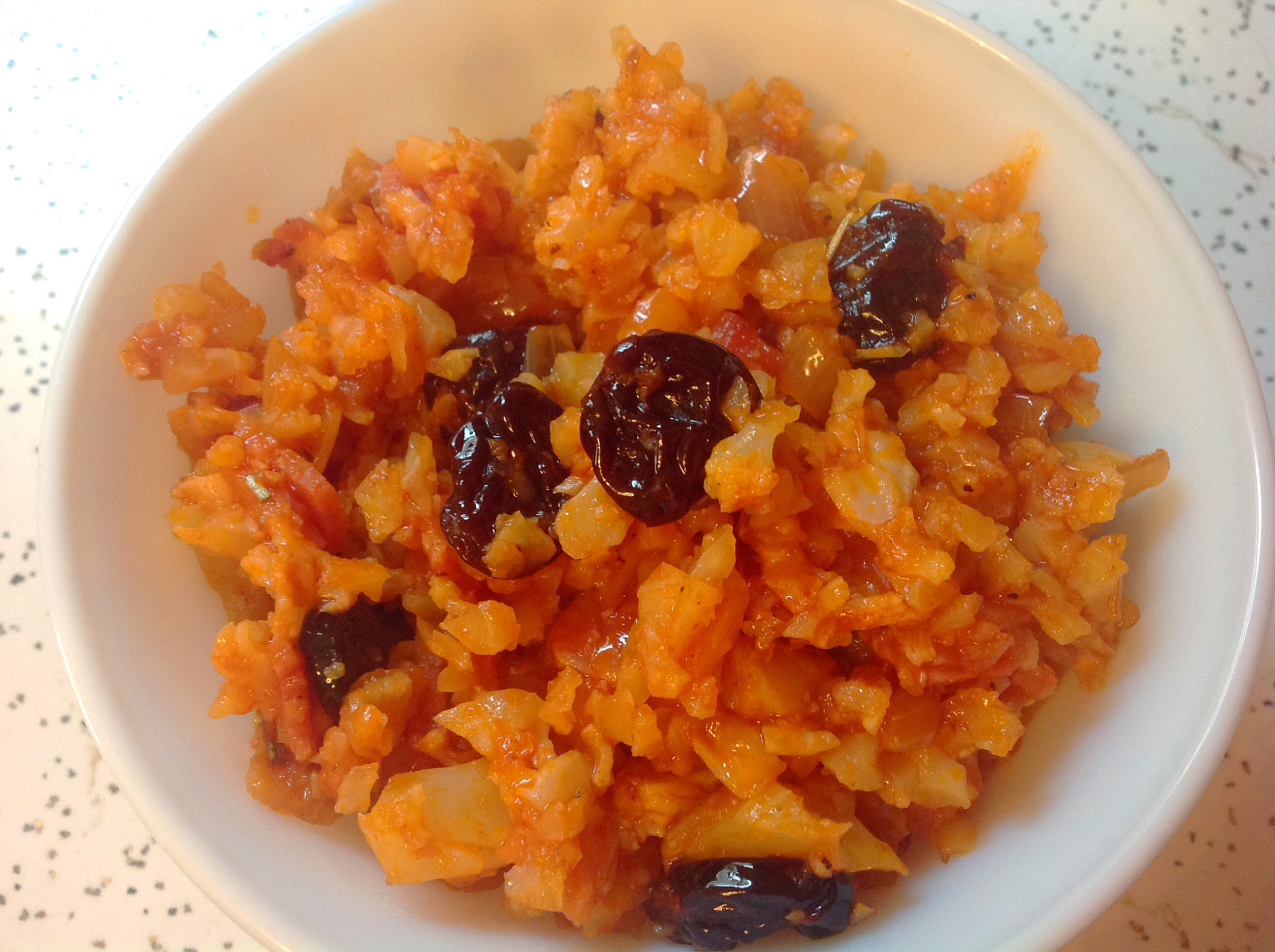 Assemble sandwiches and enjoy, and don't forget to share your own school stories too!