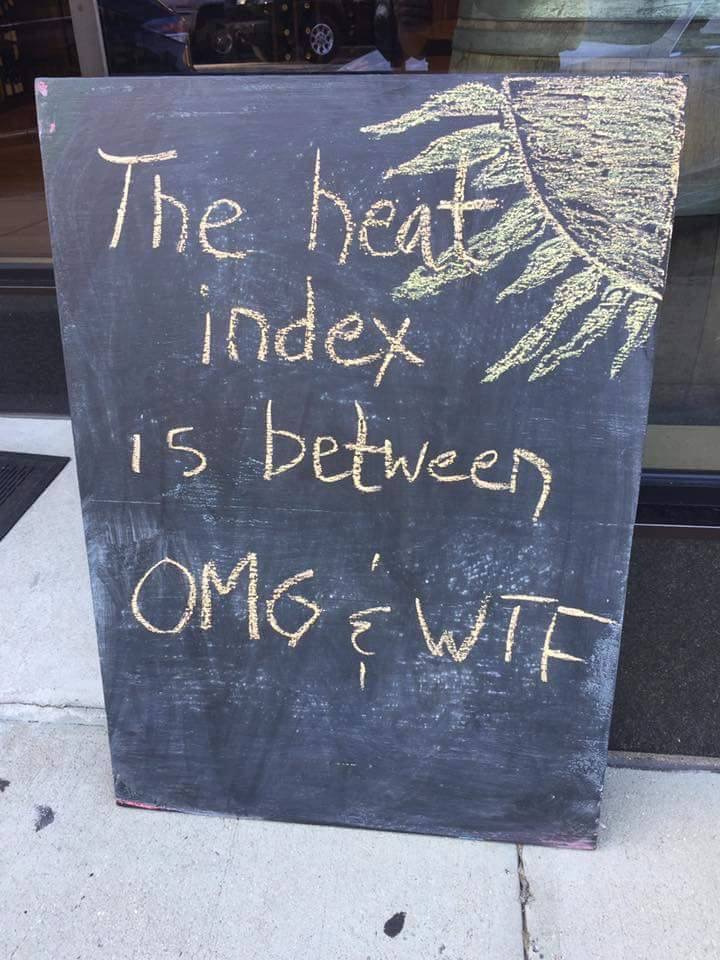 This was New York weather during week, hot and humid! It rained on Friday though so the weekend is actually pretty cool and cloudy so far. It was 72F this morning when I ventured out and I was shivering. As soon as the temperature goes below 75, I'm freezing, so in reality, there's only a tiny margin when I feel comfortable. I know, I'm weird (and not just about temperature)!
My kid is out to meet his college friends for a mid-summer get-together, and I'm roaming around the house and cooking of course. A few friends are coming over on Sunday, otherwise, I have nothing major scheduled this weekend so it may be a late night movie and staying in to wait if kid decides to return from his outing sometime before dawn (he needs to go back to school already so I don't see and don't worry about all his night adventures).
I'm settling into a new summer schedule with no more psych classes till the Fall (if I decide to take something else), so I'm looking forward to a bit more free time for two months and pursue some other activities. I'm eyeing a few cooking classes to try. 🙂
And, what have you been up to? You think I don't want to hear your stories?! But I actually do!
What's Cooking This Week
I'm still on a kick to make more Russian recipes, so today is yet another updated version of a traditional Slavic dish, borsch, which could be either hot or cold. The recipes are different for hot and cold versions, and, since it's summer, we're sticking with a cold soup but with my modern twist.
And, welcome to my new feature – a short video commentary, hope you like it, let me know what you think!
Cold Borsch 2.0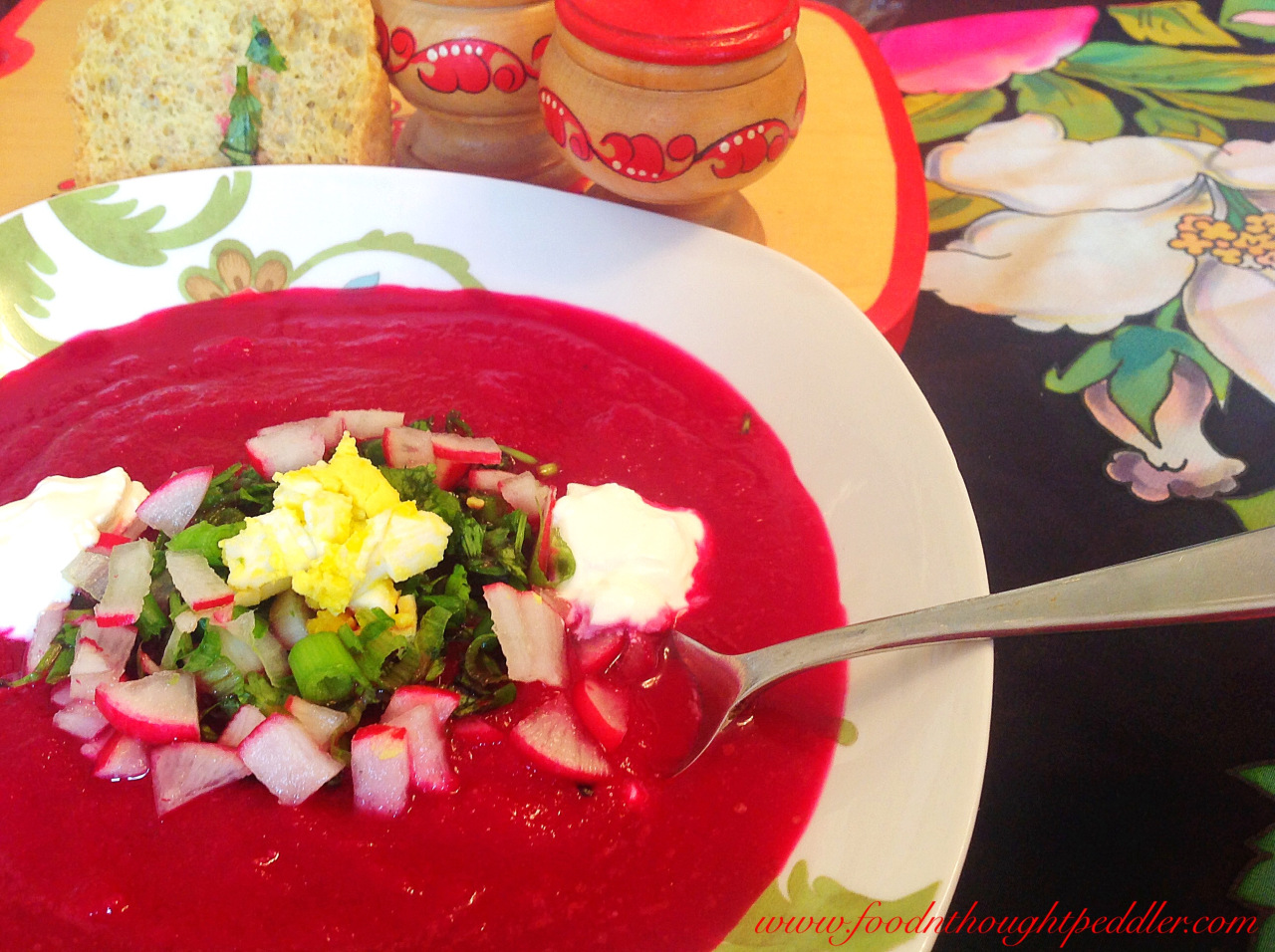 Soup base:
1-2 medium to large beets
1 medium zucchini
2-3 parsnips
3/4 cup buttermilk
1 cup water, boiled or filtered
1 tsp garlic powder
1/2 tsp sweet paprika
1/2 bayberry powder
salt, pepper or seasoned salt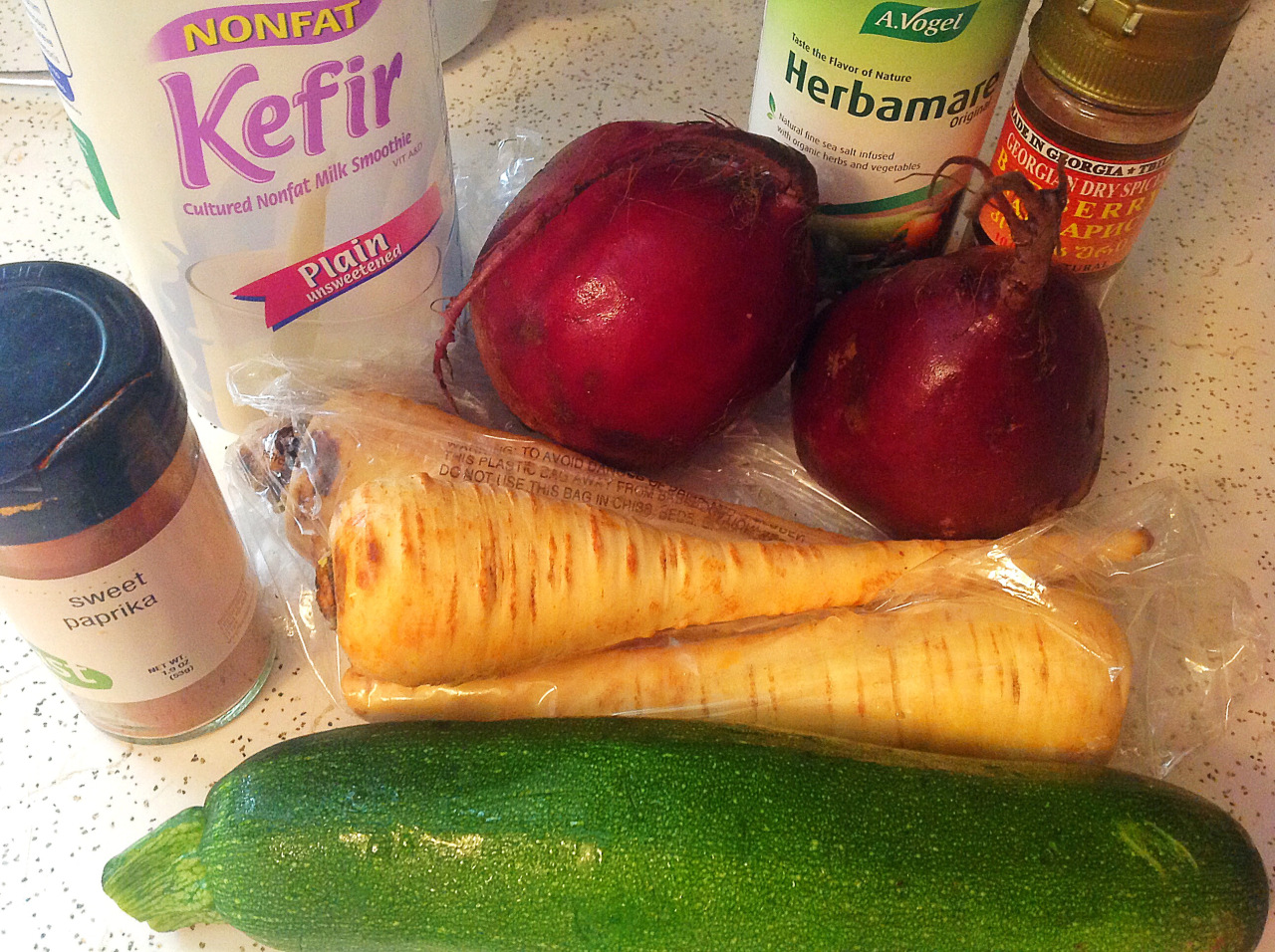 Toppings:
1-2 hard-boiled eggs
3-4 stalks of scallions, chopped
3-4 Tbsps of fresh herbs, chopped
2-4 radishes, cut
sour cream
(also can add or substitute cucumbers, boiled potatoes, chopped onions, any greens)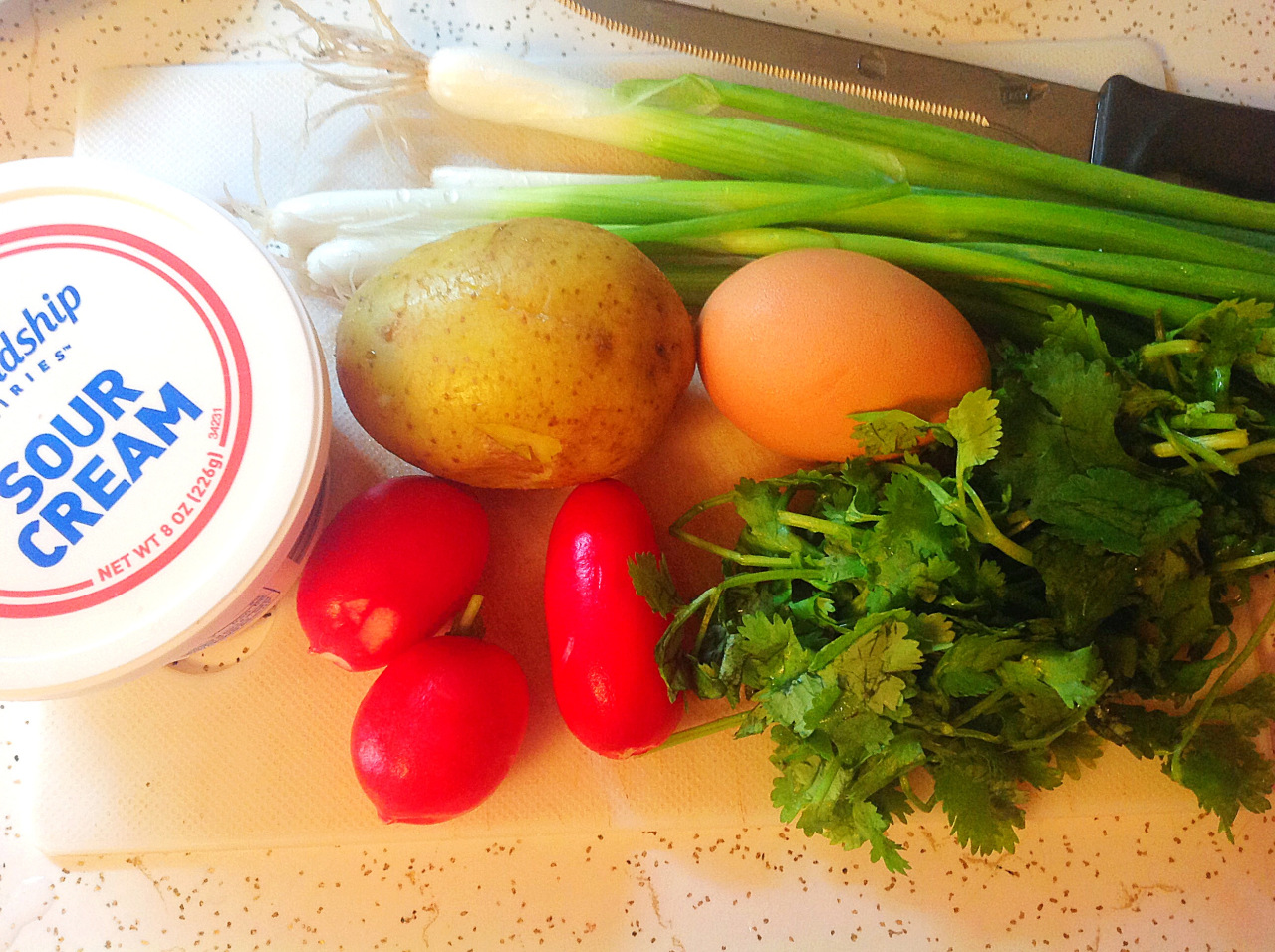 In this version, I'm using duck eggs (yes, the ones I bought at Gourmanoff last week). Look how great they look; see this bright yellow yolk? This is what a real, pasture-raised, poultry egg is supposed to look like, not that pale colored one you get at a regular supermarket.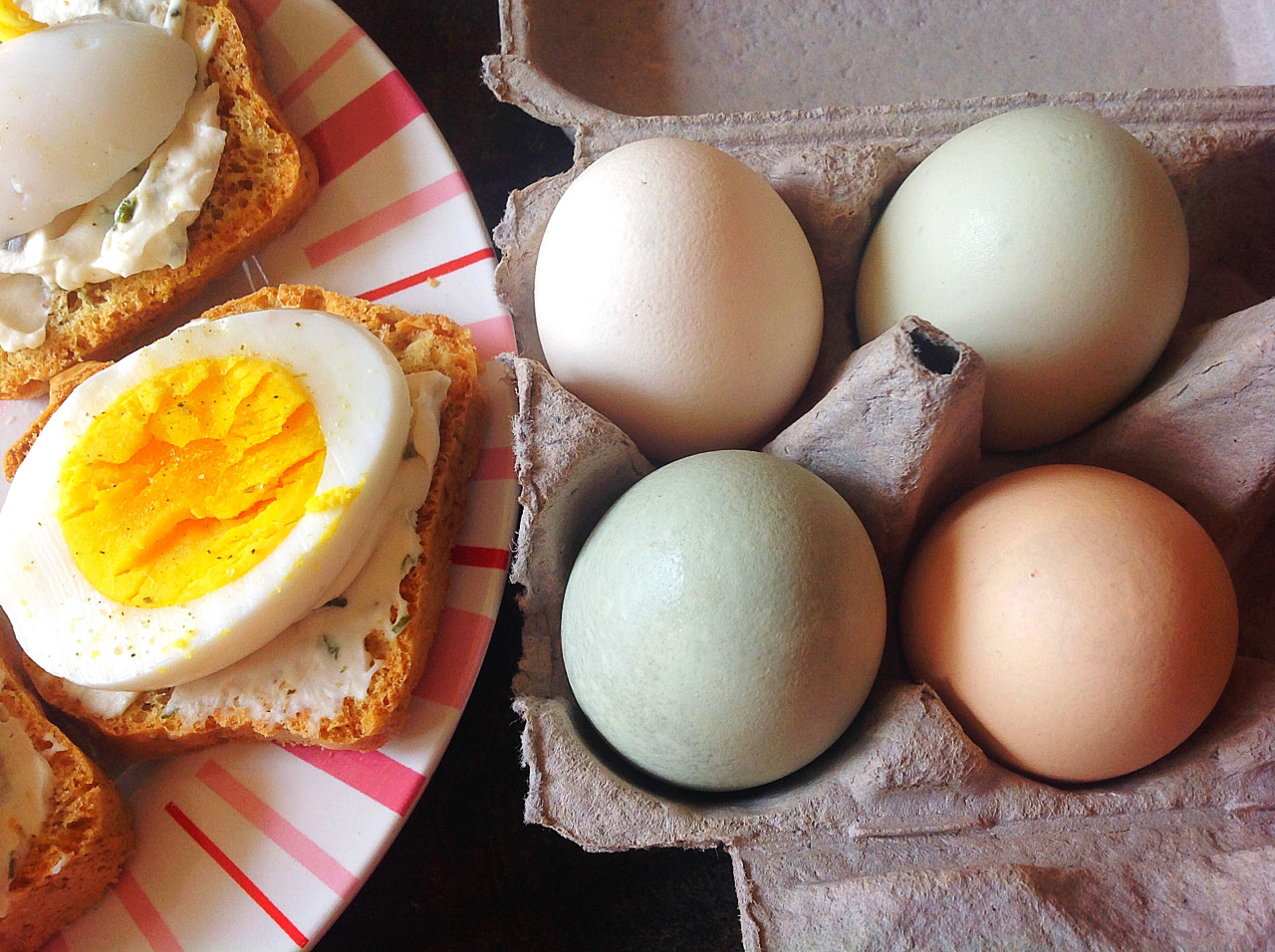 You can use chicken eggs of course or skip it and use dairy-free homemade buttermilk for a completely vegan dish.
To make the soup base, roast beets, parsnips and zucchini, skin intact till they're soft. Then blend them together with buttermilk, water and all the spices. You can also add a twist of lemon if it's not tart enough, but don't overpower it as beets have a natural sweet taste.
Chop all the toppings and add on top, be creative and add any other fresh vegetables and herbs you want. Garnish with sour cream or plain yogurt.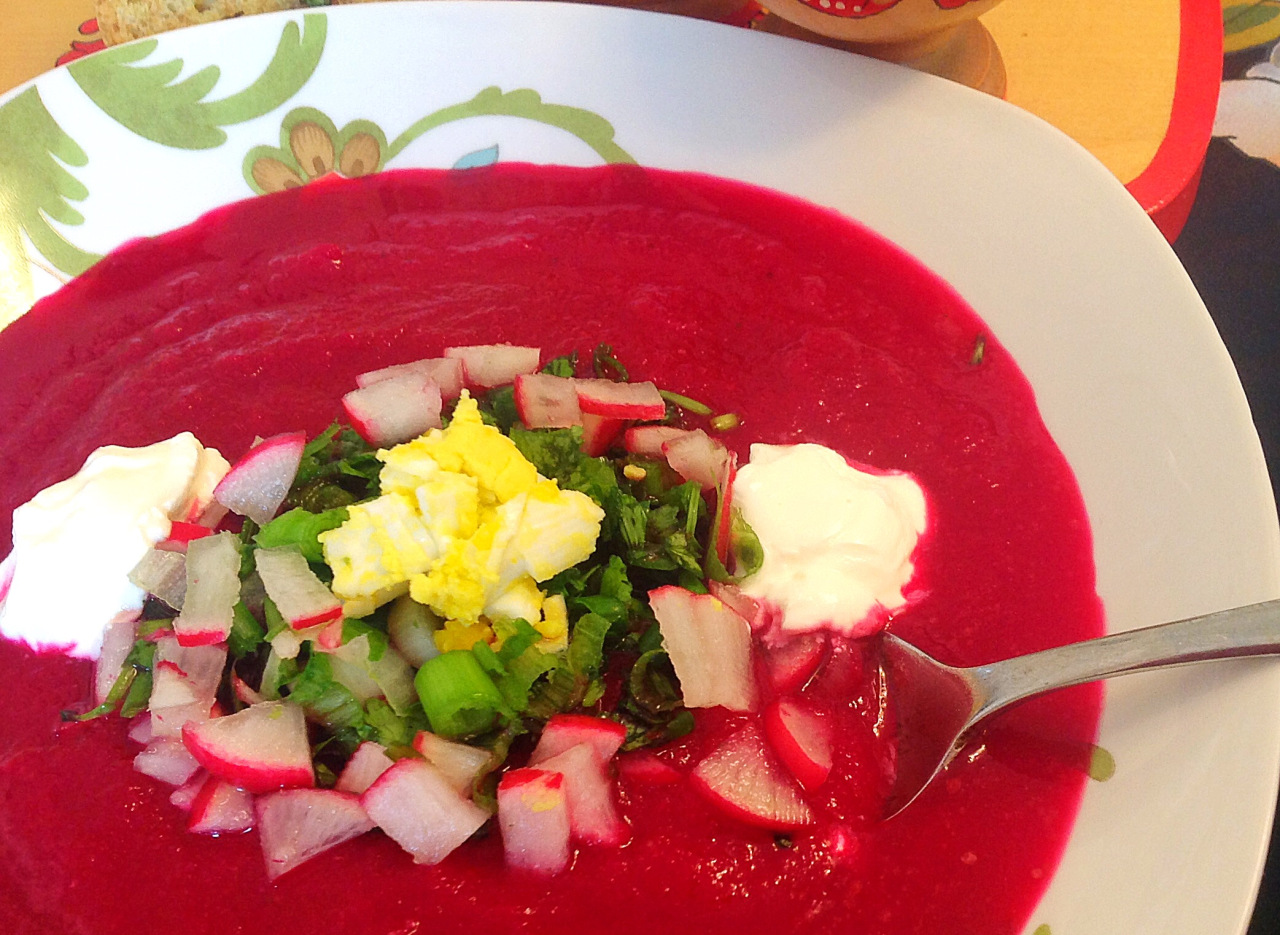 It's a great lunch option on a hot summer day, serve it with freshly-made bread to make a complete meal.