From Gourmanoff with Love
How was your holiday weekend? We had a gorgeous weather here in New York, it wasn't too hot or humid, it was perfect for being outside and celebrating. Saturday, though, it was cloudy and windy, probably in the aftermath of all the rain we had the day before, so it wasn't an ideal beach weather as I was hoping it to be.
The plan was to spend the day at my parents' place since they live right next to the beach, but my mom called in the morning saying the ocean was very cold and the beach was windy – read swirling sand all over and flying beach umbrellas. And, to me, an umbrella is a must, I have that redhead-style pale skin so I usually burn even with an SPF 25062899 sunblock. The bottom line was as my mom said "you just won't like the beach today ".
Therefore, I went with plan B for the day: I ventured out to visit an upscale Russian store on Brighton Beach before I headed to my parents' place. Gournanoff (1029 Brighton Beach Avenue, right off the corner of Coney Island Avenue) opened a few years ago and quickly became a valid competition to already established Russian supermarkets in Brooklyn. The store sits across massive "Oceana" condominiums and penthouse apartments that cater to luxurious lifestyle with that pompous Eastern European flare that most Russians settled in other areas in the city approach with either envy, disdain or admiration and often all three manage to exist together like in a perfect union.
Nevertheless, Gourmanoff offers a wide selection of Russian and international foods, a small sit-down cafe and a great cultural experience in itself.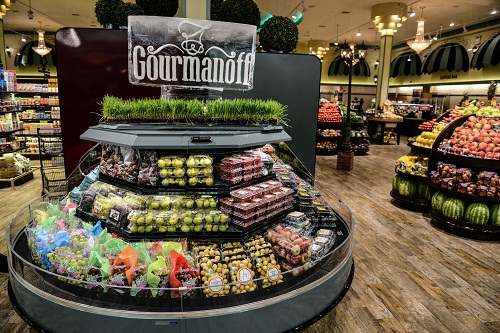 The store is pretty spacious so get ready to walk a bit if ever end up there. It opens with stands of fresh produce and leads to various aisles of packaged, frozen and refrigerated foods. The perimeter is taken by multiple counters with bread baskets, deli meats and cheeses, smoked and cured fish, fresh meat and fish corners, hot and cold dishes buffets and a grill station. Do not ever go there hungry or you will fail!
The bread counter is one of my favorites, just because I can't eat any of it (none was gluten-free), doesn't mean I can't marvel at it all and inhale the aroma of freshly baked bread.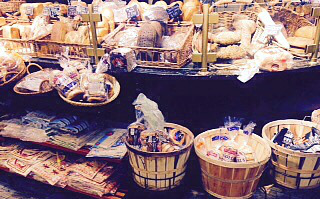 Next are the deli counters bursting with all kinds of cheeses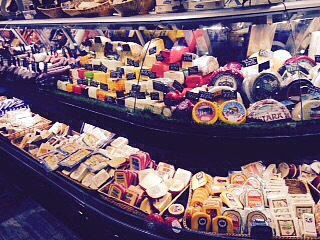 and deli meats you want. By the way, it's a norm in a Russian store to ask to taste any hot/cold freshly made or sliced food before you buy it so go ahead and try anything you want.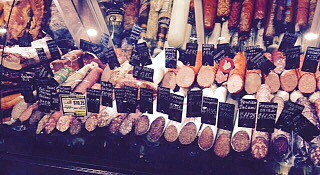 The inside aisles with packaged foods are the ones I mostly try to avoid, in regular supermarkets too, yet you can't help but admire all the shelves stocked with boxes of European candy and chocolates.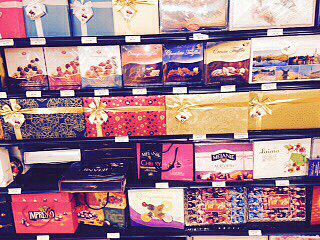 I spent some time in the eggs aisle as these beautiful Amish duck eggs caught my attention. Some of them most definitely went home with me and into today's recipe.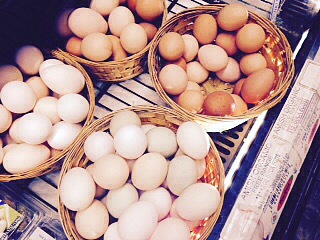 Next was a spot where I buy most everything: fermented foods station. There you'll find traditional sour cucumbers and other pickled items such as my favorite brined watermelon and tomatoes. If that does not sound too appetizing, I dare you to try it when you're in a Russian store. Anything pickled goes exceptionally well with vodka! 🙂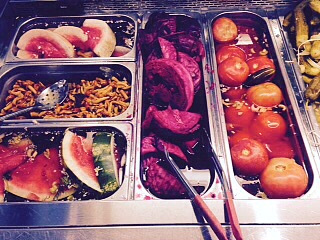 Then comes the counter where I can spend literally a whole day. Any caviar or all kinds of cured, salted and smoked fish are my favorite foods. That may not always be palatable to American consumers, but, to a Russian, it's like "bread and butter".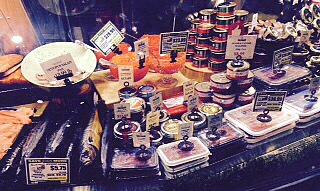 Make sure to stop at the grill station and sample various kebabs, steaks and poultry pieces cooked right in front of your eyes.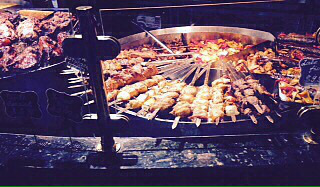 I hope, if you ever visit Gourmanoff or any other Russian store in your area, this virtual tour will give you an idea of some foods you may want to try while you're there.
As for me, it was an hour well spent inhaling some of my culture and cuisine tips to bridge into my own kitchen and into my own family.
At the end, a container of caviar was $38.50, a bottle of apple Ciroc was $53.25, a hot July afternoon spent over caviar and cold borsch (it's borsch, not borscht!) doing vodka shots with my mom – priceless, and hearing your college kid being schooled on proper pairing of vodkas and appetizers is a lifetime worth of family memories.
Enjoy this little tour one more time, and visit your local Russian store!
What's Cooking This Week
I think you got a gist that today's recipe will be something Russian. And you're right! Salad "Olivier" is to Russians as what turkey is to an American holiday table: you just can't imagine a family gathering without one. Olivier was first created by a Belgian chef working in one of the most prestigious restaurants in Moscow in the early 1860s. Over the years, Olivier became the most traditional Russian holiday dish you'd see at any family celebration. In a nutshell, it's a more sophisticated version of a potato salad with added ingredients such as eggs, vegetables and chicken, beef or pieces of either ham or bologna. Today's recipe is yet another step above to substitute meat with my favorite, cured fish. I hope you try to re-create this Russian staple in its original or my updated version.
Russian Olivier Salad with Lox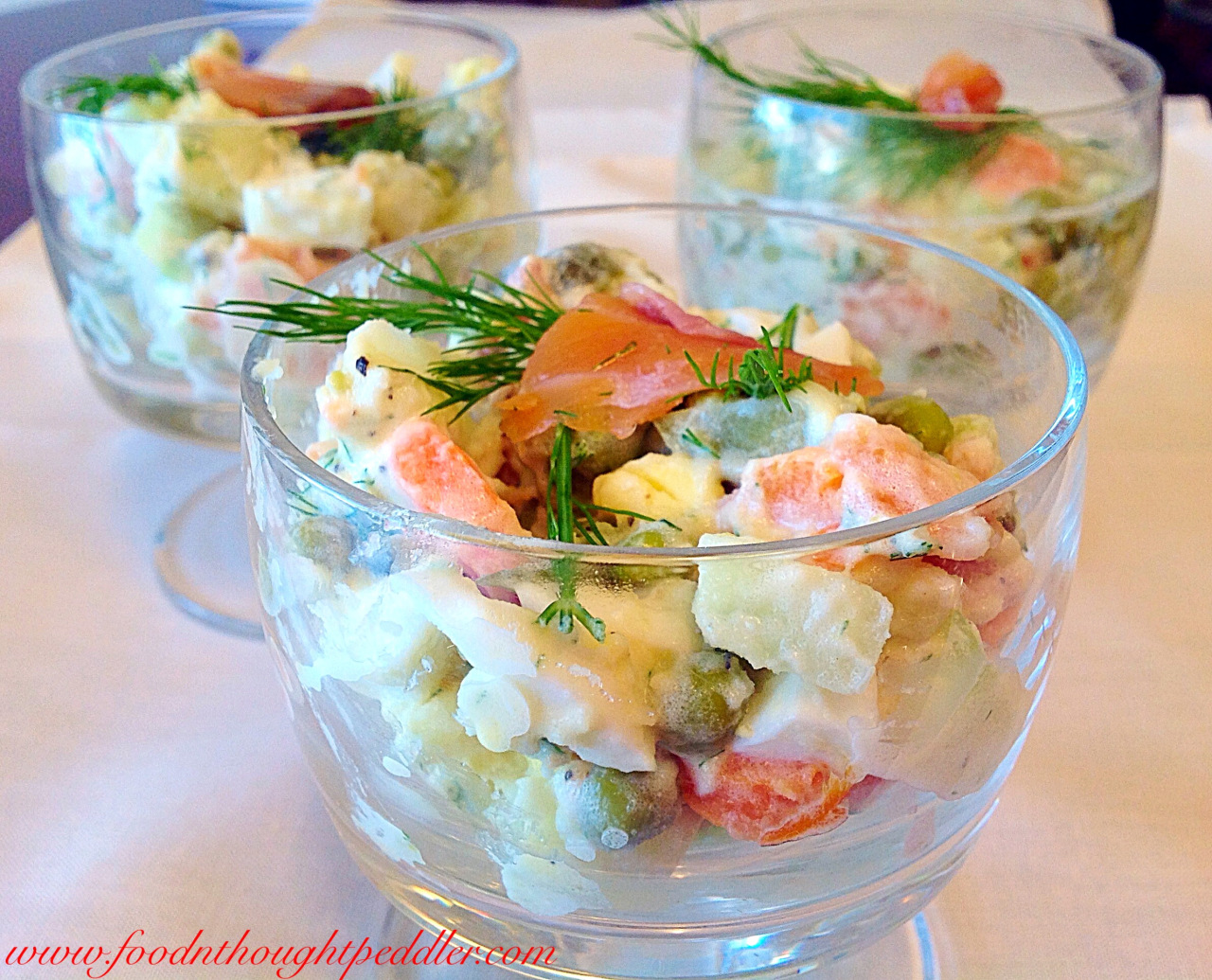 Serves 4-6 people:
1 large or 2 medium white potatoes
2 eggs
2-3 small to medium carrots
2 small pickles
1 medium cucumber
1/2 cup lox pieces, cut
1/2 cup canned sweet peas
2 Tbsps of mayo
1 Tbsp of sour cream
salt, pepper to taste
fresh herbs for garnish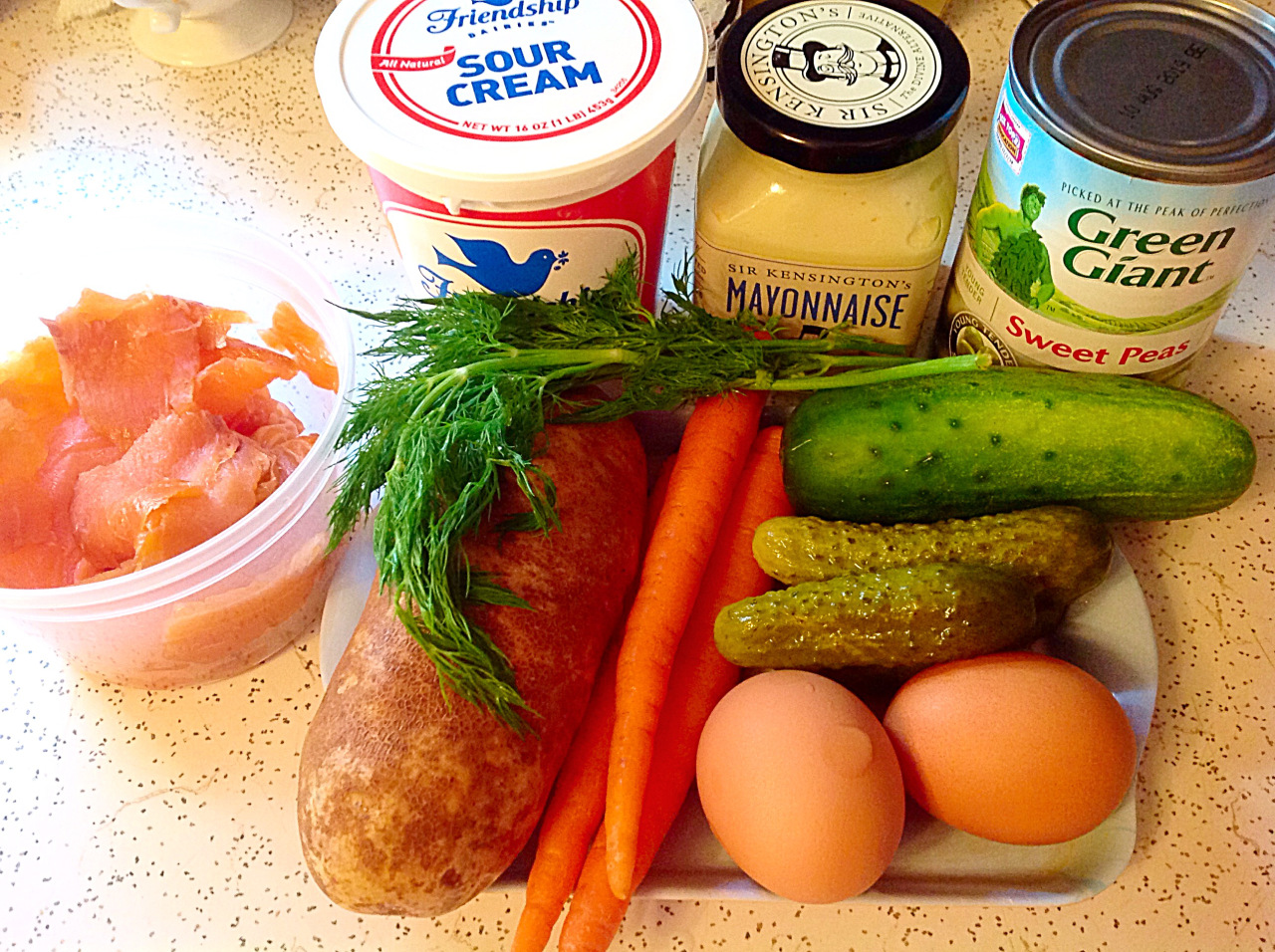 Boil eggs, potatoes and carrots skin intact, I usually boil carrots and potatoes in the same pot and just keep potatoes boiling longer. Cool, peel the skin and shell and cut everything in small cubes.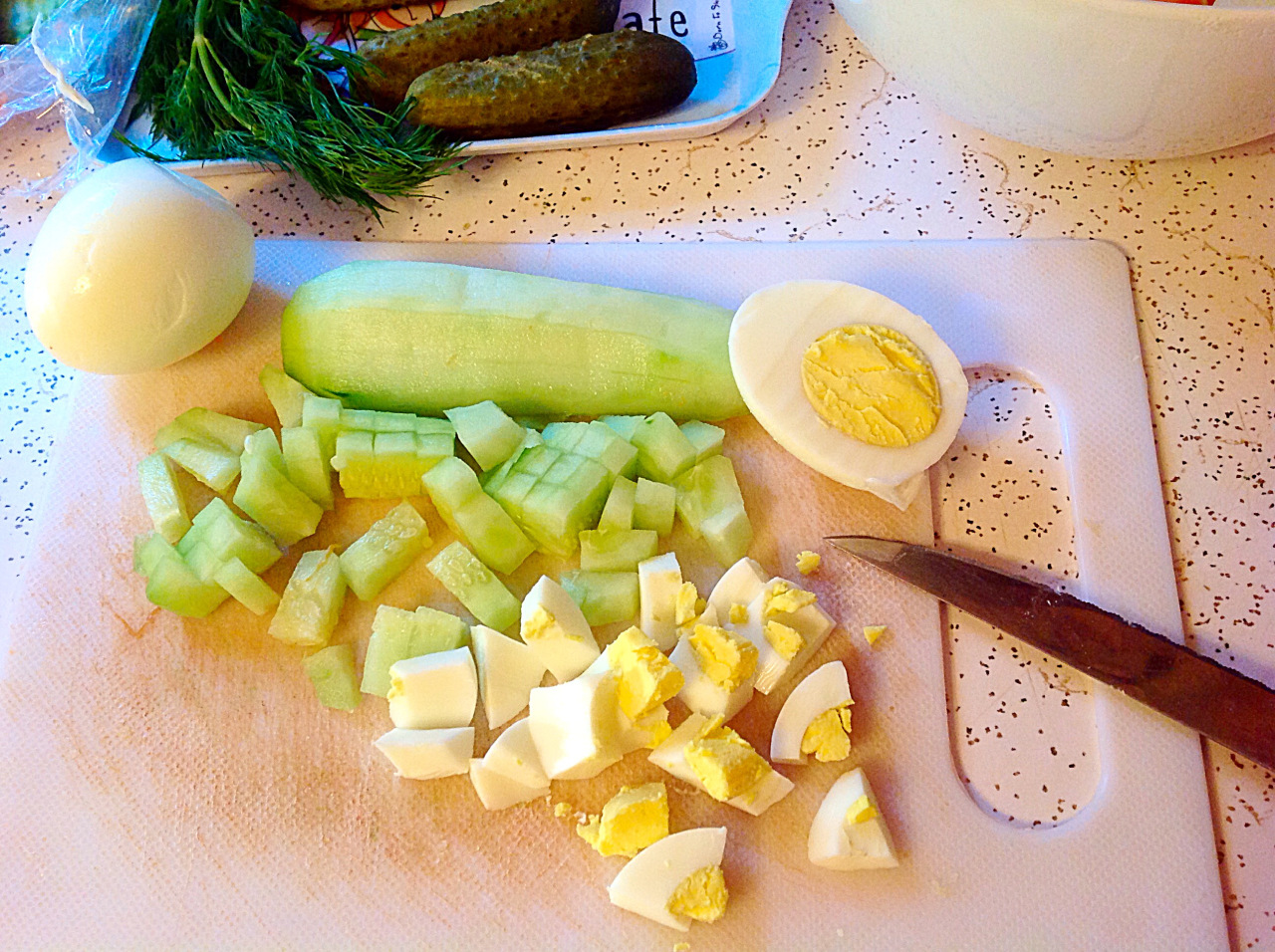 If you're not sure about the proportions, just let the taste guide you: if pickles and lox are salty, add less than all other things and don't let the potatoes overwhelm the rest of the ingredients. The taste has to be organic in its balanced way. The same with mayo-sour cream ratio, mix 2:1 and taste, add as much as the salad would require to be creamy without being drowned in dressing. Sprinkle some salt and pepper and garnish with dill prior to serving.
Olivier is a hearty salad, it can be offered as an appetizer or part of a meal along with soup or some other vegetables. Please enjoy this authentic Russian taste!