In the Mood for Red, White and Blue
When any kind of holidays or big family gatherings are coming, everyone is talking about what they'll cook for the guests at the party. Yet very few mention what they'll serve themselves prior to the party or for a family breakfast if any guests stay overnight. To me, feeding the cook is the most crucial part, especially if we're talking about breakfast as early morning may be the only quiet time you'll have for yourself that day so enjoying that brief tranquility before all the craziness starts is a must I think.
With the 4th of July holiday weekend coming, it's important to remember yourself and feed both your body and soul so you can be the best host to your guests. I love the early morning hours on the day of a party to have a leisurely time by myself or just with the immediate family and enjoy a cup of strong coffee and some indulgent treat. Yes, I know the common sense would dictate that you have something lean before a day of eating party food, but I say "go for it" and enjoy a full day of luxuries, you can always go back to your normal eating routine tomorrow and adjust the rest of the weekly meals accordingly.
And, if you have overnight guests staying, or if you just want to pumper your own family a bit, make a special holiday breakfast, talk about all the details for the party or just chat about anything else that's on their mind. The most love and attention we can give to others is in the mundane things and being fully present in their life. Time with them is what matters the most as time is the only thing that is irreplaceable, every second is gone forever as soon as it passes, therefore, the biggest gift somebody can ever give you is their time spent with you and love and attention you get to "keep" in your memory.
What's Cooking This Week
With the 4th of July holiday being around the corner, there's a definite "Red, White and Blue" theme on the menu. Today's recipe will be a welcome treat for your holiday breakfast whether you're spending it by yourself, with your family or a few overnight guests at your house. It can also be a wonderful addition to a holiday brunch if you have one being planned. Both the dough and already shaped scones keep well in the fridge so you can prepare them the night before and just pop in the oven to have them ready by the time everyone gets up for breakfast, and glaze and cream can be made in just minutes while the scones are baking. Hope you enjoy this breakfast treat as much as we did!
Cherry-Rum and Blueberry-Limoncello Scones with Ricotta Cream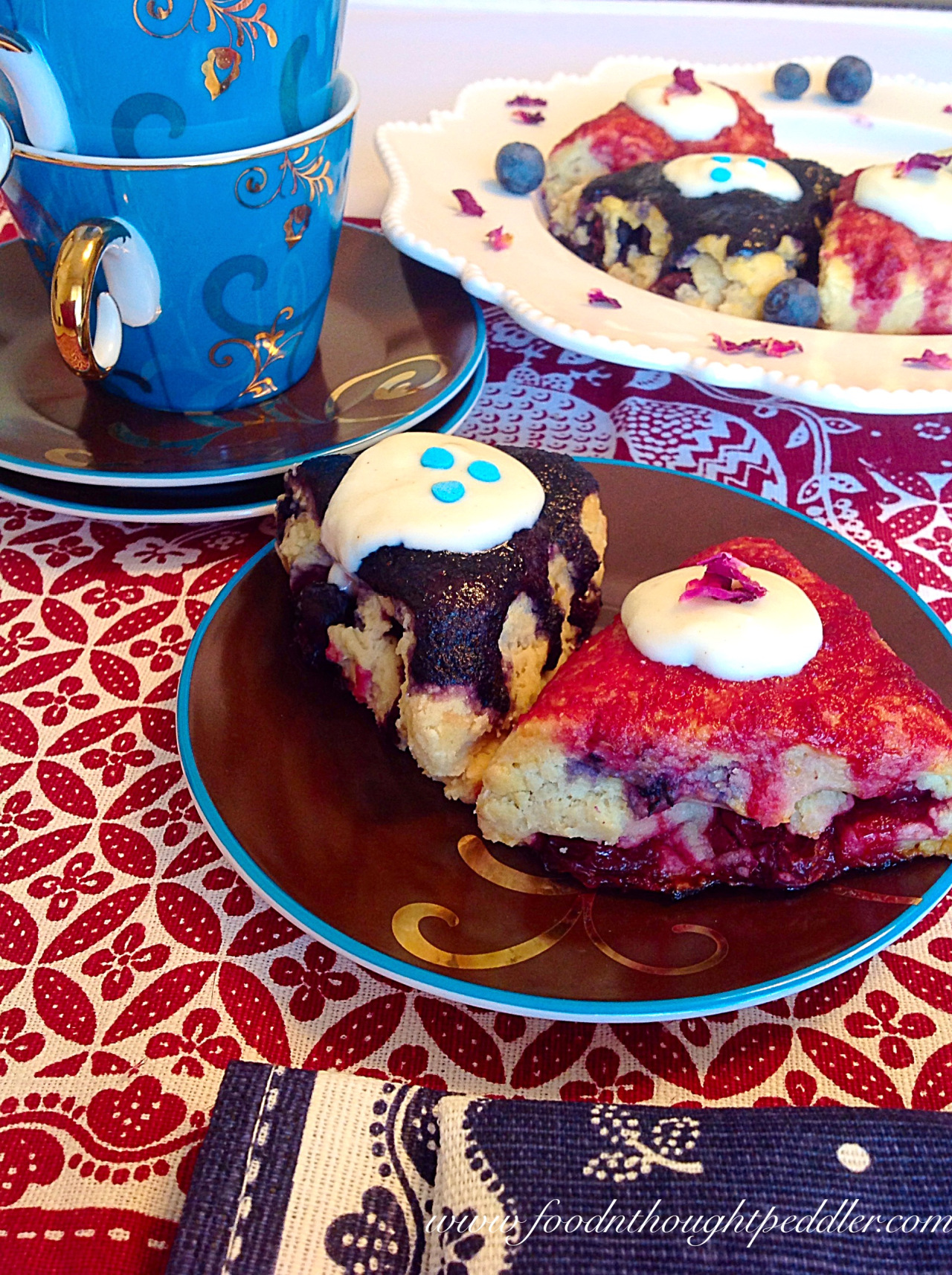 Makes 12-16 scones:
2 cups of flour (I used Authentic Foods gluten free blend)
5 Tbsps of cold unsalted butter
1 cup of milk (I used almond)
3 Tbsps of sugar
1 cup blueberries and 1 Tbsp of Limoncello
1 cup of cherries and 1 Tbsp of rum
1 Tbsp baking powder
2 Tbsps of rum
1 Tbsp grated orange zest
1 tsp vanilla
1/2 tsp salt
1 egg for egg wash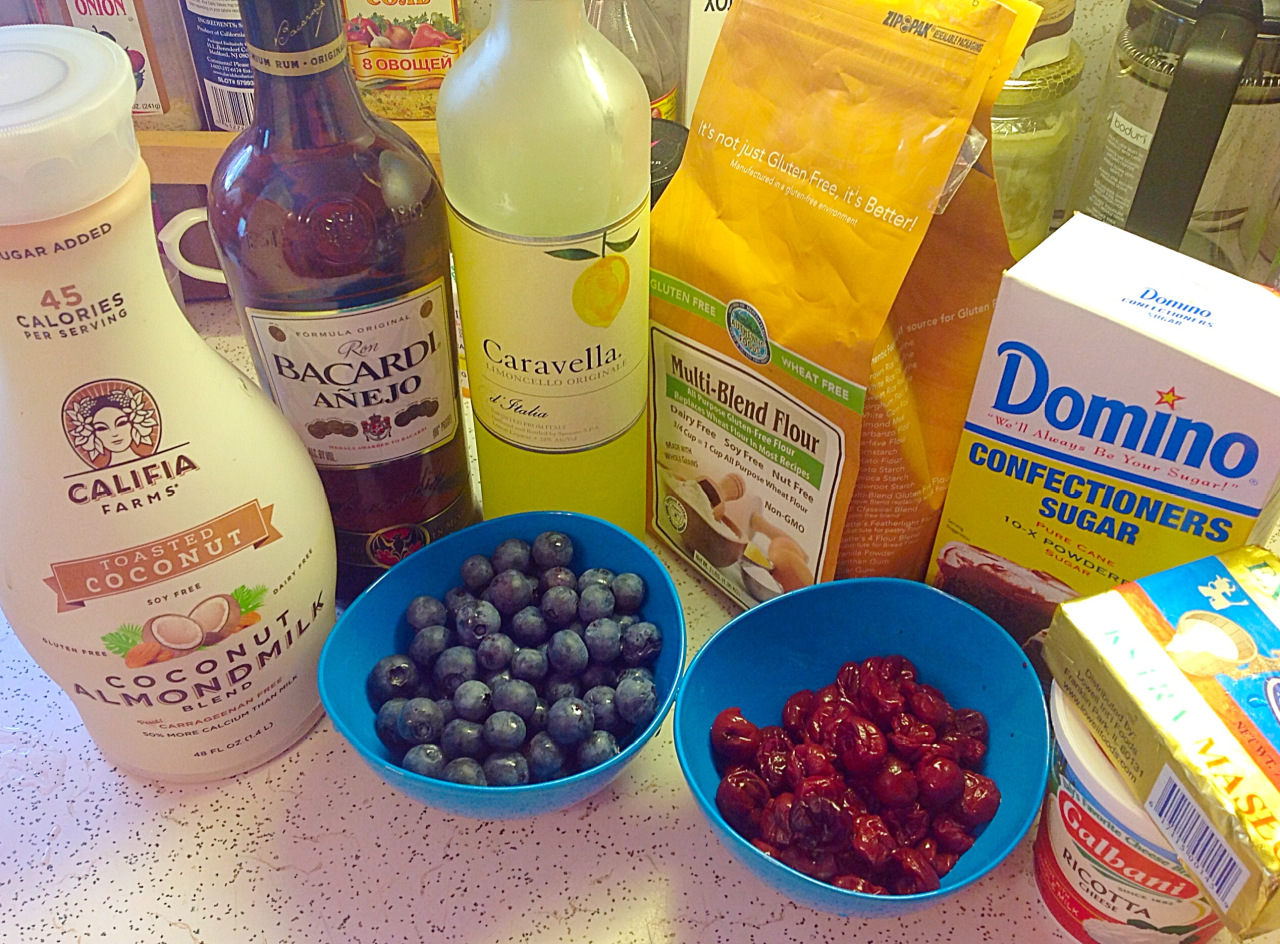 Glaze:
1/4 cup each blueberries and cherries
1 tsp each bourbon and Limoncello
1/2 + 1/2 cup of powdered sugar
Ricotta cream:
1/2 cup of full-fat ricotta
4 Tbsps heavy cream
1/2 cup powdered sugar
1 tsp lemon zest
Combine cherries with rum and blueberries with Limoncello and let the fruit infuse the liquor for at least 30 minutes. Mix together all dry and wet ingredients separately. In a food processor, pulse together cold butter and flour mix, then add wet ingredients and pulse some more till a soft dough forms. Transfer the dough to a lightly floured surface and knead till it comes together.
Divide the dough in half, roll out each portion in a rectangular shape, place blueberries along the longer seam and roll the dough to form a log. Cut it in triangles. Repeat the process with cherry filling.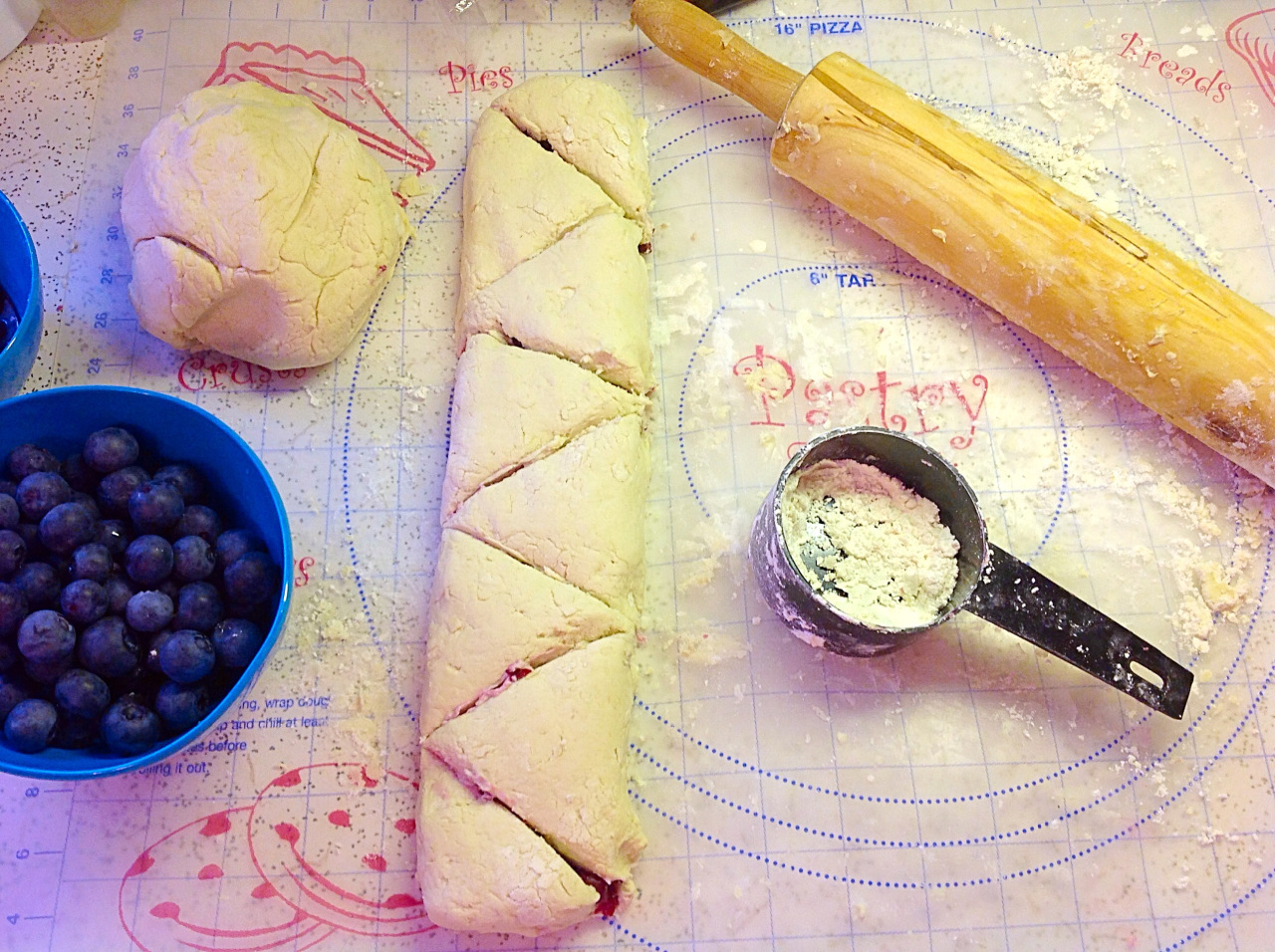 Place all scones on a parchment lined baking sheet and bake in a pre-heated oven at 350F degrees for 15-25 minutes (size depending) or till the tops are golden brown. Cool before applying a glaze.
To make each glaze, combine cherry, rum and powdered sugar, blueberries, Limoncello and sugar and blend for a few pulses together. Spread on top of the corresponding fruit scones.
To make ricotta cream, mix together ricotta until no lumps remain, add heavy cream and mix more till just slightly whipped, then add powdered sugar and zest and mix to incorporate. Top each scone with cream.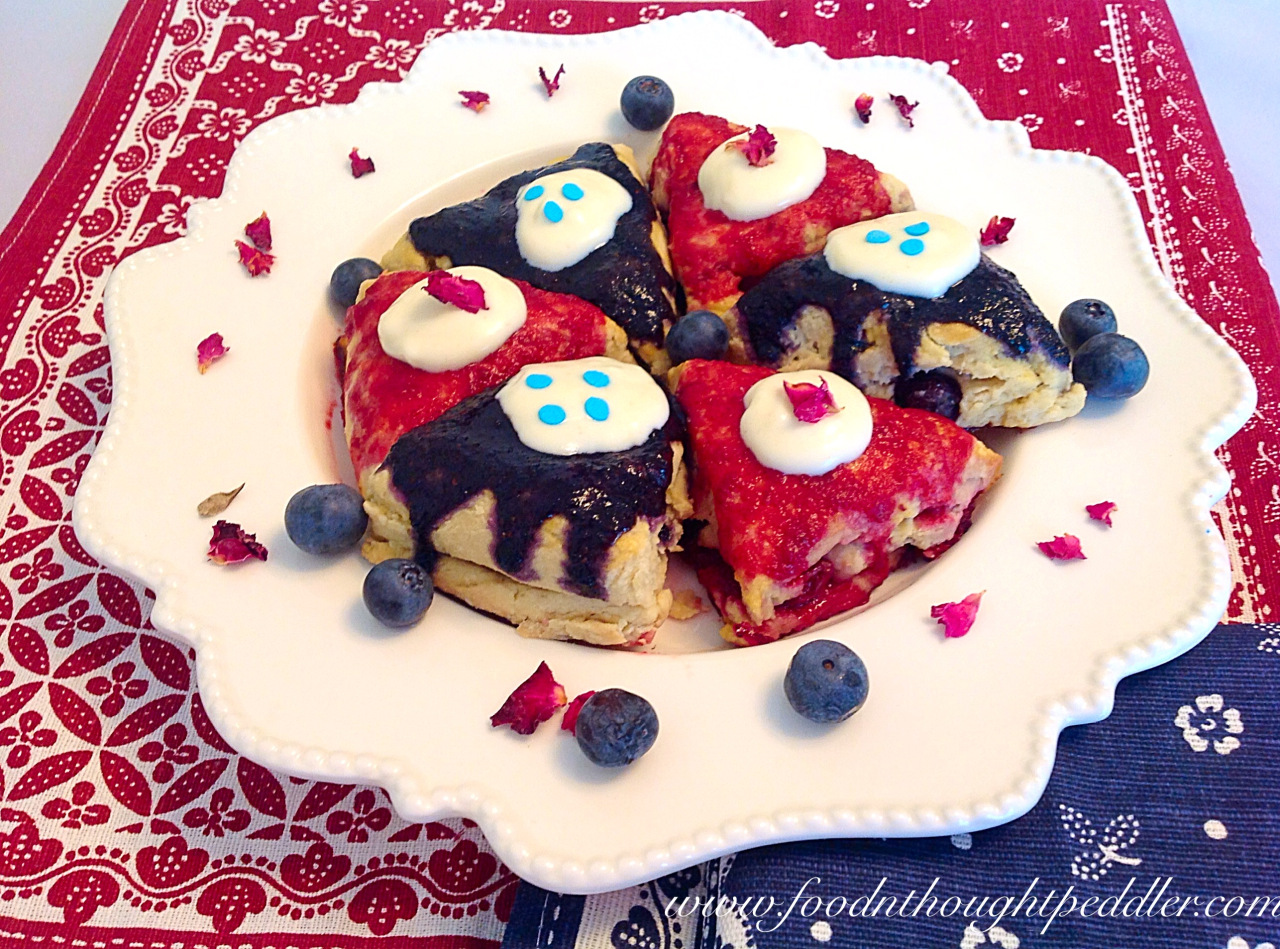 These scones are just delicious to enjoy before your summer party (or even year-round). And, if you decide to sample one before your family gets a chance to sit down for breakfast, I won't blame you. 🙂