(My apologies for the post that went out a few minutes earlier, it was not complete, so please scroll down for the full recipe instructions and pictures – I'm not sure what happened, either the post didn't save appropriately or I was still full of tequila and hit the publish button prematurely. Hope you enjoy this post in its entirety).
What did you do this weekend, did you have fun? I sure did, at a friend's graduation party last night. The party lasted over 7 hours, at least it was for me, people still continued after I left, they probably pulled a complete all-nighter (doing it the right college way 🙂 ). Liquor was stashed in every possible corner, on the rooftop and even outside. Like I said, we needed to graduate our friend in an authentic college style. We had a blast though!
I showed up with a cake, of course, and throughout the night people would randomly come and ask if it was really my cake and not from the bakery, and when will it finally be served. We did have the cake sometime late into the night, and it was good, at least according to how fast it disappeared from a serving plate.
So, this morning, when I got up still metabolizing champagne and Patron Silver shots (an odd combination but it felt like a great idea last night nevertheless), I had cake on my mind. But there was no cake left of course, plus the party is over, you can't eat the type of cake I made every day, not if you still want to fit into your clothes.
I still wanted cake though, and I wanted it for breakfast.
Do you know why you believe you are a true foodie? Because you still want to bake even with a hangover. Actually the best inspirations probably come to drunk and hungry foodies!
With cake on my mind, will you share this one with me?
What's Cooking This Week
I'm having cake for breakfast so why don't you join me! Today's recipe is a healthy version of a rustic breakfast cake. It grain and dairy free so your clothes size should be just fine as you indulge in eating it. I'm using rhubarb and blueberries, you can top it with other fruits if you wish. I do encourage you to try rhubarb though, it's in season now, plus it add a distinct flavor and bounces off the sweetness of honey in this recipe.
Honey-Cardamom Rhubarb and Blueberries Skillet Cake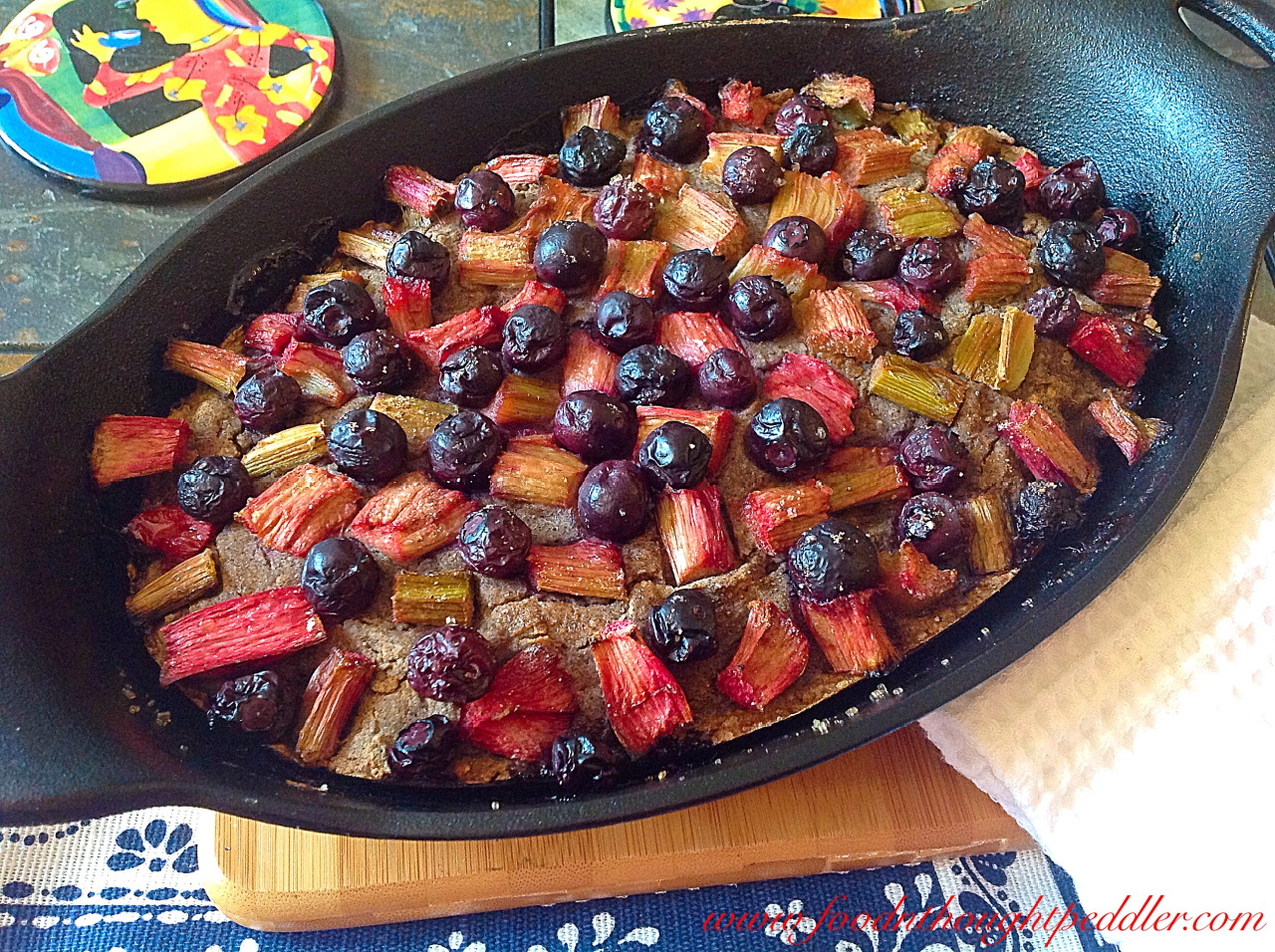 4-5 rhubarb stalks, cut
1/2 cup blueberries
1/2 cup quinoa flour
1/2 cup amaranth flour
1/4 cup buckwheat flour
6 Tbsps chestnut (or almond) flour
2 tsps baking powder
1/2 tsp salt
3/4 tsp xanthan gum
2 eggs
1/2 cup almond or coconut milk
1+2 Tbsps coconut oil, melted
1+2 Tbsps honey
1 tsp vanilla
1 tsp cardamom
coconut sugar and cardamom for topping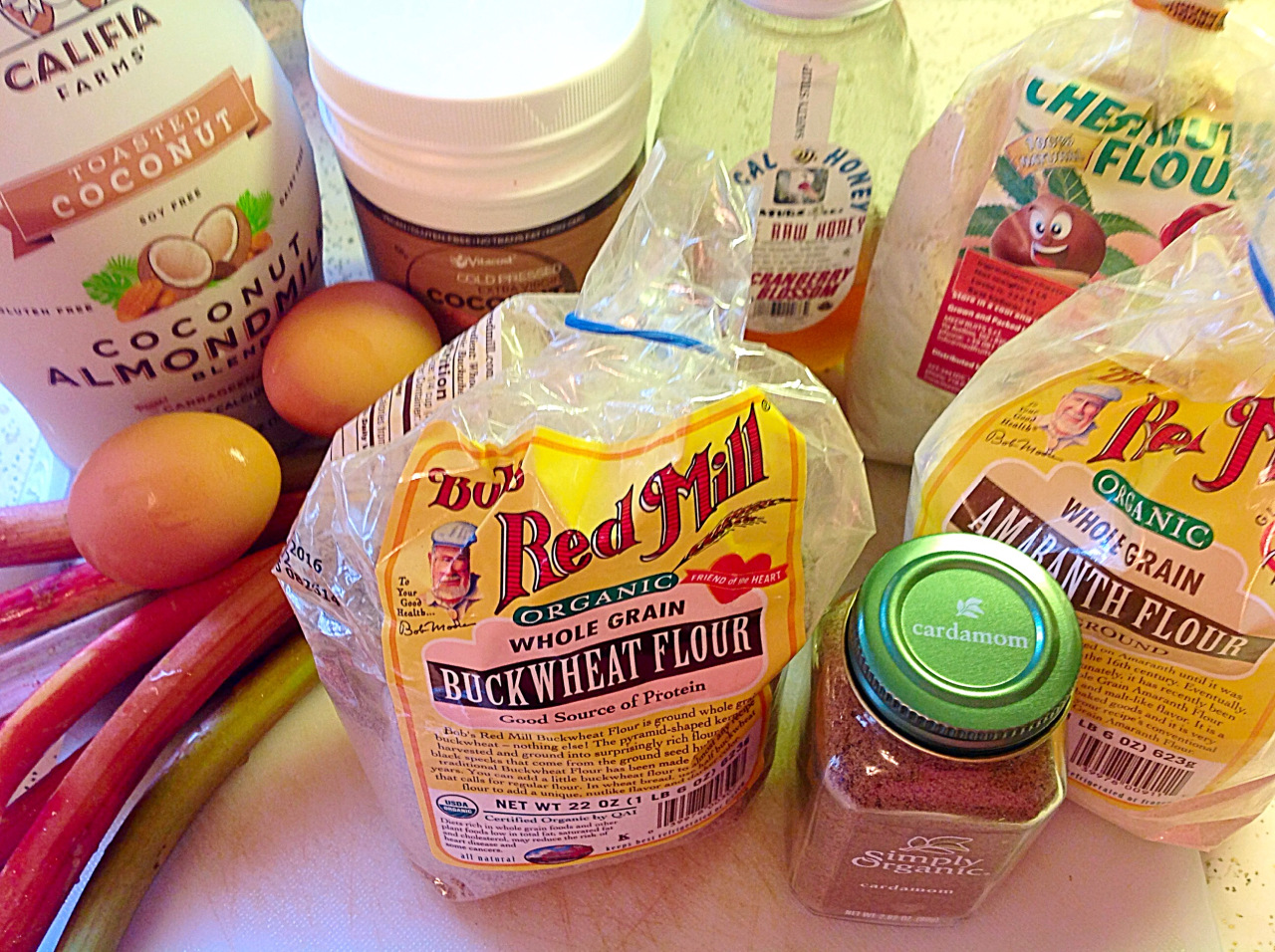 Place cut rhubarb pieces on a baking sheet, drizzle with 1 Tbsp of honey and some cardamom and roast at 400F degrees for about 5-8 minutes, set aside.
In a blender, combine together 1/2 cup of roasted rhubarb, milk, eggs, 2 Tbsps of coconut oil, vanilla and honey. In a bowl, mix together all dry ingredients and incorporate wet and dry ones together to make a soft batter.
Melt 1 Tbsp of coconut oil and spread around a pan, I'm using cast iron one. Spread the dough and top with rhubarb chunks and blueberries, sprinkle some coconut sugar and cardamom on top.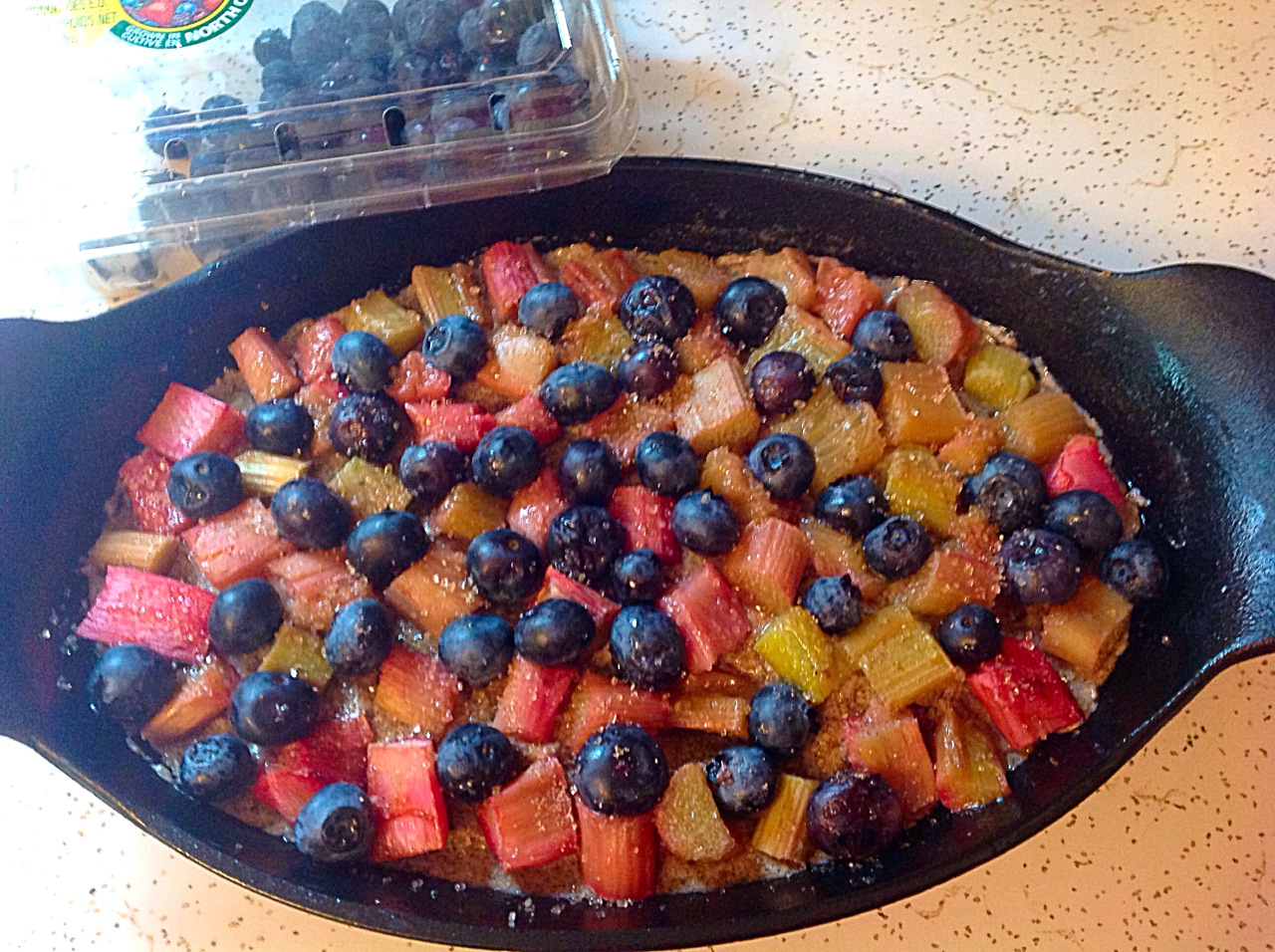 Bake at 350F degrees for about 35 minutes or until it's firm and the edges are slightly brown. This cake is not overly sweet and can go nicely with your morning coffee or tea. Or with tequila, I don't judge! 🙂