Restaurant Review – Taras Bulba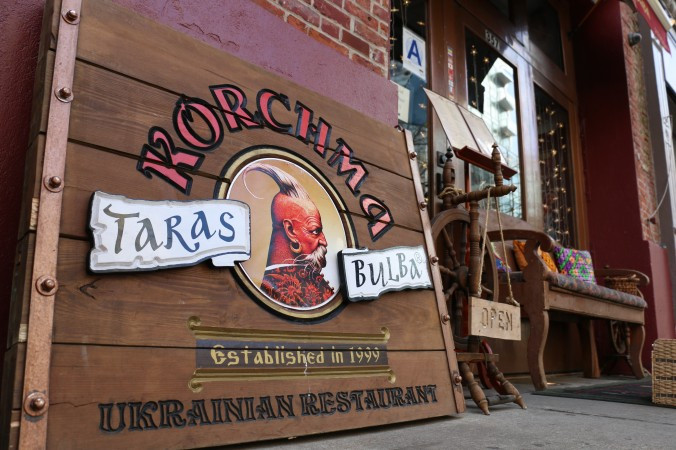 Today's review is about this Ukrainian restaurant in Soho that I just love love! 🙂  www.tarasbulba.us I have written about Mari Vanna that I also love because of its both the decor and nice Russian dishes, and Russian and Ukrainian cuisines, and cultures, have a lot in common, but Taras Bulba just transports you straight into the Ukrainian village, and you kind of don't want to go back into the reality.
Korchma, by the way, means a low-key dining and drinking spot, used by travelers a lot. And, Taras Bulba is much-celebrated Ukrainian personality portrayed in the novella by Nikolai Gogol.
You are greeted by servers dressed in folk costumes. Who wouldn't want to be served by these beauties?!
Of course I got all nostalgic and had to try one of the headpieces. You can take the girl out of Ukraine but not Ukraine out of the girl!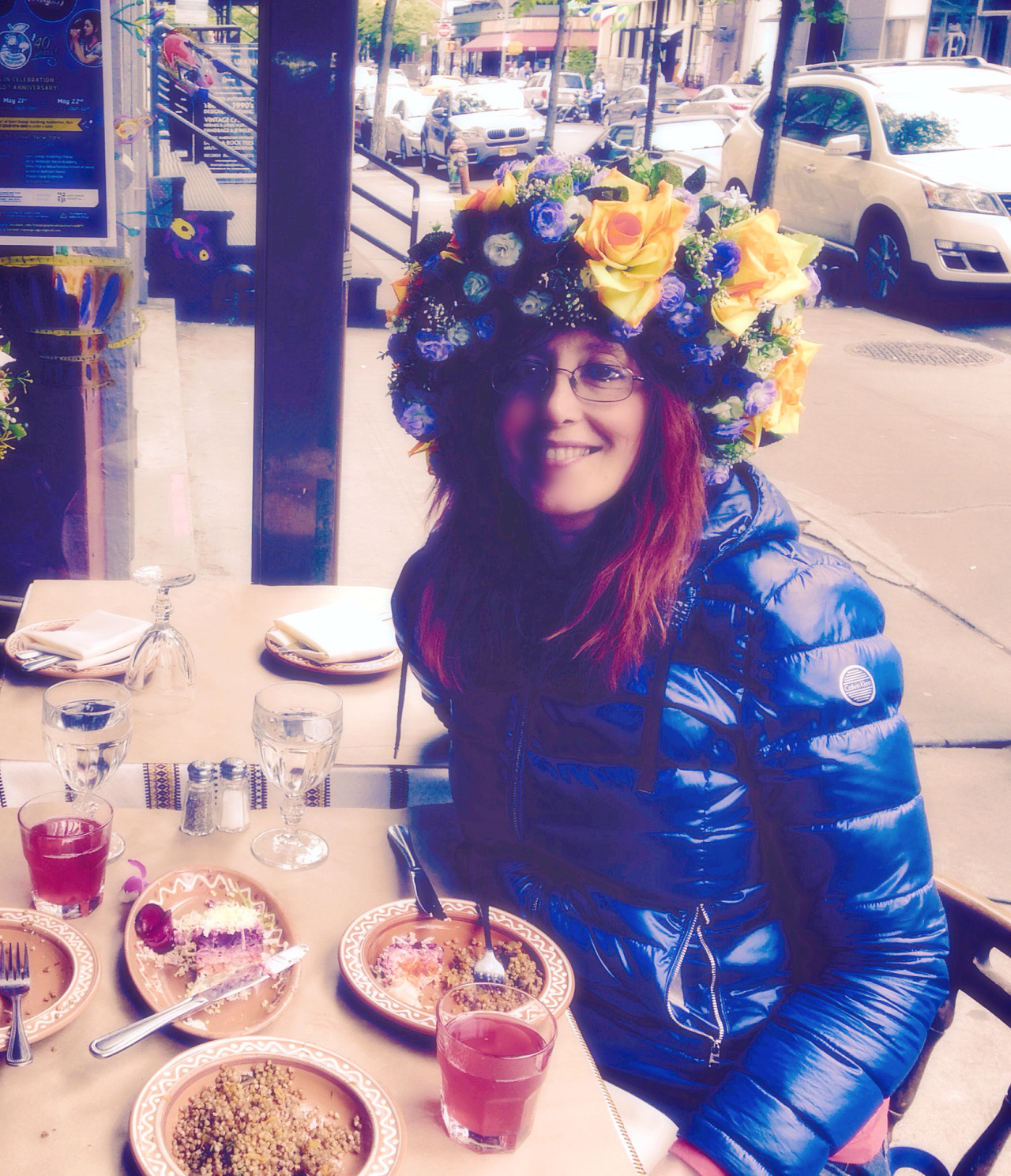 The very traditional headpiece is supposed to only have poppies or other field flowers, like the girls are wearing, not roses, and long color ribbons attached to the back, so I guess this is an Americanized version of it. I still look pretty good in it, don't you think? 🙂
By the way, I have a modern version of that needle-point folk shirts that the girls have on, maybe next time I'll wear it when I go there. I saw a couple sitting there dressed in their finest Ukrainian clothes, it was nice to see culture still being preserved.
As you can see, they have an outside seating area too, which was nice even though it was a cool and rainy day, I was under the roof cover of course.
The restaurant offers plenty of delicious Russian and Ukrainian dishes such as pierogies, dumplings "pelmeni", crepes, meat and fish in puff pastry and traditional appetizers. Not everything I can taste there due to gluten, but I've been at Taras Bulba a few times to know that their food is great, plus I usually have other taste-testers to rely on and can judge certain dishes just by their look and smell.
This time we shared buckwheat with mushrooms (which could be an appetizer, a side dish, or a main course in itself), modern Russian/Ukrainian appetizer herring "under a fur coat" and borsch (it's borsch, not borscht!) with "pumpushki" (butter buns) plus traditional sweet non-alcoholic drink " mors". I did my usual waiter "prep" informing him of my gluten issue and to double-check all the dishes even if they don't normally have gluten in them anyway, he did roll his eyes at me (which I did not appreciate!!), but I let it slide.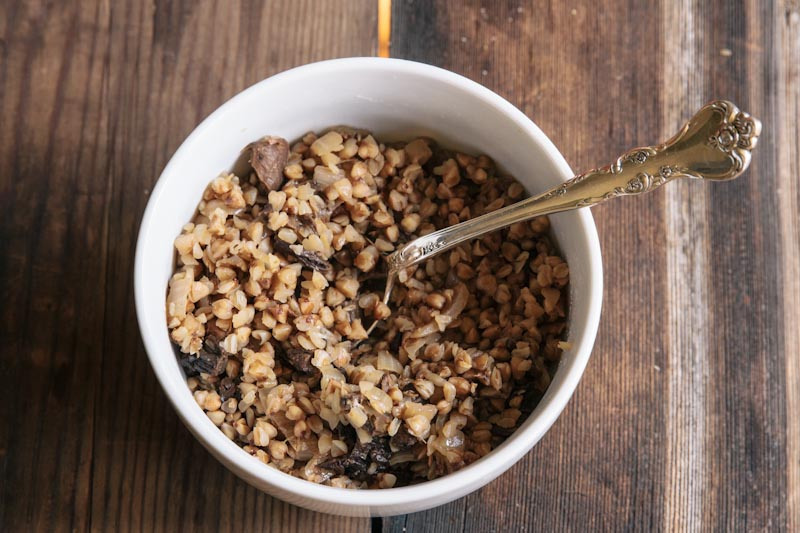 Buckwheat was very tasty but just a tad undercooked, buckwheat groats are often fried first (without water) before they are boiled, to give that smoky flavor, I think they overdid it just a bit. And, it needed to have slightly more mushrooms to counterbalance the merging of tastes. But, overall, it was a good dish to have.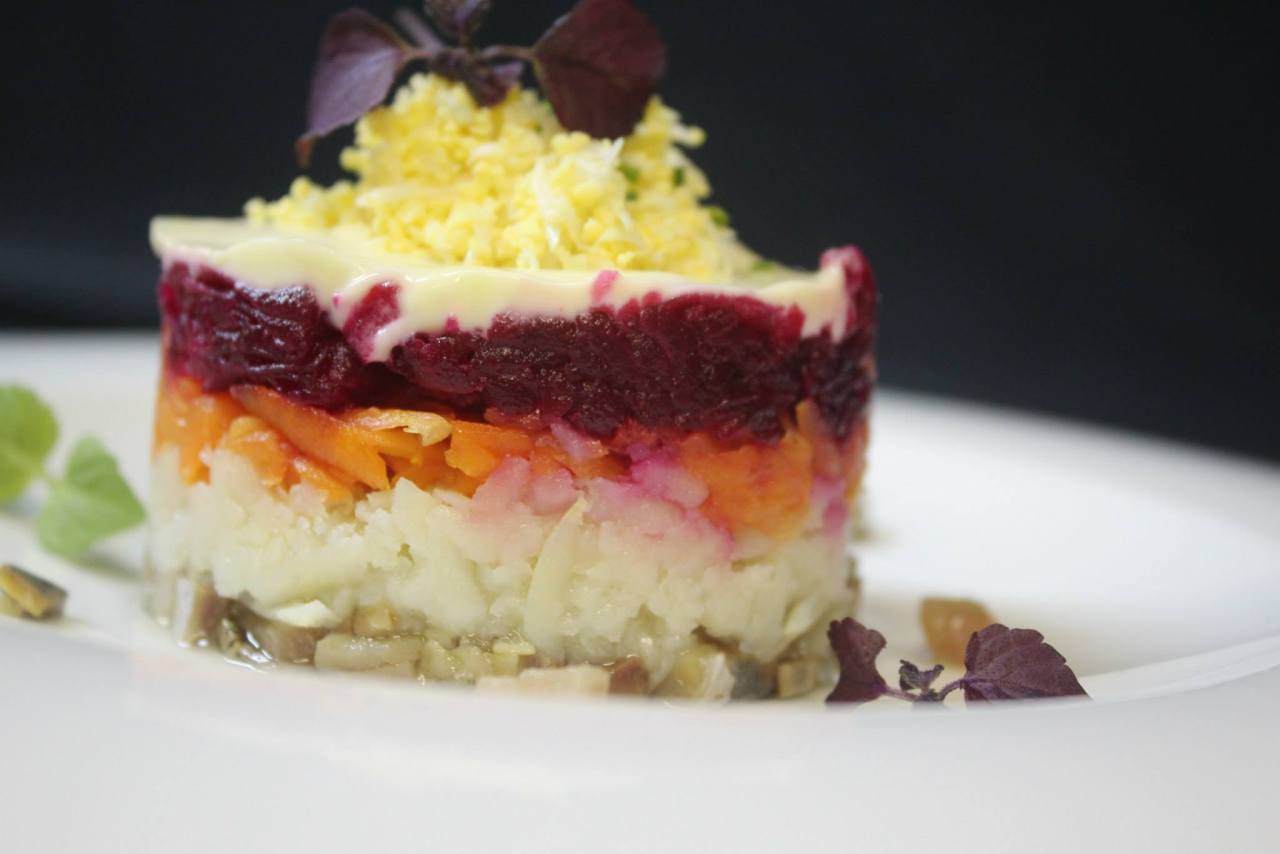 Herring "under a fur coat" is basically marinated herring pieces covered with layers of vegetables such as potatoes, onions, carrots, beets plus eggs on top, slightly spread with mayonnaise between the layers. I know herring is not the most favorite food among the Americans, but Slavic cuisines are big on different smoked and marinated fish (and, meats and vegetables, for that matter). The appetizer was delicious and quickly disappeared without any complains!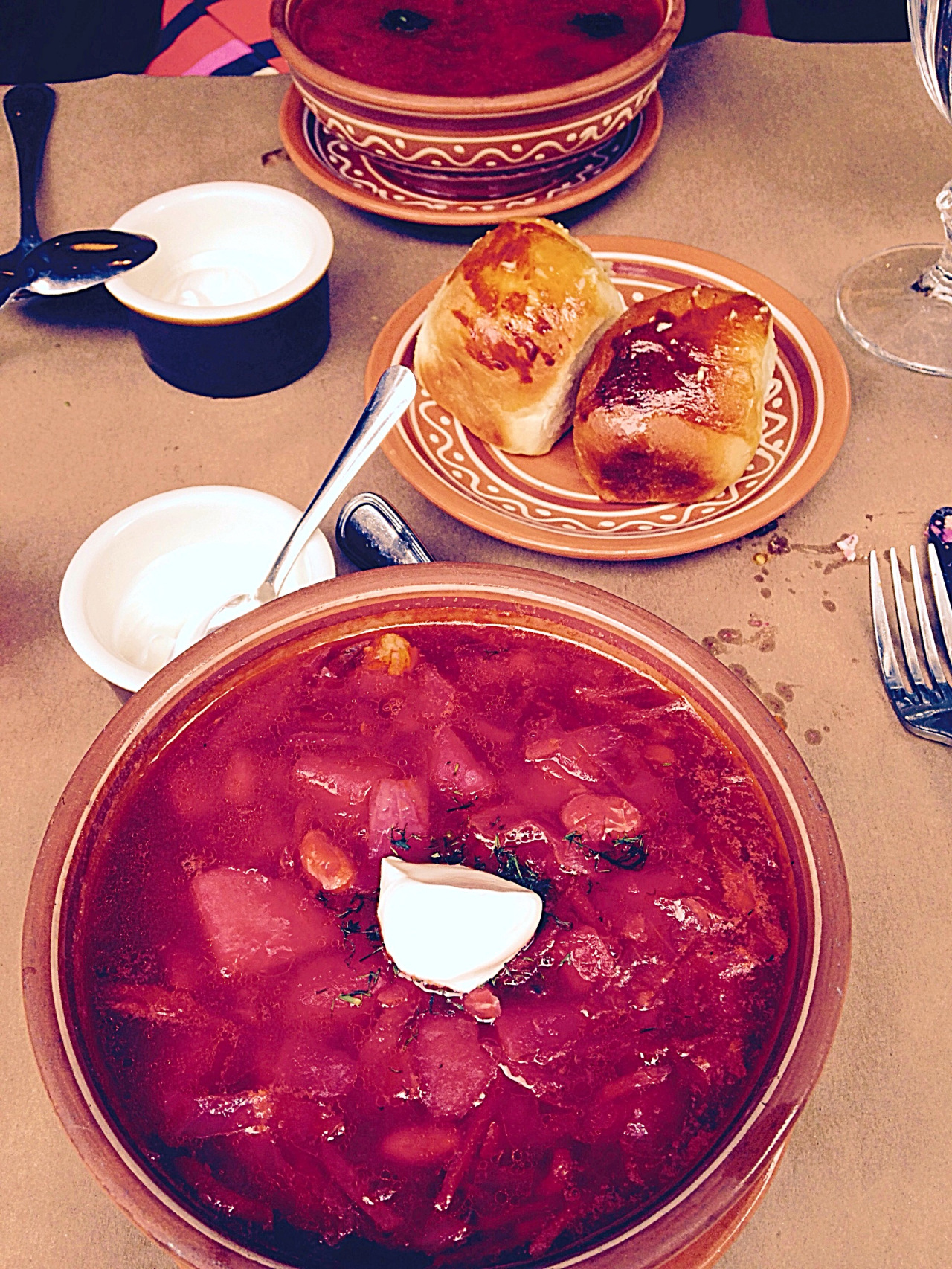 Borsch was excellent! And, trust me, I know when it's good! I had the meat one (usually it's done with either beef or veal, this one was with beef), my friend had a vegetarian version but still delicious. She ate all the butter buns "pampushki" generously sprinkled with garlic and herbs, as I couldn't have them, and loved it! My only correction about borsch was I wish I'd have been a bit hotter for that cold rainy day, but it didn't ruin the taste, I still thoroughly enjoyed it.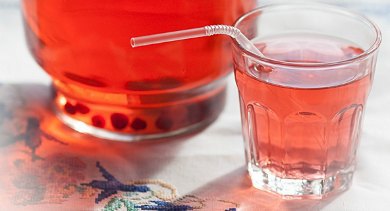 Mors is a sweet berry drink, like a hybrid of juice and fruit tea, served cold. We had the raspberry one, it was good but sweeter than it was called for, still, we enoyed it. Mors was our dessert as we had no room left for the real one. But, if we did, I'd totally go for traditional tea with fresh mint and homemade preserves (in Slavic cultures, preserves are often served as is with just tea). That just screams home to me! And, if gluten wasn't an issue, I'd have my tea with "sushki" (sweet pretzels).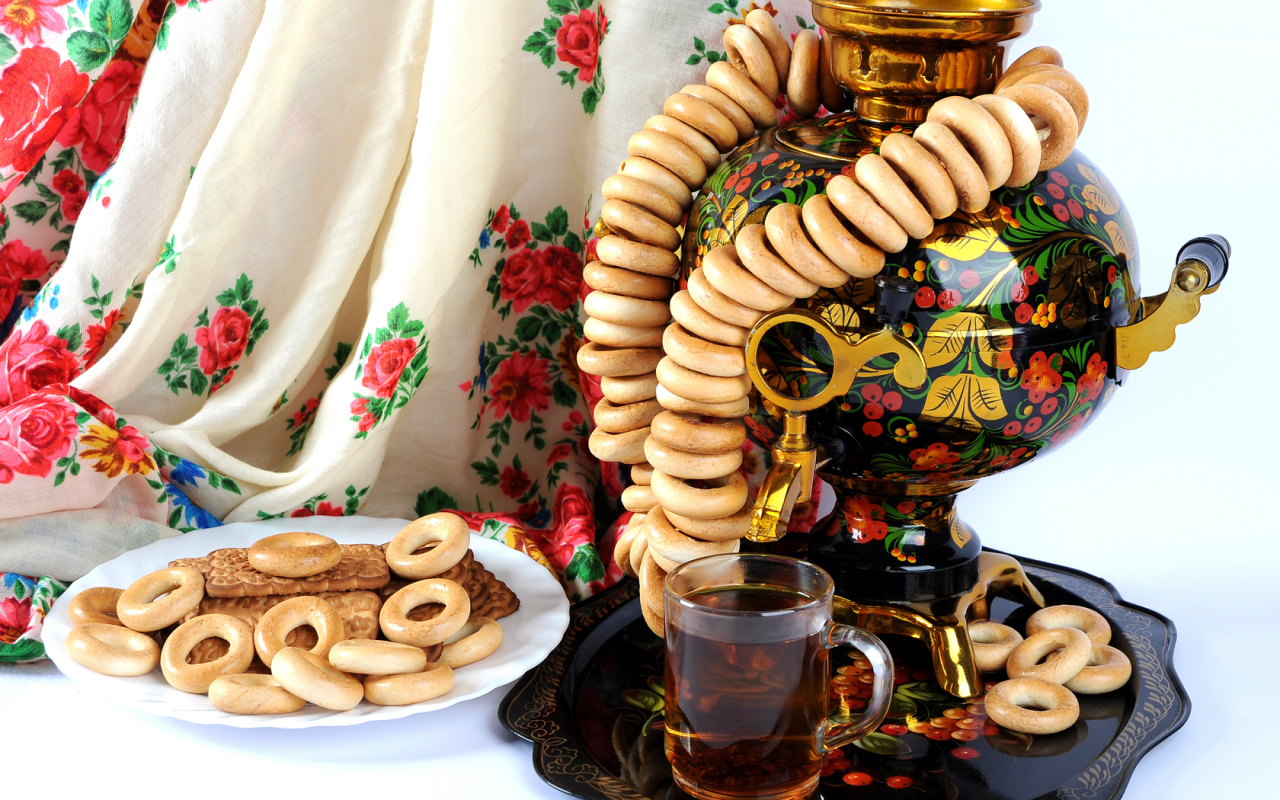 Overall, it was a good meal, minus small taste issues and a waiter's eye roll. As I was sitting there, I remembered that this past weekend was an annual Ukrainian festival in Little Ukraine in the East Village that I usually try to attend, but this year, I just blanked on it. You can say I still celebrated by eating delicious Ukrainian food.
So, Taras Bulba gets an overall A- from me, and I'm definitely going back there soon!
I hope I inspired you to visit your local Ukrainian restaurant and try our wonderful cuisine!