Have you missed my desserts?
Do you remember what they taste like?
That time-transcending moment when you bite into all that sugar and vanilla, and, no matter it's breakfast or snack, you lose yourself in a complete immersion of not only taste but also memories, whether they happened just the night before or sometime in the past.
A moment that you wished would have lasted forever, alas, life calls upon you and all the day's responsibilities are waiting so the last drop of your coffee is finished, you lick your fingers (both the sweet dessert and a moment of sweet memory were so good!) and on you go to face the world on your lonely traveler road.
Remember those times?
You can still have them, at night, when it's a glass of a strong liquor and not a morning java that you're holding. What's your preference, whiskey, scotch, a bourbon perhaps?
You can merge the mornings in the East and the evenings in the West into a moment of Now and savor all what you have had and all that you wished you would have and let the time stand still and imagine it all that you want to create.
Some bitterness of liquor and some sweetness of dessert- that's how life goes too… You have the power to control which side of the taste you want more in your life…
What's Cooking This Week
Dessert of course! You can try it with morning coffee or with a glass of whiskey, either way savor the moment. Today's recipe is pate a choux (or cream puffs). Pate a choux is a traditional French dessert that's usually made with custard like cream inside and powdered sugar on top. But you don't have to always be traditional, I made them with vanilla cinnamon buttercream and white chocolate drizzle plus some with homemade strawberry jam inside. You can be even less traditional and serve them with shrimp or chicken salad. I don't have my usual step by step pictures this time, most of the recipes that I made during my long hiatus were just "cook and enjoy " experience, but the dough is actually quite simple to make, do not be intimidated by the fancy name, it's all about proper mixing, proper baking time and proper temperature. I hope you will enjoy the "East meets West" presentation though alongside my Russian tea set that I brought with me from home, these cream puffs were made for my family gathering on Orthodox Christmas.
Pate a Choux (Cream Puffs)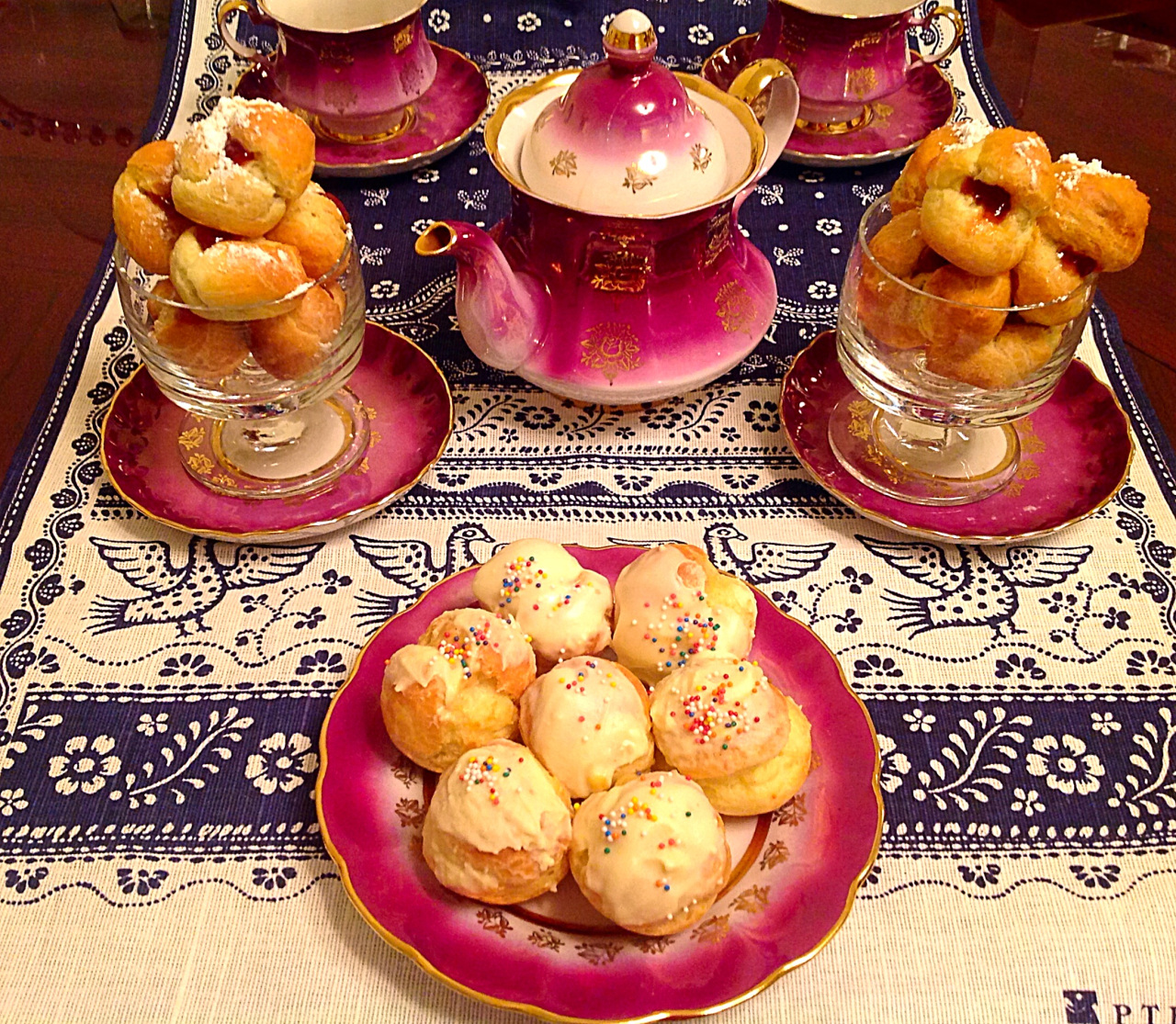 Makes about 20-24 cream puffs:
1 stick of butter
1 cup of water
1 cup of flour (I used Cup4Cup gluten free mix)
4 eggs
1/4 tsp of salt
any custard or buttercream or jelly
powdered sugar or glaze for garnish
In a saucepan, combine together butter, water and salt, bring to a boil. Remove from heat and immediately stir in the flour and continue mixing like crazy! The dough will be thick but don't worry.
Let it cool off a bit and transfer to a standing mixer, gradually add one egg at a time mixing on a low speed. Transfer the dough to a piping bag with a large opening and pipe round puffs, at least 1-2 inches apart, on a parchment lined baking sheet.
Bake in a pre-heated oven at 400F degrees for about 20-25 minutes, size depending, until the tops are golden brown. Cool off before piping in the filling, or fill them with jam or jelly. Then sprinkle with powdered sugar or dip in white chocolate like I did.