Restaurant Review – Dear Irving and Mari Vanna
Today's post is about something I haven't done in a very long time – restaurants reviews. In the past several weeks, I've been to a ton of restaurants, both old friends and new acquaintances have been great dinner date companions on my ventures (that means, sometimes I was too engrossed in the conversation that I'd forget to take the pictures before the food is gone). I have plans for many more places to visit and review. I will concentrate on more venues that offer either a completely gluten free menu or are able to accommodate gluten free substitutions, but I won't shy away from regular restaurants either as more and more places nowadays (at least in New York) are able to provide safe gluten free choices, plus I've eaten there and didn't die, that means they were diligent. 🙂
So I'm looking forward to more places to visit and more foods to taste and talk about over dinner!
I'm starting with two places that I've been to just this Friday night, and it was a gorgeous summer evening in the city indeed, light breeze and low humidity made all the difference in making the whole experience very pleasant (it's hot again now and will be scorching at least through Tuesday). Blah!
Dear Irving is a posh lounge right below Gramercy Park at 55 Irving Place www.dearirving.com
It's quite a popular spot so reservations are a must or you are basically out of luck, we had a 5:15 slot, which is only 15 minutes after they usually open up, and within an hour, the place was completely full. They have several rooms, each with a distinct feel but still kind of cohesive going together (just a tad pompous for my taste, but, nevertheless, beautiful). The front room has the most casual look with dark leather arm chairs and small tables. The room next to it holds several booths separated by cool crystal curtains.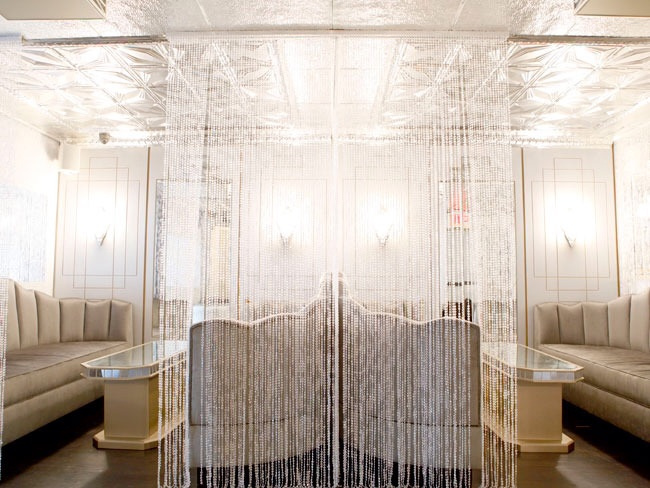 The rooms inside are a bit over the top with that Parisienne feel (but do actually fit in in the whole Gramercy Park area scheme).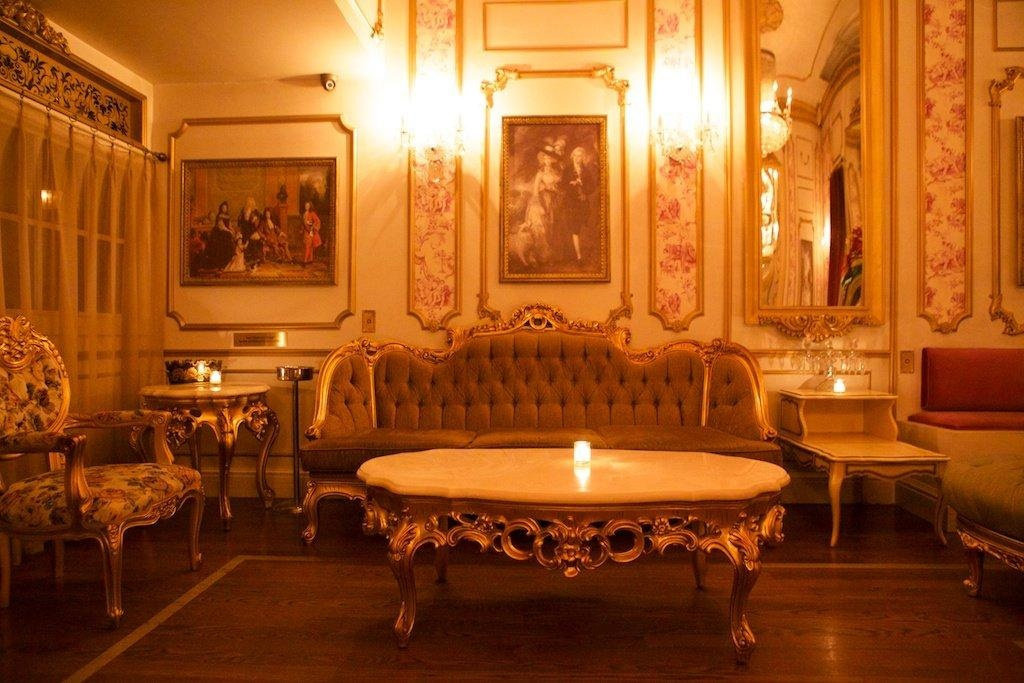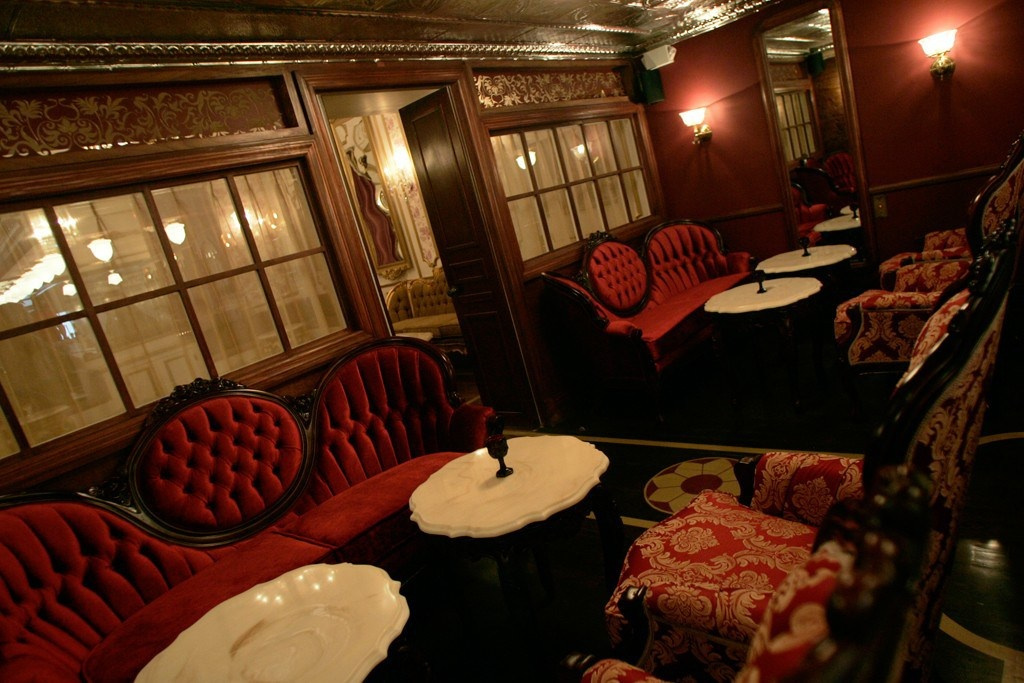 I had wonderful Chateau Pibarnon Rose, it was both crispy and sweet. The place does also have an extensive menu of signature drinks, liqueurs, wine and beer, as well as some small plates of food. There's no name outside but just walk up the stairs and you'll have an enjoyable evening. I'm definitely going back again!
Post-drinks dinner was at a Russian restaurant Mari Vanna just a couple blocks north from the lounge at 41 East 20 Street www.marivanna.ru/ny/. Maybe an unlikely combination in one evening, but I guess we were doing the European "tour". 🙂  I've actually been to Mari Vanna a few times before, the last time over a year ago, in May, for a wonderful dinner date that is now a very fond memory.
The place is not just for Russian crowd, young Americans frequent it too as the food offers a definite authentic Russian flair yet still palatable to the US taste.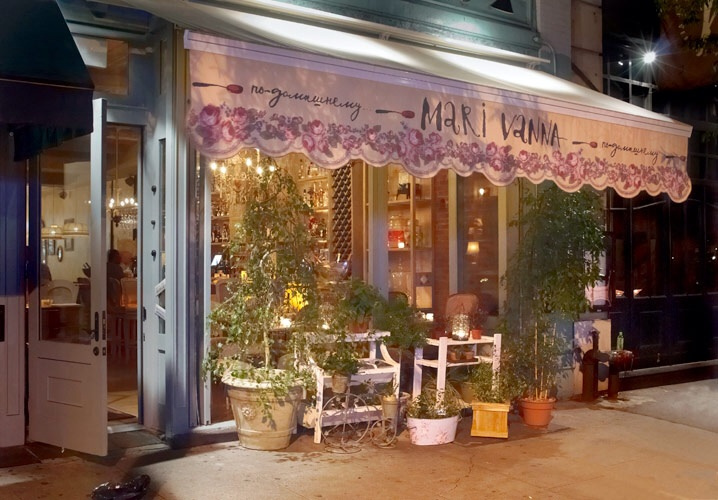 They have a tasting menu or you can order a la carte (Saturday and Sunday is all you can eat Russian brunch). The place has an extensive list of house infused vodkas (if you're brave, you can also down a shot of hot pepper vodka like my date did last year – I still owe him a big Purple Heart just for that!). The decor inside looks like your Russian grandma's living room.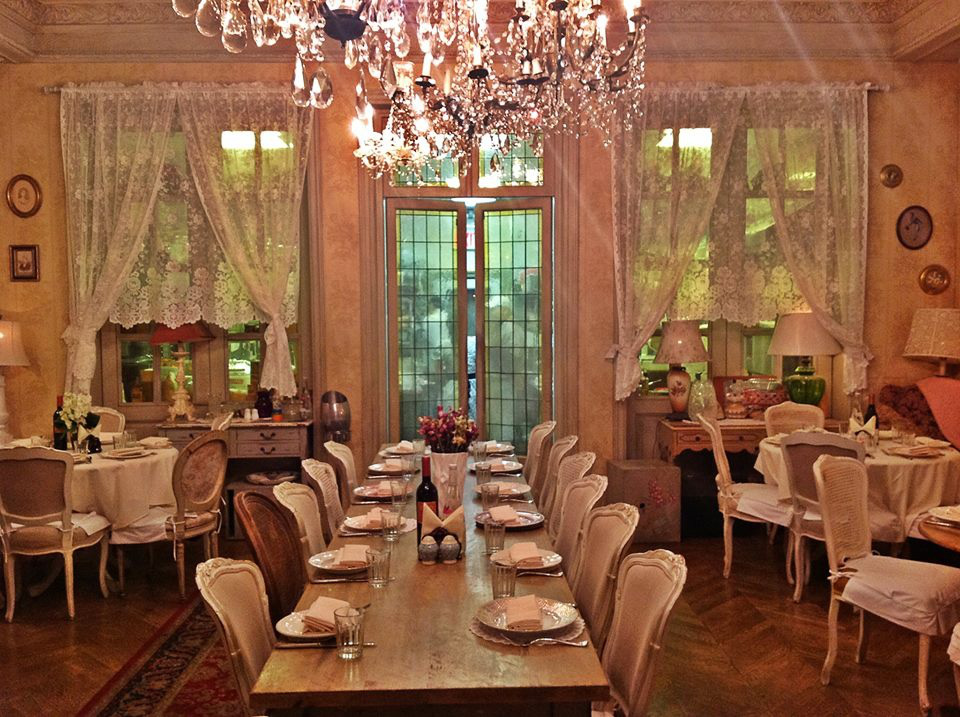 And, if you go there, bypass the ever-present Chicken Kiev and try some traditional Russian foods. Nothing beats the most famous salad Olivier (which actually has French roots), it's a mix of different fresh and picked vegetables, egg and meat (try it with chicken, it's the most standard way).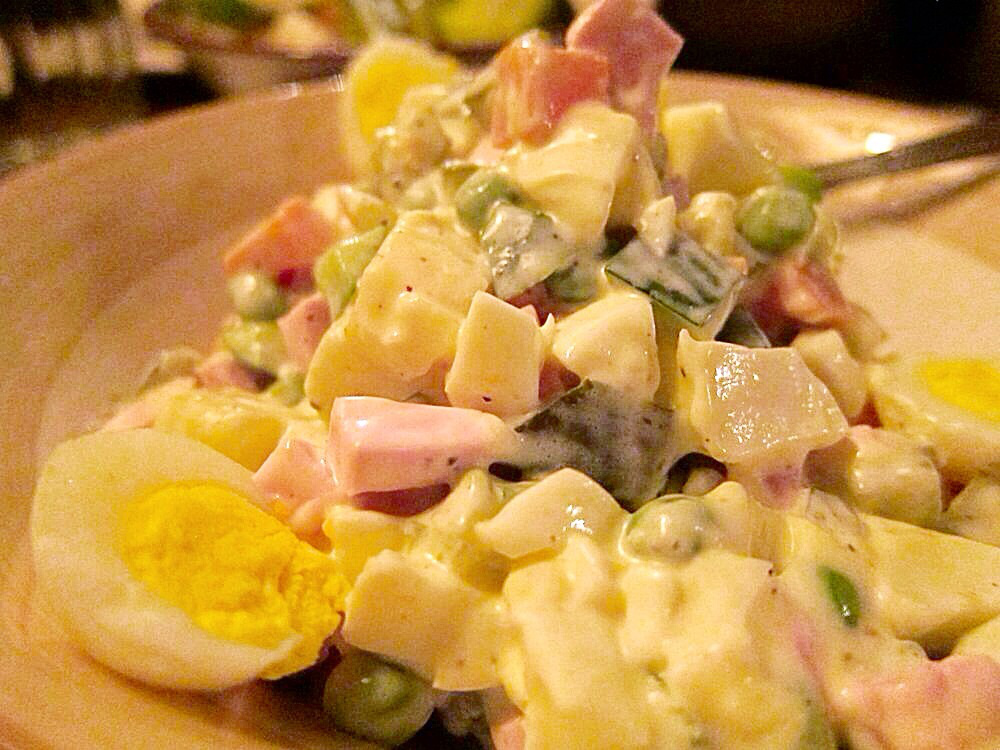 If you are a bit more adventurous and like herring, try Herring Under A Fur Coat, chunks of freshly marinated herring topped with layers of vegetables, meat and egg, trust me, it's delicious!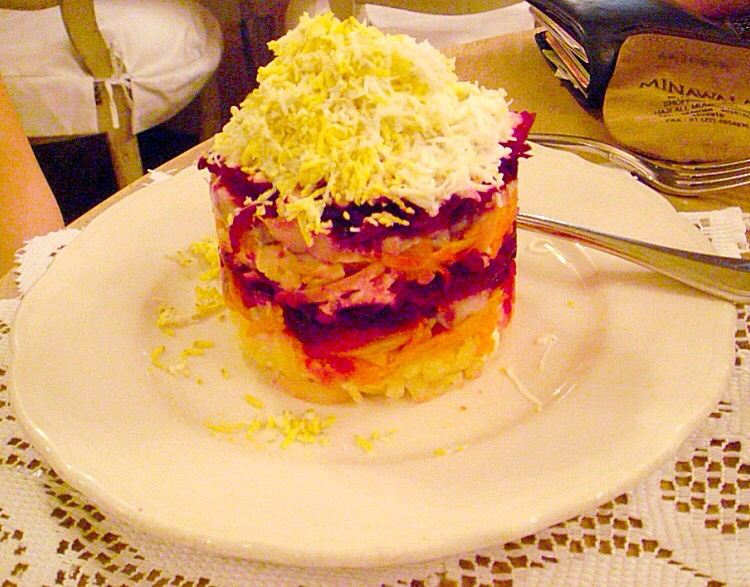 If you'd rather have a lighter vegetable appetizer, definitely try Vinegret.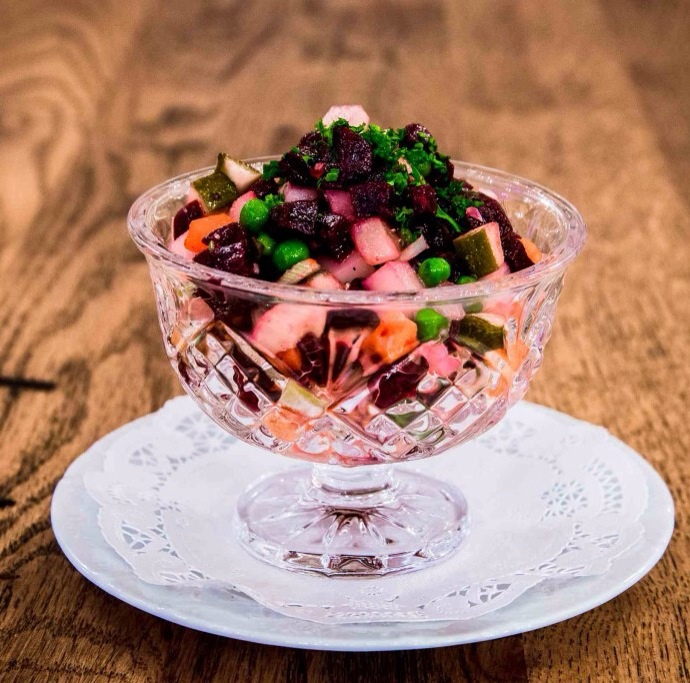 Various Pirozhki, especially paired with Borsch or Mushroom Soup, is an authentic Russian lunch choice.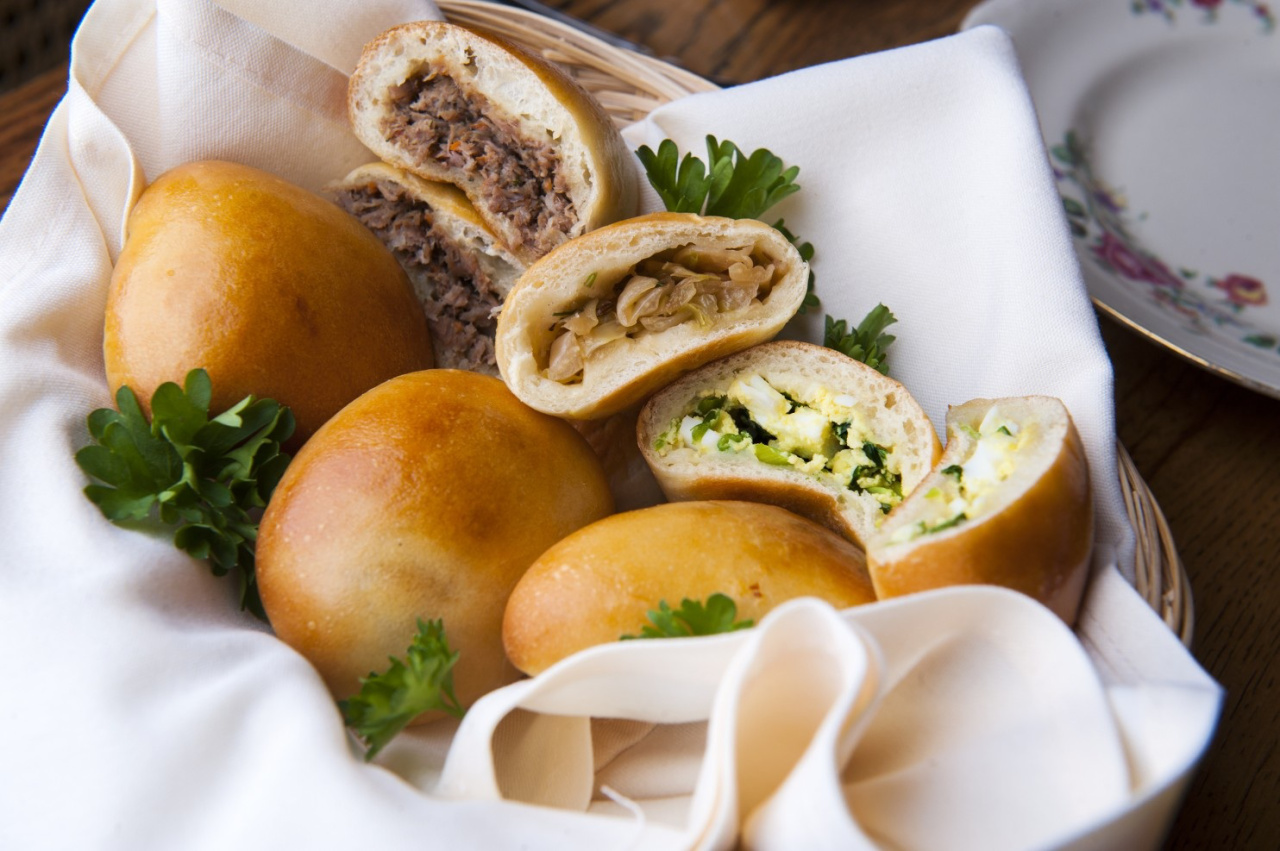 Pelmeni, a Russian cousin to my Ukrainian Vareniki, a recipe that I recently posted, is always a good pick as either appetizer or a main dish.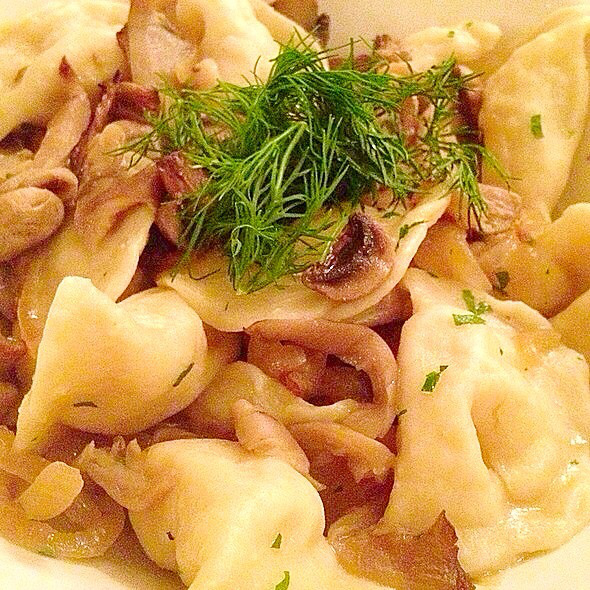 They have a wide variety of main dishes, Chicken Kotletki (ground meat with either milk-soaked bread or bread crumbs, onions and spices) has the most homemade appeal.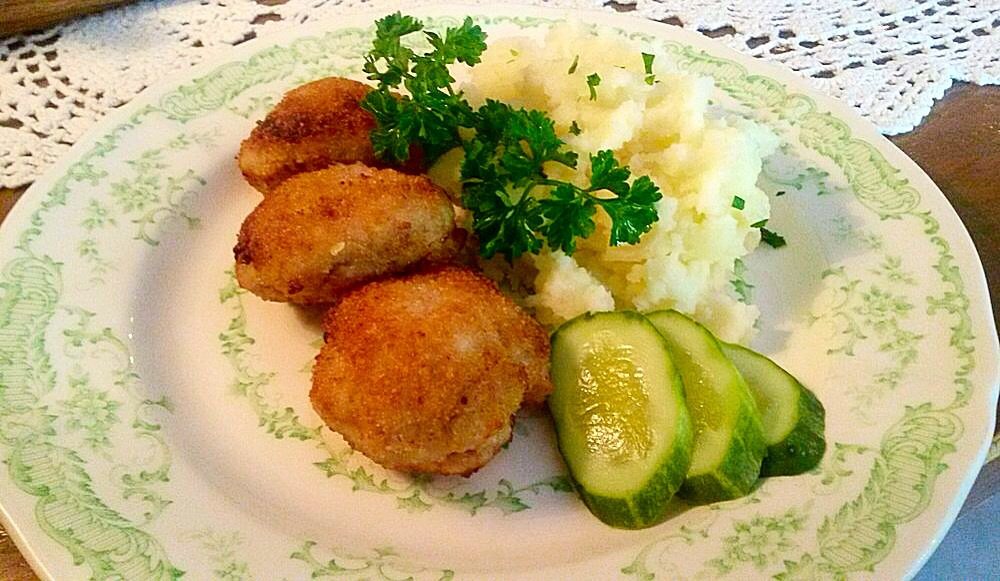 I had Georgian Beef Shish Kebab (Georgia as in Russia, not in the US) that came with spicy tomato sauce and clear cole slaw with cucumbers generally served in a bread bowl, but for me, of course, was served without. The meat was excellent, juicy and cooked to perfection. As you can see, it's not pictured, I was too busy devouring it. Now it just means I have to come back for more pictures, and I definitely will!
The place has a variety of Russian desserts too. Since I can't eat them, I naturally didn't venture into that territory. Yet I do still remember the taste back from my childhood and youth days when I was still eating gluten. Do try either Napoleon, Medovik (honey cake) or Smetannik (sour cream cake), those are the most traditional ones, and they do taste great!
Hope you enjoyed this post and now venture out to try Russian food at one of your local restaurants!