It's the beginning of January, we are now at the brink of old and new. The last year has just ended, and this current one is yet to go into its full swing. And just as when we are standing at some literal threshold, we are now too faced with losses and new prospectives. 2014 is gone, and with it, old patterns and old ideas, it took away some struggles that were playing last year and gave a way to a fresh start, but it also swept away some people from our life, some left for a while, but others are now gone for good. As we are trying to make sense about this new life, how to process all the losses and to proceed with what's left behind but also given a new way to live, it's important to remember and celebrate everybody and everything that's gone and know that those people or those circumstances, though departed, are still with us, in spirit or in life lessons, and are part of our life forever.
The new year and new opportunities are here, to persevere, to succeed and grow. We have no choice but to go forward. Time does not stand still, neither does life. We are forced to do our best with whatever circumstances we were dealt with. And of course to cherish the memories of the days, and people, left in 2014.
What's Cooking This Week
The best things in life are also often the simplest. Extra twists and decorations do produce a nice visual, but it's not always necessary to create a desired effect. Sometimes simple things bring that extra warmth and a sense of a family, especially in home cooking, that all sophisticated culinary concoctions pale in comparison to memories and conversations a simple family favorite can inspire. Today's recipe is definitely one of the staples in German cuisine. Kuchen in German means cake, any variety, but in America, Kuchen is associated with simple vanilla sheet cake topped with either fruit, nuts or sugary glaze. Don't be fooled by its simplicity though, this dessert is absolutely delicious and full of rich German culture and traditions.
German Apple-Cranberry Kuchen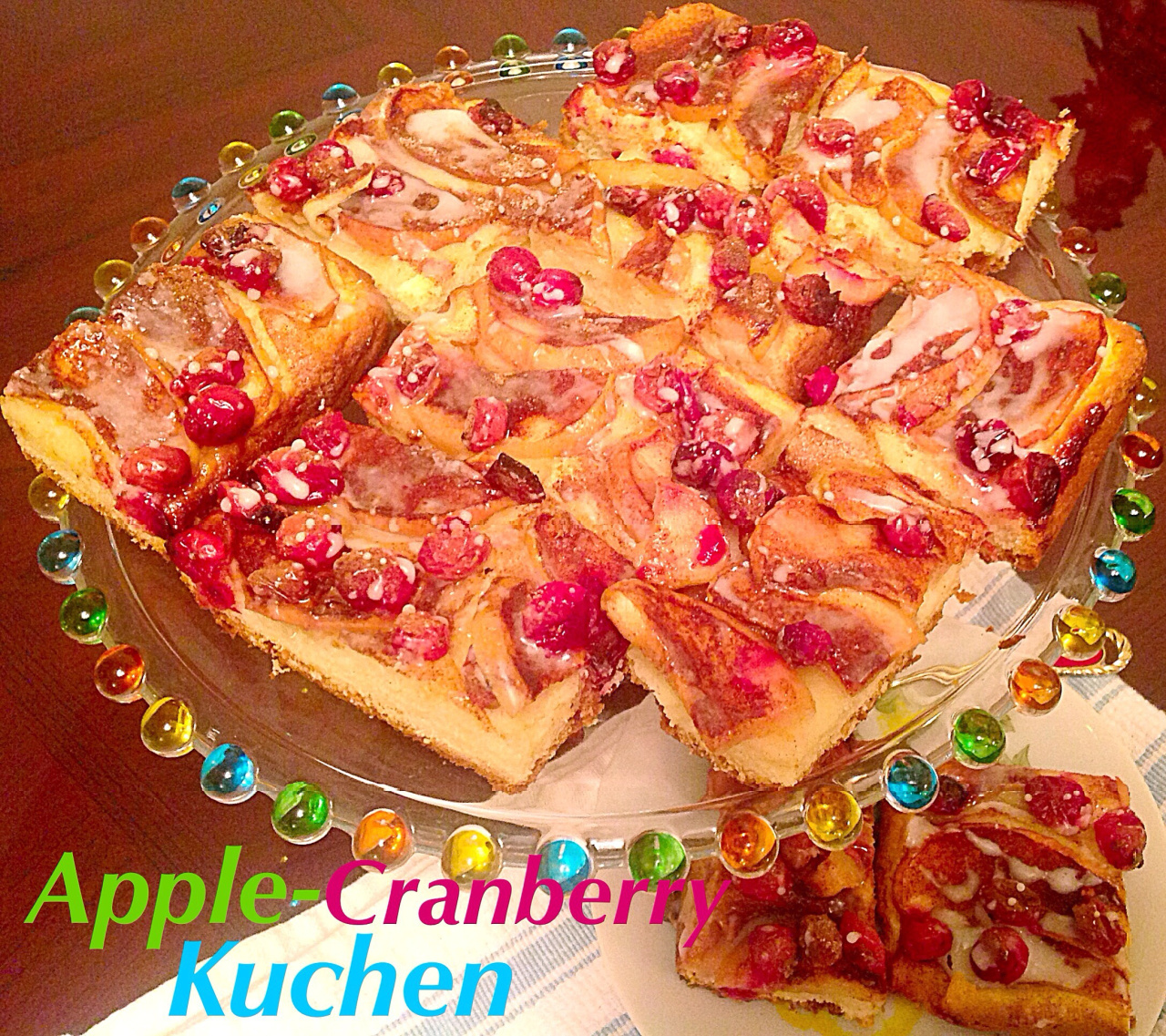 1 1/2 cups of flour (I used Cup4Cup gluten free blend)
4-5 small to medium apples, sliced lengthwise
1 cup of fresh cranberries
1/2 cup of sour cream
2 eggs
1/2 cup of butter or shortening (I used organic Spectrum shortening)
2/3 cup + 3 Tbsps of sugar
2 tsps of vanilla (I used powder)
1 1/2 tsp of baking powder
1/4 tsp of salt
1/2 tsp of cinnamon
3/4 cup of powdered sugar
1 Tbsp of milk or water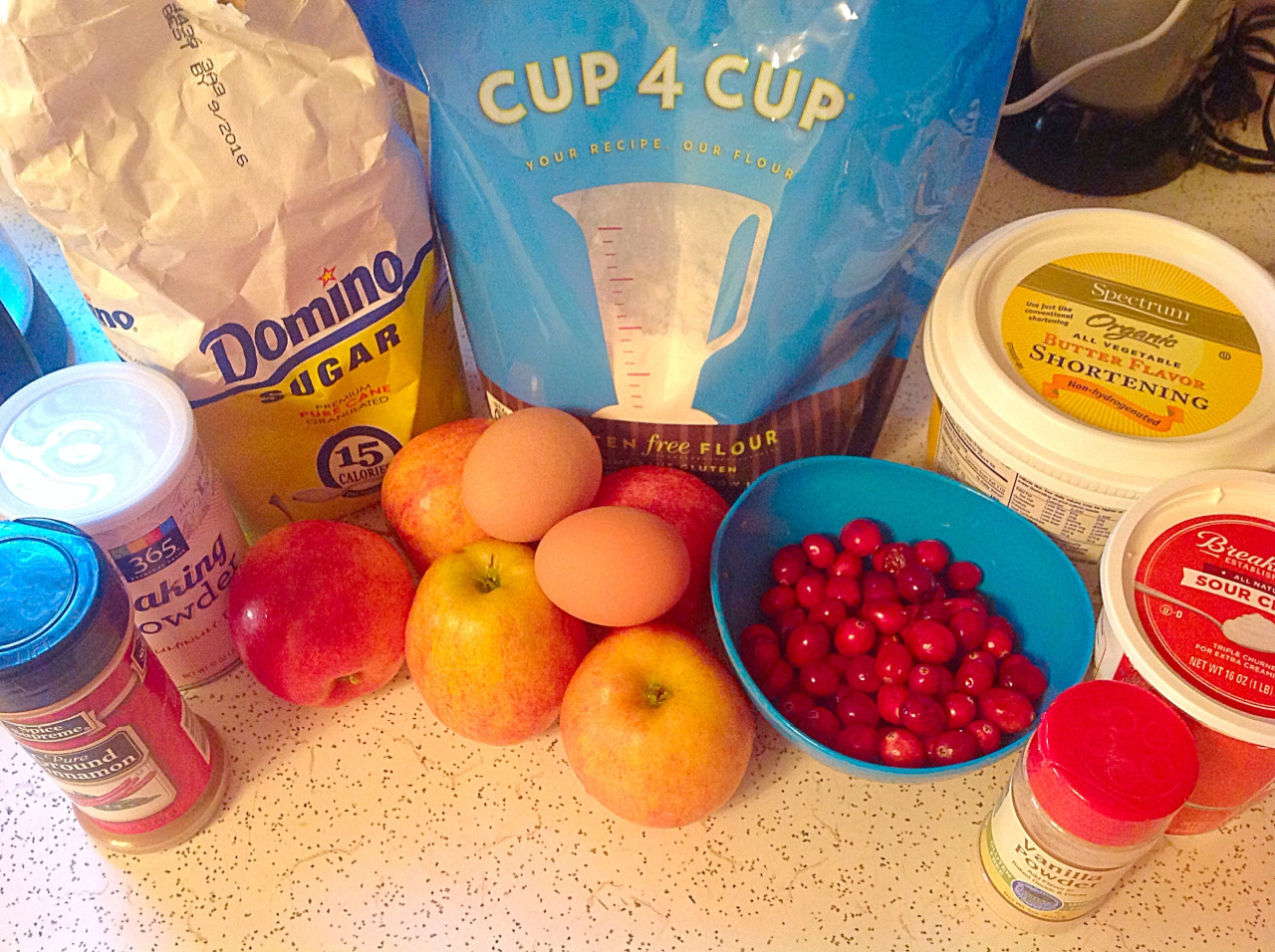 Pre-heat the oven to 350F degrees, line either one 9×13 or two 8×8 pans with parchment paper.
Cream together butter and sugar until light and fluffy, add one egg at a time, then sour cream and mix well. Combine together flour, vanilla powder, salt and baking powder. Gradually add flour mixture into wet ingredients and mix well. Batter will be sticky.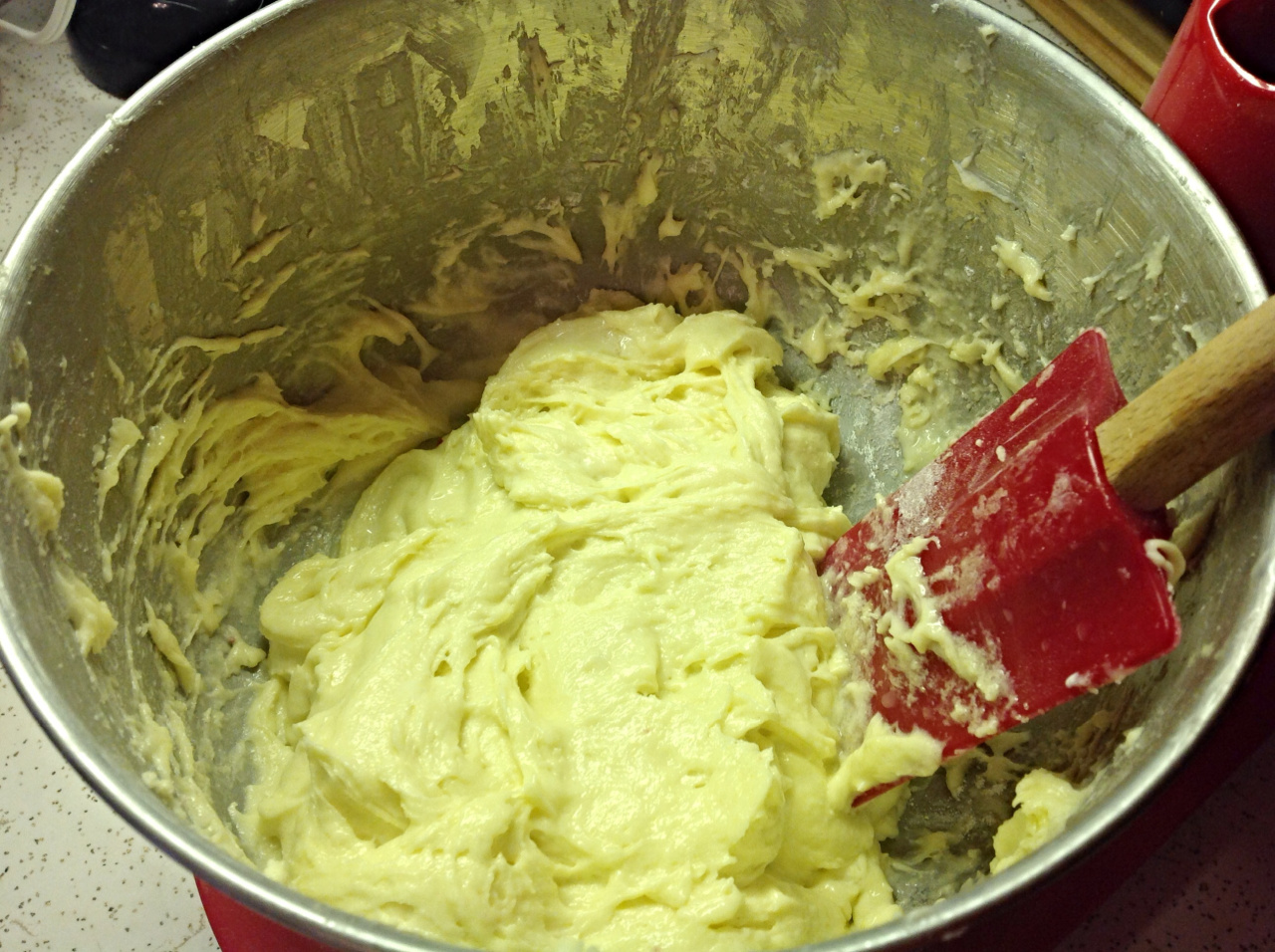 Spread a thin layer of batter in pan/pans. The top doesn't have to be exactly even, just smooth it a bit.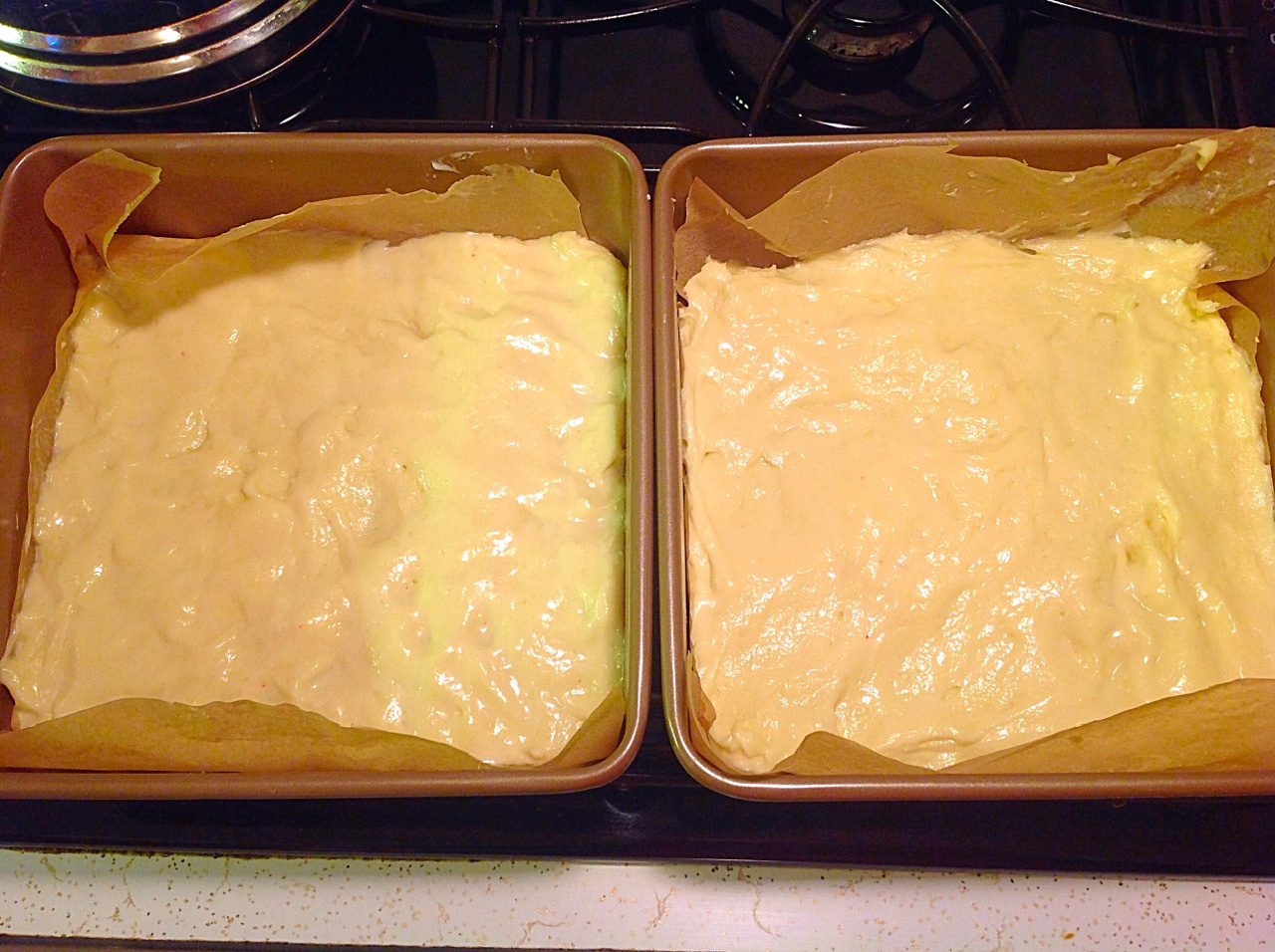 Top it with apple slices, cranberry and sprinkle a mix of 3 Tbsps of sugar and 1/2 tsp of cinnamon.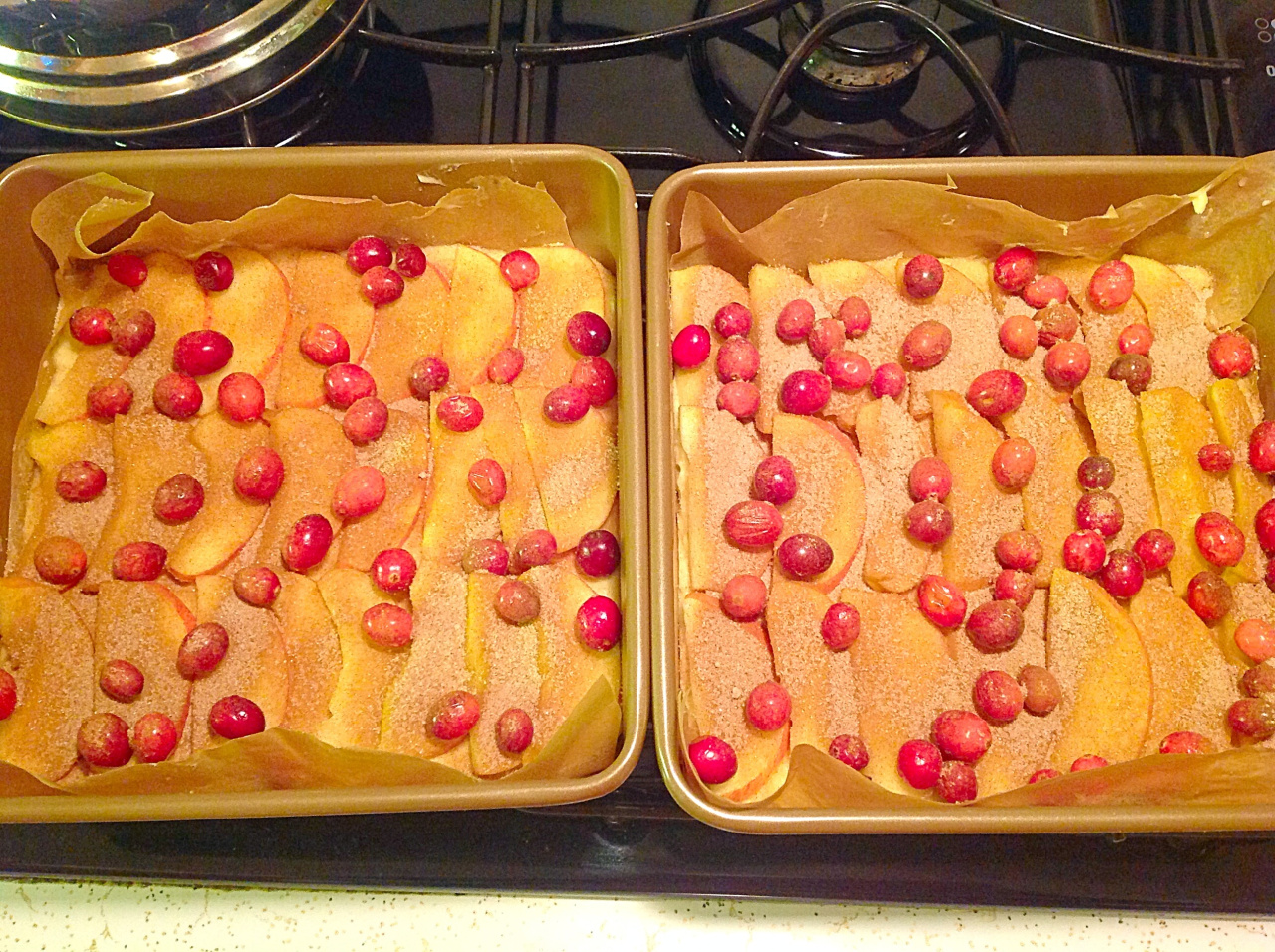 Bake for about 45 minutes or until the edges are dark golden and the fruits are soft. Cool completely and remove from pans (parchment paper lining helps). Combine powdered sugar with milk or water and sprinkle this sugar glaze on top. Cut in squares or triangles.
No forks required, use your hands. And lick your fingers, yes, it is that good!
Enjoy!