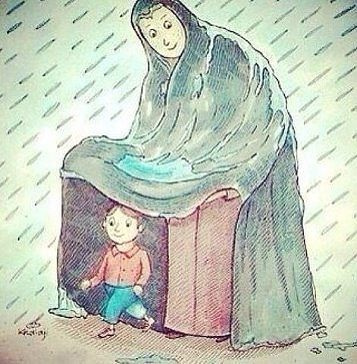 He's gone where dreams reside during the day, and where rainbows stay suspended, and memories float ready to be relived. He is right here, but in my eyes only, and forever in my heart.
And today he turns 17.
I wish I can walk behind you like this forever, protect you from every rain drop and from every heartbreak, but I can't. Pretty soon I have to let you go, push you to take that first step, the one that will hopefully set you on your own path. And I know there will be plenty of detours and wrong routes and rest stops, but as long as you are on it, taking those steps, trying to find your own ground, I'll be happy, and proud, and loving, and encouraging you to go as far as you want.
But today you are still mine. One foot next to me, and the other is ready to take that leap away.
So Happy Birthday Baby! Enjoy being 17 now!
And I'm enjoying my "birthday boy" flowers today (it's a Russian tradition to give flowers to the mother of a child, no matter how old the child is), so lilacs are perfect to celebrate the kid's birthday and the upcoming Mother's Day this weekend.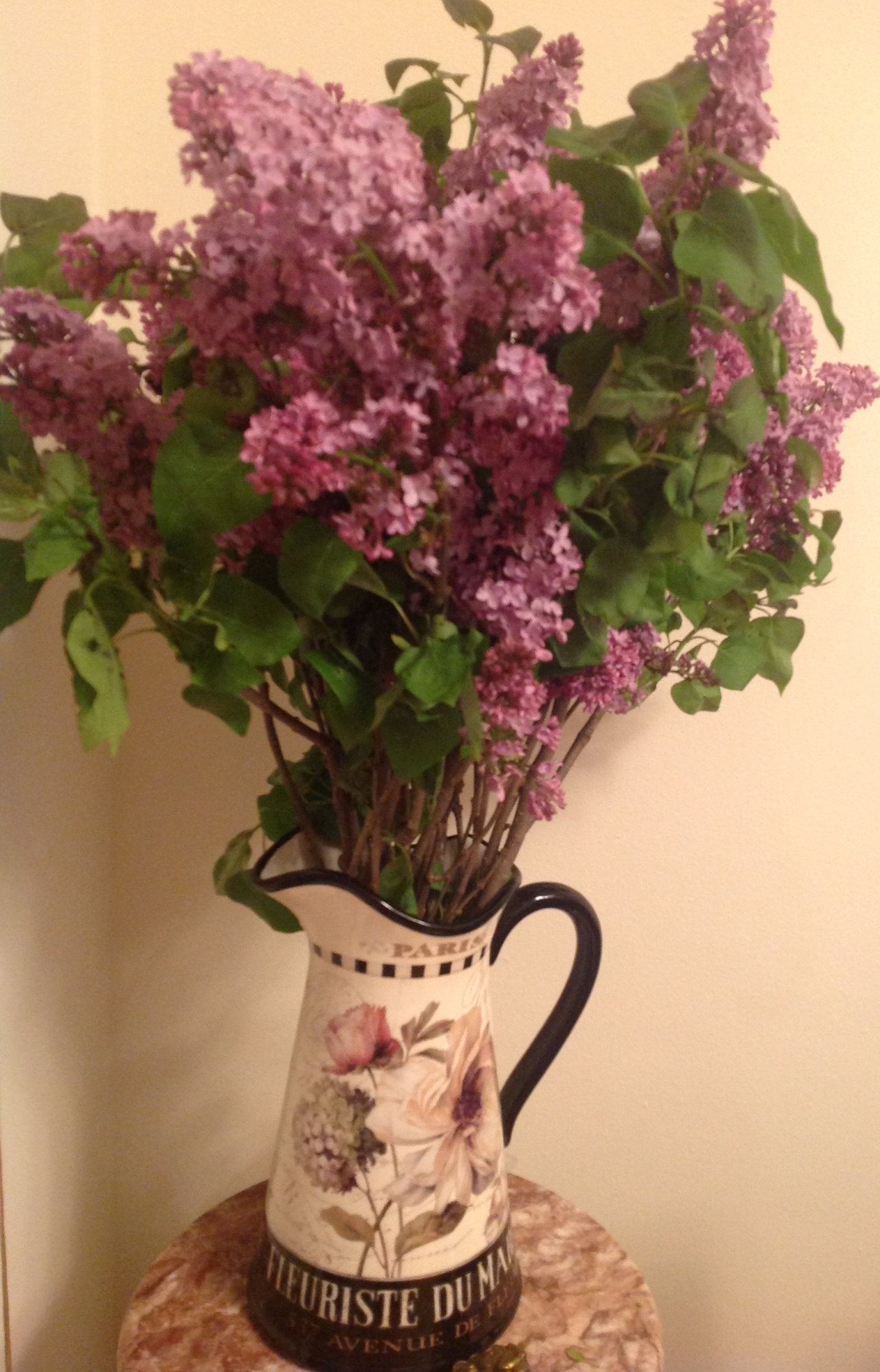 What's Cooking This Week
It's a birthday, so of course cake has to be involved. When I asked the kid what kind of cake he wanted, he said Black Forest. I was a bit surprised, he does love chocolate but usually goes for the richer and darker variety not the white and fluffy frosting on top, but I guess that's what he was in a mood for. And that's what he got. My version uses some liquor in the recipe so take that in mind if serving it to kids. Mine of course was totally fine with it. 🙂
German Black Forest Cake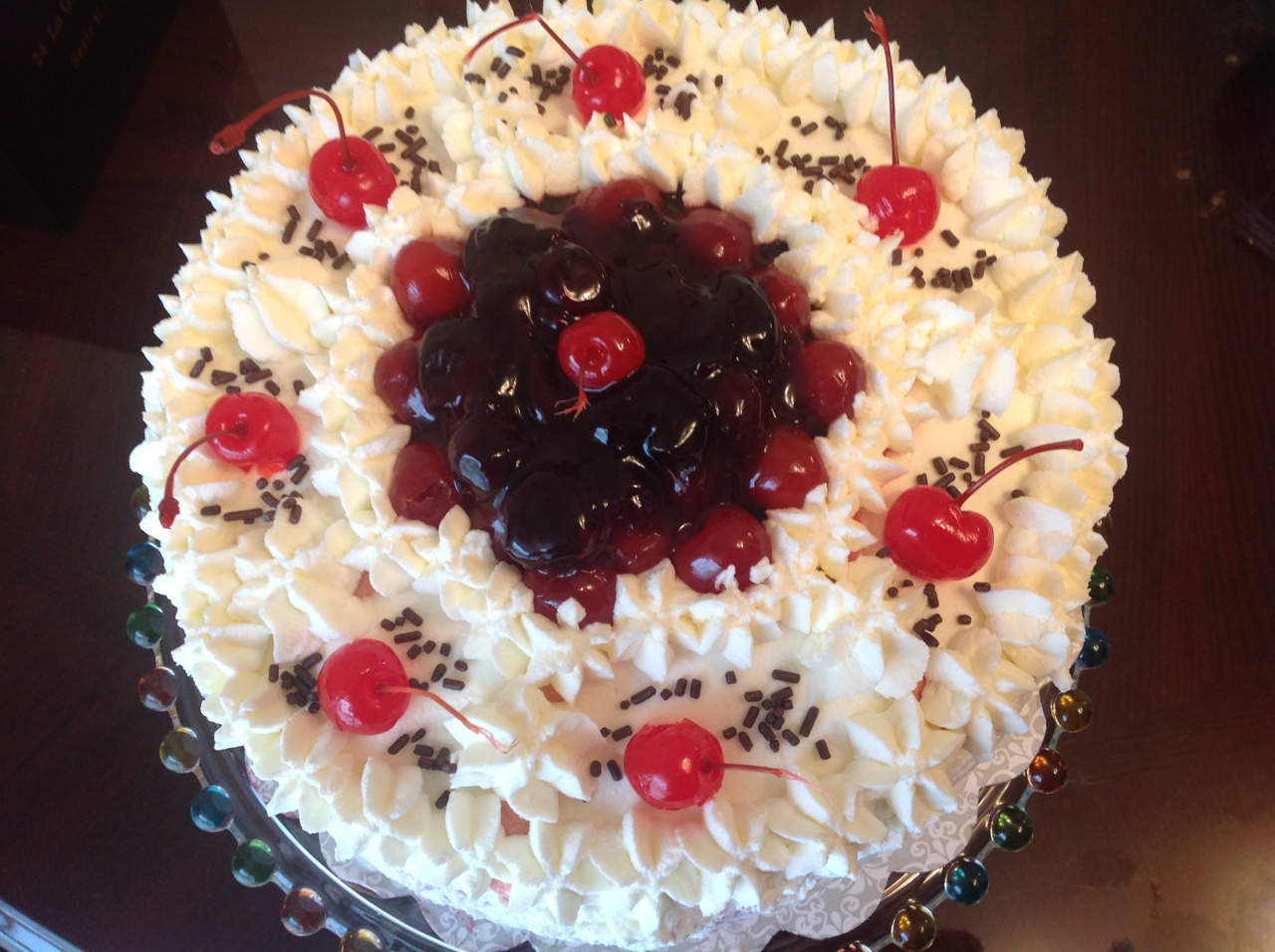 Cake (makes 2 9 inch layers):
1 1/3 cup of flour (I used Cup4Cup gluten free mix)
2 cups of sugar
4 oz of dark chocolate, broken into pieces
1/4 cup of cacao powder
1 cup of milk (almond or coconut)
1/2 cup of water
1/2 cup of canola or grape seed oil
2 eggs
2 tspoons of vanilla
2 tspoons of baking powder
1/4 tspoon of salt
1 tspoon of baking soda
Whipped frosting:
3 cups of heavy whipping cream
1/2 cup of powdered sugar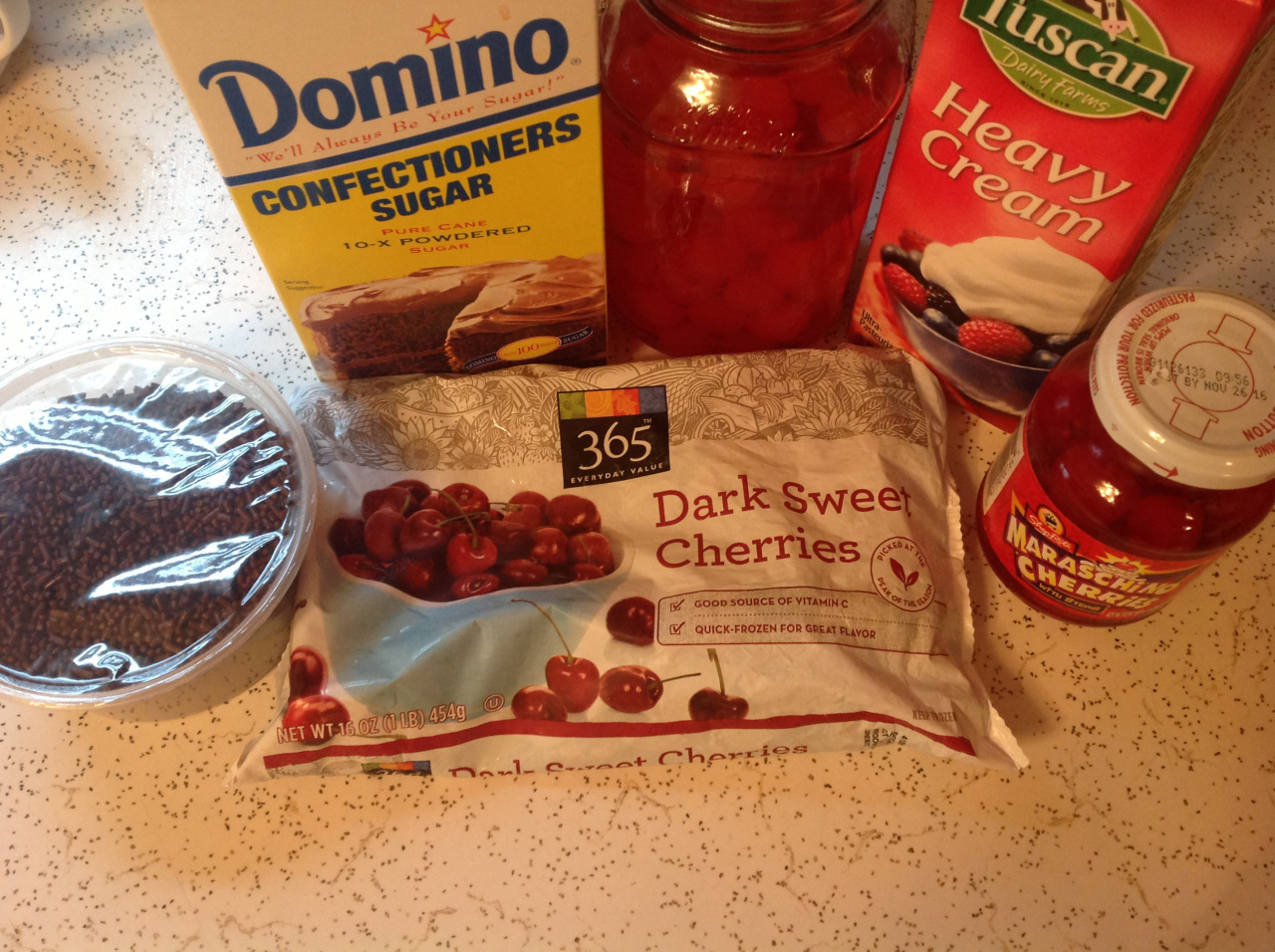 Cherry filling:
16 oz of frozen cherries, defrosted
1/2 cup of sugar
1/4 cup of corn starch
4 Tbspoons of rum
Cherry topping:
Moonshine cherries (in alcohol)
Maraschino cherries
Chocolate sprinkles
To make the cake first combine the flour and all other dry ingredients and set them aside. Combine water, oil, milk and vanilla separately. Beat the eggs with sugar and then add melted chocolate, add the wet ingredients. Gradually combine it all with the dry mix. Grease 2 cake pans and separate the dough between them.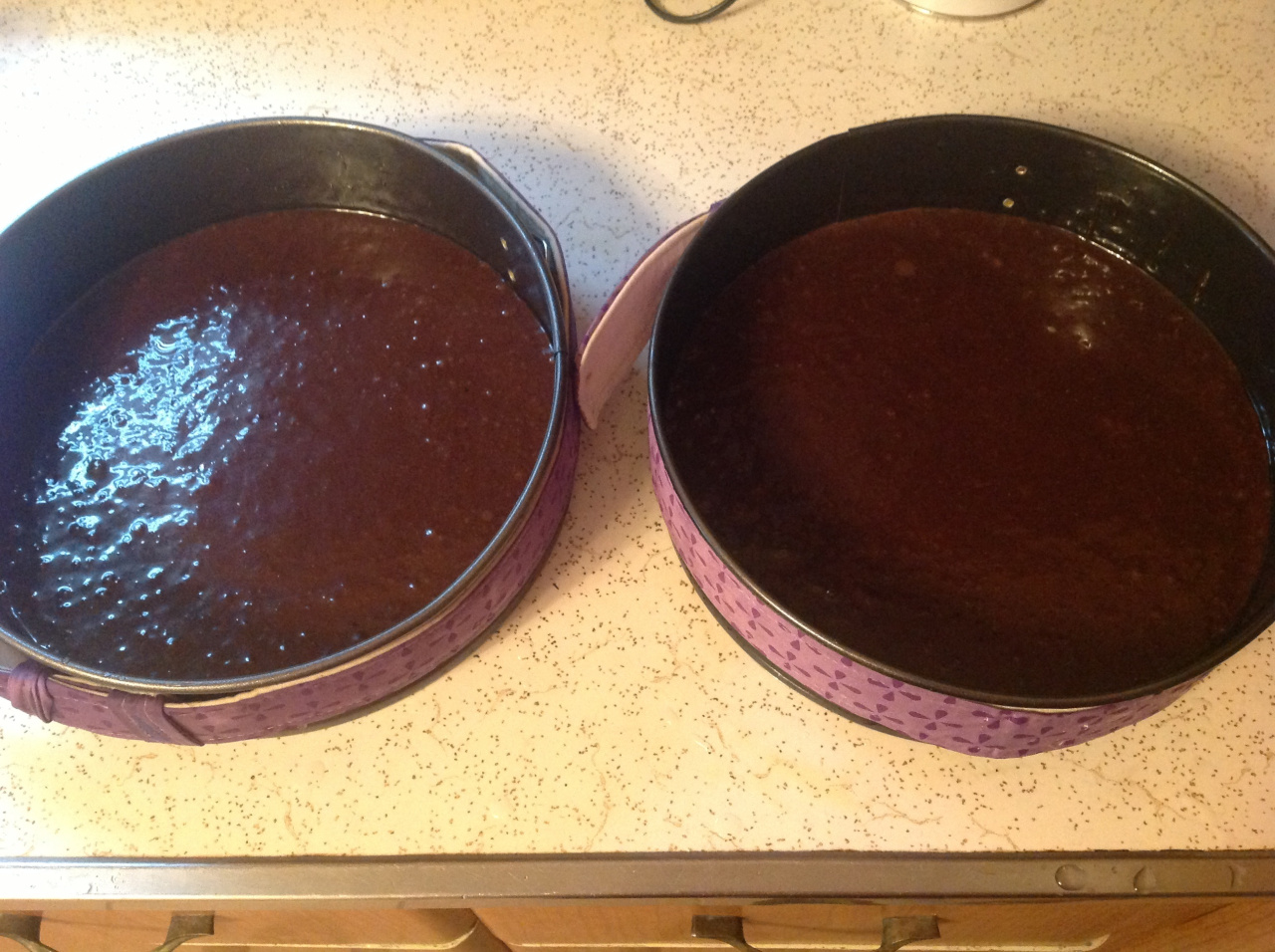 Bake in a pre-heated oven at 350F degrees for about 25 minutes each. Cool completely. While the cake is baking make the cherry filling. Combine cherries with sugar and cook over a low flame for about 5-10 minutes till cherries are soft. Stir in corn starch and mix well. Remove from heat and stir in rum (don't cook).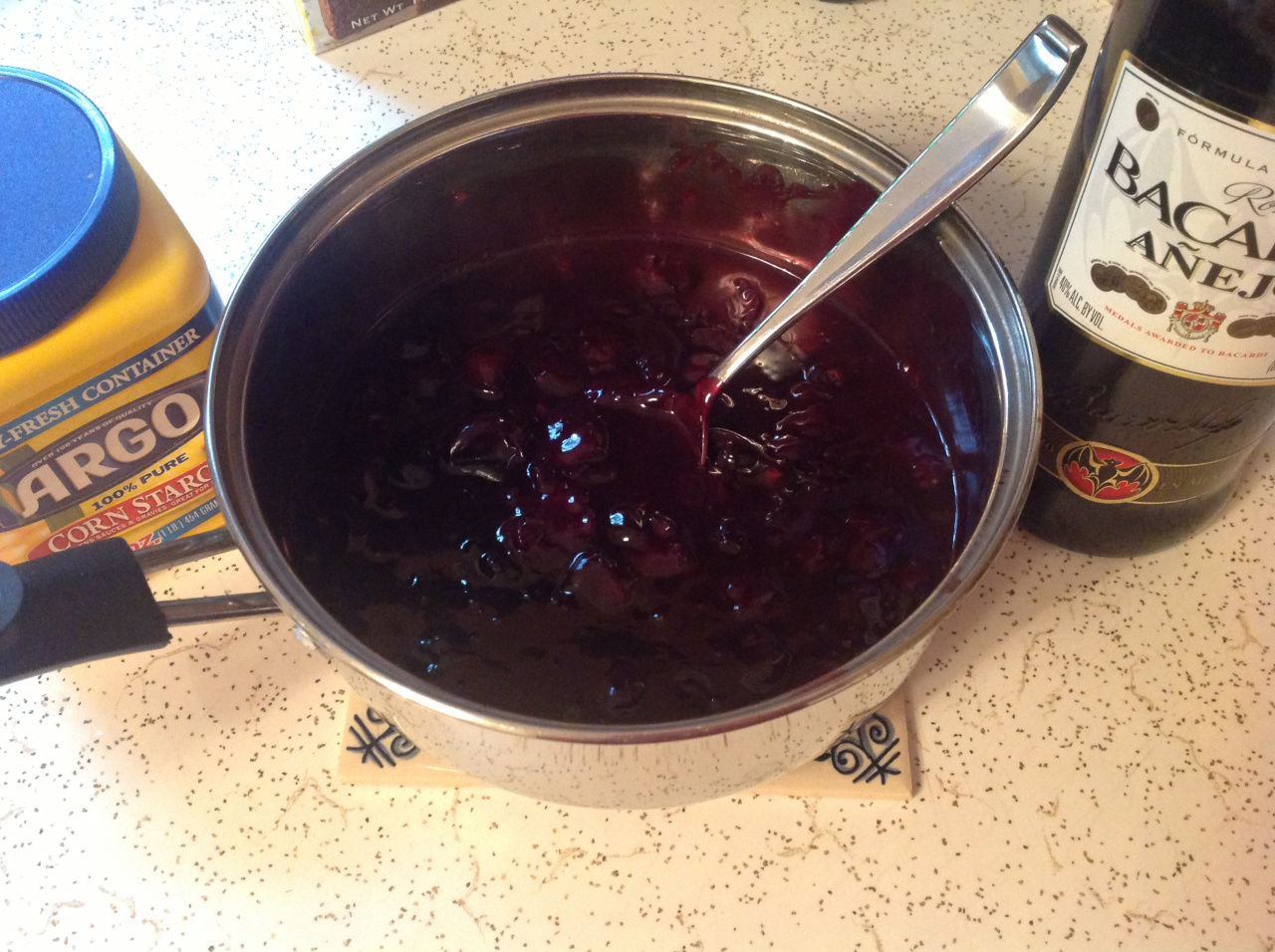 While cherries are cooling off make the frosting. Whip on high 3 cups of heavy cream until the frosting is almost done, add powdered sugar and finish whipping. To assemble the cake, place one layer on a cake plate and top it with some frosting, spread evenly on top and the sides, then spread a layer of cherry filling.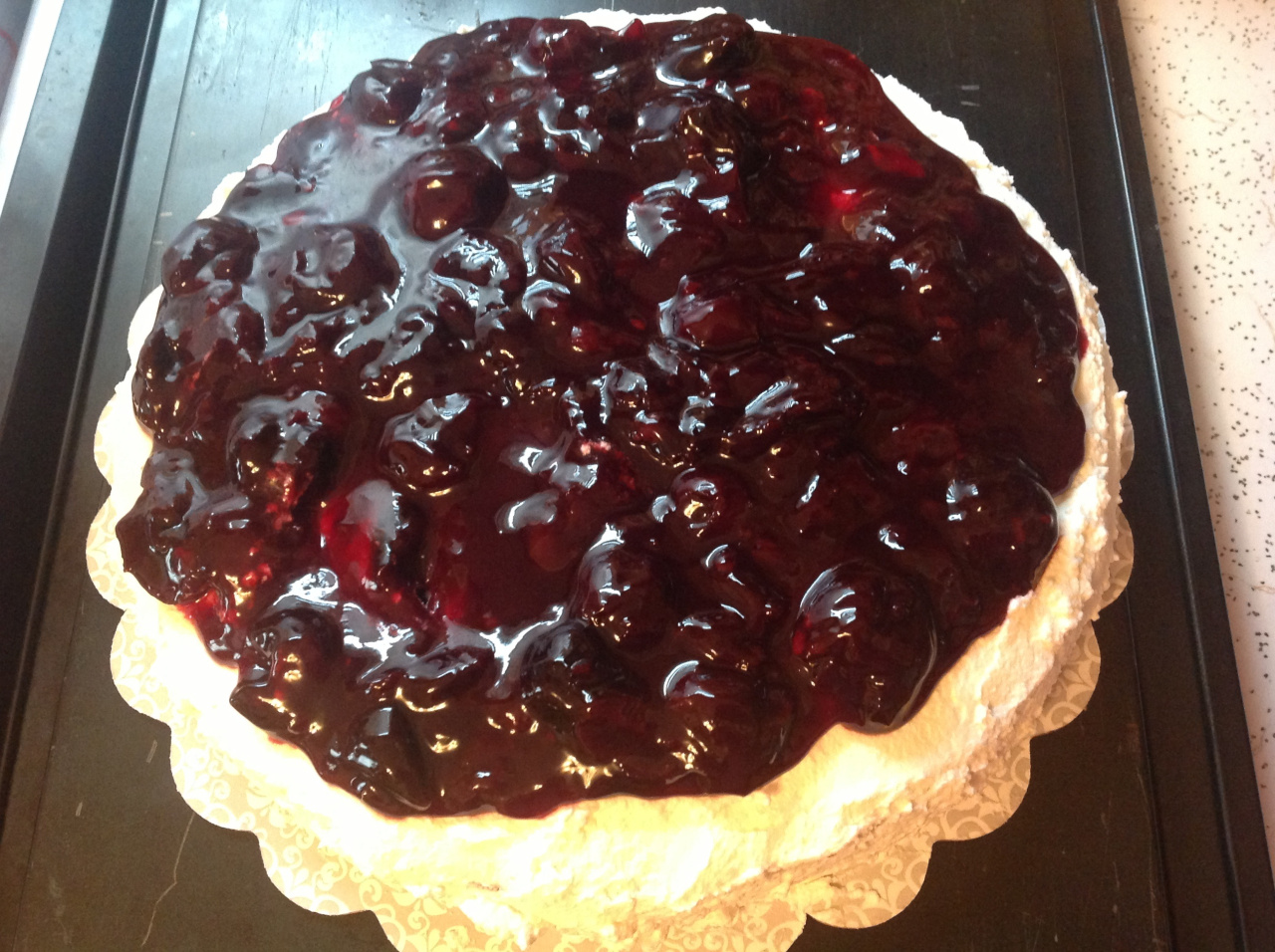 Top it with the second cake layer and more whipped frosting. Place some moonshine cherries in the middle of the top cake layer and add some cherry filling over them. Decorate with frosting, chocolate sprinkles and Maraschino cherries.
All ready to make a birthday wish.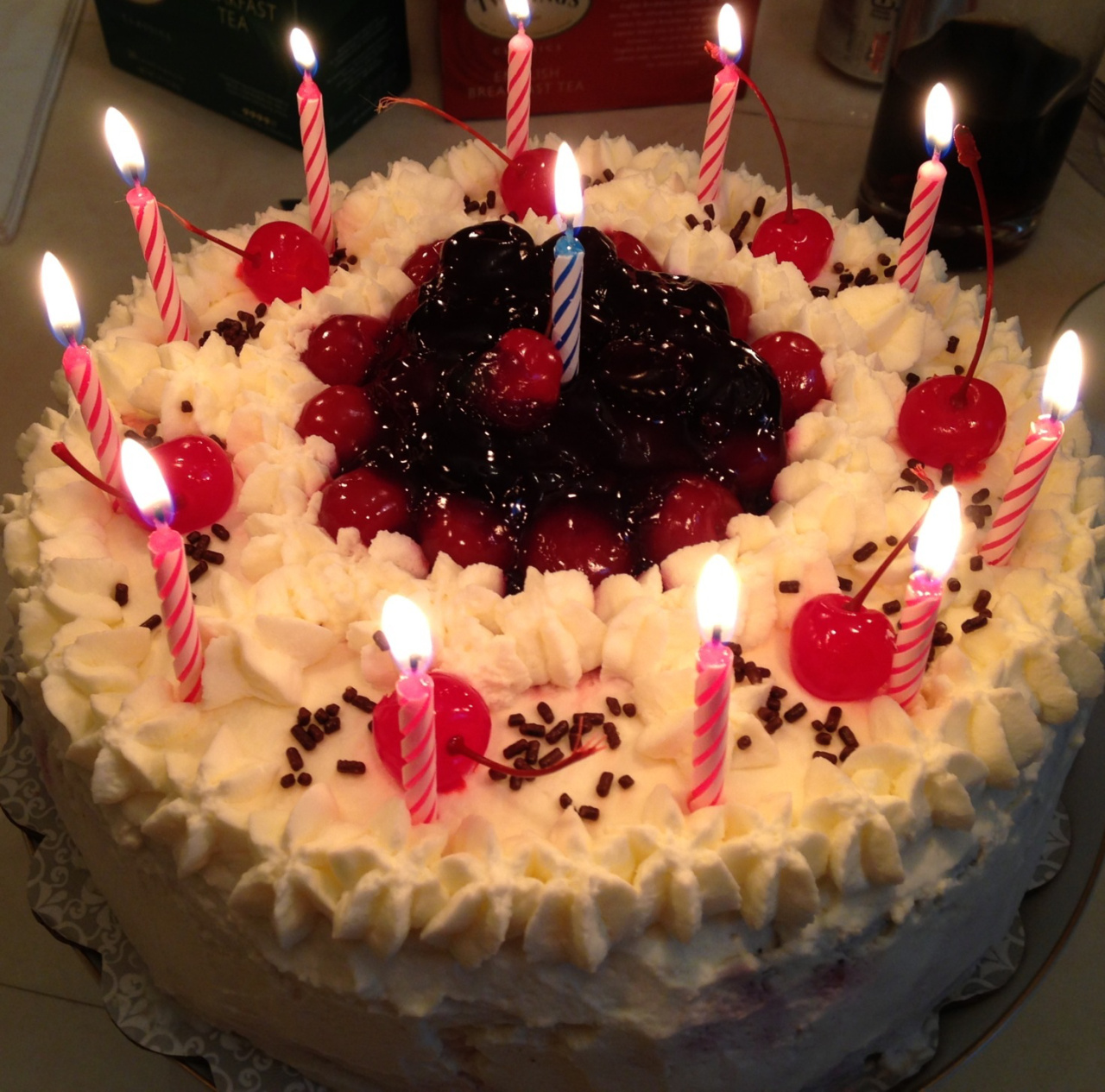 We all literary inhaled the cake, it was so good, and of course the kid liked it!