Let It Snow, And Snow Again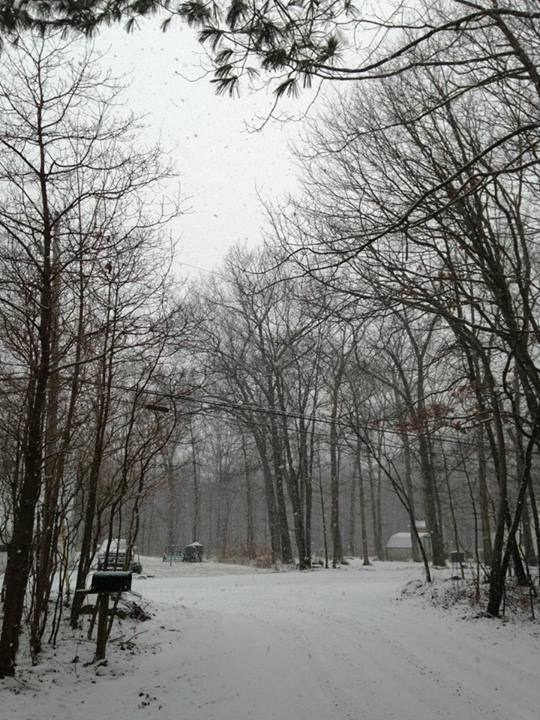 We are having such a "nuclear" winter this season. Its's been snow and ice, and more snow and cold in New York with the temperatures dropping to sub-human degrees since the beginning of January. And unfortunately, NY is not alone in this "ice age" predicament, most of the country, even the places where snow rarely touches the ground, have seen very frigid weather.
Can I say we are all SICK and TIRED of winter!
So as I'm writing this post, there's even more snow falling outside (but did they say 50sF are showing up by the next weekend?). I'd like to reminiscent about the time, not that far in the past, when snow was still fun in the beginning of this season. Rewind to a perfect winter day on December 31st. When the old and the new meets in a harmonious way to bid farewell to days bygone and open a new door to all the possibilities to come.
Yep, we definitely said goodbye to fun winter days and welcomed such new extreme experience like Polar Vortex. One of those instances when I can't stop crying about the past…
Back in the middle of December my friend threw an idea to go to Poconos for the New Year holidays. I toyed with the possibility, but since I wasn't sure if I can take 5 days off work, I didn't really plan anything or even thought much about it. And so didn't many other people who were also invited to join the "expedition"…
Thus came to be a live rendition of the classic Ukrainian fairy tale The Mitten. In the story a little boy loses a mitten that is found by a small animal and is adapted as its new home. But the winter outside that small place is brutal, and the snow is deep, so more and more animals knock on the Mitten house door asking for shelter. The Mitten stretches and widens to make room for yet another creature, but finally a tiny mouse asks to come in, which is what breaks the house, and all the animals are thrown back in the snow.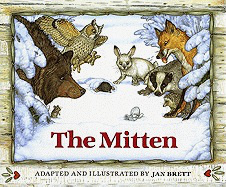 We almost had the same thing happen to us, though the ending fortunately was not that dramatic. The Poconos house was initially rented to hold 6-7 people, but as December drew to its close, more and more people decided to join making re calibrating all the sleeping arrangements, meals prep planning and extra car renting a military strategy exercise. We were now 11 including 5 kids ranging in age from 9 to 17 years old and an overly affectionate dog (oh yeah, we had a whole spectrum of raging teenage hormones compounded with precocious tweens and a huge dog that as a true NYC dog, the city that never sleeps or goes dark, was deathly scared of pitch black Poconos nights).  At least she was never bored or whiny, which I can't say the same about the kids, she worked very diligently on keeping the floors clean from any food crumbs (but yes, some things were blatantly stolen from your plate if you happened to turn away).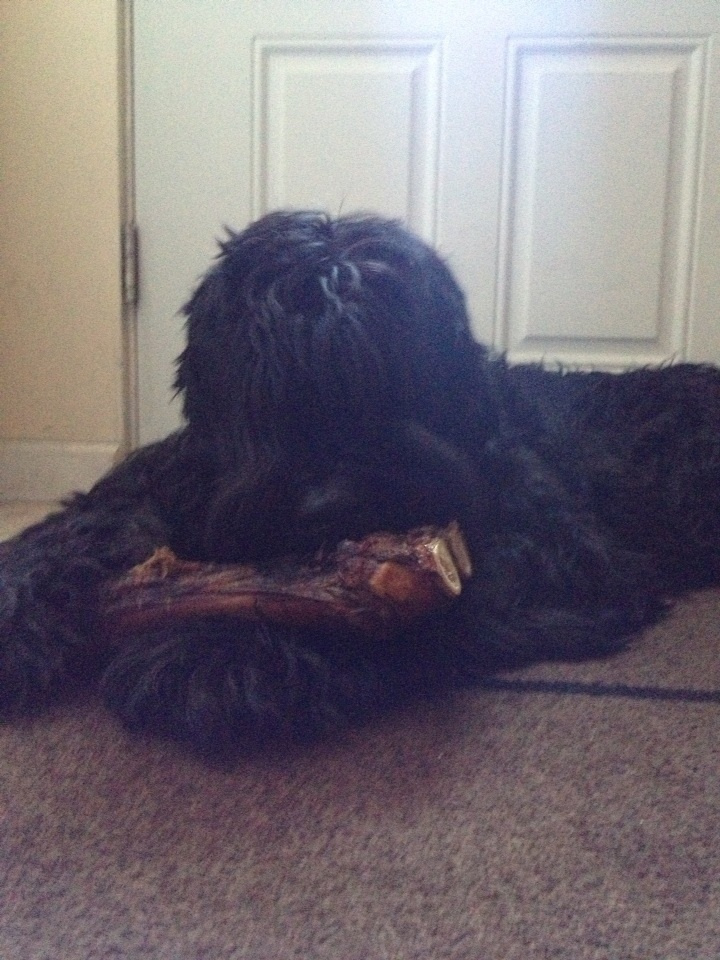 Yet we all survived, and even had fun, though the trip back was a movie worthy experience. With a rented car no longer in our possession, and another car leaving earlier than the rest of us, we had 9 people, 1 dog, all the luggage, skiing equipment, extra blankets and sleeping bags plus the leftover food to fit into just 2 cars. Clown cars had nothing on us! I don't know how we didn't get arrested for driving like that…
So please enjoy this gallery of fun winter day pictures when I ventured out, lured by a newly fallen snow, to check out the woods and the country roads.
But if you're still mad about this brutal winter, maybe it's time to blow some steam off and go to a shooting range, pin a snowman picture to the target point. We did a preemptive strike when we were in Poconos.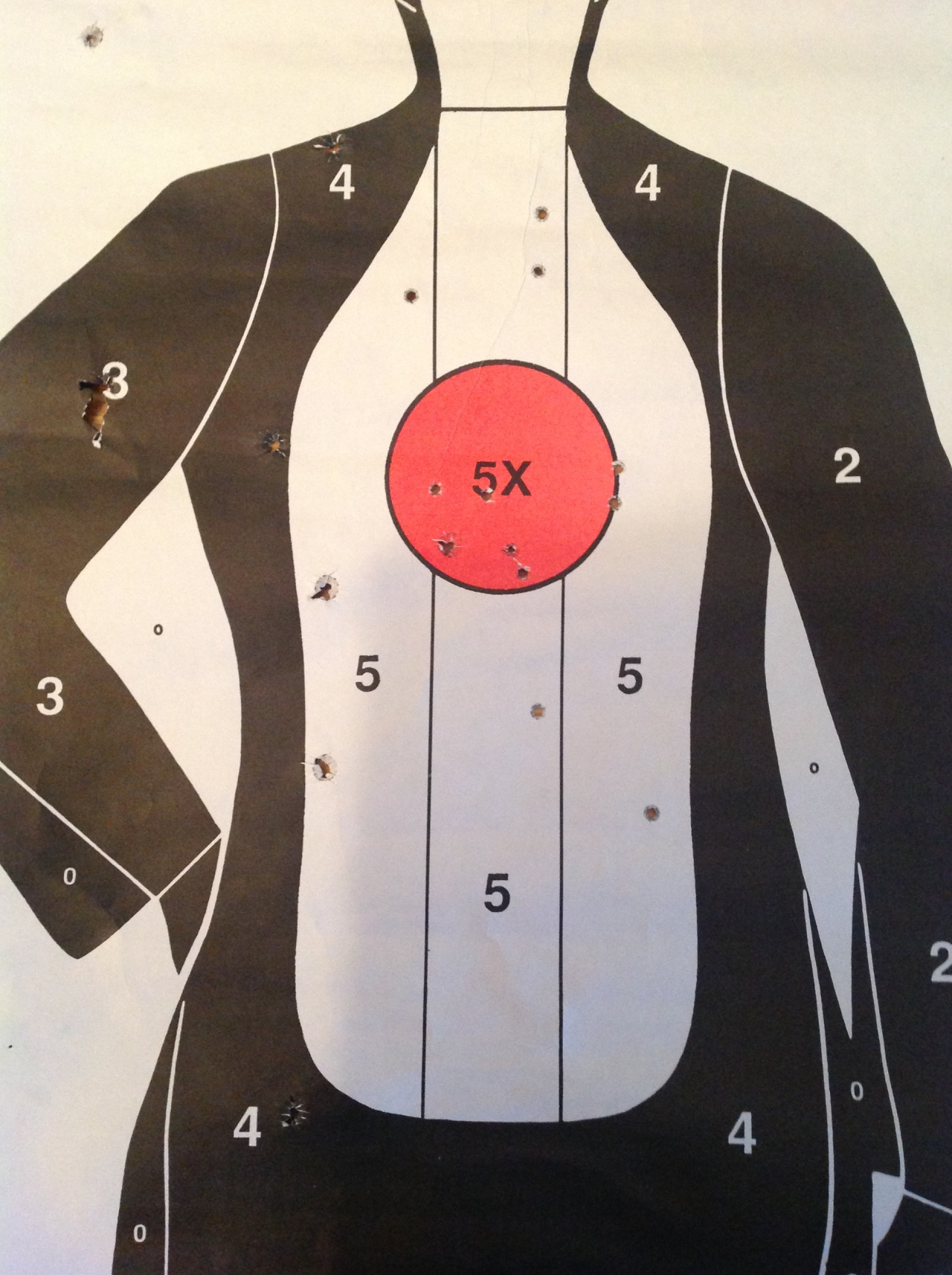 Yep, that showman would've been dead. Do not mess with a Russian woman!
What's Cooking This Week
Winter is in full swing, and doesn't seem to be leaving any time soon. You may find yourself sick with a cabin fever, or dealing with an actual sick and cranky kid (like me this weekend) looking for things to do that also happen to be productive and entertaining. So try this recipe, it's full of taste and all the nutrients necessary to survive this crazy winter.
Homemade Pumpkin Ravioli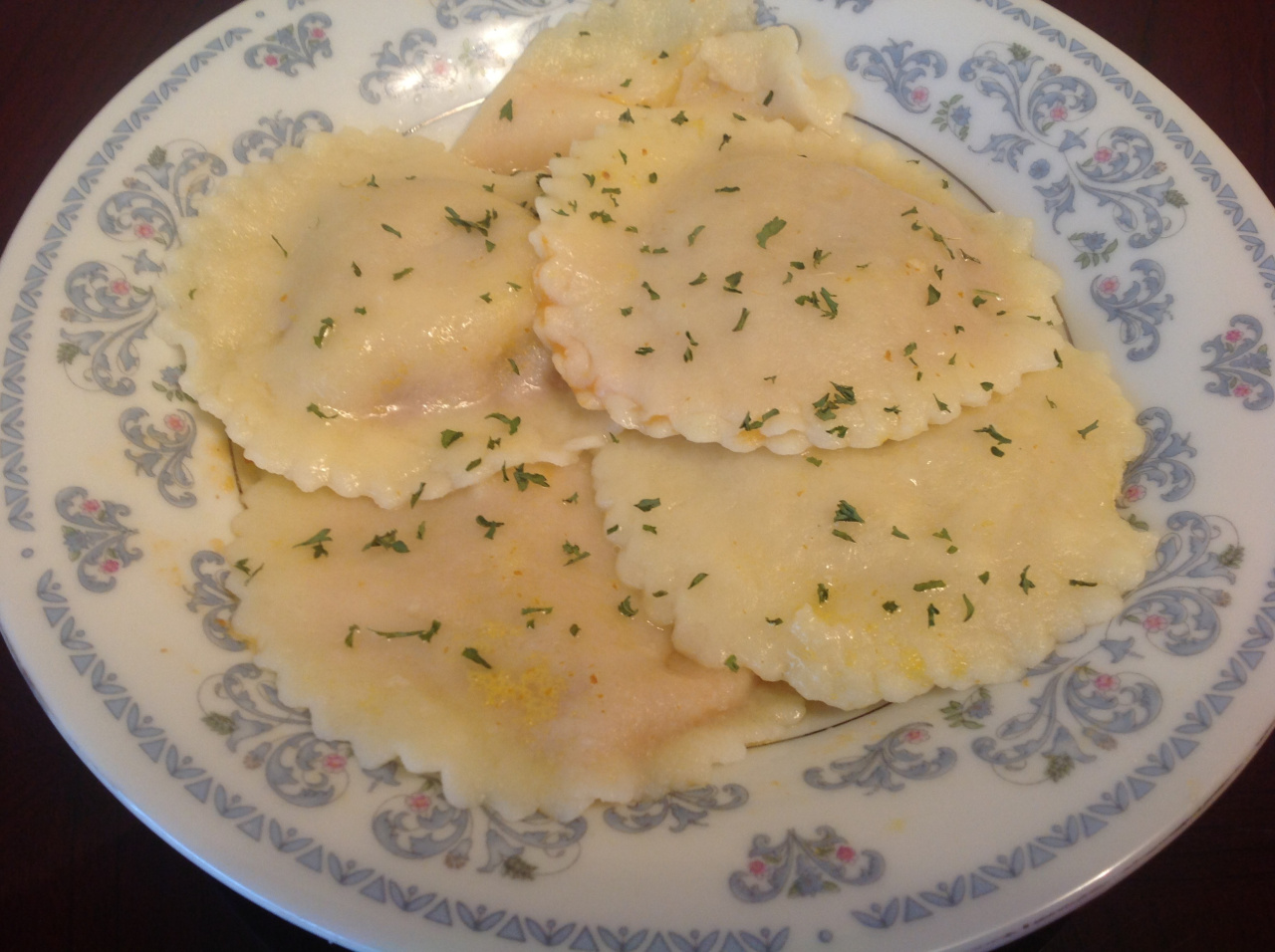 Makes 25-30 large ravioli:
1   1/2 cups of flour (I used Cup4Cup gluten free mix)
1/2 cup of sweet "sticky" rice flour
3 eggs
4 tspoons of olive oil
1/2 tspoon of salt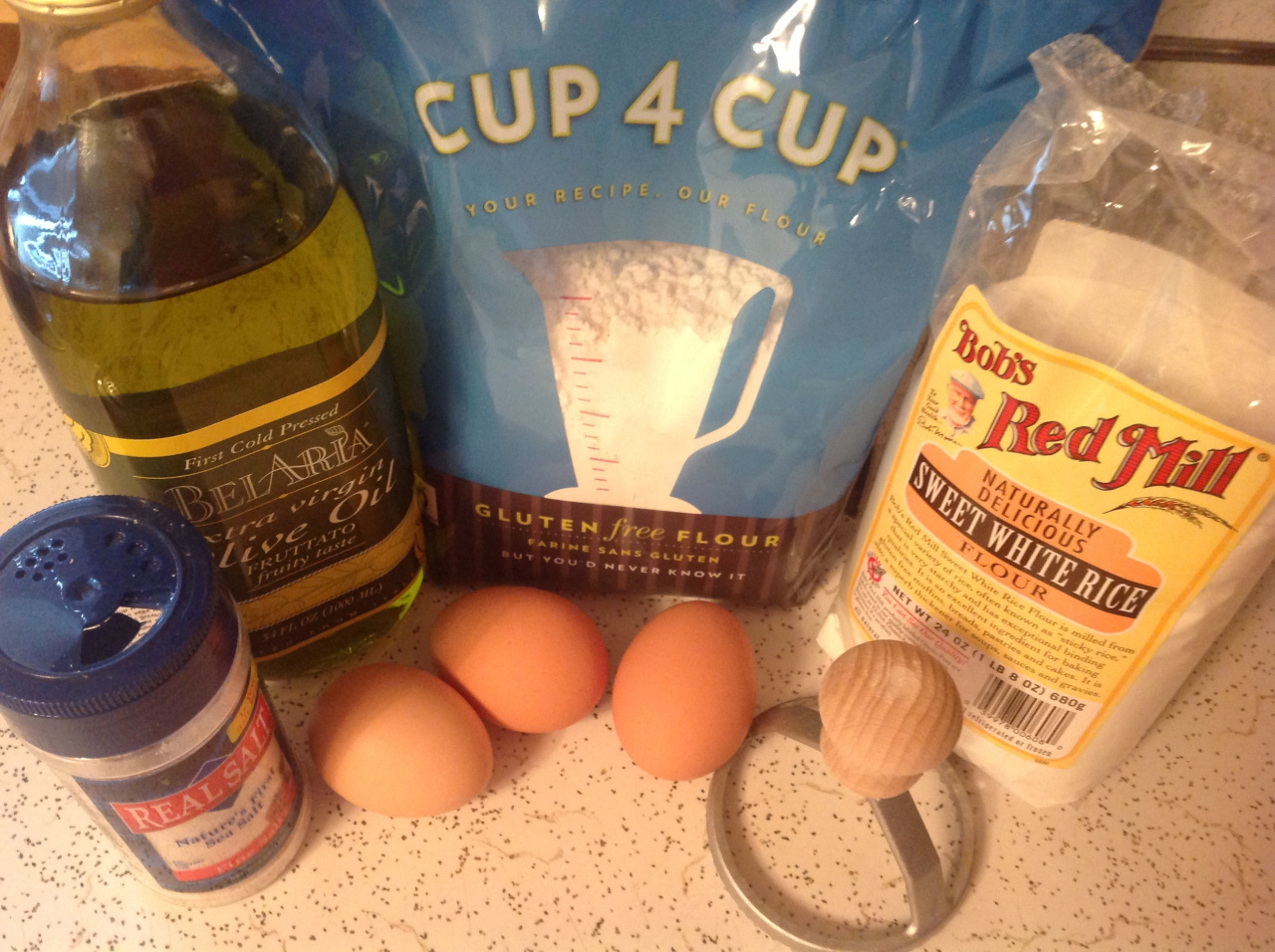 Pumpkin filling:
1/2 cup of pumpkin purée
1/2 cup of chick peas
2 Tbspoons of ground pignoli nuts
1 Tbspoon of sweet rice flour
1 tspoon of herbal blend like Herbamare
A pinch of nutmeg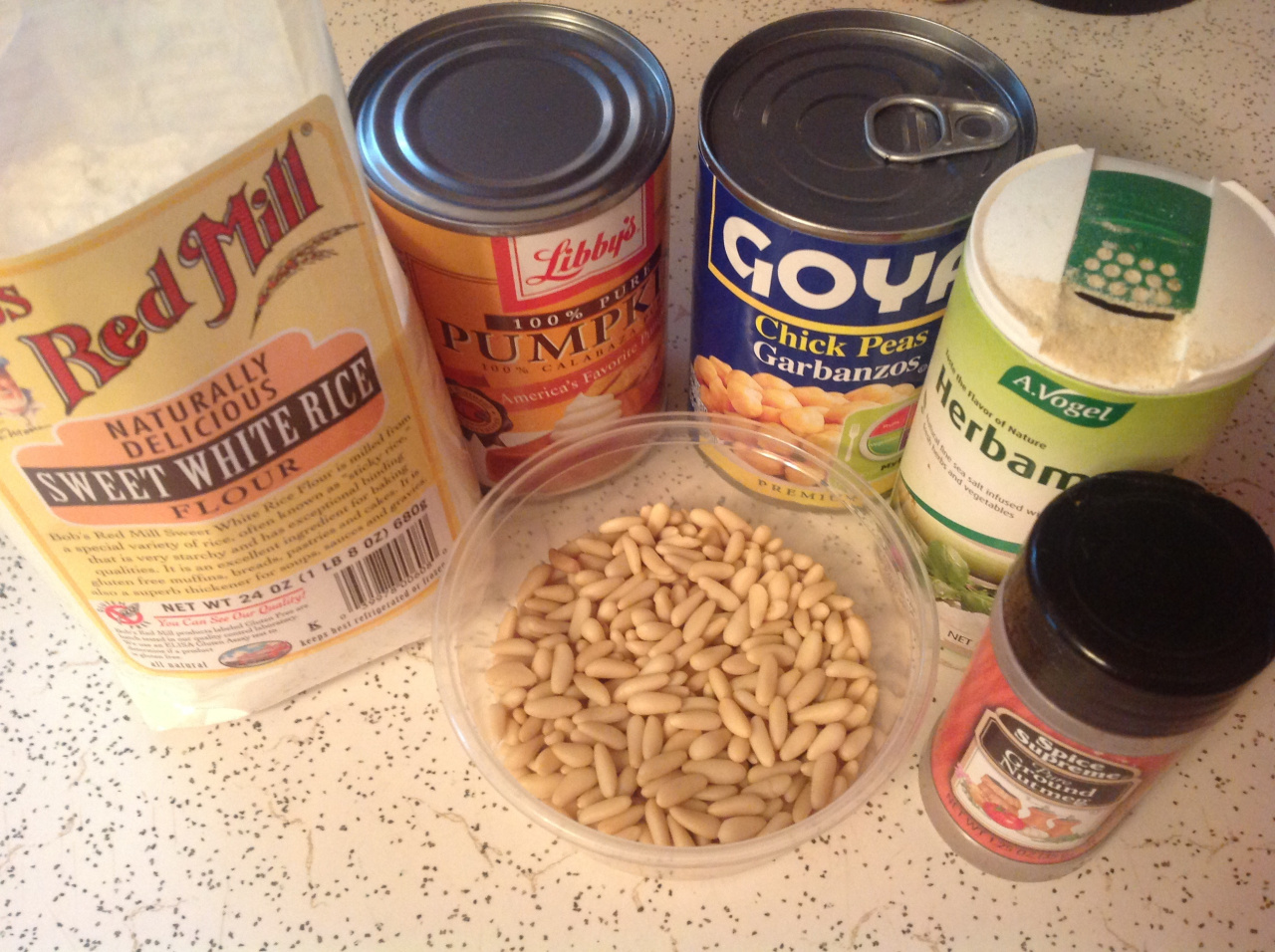 To make the dough first combine both flours and salt, sprinkle over olive oil and combine well. The mix will still be dry and crumbly.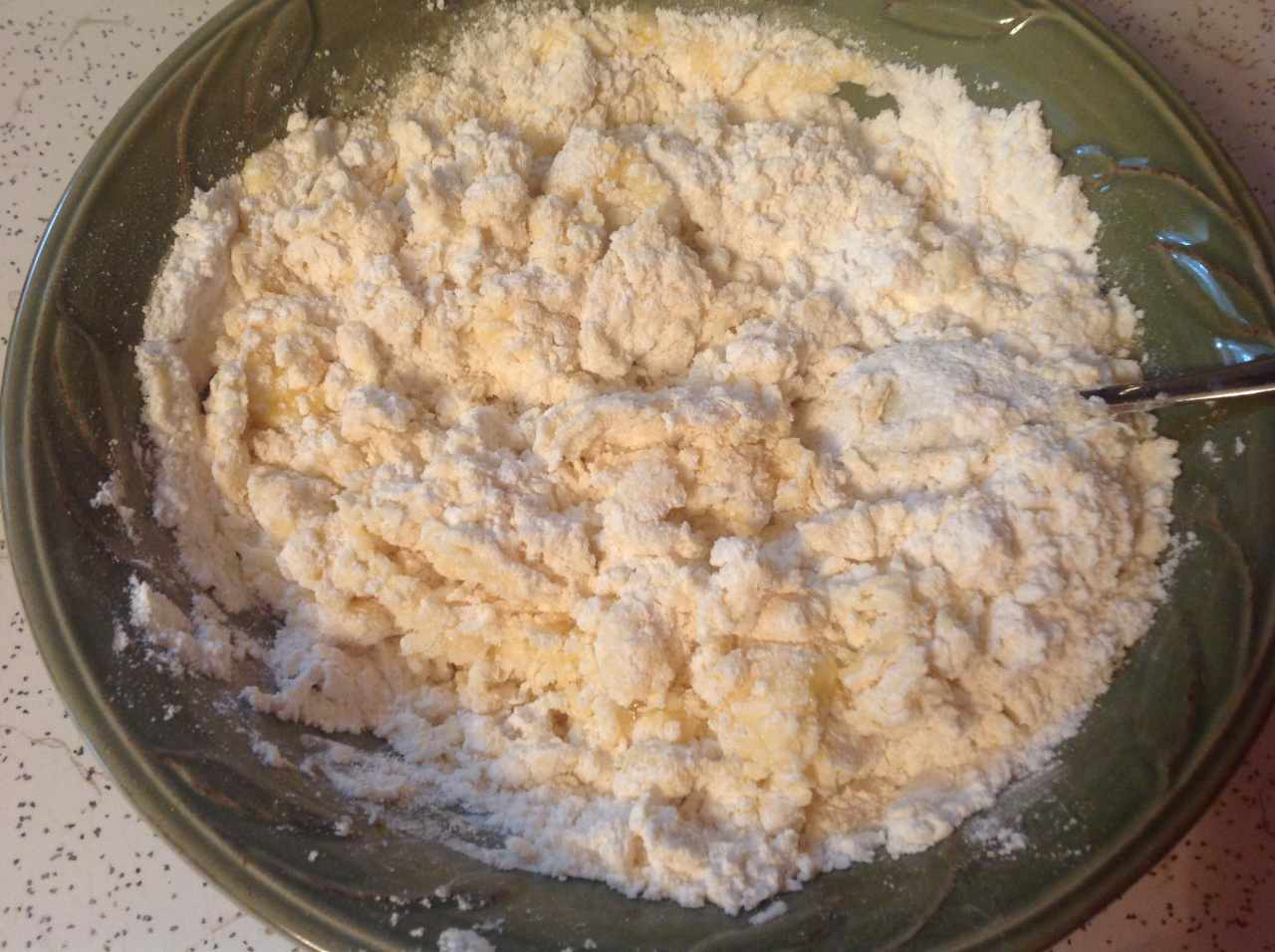 Make a well in the mix and add the eggs, using the fork, gradually combine the eggs with the flour mix using a circular motion. When the dough is still rough but comes together, turn it on a lightly floured surface and knead till smooth. Let it rest for a bit.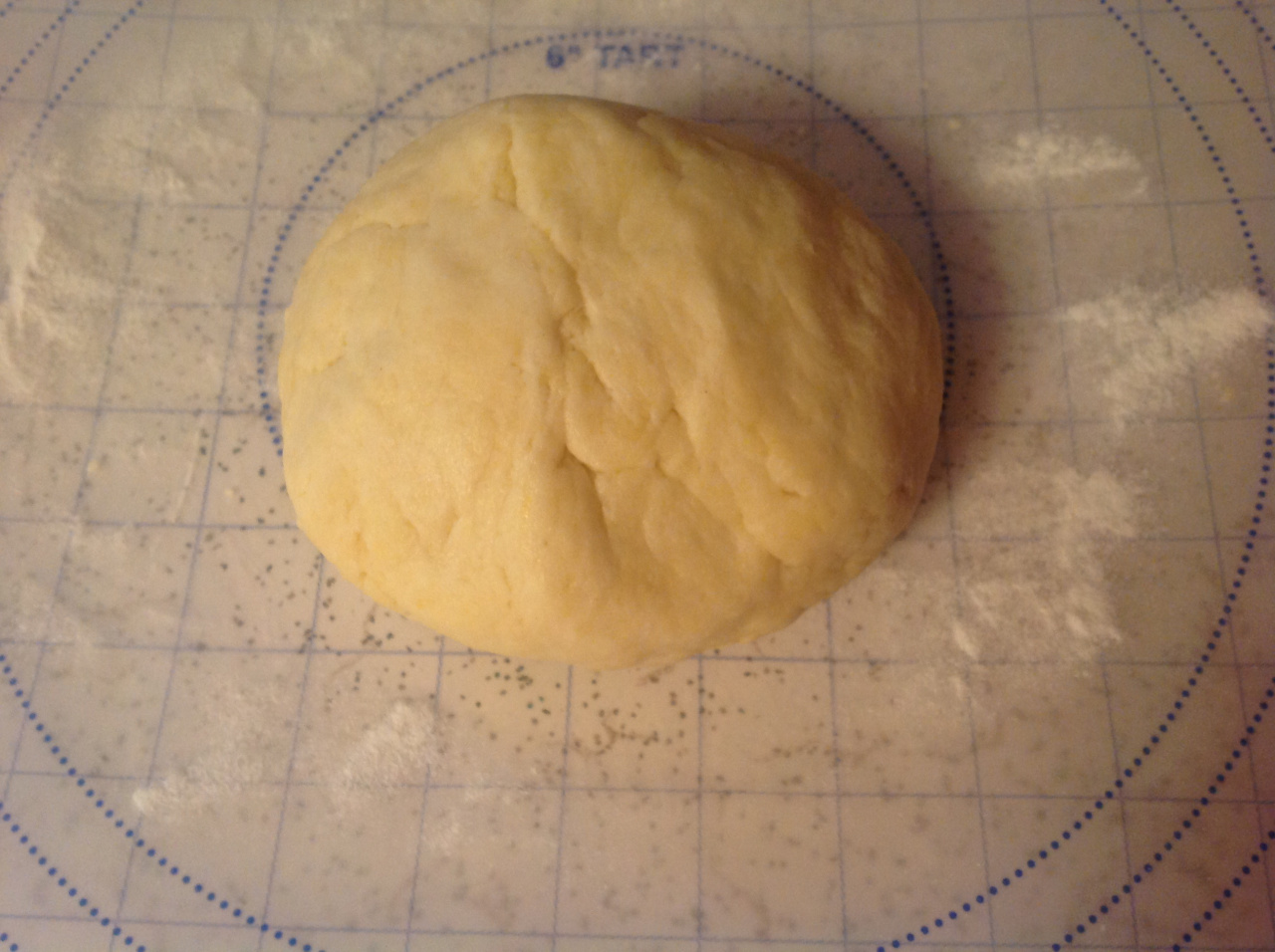 To make the filling process chick peas in a food processor then combine with pumpkin, nuts and spices.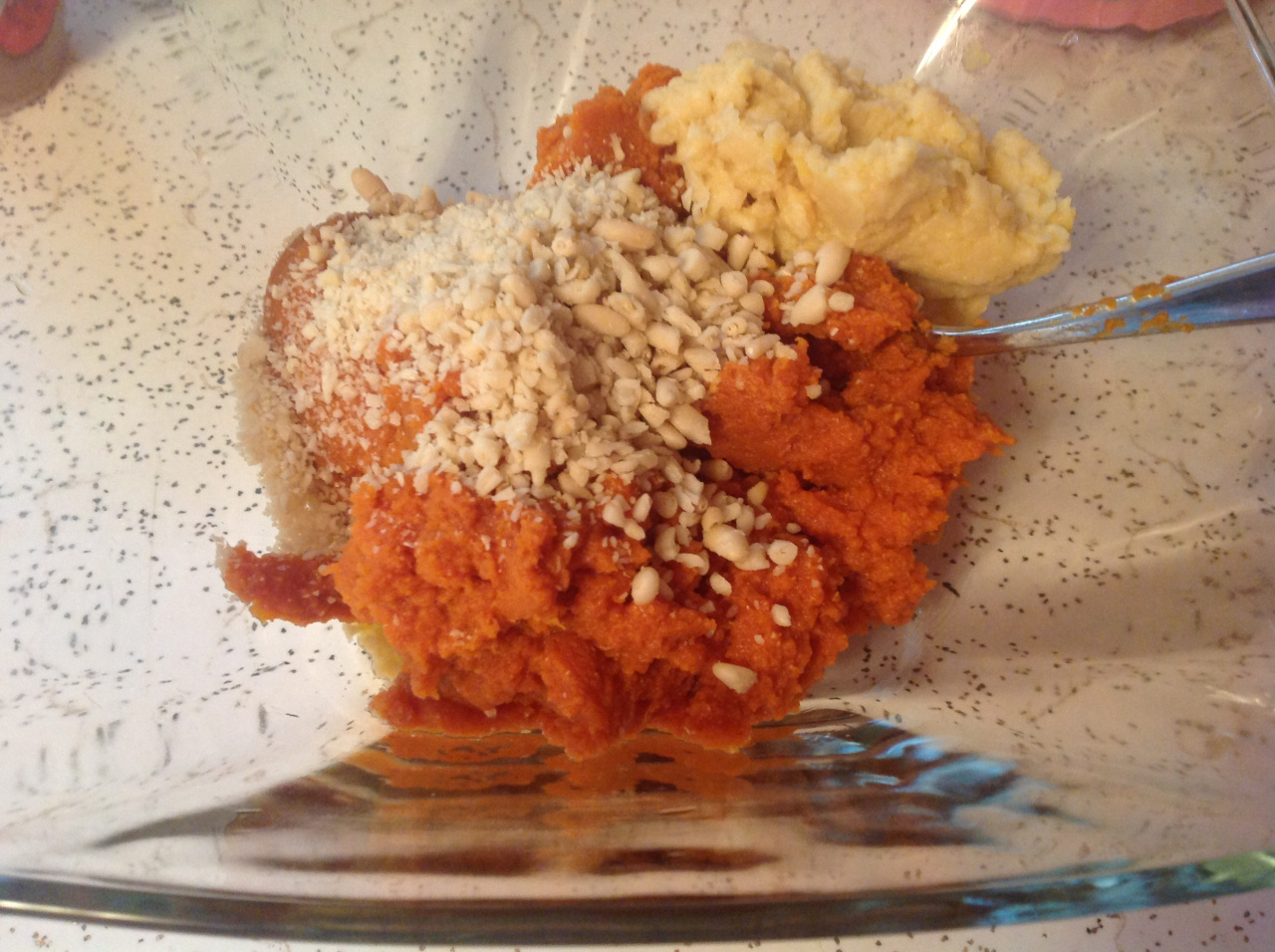 Stir in a spoonful of sweet rice flour to draw out any remaining moisture.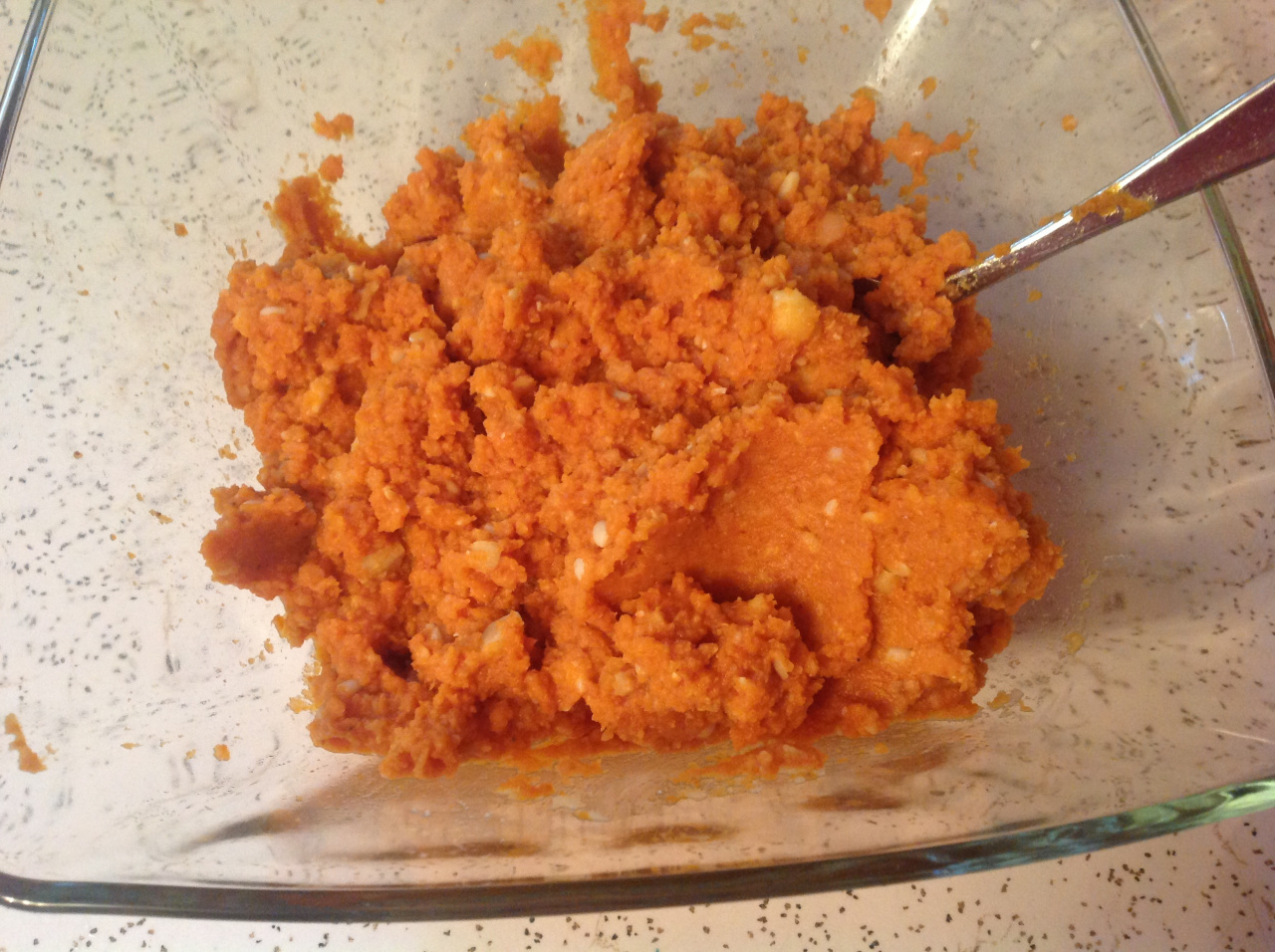 Cut the dough into 4 parts and roll out each part as thinly as the dough allows without breaking. Using a ravioli mold or a cutter cut the ravioli and place about 1 tspoon of filling into each.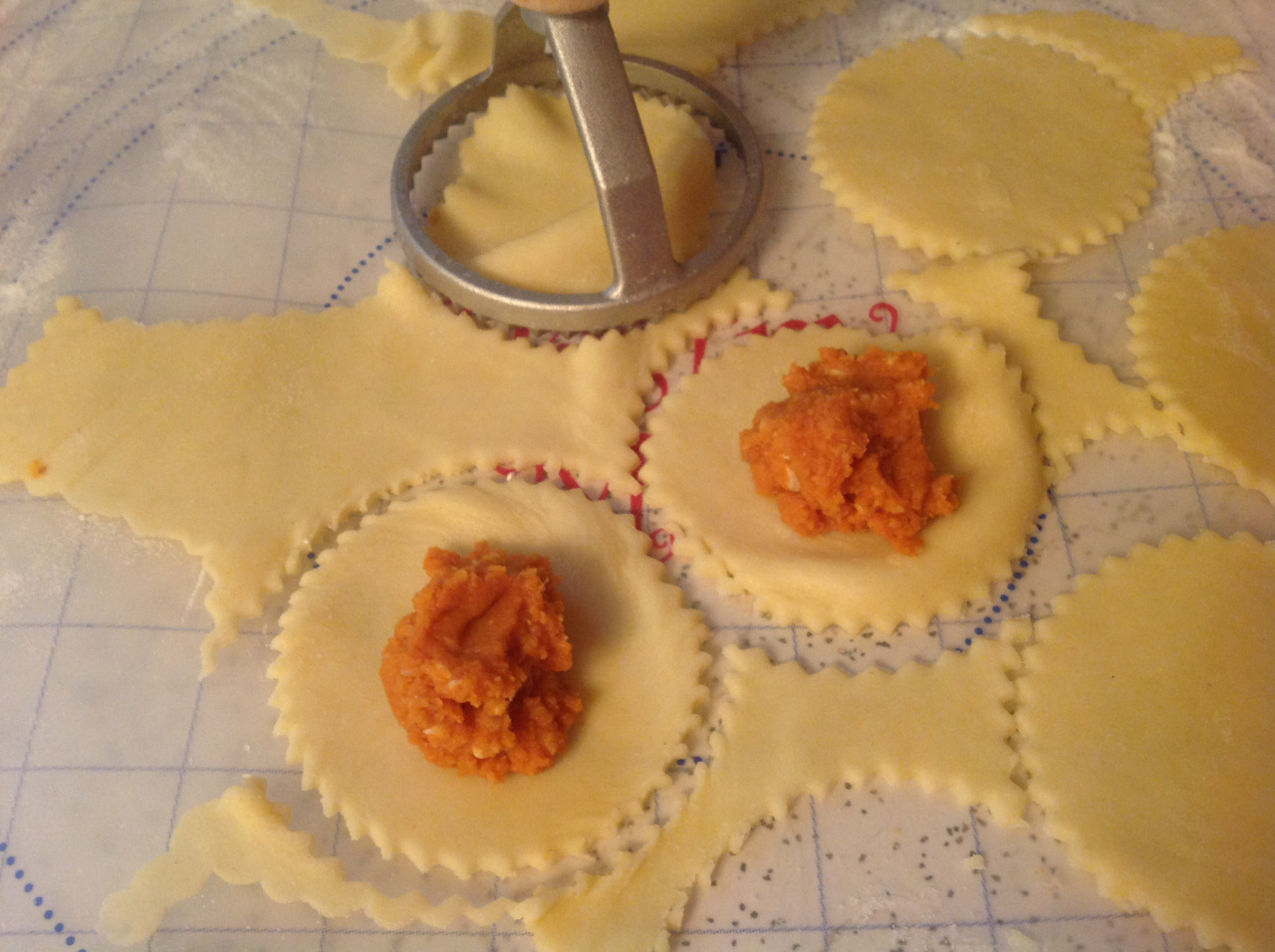 Top with the other ravioli side and pinch the edges together, sprinkle made ravioli with some cornmeal or extra flour and let them dry for at least 30 minutes.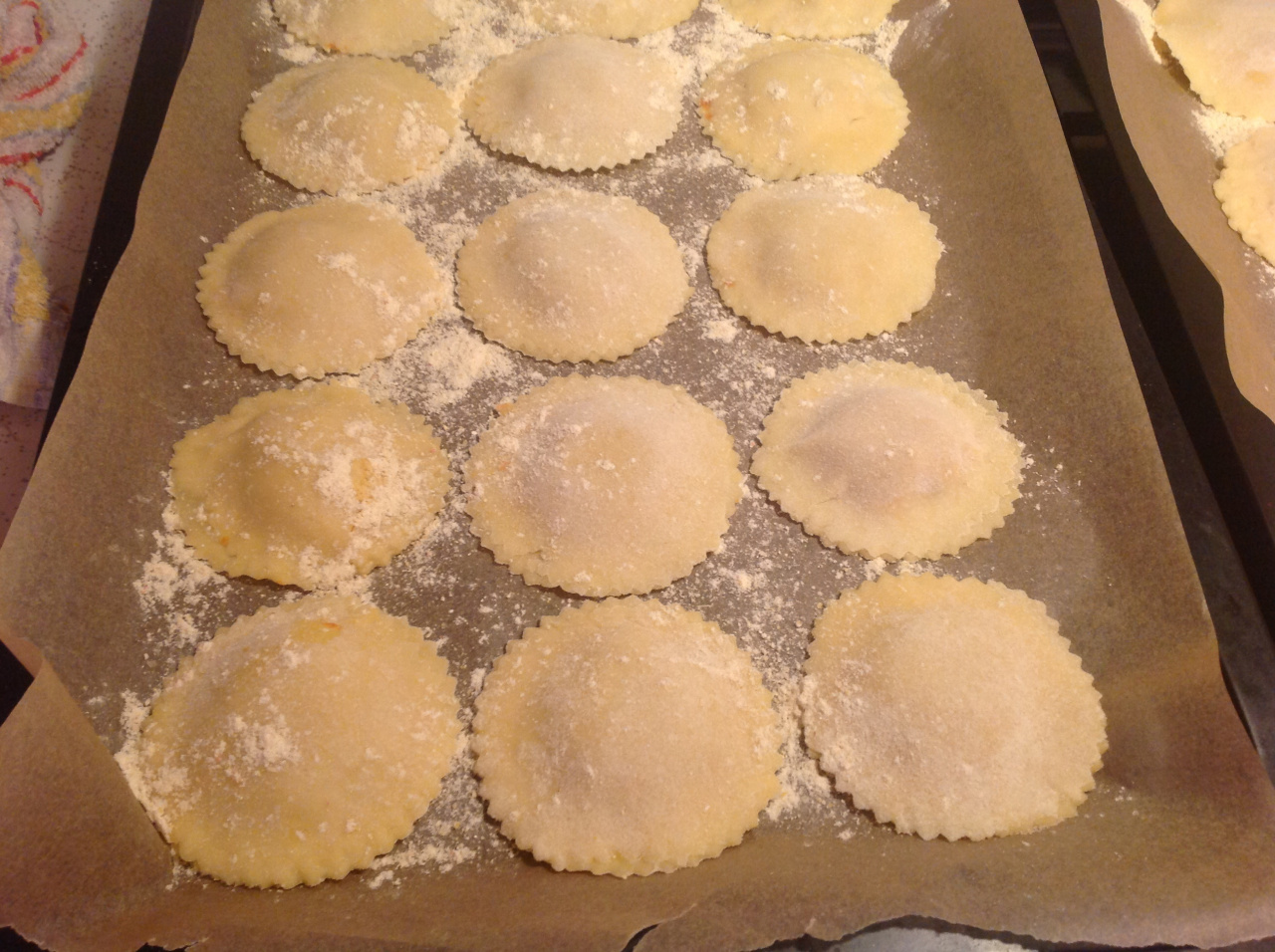 Boil them in water like regular pasta, but be careful not to tear them apart as the fresh dough is more fragile. Serve with any sauce you want, or even plain, I thought just a bit of melted butter and some chopped parsley was enough to not overwhelm this delicate dish.
Simple yet very tasty and nutritious, perfect for a sick kid or bored mom to spend her afternoon inside watching the snow covering just cleaned sidewalks yet again.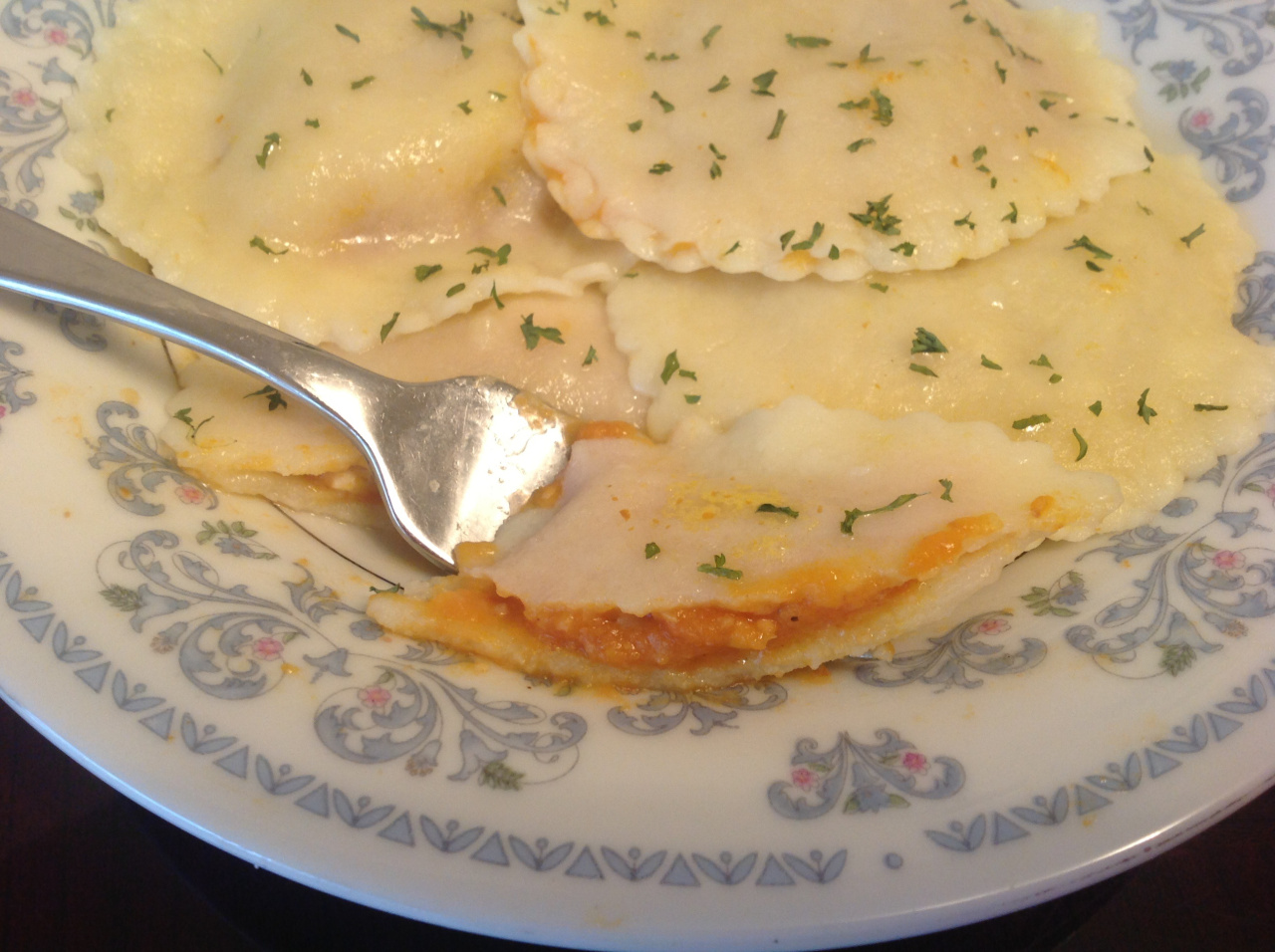 Enjoy!