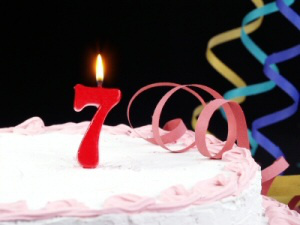 Age is not just a number. At least not in my book. And definitely not for this kind of a countdown.
This week I turn the clock up and become a 7 year cancer survivor! So, yes, I am for sure more than 7 years old, but I'm also 7 years "new" into this post-cancer existence.
As I sat in the doctor's office this time in 2007, the air itself was heavy with words "You have breast cancer", it was hard not to cry, and, deep inside, it was hard not to keep saying "No, No, No, No…" Too young for mammograms and too far removed from having any kind of family history, breast cancer was on my mind as often as bubonic plague. But, on that day, it became real in just that instant. It was the day to be broken down and to be lifted up all in a second.
I wiped my tears, and it was the only day I allowed myself to cry during the 9 months of cancer treatments as I had a baby to carry and take care of, and that baby was me. I had to re-learn everything I knew about myself, I had to allow myself to be vulnerable or even helpless when I let my mom put me in a bathtub and bathe me as I was too weak not just to stand up or even to say "No".
I had to re-learn how to care for myself and I had to, first time in my life, learn to truly love myself. And that is by putting myself first, by accepting everything I am, and by learning to put the two into action. I distinctly remember standing in front of a full length mirror shortly after my second chemotherapy round, a spider web of fresh red scars running all over my body, looking pale as a wall plaster and without a single hair on my body, not even eyelashes, and thinking "I'm the most beautiful creature in the world". Yes, granted, I was probably  delusional from the "chemo brain" condition and literary high on Marinol, a derivative of medical marijuana in a pill form, but I knew if I allow the horrific visual reality to enter my brain, my very soul may not be able to recover and continue on that journey of "birthing the baby" and letting that baby later on to become a functioning individual.
So as I'm sitting here writing this post, sipping a stiff drink, tears are welling inside my eyes, and it feels both indulgent and justified "to cry like a baby" today. The usual New York life barely penetrates the walls of the silent house where I'm alone, just like during the cancer treatment months, facing "The Pink Elephant", gazing the beast straight into the eyes determined to win this staring contest for one more year, and then one more, and more… And, when the animal finally retrieves, you are left exhausted and totally spent, but never empty. What's left behind is another mark and another birthday candle to celebrate my life and to start shaping yet another year to come.
What's Cooking This Week
Valentine's Day is just a few days away, and whether you are in a relationship or single, celebrate the day with love, to yourself. If anything, you're responsible for this much, no functional connection can happen if you don't learn to love yourself first. Do what feeds your soul, act in a way so your own passion is ignited. And, if you're not sure, maybe it's time to explore your own self and see what makes you unique You.
I know what always ignites My passion – it's baking 🙂 so feeling very indulgent but also totally justified in trying this decadent recipe. These cupcakes are double the chocolate, with both the dark and the white ones mixed in, and double the fun of course. Add a layer of chocolate ganache and chopped almonds, plus a rich buttercream, and you got yourself the ultimate indulgent dessert.
Chocolate Almond Cupcakes with Dark Chocolate Ganache and White Chocolate Buttercream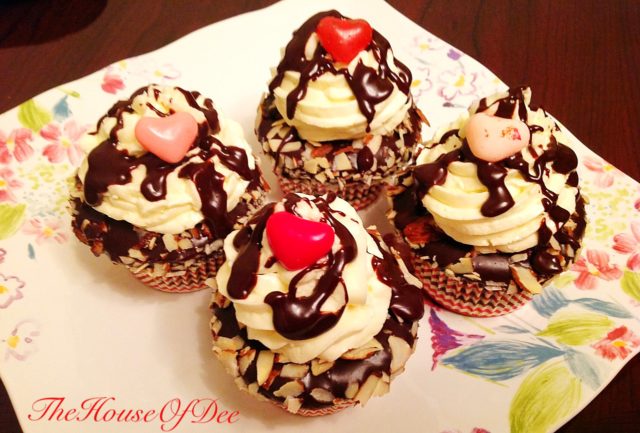 Makes 12 cupcakes:
3/4 cup of flour (I used Cup4Cup gluten free mix)
1/2 cup of sour cream
3/4 cup of cocoa powder
1 cup of sugar
3 eggs
3/4 cup of unsalted butter, softened and cut
1/2 tspoon of baking powder
1 tspoon of vanilla
1/4 tspoon of salt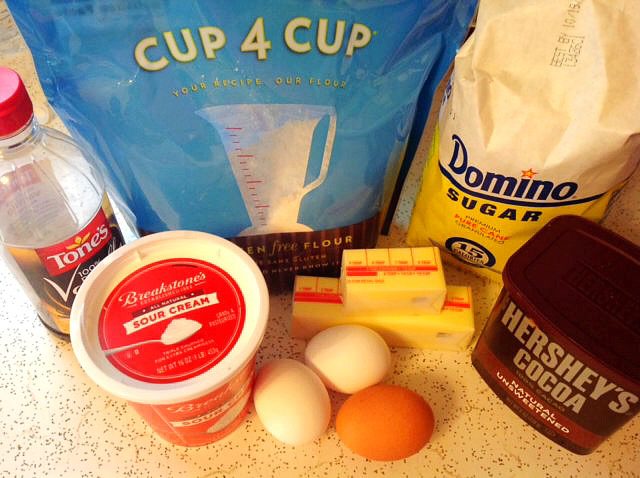 Dark chocolate ganache:
5 oz of dark chocolate, cut
1/2 cup of heavy cream
1 tspoon of light corn syrup
Crushed almond pieces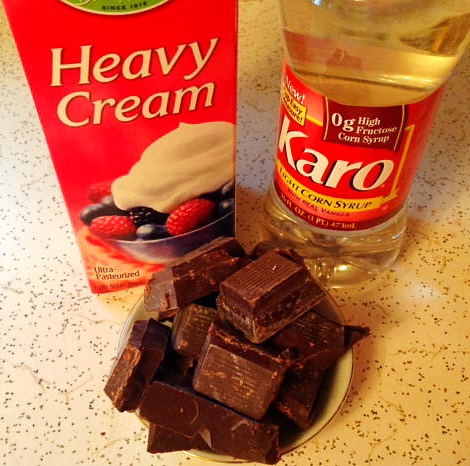 White chocolate buttercream:
2 cups of unsalted butter, softened, cut
5 egg whites
1 cup of sugar
6 oz white chocolate, cut or chips
1 Tbspoon of heavy cream
1 tspoon of vanilla
1/4 tspoon of salt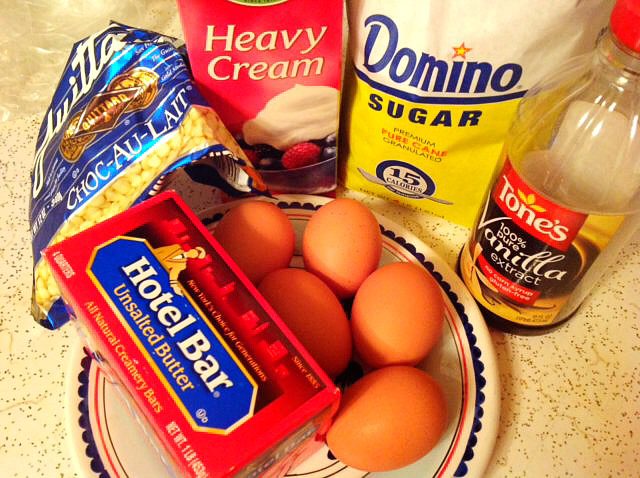 In a separate bowl combine together flour, salt, cocoa and baking powder, set it aside. In a large mixing bowl beat together butter and sugar until fluffy, add sour cream and vanilla and mix well. Add the eggs, one by one, and then gradually incorporate the dry ingredients in beating the mix until it appears smooth.
Pre-heat the oven to 350F degrees. Insert the cupcake liners in a pan and fill each with dough almost to the top (you want to over-fill just a bit as you need the edges to rise and spill over the top of the liner to later be dipped in chocolate). Bake for 20-25 minutes and cool completely.
In a mean while make the dark chocolate ganache. In a small pan heat up heavy cream, on a very low flame add the chocolate pieces and stir in till melted. Remove from heat and stir in corn syrup. Place some crushed almonds on a plate. Dip the tops of each cupcake into chocolate and then gently roll the sides and the top edges in crushed almonds.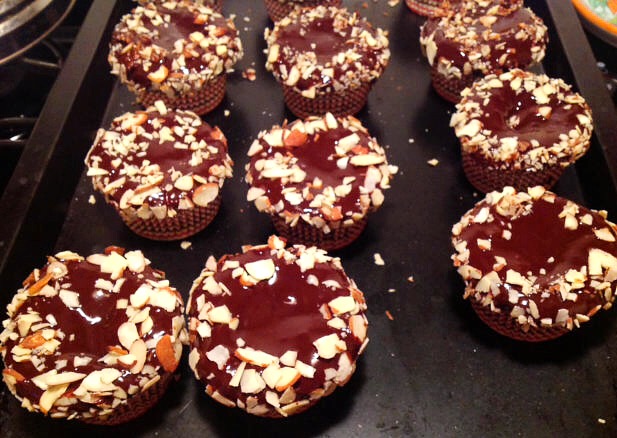 Cool the cupcakes in the fridge before frosting them until the ganache is hardened. To make the white chocolate buttercream, bring to  boil a medium pan with water and then just let it simmer. Melt white chocolate and combine it with 1 Tbspoon of heavy cream.In a mixing bowl beat together egg whites and sugar until well combined. Place a mixing bowl over simmering water and, constantly whisking, cook the mixture for about 3 minutes or so until it appears smooth and slightly sticky.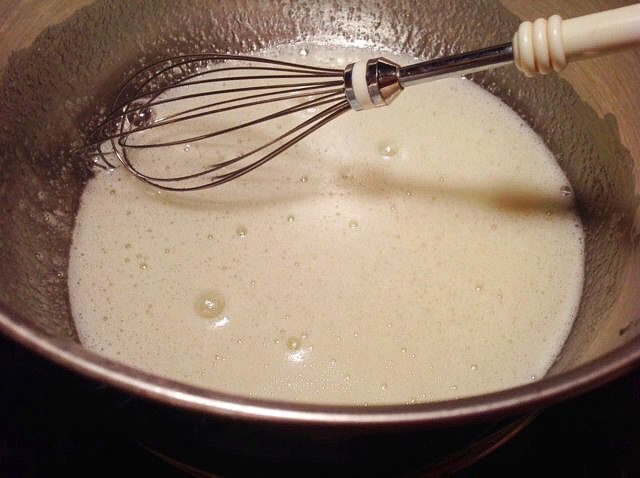 Remove the bowl from the stove and continue beating with a mixer until soft peaks appear. Then add melted chocolate, salt and vanilla, continue beating. Gradually add small peaces of soft butter and beat until the frosting is light and fluffy.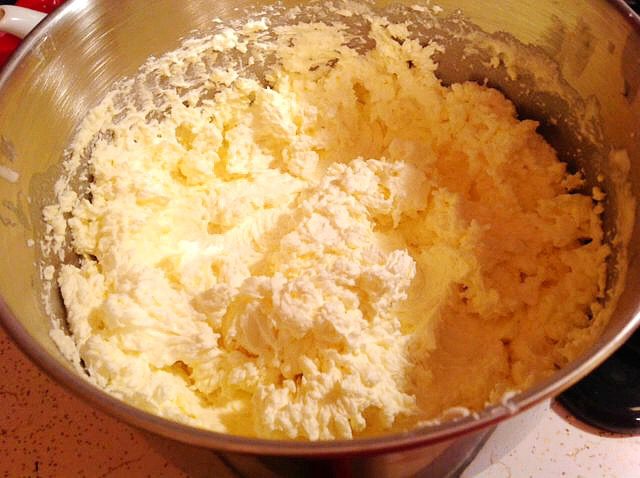 Frost the middle of each cupcake with buttercream leaving the edges dipped in almonds and chocolate. Pour some more ganache on top. Decorate as desired, I thought the candy hearts would be a great garnish this Valentine's Day week.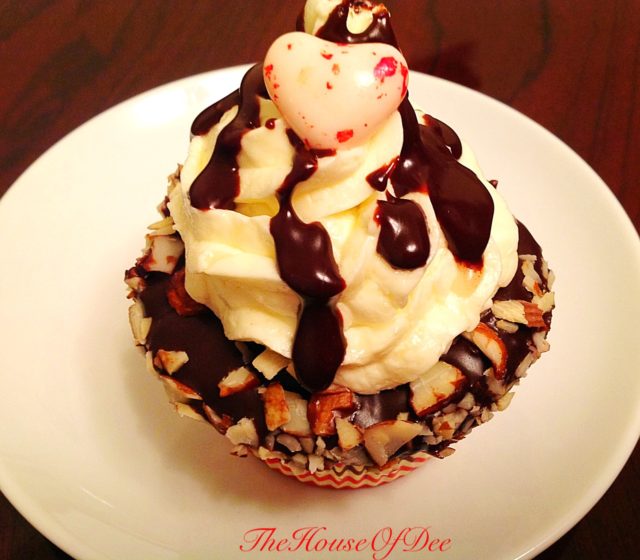 These indulgent cupcakes will definitely make you spend more time in the kitchen than the usual recipe, but the end result is both decadent in taste as well as in sight. I'm sure your loved one will appreciate all the work (and love) you put into this dessert.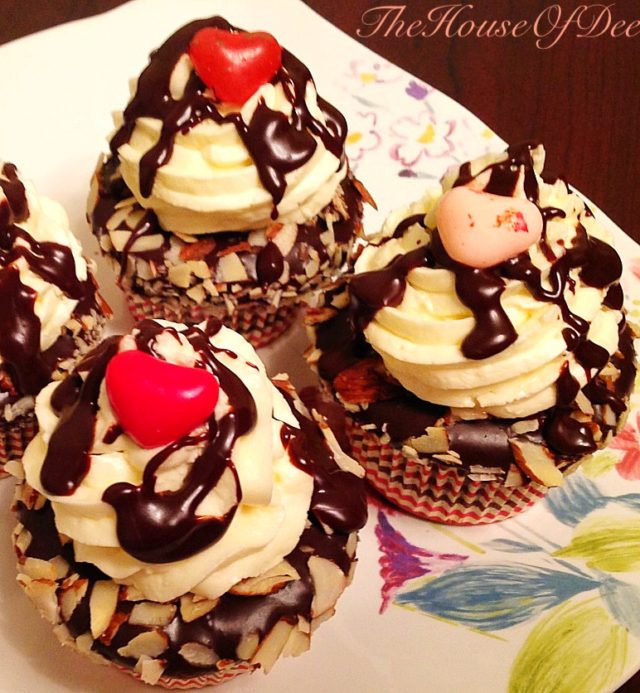 Enjoy!