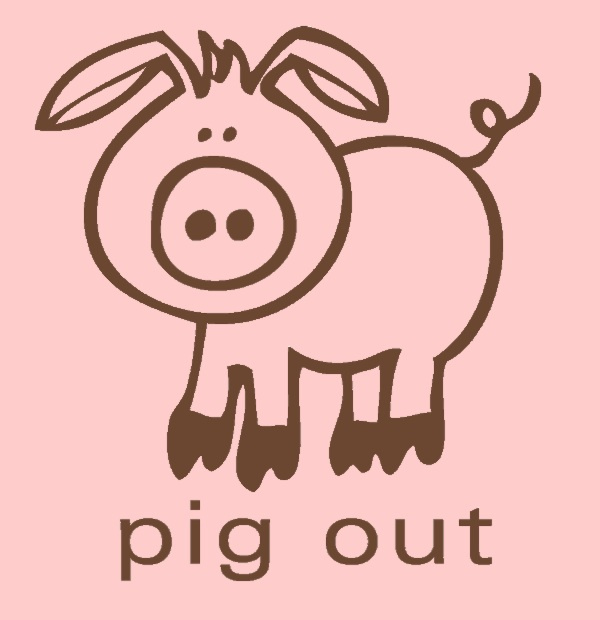 For most Americans, the holiday season starts with Thanksgiving feast (though according to abundance of Christmas commercials on TV and everywhere else, it started with us barely making it through Halloween this year). For me though holidays start with celebrating my birthday, which is usually followed by Thanksgiving gathering about a week later (but not this year, as it falls at the end of the month), transitioning right into December madness of everything Christmas with Chanukkah squeezed somewhere in between (but, again, not this year) , ending with New Year Eve (for most Americans) and for Orthodox Christians, still continuing till Orthodox Christmas on January 7.
We are talking about 6-7 weeks of celebrations, I feel tired and stuffed just writing about it!
And this year is no different of course, we started with a small gathering for my actual birthday a little over a week ago, continued with a larger party "girls and kids night out" at a pottery place this past Saturday (which was a complete success I think as both the adults and kids were totally entertained), Thanksgiving (and Chanukkah) are on Thursday, sliding right into holiday season after that… You get the picture…
It's hard to draw the line sometimes and make some compromises, but if you don't (at least here and there), you'll end up with an unwanted pounds right after the holiday season is finally over. You can still have your cake and eat it too (literary) if you adjust the rest of your meals and concentrate mostly on protein and vegetables/fruits options with a few healthy carbs on a side.
Then a piece of cake would taste even sweeter knowing that you've planned your other meals and have a little room for sweet indulgences.
What's Cooking This Week
Pork is generally not the first option that comes to mind when you talk about choosing healthier options, however, it's all about the actual cut of meat and the trimmings so to say. Some leaner boneless cuts pack no more calories than some dark meat chicken pieces or, if fat completely removed, can be compared to some white meat chicken cuts. Baked or grilled chops with no bread crumbs is the best choice to cut the calories, yet I still think you can play with the sauce and sides a bit. The recipe below is "politically incorrect" or purely untraditional for either Chanukkah or Thanksgiving, but it can be served for some other family gathering or as a satisfying weekend meal. You'll feel indulged without guilty "diet buster" feelings.
Apple Stuffed Pork Chops and Carrots in Cognac Mustard Sauce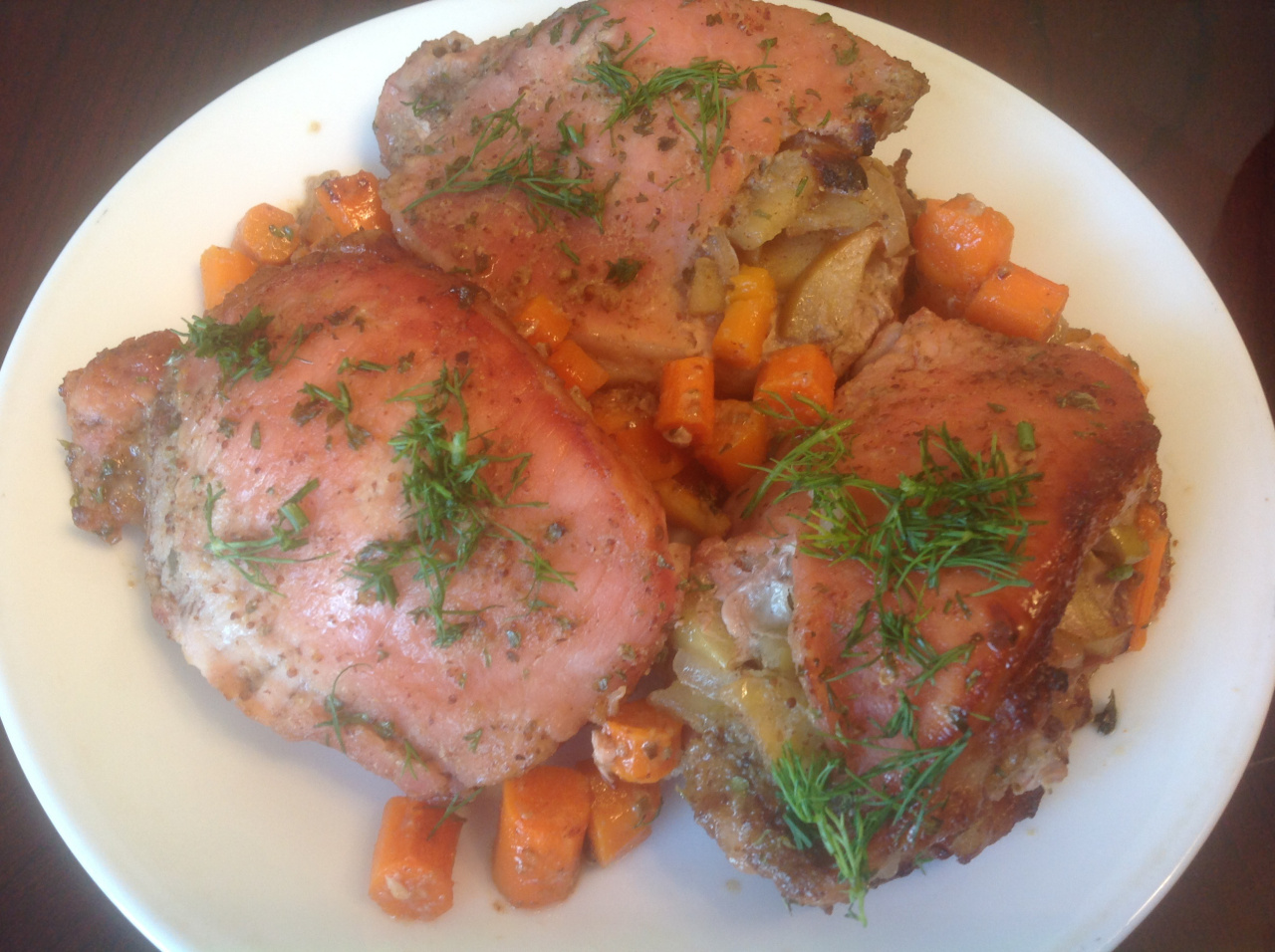 6-8 boneless pork chops at least 1.5 inch thick
2 apples, diced
1 onion, chopped
4-5 carrots, chopped
1/4 cup of cognac
2 Tbspoons of Dijon mustard
1 tspoon of French seasoning blend
salt, pepper, olive oil, cinnamon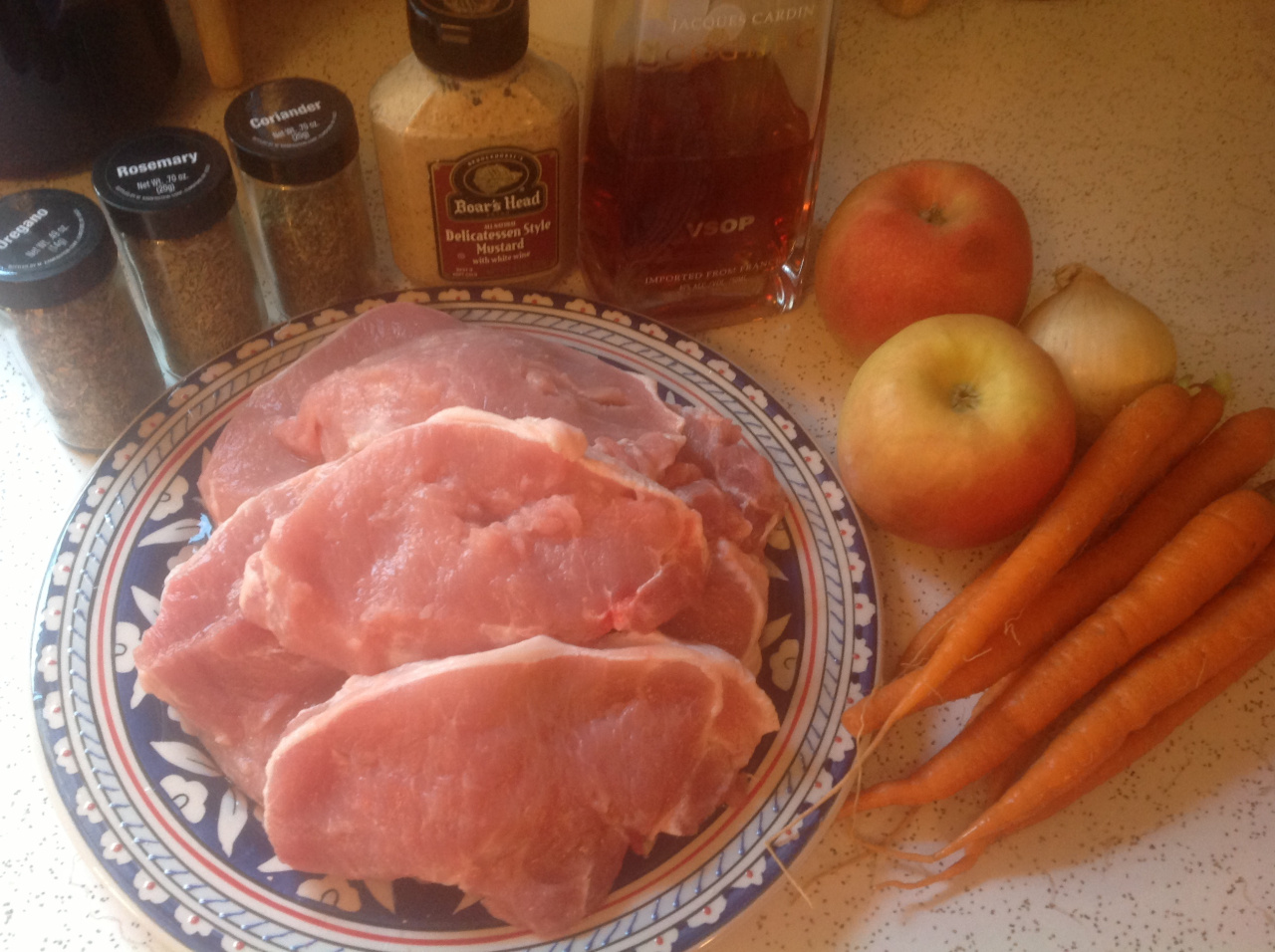 Heat up some olive oil and sauté onions and apples sprinkled with a dash of cinnamon till about half done.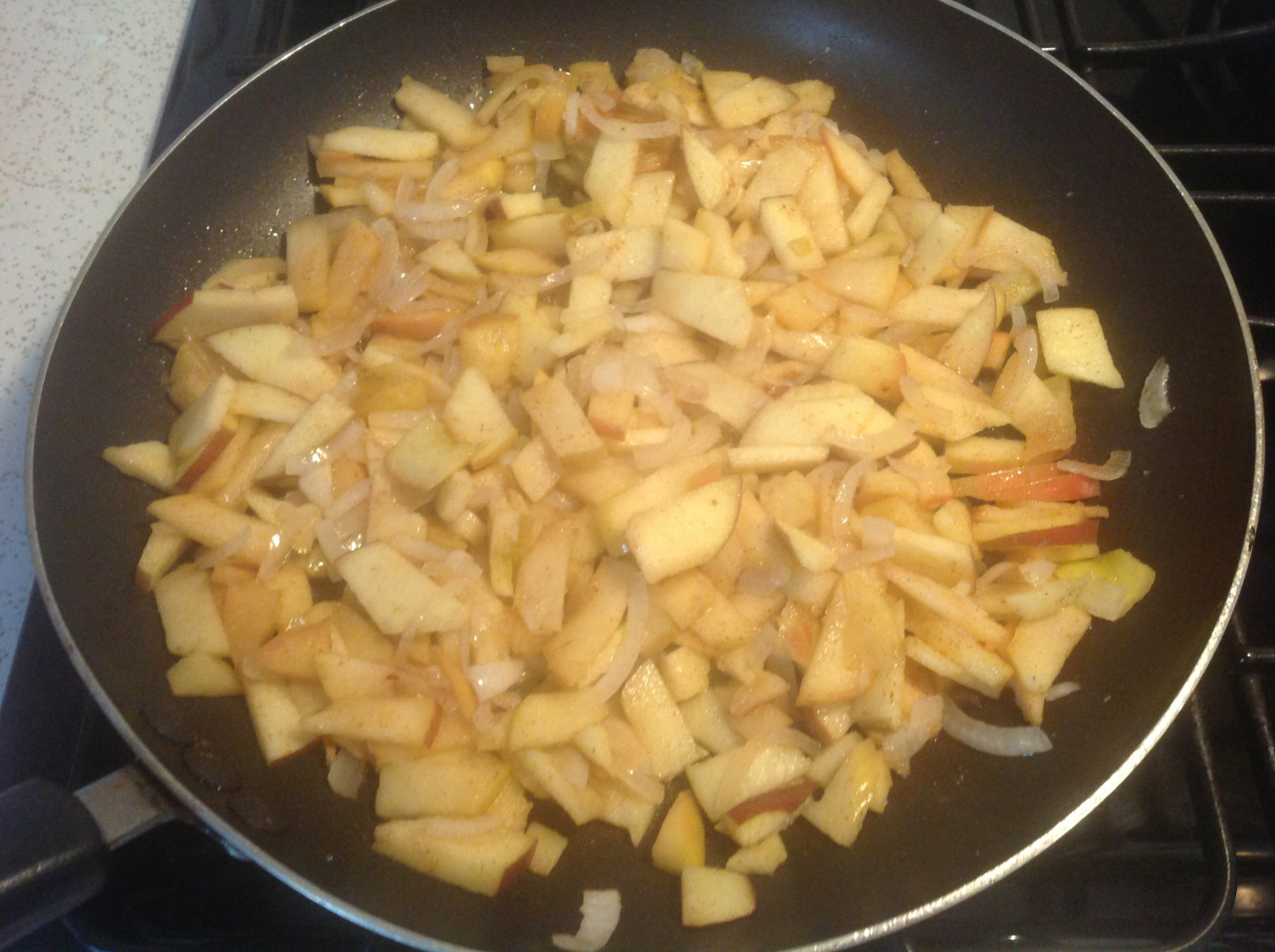 Combine cognac with mustard and seasonings to make the sauce.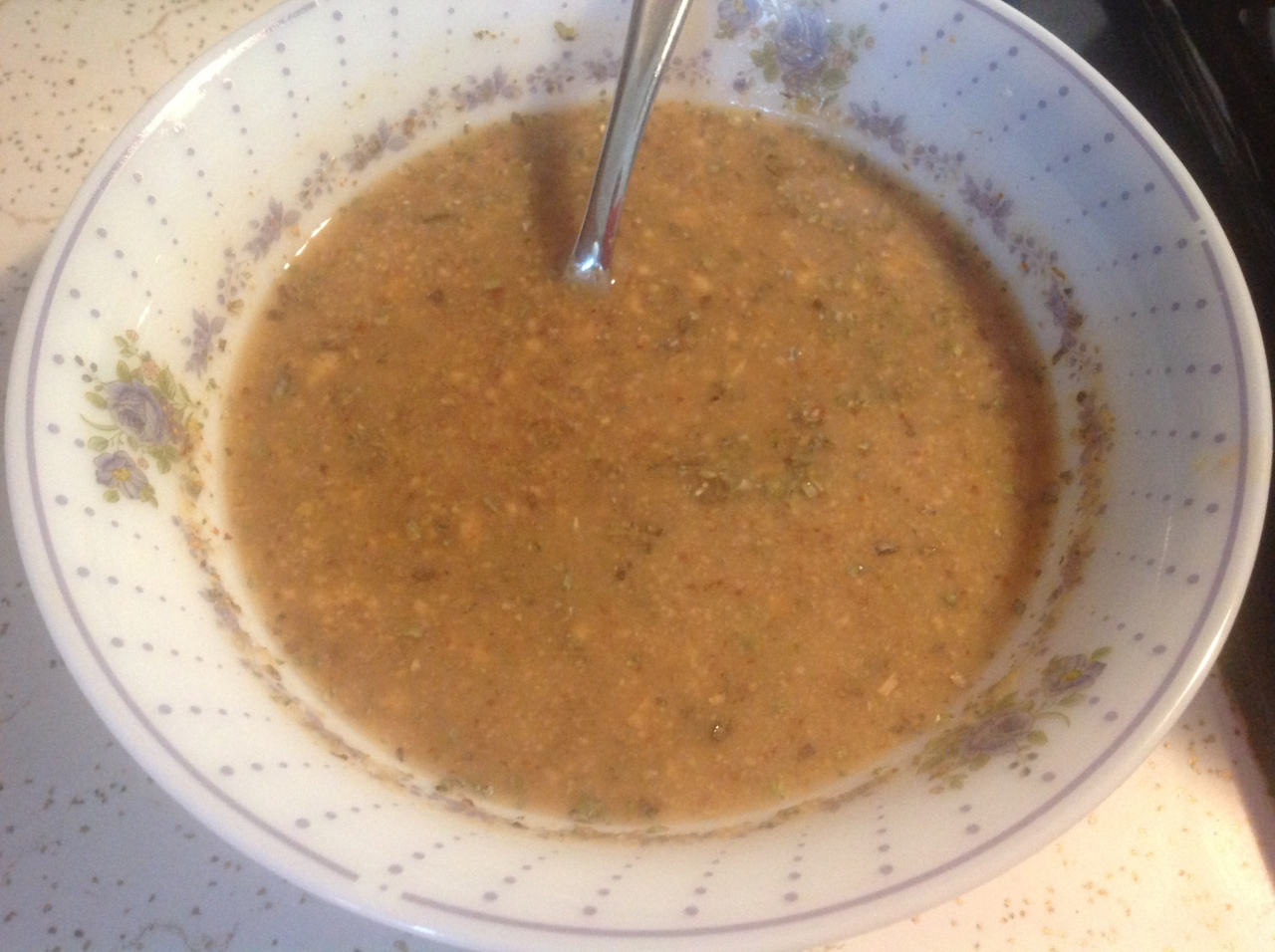 Cut pork chops lengthwise to make a pocket and stuff each with some apple-onion mixture.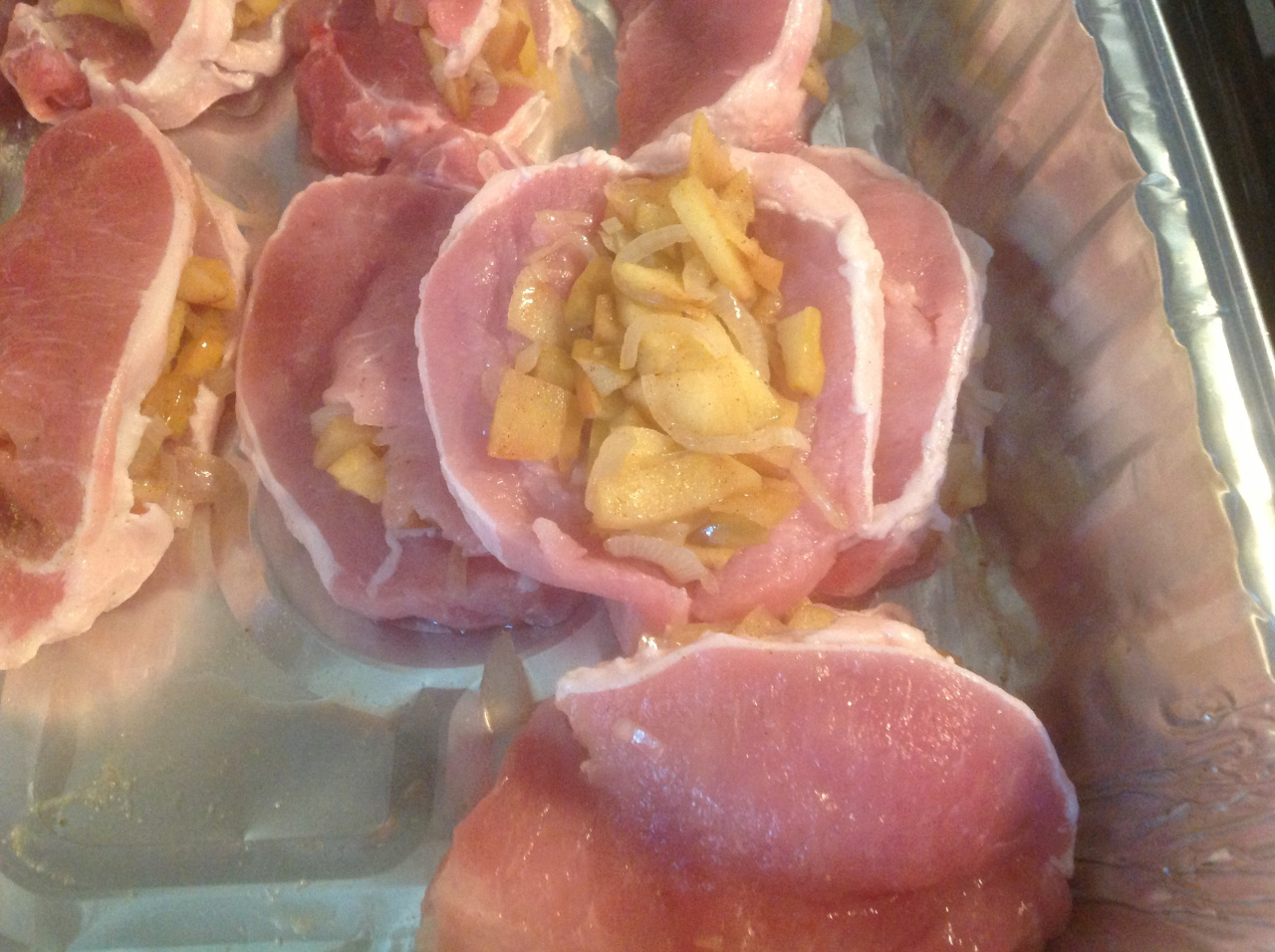 Add chopped carrots and top with sauce. Bake at 375 degrees for about 25-30 minutes.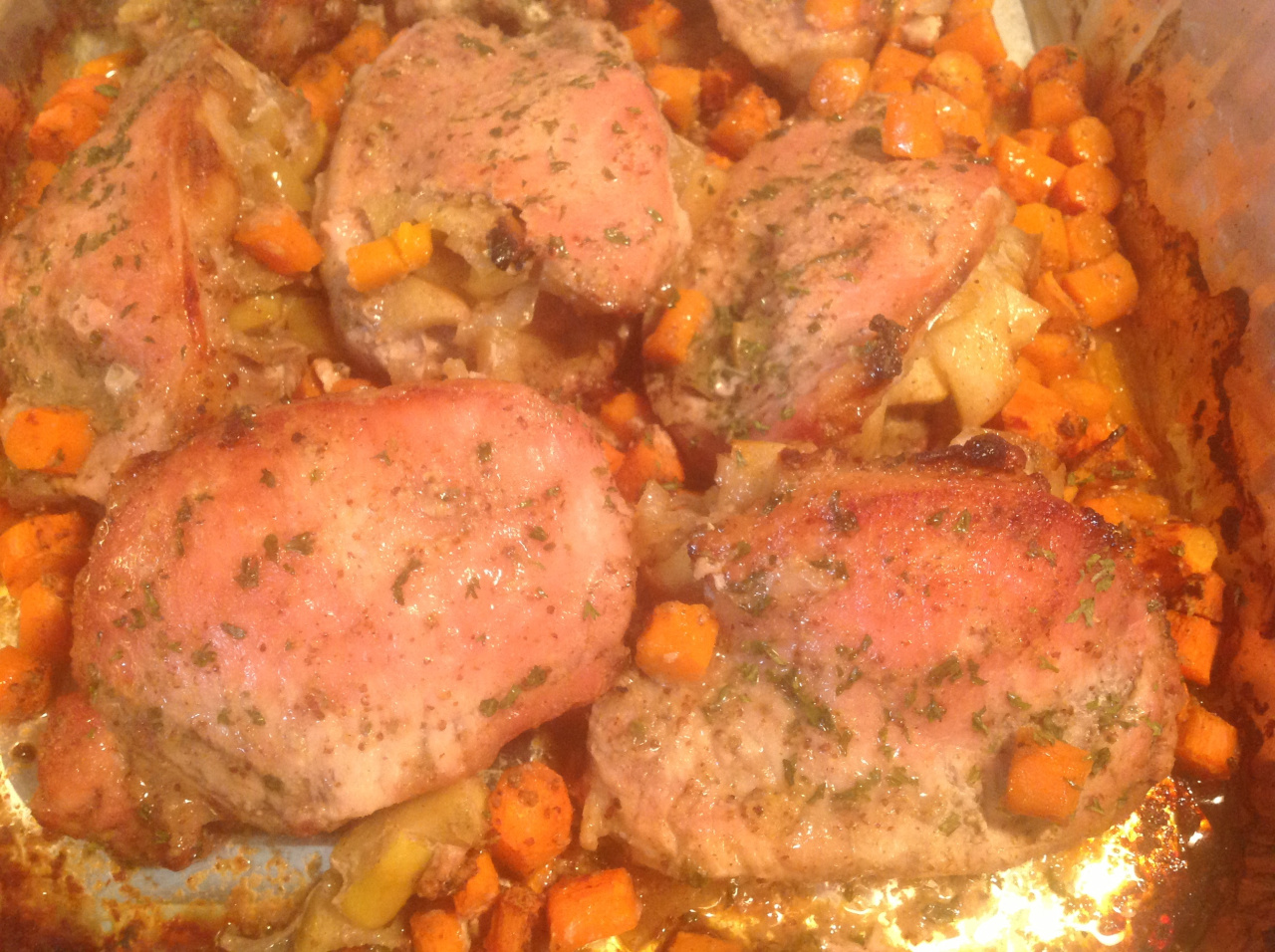 Here I'm serving them with roasted potatoes that I made on the lower shelf of the oven at the same time as the chops were baking. Who says it can't be a holiday meal?! Hey, it's got apples! 🙂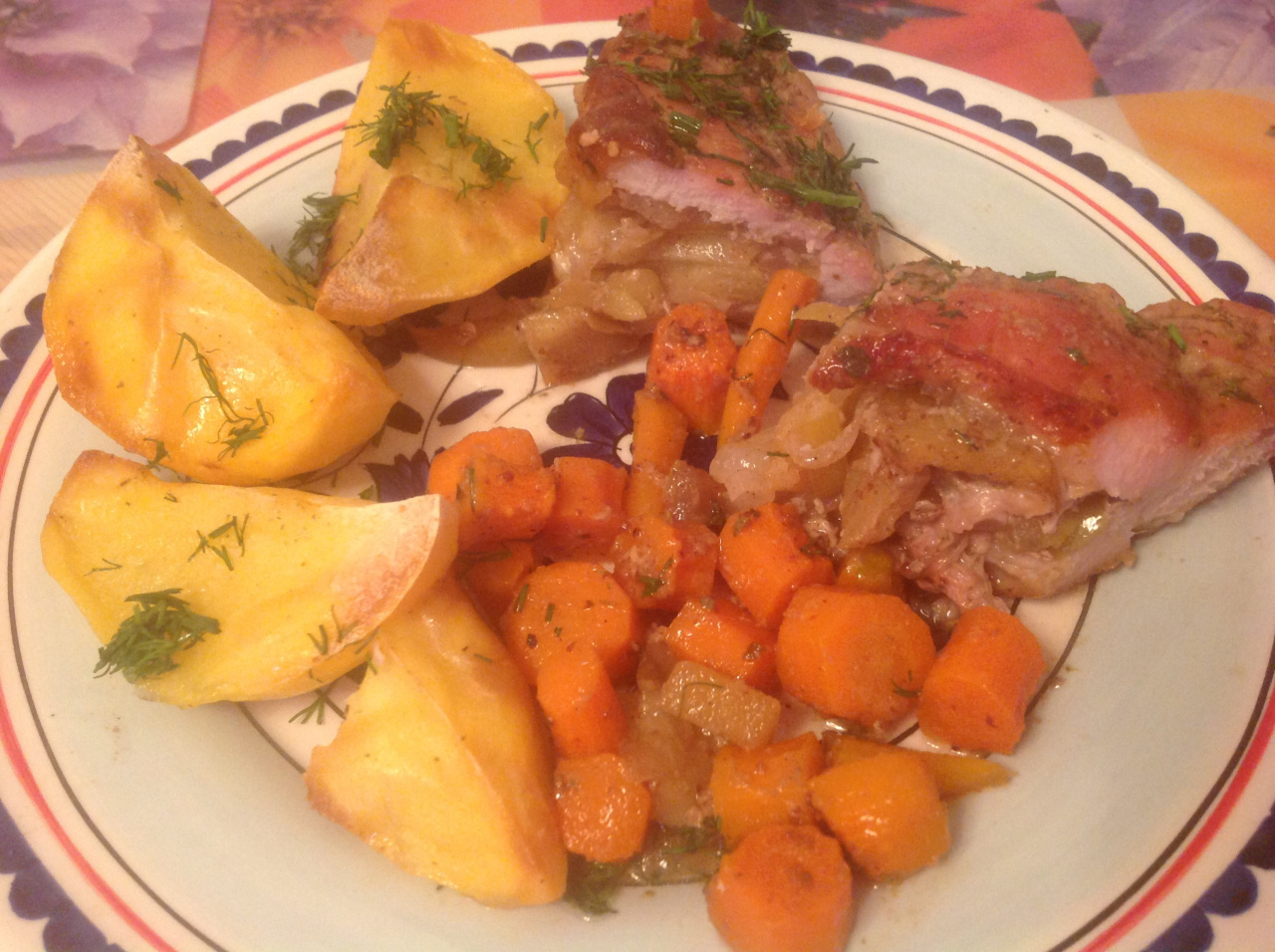 Enjoy!