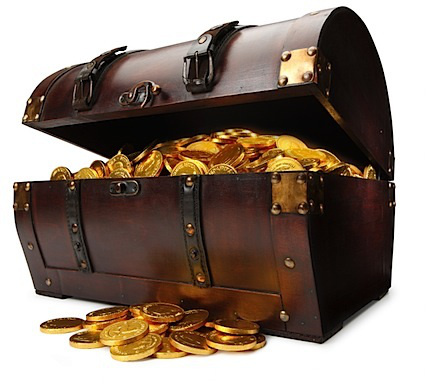 I tell my secret? No indeed, not I:
Perhaps some day, who knows?
But not today; it froze, and blows and snows,
And you're too curious: fie!
You want to hear it? well:
Only, my secret's mine, and I won't tell.
Or, after all, perhaps there's none:
Suppose there is no secret after all,
But only just my fun.
Today's a nipping day, a biting day;
In which one wants a shawl,
A veil, a clock, and other wraps:
I cannot ope to everyone who taps,
And let the draughts come whistling thro' my hall;
Come bounding and surrounding me,
Come buffeting, astounding me,
Nipping and clipping thro' my wraps and all.
I wear my mask for warmth: who ever shows
His nose to Russian snows
To be pecked at by every wind that blows?
You would not peck? I tank you for good will,
Believe, but leave the truth untested still.
Springs an expansive time: yet I don't trust
March with its peck of dust,
Nor April with its rainbow-crowned brief showers,
Not even May, whose flowers
One frost may wither thro' the sunless hours.
Perhaps some languid summer day,
When drowsy birds sing less and less,
And golden fruit is ripening to excess,
If there's not too much sun nor too much cloud,
Perhaps my secret I may say,
Or you may guess.
Christina Rossetti, "Winter: My Secret"
When you are keeping a secret, you do feel wrapped in layers of shawls and shrouds, even on a hot summer day. If March was drunkenly deceiving, and April was anxiously delirious, then May came crashing through all the tightly held cloaks, and June melted the leftovers of frozen silk tears, and now July has burned the very last threads of secret winter dreams.
What's Cooking This Week
The best illusions are not hidden at all, they are just cleverly disguised right there in a plain sight. Same with the recipe below, everything was really out in an open, when the kid came into the kitchen to ask me what I was making and even admired a lovely green color of a young cauliflower on the counter, somehow he didn't question where the said cauliflower disappeared and what was really inside the food he just devoured.
Mission accomplished 🙂
   Cheesy Cauliflower Potato Knishes
1 small cauliflower (I used a green one just because it was pretty)
4 small potatoes
1 cup of shredded cheese (I used a combo of cheddar and mozzarella daiya shreds)
1 egg
4-5 Tbspoons of flour, plus more for coating (I used Cup4Cup gluten free mix)
1 small red onion, chopped
2-3 stalks of chopped scallions/herbs
1 tspoon of garlic powder
1 tspoon of Italian seasoning
Salt, pepper to taste and oil for frying
Cut the potatoes and cauliflower and boil in salty water till soft, I boiled them together in the same pot. Drain and cool off, then process together with an egg and seasoning in a food processor.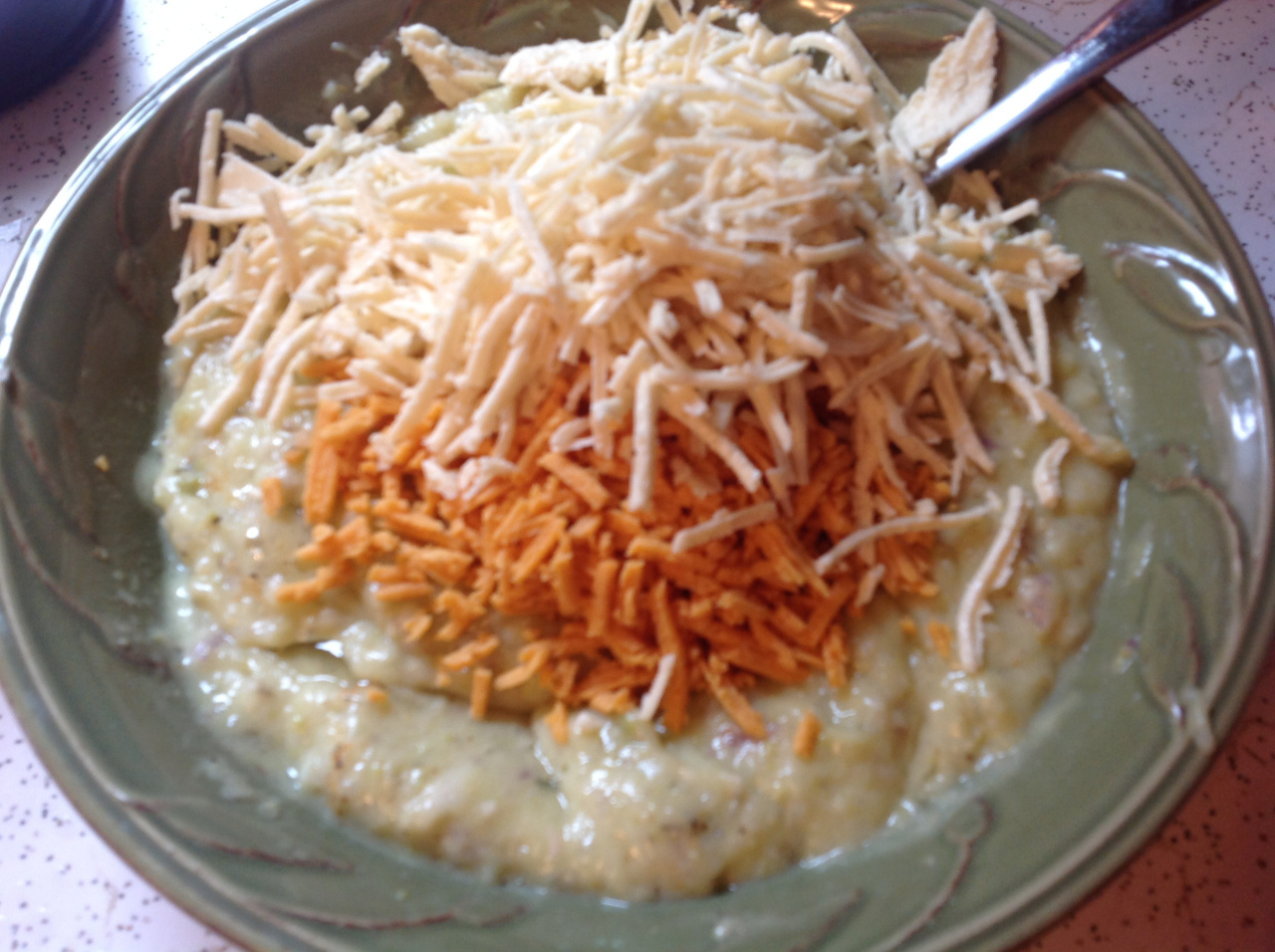 Mix in cheese, chopped onion and add the flour, it may take more or less than 5 Tbspoons to make the dough sticky enough to form the patties. Wet your hands, take a spoonful and place some chopped scallions and herbs in the middle, close the patty in half, pinch the edges and roll it around in the flour. Fry evenly on both sides in hot oil, I used grape seed oil for milder taste. They are crusty outside but soft and cheesy inside, serve with your favorite dipping sauce, we loved them with honey mustard.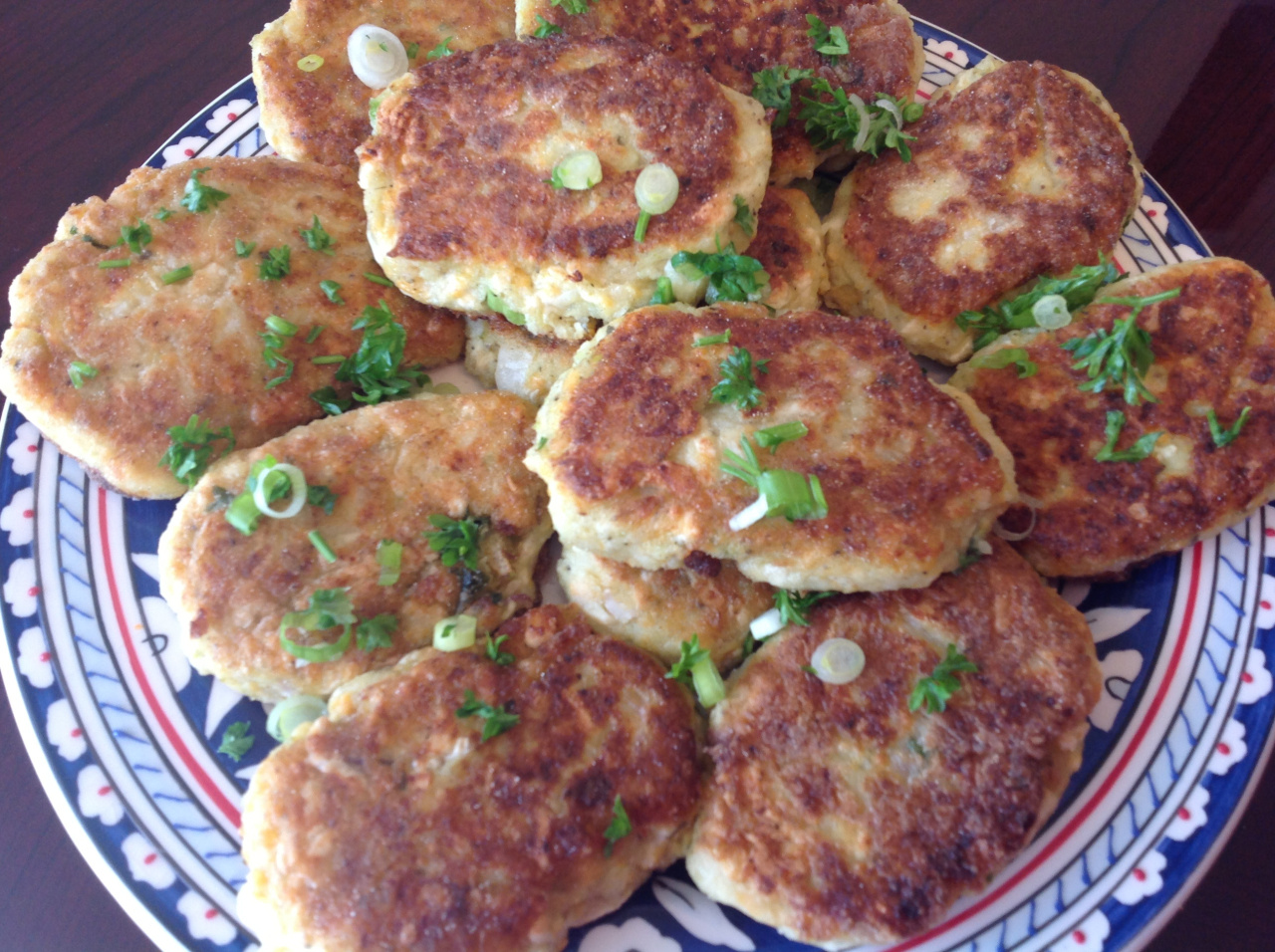 The kid had 7 that night, and not a single thought was "stirring" that there were "hidden things" inside.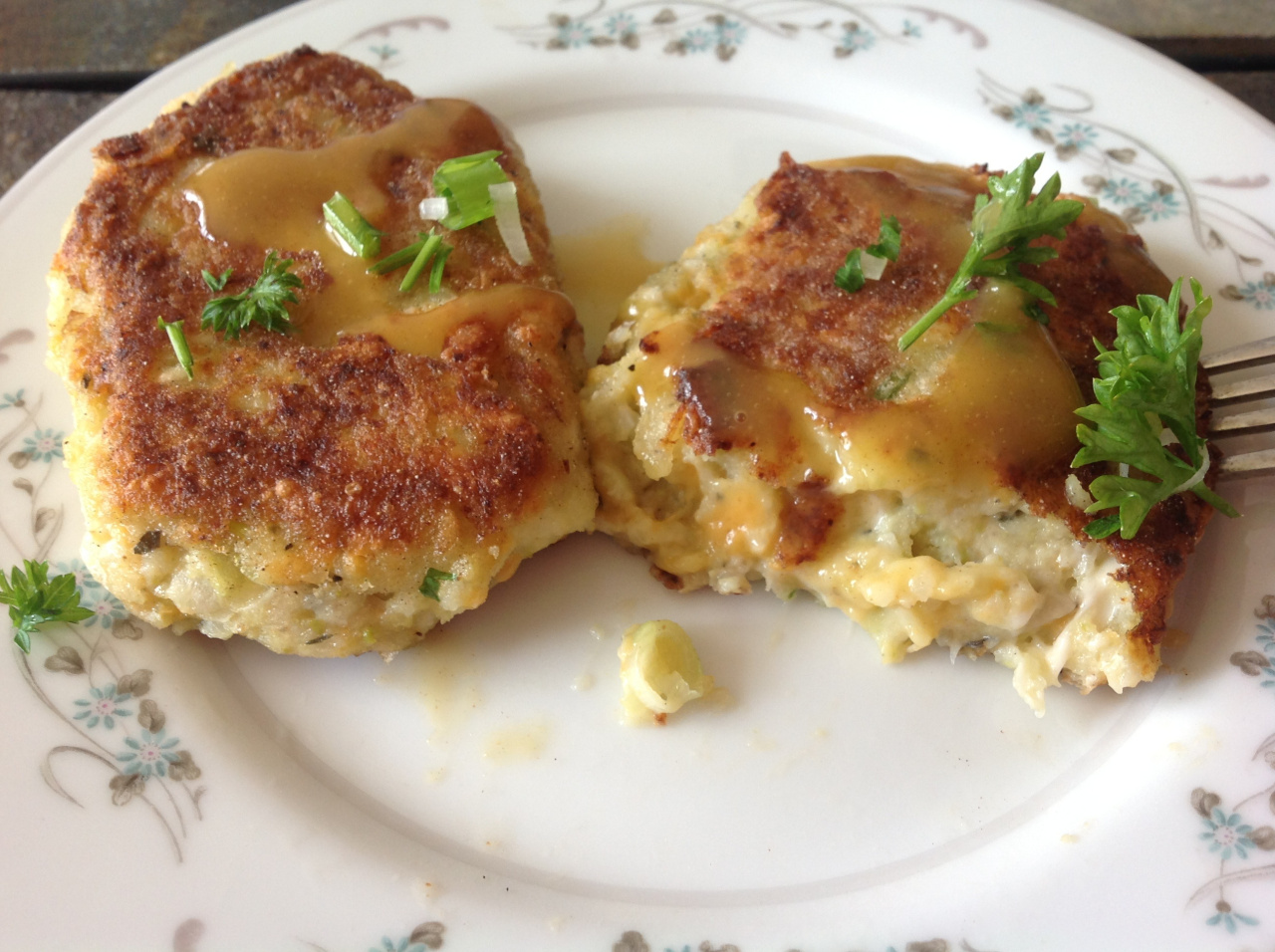 Enjoy!