Today is Peddler's birthday! Food n Thought Peddler that is. My blog has turned 1 year old today! And it is my 100th post, so big double celebration!
What a year it has been indeed! I laughed, and cried, and whined, and celebrated… Oh, and cooked and baked of course! 🙂
My enormous "Thank You" to all the readers, those who've joined to follow my blog and those who just happened to pass by! Your "likes", comments or simply knowing that you've stopped by and read my posts is a huge motivation to continue on paving a road of delicious healthy and gluten free eating heavily sprinkled with sweet indulgences, but what life is if not to allow yourself some detours and rest stops?! 🙂
To recap what happened in the past year, 81 recipes have been written plus several restaurant reviews and tips on traveling while eating gluten free. I had 2 series posted, one was the Italian series and the other were Pink recipes to spread the awareness of breast cancer screening and treatment options. My blog was visited and "liked" by Chef Lena Kwak, who along with Chef Thomas Keller, developed Cup4Cup gluten free flour blend that I often use in my recipes. She also featured two of my recipes using the blend on their website. 🙂
I have several families who contacted me via the blog and now often order gluten free cupcakes or other baked desserts for their parties or family gatherings. It was the greatest acknowledgement of my hard efforts in the kitchen!
And most important, this past year, I had FUN FUN FUN cooking and baking and (flopping sometimes) and creating!
So, let's send the Peddler off, away from its babyhood and onto a new exciting journey in the 2nd year!
What's Cooking This Week
Since this is the 100th post and a big 1 year celebration, I was thinking of making something special. Dessert of course comes to mind, any time you think of a celebration, but I also had some of my specifications. It had to be gluten free of course, and at least not too over-loaded with fat and sugar, then it just had to be chocolate, and it just had to be pink. The possibilities were endless of course. And I think this recipe perfectly combines all the specifications in one light yet indulgent little treat.
Chocolate Tartlets with Strawberry Almond Whipped Cream and Berries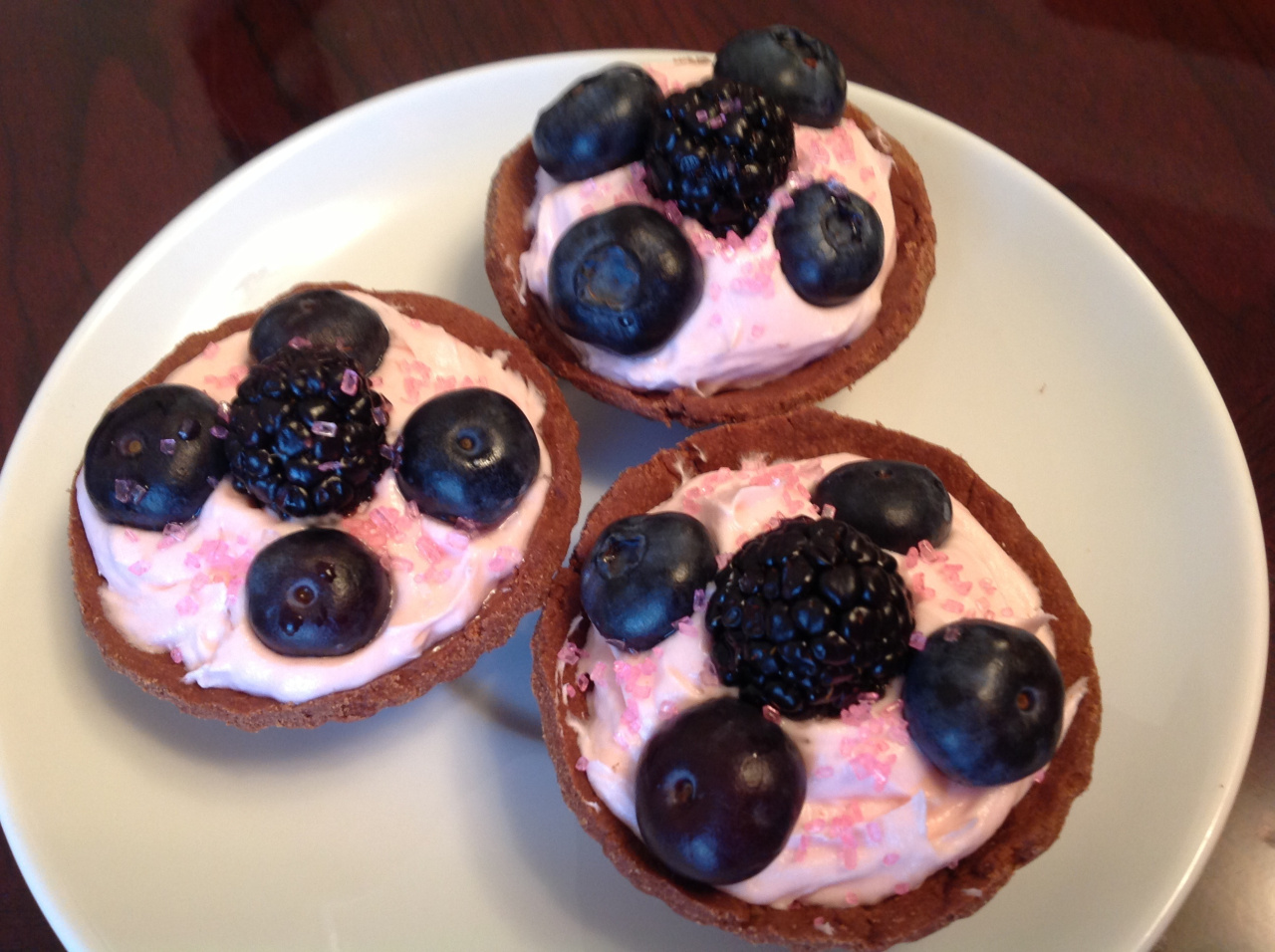 Chocolate tartlets (makes 18)
1 1/4 cups of flour (I used Cup4Cup gluten free blend)
1/4 cup of powdered sugar
1 large egg yolk
3/4 tspoon of vanilla
a pinch of sea salt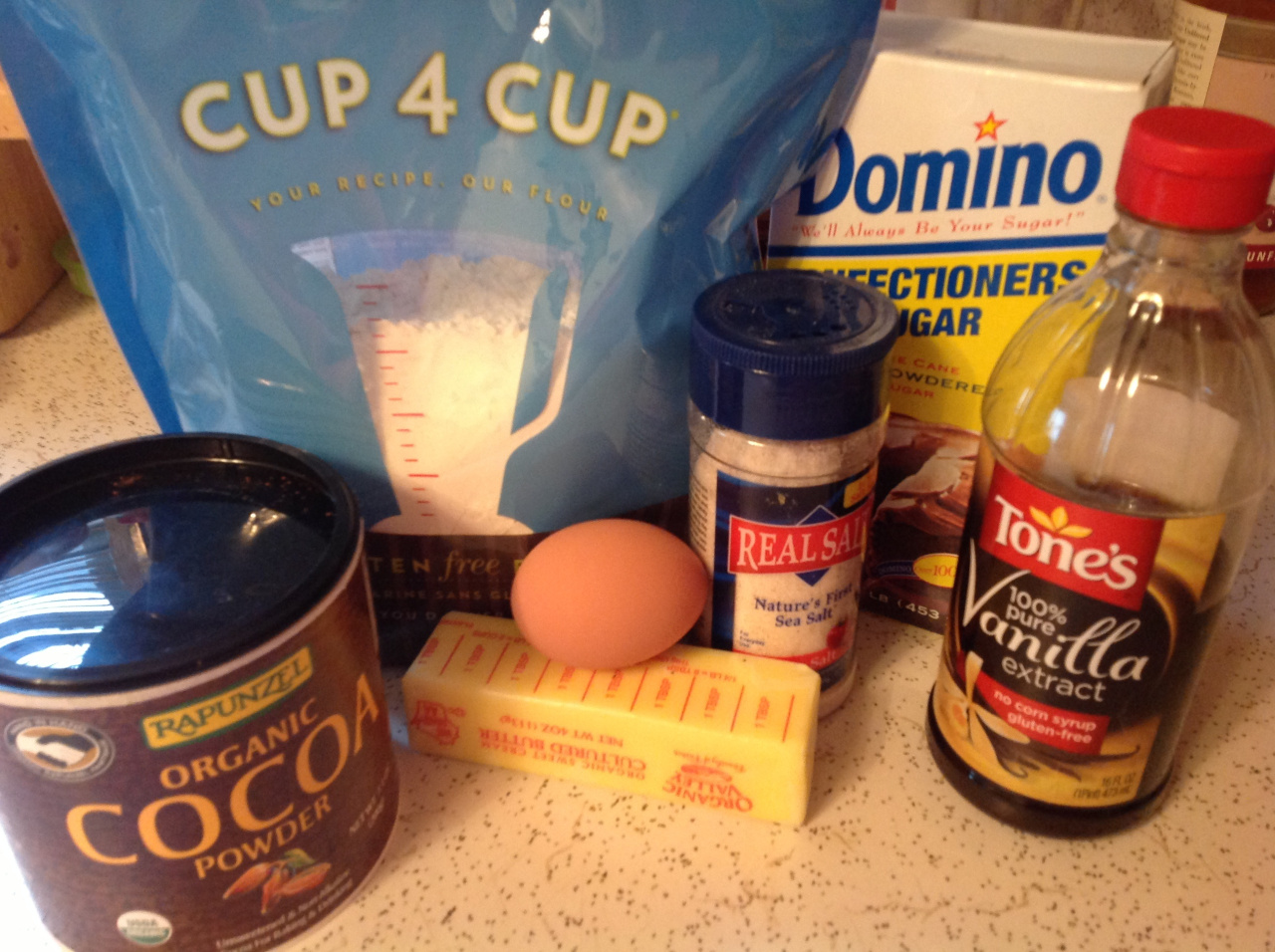 Mix together flour, salt and cocoa powder. In a food processor, pulse together butter and powdered sugar, then add vanilla and egg yolk, pulse again. Combine wet and dry ingredients and roll the dough into a ball.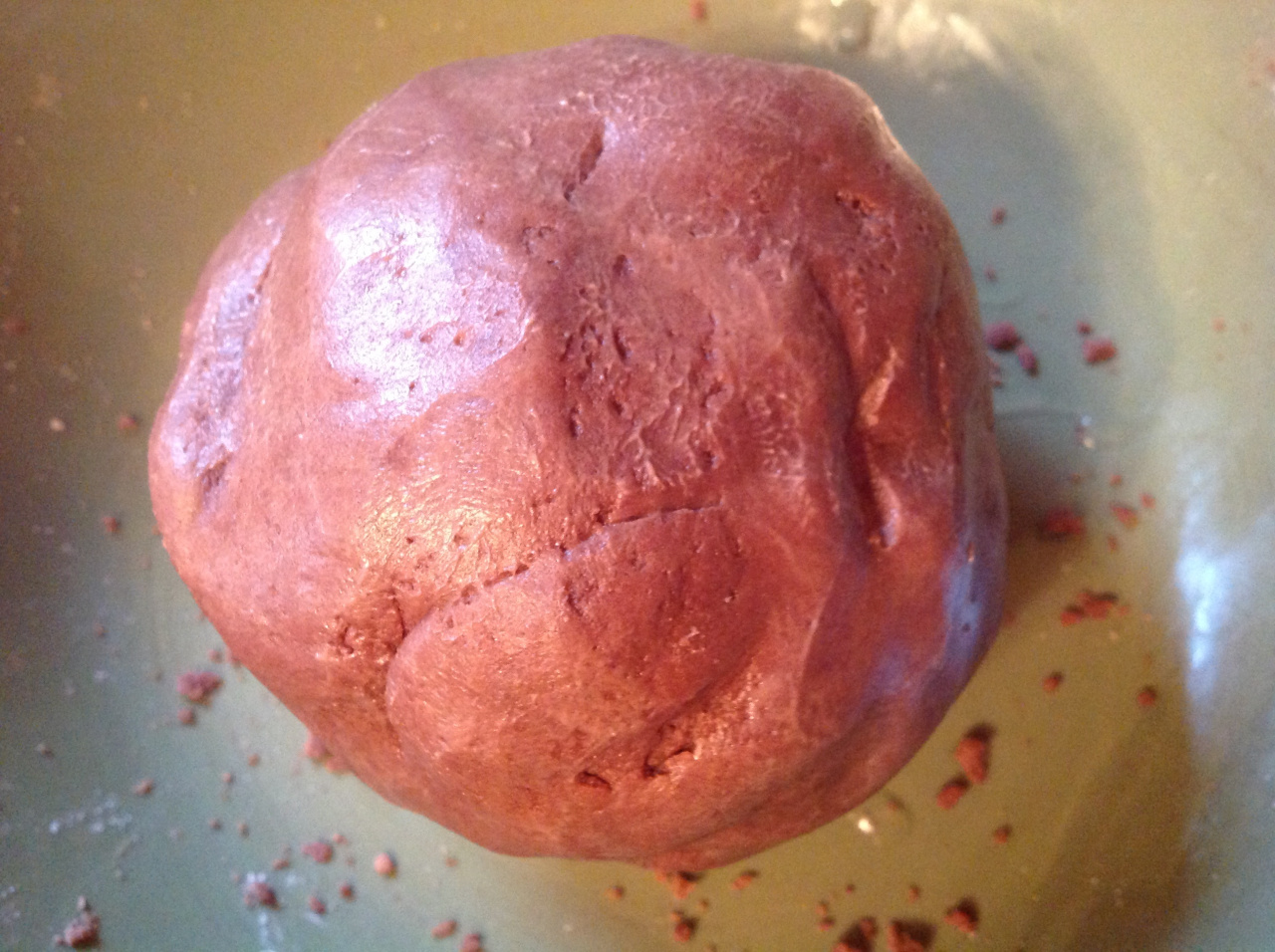 Wrap the dough in plastic and let it rest in the fridge for about an hour. After that, let it warm up again, flatten it and start rolling between the two sheets of parchment paper (as the dough is sticky and resembles play dough). Cut small pieces and roll them out to fit the size of mini tartlet pans. You can make them thin or thicker, I rolled mine pretty thin, it also made fitting them inside the tart holes much easier. Shape the tartlet and cut off the extra dough, you can re-roll and use it for the next tartlet.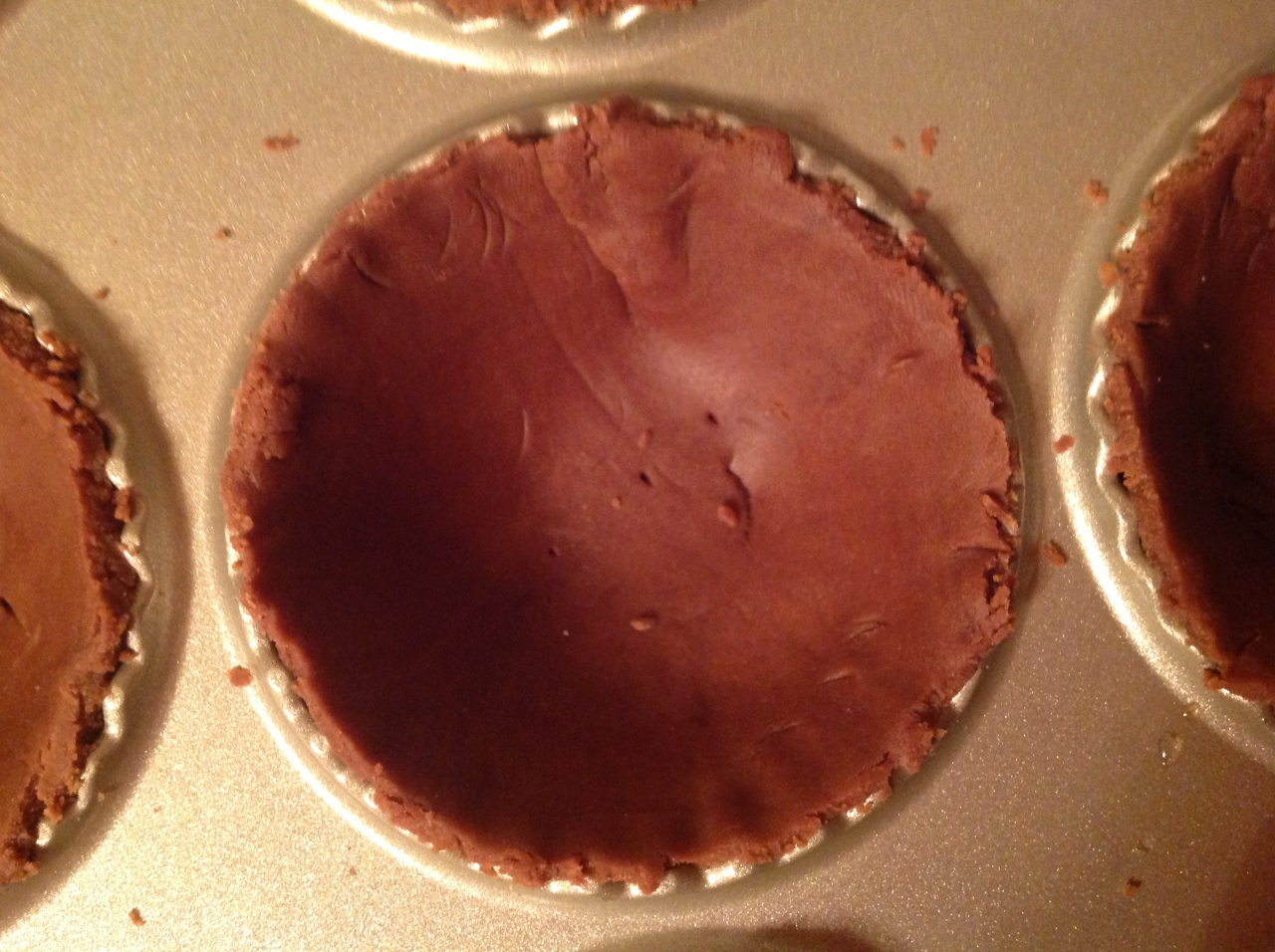 Bake the tartlets in a pre-heated oven at 325 degrees for about 15 minutes or until they are firm to the touch and the sides are slightly puffed. Let them cool off completely before removing from the pan as they are pretty fragile.
In a mean while, make strawberry whipped cream.
2 cups of made Healthy Top (cashews and almonds cream), or regular whipped cream
1/4 cup of pureed fresh strawberries
1/4 cup of powdered sugar (or more if you want the cream sweeter)
berries and pink sugar for garnish
(optional) 3-4 drops of red food coloring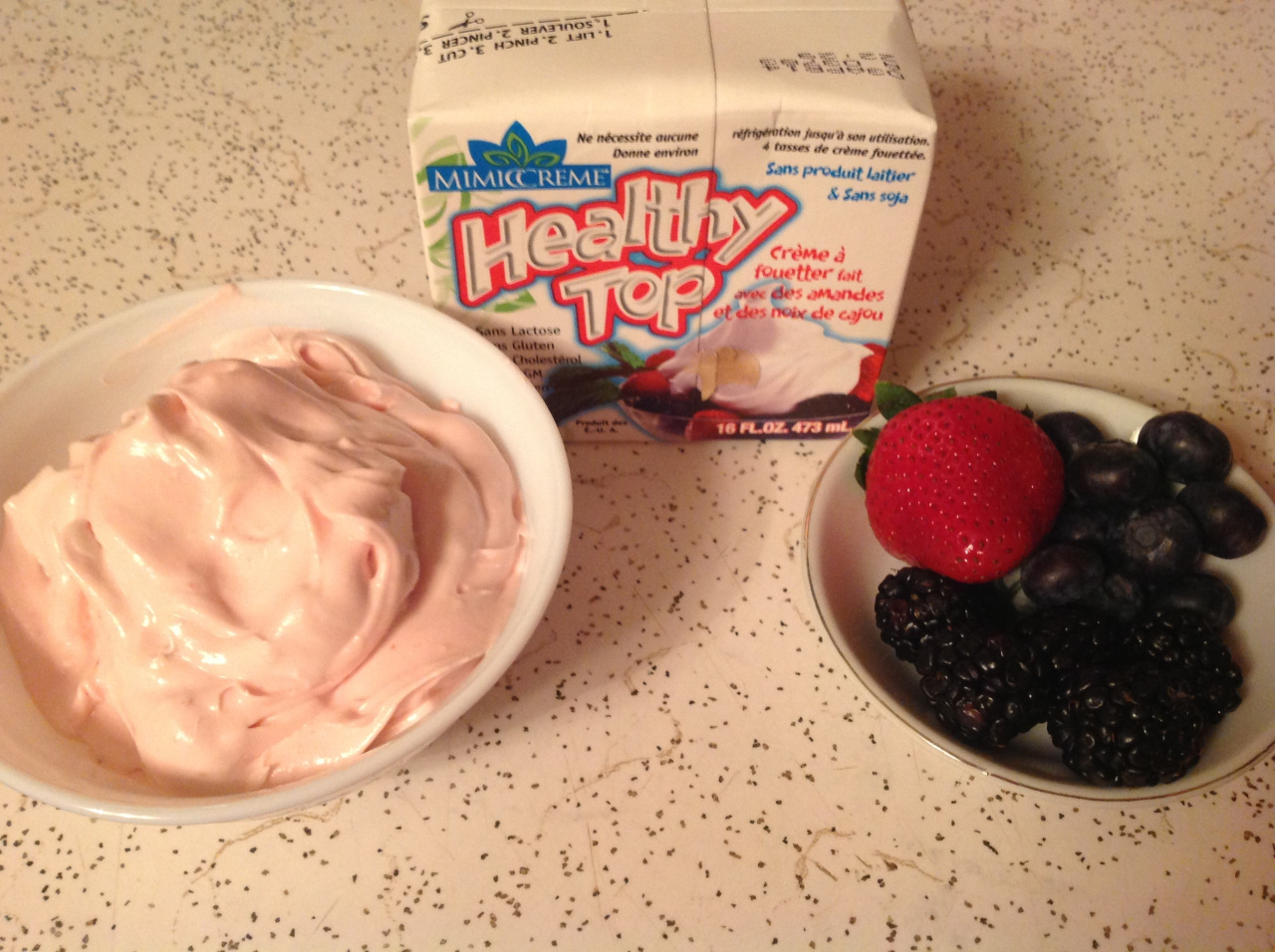 Prepare Healthy Top according to directions: chill the carton along with mixer beaters and metal bowl in the fridge for at least 30 minutes. Then whip the cream for 3-4 minutes. Add pureed strawberries, whip again, then add powdered sugar and whip until all is well combined. Add food coloring if you want the cream of a deeper pink color.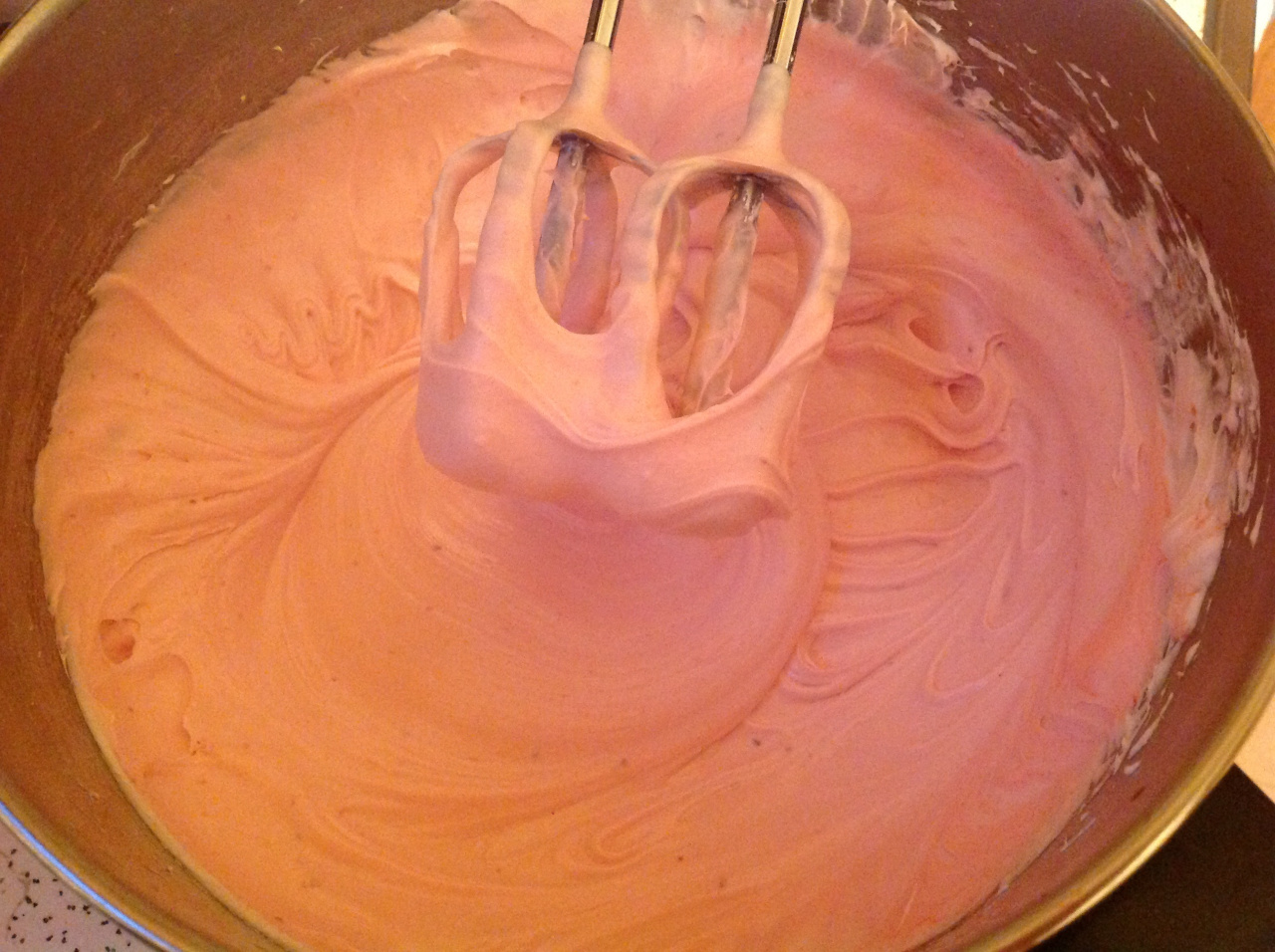 Fill each tartlet shell with about 1 Tbspoon of cream, garnish with different berries and sprinkle pink sugar on top.
The combination of semi-sweet chocolate tarts and light strawberry cream hits all the right spots in a healthy yet indulgent union. They taste like little pieces of chocolate and berry heaven.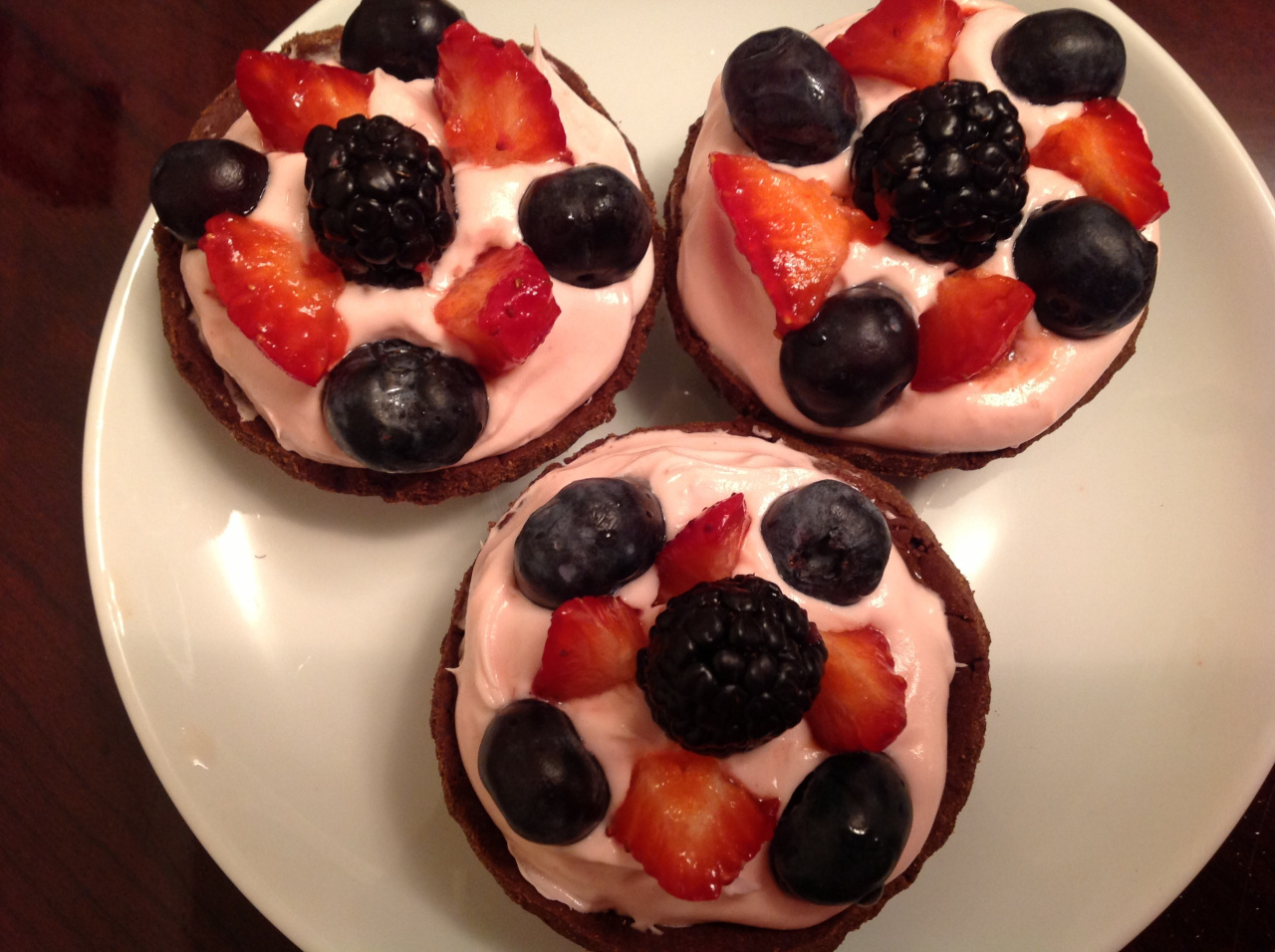 Enjoy!