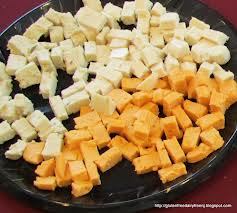 Sometimes I can't help it but make a little fun out of things :). Especially if the obvious controversy is literary staring you in a face.
Last week I was sharing breakfast with a doctor, and as there are never-ending topics to discuss for those working in a hospital, the conversation was easily flowing with lots of laughs sprinkled throughout the interaction. I was chuckling inside for an entirely different matter.
As one of my friends says "I'm the best guest ever because I come with my own food" :), the lemon pound cake made for the previous post had its appearance during this breakfast, and the presence was surely glorious as its buttery goodness had no competition next to the sad-looking "healthy breakfast" Dunkin Donuts sandwich that was limply hanging in the doctor's hand waiting to be put out of its deflated misery (I mean, into the garbage can, not the doctor's mouth, but it didn't happen unfortunately).
Naturally the conversation touched upon my "dietary restrictions" of no gluten, dairy and soy (sans the occasional organic butter or Tamari soy sauce for sushi), and, by the way, I hope to ever see the day when junk will finally be separated and restricted from the actual food.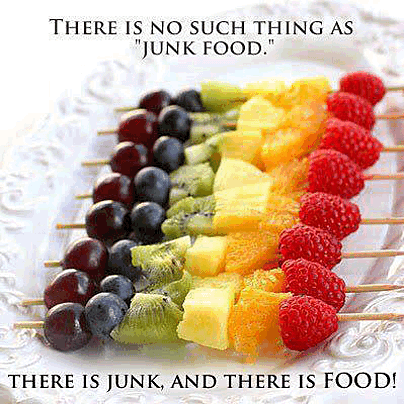 "I'd never be able to do it", said the doctor gingerly stuffing a mouthful of "enriched white flour", corn syrup and modified food starch (modified into what? and why do you need to "glue" together foods like eggs, cheese and bread that are supposed to hold shape on their own? unless of course they are in fact just modified food starch) and washing it all down with gulps of sucralose-ladden beverage. Mmmmm, good stuff, Doc, if we need a refresher in a periodic table of the chemical elements! 🙂
"Need to keep the calories down", surely he knows, he is a doctor first of all.  "Of course", I answered, putting another piece of a real caloric "heavyweight" champion "restricted" from enriched white flour and hormone injected milk, bursting with organic eggs, natural gluten free fours, unsweetened almond milk, pasture butter, fresh blueberries and lemon.
"It's good!", said the mouth free from inhaling chemical vapors and finally tasting the actual food.
"Sure, Doc!", let your body enjoy some nourishment so much needed after a long night shift at the hospital.
Even more so, take the rest of this "restricted" cake with you too! 🙂
What's Cooking This Week
People usually ask me how does it feel to live without baked goods, cheese, ice cream and such. I generally say "I have no idea, I'd not be able to do it either!" 🙂 (Cue in a mandatory blank stare here.)
The fact is, I don't know how it'd feel to not eat bread and cheese, and why should I?! With brands like Udi's and daiya, my taste buds are not missing anything. So definitely no whine here, just lots of cheese! 🙂
Spaghetti Squash Casserole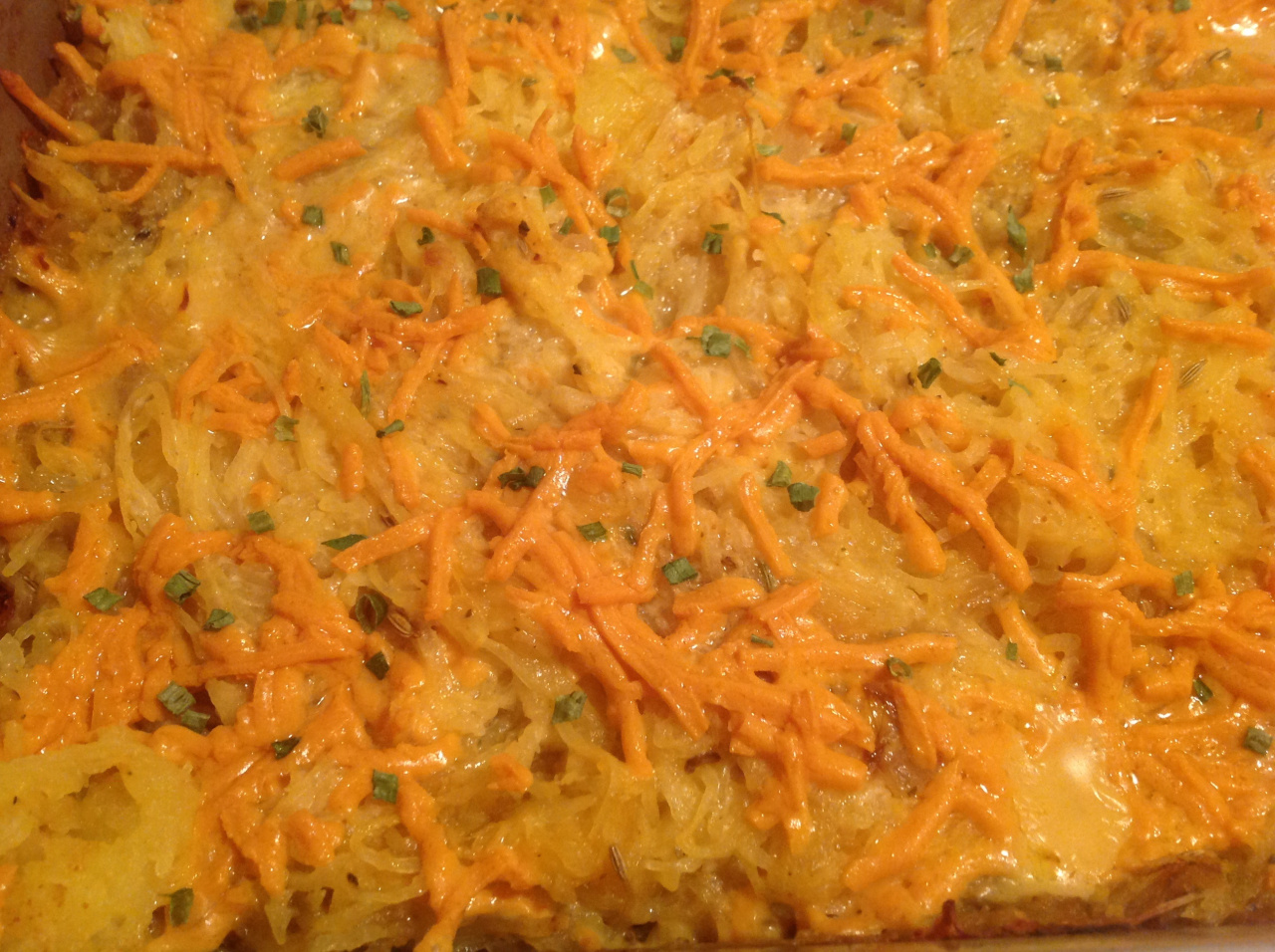 1 medium spaghetti squash
1 medium onion
1+1 Tbspoon of oil spread (or butter), I used Earth Balance coconut spread
1/2 cup of Mimic Cream, unsweetened (or regular cream)
1 cup of shredded daiya, cheddar style (or regular cheese)
1 tspoon marjoram
1/2 tspoon of dry ginger
1/2 tspoon of garlic powder
salt, pepper, chopped fresh herbs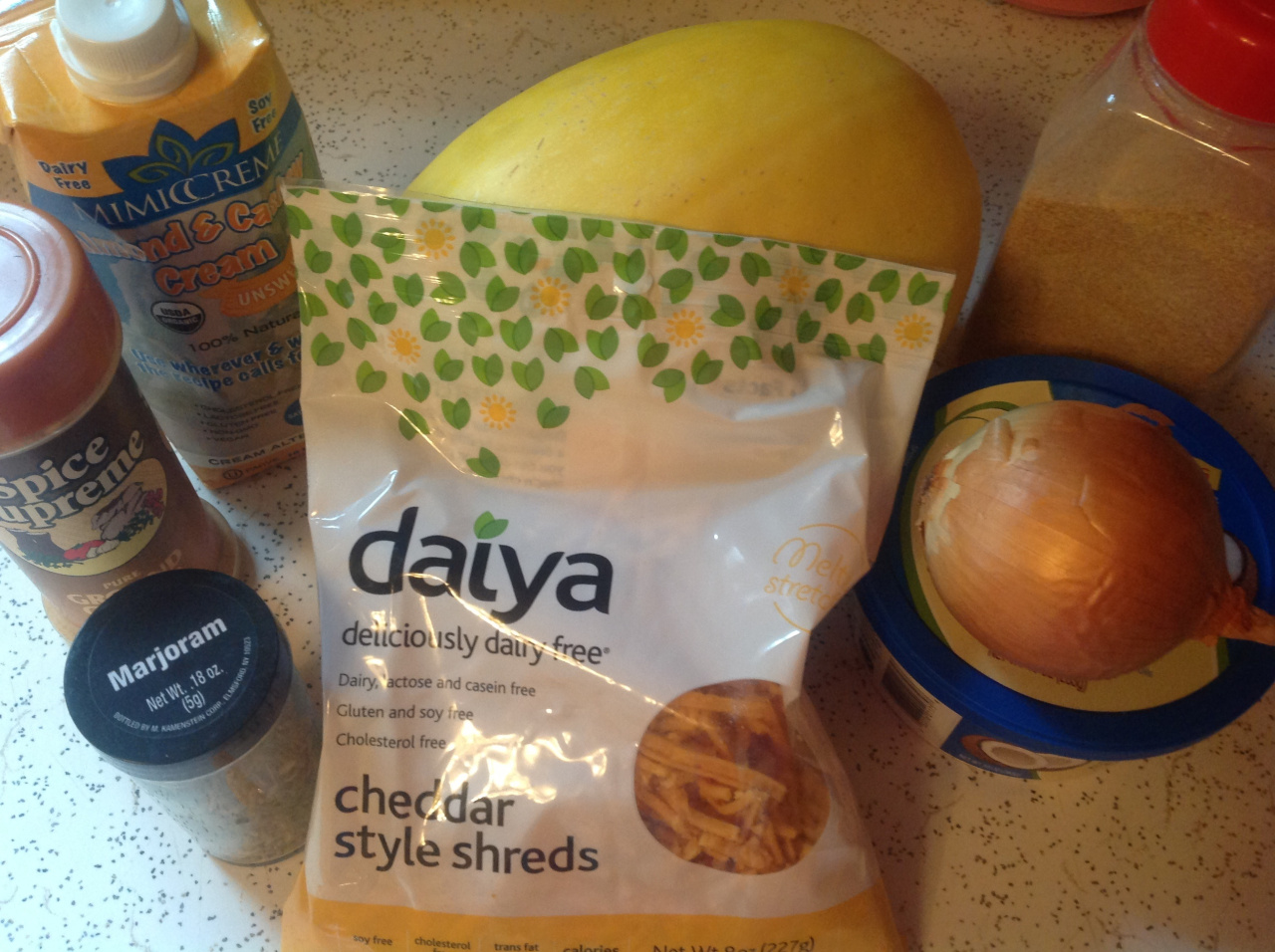 Cut the squash in half, clean the seeds out and place each half "face down" in a baking dish with a little water on the bottom. Bake at 350 degrees for 30-35 minutes or until the knife easily runs through, then let it cool off a bit.
While the squash is baking, chop the onion, melt 1 Tbspoon of oil spread and saute the onions until lightly golden.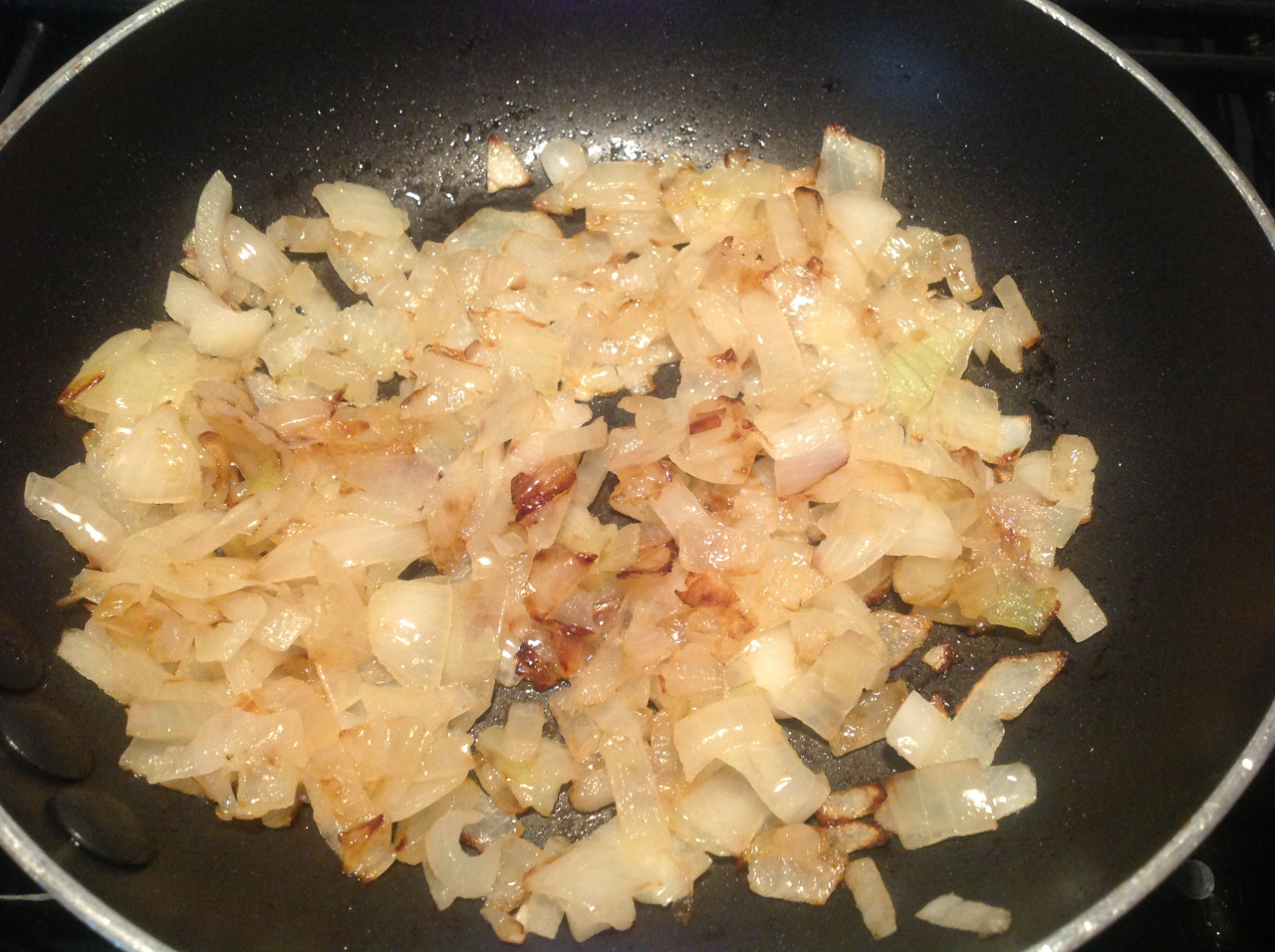 Once the squash has cooled off, scoop it out into a baking dish, mix in 1 Tbspoon of oil spread, salt/pepper, spices, onions, Mimic Cream and half the shredded cheese. Top with the remaining shredded cheese. Even if you don't have to be dairy free, I encourage you to try something new like daiya plant cheese and Mimic Cream made from cashews, you'd be surprised how similar it tastes to the "real thing", and bursting with healthy nutrients, you won't have any guilty feelings indulging in an extra helping.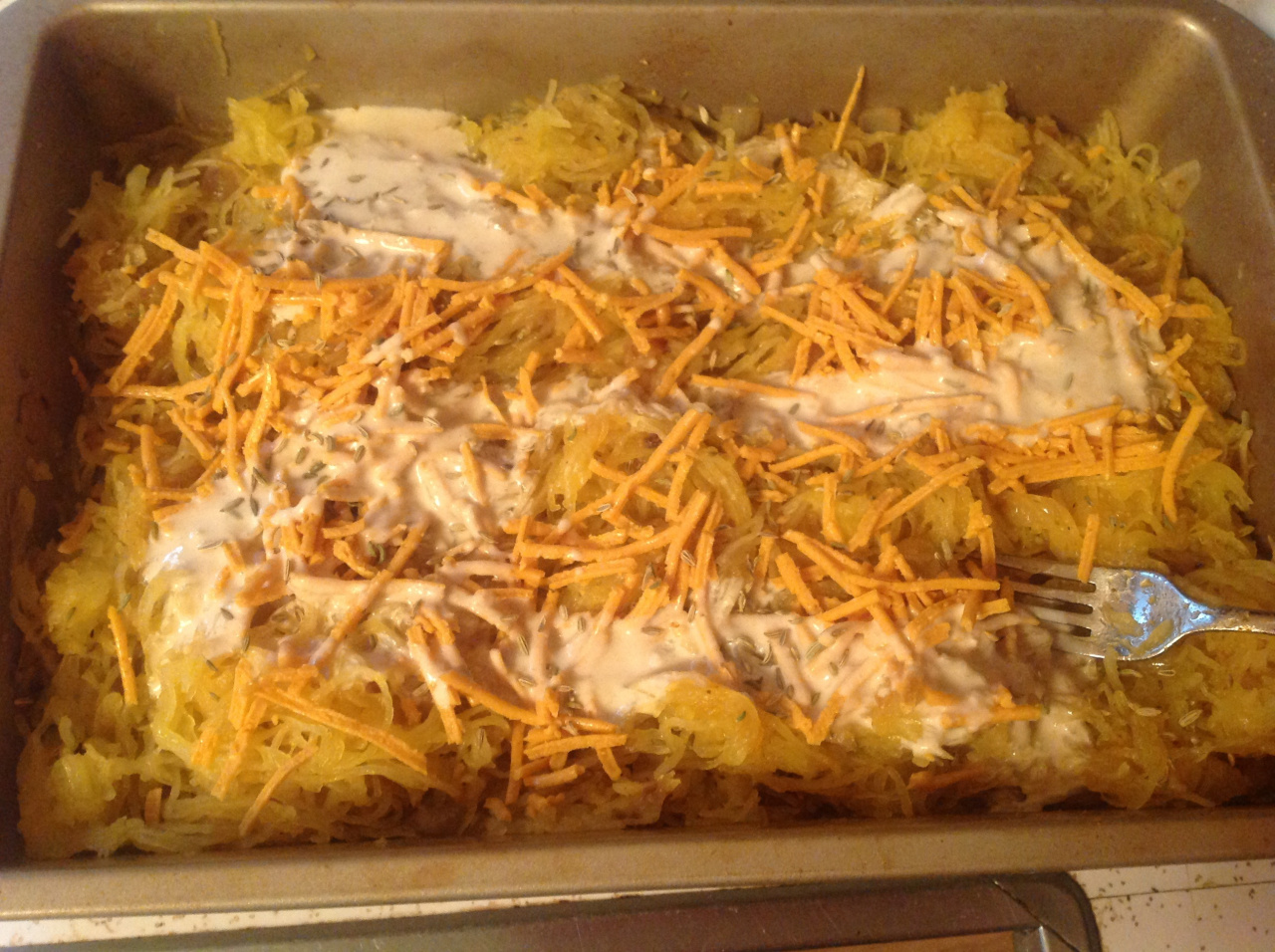 Bake at 375 degrees for 15 minutes. Garnish with any chopped herbs. Have as many portions of this "restricted" and chemicals-free goodness as you wish! 🙂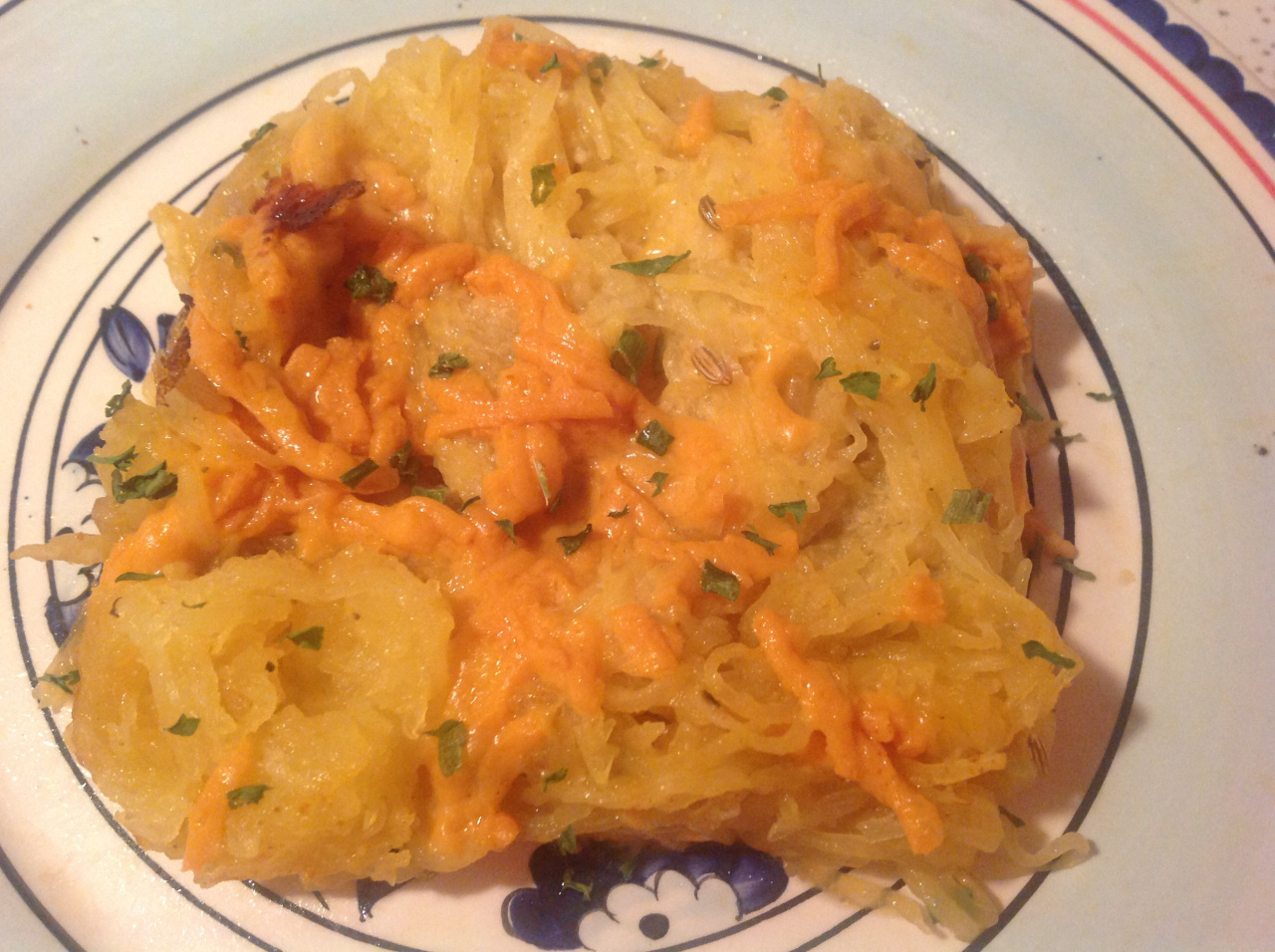 Enjoy!