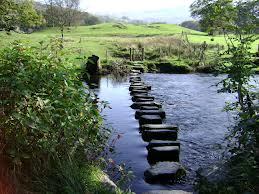 While you tread lightly my heart pulls away
Barriers built for years to protect
Only broken with regret
Feet itching to bolt, head making me stay
Breathe the small voice says
Shudders ripple down my skin
Take a deep breath, and let it begin
The Qi begins to smooth the way
The wires spark, the signal transcends
A jolt to the heart, disperses away the sin
Whispering winds wash it all away
Darkness burning into light
Electricity turning into love so bright
The warm inviting yellow light behind her head
Draws you to her arms as she leads you to bed
                                                                                                                                         Gidyean
As I was standing on a train platform by Columbus Circle, tired but quite satisfied with how the evening went clutching my shopping bags full of shiny new purchases, a delicate scene was unfolding right in front of my eyes but being completely ignored by oblivious no-nonsense New Yorkers. 
 A couple was standing waiting for a train too yet you could tell they wished that the train would never come.  The guy was pacing back and forth ever so slightly, his gaze is darting to the girl's face for a second and back down to his feet, eyes full of desire and hesitation drawn into a struggle and a balancing act all mixed in one. The girl held his gaze composed and sure as if the chosen path has already replayed in her mind and felt so right, as it had happened already. But dare I say, she had her own battles deep inside her, yet she continued whispering in his ear some soft words that ignited him even more, and he lifted his eyes to look into hers and just say "yes".
You can guess that perhaps they just met and led by their instant passion got lost in a circle of doubt and want, but one of them had to find a way to get them both out and on a road to possibly share something wonderful.  And as the girl continued to smile and stepping closer and closer towards him, the guy seemed to be resolved to silence his doubts at least for a second and concede to his desire as he also stepped forward so they can share a brief but passionate kiss.
When my train came,  leaving them back at the platform, I dropped on my seat, the whole scene is still replaying in my mind, and wishing that those two would figure it all out before their train comes too. But if you ask me, I think the girl will lead him to bed… 🙂
What's Cooking This Week
Sometimes you look at certain foods and combining them together is not the first thing that automatically comes to your mind. Or maybe you have presented them together and are now tired of the same old ways. Perhaps those two on a train platform were not meant to be together as a conventional couple, but who is to say that following their passion and not their common sense will produce a less meaningful or even less important in their lives relationship?! Sometimes you simply have to follow where your heart takes you. And combine old things in a new way to create interesting flavors. Just make sure you tread lightly. 🙂
Cranberry Rice Stuffed Delicata Squash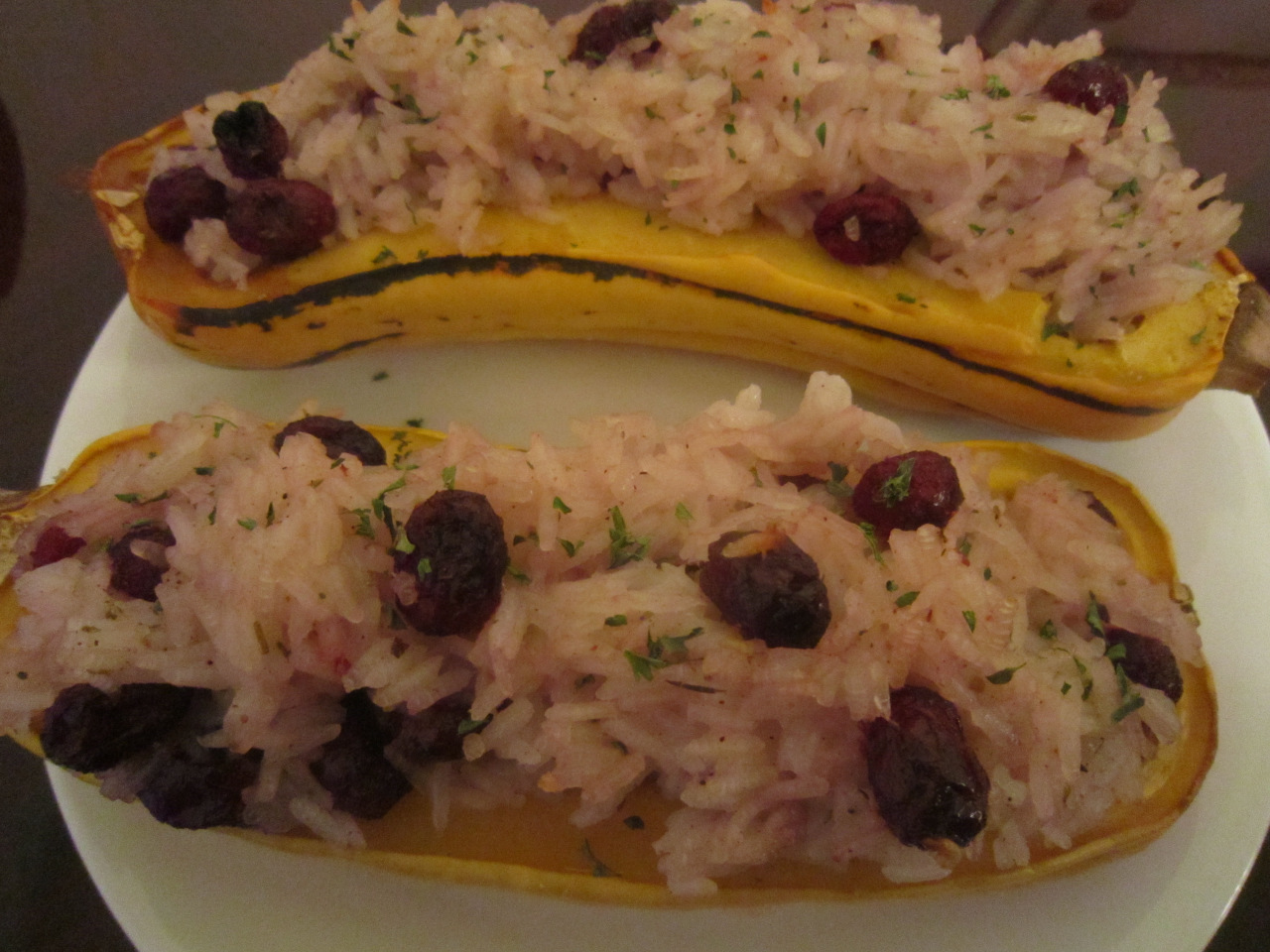 2 delicata squash
1 cup of uncooked rice
1/2 cup of dried cranberries (I used dried whole berries)
1 Tbspoon of oil spread or butter (I used Earth Balance Coconut Oil spread)
1 Tbspoon of fresh lemon juice
1/2 tspoon of nutmeg
salt, pepper, lemon seasoning
mint leaves for garnish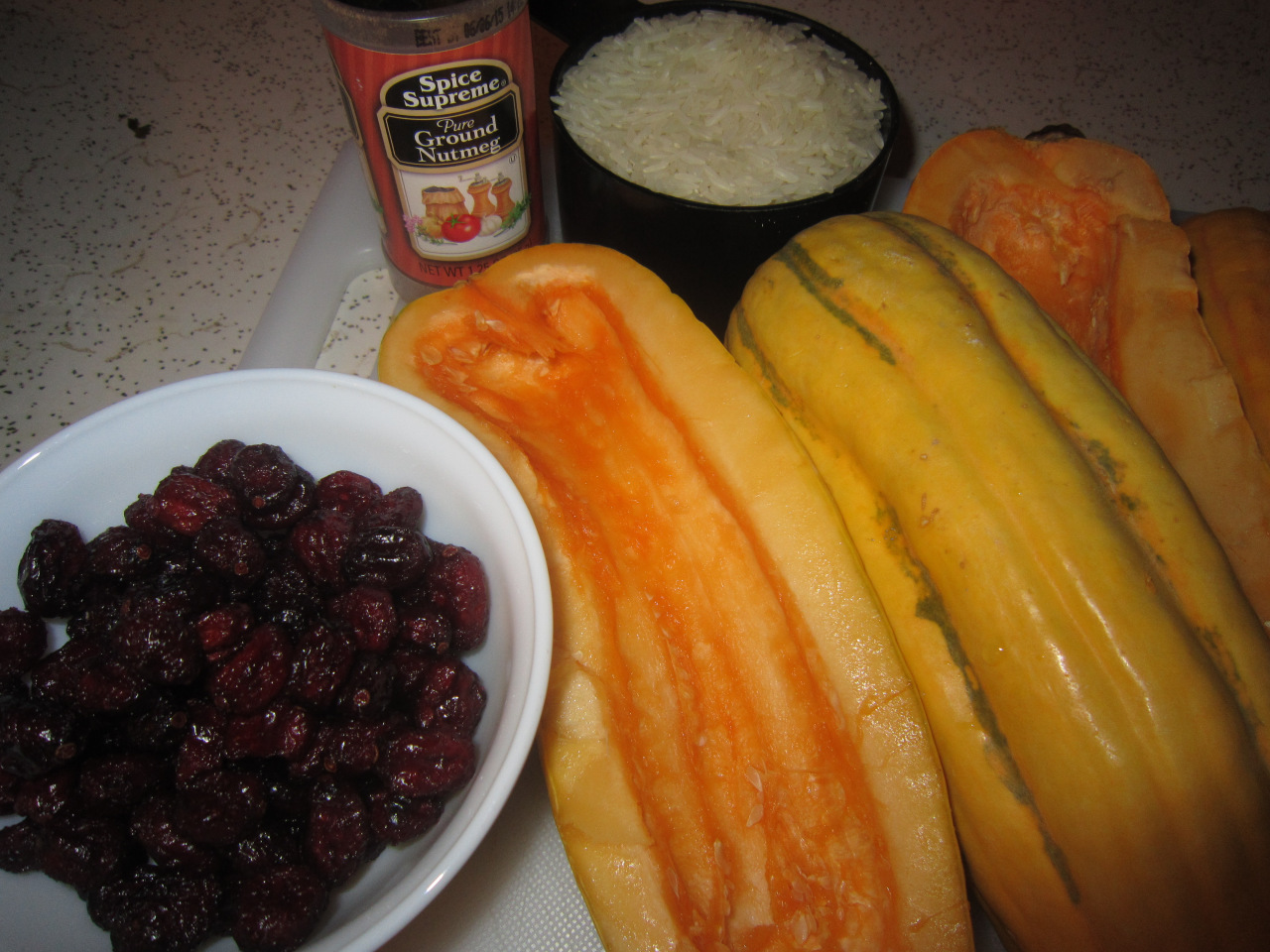 Cut the squash in half lengthwise, scoop the seeds out, lightly rub the insides with salt, pepper and lemon seasoning, wrap each half in foil and roast at 400 degrees for about 30 minutes or untill the knife easily runs through.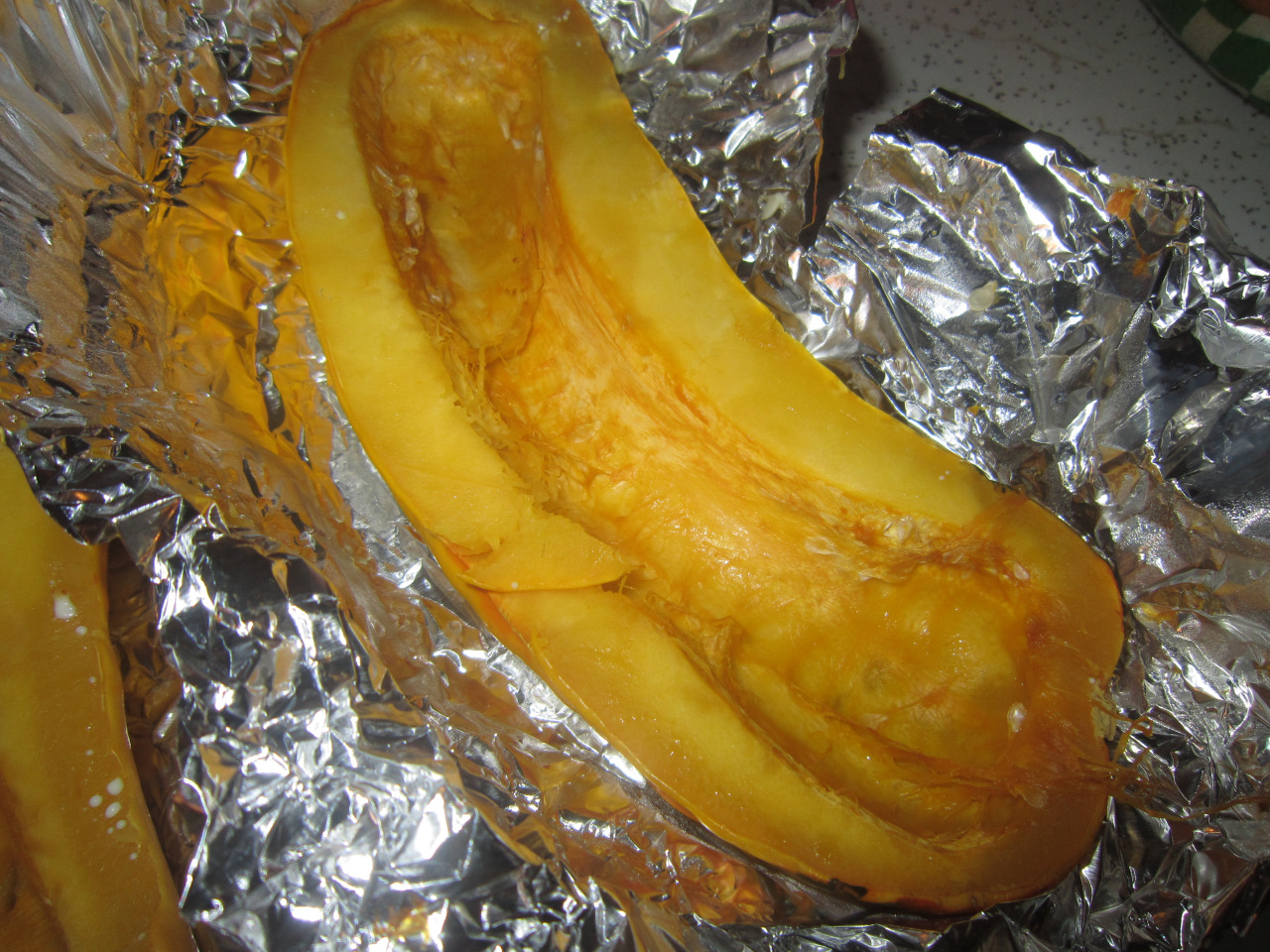 In a mean while, cook the rice according to directions in salted water, then stir in oil spread/butter, nutmeg and dried cranberries.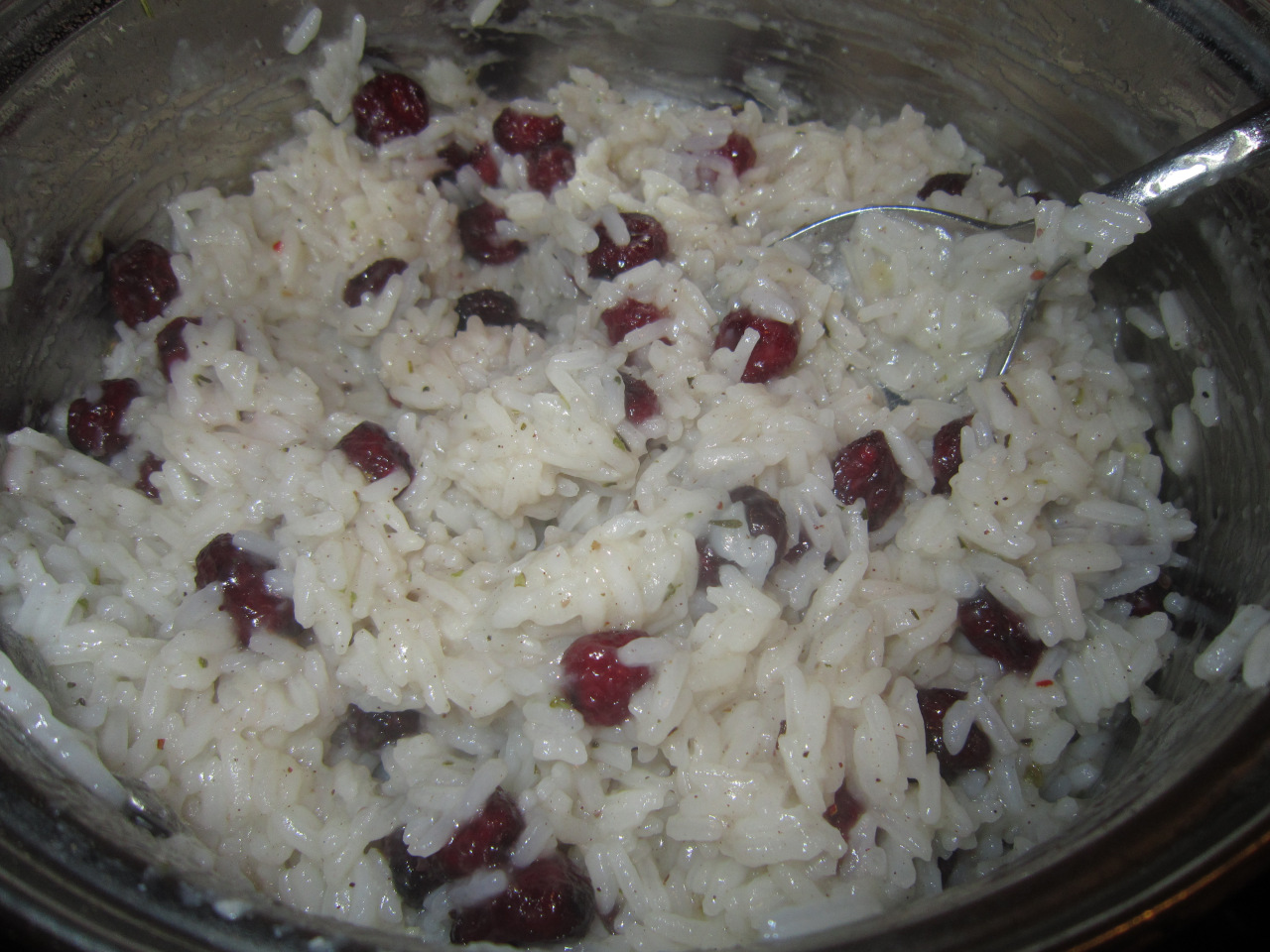 When both the squash and rice are ready, let them cool off a bit and then stuff the rice inside each squash half. Bake at 350 degrees for 10-15 minutes. Garnish with chopped mint leaves.
A wonderful healthy meal that could serve as either satisfying lunch or a dinner side dish.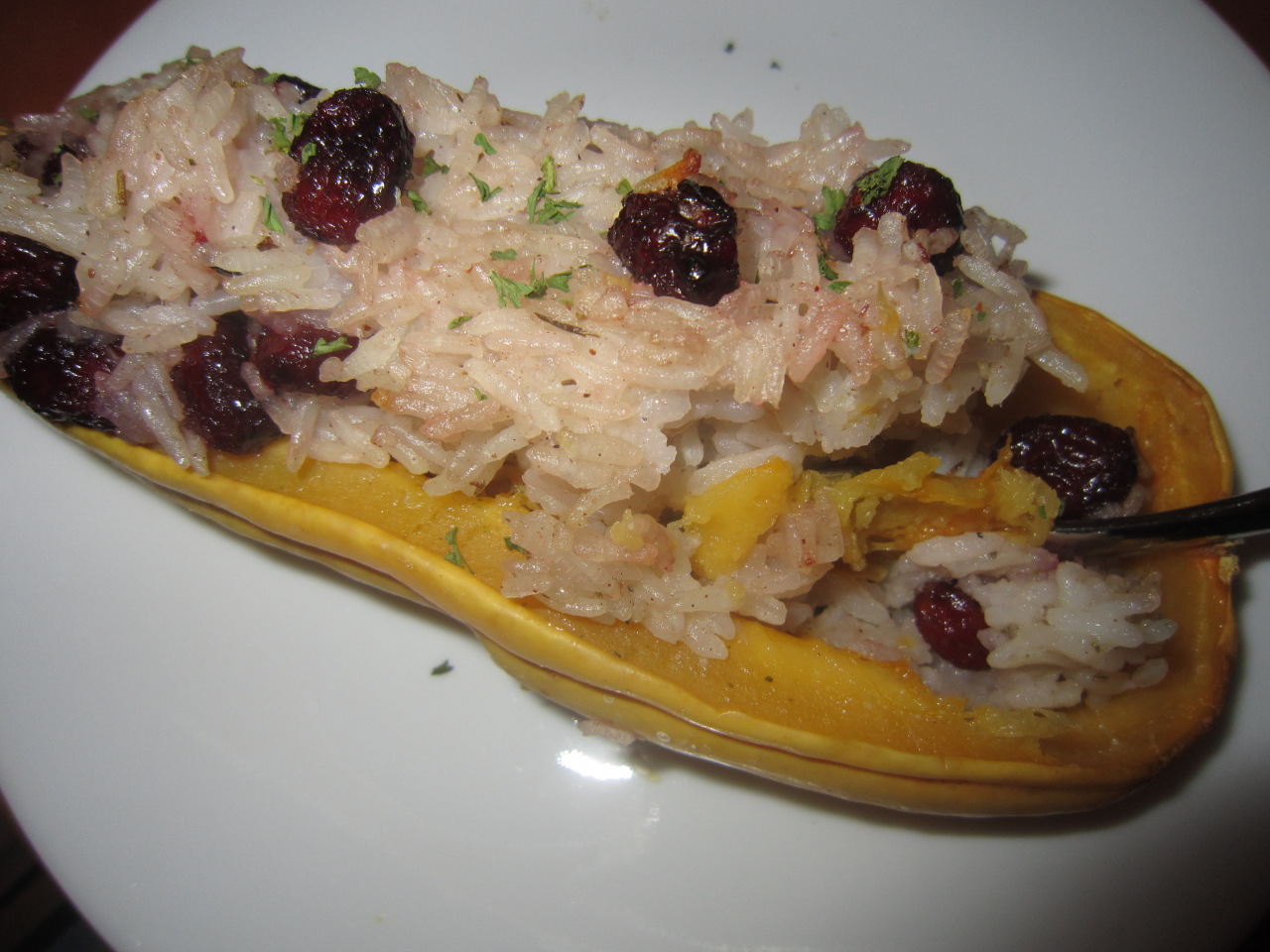 Enjoy!