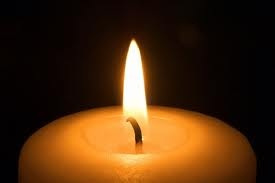 Words cannot describe what a parent must feel about a loss of a child. I sincerely hope neither myself nor anybody else ever lives to find out, but in this cruel world, it is still possible to lose a child to a senseless murder committed by a soul-less criminal.
I can say to a grieving parent "I understand", but the truth is, I can't. As every cell inside me is fighting the very hypothetical notion of ever being in this situation. Mind just cannot process, and the heart refuses to speculate. The whole being is simply shuts down at the very thought that these things are possible, and nothing seems to stop them.
As I'm rejoicing that my own child is safe at home, part of me is broken for all the parents and loved ones of the 20 tiny lives lost in Sandy Hook's massacre and for all the adults who rushed to save them and at the end perished themselves. This will be the holiday season we'll never forget. There will be many unopened gifts left forever under the Christmas tree, and too many families gathering together for a burial instead of a holiday meal.
I know that all the children across the nation were hugged and kissed extra tender this weekend, and all the parents said an extra prayer that their family is healthy and safe. I held my teen in my arms for what seemed like an eternity. And I know he doesn't understand it yet, but years down the road, he will, once he holds his own babies in his arms. My only wish is that he will never have to doubt that they will always come home at the end of each day.
Join me in a prayer for all the lives lost and for all the families forever broken!
What's Cooking This Week
During difficult times like these, you may feel like you just want to huddle in a corner a not move. And it may be right for some, or for a while. But when you have a house full of young children and a holiday season upon us, life still goes on, as it should be, and you may find yourself wishing to share some special times with your family. This recipe is a great chance to get the kids involved, cherish the moments and make future memories to pass on to your grandchildren.
"Candy Canes" Cupcakes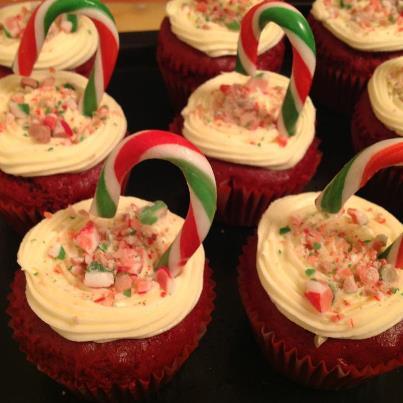 For 24 cupcakes:
2 1/2 cups of flour (I used Cup4Cup gluten free flour blend)
1 cup of buttermilk
2 eggs
1 Tbspoon of cocoa powder
1 1/2 cups of sugar
1 1/3 cups of oil
1 tspoon of salt
1 tspoon of baking powder
1 tspoon of vanilla
1 tspoon of white vinegar
2 Tbspoons of red food coloring
24 chocolate covered mint candies
Cream cheese frosting:
16 oz of cream cheese
2 sticks of butter
1 tspoon of vanilla
3 1/2 cups of powdered sugar
24 candy cane candies
In a big bowl, beat together eggs and sugar, then add vanilla, oil, vinegar and buttermilk, beat together, add red food coloring and beat until all is well combined. In a separate bowl, mix together the flour and the rest of the dry ingredients. Gradually add the dry ingredients into wet ones and beat until everything is incorporated.
Pre-heat the oven to 350 degrees. Line the cupcake pans and drop a spoonful of batter into each cup, then place a mint candy in a middle.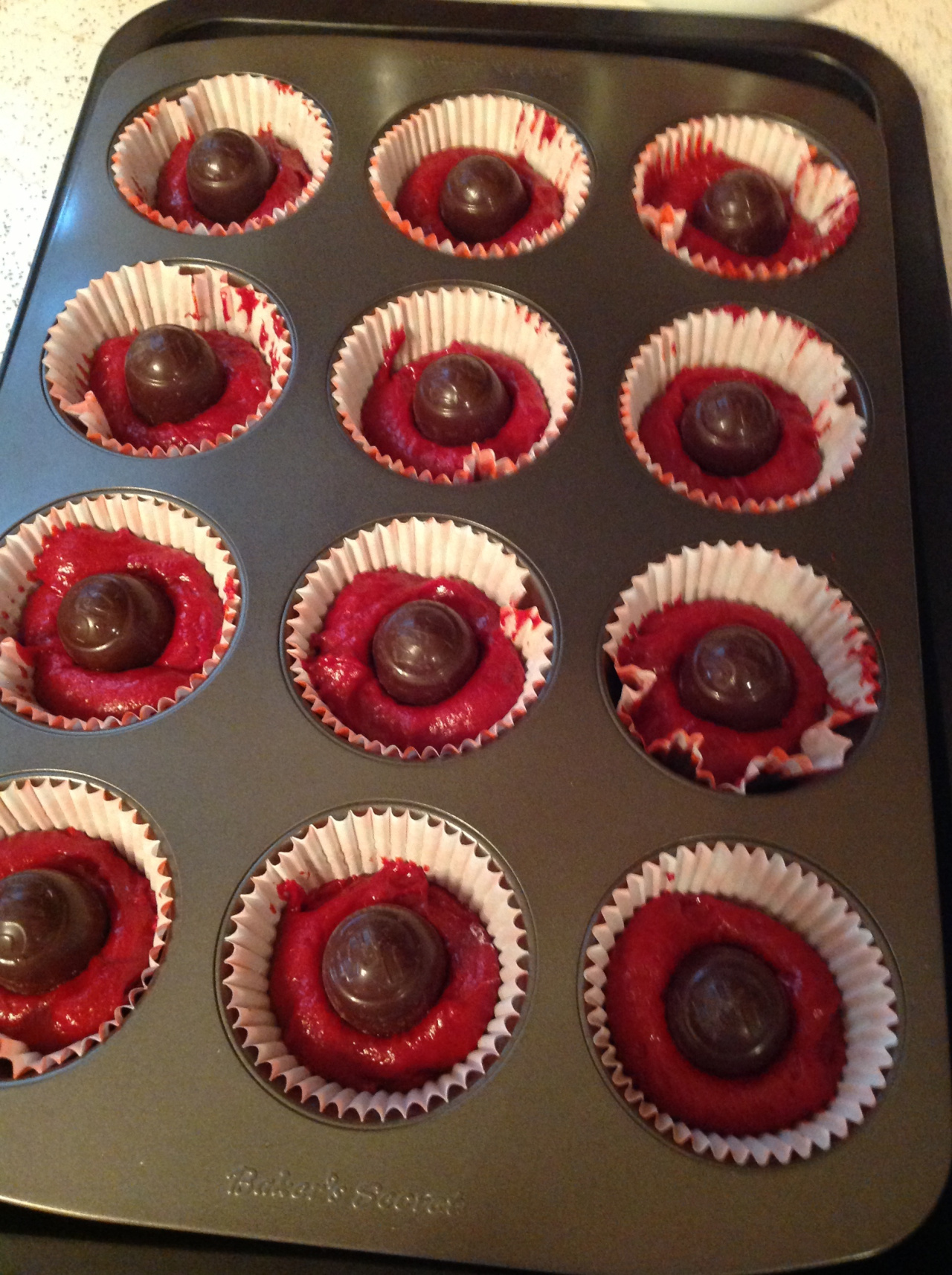 Cover each candy with more batter until the cups are about 3/4 full. Bake for about 25 minutes, test to see if done towards the side of the cupcake as the mint will be melted and sticky. Cool off completely before frosting.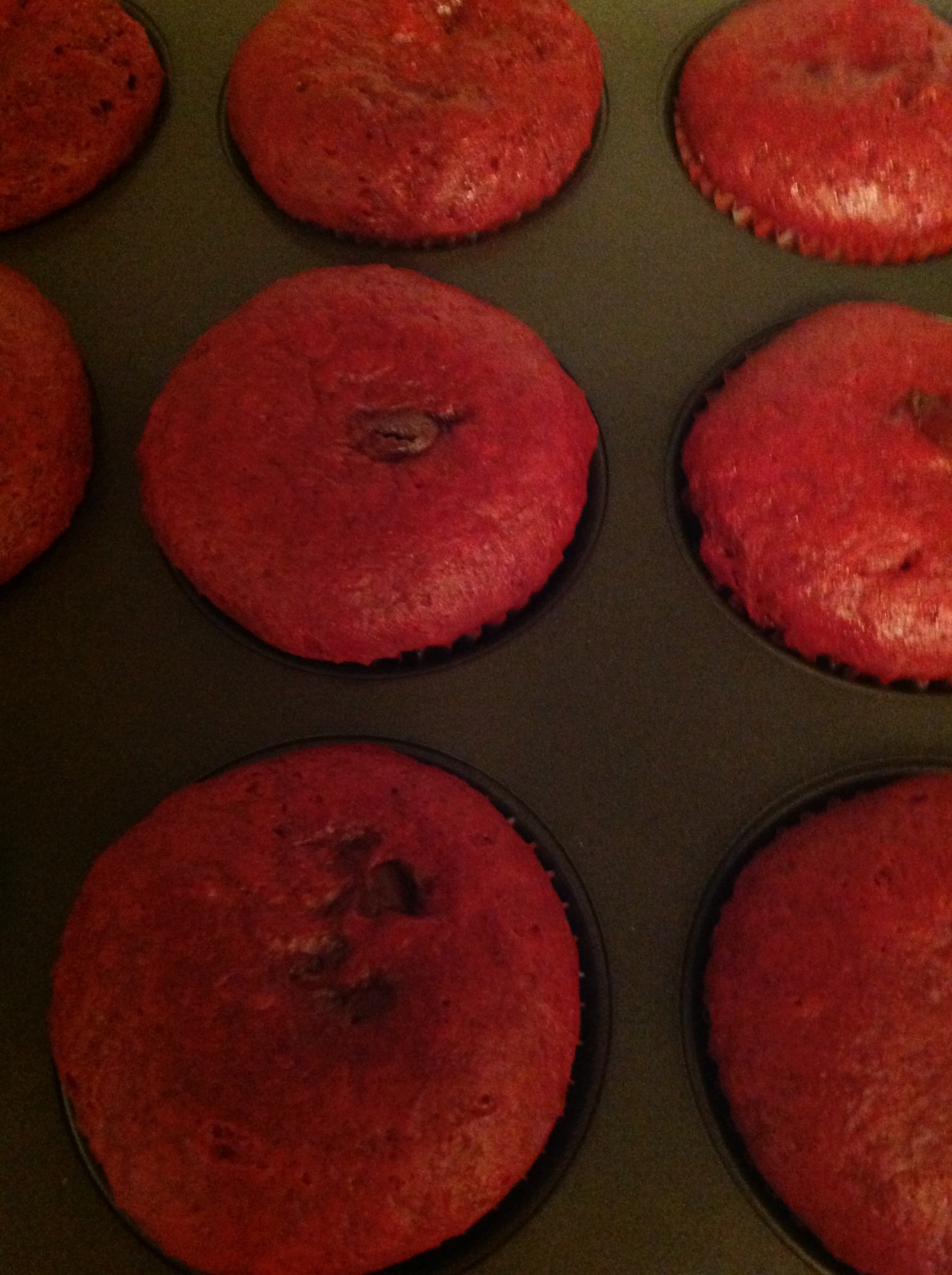 To make the frosting, whip softened butter until light and fluffy, then add cream cheese and whip it all together. Add vanilla and gradually start adding the powdered sugar to incorporate it all. Prepare candy canes for decorations. Carefully snap the ends of about 1 inch each using a knife to make candy canes shorter. Use the cut off pieces to make decorations: place them into a food processor and pulse until they are broken into small pieces. Pipe the frosting on each cupcake.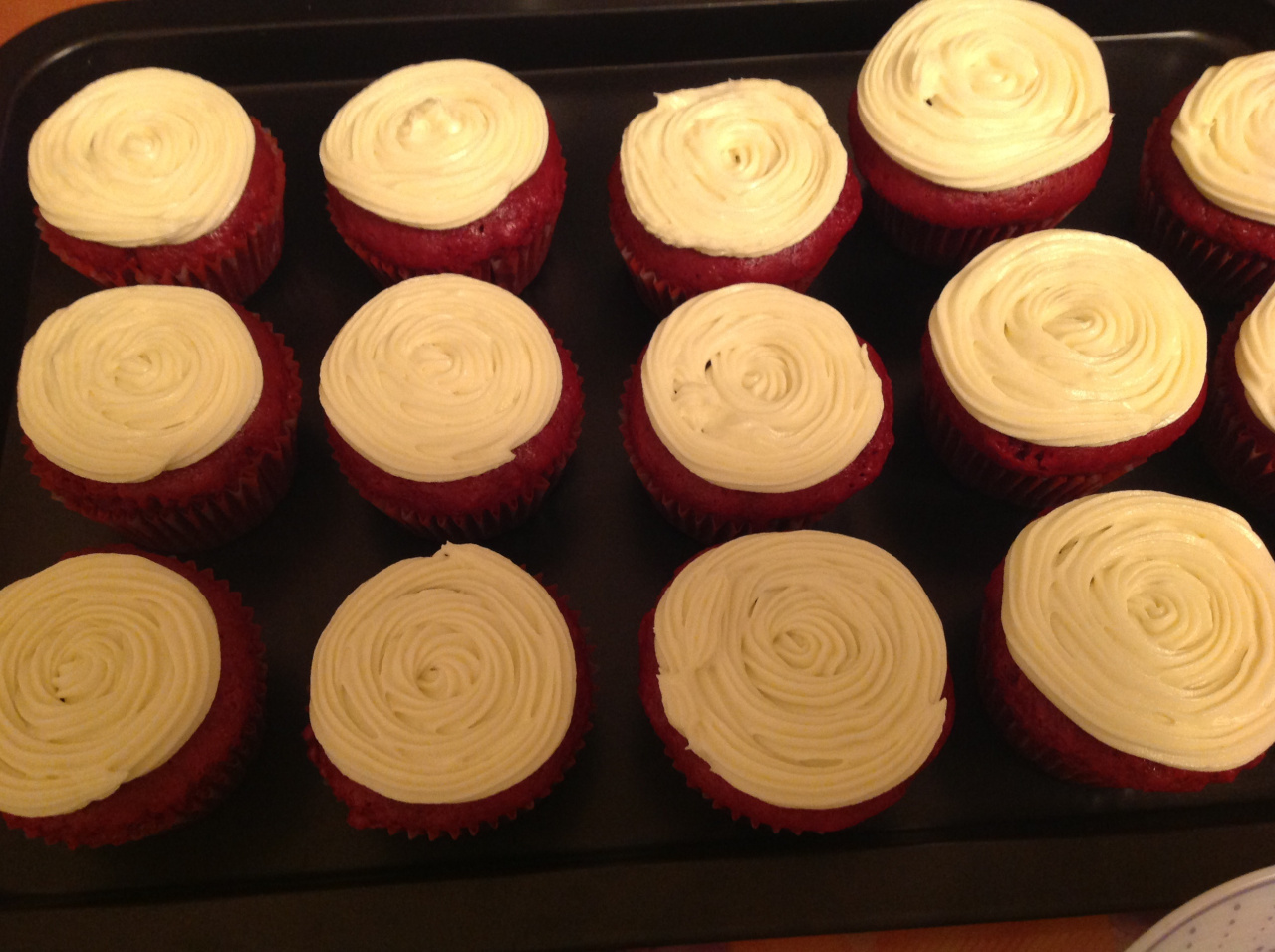 Insert a candy cane and decorate with broken candy pieces. This a great project to share with the kids. Not to mention that the cupcakes are delicious!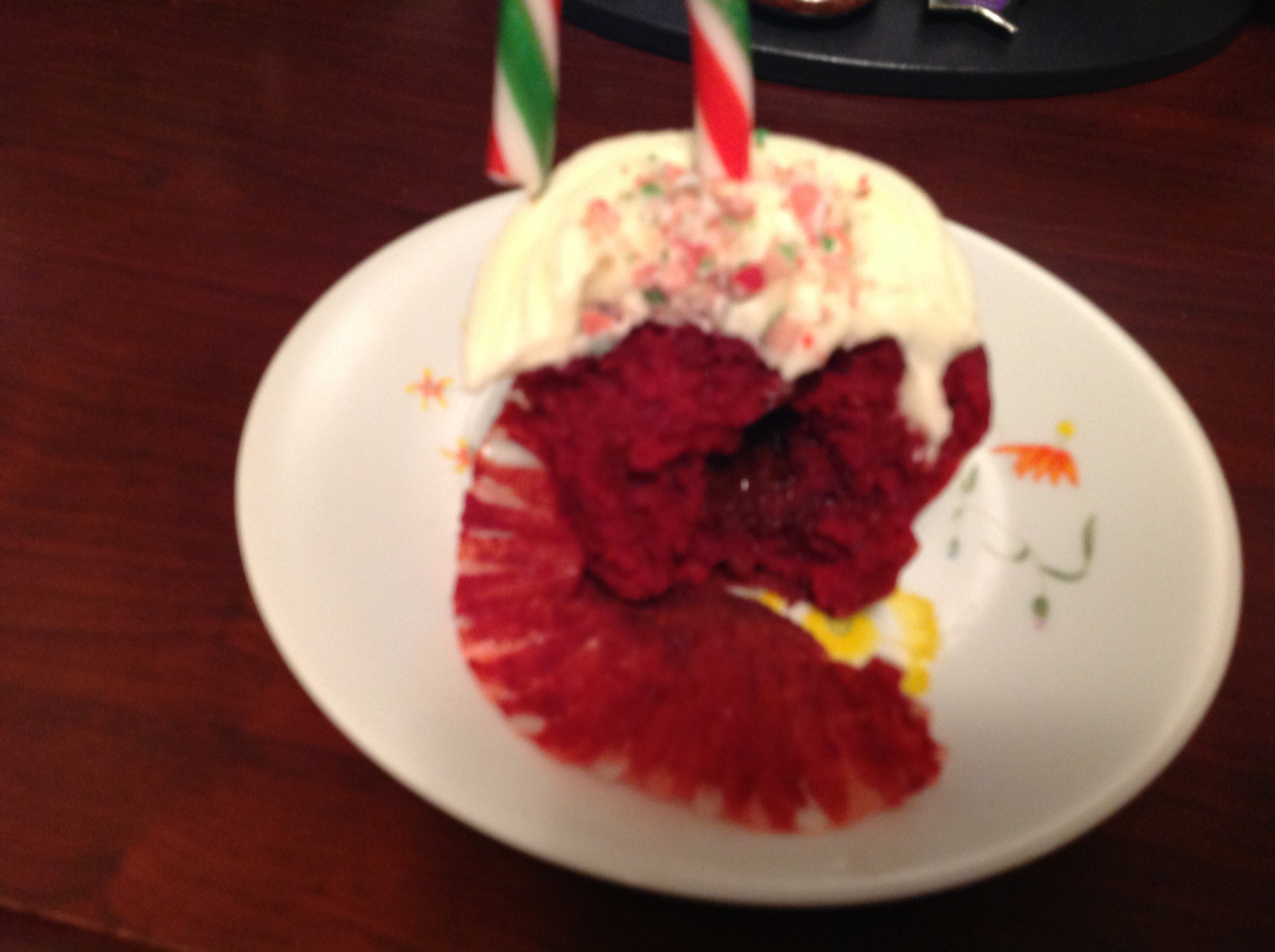 Alternative options make include 'Santa Hat" decorations, they look better on the mini cupcakes.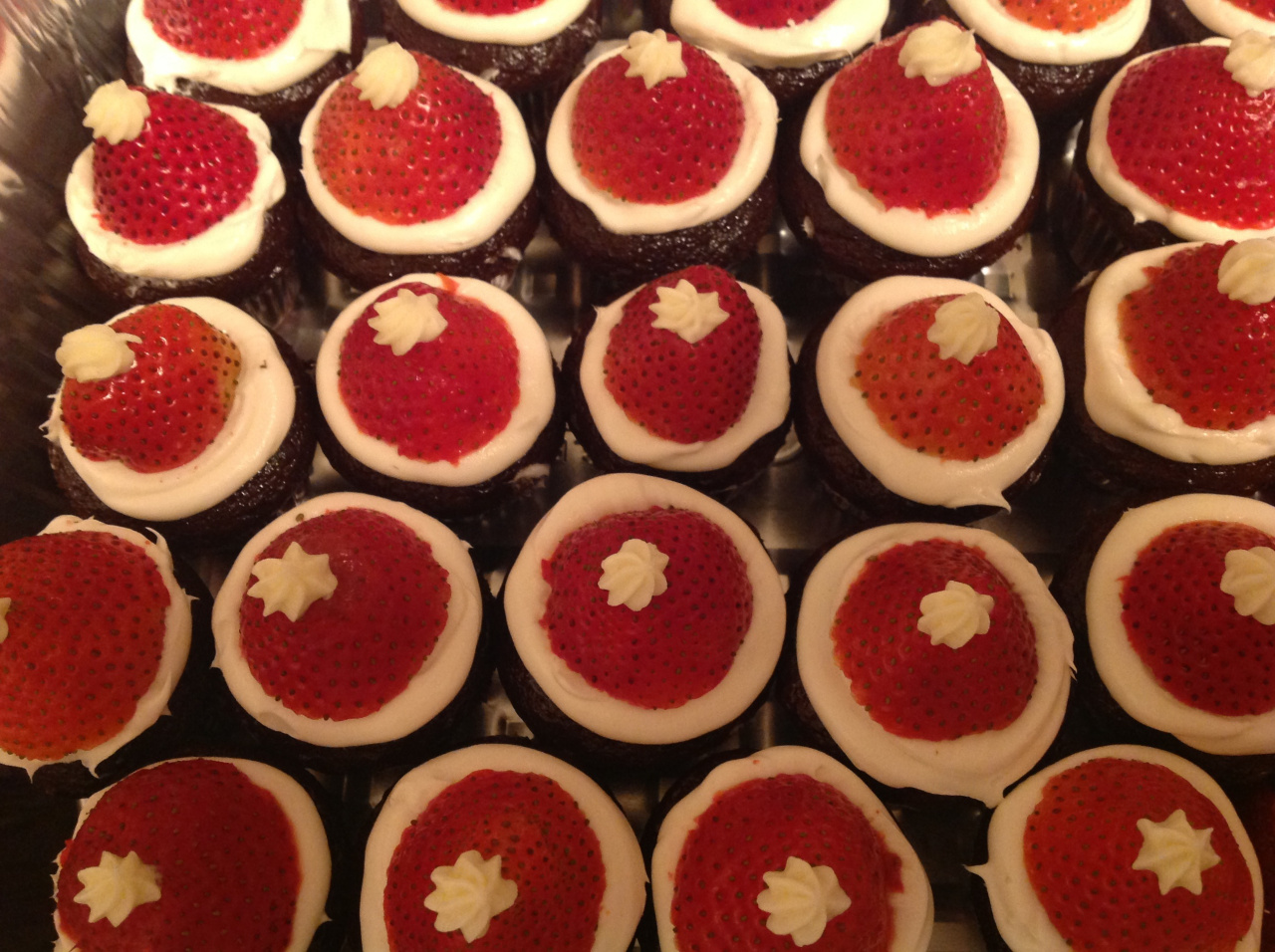 Enjoy! And cherish the moments with your children!