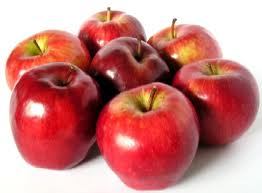 Everybody knows that an apple a day keeps the doctor away. Apples are surely abundant all year round and generally not that expensive, so there shouldn't be any excuses why you can't have them if not every day, but at least farely often. All the vitamins and antioxidants and extra iron will be beneficial to your whole body. And you definitely have your pick, no matter the sweet, the tart or a hybrid variety, apples are a wonderful addition to any healthy lifestyle. Plus they just taste great!
But what about a nice helping of an "emotional" apple-a-day? At a time that may be busy or stressful, do you also remember to stop and give yourself a pat on a back? Even if you feel you don't really deserve it, or you think you didn't do the best job, because chances are, you actually did, the best you could master at this particular time. When you run around trying to take care of everybody and everything, don't ever forget yourself, have a daily "I love you" message going straight to you heart, and smile, smile every time you pass a mirror. 🙂
I have a client, a young guy whose "alter" ego seems to win most of the time. In a constant battle of good vs. demeaning, his negative side always has the last word. I think we can all relate to that on some level. We've all had an experience where in a long chain of conversations with yourself, the last statement of something like "you're still a loser" sticks with you and continues to poison your whole being long after the words stopped vibrating in your head. So as he sits in front of me every week and on my prompt says that "he is awesome", I know he doesn't believe it, but I also know that if I stop pushing him to vocalize something good about himself, he will continue his journey deeper into the twilight. Therefore unless you want to forever be lost in a world of "empty glasses", you need to find a way to always finish the "me and I" conversation on a positive note, even if you literary have to utter the words, turn around and run before the negative side overtakes the process yet again.
It's your "a praise a day keeps the blues away" emotional pat on a back that should be practiced right along with eating your apples. 🙂
What's Cooking This Week
Some foods naturally go together, like peanut butter and jelly or strawberries and cream. I think just about anything pairs perfectly with apples, but apples and cheddar create an especially marvelous combination. This recipe is incredibly simple but simply delicious.
Oven Baked Apple-Cheddar Stuffed Chicken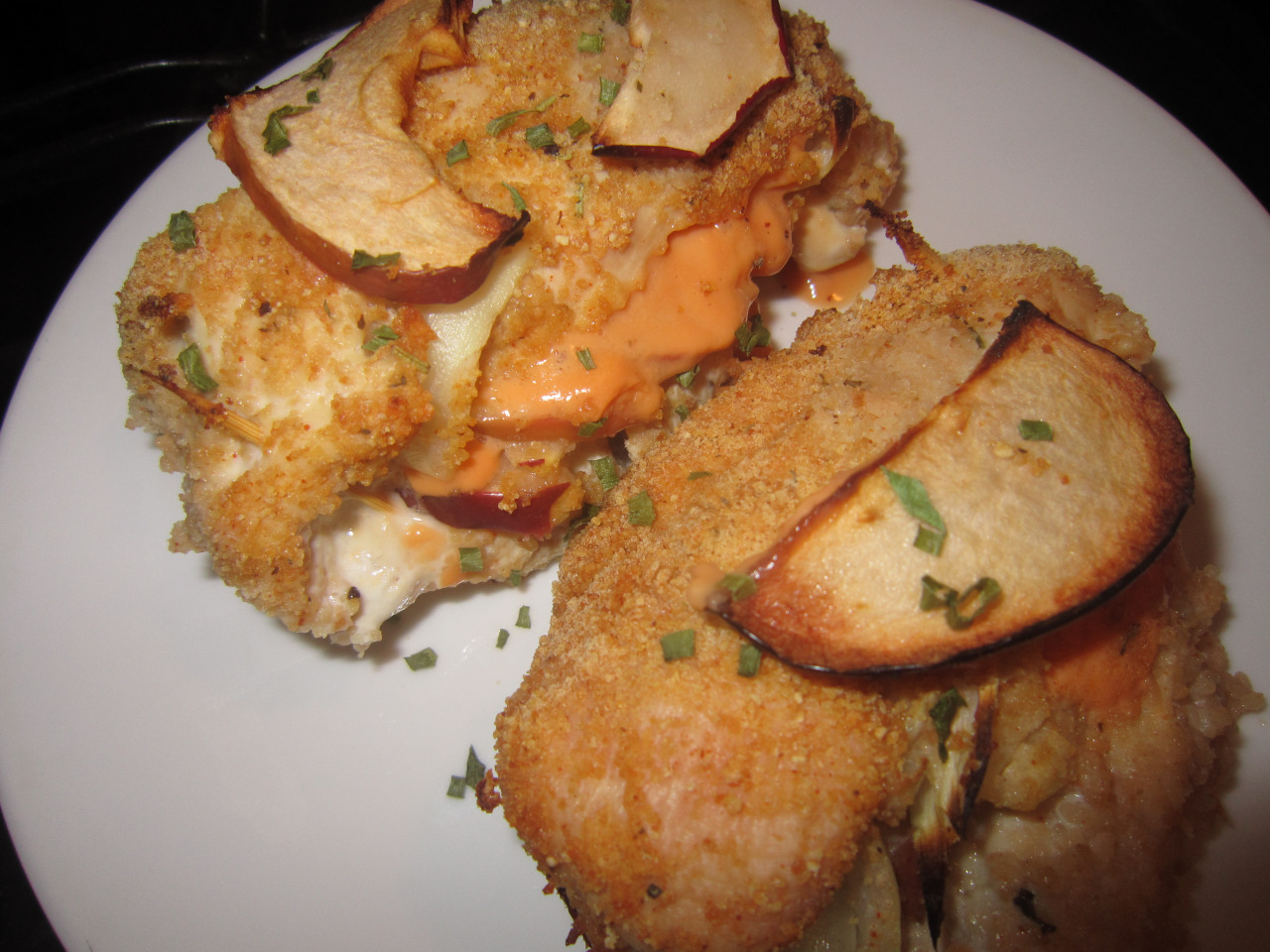 6 chicken breasts, skin and bones removed
1 large or 2 small apples
1 small onion
6 slices of cheddar (I used daiya cheddar cheese)
1/2 cup of bread crumbs (I used Gillian's gluten free crumbs)
2 eggs, beaten
1 tspoon of herb blend like Italian
salt, pepper, oil spray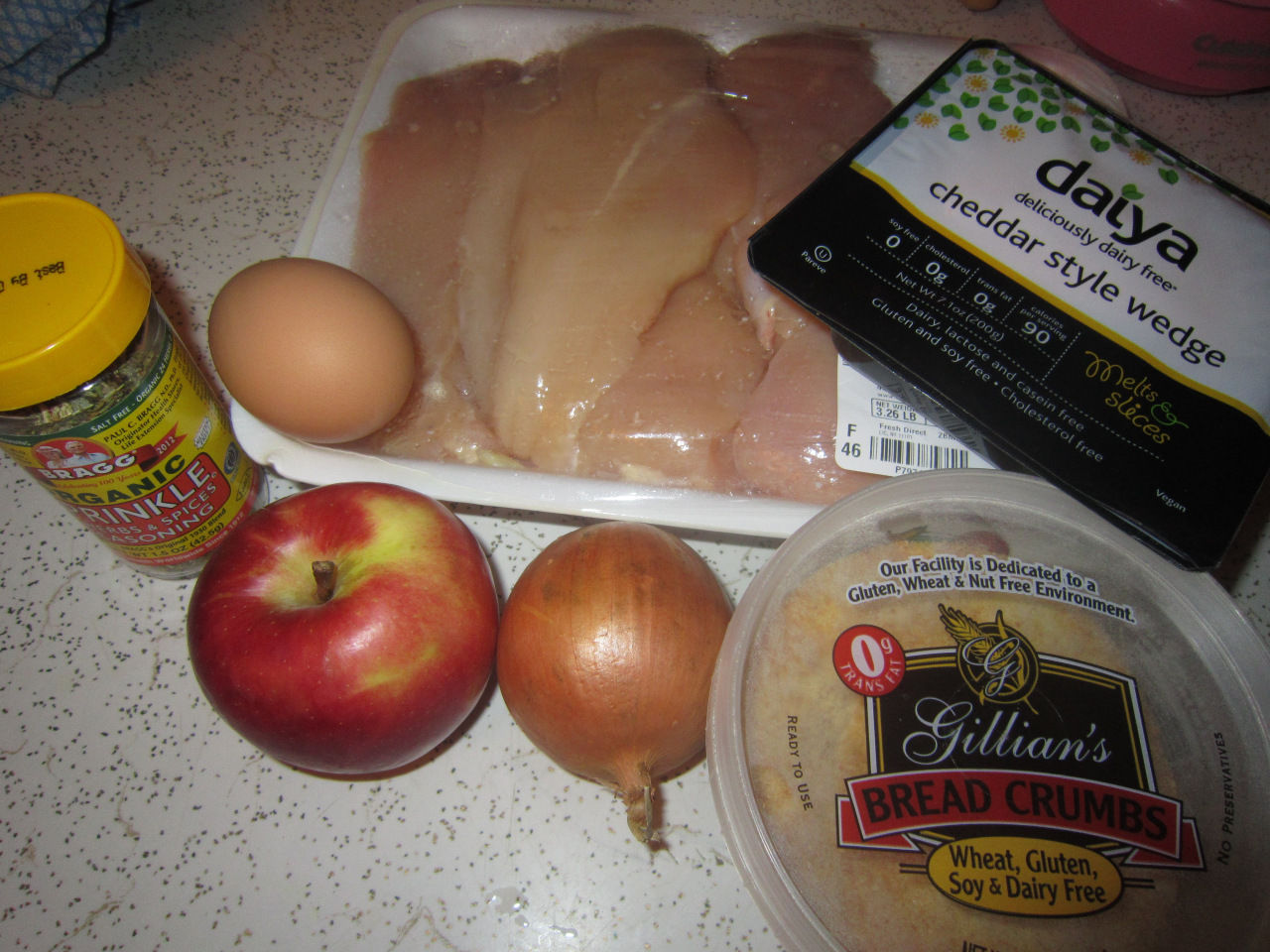 Wash, pat dry chicken breasts with paper towels and rub some salt and pepper on the outside. Mix bread crumbs with herbs and little salt and pepper. Thinly slice onion and apples, removing apple core first.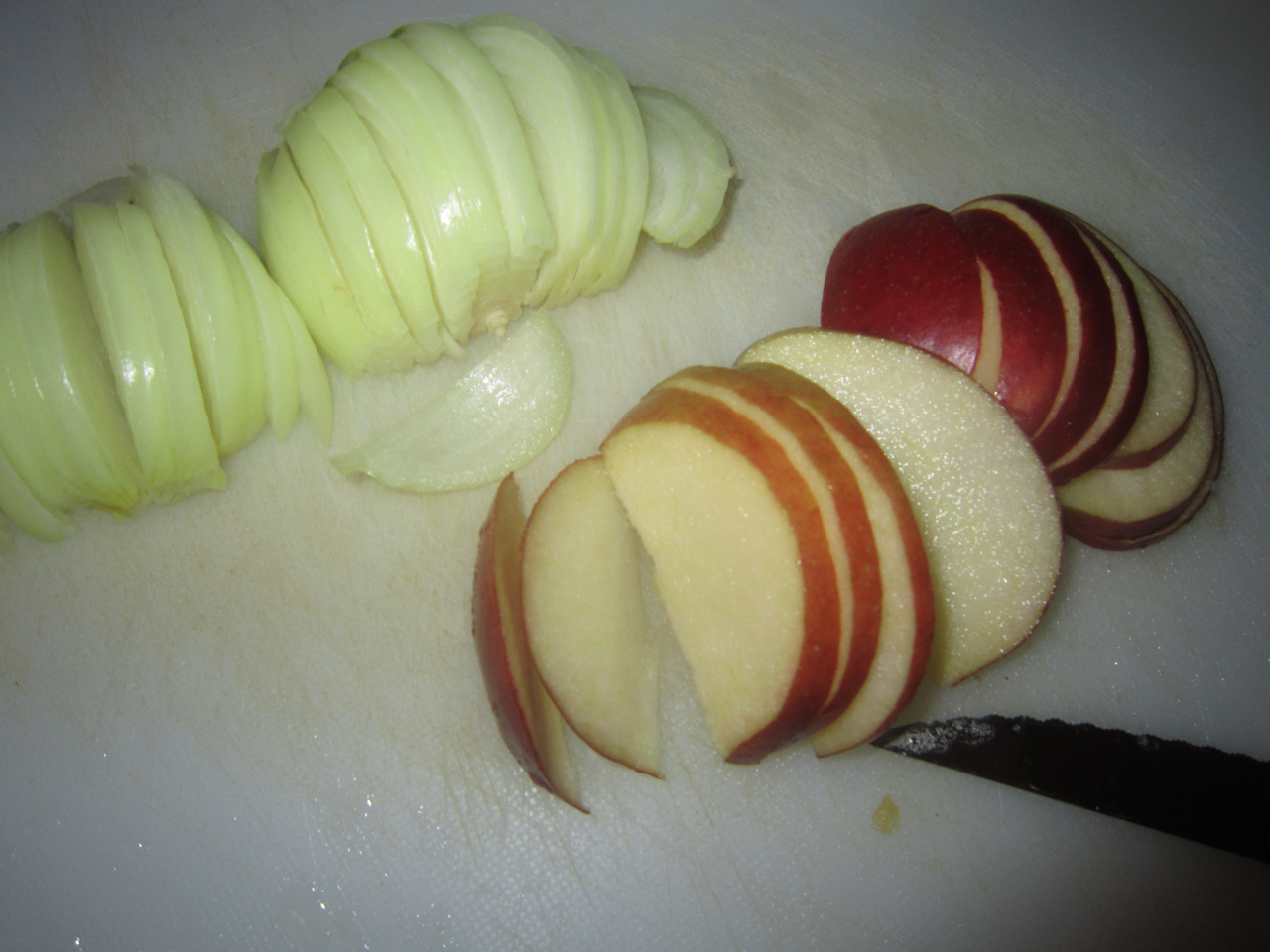 Butterfly each chicken breast lengthwise but not completely cut off, arrange onion and apple slices inside the chicken and top with cheddar slices.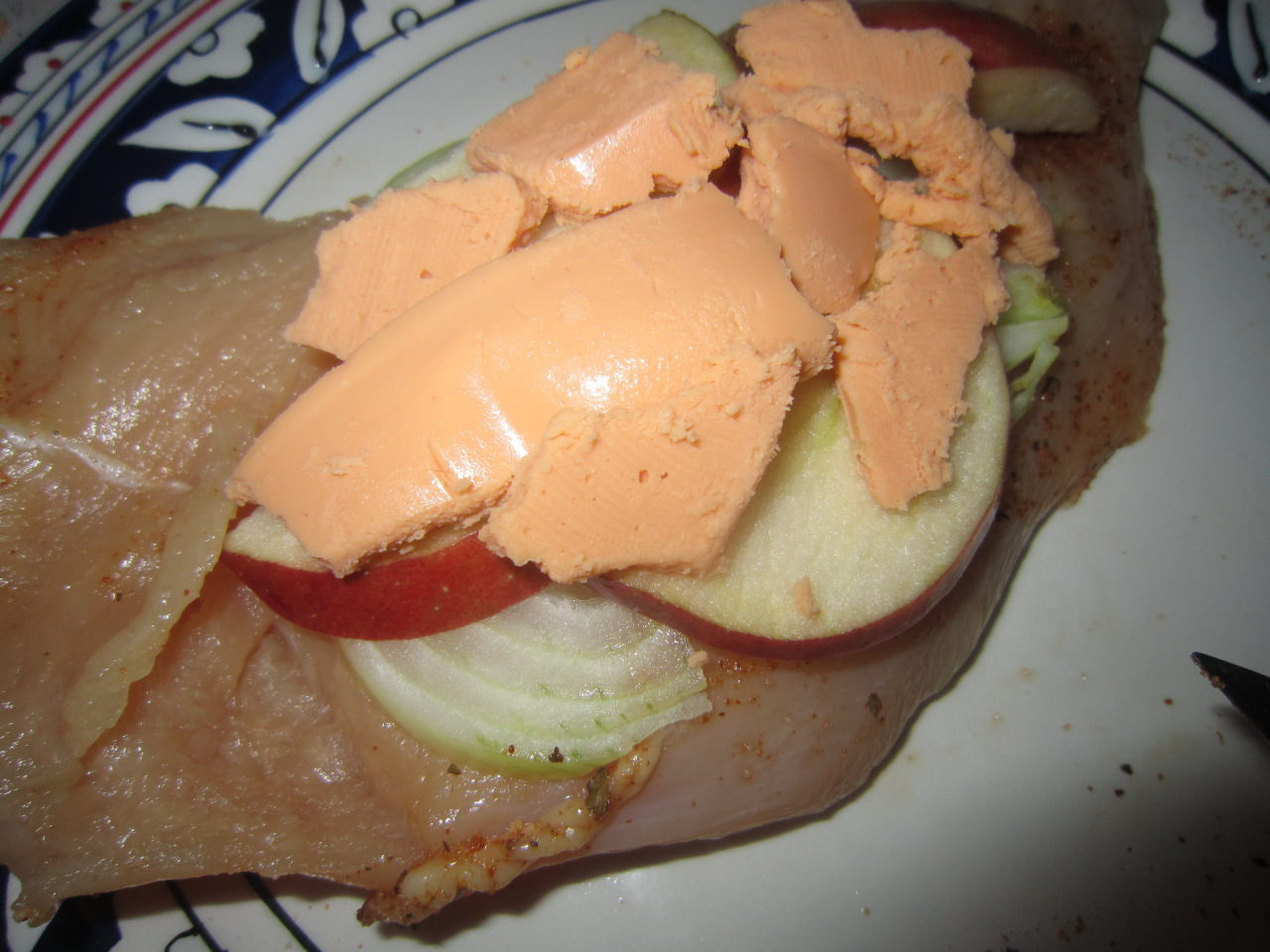 Place the top part of chicken breast back, secure with tooth picks if needed, dip each chicken piece in beaten egg and then into bread crumbs. Spray a baking dish with oil spray and arrange all chicken topping with more apple slices.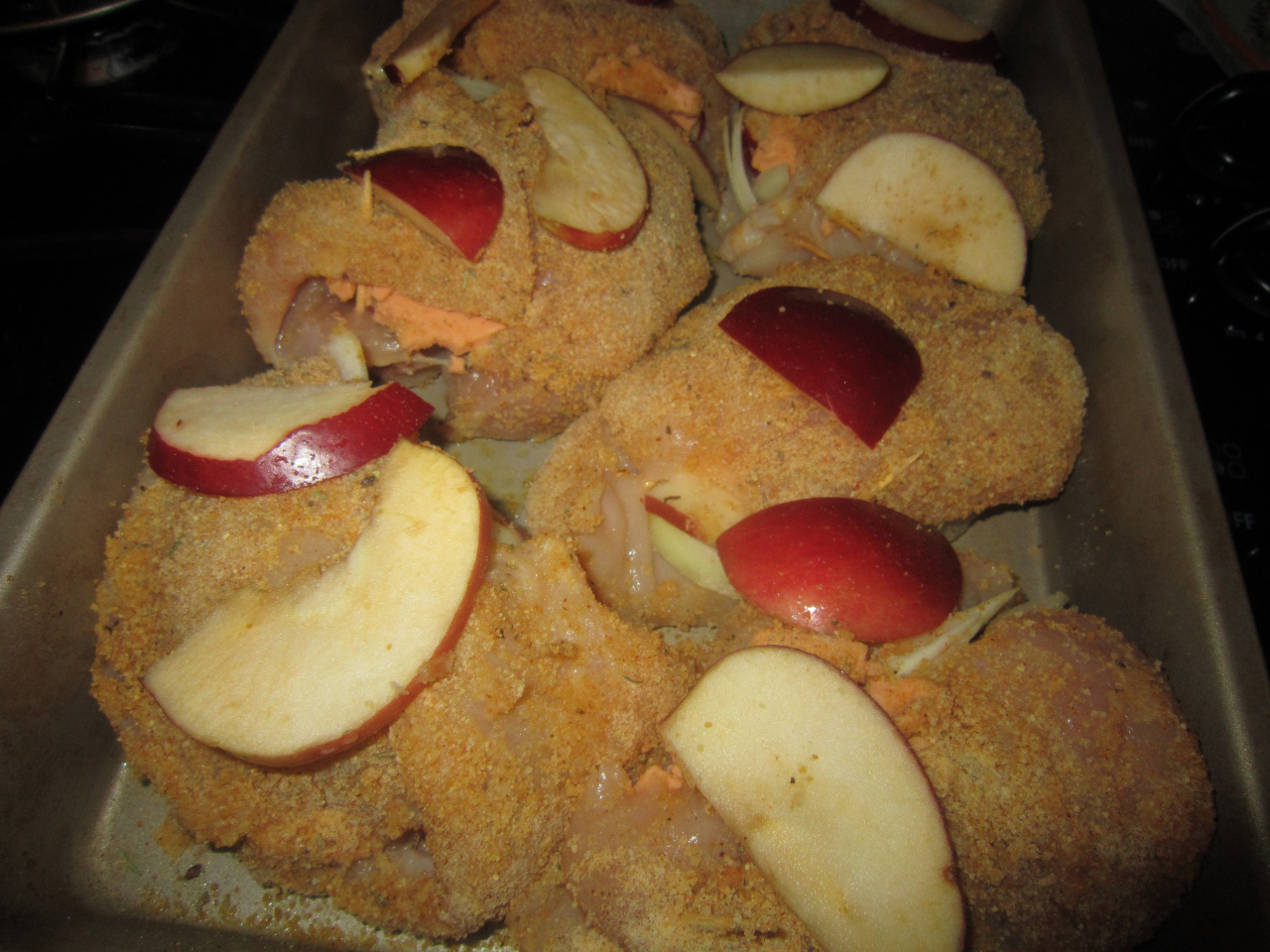 Bake at 400 degrees for about 25-30 minutes. If you have any other vegetables, cut and mix them with the same herb blend you were using for the chicken. Cook them in a separate dish in the oven while chicken is also being made.
Here I paired chicken with yellow squash pieces for a healthy yet completely satisfying meal.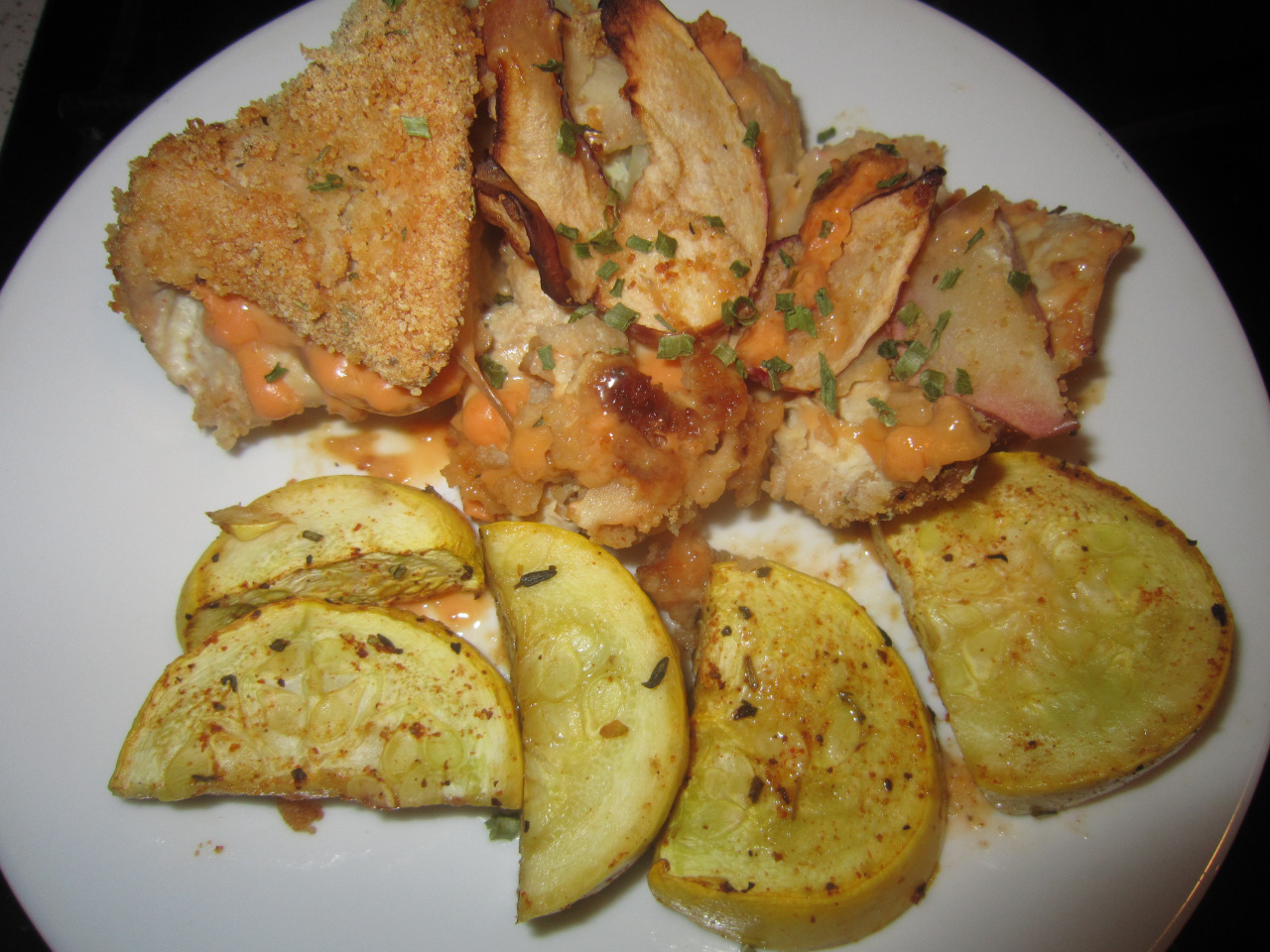 Enjoy!