One Step Forward, Two Steps Back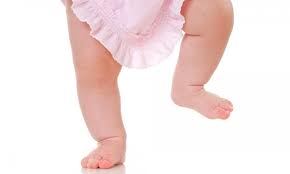 Do you have some areas in your life that are kind of "work in progress"? I'm sure you do. We are all human, and nobody's perfect.
Just like that baby who is learning to walk, you feel unsteady on your feet when you enter the areas in question. And no matter how you proceed, either cautiously or enthusiastically, you have to be prepared to stop, retrace your steps if you made a mistake, or had a few inevitable flip on your butt accidents when you need to re-group, put your baby booties back on and make a step ahead yet again.
I have quite a few areas of my own where it seems I forever make one step forward and then two steps back, but, yes, "I'm working on it". As far as cooking, my work-in-progress area is definitely baking, I've had many sore spots on my butt failing at it miserably. As a little girl and later as a teen, I often helped my mom with any baking she's done, but when I became an adult, life kind of "took over" leaving no room for homemade baking indulgences. I mostly relied on store-bought desserts and was totally happy about it. And why wouldn't you be?! It's NYC, any possible kind of cake or cookie is just steps away from you. It's only after I found out I was gluten intolerant (and not even right after as it took me some time to settle in the lifestyle comfortably) that I started experimenting with baking again.
Since I wasn't exactly an "accomplished" baker before going gluten free, I find it extra challenging now to make gluten free sweets, so when they actually turn out good, it's more like a surprise than an expectation. 🙂 Gluten free baking is kind of a different process as you first have to learn about different flours and precise measurements and then how to make it all "stick" together using natural gums and starches as once you remove gluten, both taste and texture can suffer unless you know how to do gluten free "magic" and make it look like a regular dessert. First I tried many different store-bought gluten free baked items, breads, flours and mixes to see what I liked or not, and now I can surely say there are some great winners that are staples in my kitchen, but I also feel more comfortable making some on my own.
The task at hand for me is always to make something that I can share with others without making "excuses" that it's gluten free. It has to look and taste GOOD just because it is and not only because it's gluten free. I usually test it on the kid, if he eats it, then it's probably OK. Let me clarify, my son does NOT like sweets, he'll go for some chocolate (that's my boy! 🙂 ) or a piece of cake on his birthday, but otherwise, he is perfectly happy to skip the dessert course. I don't know what it is, either the smell of freshly baked goodies (or an extra helping of motherly love 🙂 ), he's eaten (and liked) almost everything I've baked so far, so I think I'm moving in the right direction.
What's Cooking This Week
Pies, tarts or any pastry is where most of my "work in progress" now lies. Gluten free dough is more fragile and may have less elasticity, rolling it out and keeping it together could be challenging, so this recipe was a great exercise in just that. And even though not every pastry in this batch turned out presentable, they all tasted good, and sometimes the "bad children" are the sweetest, no? 🙂
I'm using the same dough with Cup4Cup gluten free flour mix I made for my rustic fruit crostatas, you can find the ingredients and the steps here Buongiorno Bella!. I actually made a double batch of dough that day  and froze half so these sweets that continue our Italian series were ready in a NY minute.
Recipe # 9
Faturatti di Frutta Misti con Glassa di Limoncello
(Mixed Fruit Turnovers with Limoncello Glaze)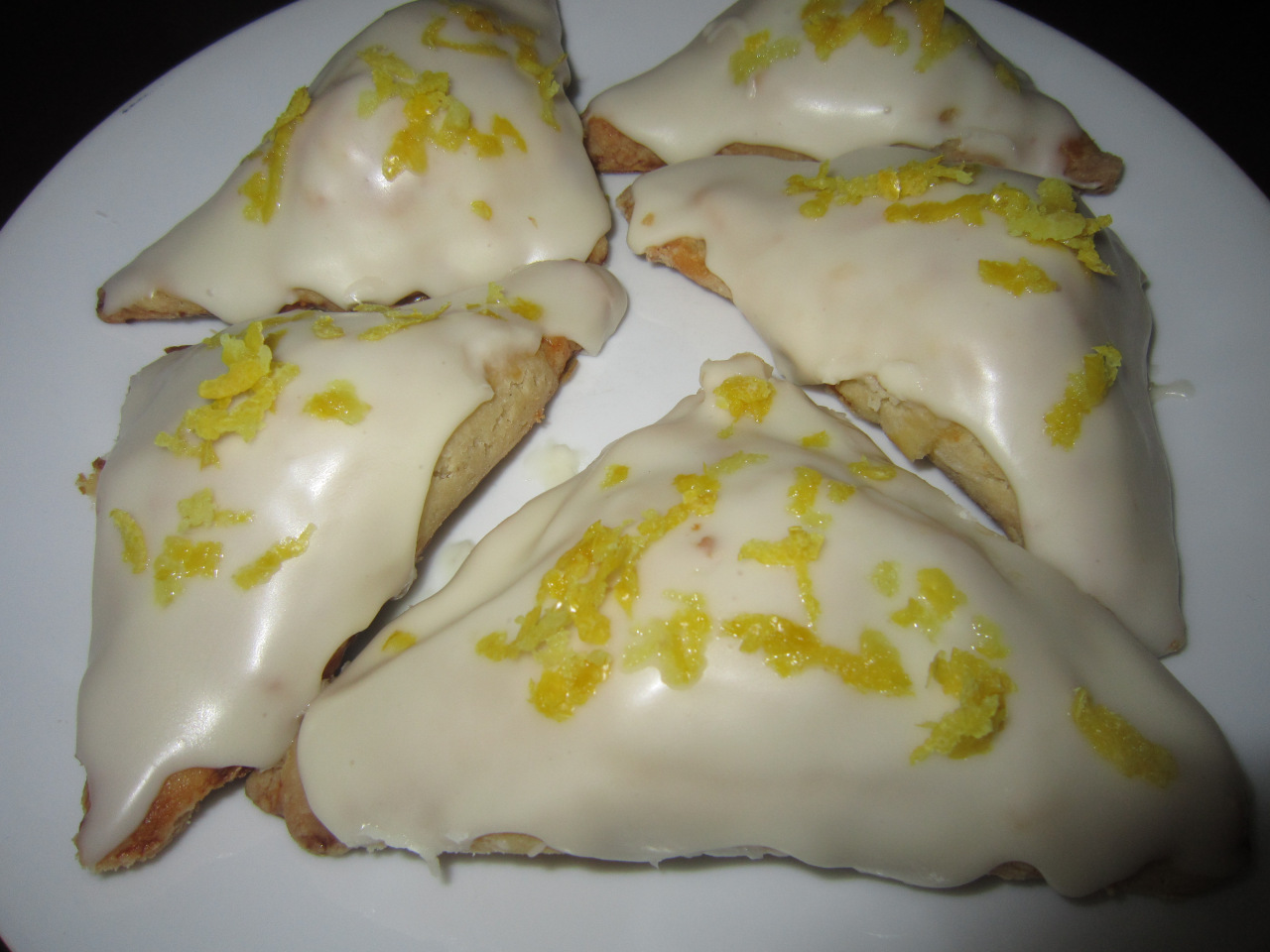 Gluten free pastry dough, link above, or use the one you like (or regular wheat version)
Filling:
1 container of figs (7-10 figs)
1 tart apple like Granny Smith
1 Tbspoon of butter or oil spread (I used Earth Balance)
2 Tbspoons of sugar
1 Tbspoon of lemon juice
1 Tbspoon of corn starch
1 egg to brush over
Glaze:
1 cup of powdered sugar
2 Tbspoons of Limoncello
1 tspoon of vanilla
1 tspoon of heavy cream (I used Mimic Cream)
1 tspoon of lemon juice
zest from 1 lemon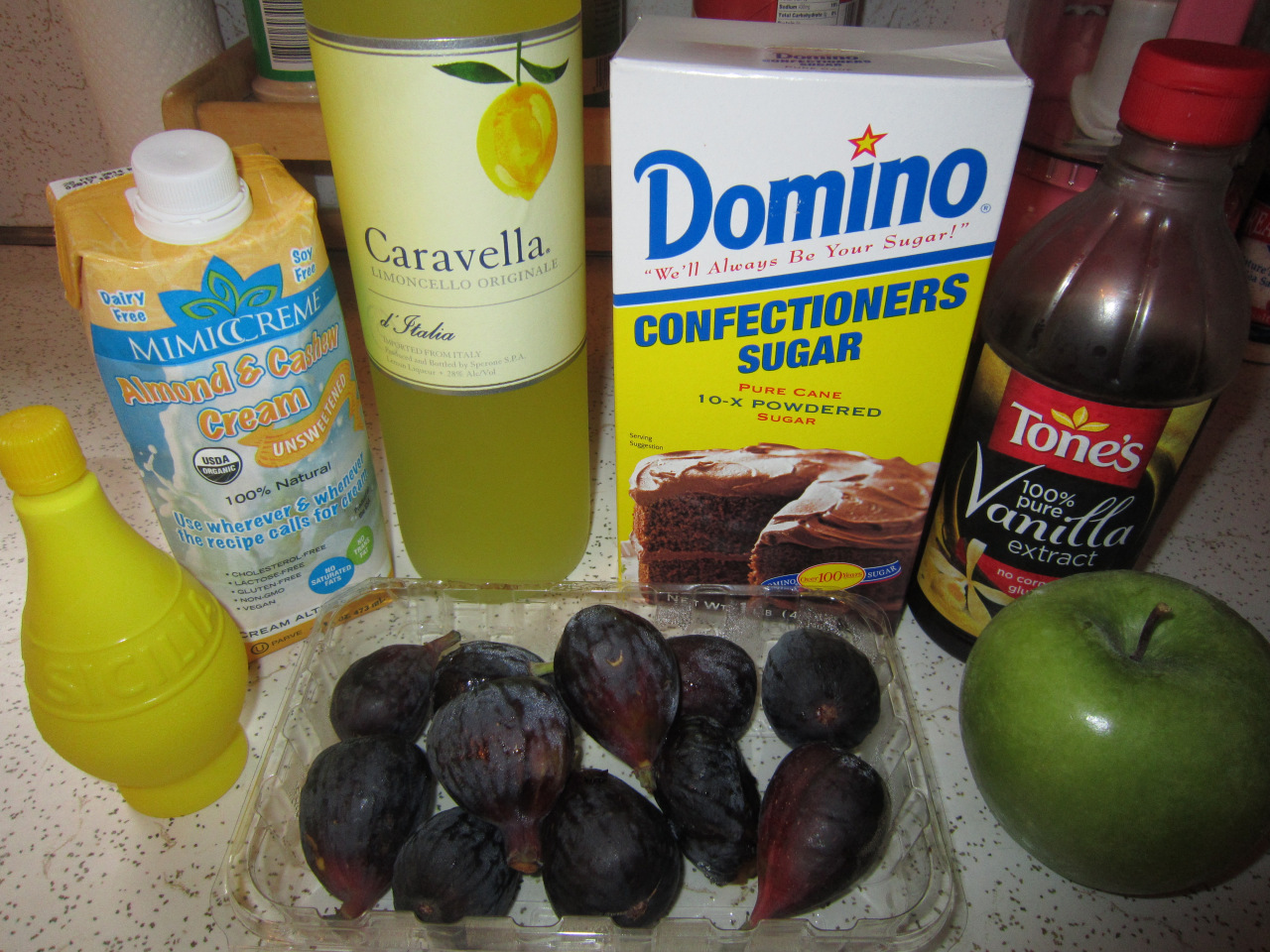 Cut the fruit (I left the apple skin intact), heat up butter/oil spread in a pot and cook the fruit with sugar and lemon juice until soft but not completely dissolved into the sauce, then stir in corn starch and let it all cool off a bit. I thought a combo of sweet figs and a tart apple is perfect for this recipe, but you can use whatever fruits you like.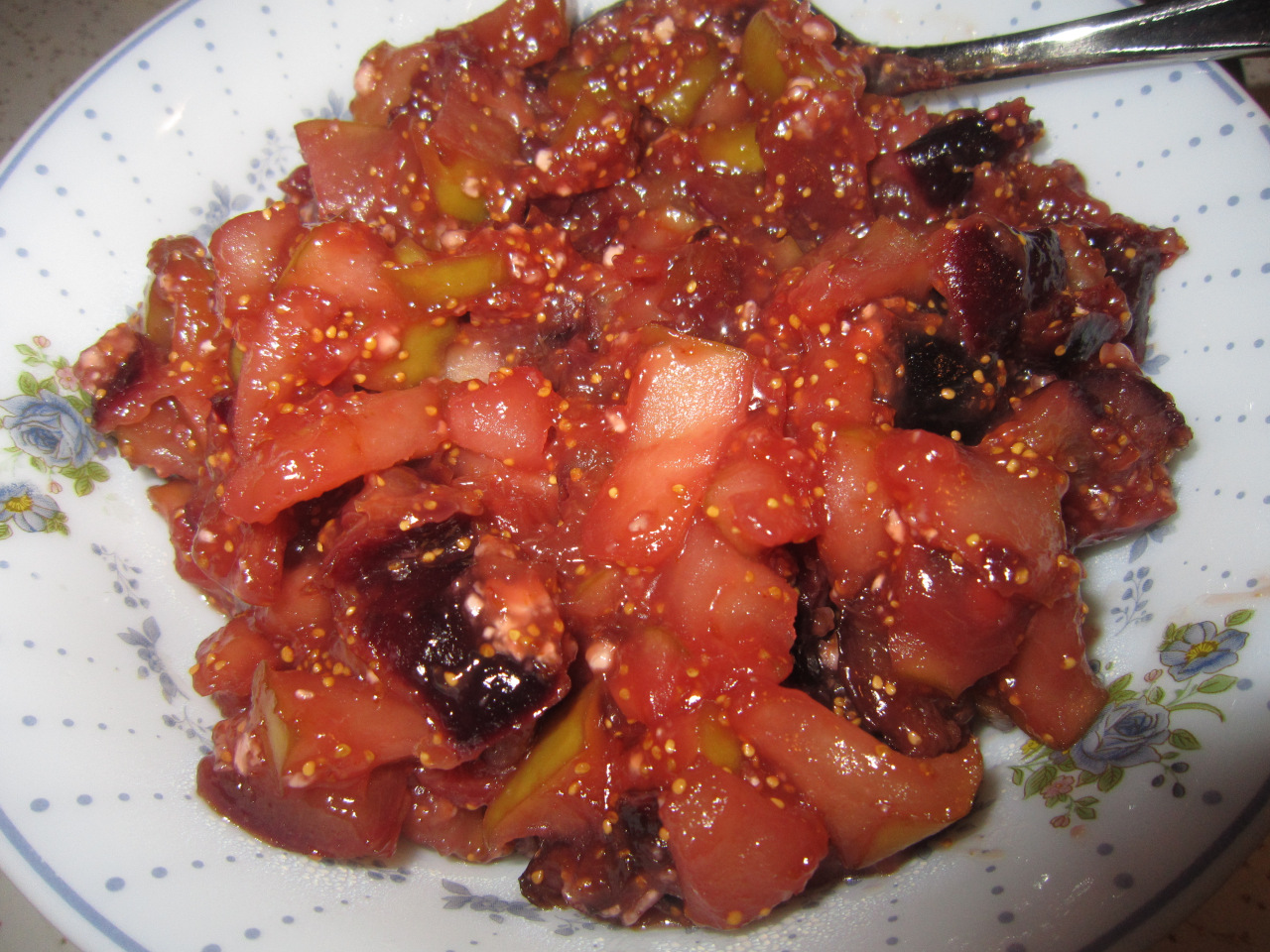 Prepare the dough according to the recipe in the link above (or use your own), roll it out to about 1/8 inch.  Cut into squares, you'll get 12-15 turnovers from my dough recipe (depending on a size). Put some fruit mixture in the middle of each square and close in making a triangle, seal the edges  pressing with your fingers, brush  the tops with egg. Place the turnovers on a parchment paper lined baking sheet.
Bake in a pre-heated oven at 350 degrees for about 20 minutes. While they are cooling off, prepare the glaze. Mix together powdered sugar, Limoncello, lemon juice, cream and vanilla, it will be thick. Once the turnovers cooled off completely, either dip each one in or spread the glaze with a spoon and immediately top with some grated lemon zest. Let the glaze harden (it will take about an hour to harden it completely) before you can safely store them. If there are any leftovers as they are quite indulgent! 🙂
I don't know if I'll share these with the kid, there is a tiny "bite" of alcohol in the glaze. But I'm definitely having a coffee break!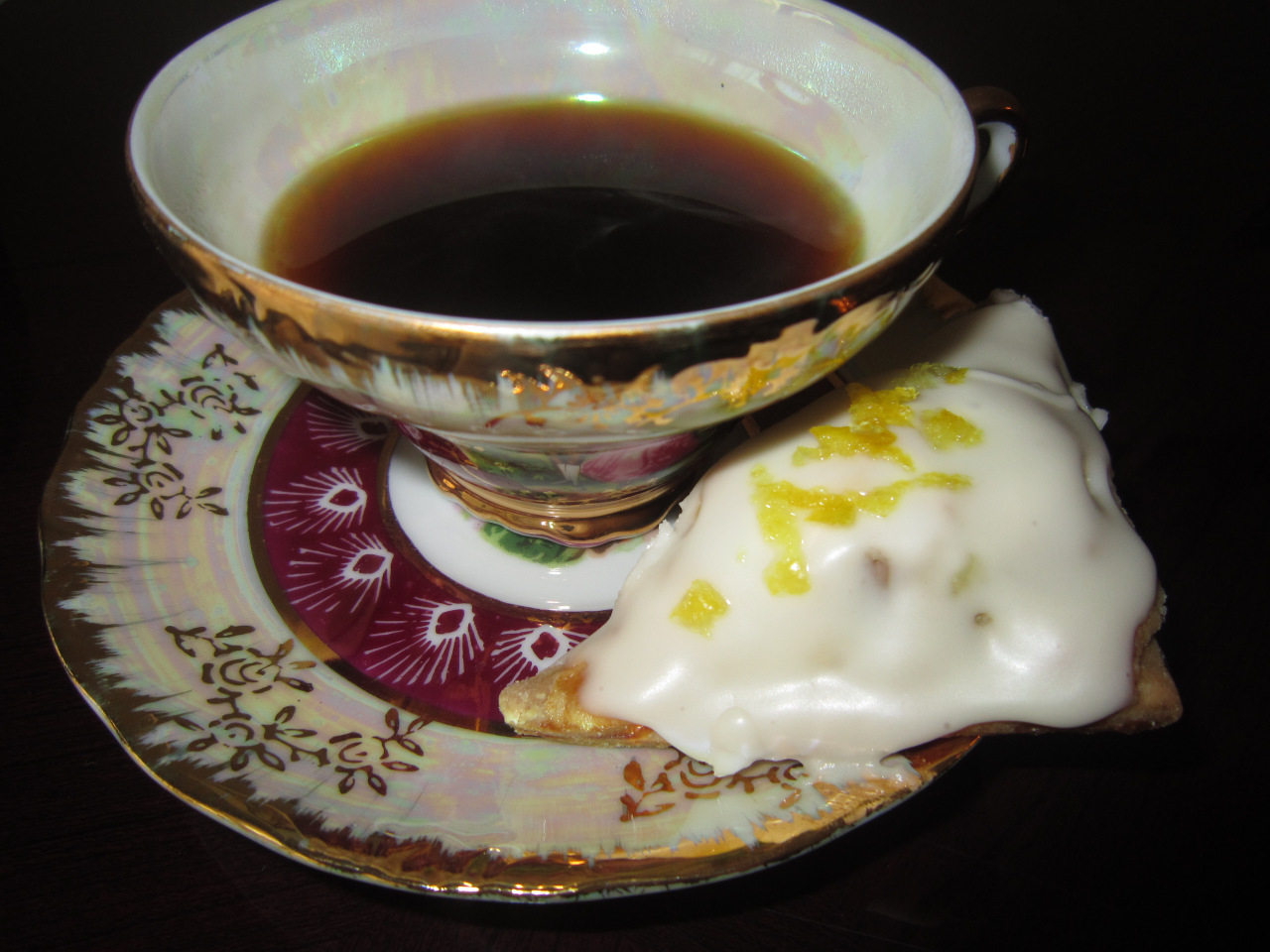 Enjoy them too!