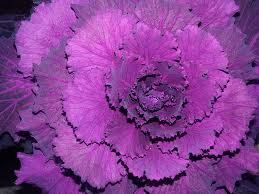 Do you love gifts? Who wouldn't right?! Especially the unexpected ones. They are just a tad sweeter to receive as the person was clearly thinking of you and thought you were so awesome that you deserved a gift 🙂 .
At the last girls-night-in dinner I hosted, my friend Anna showed up with a beautiful gift. No, not the flower gift.
But it was definitely purple. And beautiful.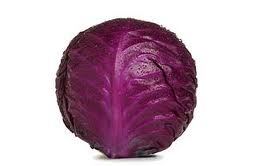 Yep, a gorgeous purple cabbage, straight from her husband's Michigan farm. Firm and fragrant, smelling of the earth and country rain, having traveled that far to adorn my kitchen and satisfy my palate.
Am I special or what?! 🙂
The cabbage may've looked like a "strange" gift, but not to me. Receiving something like a power tool or even garden gloves (as apparently my fingers are skilled at cooking but not growing or fixing anything else) would surely look strange and totally unuseful to me. But you can't beat a precious gift of food or anything related to cooking. That's where I come out to play.
And you just can't have too many shovels and buckets when you get out to play in the sandbox.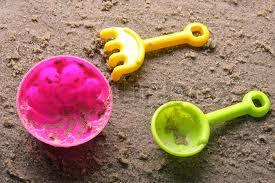 What's Cooking This Week
Beautiful purple cabbage of course. As the gift hand-off was accompanied by a "let's see what you can do with it" remark. A challenge? 🙂 Love that! My self-imposed challenge bonus was to only use ingredients already in the house, plus to keep it vegan. But if I wasn't I'd totally mix in some bacon pieces with it. Yum, with or without!
Apple Ginger Cabbage Ragu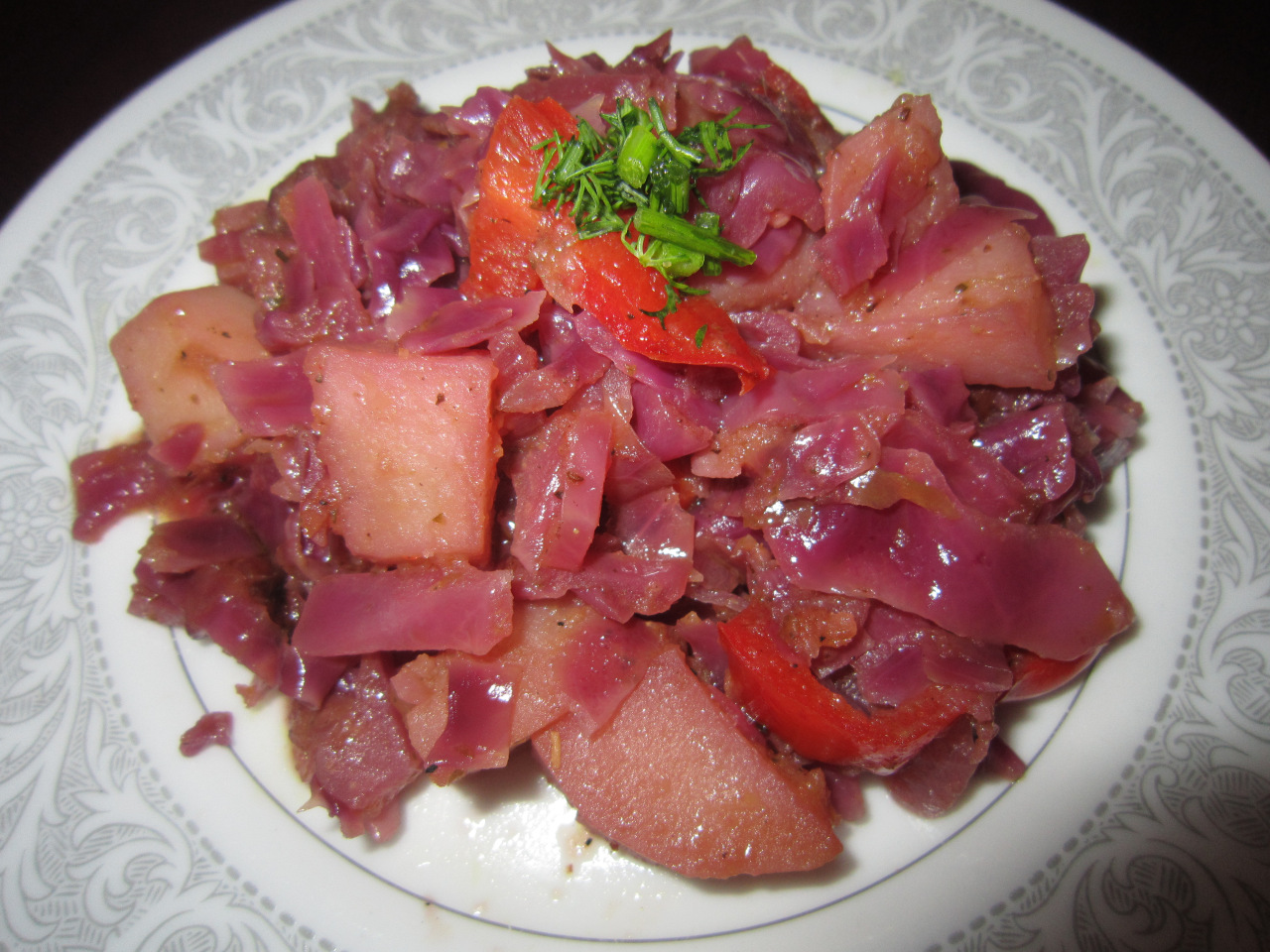 1/2 of medium cabbage head
1 onion
1 carrot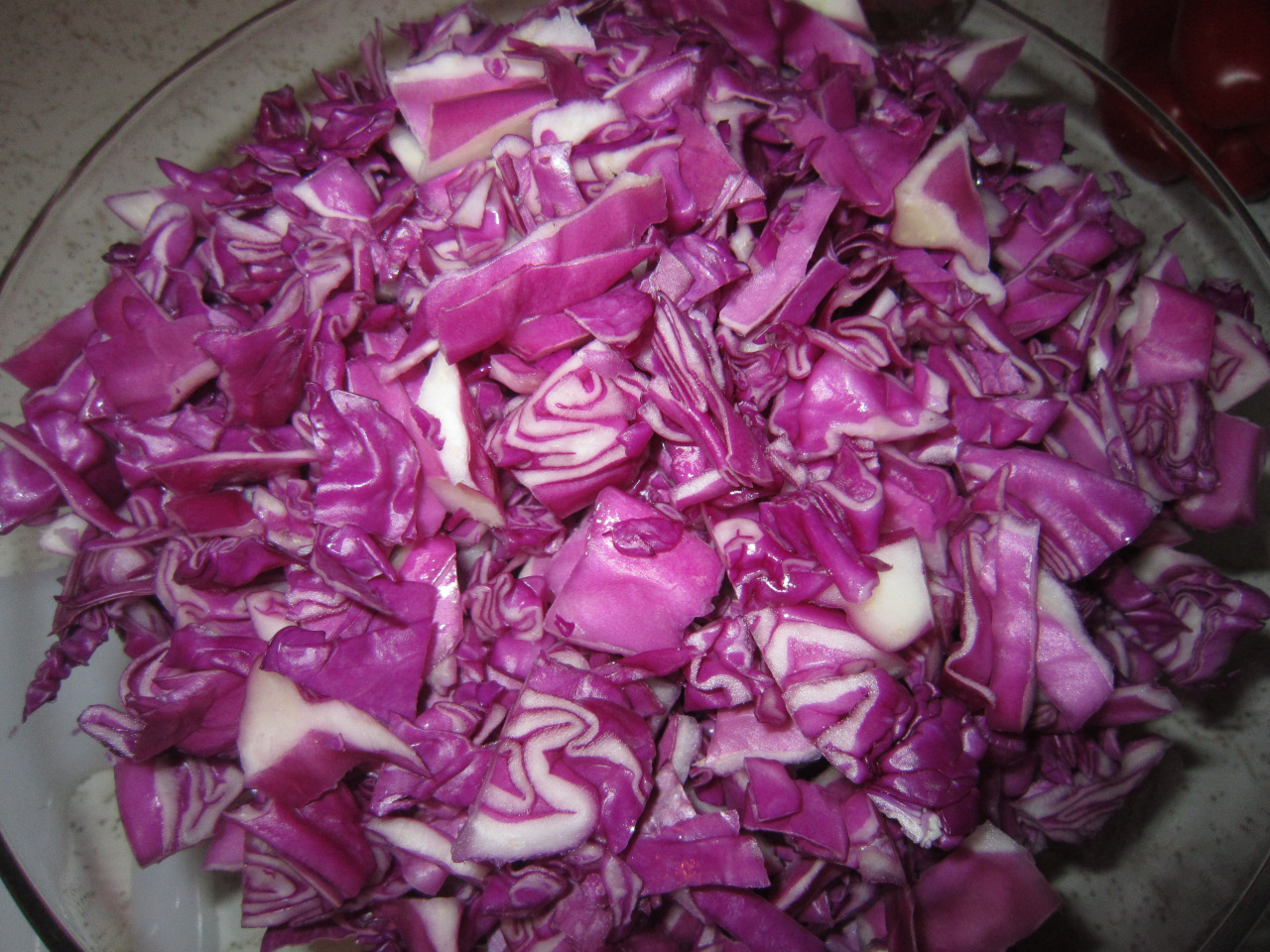 1 red pepper
4 medium potatoes
1 apple (sweet or tart, as per your taste)
8 oz of apple sauce (I used organic unsweetened)
4 Tbspoons of apple cider vinegar
2 Tbspoons of fresh grated ginger
1 tspoon each of dried marjoram and oregano
1 Tbspoon of brown or raw sugar (optional)
salt, pepper to taste
olive oil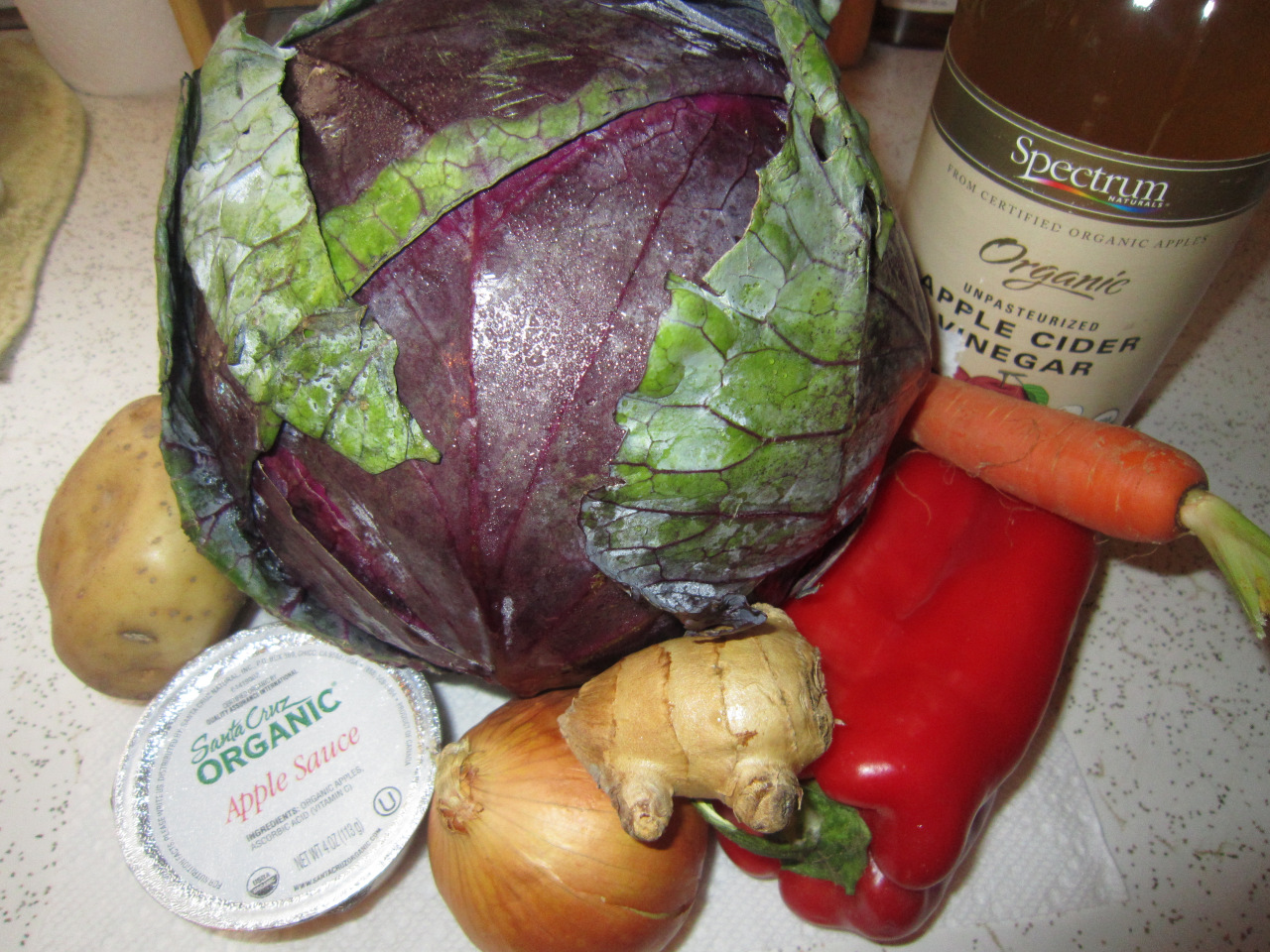 Shred the cabbage, dice and cut the rest of the veggies. Pour some oil in a big pan and saute ginger and onions till golden brown. Add the cabbage and cook for a couple of minutes, then add potatoes and the veggies and cook till about half done.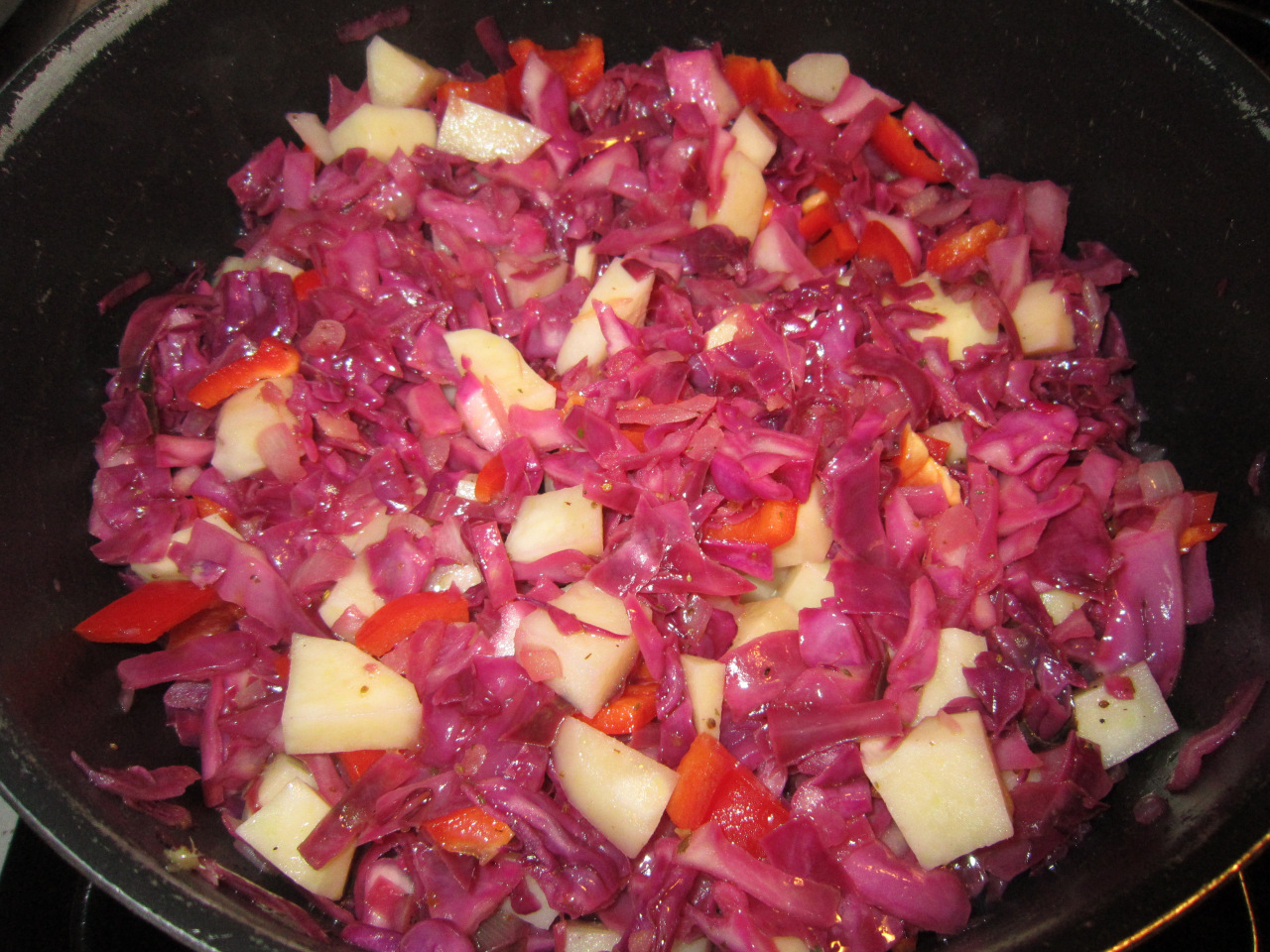 Pour apple cider vinegar in and season the ragu, let it cook a little more. Cut the apple in small cubes and add in along with apple sauce and sugar (if you prefer it  a bit sweeter). Cook until everything is done but take care so the veggies won't become overly soft, you need just a tad of crunch in the cabbage.
Serve along with garlic bread slices for a perfect lunch.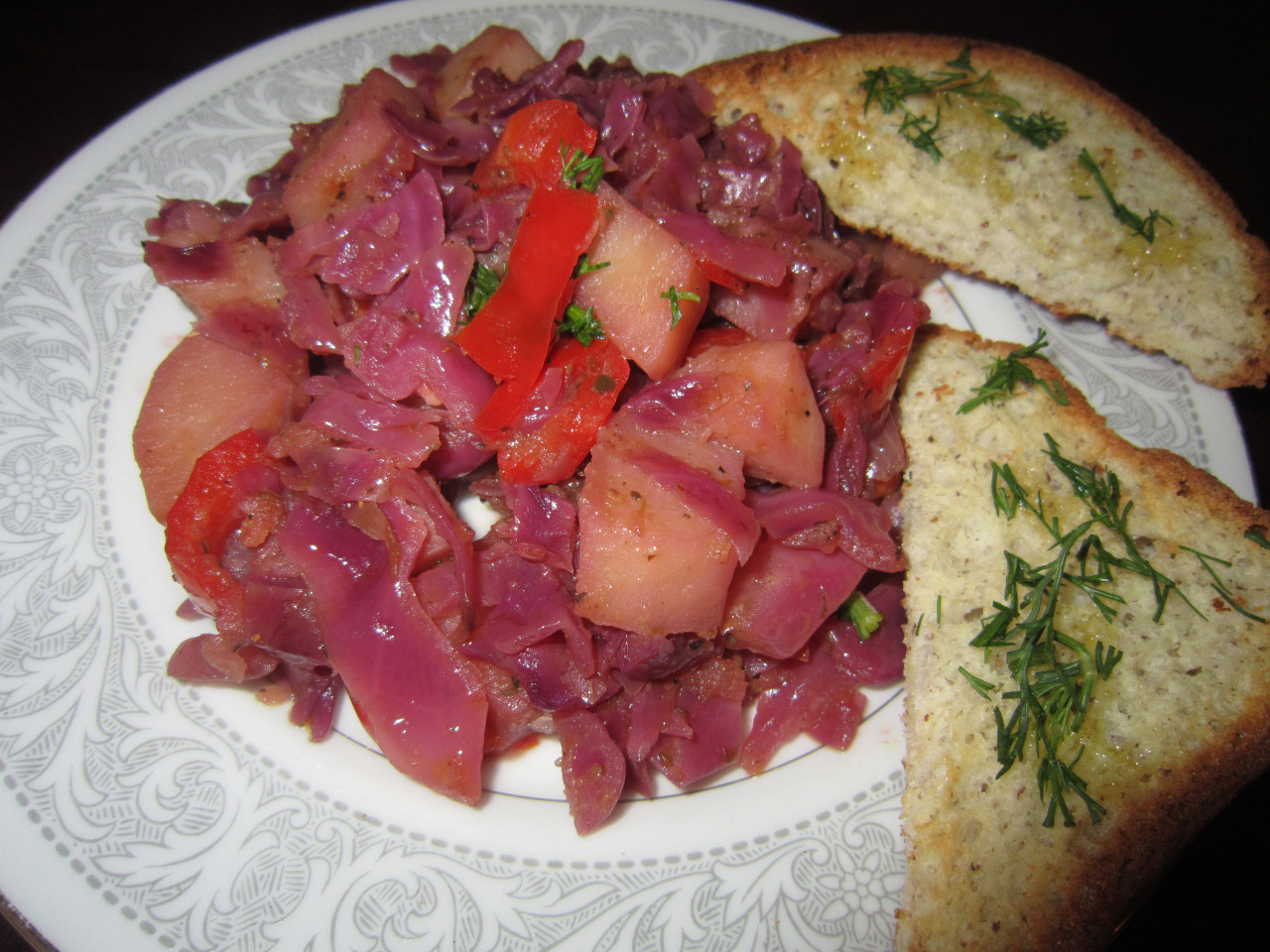 Enjoy!
Thank you Anna! 🙂