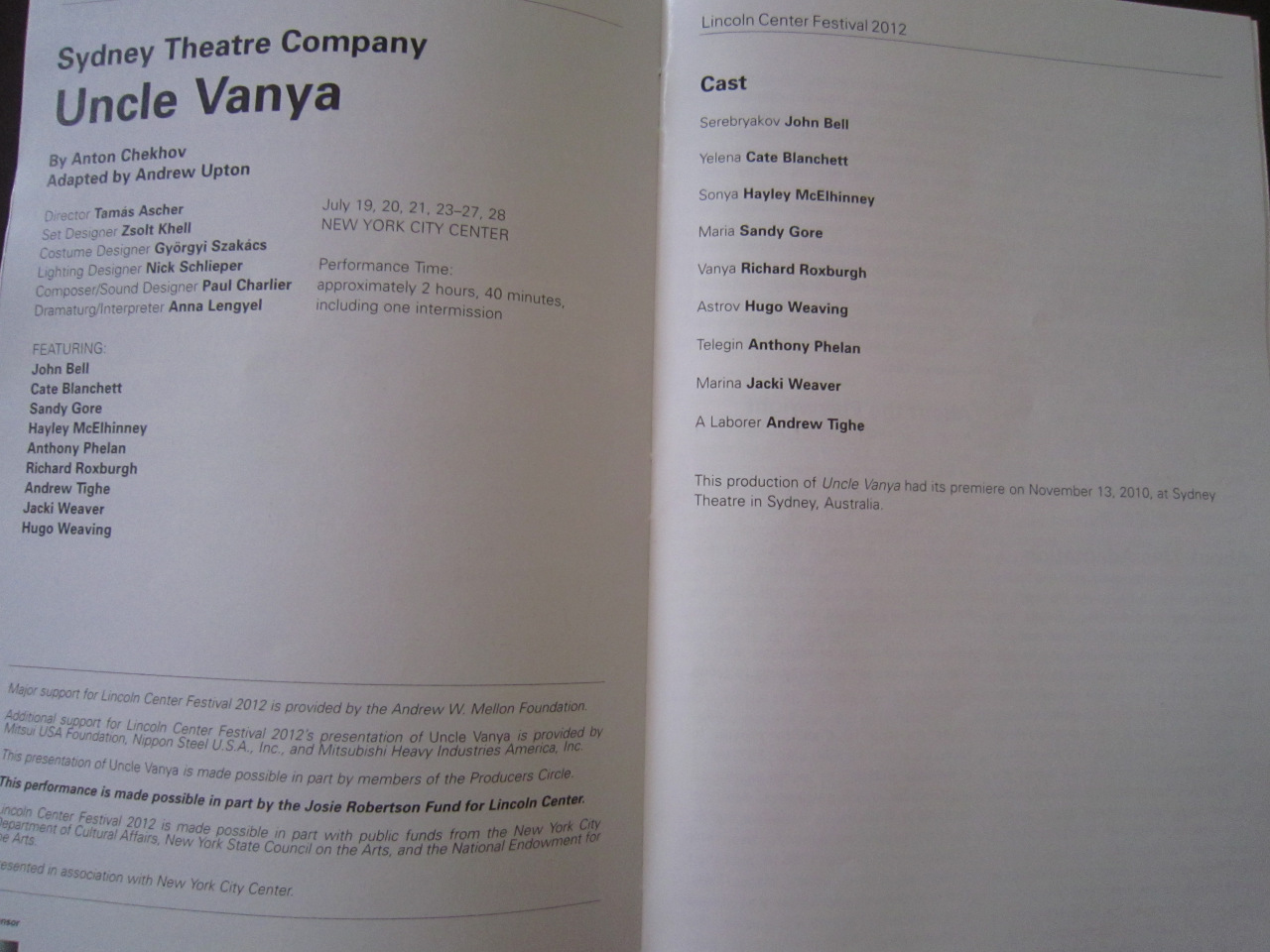 Summer in the city is full of outdoor concerts, street fairs and of course my favorite Lincoln Center Festival.
For a month of July various theater, dance and music production companies come from all over the world to showcase their work and delight  summer New York crowds with local and world-known masterpieces.
This year I was drawn to the Sydney Theater Company adaptation of Anton Chekhov's Uncle Vanya. Yes, it did help that it was a Russian play, not that often you can catch one even in eclectic New York (unless a Russian theater is visiting). And you can't get more classic theater than Chekhov. It did also help that Cate Blanchett was in the play, I think she is a marvelous actress. So, the choice was made, the tickets were purchased, and the day has come.
This year I was joined by my friend Anna, a fellow bookworm and a quite sophisticated New Yorker (with a Russian spirit 🙂 ) And what do you get when you combine two bookworms? Yep, lots of dissecting, some criticism and a whole ton of two heads in the clouds (or books in this case).
The evening could've started with a "wrong place, wrong time" fiasco as apparently the play was 30 minutes earlier and 10 blocks South from the actual Lincoln Center, luckily one bookworm caught it just on time to re-adjust the schedule 🙂 But in case you're wondering, we still managed to turn the wrong block. How two New Yorkers could get lost in the city where literary every block has been walked through at least 100 times before is a mystery to me! I blame it on the heat, and heads in the clouds (and Russian books I guess). We dropped on our seats not with a second to spare before the play started.
Uncle Vanya, along with Seagull and Cherry Orchid, completes a trio of the most famous Chekhov's plays, and probably even the most recognizable Russian theater productions period. Sydney Theater's adaptation was directed by Cate Blanchett's husband Andrew Upton and has been playing in Australia with much success since 2010. I don't know how well the play was received in the Russian Australian community, but a few Russians among the New York audience (at least the ones I overheard) had the same mixed emotions as we both did.
Technically the play was done correctly, however, it failed to connect the audience (and actors themselves) to the "Russian Spirit", that emotional place so masterfully depicted in writings of Chekhov and Dostoevsky, full of contradictory on-the-brink-of-death drama and a mix of dark humor and vulnerability. It just wasn't there. It is always difficult to correctly portrait a character of a different ethnicity, and it is probably not the actors' fault this time around, the director (as per the playbill description) paid a lot of attention to translation, but he somehow forgot that tapping into true emotional state of each character is of the utmost value too.
I was also very irked to see how little research into the era and the culture itself has been done before the production. The play depicted Russian life at the turn of the 20th century, the music that accompanied it was from the 1920s-30s, some of the props ranged from early 20th century well into 1950s, and the costumes were a wild mix of correct attire and 1920s-40s dresses. That definitely added to the confusion and mixed feelings left after this outing.
All in all, we did have a good time, the evening was still good, and my companion was still wonderful :). But let's just say we saw a "Chekhovian variations" play rather than a play written by Anton Chekhov.
What's Cooking This Week
Speaking of summer, cherry orchids and authentic Russian Spirit. I found this recipe in the book of Old Russia offerings my family brought with us 20 years ago when we left our native country for good. It reminds me of summer months spent at a countryside and that "sugar and spice" spark so familiar to all Russian people.
Old Russian Summer Compote
1 apple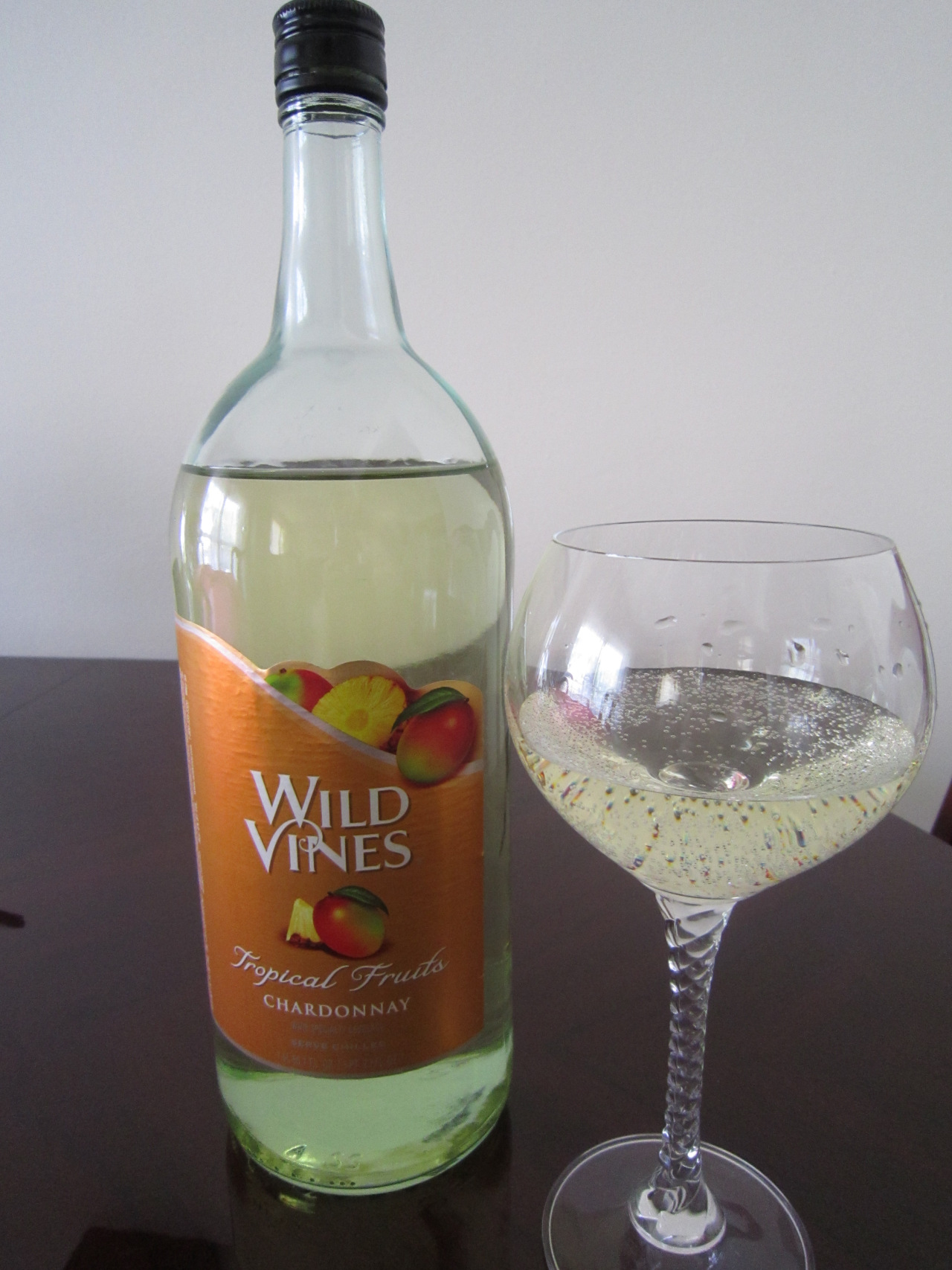 3 peaches
1 cup of cherries
1/2 cup of brown or raw sugar
2 Tbspoons of lemon juice
lemon peel from 1/2 lemon, cut
1 cup of dessert white wine
4 cups of water
mint leaves for garnish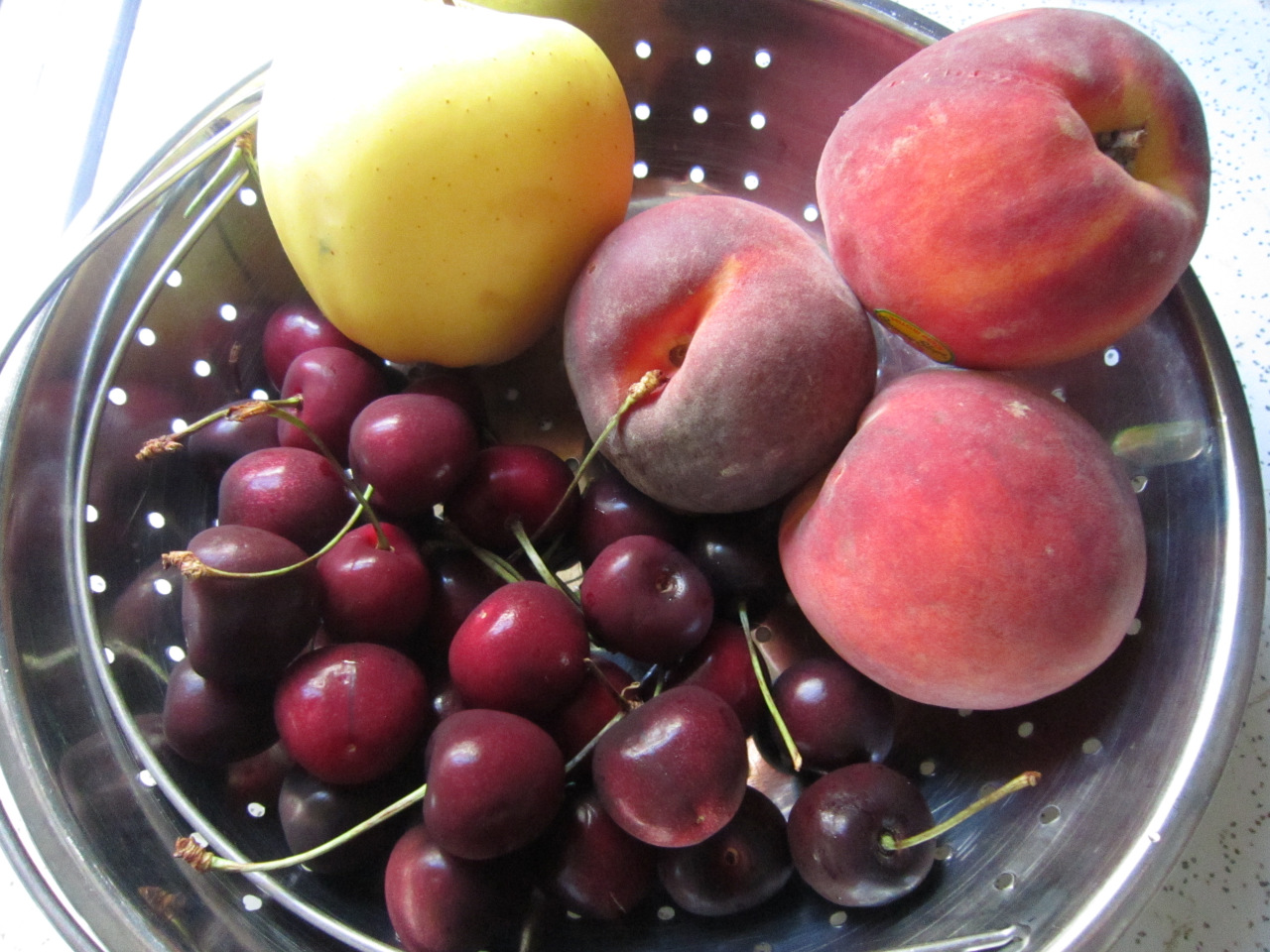 Combine wine and water in a pot and gradually bring it to a boil. Cut the apple and peaches into bite size pieces and mix in with cherries and lemon peel.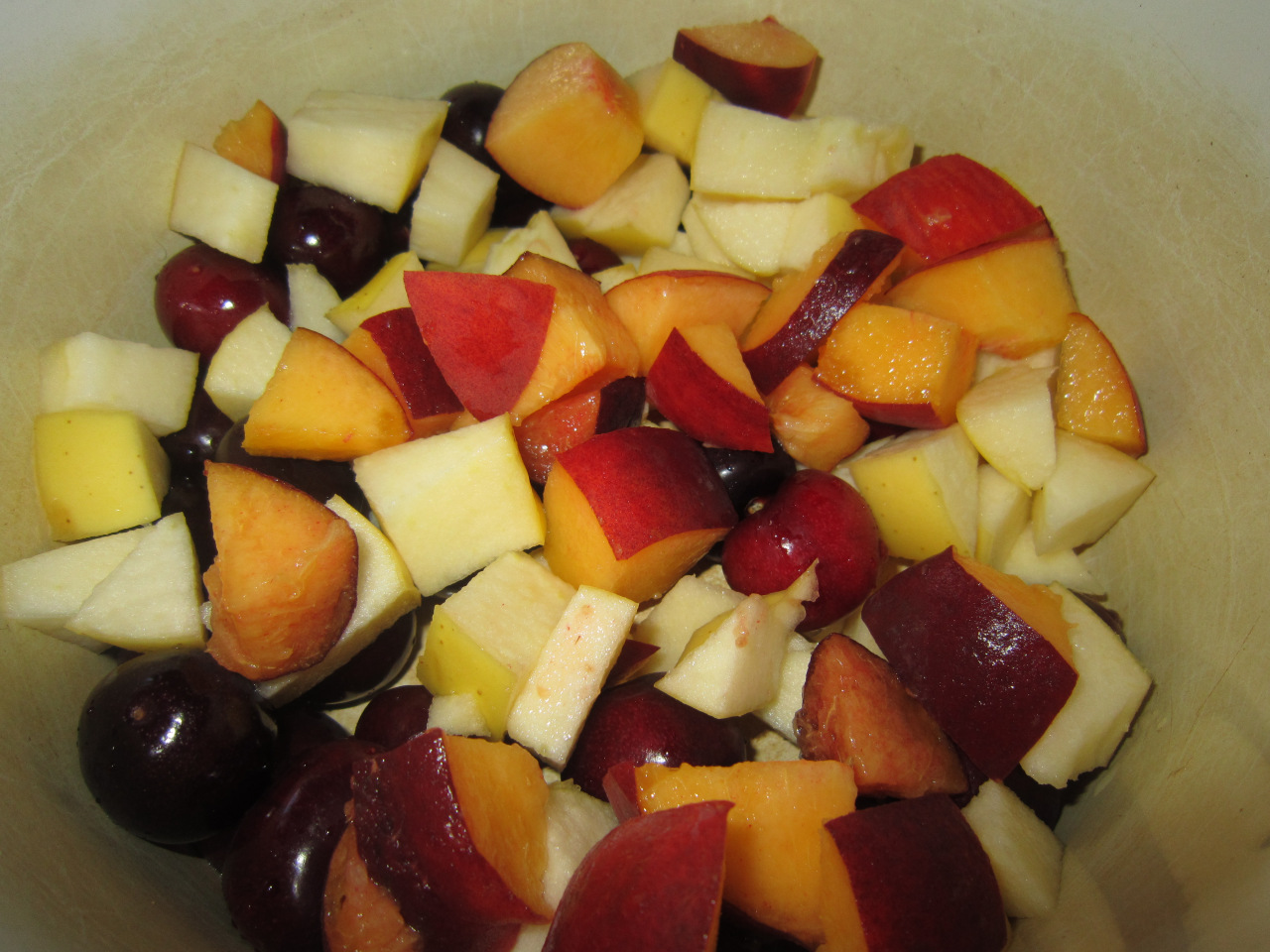 Add fruits, sugar and lemon juice into the boiling liquid and cook until they become soft but not over-boiled.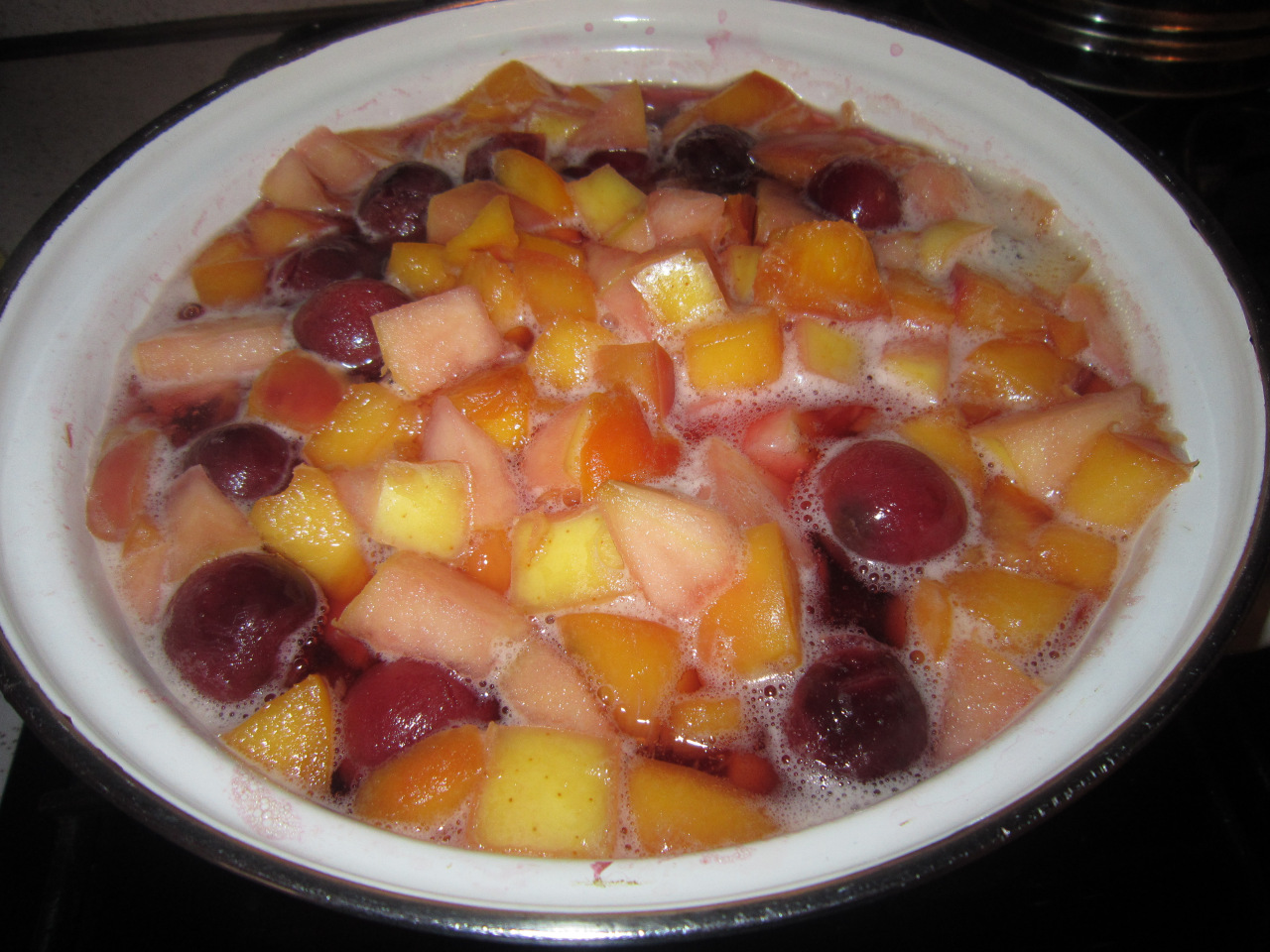 Cover and let it stand for 15-20 minutes so the flavors would mix in. Chill in the fridge for a couple of hours and serve with some fresh mint leaves.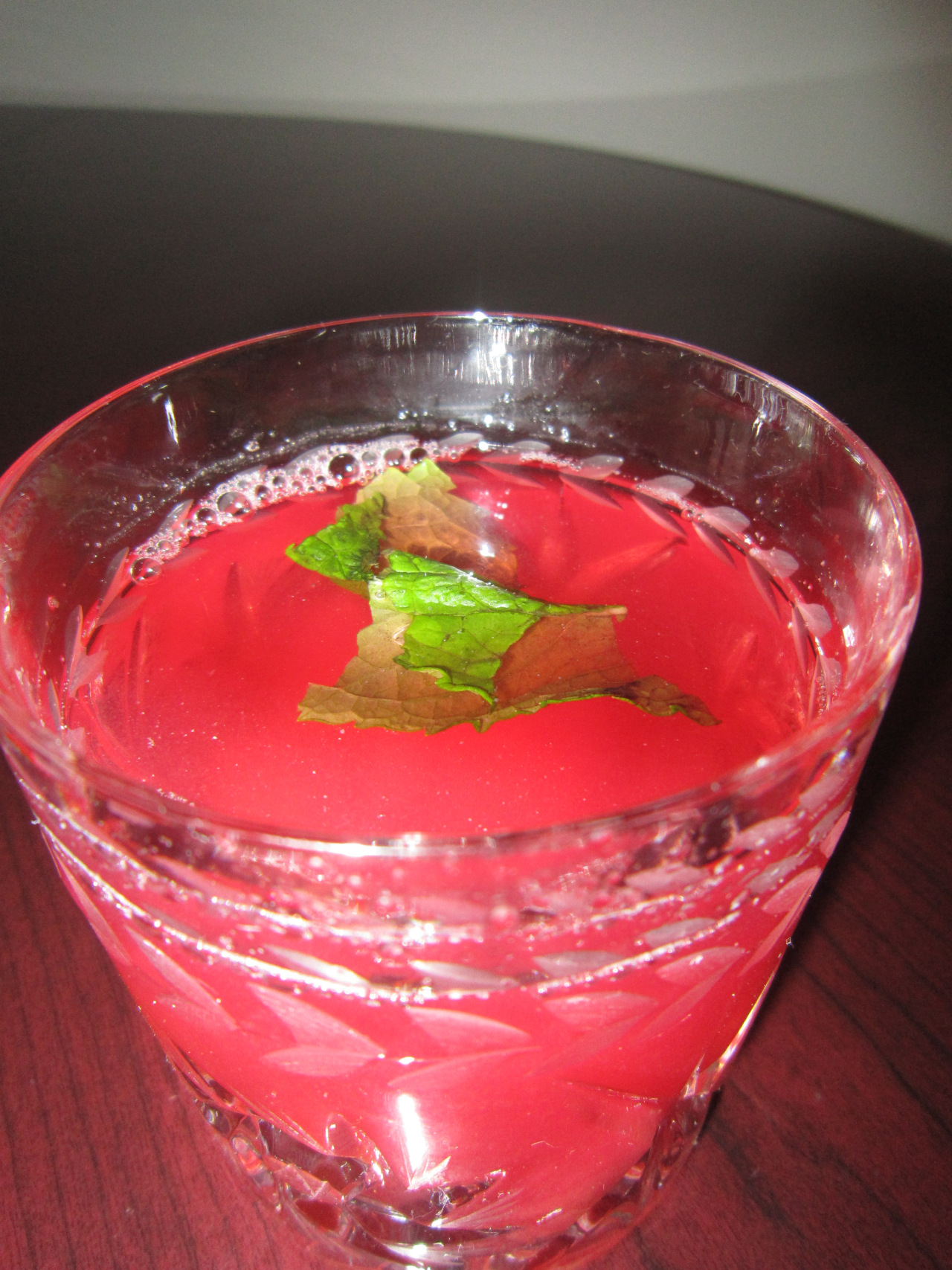 What you do with the rest of that wine, by the way, is entirely up to you 🙂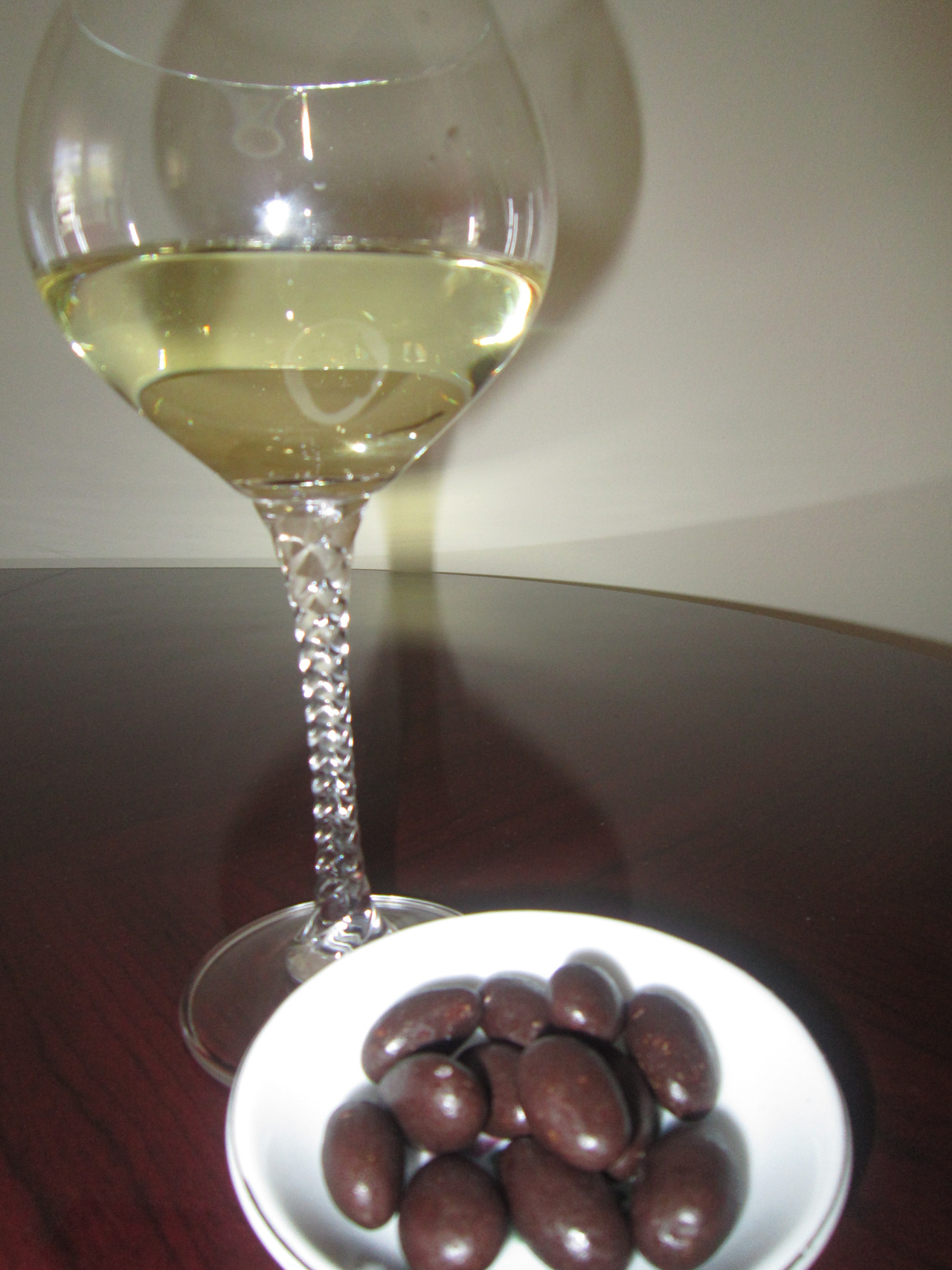 Enjoy!