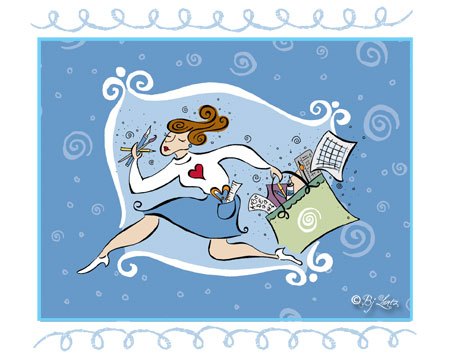 Some weeks are just busier than others. This is one of them for me. In addition to regular hospital hours and my private patients, I had a birthday party to attend and cupcakes to make (those were all  the fun and none of the work 🙂 ) and some outings to attend to as well. Plus I was working last weekend, this weekend and will be working on July 4th.
This Peddler is busy, busy, busy this week…
Yet I'm not complaining. I love working weekends in the hospital, there's a certain flow and a quiet hum that you usually don't hear on a regular day when the floors are buzzing with all the staff going about their work duties, doctors being paged, patients being wheeled in and out, phones ringing and you trying to cram all your regular responsibilities plus a necessary hand-holding, tears wiping, emotional venting, and occasional laughs.
The weekends are dedicated purely for new admissions and assessments so you actually have some time to sit down and talk with an overly chatty patient, or look through family pictures of a proud grandpa whose grandkids just visited, or console an  anxious young guy whose heart surgery is scheduled for next week that he is indeed in good hands. And even though you wish you'd be home with your family enjoying the lazy weekend hours or being out in the city, it's hard to deny the fact that maybe you were needed here at just the exact moment when you happened to walk in that patient's room and with a simple "hello" change his day.
Those are the moments you'd wish to stretch throughout your whole professional career.
What's Cooking This Week
Busy time dictates quick and simple meals, but it doesn't mean you have to sacrifice taste and health benefits. The most nutritious foods are usually the very basic and require minimal cooking and preparation. When pressed for time, I always go for "one pot" meals combining lean protein, veggies and some carbs. Stir fry or pasta dishes would be my first choice to whip up something quick yet nutritious, so it wasn't a surprise that this dish came quickly to mind when deciding what to cook for busy work week dinner. I decided to skip the usual pasta though as summertime called for something lighter, but I don't like to "label" certain foods as seasonal only, therefore, I didn't think that butternut squash would be grossly inappropriate as a summer dish. Plus, it is always so cold in hospitals. I think engineering department forgets that most hospital inhabitants are actually alive 🙂
Quick Summer Ragu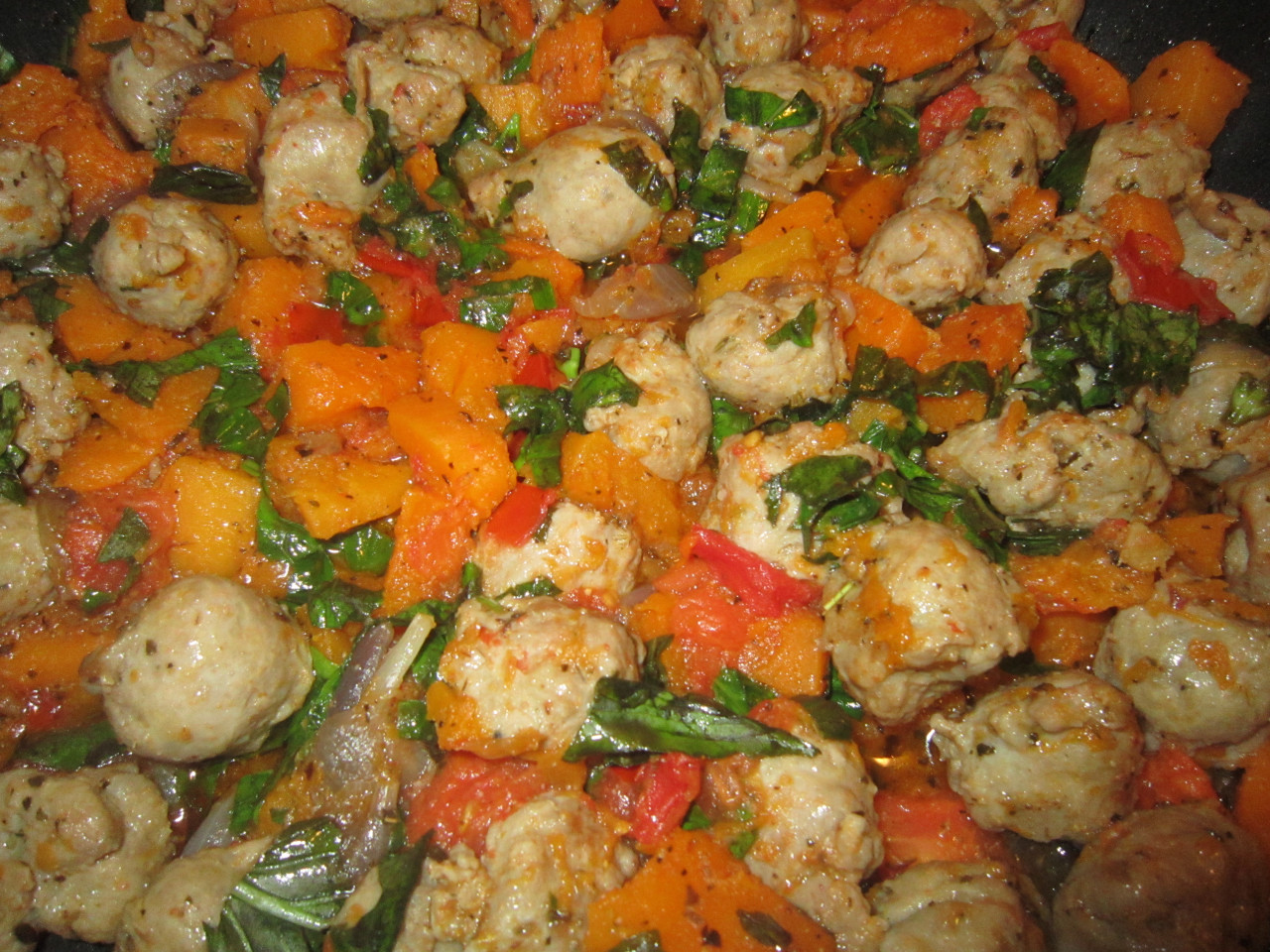 1 1/2 cups butternut, cut into smaller pieces
5-6 links of turkey sausage, cut
1 large tomato, diced
6 red pearl onions, cut in half lengthwise
6-7 fresh basil leaves, cut or torn
Italian seasoning, garlic powder, salt/pepper to taste
olive oil for cooking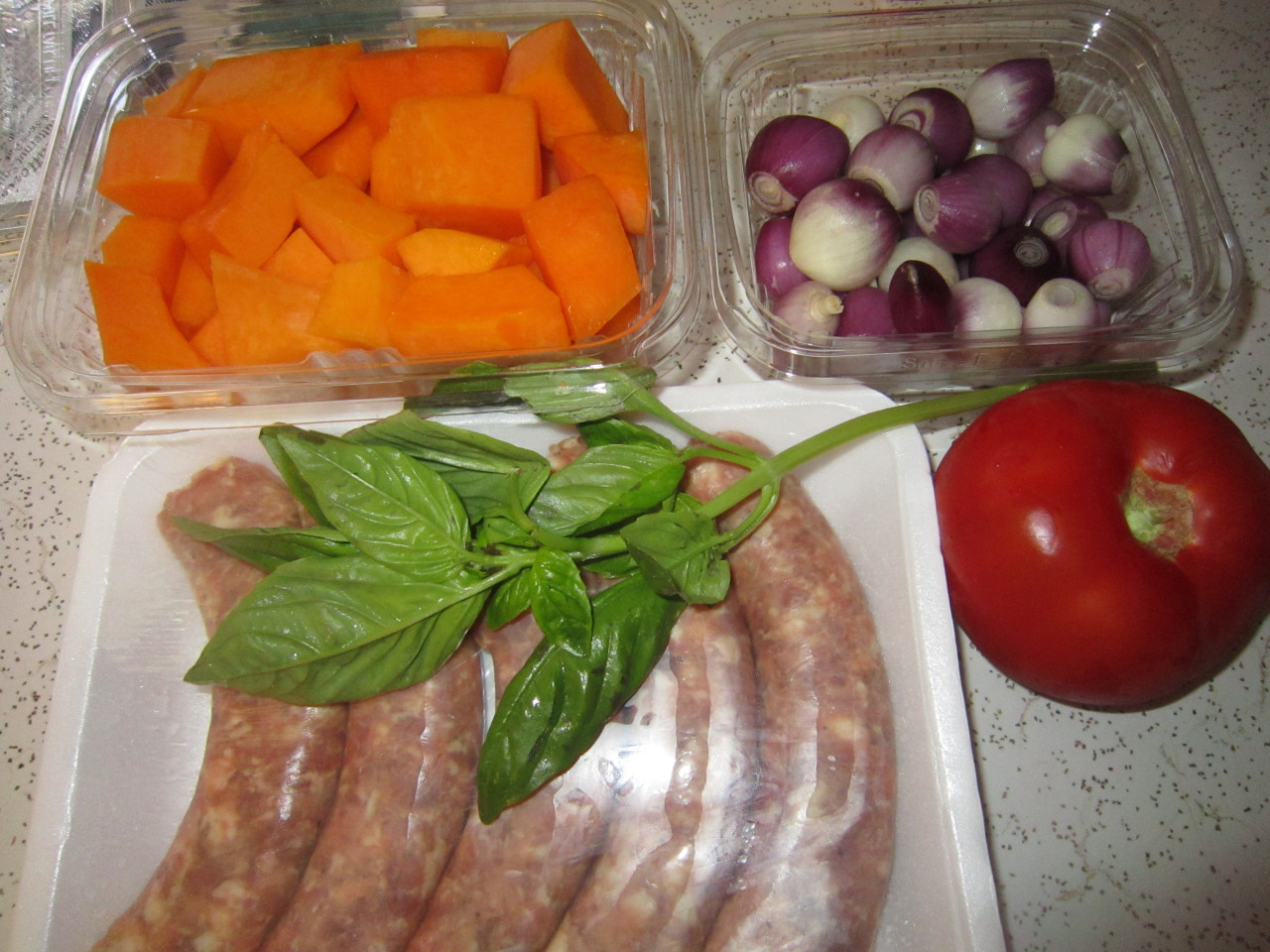 Pour some oil in a large frying pan and saute pearl onions for a couple of minutes, then add cut butternut and saute a couple more minutes.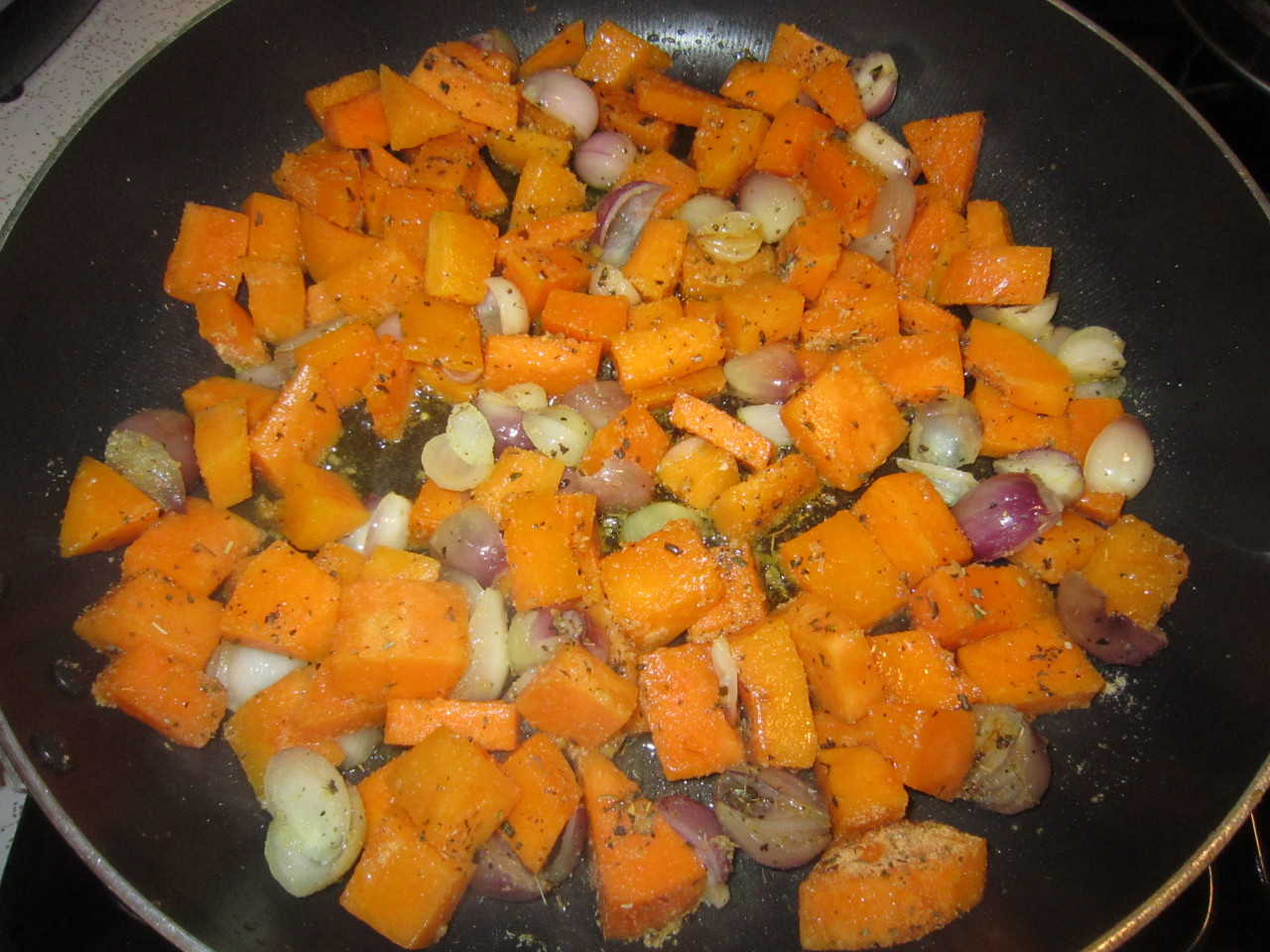 Add turkey sausage and cook it all together till almost done.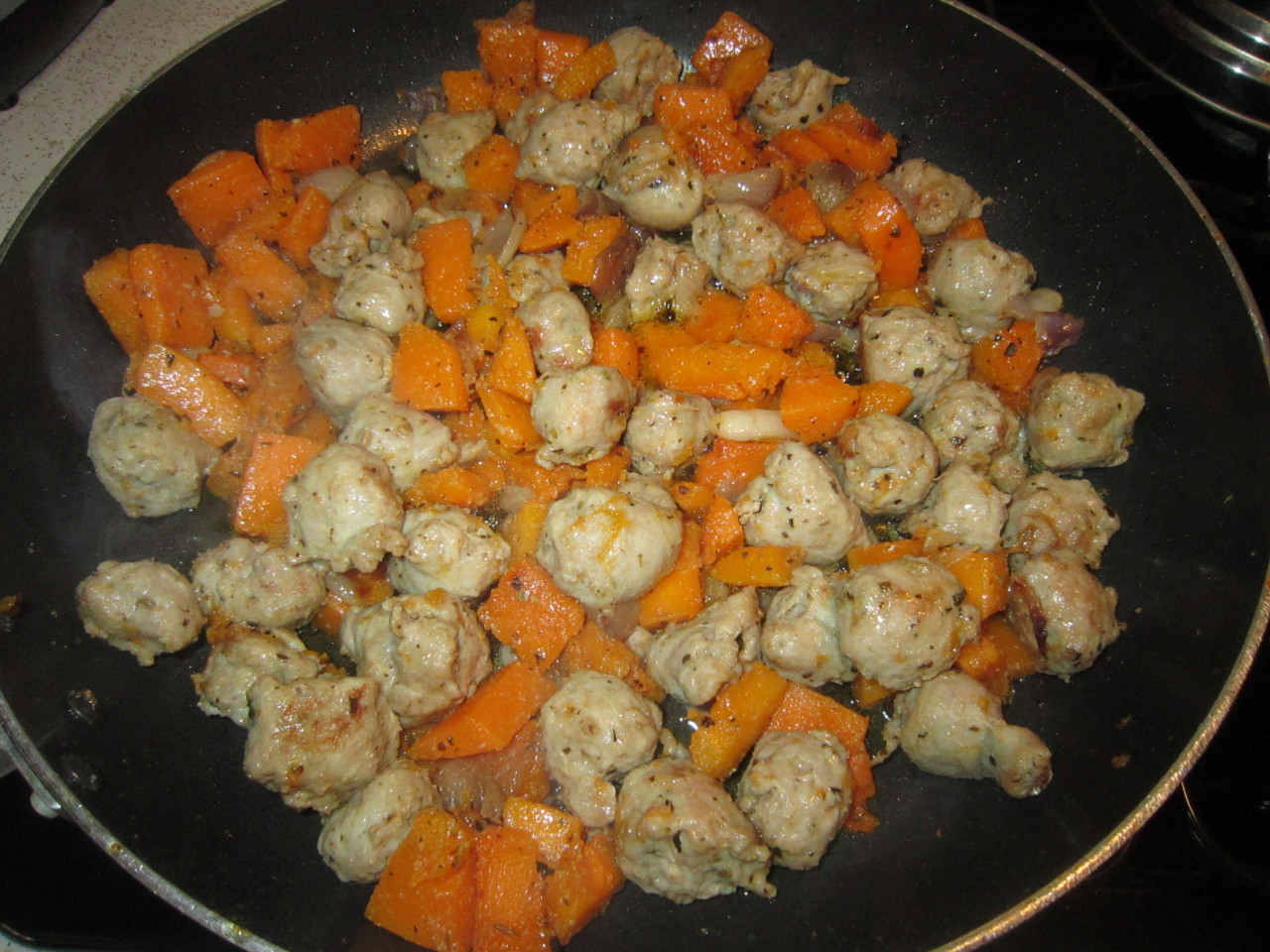 Add diced tomato and all the seasoning, cook till everything is done.
Garnish with fresh basil. You can eat the ragu over pasta or rice. Or you can skip it altogether and have it on top of arugula salad.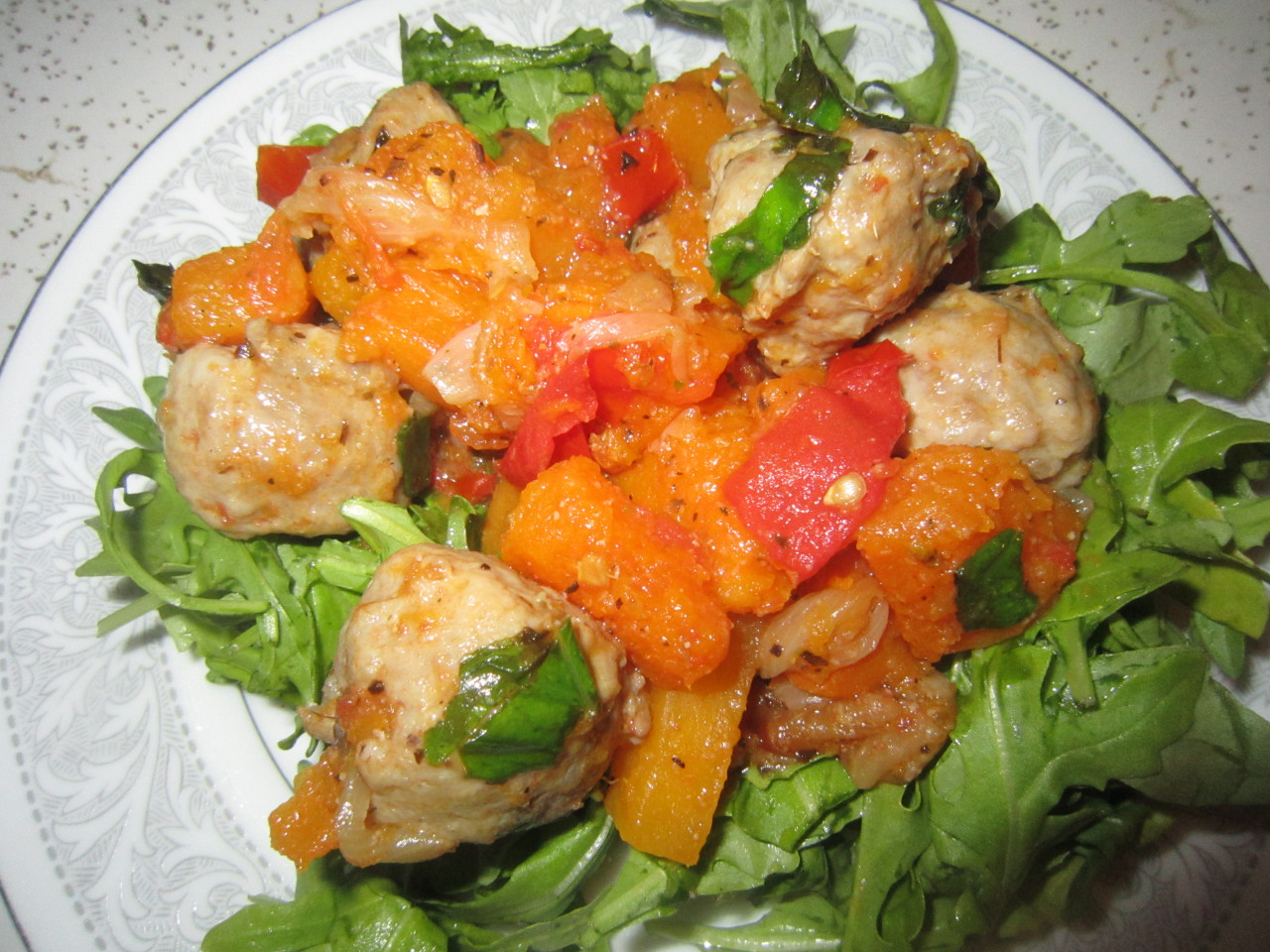 Enjoy!