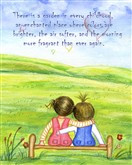 New York has been on a great weather stretch (except occasional much-needed rain), not too hot, nice cool breeze, right at the summer's door when the days turn into hot and hazy mess. We've all been enjoying just being outdoors, soaking in the sun and saying goodbye to the last spring days.
This weekend was all about lazy afternoons, chats with friends and inevitable walks down the "memory lanes", and that's exactly why I cherish these kind of weekends. Some good food and a nice conversation are the best fertilizers that feed my soul. Yes, this is Food and Thought Peddler's paradise in all its glory 🙂
An old childhood friend came over (I'm just so lucky to have her in my life and live nearby!), we've known each other for 35 years, since grade school, it's scary to even say that! And even though we didn't see each other much throughout the school year as kids, every summer we met at the same suburban resort and spent a whole month by the river, running through  meadows, roaming the woods and just building a friendship and creating childhood memories strong enough to still have a taste of those summer berries and a smell of water lilies in our hair.
The first childhood loves, the first disappointments and doubts were experienced and re-lived there, during those lazy summer days and fun-filled nights under the stars and among your circle of friends. Those are the best memories you can have from your childhood!
So down we went a very long "memory lane", "bookmarking" the events that we want to re-visit over and over again and also hoping that our children will have their own experiences to remember and knowing that, as parents, we helped them create those lasting memories. And making a wish to remember this very day too, many years into the future, a late spring afternoon spent over wine, food and a chat with your good friend!
And on to create even more sweet memories!
What's Cooking This Week
From some childhood memories and on to some made just last month, I was inspired to make a healthy zucchini salad I tried during my trip to Boston. It was light, refreshing and not time-consuming. Not a complicated recipe to begin with, it was more about the combination of the veggies flavor and a dressing. Here is my variation of this great summer dish.
Citrusy Zucchini – Carrot Salad
1 medium carrot
1 medium zucchini
1 Tbspoon olive oil
5 Tbspoons of orange juice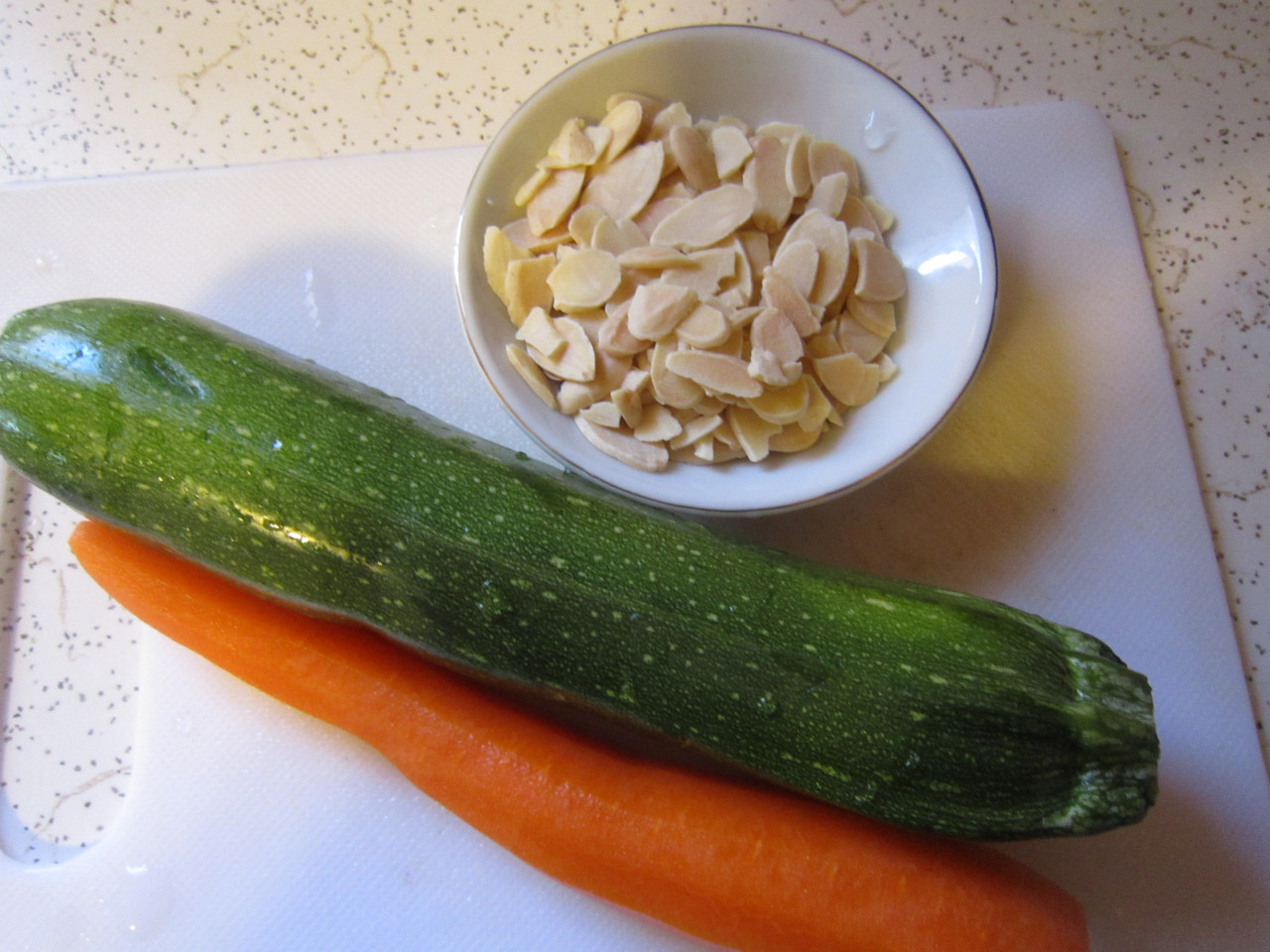 1 tspoon  fresh orange zest
1 tspoon fresh lemon juice
1/2 tspoon fresh lemon zest
1 tspoon chopped dried mint leaves
1/8 cup of toasted almonds, chopped or slivered
salt, pepper to taste
Grate both carrot and zucchini length-wise using a Julienne peeler creating thin strips.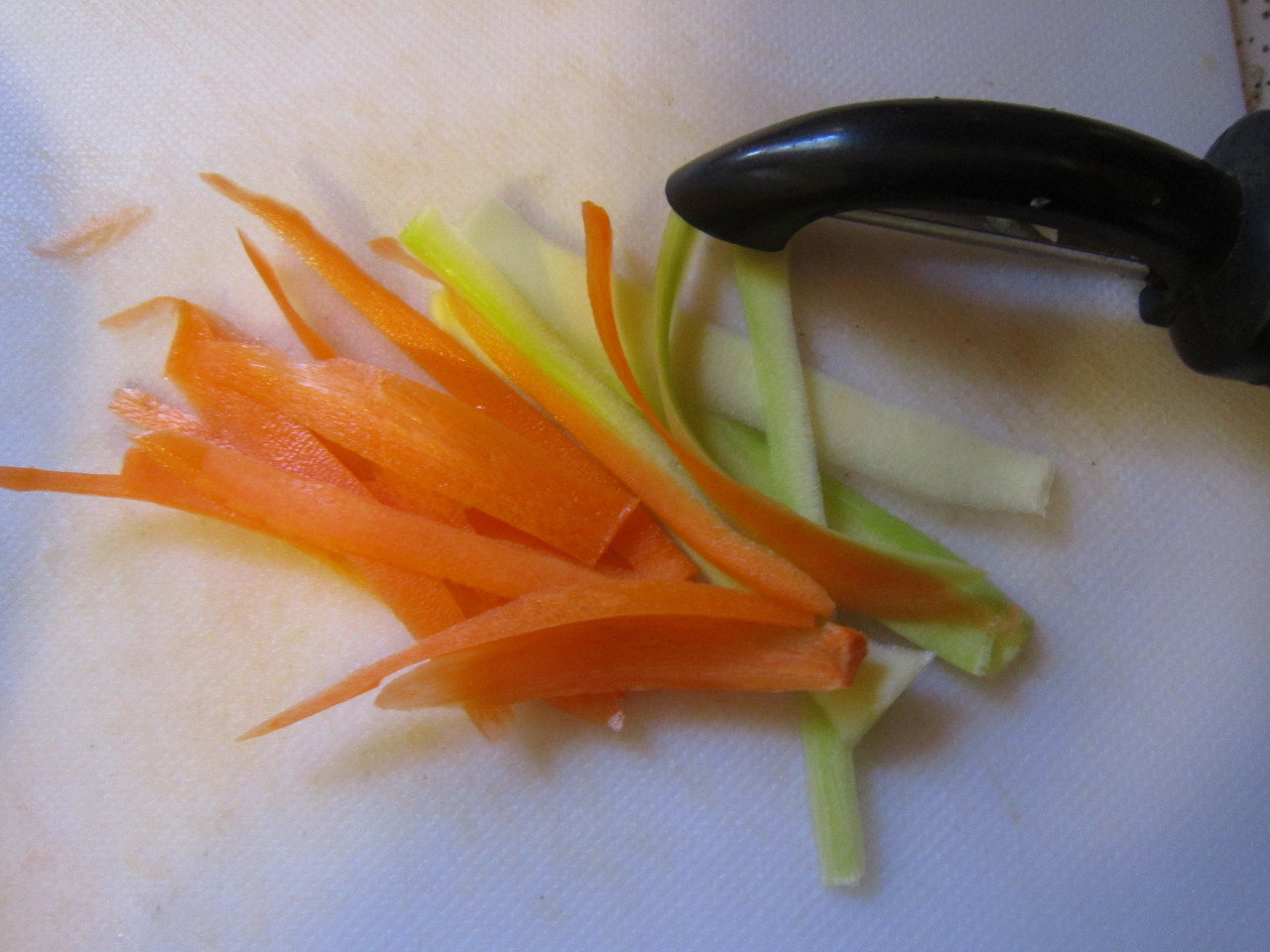 Mix together all the ingredients for the dressing.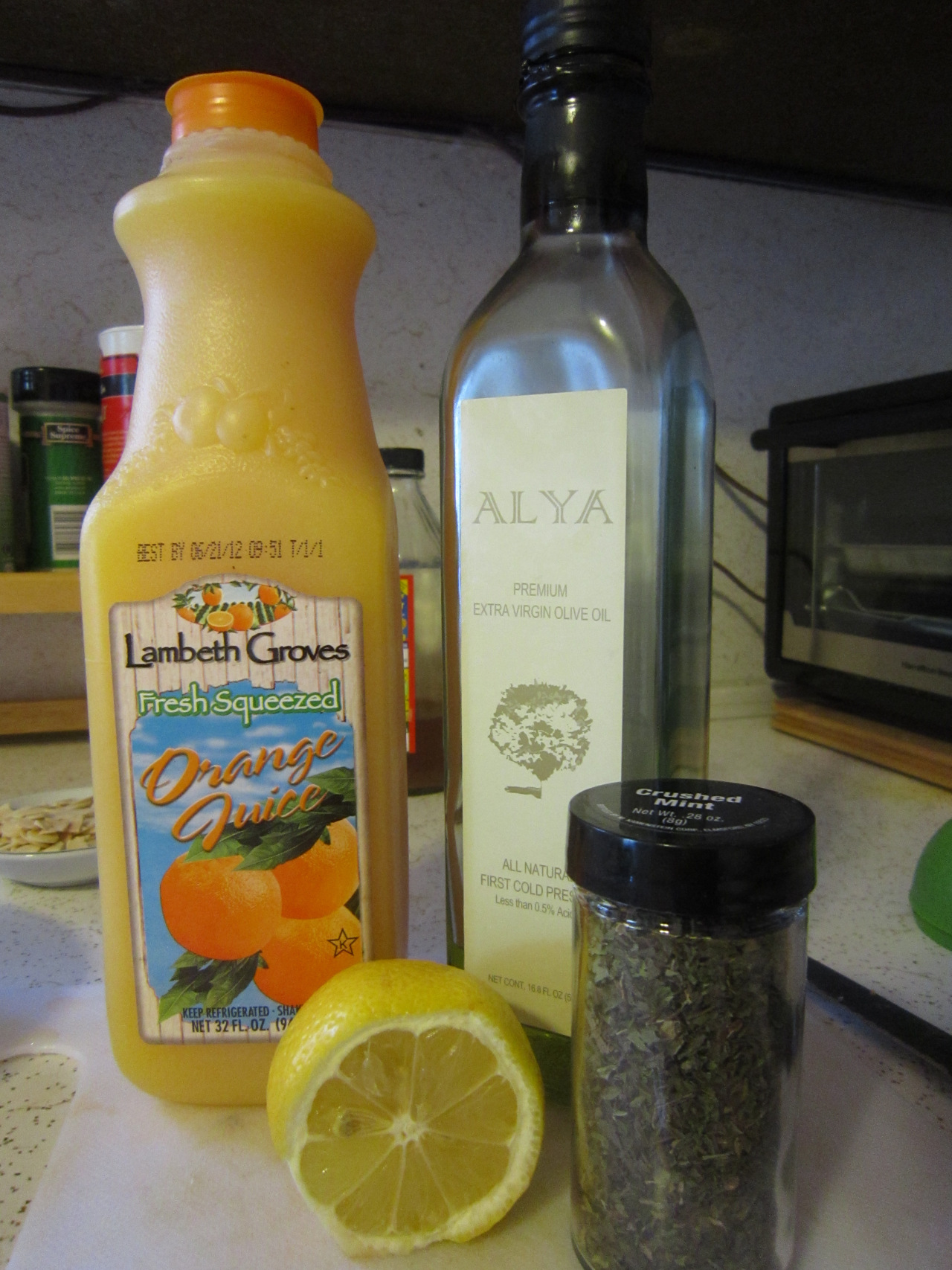 Add chopped mint, salt, pepper (you may adjust any amount of dressing ingredients according to your taste).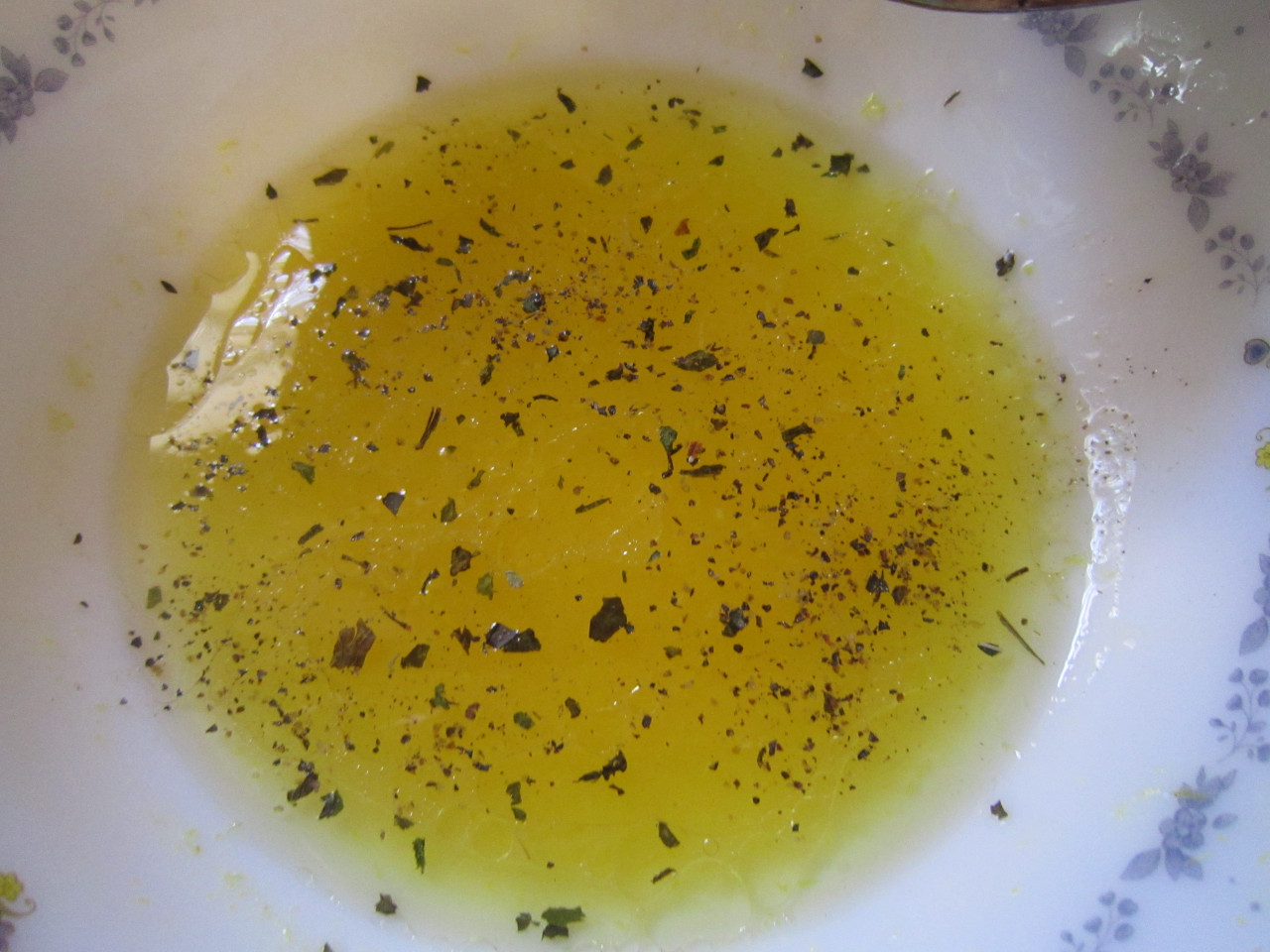 Pour dressing over the veggies and let it all stand for a couple of minutes so all the flavors merge. Garnish with toasted almonds. This salad goes with just about anything. Here we are enjoying it with pepper-stuffed grilled chicken patties.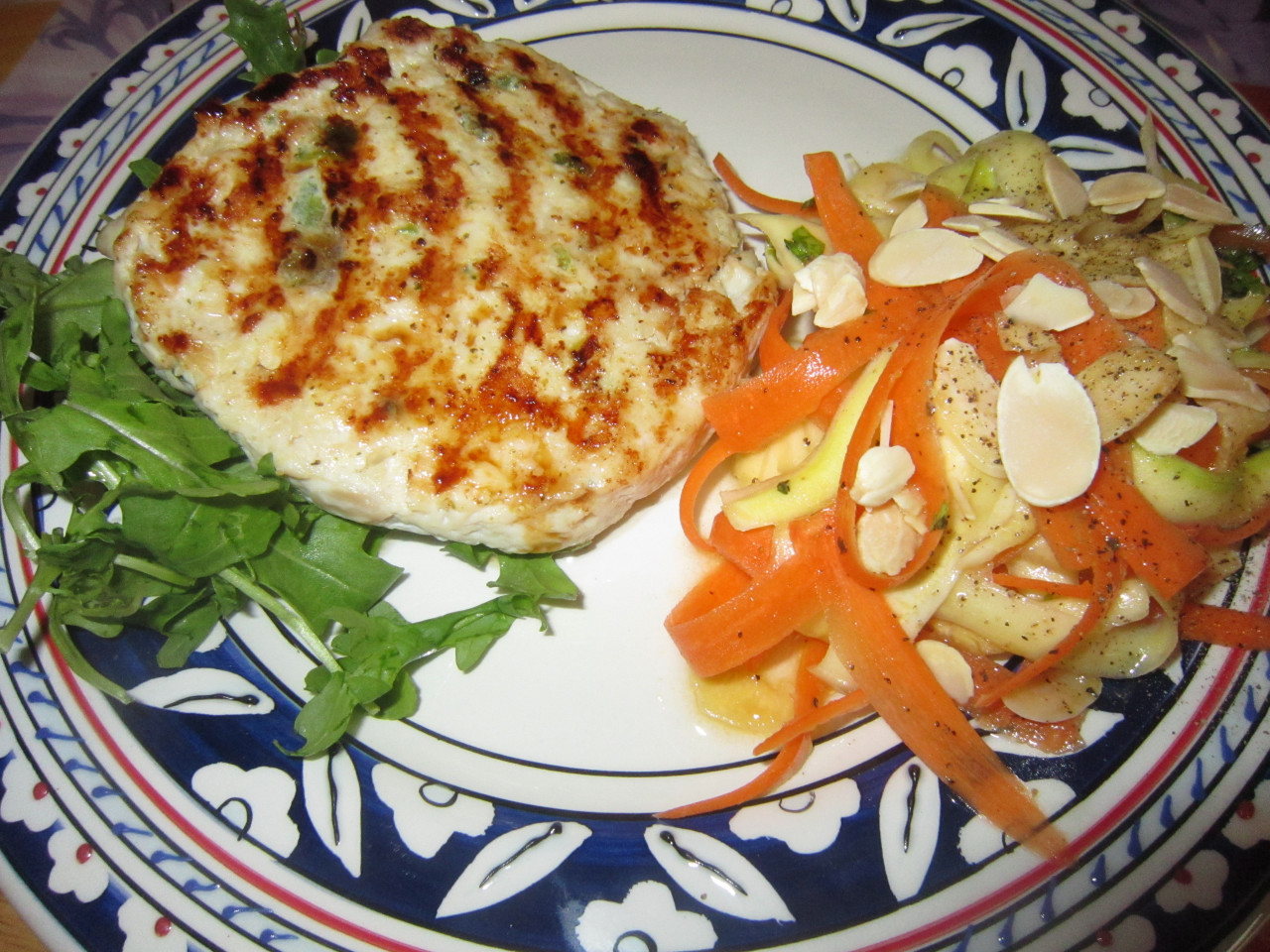 Thus was a glorious Saturday spent sitting on my balcony chatting, eating and drinking.  For dessert, we had almond mocha and more of the quick chocolate scones from this post Hunting For A Moderation.  But not before we killed that bottle of wine 🙂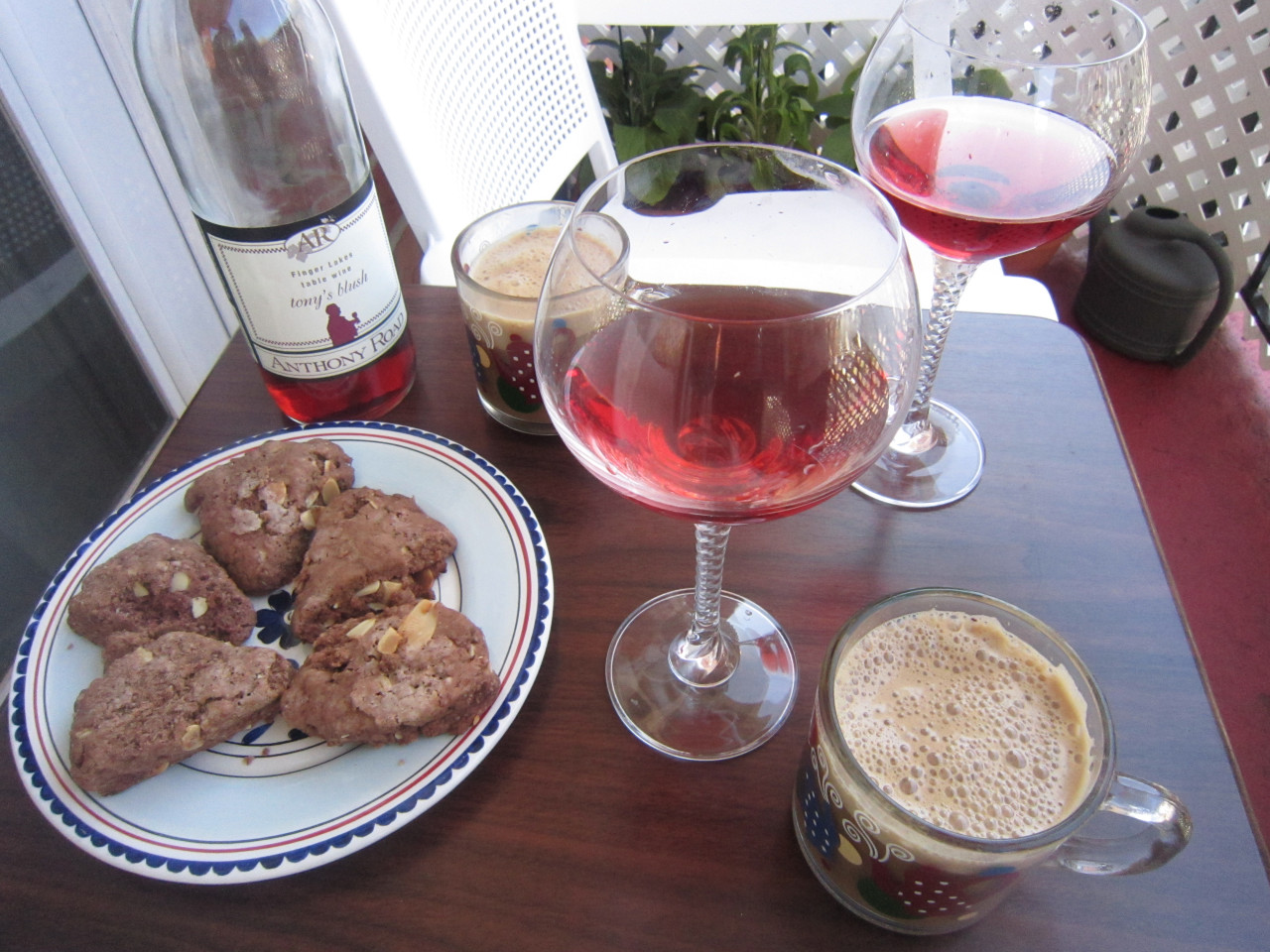 Enjoy it too!