Apparently Boston is an unofficial gluten free "capital".
  It may not seem so to other people, but I'd definitely  nominate it, if such category ever existed.
Last week the kid and I traveled to Boston for 5 days. I came prepared, as the usual case when traveling, with a bag full of gluten free breads and other goodies, but I was also pleasantly surprised that so many restaurants (or at least the ones I encountered) cater to the gluten free community. Kudos to them!
Following are my notes on the gluten free choices along with the actual restaurant reviews. The grades are for the overall experience: gluten free offerings, food and service.
When booking a hotel, the first thing I always look at are the restaurant choices, both on-site and nearby (maybe self-indulgent but surely necessary). We stood at the new hotel in South Boston, right by the Seaport, Renaissance Boston Waterfront Hotel by Marriott. http://www.marriott.com/hotels/travel/boswf-renaissance-boston-waterfront-hotel/
The hotel is new, only about 4 year old, build in a sleek modern architecture overlooking Boston's Seaport, it's clean, comfortable and accommodating, everything you'd want in a hotel. The area itself though is kind of under-developed, like may spots in South Boston, so there's not much to do in the evening except dining and a stroll along the bay. It's just two blocks from Boston's Silver Line subway station.
Oh, let me digress here for a minute about this Silver Line. I had so much fun with it 🙂 So, apparently Boston's Silver Line is not really "subway" even though it's part of the system. It's actually a bus that partially runs underground and connects you with the other, "real" subway lines. So this is the "subway train" that's near the hotel, and it takes you to the real trains. Every time I got on it, I just couldn't stop smiling as I was thinking of the Choo-Choo Train from "The Little Engine That Could". "I think I can, I think I can" – said The Little Engine… You sure can, baby! 🙂  However, as a mental health professional, I have to warn you all, this bus appears to be suffering from Identity Confusion Disorder, part of Dissociative Disorders. And, as with all Personality Disorders spectrum, you can try mitigating some symptoms with antipsychotics and mood stabilizers, but there's no cure. So, board at your own risk! 🙂

OK, back to the actual reviews. The hotel had two restaurants, besides the usual room service, 606 Congress is a formal sit-down place where you can get full breakfast, lunch and dinner. Capiz Bar is a lounge where drinks and lighter fare, such as salads and sandwiches are available. Both Capiz Bar and 606 Congress were accommodating to my needs. The hotel has a print-out from their regular menus indicating the items that are either naturally gluten free or can be made without gluten. I had a great green salad with grilled chicken and creamy balsamic dressing as well as fries at the Bar. They also have this amazing onion dip with homemade potato chips that is only $0.99! You can't beat that as an appetizer. Unfortunately, the kid and I inhaled both the dip and the salad with fries before I could take any pictures. 🙂 But trust me, it was delicious looking!
I had two meals at 606 Congress, breakfast and dinner. During breakfast time, once I let the waiter know that I'm gluten intolerant, the chef came out to personally greet and assure me that my meal will be safe from gluten and cross-contamination. He told me that his own daughter has Celiac, and he'd make sure that the area where my dish will be made is "cleaned-up", and clean pots and utensils are used. I definitely felt that I was safe with a chef who has a personal experience cooking gluten free. Now, meeting the chef wasn't unusual, most of the hotels I've been to in the past few years (though all higher-end) catered to my needs, some, like Ritz Carlton, even have a personal dietary navigator.  So, I got a great breakfast dish of home fried potatoes and chicken-apple sausage at 606 Congress. It was just what I needed, a nice warm breakfast that tasted exactly like you'd make it at home.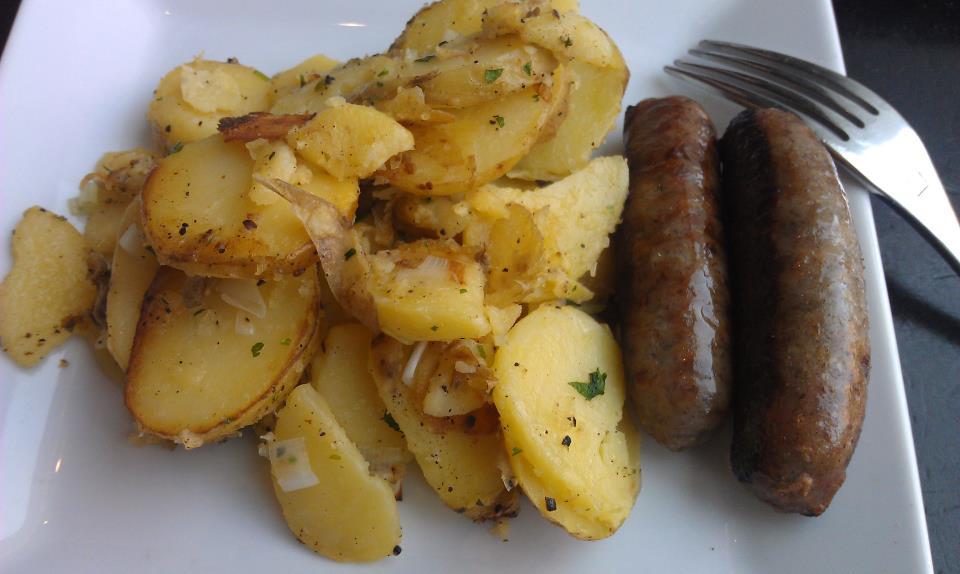 Dinner at 606 Congress was a more formal affair, we both had Angus grass fed sirloin with carrots and turnips in bordelaise syrup. The steak was very good, tender and cooked to my specifications, the veggies were a nice addition too.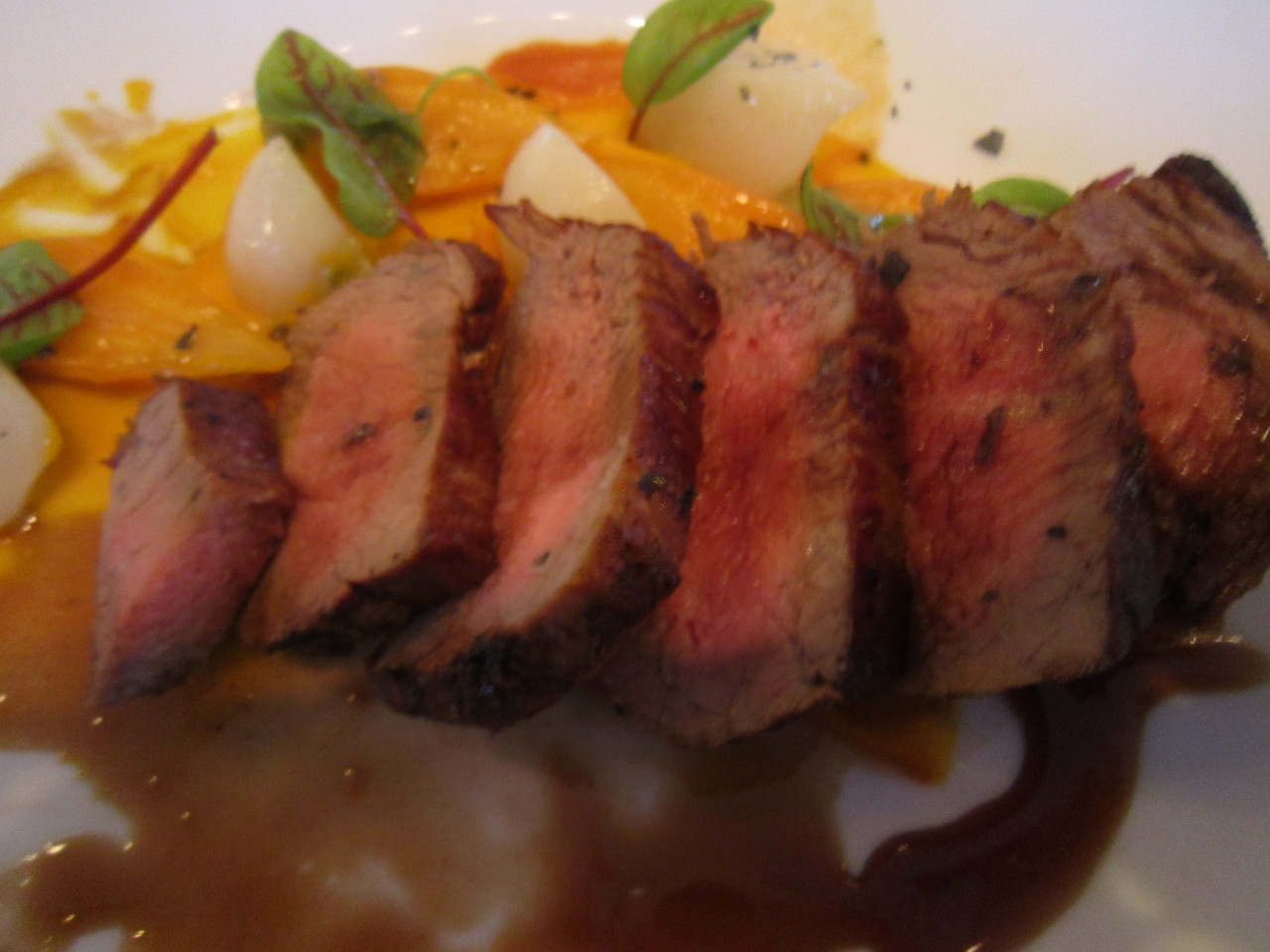 My only complain was that for the price ($32), I'd want to get a slightly bigger steak that would also include at least one side, otherwise add another $8 for each side, but that's what you usually get at this type of restaurants, they were not very busy each night, so I guess they need to get their money somehow. We ordered two sides, mashed potatoes, that were absolutely divine, full of butter and cream (therefore, I only had a couple spoonfuls as I don't eat dairy on a regular basis), and sautéed spinach that was good but not excellent as it was covered in tiny pieces of cooked, and not really sautéed, garlic. I have a thing about garlic, it has to be perfect, otherwise, it just ruins everything. I prefer garlic either pressed and "cooked-in" into whatever sauce you're making or thinly sliced and sautéed till golden brown so you get the garlic taste but also have a possibility remove the actual garlic pieces from the food and not eat them. When the dish is literally covered in tiny garlic pieces that taste like they were boiled rather than sautéed, I think it ruins the whole experience.
So, my grade for hotel's food, both Capiz and 606 Congress, is A – , the food was good (minus the garlic), service was attentive (plus for the chef 's personal appearance), and it was surely helpful to have a gluten free menu print-out.
The next day we had dinner at Salvatore's, which is the Italian place nearby the hotel (they also have other locations in Boston). http://salvatoresrestaurants.com/ Upon examining the restaurant's website, which is what I usually do before going out, I discovered that they offer gluten free pasta. Yay, said the excited Peddler! Well, not so fast, as it turned out. We were greeted by sleepy looking and kind of grumpy waiter (and it was way before the usual dinner time rush, so they weren't busy at all, but maybe that was the reason, we disturbed his rest). I asked about gluten free menu, and, again, less then enthusiastically, he offered some information about the pasta dishes (some of which I asked him to double-check that absolutely killed his mood as it required extra energy expenditure on his part).
After some discussions with the grumpy waiter which foods they can actually prepare gluten free, the kid and I shared these pan seared scallops in a creamy limoncello sauce, they were good, but really nothing outstanding.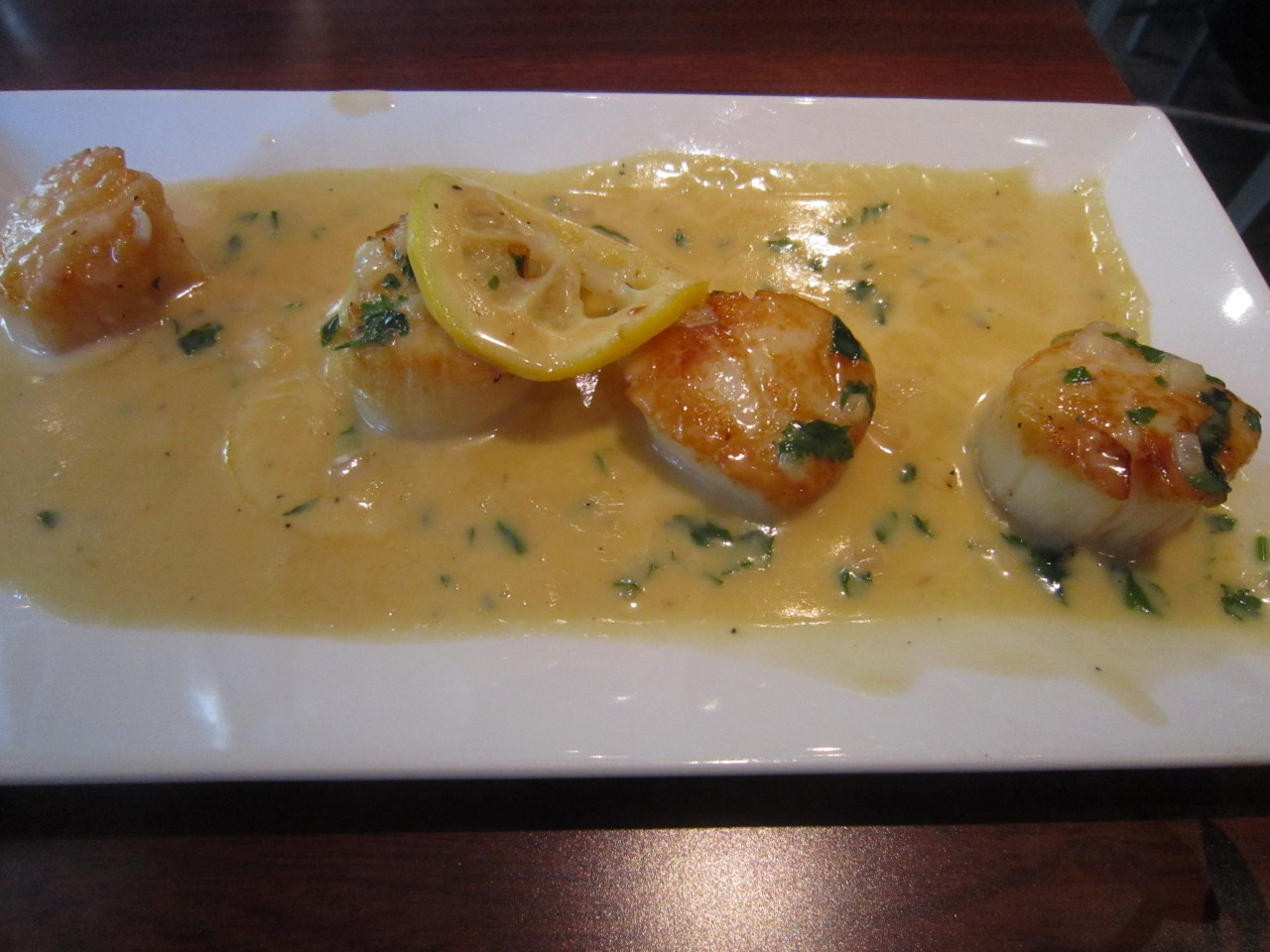 Then the main course came, and I ordered sweet sausage with olives and artichokes in a garlic wine sauce over their gluten free pasta. Sounds simple yet quite delicious, something that I'd enjoy making at home. Well, remember my previous rant about garlic? Yep, I got it yet again, maybe that's what they do in Boston. Pasta was not just covered in tiny, cooked, not sautéed, garlic and was swimming in a pool of white sauce, it looked more like pasta soup than pasta with sauce. The sausage also tasted kind of boiled (I guess because of all the liquid it cooked in) rather than sautéed, which is what I prefer in my pasta. The only good thing about this dish was that pasta was cooked to a perfect al dente (and it was gluten free), but I kept thinking I'd make it so much better at home.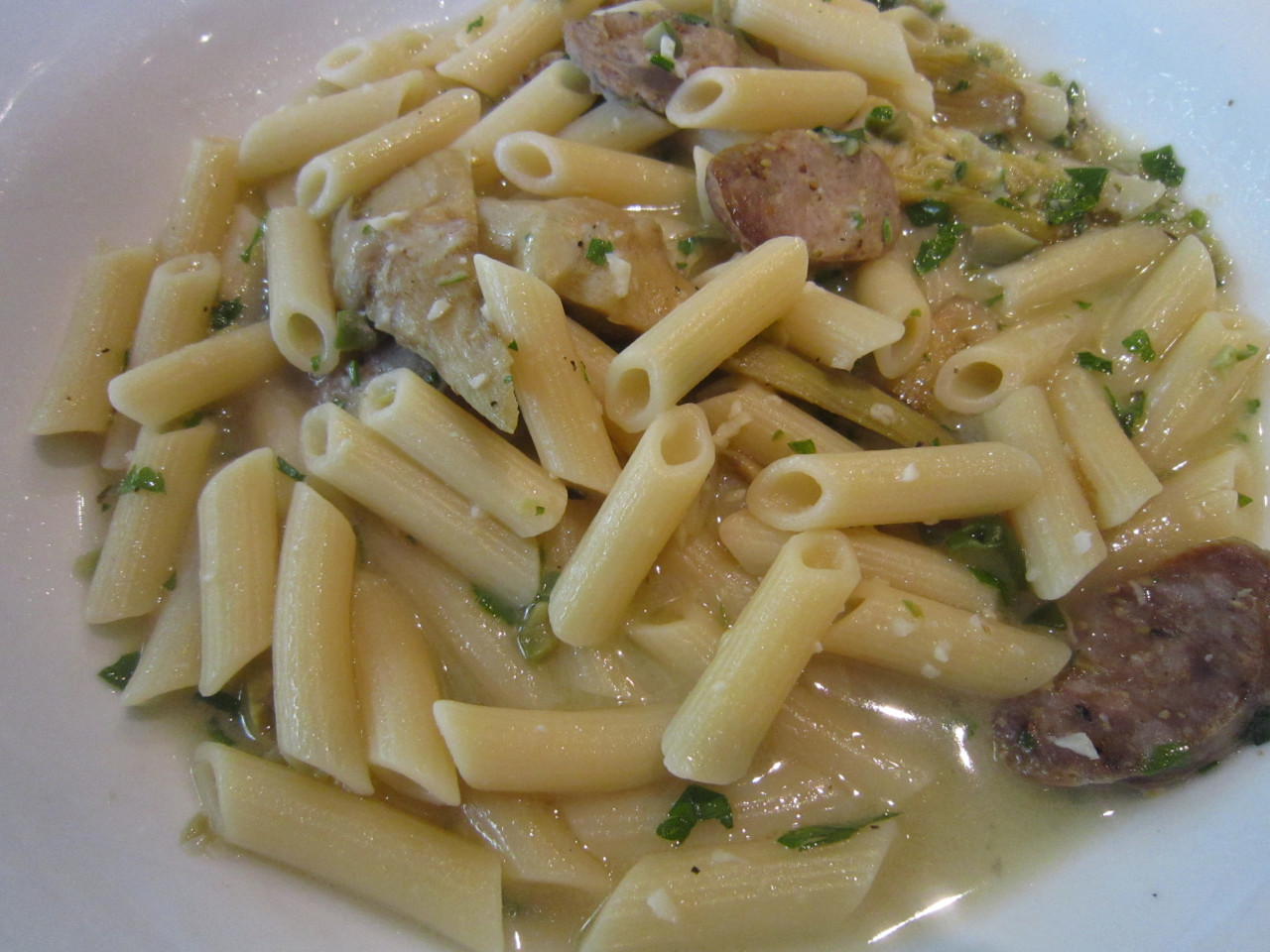 The kid had lobster ravioli in some creamy sauce and said it tasted pretty good. But what kind of a food critic a hungry 15 year old can really be?! Plus if the place can't make a simple pasta dish taste at least passable, what are we even talking about?!
So, my grade for Salvatore's is big C – (I threw a little extra because scallops were good). Maybe their other locations are much better, but at least you have some gluten free options.
We spent the next day in Salem, and, surprisingly, even there I was able to eat gluten free. Right by the trolley depot, there is a place called Rockarfellas, http://www.rockafellasofsalem.com/ , a casual place of all-American staples. Their menu indicated which items can be made gluten free. OK, I was impressed! If some place in Salem can have that available, why can't ALL restaurants in NYC at least do the same, simply indicate which items are safe from gluten?! Maybe because some NY's "finest establishments" are too damn self-absorbed and "sophisticated" to make any kind of substitutions or accommodations. Though I do have to admit it that most of the time I am actually accommodated, but it's just nice to see it "on paper" so to say that gluten sensitivity is acknowledged. Saves time and aggravation too if you ask me.
I wasn't in a mood for any of their gluten free options that Rockafellas offered and asked if a pulled pork sandwich could be made on my own roll and is generally safe, which it was. Here I'm enjoying my pulled pork on Ener-G's English muffin (that I often use as a roll) with a nice side salad. That was a great lunch, and the food was pretty good too.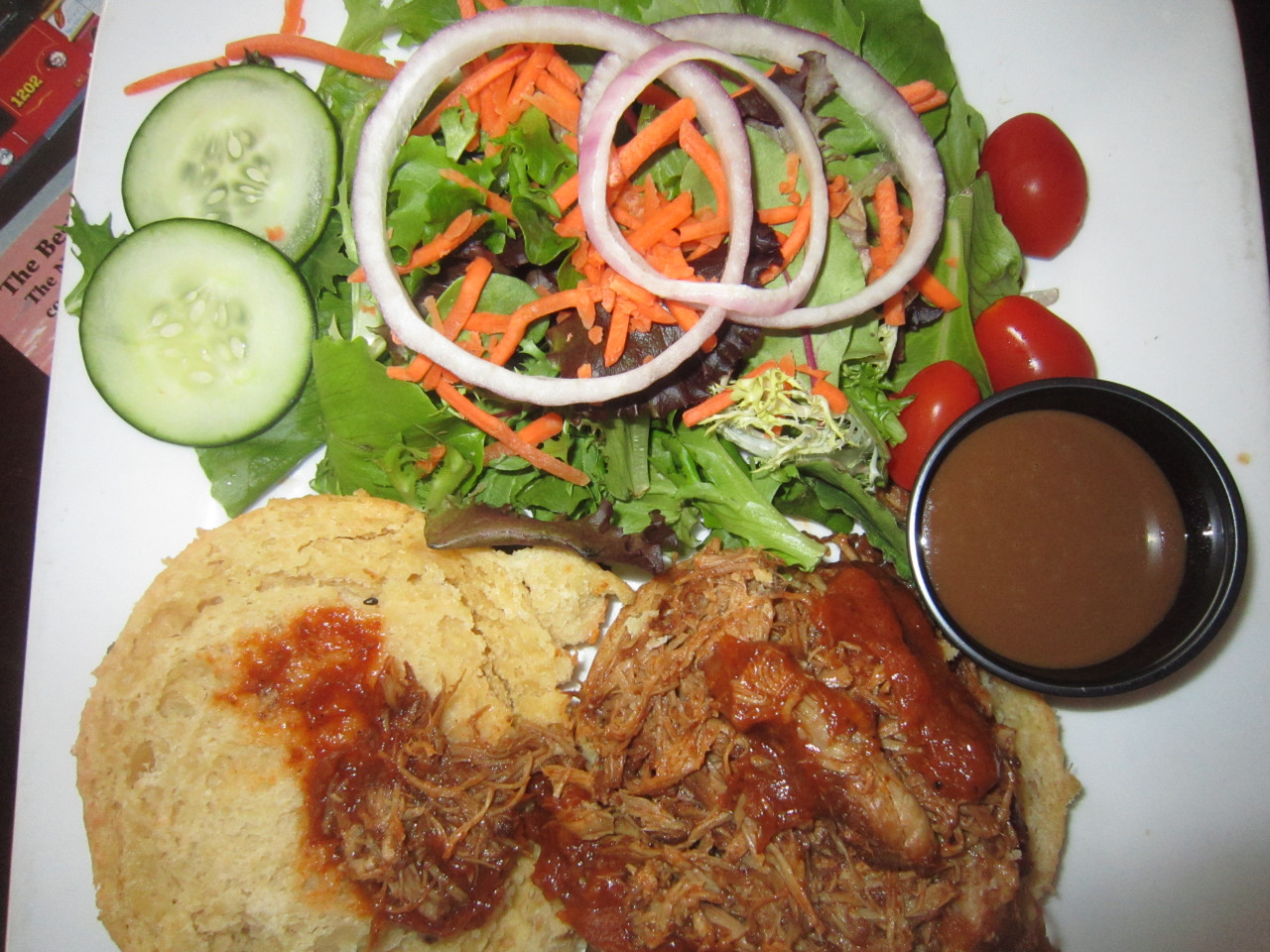 So my grade for Rockafellas is a solid B (the service was very slow even though it was passed the usual lunch time rush).
That very same day we had a late dinner at Rosa Mexicano www.rosamexicano.com that was right on the Seaport strip. I've been to two out of three Rosa's in NYC and one in D.C., they are all consistently great, if you like spicy food, and to me even some mild heat is spicy. Next to it was also Morton's Steakhouse www.mortons.com , and I was really tempted. I had some awesome steaks at their D.C. and West Palm Beach locations, but I figured it's probably best to visit such place in adult company where a great meal could be shared over a few (or many 🙂 ) drinks and a leisurely conversation. So the kid and I had our dinner at Rosa Mexicano, as planned.
As always, I checked the website to yet again find out that they offer gluten free choices. Yay said excited Peddler! Let's have some Mexican! We were greeted by an overly enthusiastic waiter with "baby cheeks", and while we browsed the menu, I asked for one of these.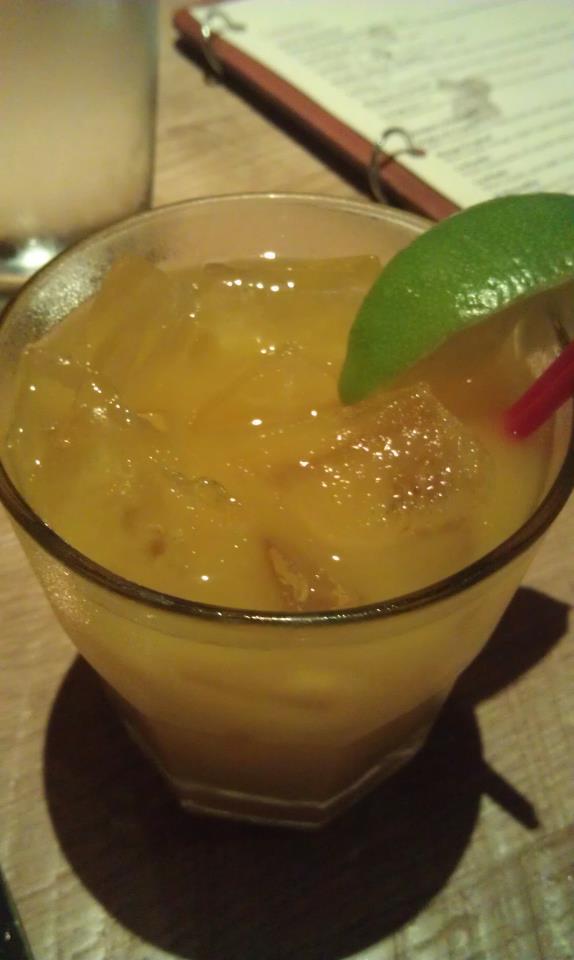 And was promptly "carded"! I do not remember how long ago that happened last time, and considering that when I came to the US, I was already of legal age, not very many times. Babycheeks, I'm flattered, but I don't have a tip as big as your compliment! And, seriously, I was there with my 15 year old, did you think I was his girlfriend?!
When in Rosa Mexicano, you just HAVE to try their guacamole, done right in front of you, with your choice of heat "levels" and a side of homemade corn chips, you think you're in heaven (OK one of those pictured just above helped to feel at ease also 🙂 )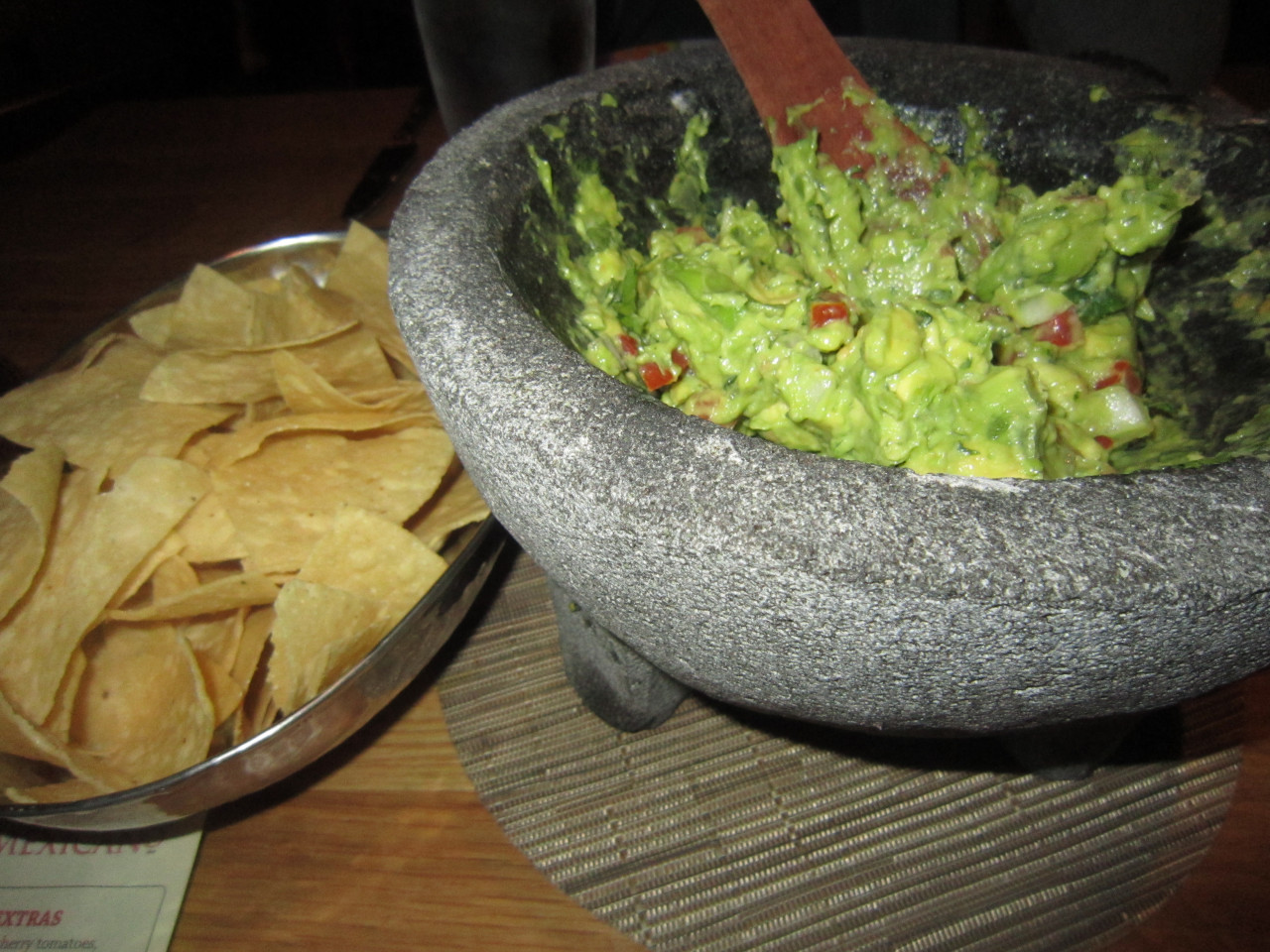 I had one of their specials, fish of the day, which was black sea bass that evening, with a warm potato-chorizo salad, beet chimichurri and pumpkin seed pipian. The dish was great, just on a verge of what I'd consider too spicy for my liking, but I managed. My only complain was that the fish itself was a bit limp and needed just a tad more sear in a pan, otherwise, the meal was very delicious.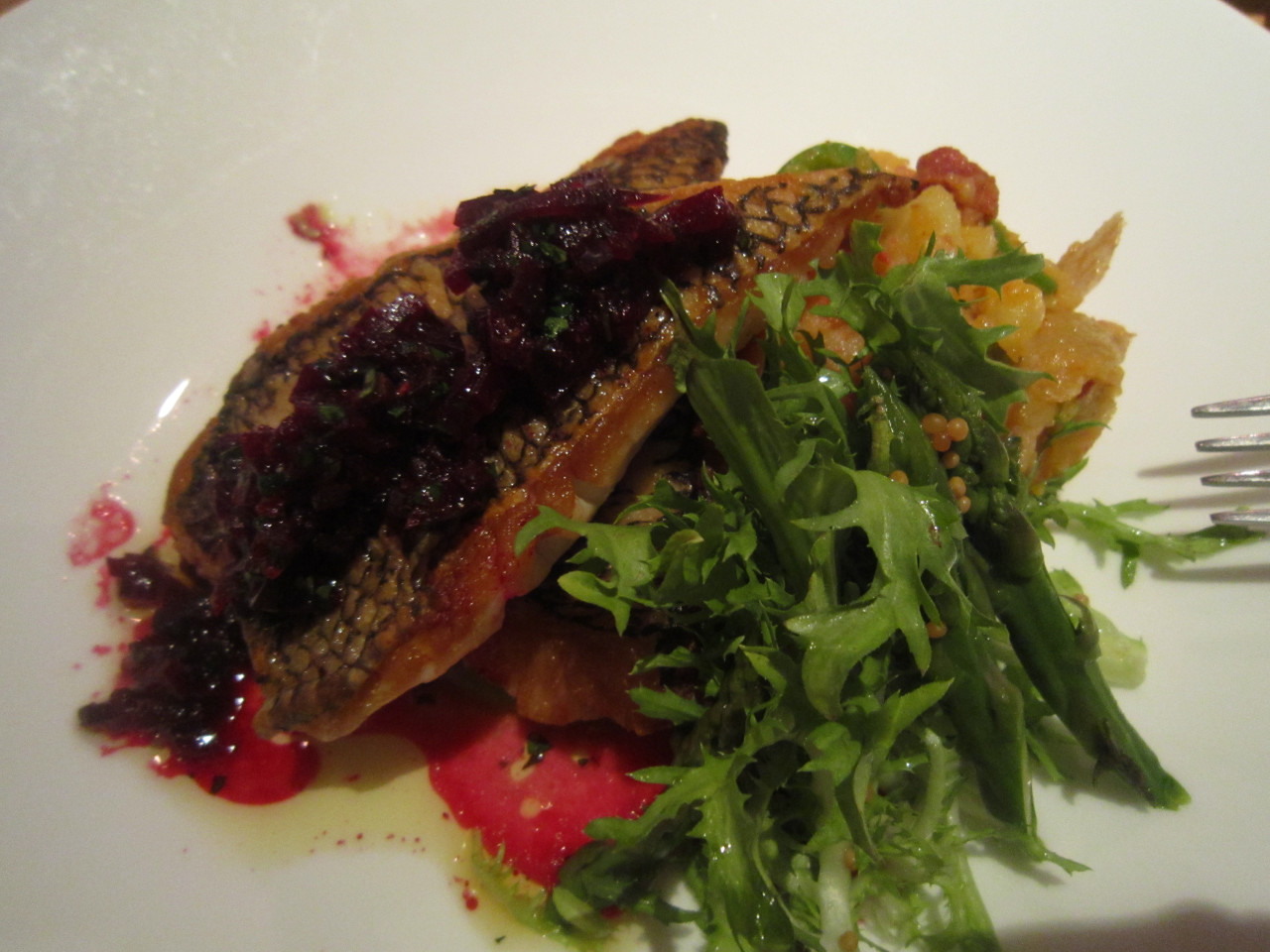 My grade for Rosa Mexicano in Boston is A – (for the fish, but with extra hand clapping for the "carded" drink). Oh, and the waiter did get a nice tip, not as big as he'd probably hoped for, but he got his 20%.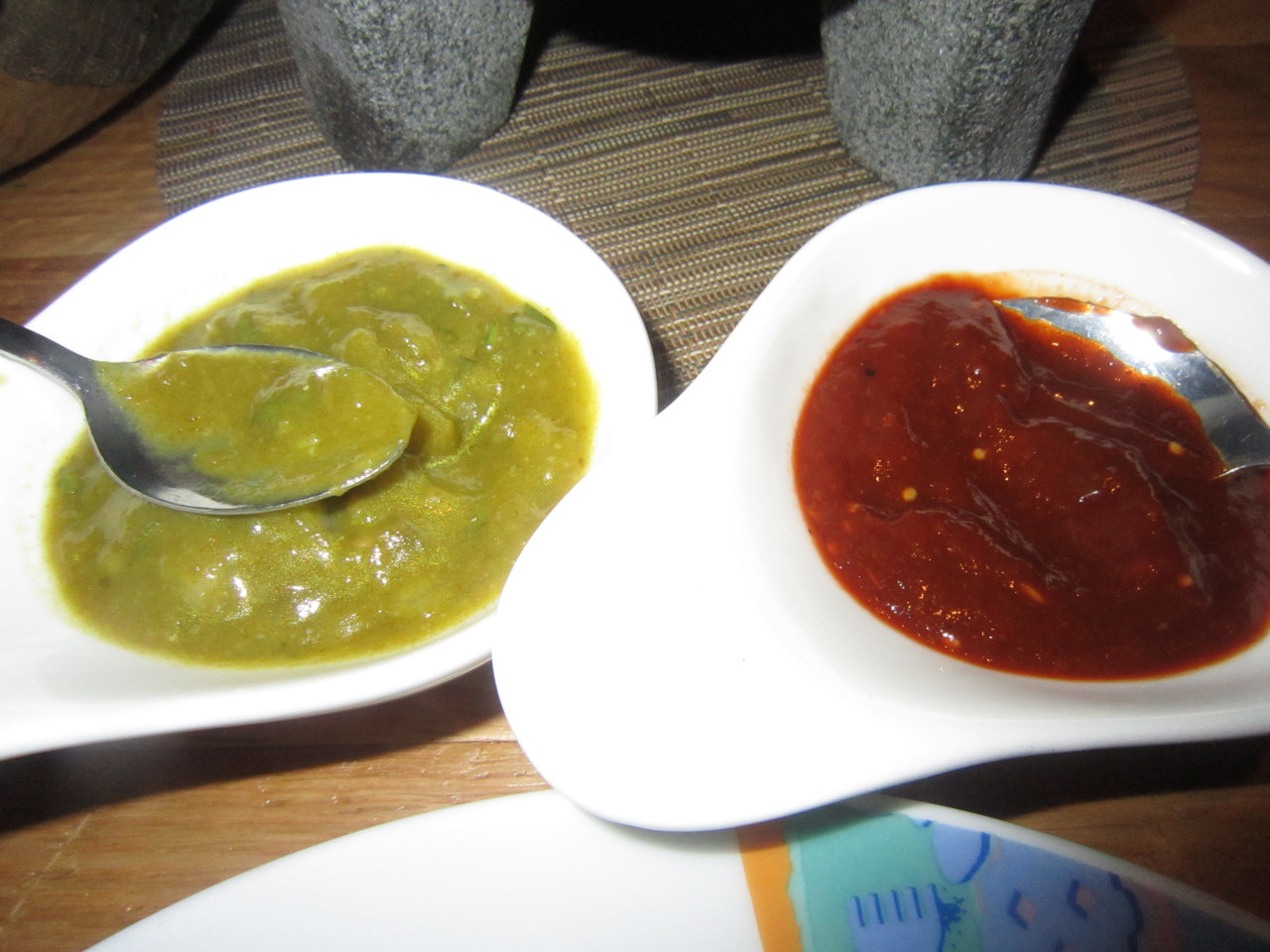 The last day was spent roaming around Boston when we stumbled upon Pizzeria Uno http://www.unos.com/indexi.php . Famous for their deep dish pizza, they are also one of the first chain restaurants  that started offering gluten free pizza crusts. But since I don't eat dairy, that wasn't an option. I'm a bit puzzled though why they can offer gluten free crust but not other breads. Bad marketing people! You throw together the same ingredients as for the crust and make some wonderful focaccia bread, great for sandwiches or even burgers.
And, of course I didn't want to eat their burger plain, as indicated on the menu, here it is on a burger roll by Canyon Bakehouse that I was so clever to bring along (as always 🙂 ) with a side of roasted vegetables that were actually surprisingly great and tasted like homemade.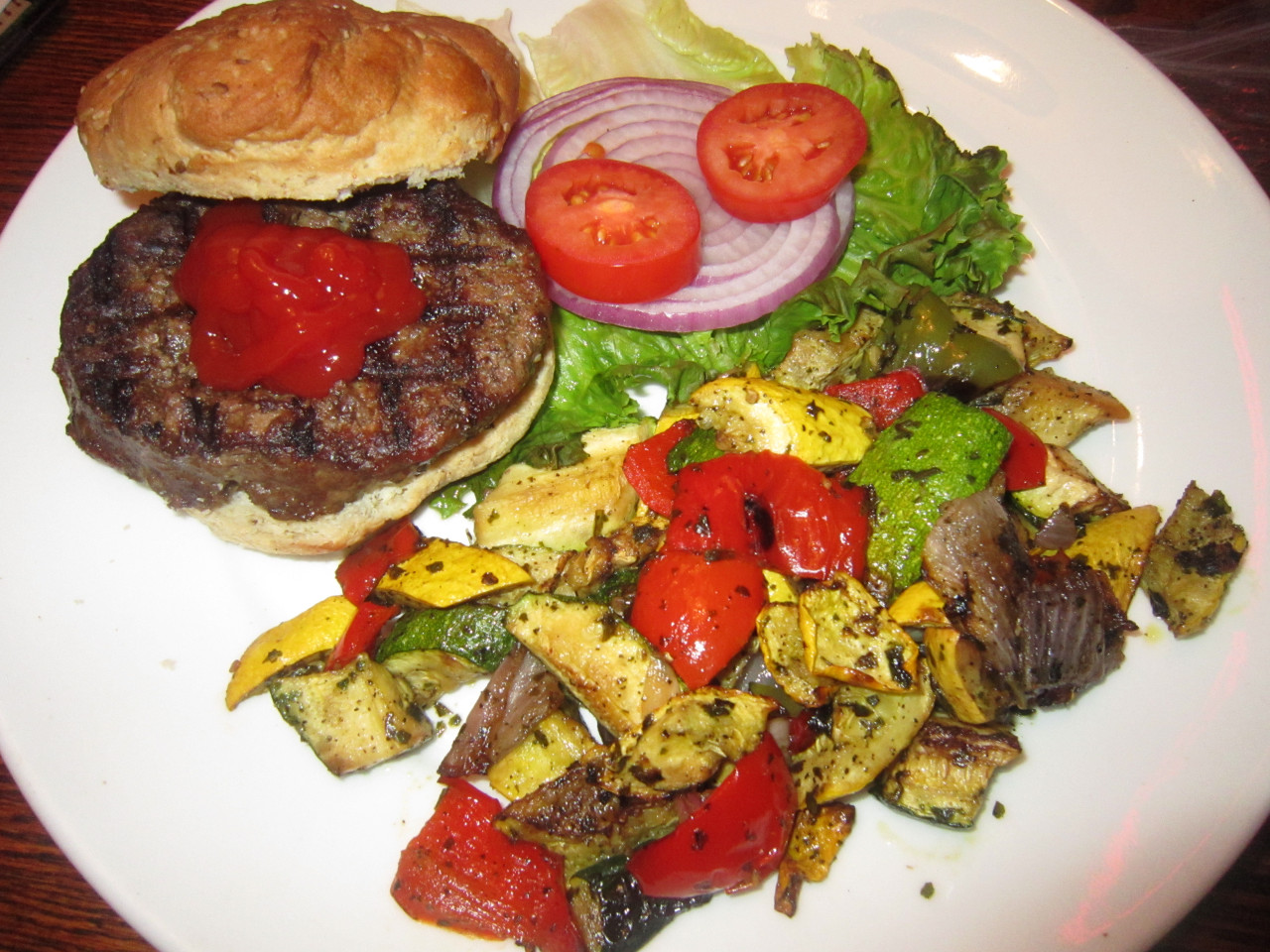 My grade for Pizzeria Uno is a nice B (points taken off for bad marketing strategy of having gluten free pizza but not bread for sandwiches).
And now we came to the last, and the best, meal in Boston, and that could only be described as a complete and utter perfection! Right on the corner of the hotel's block was a restaurant called The Legal Test Kitchen http://www.ltkbarandkitchen.com/site/ . They were busy, despite it being a Tuesday night, which was a good sign. As soon as I was seated and announced my gluten intolerance to the waiter, I was greeted with these "heavenly creatures" – homemade gluten free dinner rolls. Oh my, I was definitely in heaven, they were awesome! And how great it was to know that the chef took his time to make them so their gluten free customers could feel welcomed too!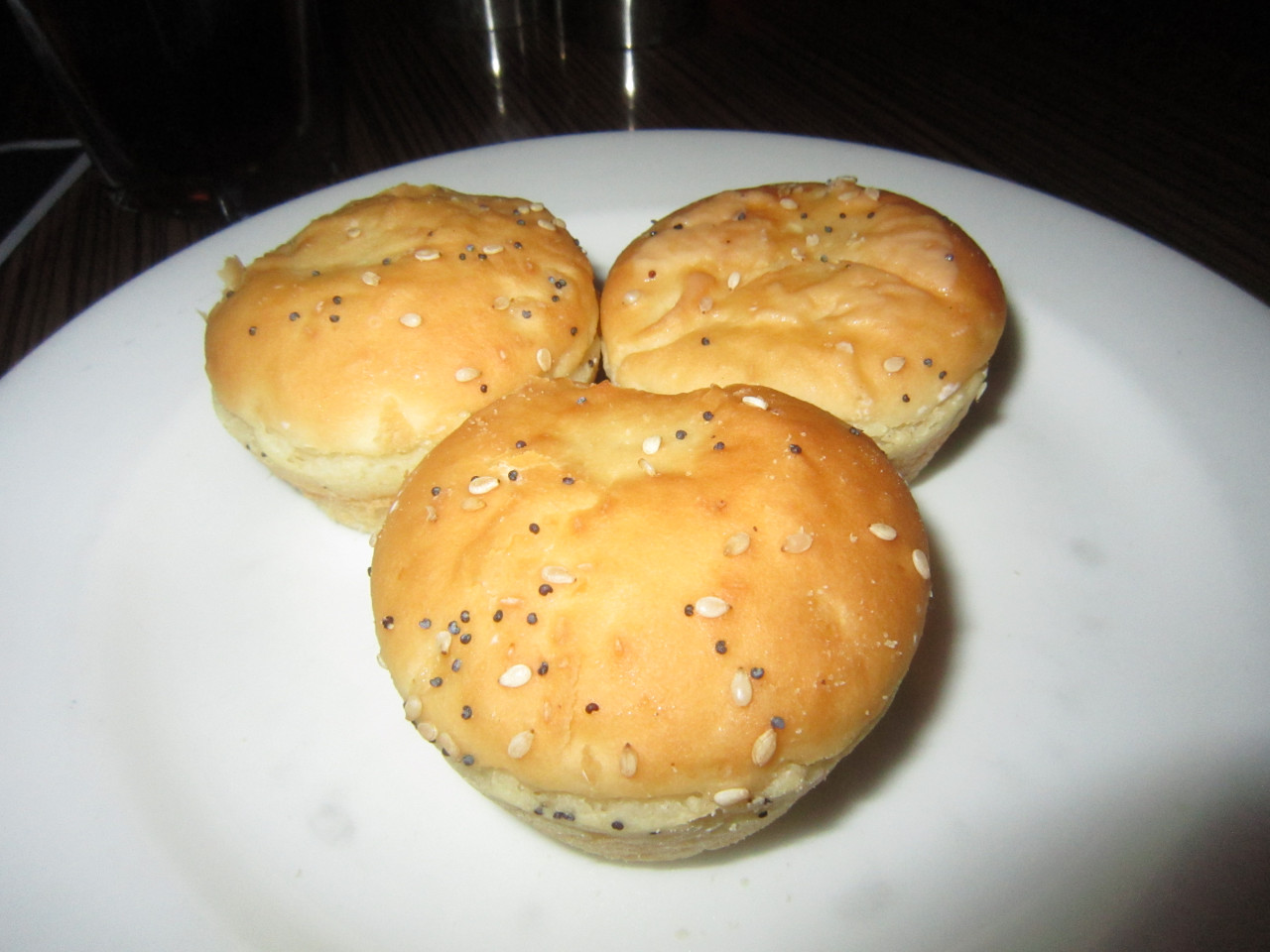 My dinner was great too, a tasty dish of pan seared lemon chicken with toasted almonds and zucchini-tomato salad served in a creamy lemon sauce with carmalized lemon peel. I so want to re-create it at home!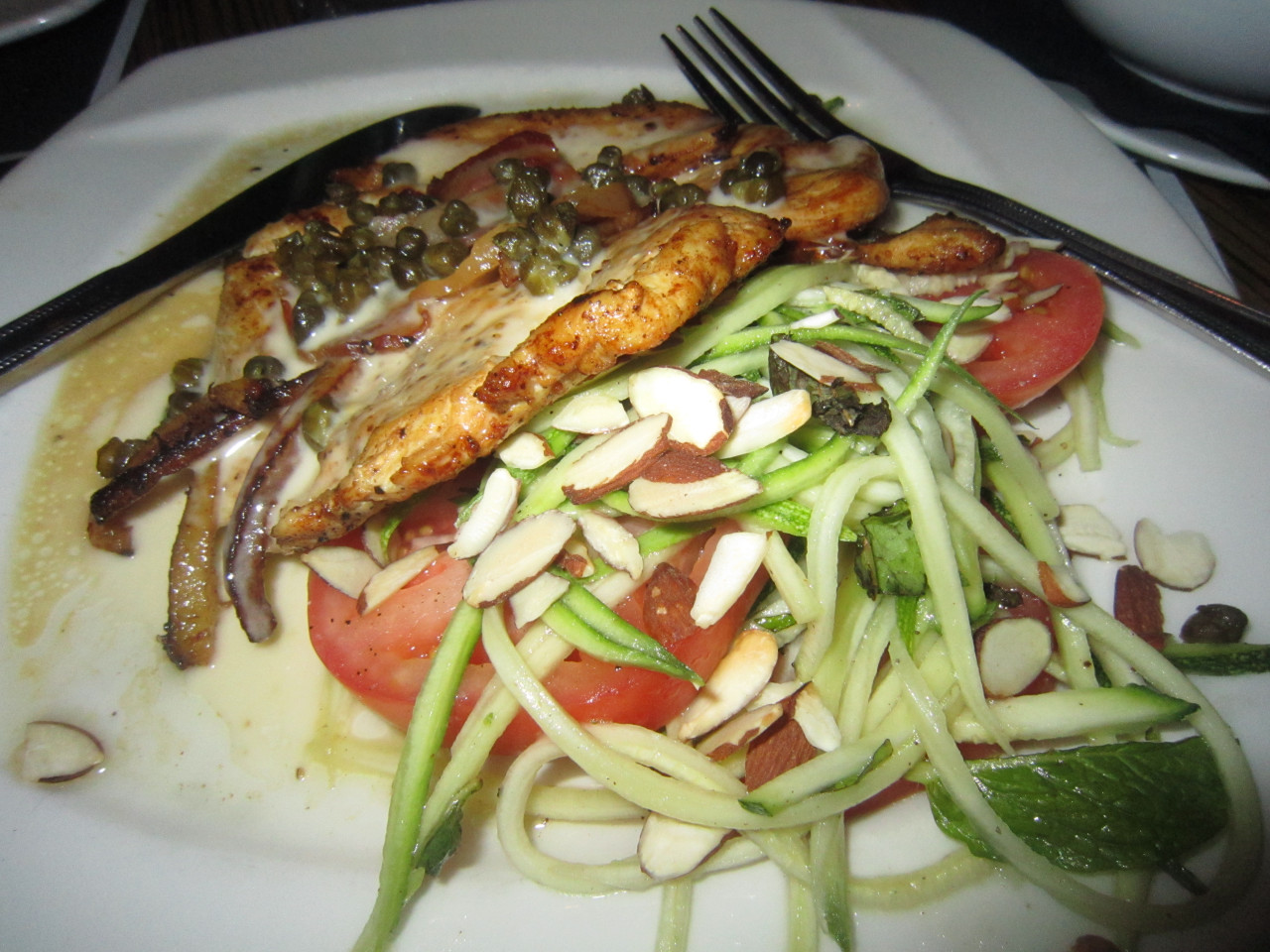 My overall grade is A with a great +. Loved an extra touch of attention in a way of dinner rolls, and the food was very good, gluten free or not. Oh, and I got an extra portion of those rolls for my next day breakfast 🙂
Thus concludes my review of the gluten free options I encountered in Boston. Whether the Universe conspired in a very special way, or I was just very lucky, but every dining establishment I visited had some gluten free choices available, making the trip so much more enjoyable.
Go Boston!!!