Family Ties And The Power Of "I Don't Think So"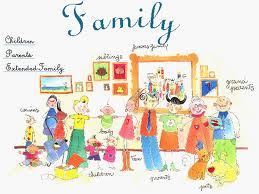 With both Passover and Easter coming soon, this week is all about family (oh, and food of course 🙂 )
I come from a very mixed background, there is 50 % of Russian, 25 % of Ukrainian and 25 % of Jewish blood all mixed up to create a wonderful ME! And as far as my son, he is 50 % Italian and 50 % this European mutt I just mentioned. Therefore, when holidays come, it's usually parties galore! Passover is often first at my mom's house (don't you love all the food "just like mama used to make"!), then I have a small gathering for Western Easter, and a week later, Eastern Orthodox Easter comes and so do the rest of the family and friends.
And then we repeat the whole tri-fold process in December for Hanukkah and Western – Eastern Christmas 🙂 Plus all the minor ones in between. You're never more than a month or two away from some holiday family gathering. And this is exactly how I like it! Oh, and I'm using the term "family" loosely here as many of my close friends have become like a family over the years, and I can't imagine my life and a holiday table without them!
So this year, I was on a quest to kind of incorporate all holidays in one and make something sweet that I can also eat, aka gluten and dairy free. I found this amazing looking recipe for a cinnamon bun cake that said "for the holidays", it didn't specify though which holidays, so I thought it might as well be Passover/Easter holidays 🙂 I know, I know, you're not supposed to eat bread during a Passover week, but since I was born politically incorrect to begin with – a stubborn little Communist 🙂 , and I'm totally areligious, yet very spiritual, I thought that was a great idea!
I hope I'm not offending anybody, but I don't really get why would you give up something "in a name of God", as for Lent or Passover. I don't think God really cares what and when we eat, He/She/It is more paying attention to our non-food related life choices yet we still have the freedom to act as we please, it's our Higher Self we're mostly accountable for not  for the fallible human-made "holy" laws. I mean, if you've been a complete soda junkie or on a life-long fast food galore, and this is the only motivation to get you off those things, even for a short while, then go for it! Just don't call it " in a name of God", I'd say, it's more "in a name of YOU", to cleanse your body and give it a rest from all the unnecessary food choices.
 I've never given up anything for Lent, or Passover, or followed a lot of other religious rules. Apparently I'm still alive and wasn't struck by "Divine Thunder". Though this year I decided to make an exception and give up "pleasing others" for Lent. I think it's worked marvelously! "I don't think so" became my favorite answer, I even implemented it on the last medical resident I've been working with this month. At first, she looked at me kind of all bewildered and lost. Yes, honey, don't tell me how to do my job as I've been at it for over 10 years, while you crossed the hospital ground about 5 minutes ago. But it all worked out at the end (and exactly the way I said it, as, again, I've been at it for over 10 years).
So, giving up on being the "yes" person, I'm all for it! Giving up delicious food, "I don't think so" 🙂
What's Cooking This Week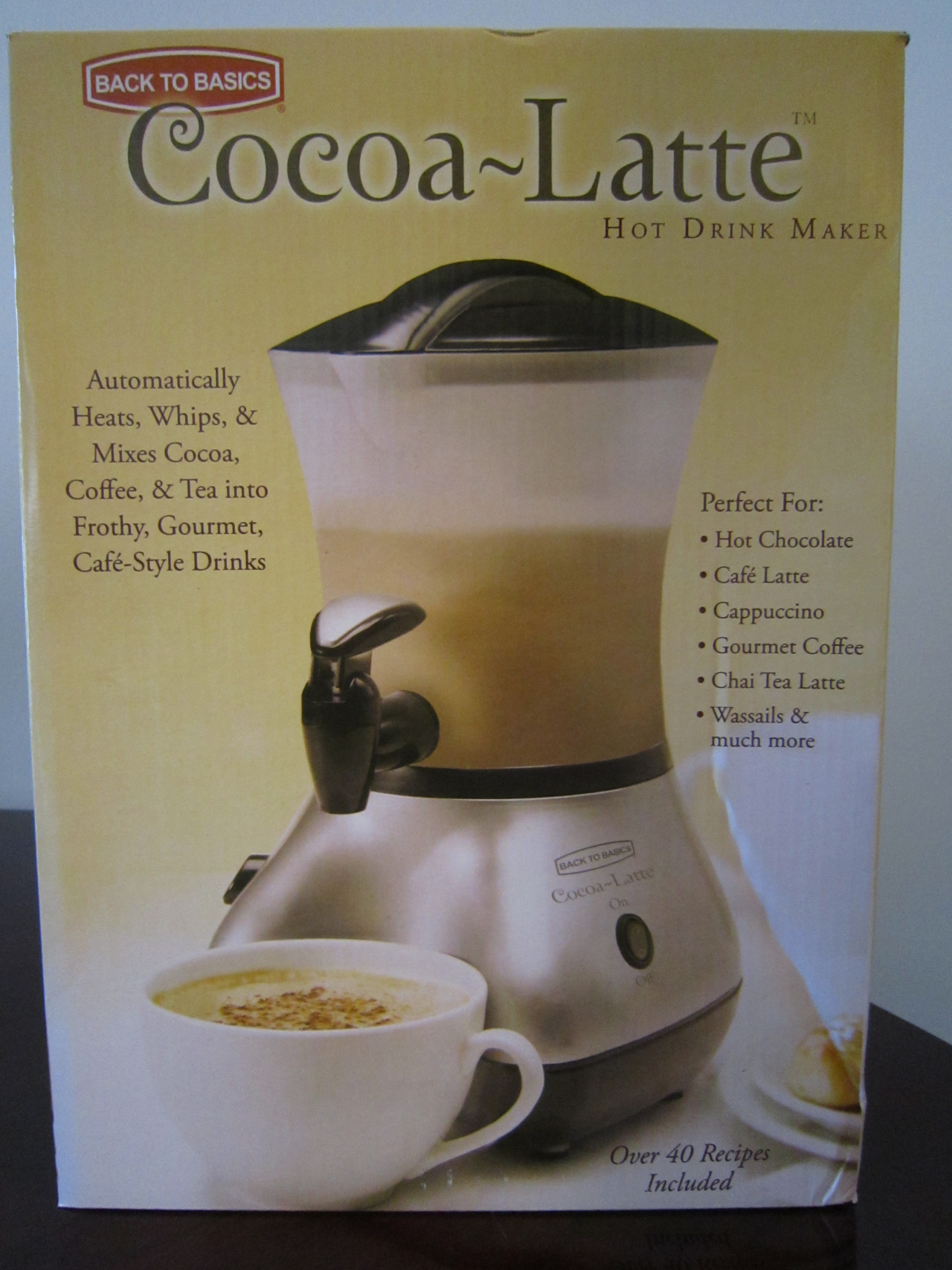 First, a review. I love a good cup of latte or a nice mocha, but unless you feel like swinging by Whole Foods all the time, any non-dairy AND soy option is not happening. Or you can make your own 🙂 I've been eyeing some latte/cappuccino machines but still unwilling to pay top dollar for something I'd not use every day. That untill I found this beauty, all for $ 29.99 http://www.amazon.com/Back-Basics-CM300BR-Cocoa-Latte-Hot-Drink/dp/B0002TUVQM/ref=sr_1_1?ie=UTF8&qid=1333404954&sr=8-1  I was sold and did not regret it! This little machine is quite powerful, could whip up 4 cups of your beverage to a perfect temperature in a mere minute and has a handy froth button to serve your drink all steamy and delicious.
    1 cup almond milk
    1 heaping tspoon of instant coffee (I like Davidoff Cafe)
    1 tspoon of cocoa powder (like Rapunzel, organic cocoa)
     a sprinkle of cinnamon to taste
It was ready in a minute and a perfect companion to my cake creation.
Cinnamon Bun Cake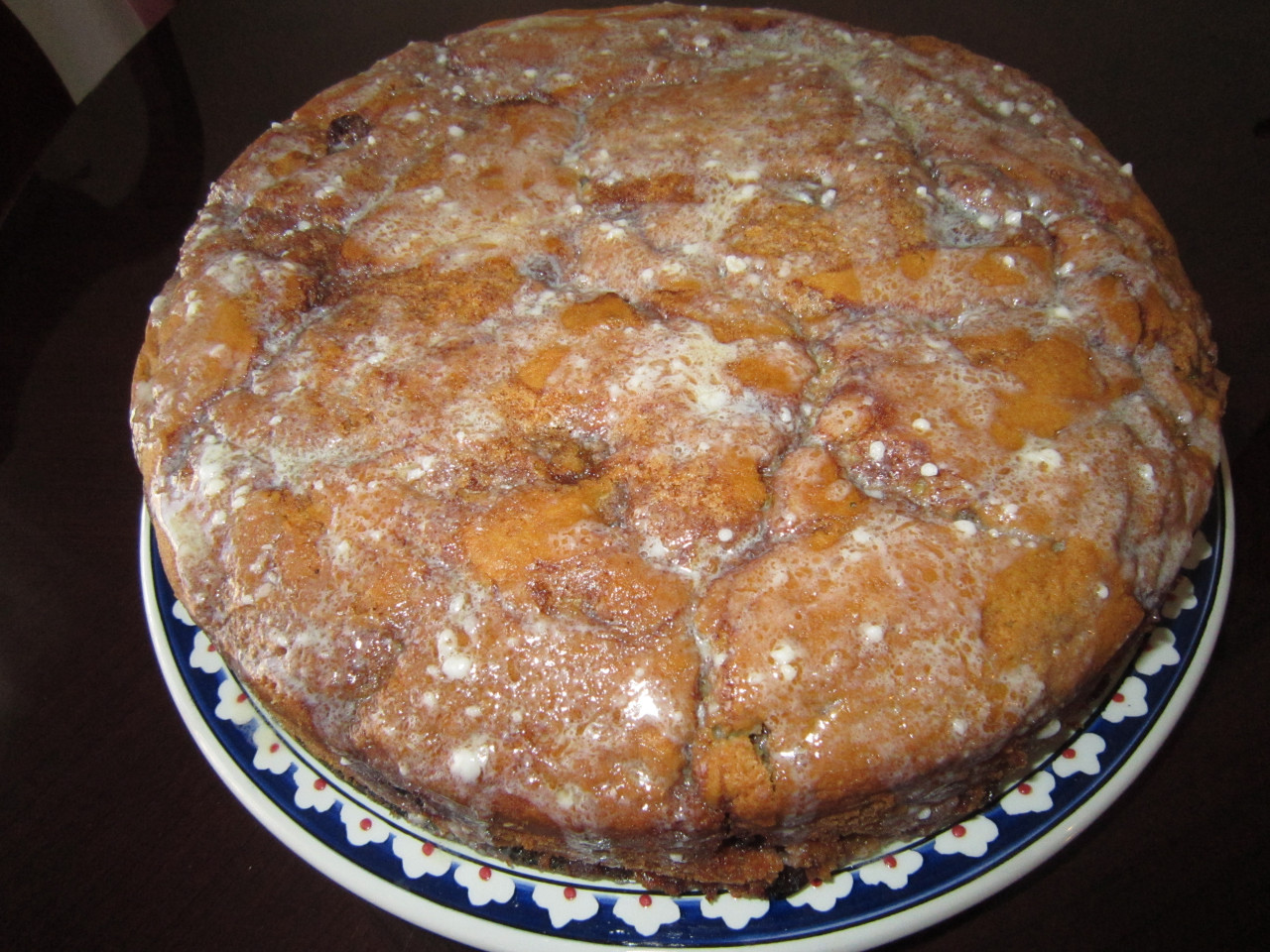 This recipe is gluten and dairy free but could also be made the regular way, just substitute all the gluten free flours (except for the almond flour) and arrowroot with wheat flour and use dairy yogurt or sour cream instead of coconut yogurt and regular butter instead of Earth Balance.
Cake:
1 cup superfine Brown Rice flour
1/4 cup Millet Flour
1/4 cup Arrowroot Starch
1/2 cup Almond Flour (for nut-free, use equal amount of either Corn or Quinoa Flour)
2 1/2 tspoon Baking Powder
1 tspoon Baking Soda
1/2 tspoon Sea Salt
8 Tbspoons Earth Balance butter or buttery spread (soy-free), room temperature
3/4 cup granulated sugar
2 large eggs, room temperature (egg-replacer may also be used)
1 cup plain coconut milk yogurt (such as So Delicious Dairy Free), room temperature
2 tspoons vanilla extract
Filling:
1/2 cup brown or coconut sugar
6 Tbspoons Earth Balance or coconut oil, melted
2 Tbspoons cinnamon
3/4 cups raisins
Icing:
2 Tbspoons Earth Balance, melted
3 Tbspoons Confectioner's Sugar
2 Tbspoons creamer (I used Vanilla Coffee Creamer from So Delicious)
2 tspoons vanilla extract
Preheat oven to 350 degrees. Coat the bottom and sides of your round 9 inch pan with oil or oil spray. In a bowl, mix together all your dry cake ingredients until light and airy. In a separate bowl, beat together with a mixer sugar and Earth Balance (for cake) for about 3-5 minutes untill fluffy, then add eggs, one at a time, beat for another minute and then add, one at a time, yogurt and vanilla, beat till all light and fluffy. While mixer is going on a low speed, slowly add dry ingredients and continue incorporating untill the batter seems light.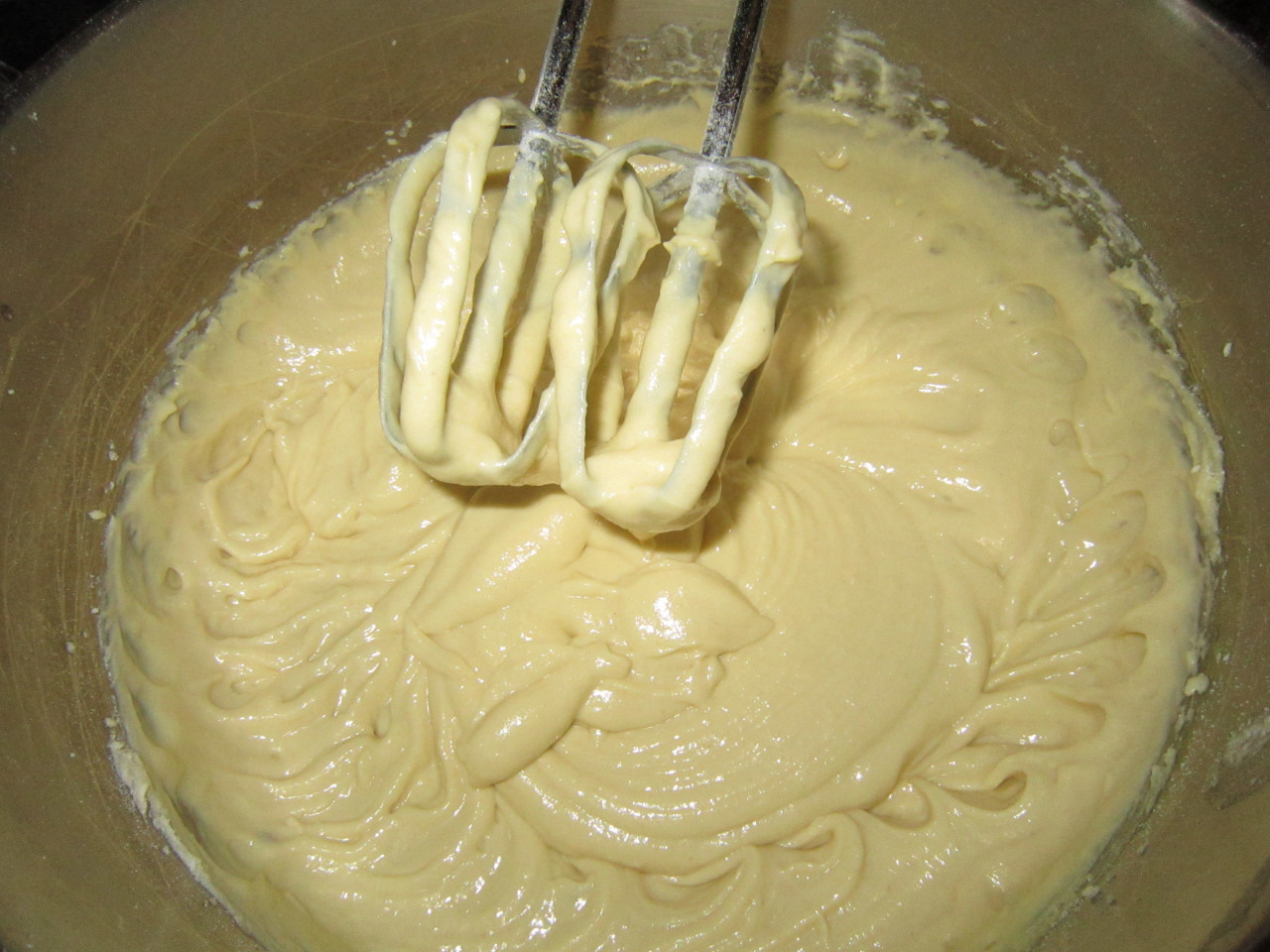 Mix together all the filling ingredients.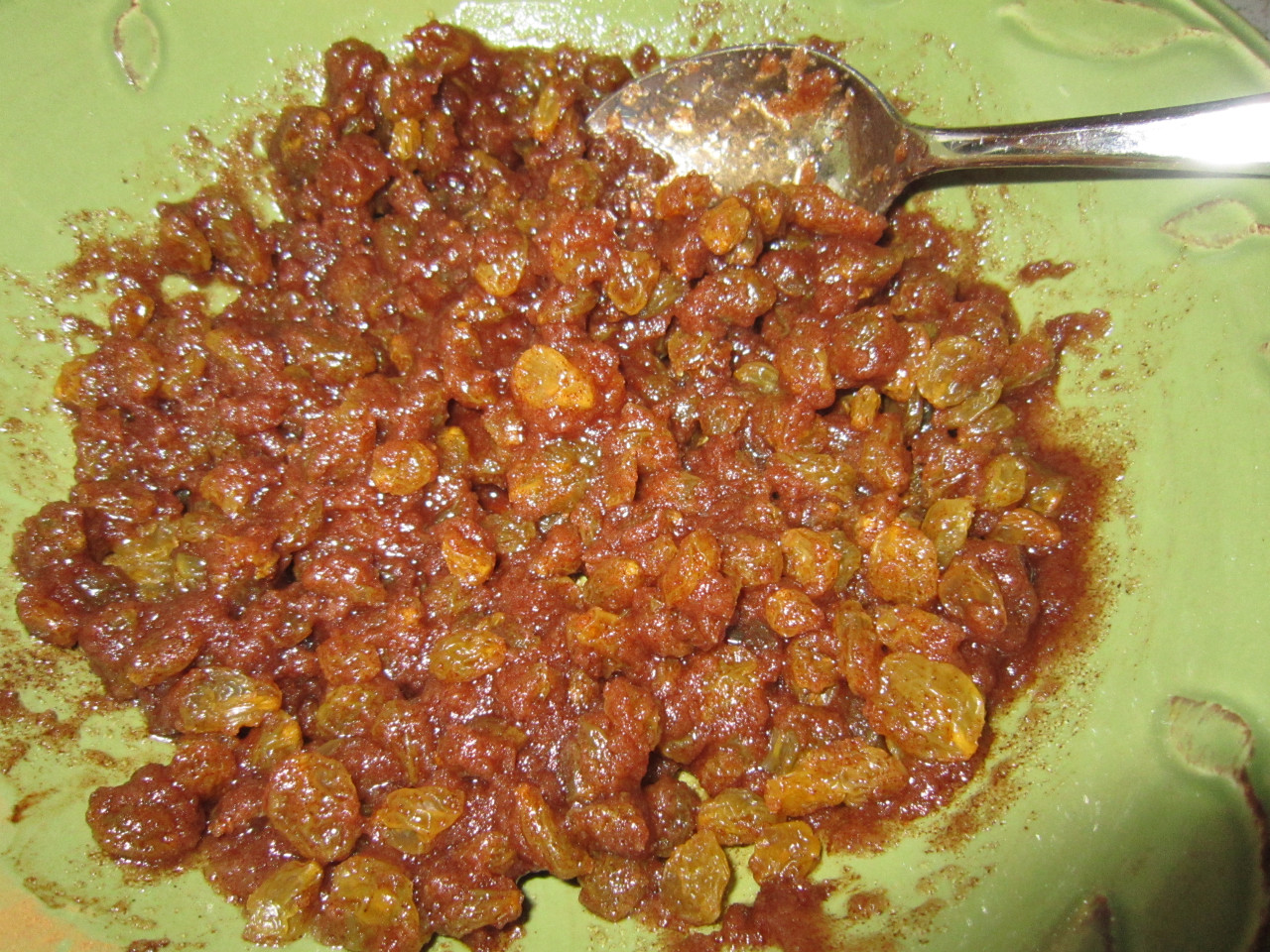 Spread some filling on the bottom of the cake pan, then pour half of the batter over it, spread some more filling and add the rest of the batter, top with the remaining filling ingredients. Bake for about 40-45 minutes or until toothpick comes out clean.
Right before the cake is done, mix up all the icing ingredients. let the cake cool for 5-10 minutes, remove from the pan and pour the icing on top.
Enjoy your "religiously incorrect" cake with a nice cup of almond mocha!